Last Updated on March 30, 2021 by asoulwindow
Raipur the capital of Chattisgarh
Not many know that there are many places to visit in Raipur. This region of Eastern central India has been an important place since ancient times. Known for the ruins of its ancient Hindu, Jain and Buddhist temples, various cultures and religions such as Buddhism, Hinduism, Vaishnava, Sakta and Saivite prospered here. Chattisgarh shares its borders with Uttar Pradesh in North, Jharkhand in North East, Odisha in South East, Telangana and Andhra Pradesh in South India and Maharashtra in South West.
Why is Raipur Famous
Chattisgarh being one of the fastest growing states in India, is always in news. It is also one of the most populous states of India. Raipur and other places in Chattisgarh are also one of the cleanest places in India as per the Government statistics and my observation during my trip to Chattisgarh. During my visit I explored many places to visit in Raipur.
Raipur is also famous because it is the cultural capital of Chattisgarh. You can learn a lot about the tribal lifestyle, art, architecture, costumes and rich history of Chattisgarh by visiting its museums. The newly developed Naya Raipur or Atal Nagar is also emerging as First integrated smart city of India. I have visited Atal Nagar myself and you can read my detailed blog on Atal Nagar too.
Where in Raipur Located
Raipur is the 9th largest state of India, despite being carved out of Madhya Pradesh. Raipur Chhattisgarh is located in East central India and boasts of an area of 135,192 square kilometers.
What is the capital of Chhattisgarh
Many people wonder Raipur is in which state of India. Well, Raipur is the capital of Chhattisgarh. Contrary to popular belief Atal Nagar or Naya Raipur is NOT the capital of Chattisgarh. Atal Nagar is more of the administrative extension of Raipur. Raipur city still remains the political capital of Chhattisgarh.
Chattisgarh was earlier a part of Madhya Pradesh, a state in Central India known for its Hindu temples and National Parks rich in wildlife. Located in east Central India, Chattisgarh was created on 1 November, 2000. Since then Raipur is the capital of Chhattisgarh.
Brief history of Raipur, Capital of Chattisgarh
Raipur is currently the capital of Chhattisgarh. But it was always an important region of Central India. The history of Raipur and Chattisgarh is full of twists and turns when it passed hands between many rulers who shaped its destiny and culture. Therefore for archeology and history buffs, Raipur turns out to be a very exciting destination. It is believed that it was once a part of the Great Mauryan Empire. It was a part of southern Kosal.
The folklore has it that Raipur was established by Brahmdeo Rai, who was the son of Kalchuri King Ramachandra. It is said that earlier his capital was Khalwatika which is now known as Khallari. On the banks of Kharun river, Hajiraj Naik constructed the Hindu temple of Hatkeshwar Mahadev.
The demise of King Amarsingh Deo resulted in the downfall of this dynasty. Thereafter, this region was ruled by the Bhonsle kings. History repeats itself but with a twist. Post the demise of Raghiji III the British government gained the control from the Bhonsle of Nagpur in Maharashtra. In 1897, Raipur was made the headquarters when Chattisgarh was announced as a separate commissionery.
Some historians claim that Raipur district was established in 14th century A.D. when the Kalchuris divided Ratanpur. The Kalchuris had a firm control on the forts of Chattisgarh. Raipur was the capital of the Haihaya dynasty Kalchuri Kings.
Top Things to do in offbeat Raipur Chattisgarh Capital
This blog is based upon my trip to Raipur, which is presently the capital of Chattisgarh, India's young state established in the year 2000. Raipur and much of Chattisgarh is an offbeat destination which had eluded me so far. The jinx was fixed recently, when I stepped on the soil of Chattisgarh for the first time. It is a familiar landscape to me and yet very exotic to the senses!
Named after Brahmdeo Rai, Raipur the Chhattisgarh capital, first time entered my consciousness when it was briefly mentioned in the immensely popular 'sasural genda phool' song of Bollywood movie 'Delhi-6', released in February, 2009. The line 'Poore Raipur Mei Alag Hai Saiyan Ji Ki Shaan' (The stature of my husband stands out in all of Raipur) piqued my interest in Raipur. And then I forgot about it, until now, when the Chattisgarh Tourism Board invited me to attend the 34th edition of Chakradhar Samaroh, a music and dance extravaganza in Raigarh. It was my first time in Raipur and Chattisgarh.
Old Raipur, the capital of Chattisgarh, has many places to see. Nagar Ghadi Chowk, Vivekanand Ashram and Rajkumar College are one of the top places to see in Old Raipur. Raipur is an abode for people from all classes, caste and religion who live here in peace and harmony. No wonder, I think it is a sort of mini India. I enjoyed exploring the many tourist places in Raipur. Let's now see what are the top places to visit in Raipur, the capital of Chhattisgarh?
Mahant Ghasidas Memorial Sangrahalaya
The excavations have revealed that many religions and cultures have co existed in Chattisgarh since times immemorial. Ancient Buddhist, Vaishnav, Shaivitte and Jain statues have been unearthed here from one place. These are displayed in the Mahant Ghasidas Memorial Museum, the museum in Raipur. The old museum was built in 1975 by Mahant Ghasidas, the king of Rajnandgaon.  
Throughout the year, training and workshops in theatre, music, dance, singing, Goshthi and other performing arts etc are provided to students here, hence continuing a legacy. The Mahant Ghasidas Sangrahalaya, the famous Raipur tourist place, is home to ancient objects and artifacts which date from 6th century A.D. to 18th century A.D.
Ancient metallic statues of Lord Shiva, Lord Ganesha, Lord Vishnu, Lord Buddha, Lord Mahavir etc are well maintained and displayed here for a small entrance fees.  What's more? Ancient arms and ammunitions, agriculture equipments, potteries, costumes and jewelleries are also on display here! It is one of the best places to visit in Raipur.
Boodha Talab or Vivekanand Sarovar, Raipur
The literal meaning of 'Boodha talab' is old lake. It is the oldest lake in Raipur, the capital of Chhattisgarh. It was christened after 'Boodha Dev' (Old God) which is worshipped by the famous tribals of Chattisgarh. This lake is dedicated to him. 37 feet tall awe inspiring statue of Swami Vivekanand, wearing saffron robe and sitting in a state of meditation, sits pretty in the manicured garden in the middle of the lake.
The Limca Book Of Records mentions the statue as the largest model for a statue. The Nilabh garden where it is located is in the center of the lake. It attracts tourists, birds and butterflies alike. The many fountains and flowers make the garden more atmospheric. It is a must visit, especially in night, when it is beautifully lit! It is one of the best places to see in Raipur.
Vivekanand Ashram, Raipur
If you are interested in the life and teachings of Ramakrishna Paramhans then you will enjoy visiting this place to see in Raipur, Chhattisgarh capital. The Ramakrishna Seva Samiti established in July, 1957 by Swami Atmanand, works on the ideologies of self service and renunciation.
If self emancipation and welfare of the world, is one of your life goals, then you should spend quality time in this Raipur tourist place. It is connected to Ramakrishna Mission Ashram , Belur in Karnataka in South India. It has a library and hospital as well. Do not forget to pay your respect at the temple devoted to Ramakrishna Paramhans.
Nagar Clock, Raipur
The clock tower at Shastri Chowk has recently been renovated and a sight to behold when it is lit in night. It is located near Dau Kalyan Singh Hospital. Nagar Clock is one of the monuments to see in Raipur. Most people don't know about such offbeat places to visit in Raipur.
Town Hall, Raipur
Constructed between 1887 and 1889 and inaugurated in 1890, the Town Hall is the typical British building we have seen elsewhere in India as a vestige of Raj era. Originally called Victoria Jubilee Hall, it has now been maintained and restored by Nagar Nigam. It is located near Collectorate Bhawan and Shastri Chowk. Stones from Raipur fort were used to construct the Town Hall.
Rajkumar College- Old Raipur
The very old Rajkumar college was founded in 1882 by Sir Andrew Fraser who was the erstwhile Chief Commissioner of C.P. and Berar. Children of landlords (zamindar) and Royals used to study here originally. The college is still functional and remains the first choice of Royal families.
The history of Rajkumar College, Raipur is very interesting. It was originally situated in Jabalpur. It functioned as a hostel exclusively to the children of zamindars and erstwhile rulers of Eastern states who had also contributed huge sums of money to build and establish it. However, in 1894, it was relocated to Raipur where till date it is functioning smoothly as a college with boarding facilities. Of course, things have changed with times and now even children of rich locals and Officers also study here.
Hatkeshwar Mahadev Mandir
Some of the prominent Hindu temples which you can visit in Raipur are ancient Hatkeshwar Mahadev Temple, Mahamaya temple, Jaitu Sau Temple, Dudhadari temple and Kankali Talab Temple. The Hatkeshwar Mahadev Temple, dedicated to Lord Shiva was built in 1402 by Hajiraj Naik as per a stone inscription. It belonged to an era when Brahmdeo Rai ruled this region.
You can see the script of Brahmdeo Rai in the Mahant Ghasidas Memorial Museum. A swayambhu Shivling (self emerged) in the temples' inner sanctum attracts devotees. Do not miss such spiritual places to visit in Raipur.
Marine Drive of Raipur
One of the most popular places in Raipur, the capital of Chhattisgarh is the Marine Drive. The 'Telibandha pond' has recently been beautified and is now developed as Marine Drive attracting joggers, senior citizens, young couples, children and also foodies. Marine Drive is one of the most popular places to visit in Raipur.
Yes, the chowpatty offers many food stalls from different states of India. The XXL sized foodie that I am, I binge ate vada pao, Indori pohe, Jhal Muri and local food of Chattisgarh such as chilla, farra, thethri, papchi etc. As I admired the largest flag of Central India in far corner, the eye catching reflection of lights on the calm waters distracted me.
Vegan and vegetarian Food Guide
Located near the Marine Drive, the Gadh Kaleva is the place where you will be able to sample the authentic and delicious vegetarian and vegan food of Chattisgarh. The food of Chattisgarh is one of its kind which you will not find anywhere else. Such stalls are also present in marine Drive but in Gadh Kaleva, the sheer variety is mind boggling. Also the traditional ambiance makes Gadh Kaleva an apt picnic spot for locals and tourists alike. These are some of the best tourist places in Raipur.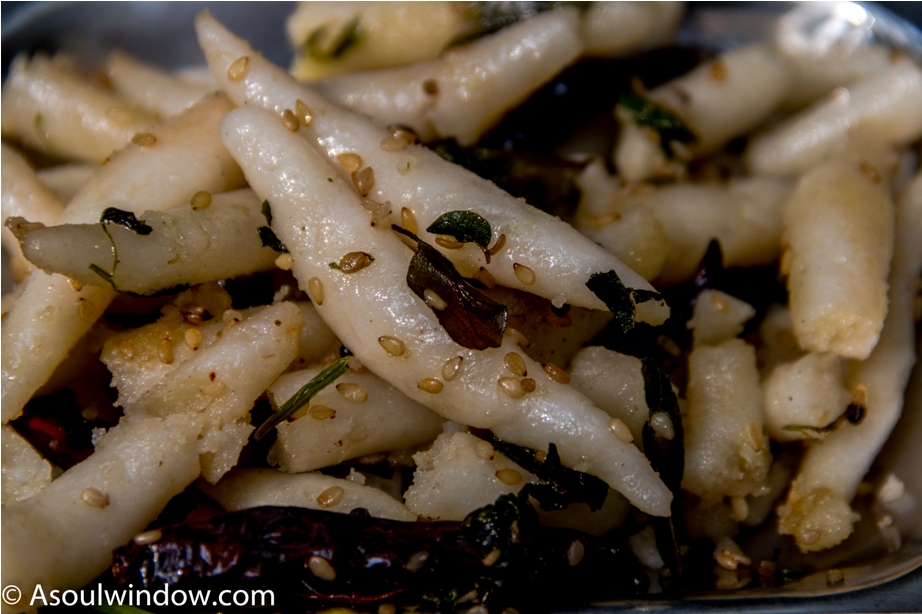 Hamar Kaleva, a kiosk which is located right at Marine Drive also offers authentic vegan and vegetarian food of Chhattisgarh such as Sabudana Bada, Bhat Bhajiya, Farra, Chila, Moong Bada, Urad Bada, Dhuska Bara, Steamed Bafauri, Fried Bafauri, Kadi Bhaat, Idhar Kadi, Bhajia Kadi, Bhata Bhajiya etc.
When in Raipur, do sample unique vegetarian and vegan dishes such as Sattu Sharbat, Khurmi, Kari Laddu, Papchi, Babra, Pidia, Khaja, Bafauri, Farra, Maada Peeeda etc. Do read my detailed blog on what to eat in Raipur. You may also want to try milk and peda at Sulabh Doodh Bhandar and jalebis at Bhagirathi hotel. The balushahi of Ramji halwai is quite popular with local people as well.
Shopping Guide to Raipur – Chattisgarh Haat
Raipur, being Chhattisgarh capital is not far behind catching up with the mall culture. There are 4 big malls in Raipur. These shopping malls are popular and yet have failed to steal the shine of traditional markets of Raipur. Raipur is traditionally a lucrative market to not only locals but also to the residents of nearby Odisha. Sadar and Gol Bazaar are the oldest markets of Raipur. While Sadar is known for silver and gold products, Gol Bazaar traditionally sells everything and anything under the sun!
Clothes, grocery, beauty products, Utensils, Stationary- you name it, they have it! The other popular markets are in MG Road, Malviya Road and Station Road. Gudiyari market was once fame for its wholesale groceries and grains, much like APMC market of Navi Mumbai in Maharashtra but due to shortage of space it has been shifted to the outskirts of the city.
Pandri is known for selling traditional artifacts and crafts of Chattisgarh. The Chattisgarh Haat at Pandri is where you can buy the handicrafts, metal artefacts, terracotta decorative pieces and even sarees and clothes at reasonable rates. There is a lot you can shop in Chhattisgarh capital, Raipur. Do visit such tourist places in Raipur.
Excursions from Raipur Capital of Chattisgarh
When in the capital of Chattisgarh, do not miss the many tourist places near Raipur. There are many places located near Raipur, which you can include in your trip. You can choose from below mentioned picnic spot near Raipur.
Bhorumdev temple
You will be amazed to visit this 1,000 years old Hindu temple devoted to Shiva Bhagwan. Built between 11th to 12th century C.E., the Bhorumdev temple is known for its erotic carvings and thus is also referred to as the Khajuraho of Chattisgarh. I saw similar erotic carvings on the outer walls of Patan Durbar Square in Nepal, Aghoreshwara temple in Ikkeri in Karnataka and Konark Sun temple in Odisha.
There are many theories to why they carved erotic images in Hindu temples back then. You will see many Kamasutra sexual positions in stone on the walls of the temple in Bhoramdeo complex. Bhorumdevtemple is 155 kms and 3 hours away from Atal Nagar via NH30. Bhorumdev Mandir is one the best places to visit near Raipur.
Sirpur temples
You will be surprised to discover that not far away from Raipur exist the ancient Hindu temples which date back between 5th and 12th century C.E. You will also notice many ancient Jain temples and Buddhist temples in Sirpur. Do visit Sirpur when in the capital of Chhattisgarh. It is one of the best tourist places near Raipur.
The erstwhile capital of Panduvanshi dynasty, Sirpur is also known as Sripur, Sripura or Shripur. Located on the banks of Mahanadi river, some of the famous ancient Hindu temples of Sirpur are Ram temple, Laxman temple, Baleshwar mahadev temple and Gandheshwar temple. The Laxman temple is one of the best brick temples you will see in India.
Do not miss these unique historical and ancient heritage monuments of Sirpur. Located in Mahasamund district, Sirpur is 83 kms away from Raipur and takes around one hour via NH53. Distance between Sirpur and Atal Nagar is 70 kms and it takes around 1 hour via NH53 to cover this distance.
Achanakmar Tiger reserve
The Achanakmar tiger reserve and Achanakmar wildlife sanctuary are rich in biodiversity and are home to species such as Bengal wild tigers, Indian leopards, Indian jackal, Ussuri dhole or Indian dhole, striped hyena, Indian Muntjac, spotted deer, sambar, chinkara, Wild Indian bison, wild boar and blackbucks etc. It is a great place for wildlife enthusiasts.
Linked with Kanha National Park in Madhya Pradesh, the Achanakmar wildlife sanctuary was declared a tiger reserve in 2009 under the Project tiger. Achanakmar wildlife sanctuary is also home to many endangered species of birds. Do plan this wildlife trip when in the capital of Chhattisgarh. After all, it is one of the most unique places to visit near Raipur.
Achanakmar-Amarkantak Biosphere Reserve, which it is a part of, extends over Madhya Pradesh and Chattisgarh. Achanakmar wildlife sanctuary can be accessed from Pendra road and Belgahna. Distance between Achanakmar wildlife sanctuary and Raipur is 181 kms and it takes around 4 hours via NH130 and NH45. Distance between Achanakmar wildlife sanctuary and Naya Raipur or Atal Nagar is 201 kms and it takes around 4 hours via NH130 and NH45.
Champaran
Champaran is a major pilgrimage town as it was the birth place of Saint Vallabhacharya, who was the founder of the Vallabh sect and a reformer. The temple devoted to Saint Vallabhacharya is visited by many devotees all day. However, on the birth anniversary of Saint Vallabhacharya, the temple receives the most devotees. It falls on the 11th day of Hindu calendar Baisakh or April and May. Magh Mela is another annual Hindu fair popular with locals.
The adjacent Champakeshwara Mahadeva temple is equally important. For the followers of Vallabha sect, Champaran holds immnse religious significance. Being one of the most popular places to visit near Raipur, Champaran is already a go to destination.
Champaran is located 60 kms away from Raipur.
Maa Bamleshwari Devi Temple
The only and the first ropeway of Chattisgarh will take you to Maa Bamleshwari Devi Temple. Perched on a height of 1,600 feet, this temple is located in Dongargarh. Do visit this hill hilltop Hindu Mandir for not only faith but also breathtaking views.
Maa Bamleshwari Devi Temple to Atal Nagar distance is 133 kms and it takes around 3 hours to reach here. It is located in Dongargarh of Rajnandgaon district in Chattisgarh.
Hajra waterfall
Another top tourist places near Raipur, Hajra waterfall is also located in Dongargarh, the Hajra waterfall is another place to see near Atal Nagar. This 46 meters high waterfall is popular with both locals and tourists alike. You will see many hills, tunnels and dense jungles near Hajra waterfall.
Jatmai Temple
Located amongst a dense but small forest, Jatmai Temple is devoted to Hindu deity Mata Jatmai. Inside the main sanctum, the devotees can pay their respects to the idol of Jatmai Mata. The idol is made up of stone. As you enter the Jatmai temple premises, you will notice murals depicting scenes from Hinduism. Multiple small shikharas or Hindu temple tower surround the tallest shikhara or tower.
Carved out of granite, the Jatmai Temple is located in Gariaband, some 85 kilometers away from Atal Nagar. During the Hindu festival Navratri, the Jatmai Temple is thronged with devotees who celebrate with much fervor. It is one of the most spiritual places to visit near Raipur.
Ghatarani waterfall
Located close to the Jatmai Temple, the Ghatarani waterfall is a much loved picnic spot. Especially during the monsoon months, the Ghatarani waterfall cascades in all its glory. This is when the water gushes in full force in Ghatarani waterfall. Some people also enjoy hiking in the nearby forest, while some prefer chilling in the natural pool where the Ghatarani waterfall plunges in to.
Ghatarani waterfall, one of the most famous tourist places near Raipur, is located 25 kilometers away from Jatmai Temple. You will see many families and youngsters doing picnic at Ghatarani waterfall. Ghatarani waterfall, the much loved picnic spot near Raipur, is located 58 kms and 1 hour 30 minutes away from Atal Nagar via Raipur road.
Rajim
You can also make a quick excursion to Rajim which is best known for the Rajivalochana temple. Devoted to Lord Vishnu, you will see many Hindu devotees paying their respects at the Rajivalochana temple. You must explore the area around the famous Rajivalochana temple where you can see various smaller temples. These Hindu temples house various incarnations of Vishnu ji such as Narsimha (part lion and part man) and Vamana (wild boar).
Another temple called Kuleshvara Mahadeva Temple is located on an island nearby. In fact you can visit many ancient Hindu temples in Rajim. Some of these date back to 7th and 11th century C.E. Also worth a mention is the statue of Lord Buddha meditating under a Bodhi tree. This statue is built in black stone. Rajim is located on the bank of Mahanadi river. The sangam of 3 holy rivers viz Sondhu, Mahanadi and Pairy is also in Rajim. Rajim is located 45 minutes and 31 kilometers away from Atal Nagar via Raipur road.
Kaivalya Dham
This Jain temple is awe inspiring due to its architecture. Surrounded by gorgeous garden, the main temple of Kaivalya Dham is dedicated to Aadinath bhagwan. As is common with other Jain temples, the main shrine of Kaivalya Dham is surrounded with neat rows of temples dedicated to the 24 Jain Tirthankaras. You must try their vegetarian Thali bhojan.
Their temple food is quite unique. People from Jain community and otherwise are allowed to stay in Kaivalya Dham jain temple premises. Do visit this top tourist place near Raipur.
Kaivalya Dham to Atal Nagar is 38 kms and 51 minutes away via NH53.
Gangrel Dam
Located in the Dhatmtari area near Mahanadi river, Gangrel Dam is another picnic spot near Raipur and Atal Nagar. Local people come with family and friends to enjoy the scenic views at Gangrel Dam. You can even hop on to a speed boat and enjoy the water sports in Gangrel Dam. If adventure is not your thing, then maybe just hang out at one of the restaurants located around the Gangrel Dam.
The reservoir is surrounded with a garden where people love to spend some time unwinding. What's more? Chattisgarh Tourism has also set up cottages at the Gangrel Dam area. You can take a bus to reach the garden from the main gate. Gangrel Dam is located just 15 minutes from Dhatmtrai and 77 kms or 2 hours away from Atal Nagar. Do visit here when visiting Raipur, the capital of Chhattisgarh. It is one of the most popular tourist places near Raipur.
Fast facts about Raipur Chhattisgarh
How to reach Raipur
Reach Raipur by road: Raipur is well connected via public transported buses from most nearby cities. Being the capital of Chhattisgarh, Raipur has good quality roads and infrastructure.
Reach Raipur by air: I flew in to Raipur from Lucknow via Hyderabad and flew out of Raipur to Lucknow via Patna. Raipur has a very nice airport. In fact, I took some time to leave the airport as I admired its interior ponds, gardens, murals and sculptures. You must spend some time in the tasteful done yet modest airport which reflects the culture and lifestyle of Chattisgarh. Do not forget to pick the FREE and informative brochures from Chattisgarh tourism office outlet towards the exit.
Raipur airport is well connected via air to prominent cities such as New Delhi, Kolkata, Mumbai, Chennai, Bengaluru, Vishakhapatnam, Patna, Bhubaneshwar and Vishakhapatnam.
Reach Raipur by train: many prominent Indian cities are directly connected to Raipur railway station. The Raipur railway station is located on the Mumbai-Howrah main line.
Distances from Raipur in ascending order
Distance between Raipur and Naya Raipur or Atal Nagar is 24 kms and it takes just 40 minutes via Naya Raipur Marg.
Distance between Raipur and Dhamtari is 66 kms and it takes 2 hours via old Dhamatari road.
Distance between Raipur and Bhatapara is 83 kms and it takes 1 hour 35 minutes via NH30.
Distance between Raipur and Bilaspur is 117 kms and it takes 2 hours via NH30 and NH130
Distance between Raipur and Korba is 227 kms and it takes 4 hours 20 minutes via NH130.
Distance between Raipur and Raigarh is 246 kms and it takes 5 hours via NH53
Distance between Raipur and Chitrakote waterfalls is 275 kms and it takes 6 hours via NH30
Distances of Raipur from places in other states
Distance between Raipur and Kanha National Park in Madhya Pradesh is 218 kms and it takes 4 hours 35 minutes via NH30.
Distance between Raipur and Nagpur in Maharashtra is 284 kms and it takes 5 hours 45 minutes via NH53.
Distance between Raipur and Tadoba National Park in Maharashtra is 339 kms and it takes 7 hours 45 minutes via NH53.
Internal Transport in Raipur
Raipur, despite being the capital of Chhattisgarh, is a busy but very clean and uncrowded city. Even in the evening, the rush hour will NOT see you sweat behind the wheels for hours. It is pleasant to self drive here. You can hire local taxis or private taxis for a relaxed session of sightseeing. If you are a backpacker, fret not! Raipur has good public transport system like buses and autorickshaws.
Where to stay in Raipur Chhattisgarh
Operated by Chattisgarh Tourism Board, the Hotel Johar Chattisgarh is a good choice. There are some fancy 5 star hotels in Raipur as well since it is the capital of Chhattisgarh.
Best time to visit Raipur Chhattisgarh
Winter: From October to March, the climate is pleasant in Raipur. Temperature in Raipur dips at its lowest in the month of December and January. It is still the best time to visit Raipur.
Summer: Raipur being a plain, summer is very harsh here. Avoid the months between April to September if you want to escape the extreme heat.
Monsoon: This is the time when it is the rainy season in Raipur. You can still travel between the monsoon months of July, August and September but it is inconvenient compared to winters. The temperature and weather is pleasant during monsoon in Raipur Chhattisgarh.
It is also a good idea to time your visit to Raipur, the capital of Chattisgarh when the annual Chakradhar Samaroh takes place in Raigarh. You can see live performances of many world class, folk dancers, classical singers and musicians.
Cleanliness & Greenery of Raipur: Swachch Bharat
Raipur lives up to its reputation of being the capital of Chhattisgarh. As soon as I stepped out of the impressive and yet minimalist Raipur airport, I was impressed with its cleanliness, wide roads, abundant greenery and lack of crowds. It was unlike most Indian cities and yet quite similar.
A certain order and lack of challenge while the driver navigated on the roads was a refreshing change. I was particularly impressed with the impeccable cleanliness. I failed to find garbage piles and plastic waste strewn across the roads. Neat streets were lined with trees.
Even in the busier parts of the city, it was very clean. So was the Marine drive which is bustling with locals, vendors and travelers alike. Each food joint seller had a dustbin and people followed the rules dutifully. Swachh Bharat Mission or Clean India mission, a nationwide cleanliness drive led by Indian Prime Minister Narendra Modi was working after all.
Conclusion – places to visit in Raipur
Raipur, the capital of Chattisgarh in Eastern Central part of India is an offbeat place to visit in India. Known for its amazing wildlife destinations, cultural festivals, ancient Hindu temples and unique vegetarian and vegan food, Raipur Chhattisgarh will keep you busy with its unique offerings. The things you will experience in Raipur, you will not experience anywhere else in India.
There are many tourist places to see in Raipur such as Marine Drive, Gadh Kaleva, Museum etc. What's more, there are many interesting places to see near Raipur as well such as waterfalls, Hindu temples of Sirpur, wildlife destinations and many more. These places to visit in Raipur will leave you with unique experiences.
The view from my Soul Window is offbeat!
Top Travel Blogger from India