Last Updated on January 18, 2021 by asoulwindow
Sivasagar Ahom Kingdom History -Places to see
Rang Ghar, Kareng ghar , Talatal ghar, Sivadol & other places to visit in Sivasagar!
Sivsagar is the best place if you want to get a glimpse of the history of the Ahom Dynasty. The Sivasagar region was the center of their rule. The Ahom kingdom was originally from South China. They had migrated to Assam in the year 1228 CE.
The Ahom kingdom followed a religion close to present day Shintoism and Taoism. They worshipped their ancestors originally. However, with time, they adopted many Hindu practices which can still be seen in various monuments and Hindu temples the Ahoms left behind. Now these historical monuments are one of the best Assam tourist places.
During the years 1702-1703, the capital of Ahom Kingdom was moved to Rangpur by Swargadeo Rudra Singha. The earlier capital was Talatal Garhgaon. You will be impressed to know that Rangpur remained the capital of Ahom Kingdom for more than 100 years. Rangpur also served as the military base of Ahom Kings. Some of the initial days construction of historical monuments of Sivasagar region were ordered by Swargadeo Rudra Singha as early as the year 1698 CE. Let's have a look at the top places to visit in Sibsagar.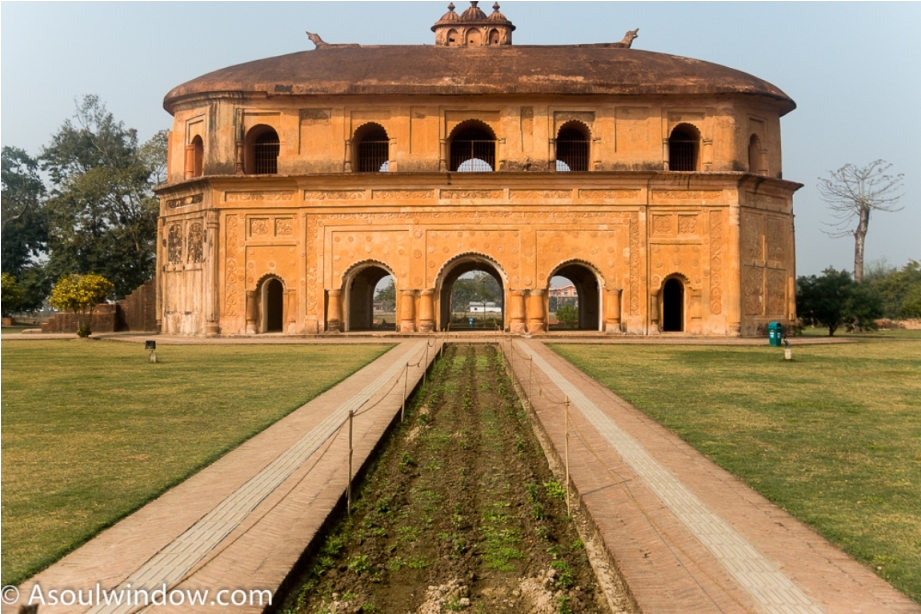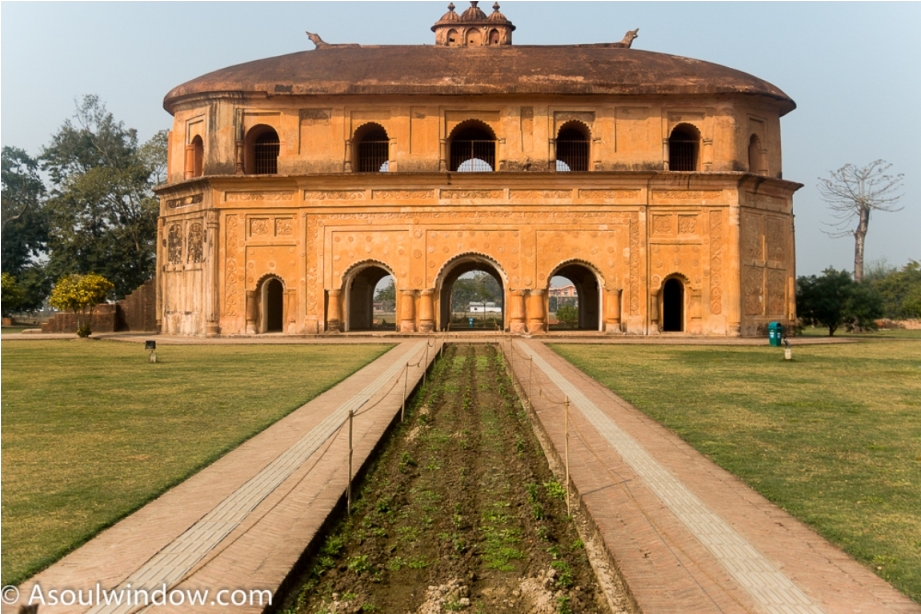 Rang Ghar
Perhaps the most visited of all the Ahom dynasty monuments, Rang Ghar sprawls over a large piece of land, overlooking a vast garden area. Rang Ghar is one of the most important and iconic monuments of North East Indian state Assam. It still overlaps with current culture of Assam. The Srimanta Sankaradeva Kalakshetra in Guwahati is in fact built on the similar lines.
Rang Ghar was also the official logo of the 33rd National Games which took place in Guwahati in 2007. The Archeological Survey of India aka ASI signboard are also well maintained. The Rang Ghar court and garden areas are well maintained. It is one of the prominent historical monuments of Sivasagar.
Located merely 3 kilometres away from the main town of Sivasagar, Rang Ghar is a double storied building. As our car negotiated its way on the Assam Trunk Road, we made a pit stop at Rang Ghar.
Purpose of Rang Ghar
The literal meaning of Rong Ghor is 'the house of entertainment'. Needless to say, Rang Ghar was the venue of various sports and entertainment programs held during the reign of Ahom Kingdom, especially on the occasion of Rongali Bihu, a popular festival of Assam.
Games such as wrestling, cock fight, bull fight, elephant fight, buffalo fight etc used to be played in the fields called Rupahi Pathar or Rupohi Pathar. Some new carvings of animal fights have been made in the garden area to commemorate the same. I do not approve of using animal for entertainment but that is how it was in those days.
The Rang Ghar also played an instrumental role in the spread of such games in not only other regions of Ahom Kingdom but also in other states as well.
History of Rang Ghar
The original construction of Rang Ghar was done in just wood and bamboo. This was when Swargadeo Rudra Singha ruled this region. The present structure was built by Swargadeo Pramatta Singha between the years 1744 CE to 1750 CE. Most of the historical monuments constructed during this era were built with red bricks which can be still seen till date.
Architecture: What struck me at first sight was the unusual architecture of Rang Ghar. The beautifully carved pair of crocodiles on the top of the roof caught my attention first. Constructed in the form of an inverted long boat adhering to the style followed by royal Ahom family, the roof stood out.
I first explored the ground floor of the unique monument. The multiple arched entrances played hide and seek with sun rays and made various patterns on the walls and floors. I observed the adornments and carvings on the wall which stood the test of time. The numerous geometrical and floral designs on the arches made sure I craned my neck all the time.
Construction material used: In those days, a paste of rice and eggs, a local fish called Borali Mach and Maati Maah (pulses) were used as mortar for the construction of Ahom Kingdom buildings, including this royal pavilion.
Thin, sun baked bricks were used for main structure while mixed lime was used for the construction of inner walls. It helped keep the Rang Ghar cool when it is hot outside. I felt the same when I visited Rang Ghar.
I took the steep stairs to arrive at the top floor of Rang Ghar. The view of Rupahi Pathar from this floor was beautiful. There was no one when I visited Rang Ghar except a woman and her son and a security guard.
Also called as 'Colosseum of the East' sometimes, what makes Rang Ghar a must visit is the fact that it is one of the oldest surviving and well amphitheatres in not only India but all of Asia. Time to stop procrastinating your trip to Sivasagar and book that trip now!
Loo Guide: There are clean toilets available here.
Tickets: Yes, there is a nominal entrance fee to Rang Ghar
I had seen a glimpse of Rang Ghar late night when I was traveling to Jorhat from Dibrugarh in a bus some years ago. I could not stop then. Finally I got the chance to fully explore it at my own pace.
Talatal Ghar aka Rangpur Palace
Situated just 3 Kilometres away from main town of Sivasagar, Talatal Ghar attracts tourist till date. I found Talatal Ghar to be one of the grandest and most beautiful of all the Ahom Kingdom ruins. The good news is that most of the original construction is still very well preserved and maintained. There are many security guards inside the monuments and outside as well.
Located in the Rangpur area of Upper Assam, the unique Tai Ahom architecture of Talatal Ghar is outstanding. At least, I had not seen any building like this before. Talatal Ghar is also known as the Rangpur Palace.
Your jaws will drop if I tell you that Talatal Ghar is a 7 storied building, 3 stories of which are underground and 4 stories above ground. After all, it is one of the largest of all the historical monuments from the Tai Ahom era.
Unfortunately, I was not allowed to visit the underground stories. These have been sealed off by the authorities because there have been some instances in the past where while exploring the basement area, tourists were lost and never found again. Or so goes the folklore.
I explored various rooms on the ground floor and upper floors. All the rooms were interconnected with narrow passages. There was even a room for a temple. The wood work, which must have been beautiful, has now been lost to time though. Not much of 2nd and 3rd floor has remained either.
The construction of this 18th century monument Talatal Ghar was initiated by Swargadeo Rudra Singha in the year 1698 CE. Rajeswara Singha reigned from 1751 C.E. to 1769 C.E)
Purpose of Talatal Ghar
Initially Talatal Ghar was meant to be an Army Station of Ahom Kings. No wonder, the 2 secret tunnels and underground floors were constructed keeping in mind a war like situation. And it did serve its purpose. These helped the residents escape during Ahom tribe wars by serving as exit routes.
In fact, one of the secret tunnels which was merely 3 kms long had direct access to the Dikhow river from Talatal Ghar. Another longer tunnel was connected with Garhgaon Palace. This tunnel was a whooping 16 kms in length. Needless to say, when the enemy attacked, this secret tunnel was used as an escape route by the residents. I enjoyed exploring these well maintained historical monuments of Sivasagar.
Architecture: Built in Tai Ahom architectural style, the materials used in the construction of Talatal Ghar are thin sun baked bricks and a paste of Bora Chaul, a variety of indigenous rice, eggs of swan etc.
Places To See in Talatal Ghar are as below:
Ground Floor:
The Ground floor was mostly used as the staff precincts. Horses used to rest in stables here. The Ground floor also doubled up as store room. The servant's quarters were also located in the ground floor.
Upper Floor:
No prizes for guessing that the upper floor of Talatal Ghar was exclusively reserved for the Royal Family. I explored some of the rooms which still exist on the first floor. Connected with a simple broad stair, it is easily accessible.
What caught my attention was the ruin of an unusually shaped octagonal room. It was the temple or Puja House of the Ahom royal family. This prayer room was empty when I visited. This is located in the Northern side of Talatal Ghar. You can ask the local security personnel for direction. They will also help you identify different rooms. I did the same. I asked them.
Towards the southern part of the Talatal Ghar, you will see the remnant of what must have been a beautiful room. It is said that this isolated room was used by the queen when she was confined here.
Garden: You will also see a Bortop or Gun preserved in the monument itself.
Clean Loos are available near the main entrance gate
Tickets: There is a nominal fees charged to enter the Talatal Ghar.
This small Ahom building located at a walking distance from Tatatal Ghar served as the store room for gunpowder, arms and ammunitions. You must not miss this, many do. Though its main entrance gate is always locked, you can still easily view it from outside and even from Talatal Ghar.
Soul Window Tips: The loos are not available here. You can use the washroom in the Ahom Museum, Talatal Ghar or Rang Ghar. Gola Ghar is not a ticketed monument.
Siva Dol, which is also spelt as Shiva Dol or Sivadol caught my attention on the first night of our arrival in Sivasagar. Turned out, we were staying at walking distance from Siva Dol. "OMG, What is that huge building?", I asked wide eyed to my friend Jitaditya who was travelling with me. Jita had already been to Sivasagar.
Jita told me it is the Siva Dol temple. Impressed with the unique architecture, I and Jita made sure that we walked around Siva Dol in the night for a post prandial walk after dinner. Even though it was closed, I could not wait till morning to at least see it closely, even if from outside the railings which surrounded the temple, one of the most revered historical places of Sivasagar.
Next morning, I woke up even before the hotel staff did. Got the main door unlocked by requesting a sleepy staff and walked my way to Siva Dol. My friends and co travelers Jitaditya and Sange Tsering from Holiday Scout were still asleep. They had been here before after all. Many pigeons started flying simultaneously as I entered the gated premises of Siva Dol.
No prizes for guessing that Siva Dol is dedicated to Shiv Bhagwan, the most supreme of all Hindu deities. There are a total of 3 such temples in this complex, located next to the wide Sivasagar tank aka Borpukhuri tank.
History of Siva Dol
Siva Dol, Devi Dol and Vishnu Dol were commissioned by Bar Raja Ambika, who was the reigning queen and wife of erstwhile Ahom tribe ruler Swargadeo Siba Singha.
Subsidiary Temples of Siva Dol
While Vishnu Dol is dedicated to Vishnu ji, Devi Dol is devoted to Devi Durga ji. There is also a temple dedicated to Shri Ram and Hanuman ji here. What's more? There is also a museum here. By the way, the literal meaning of the Assamese word Dol is temple.
Architecture of Siva Dol
Siva Dol is built with stone and bricks in the typical Shikhara architecture style blending with few local Ahom architecture methods. You will be impressed to know that the height of Siva Dol is a whooping 32 meters or 104 feet. An 8 feet or 2.4 meter high golden dome sits at the top of Siva Dol.
At its base, the perimeter of Shiva Dol measures 59 meters or 195 feet. It is in fact, India's tallest tower of a Shiva Temple in India. The unique Ahom temple architecture makes it stand apart. I had not seen anything like this before. Do pay a visit to these historical monuments of Sivasagar.
Art on External Walls of Siva Dol
The external walls of Siva Dol, Vishnu Dol and Devi Dol are adorned with beautiful sculptures of Hindu deities in various forms. You can see sculptures of Durga ji with 2,4,6,10 and 16 arms. Durga ji with 16 arms caught my attention. Reflecting the pan Himalayan theme, each arm of Durga ji held a weapon. It was aesthetically adapted in Ahom temple architectural style. Read more to know about Sivasagar tourism.
The other sculptures of Durga ji depicted her riding a lion, decimating the demon King with the head of a buffalo called Mahishasura etc. The royal family and subjects of the Ahom dynasty had adopted the Shaktism cult. The seamless blending of Shaktism and the traditional Brahminical Hinduism could be seen everywhere.
Vishnu Dol
Both Vishnu Dol and Devi Dol are similar in design and architectural style of Siva Dol, but are smaller in size. Vishnu Dol temple is designed in a honey comb fashion. Also spelt as Bishnu Dol, its decorative criss-cross patterns are aesthetic and worth admiring. These temples are some of the most important historical places of Sivasagar.
Devi Dol
Both Devi Dol and Vishnu Dol are temples dedicated to Durga ji and Vishnu ji in the same complex. Devi Dol, Vishnu Dol and Siva Dol are in same precincts and walking distance from each other.
The tower of Devi Dol has a vertical elevation. I craned my neck to admire its beauty. The undulating patterns, the quite, the presence of a cow grazing nonchalantly made it one of my most beautiful mornings. Do not miss these lovely places to visit in Sibsagar.
Mahashivratri
Needless to say, all roads lead to Siva Dol during Mahashivratri, the biggest of festival dedicated to Shiv Bhagwan. There is a vibrant annual fair or mela held here during Mahashivratri. Hindus even from other parts of India congregate in Siva Dol to celebrate Mahashivratri. Sivasagar tourism is at its peak during this time.
Durga Puja
We all know how big Durga Pooja is in some states of North East India. Devi Dol becomes the centre of attraction during the annual Durga Pooja. It happens every year during September or October as per the Gregorian calendar.
Yatras
Both Rath Yatra and Dol Yatra, are held once in a year. It is celebrated in the Vishnu Dol
Hare Krishna Kirtan
Devotees chant the mantras of Hare Krishna all night in the holy Hindu months of Shravan which is August or September as per the Hindu lunar calendar. The keertan is a must attend if you are in Sivsagar during this time.
Atmosphere at Siva Dol
I will never forget the therapeutic atmosphere of Siva Dol as I visited early morning. The quietude of the temple complex was broken only by the flutter of pigeons. Few local people paid their respects at all the temples, including a much revered temple under a tree.
The local people used the garden area of Siv Dol for meditating, reading newspapers, softly talking to each other and even exercising. Most devotees combined the worship at temple with a morning walk at the adjacent Sivsagar Tank. The pujaris went about their daily chores in their orange robes. It was a beautiful spiritual setting.
Since I was all alone, I could not help but observe the daily lifestyle of Sivsagar unfolding before my eyes. The fact that I could choose my pace made it all the more pleasurable.
It is a practicing temple, so entry is free, of course.
Sibsagar Lake or Borpukhuri tank
Also spelt as Sivsagar tank, the construction work of this huge water body was carried out between the year 1731 CE and 1738 CE. Also called as Borpukhuri tank by locals in Assamese language, there is no way you can miss it if you are visiting Sivsagar.
Architecture of Sivsagar Tank or Borpukhuri tank
I could not help but admire the massive area which the pond occupied. The total area of Borpukhuri tank is 104 hectares or 257 acres. The area of water spread is 52 hectares or 129 acres. The sprawling lake is as deep as 8.2 meters or 27 feet. The good part is that even during the monsoon months no flooding happens here. The water level remains stable throughout the year.
Atmosphere of Sivsagar Tank
Sivsagar tank is great for a leisurely or even a power packed brisk walk during early morning or evening. I did the early morning walk at the very clean and well maintained promenade here. There are also many ducks and goose here which local people and kids love to feed.
Bathed in lights, it looks beautiful during the night too. Local people also love to cycle here. You may also want to go on a drive around the Sivsagar tank if you have a private vehicle.
Monuments and places to visit near Sivsagar Lake
Sivsagar tank is located at walking distance from Siv Dol, Vishnu Dol and Devi Dol.
There is also a Buddhist shrine nearby. Also do not miss the 2 mosques, a church and a unique Tai museum.
Built with red bricks, the Tai Museum is located towards the western side of the Sivsagar tank.
Since it is a water body, lots of migratory birds congregate here during the winter months. You can make some use of a bird tower made especially for viewing birds. It is situated towards the east bank of the tank.
Joysagar tank and temples
Joysagar tank is a huge man-made lake with many Hindu temples on its periphery. It is also known as Kesavanarayan or Joydol Temple. It was commissioned during the reign of Ahom tribe emperor Swargdeo Rudra Singha aka Sukhrungphaa.
The Joysagar Tank was dug to commemorate Joymoti Konwari. She was married to Tai-Ahom Prince Gadapani aka Supatphaa. Built across 318 acres, the Joymoti water tank and temples were constructed in the year 1697 CE.
The main temple has a unique octagonal Garbhgriha and a sanctum sanctorum. The other two temples in the same premises are devoted to Ganesh ji and Surya Bhagwan. Devotees throng at the temples on daily basis. It is a must visit place in Sibsagar. Both pilgrims and history buffs love visiting the Joysagar tanks and temples. This Sibsagar tourist place is visited by many.
Some of the other temples of Joysagar temple complex are Joy Dol or Kesavarai Visnu Dol, Nati Gosai Dol aka Ghanshyam Dol, Devi Ghar, Sri Surya Mandir, Baidyanath Shiva Dol. While the Vishnu Dol is renowned for its architectural splendor, the Shiva Dol, Devi Ghar, Ghanshyam Temple and Vishnu Dol are one of the most revered temples of Sivasagar. Sivasagar tourism has a lot to offer!
Joysagar tank is one of the largest artificial water tanks of India. Located in Rangpur, Joysagar tank was completed in just 45 days.
Simaluguri, which is located just 16 kilometers away from Joysagar tanks and temples has the nearest railway station. The nearest airport is at Jorhat.
It is a major Sibsagar tourist place. Located at 28 kilometers or 17 miles away from Sivsagar, Charaideo was established as the first capital of Sukhapa from the Ahom Dynasty. You can see canons and around 30 tombs aka maidams of erstwhile kings here. It is well maintained by ASI. Do not miss a newly built museum here. You must take a taxi to visit this historical place of Sivasagar. You can reach here by bus too but that takes more time.
Located on the western bank of Sivasagar Pukhuri, the beautiful red building of Tai Ahom Museum hides many secrets of Ahom Dynasty. You can learn a lot about the lifestyle of Ahom Kingdom by paying a visit at the Tai Ahom Museum. Apart from displaying Ahom legacy, the museum also encourages research projects on Tai literature and language. Tai Ahom Museum was inaugurated on 31st January, 1992. It is one of the most popular places to visit in Sibsagar.
Some of the original Ahom belongings restored and displayed at Tai Ahom museum are garments use by Ahom people, textiles, utensils, original antique pieces, ornaments, Tai Books, weapons, decorations pieces, jewelleries, pots and pans, ancient manuscripts, recreation of Ahom era through art etc. Do not miss Tai Ahom Museum.
The huge Gaurisagar tank is an artificial tank which is now a favourite picnic spot for both locals and tourists. Built by Queen Phuleswari, Gaurisagar tank is located 12 kms away from the Sibsagar main town. Queen Phuleswari was Ahom King's first wife, in 18th century. You can visit some temples dedicated to Hindu deities like Durga ji, Vishnu ji and Shankar ji around the tank.
The queen followed Hinduism's branch of Sakta and made immense efforts to promote Shaktism as Assam's stat religion. As a result Moamoria rebellion occurred because the members of Moamoria community were instructed to offer prayers to Durga ji.
Kareng Ghar aka Gargaon Palace
Located 14 kms away from the main Sibsagar town, Kareng ghar is a well maintained historical place. This stand alone monument is located in Garhgaon. It is thus also called as Garhgaon Palace or the Royal Palace. This is where the Ahoms ruled from for many years.
I saw a multi story building surrounded by a garden. It is one of the most grand of all of Ahom monuments of Assam. The building also has a room which was a prayer room. There is also a room here which was supposed to be the place where the queen was confined.
It is possible to climb up the building for views. Many local tourists had flooded the ancient monument as it was a holiday when I visited. It amazes me to think that before this brick palace existed, a wood and stone palace used to stand tall here. If only I had a time machine!
During whose reign Kareng Ghar was constructed?
Kareng Ghar was originally constructed by Sunephaa in the year 1751 C.E. Sunephaa was the younger brother of Swargdeo Siva Singha and son of Sukhrungphaa. He is credited with building a masonry gate and 5 kilometers long wall made up of bricks around the Kareng Palace. However, the building got destroyed over time and in 1752 C.E. Suremphaa commissioned the 7 storey building which exists even today. Suremphaa, who reigned from 1751 C.E. to 1769 C.E. was also known as Swargdeo Rajeswar Singha. He was the brother of ruler Pramatta Singha and son of Rudra Singha.
Who was Lachit Barphukan – Battle of Saraighat
It is not possible to visit Assam and not hear about the legend of Lachit Barphukan. He is the local hero of Asssam, much like other historical figures such as the much revered Chhatrapati Shivaji Maharaj of western India state Maharashtra or Maharana Pratap from North Indian state, Rajasthan.
During the Ahom era, Barphukan was one of the 5 councillors or the patra mantris of the kingdom. This tradition was started by Ahom ruler Pratap Singha. What made Lachit Barphukan extraordinary was his valour during the Battle of Saraighat in 1671 C.E. I saw his statue in many places including the crossroads at the main market of Sivsagar. The Saraighat war was the game changer!
Battle of Saraighat
During the Ahom Mughal conflicts, which lasted many years, Lachit Barphukan was given the responsibility to free Guwahati from the Mughals. The Battle of Saraighat was led by Lachit Barphukan from the Ahom kingdom and Kachwaha King, Raja Ram Singh 1 from the Mughals.
Despite being weaker than Mughals in infrastructure, the Ahoms won the Battle of Saraighat, thanks to the sharp warfare skills of Lachit Barphukan. Some of the ingenious techniques which Lachit Barphukan employed to free Assam from Mughals were guerilla style war, optimal use of resources and terrains, and clever negotiation skills which helped them buy time. The Ahoms attacked the Mughal navy and used psychological tactics to overpower them and win the battle of Saraighat.
The sophisticated methods used by Lachit Barphukan make him not only a hero of Assam but all of India. Why this was remarkable was because the Mughals gave up their mission to extend the Mughal Empire till Assam. Saraighat battle was thus the last of such war.
Isn't Lachit Borphukan history so interesting and yet no one talks about it! Saraighat is located near the Brahmaputra river in Guwahati. We should talk more about Lachit Borphukan.
Lachit Maidaam: Unfortunately, due to an illness Lachit Barphukan passed away just one year after the Battle of Saraighat. The remains of Lachit Barphukan were laid to rest in the Lachit Maidaam. It is located 16 kilometers away from Jorhat in Hoolungapara. Lachit Maidaam was commissioned by Swargadeo Udayaditya Singha in the year 1672 C.E.
Catholic Church
It is another Church in Sivsagar where local Christians go for prayers and Sunday mass.
Central Baptist Church
It is one of the few Churches of Sivasagar. Central Baptist Church is also the oldest Church of Sivasagar. Entry is free here. It is located near the Borpukhuri tank. It takes just 10-15 minutes of walk to arrive at Central Baptist Church from Sivasagar Railway Station.
Dikhowparia Rajahua Namghar
It is another must visit place in Sivasagar. Entry is free here.
Hindu Dharmsabha Namghar
It is popular with local people of Sibsagar. You can visit Hindu Dharmsabha Namghar when you are in Sibsagar if you have some spare time. It will give you a glimpse of local culture.
Aithan Temple
Pani Dihing Wildlife Sanctuary
Ranganath Shiv Temple
Rudrasagar Tank and Temples
Shym Temple
Sri Sri Kali Mandir
It is one of the rare Buddhist Temples in Sibsagar. It is located near the Sivasagar tank. Do pay a visit to Sivasagar Buddhist Temple if you have some time at your disposal. Jorhat
The bustling market area near the Siv Dol in main Sivsagar town is great for some quick shopping. You will get all the mainstream fancy food, medical shops, various services within close distance from each other. If you are planning to go to more remote parts of North East India, then do your shopping in the markets of Sivsagar before moving out. Stocking up is always a good idea.
Also do not miss out on the statue of Lachit Barphukan in the main market of Sivsagar. Lachit Barphukan is considered as a hero by Assamese people. There are more statues of other Assamese luminaries and famous personalities across Sivasagar.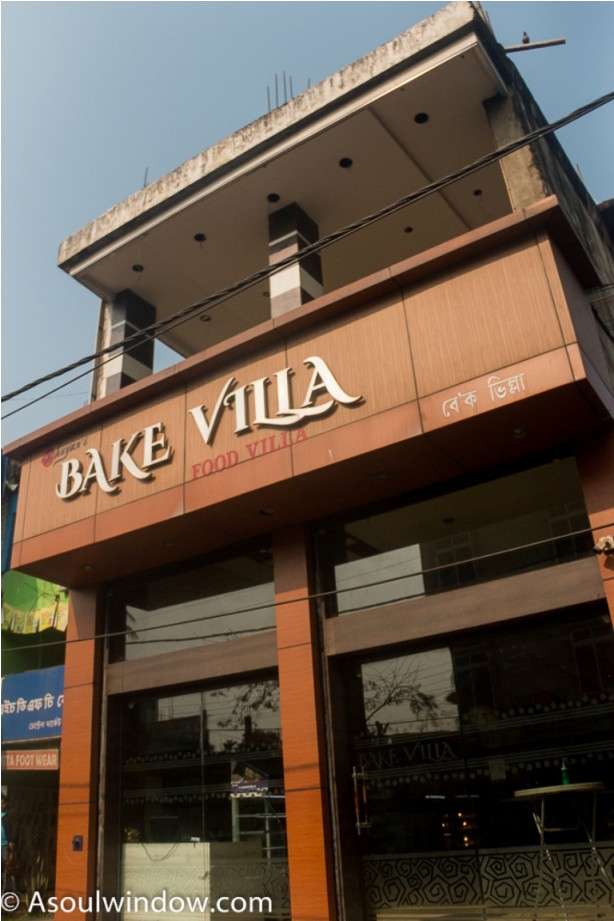 If you are craving for some bakery food, then you can head to some bakeries available in Sivasagar. They are not as good as bakeries of the big cities but are good enough. We had in fact packed many cakes and cookies for our road trip from Sivsagar to Mon. It was worth it.
There are many parks in and around Sivasagar. I am listing their distances from Sivsagar main town. Some of the notable public spaces and parks in and around Sivsagar are as below:
Lachit Park – 1.3 kms, Pin 785640
Hemchandra Baruah Park – 1.4 kms, Pin code 785640
Lakhshminath Bezbaruah Children's Park – 1.5 kms, Pin Code 785640
Lolit Rajkhowa Park – 1.8 kms, Pin Code 785640
Ananda Ram Baruah Park – 2 kms, Pin Code 785640
Joymoti Uddyan – 4.1 kms, Pin Code 785665 (Joysagar, Dicial Dhulia Gaon)
Public Parks in the outskirts of Sivasagar are as below:
Nazira Public Park – 14 kms, Pin Code 785685 (Ward number 4, Nazira Town)
Out Colony Park – 14 kms, Pin Code 785685 (Ward number 4, Nazira Town)
Park ONGC Nazira – 14.3 kms, Pin Code 785685
Railway Park (Deodhai Gaon, Simaluguri) – 15.5 kms, Pin Code 785686 (Deodhai Gaon, Simaluguri)
Children's Park (Deodhai Gaon, Simaluguri) – 15 kms, Pin Code 785686
Children Park (Sonari) – 44.8 kms, Pin Code 785690
Though Dibrugarh does not have much to see but it is a good base to take flights to and from North East India. Dibrugarh is a good base to explore nearby destinations. In fact I caught my train from Dibrugarh to Lucknow from the very impressive Banipur Railway Station. Sometimes ago I had caught a flight from Lucknow to Dibrugarh to visit Basar in Arunachal Pradesh as well.
Guwahati sure is the gateway to North East India. Like Dibrugarh, Guwahati is also an amazing base to go to nearby places in North East India. Guwahati is connected to most major Indian cities and small towns with train, bus and flights. You can also pay your respect at the very renowned Kamakhya Mandir. Guwahati is also the capital of Assam.
I had a memorable safari to Kaziranga National Park. In fact we started this 15 days long epic trip to North East India from Kaziranga National Park via Nagaon. We saw many rhinoceros, migratory birds and hog deer as well.
Tiok Tea Garden Teok Gaon
Also located in Assam, it is one of the most beautiful tea gardens of Assam. You can take a tour of the tea estate and see the process of tea making. Do not forget to buy some tea from here as a souvenir. Pin code – 785690
The Hoollongapar Gibbon Sanctuary
Not many know about this lesser known wildlife sanctuary in Jorhat. It is home to the only ape found in India, which is Hoolock Gibbon. It is very remote and located near a sprawling tea garden. You must visit the Hoollongapar Gibbon Sanctuary when in Assam.
Like Dibrugarh and Guwahati, Jorhat is also not a destination but a gateway to visit nearby places in North East India.
We had visited the amazing Mon from Sivasagar via a memorable road trip. It is an easy and well marked path. You will see how culture, food, facial features and landscapes change within a span of few hours as you cross Assam to reach Mon in Nagaland. It is one exciting journey. Make it happen!
You need to arrive at Mon from Sivsagar first in order to reach Longwa. Longwa is as remote as you can go in North East India. Located in Nagaland, the Longwa village straddles between India and Myanmar. In fact we visited the home of chief Angh of Longwa (aka the King of Longwa) which was located half in India and half in Myanmar.
Eat Vegan and vegetarian food in Sivsagar
Assamese vegan Food- I love the local vegan food called baigun bhaja(Fried aubergines) and pitika (mashed and spiced aubergine/potatoes etc). Ghugni is also popular throughout the year. It is eaten often with roti. Also try the mildly sweetened pitha, made from rice flour and sesame seeds. It is more commonly available during Assamese festivals called Rongali Bihu and Bhogali Bihu.
North Indian Food – There are many restaurants here where you can easily find reasonably priced vegetarian and vegan food. Unlike some other regions of North East India, you will also find North Indian style food in the restaurants here. We had some paneer dishes (cottage cheese), daal fry (lentils), rice and naan at a restaurant near Siva Dol.
We moved to Mon next, so we shopped in Sivsagar. Since Sivsagar is a bustling town, we bought as many packaged food from the grocery stores as wwe could before proceeding to Mon and Longwa in Nagaland. We were not sure of good food in Mon and Longwa, so we made sure we had something packed not only for the road trip from Sivsagar to Mon but also for snacking once we reach Nagaland. However, we did not need to open those packets as Nagaland does have some good vegan and vegetarian food. You can also shop for an Assamese Xorai here.
Safety in Sivasagar
Sivasagar is a very safe place to visit in Assam and India. I walked solo across many different parts of Sivasagar and found the people very friendly. It is also a bustling town which means you will get many medical shops unlike some other parts of North East India.
How to reach Sivsagar
Below is a detailed guide on different modes of transport to reach Sibsagar.
By road trip
The best way to enjoy the remote North East India is by a road trip. Road trips will help you enjoy an enjoyable customized itinerary. Also, public transport in North East India is not frequent and easily available, so going on a road trip makes more sense in this part of India. We arrived in Sibsagar from Ziro in Arunachal Pradesh and left Sibsagar for Mon and Longwa in Nagaland.
By Flight
Jorhat airport has the nearest flight connectivity to Sivasagar. However, the International Airport closest to Sibsagar is at Lokpriya Gopinath Bordoloi International Airport in Guwahati. See distances and time taken in below chart.
Dibrugarh airport is another close option near Sivsagar.
By Railways
Sibsagar Town Railway Station has very good connectivity to other places in North East India. Simalguri railway station, which is connected to Dibrugarh and Yeshwantpur has the next nearest train connectivity to Sibsagar.
Check out trains like Dibrugarh Intercity, Dibrugarh-Agartala and Bengaluru Weekly at the IRCTC website. Train from Dibrugarh to Sivasagar runs 3 times in a week and takes just about an hour. It is also cheap way as it costs just INR 100.
Train from Rowriah Sdg, Jorhat to Sivasagar Town Railway Junction takes around 3 hours.
By Bus
ASTC and private buses regularly ply to Sibsagar from Dibrugarh, Guwahati, Tezpur etc.
In fact a bus I took from Dibrugarh to Majuli and Jorhat passed through Rang Ghar at Sibsagar.
Distances, time taken and route from Sivsagar to other places in North East India
This is listed in descending manner so you can plan your Assam tour easily
Tinsukia to Shivsagar distance – 2 kms, 15 minutes via GNB road
Jorhat to Sibsagar distance – 58 kms, 1 hour and 55 minutes via AT road
Dibrugarh to Shivsagar distance – 80 kms, 2 hours and 10 minutes via NH2
Majuli to Sivsagar distance – 85 kms, 3 hours via AT Road
Mon to Shivsagar distance – 93 kms, 1 hour and 20 minutes
Dibru Saikhowa National Park to Shivsagar distance – 104 kms, 3 hours and 15 minutes.
North Lakhimpur to Shivsagar distance – 111 kms, 4 hours and 15 minutes via SH21
Mokokchung to Shivsagar distance – 123 kms, 4 hours and 50 minutes via NH2
Longwa to Shivsagar distance – 127 kms, 5 hours via NH702 and NH702C
Dimapur to Shivsagar distance – 188 kms, 5 hours 45 minutes via NH129 and NH715
Namsai to Shivsagar distance – 200 kms, 4 hour and 30 minutes via NH2
Tezpur to Shivsagar distance – 220 kms, 5 hours and 36 minutes via NH715
Naharlagun to Shivsagar distance – 230 kms, 5 hours 45 minutes via NH15 and NH2
Itanagar to Shivsagar distance – 245 kms, 6 hours and 15 minutes via NH2 and NH15
Guwahati to Shivsagar distance – 368 kms, 8 hours and 15 minutes via NH715 and NH27
Imphal to Shivsagar distance – 390 kms, 11 hours and 33 minutes via NH2
How to get around within Sibsagar?
Buses, shuttles, auto rickshaws, taxis and cycle rickshaws are some of the common and cheap modes of transport in Sibsagar.
Languages spoken in Sivsagar
Local language of Sibsagar is Assamese. Everyone, including old people speak and understand Hindi. Many people also speak and understand English.
Best Time to visit Sivasagar
We visited Sivasagar during the months of January. We were on a 15 days long epic trip to North East India. While other places varied from freezing cold to moderate, I found Sivasagar and other places in Assam to be comfortably warm. The weather here is mostly pleasant, especially in the early morning.
Winter: September to January is when tourist season falls in Sibsagar. The temperature is comfortable and the air fresh.
Summers: April to August can be hot in Sibsagar as it lies on a lower altitude. Even in January it was warmer than other places in Arunachal and Nagaland.
Monsoon: July and August can be a bit irritating due to rains but manageable. In many places in Assam, flooding is common. So check before you plan an Assam tour in monsoon.
Best Tour Operator in North East India
Sange Tsering from Holoiday Scout runs many successful tours to all the 7 states of North east India. You must contact Holiday Scout for a tailor made trip across the chicken's neck of India. His tour packeges in North East India are very popular amogst Indians and foreigners.
Conclusion on Sibsagar
Sivsagar is a very easy destination in not only Assam but all of North East India. You will also get acquainted to the lesser known history of the Ahom Kingdom. The easy accessibility, availability of good vegetarian and vegan food and proximity of various monuments within walking distance of each other also makes it a favored destination in NE India. Assam tourist places are some of the best in India.
Sivsagar is also a pocket friendly destination as there is not much you can spend here on. That said, there are also some good comfortable hotels in Sivsagar where you can stay. That makes Sivsagar an ideal destination for backpackers and luxury travelers alike.
The view from my Soul Window is offbeat!
Top Travel Blogger from India