Last Updated on March 25, 2022 by asoulwindow
About Panhala Fort: History
Panhala fort, also known as Panhalgad, is located in Panhala, 20 kms from Kolhapur, Maharashtra, India. It was built between 1178 and 1209 CE by the Shilahara ruler Bhoja II. The structure and history of this fort are great attraction for tourists and travel enthusiasts. The history of Panhala Fort can be traced back to more than 359 years ago. It is well known for the battle of Pavankhind.
Even in those times, it was of strategic importance due to its location which overlooks a pass in the Sahyadri mountain range. It was a major trade route from Bijapur in the interior of Maharashtra to the coastal areas. You must consider this trek if you are looking for trekking near Kolhapur.
Panhala Fort History
In 1659, Shivaji (popularly known as Chatrapati Shivaji Maharaj, the great Maratha king) seized Panhala from Bijapur by defeating and killing their General, Afzal Khan.
In May 1660, to win the Panhala fort back from Shivaji, Adil Shah II of Bijapur sent his army under the command of Siddi Johar to lay siege to Panhala Kolhapur. The siege continued for 5 months, at the end of which all provisions in the fort were exhausted and Shivaji was on the verge of being captured. There was no other option left than escaping from Panhala fort. Read more to learn about the amazing Panhala Fort History.
Also Read: Who destroyed Martand Temple of Srinagar. It was mentioned in Kashmir Files movie.
Battle of Pavankhind and the great escape
Shivaji sent a message to Siddi Johar that he is ready to a have meeting with him. This made Siddi's army to relax a bit considering the siege would soon end. But on the other hand Shivaji had planned to escape from the Panhala fort alongwith his soldiers. This news somehow fell on Siddi's ears and he sent his men to capture Shivaji's decoy but little did he know that there would be a twist. Isn't Panhala Fort history intriguing? Wait, there is more…
Twist in the tale – Panhala History
Panhala Kolhapur History has some interesting twists and turns. A braveheart barber, Veer Shiva Kashid (who resembled Shivaji) volunteered to disguise as Shivaji and get captured to buy time by creating confusion over identity. It was absolute suicidal decision as his real identity got revealed. This enraged Siddi Johar and he immediately beheaded Shiva Kashid. Meanwhile Shivaji got enough time to begin the execution of his escape plan. Shiva Kashid's sacrifice and selflessness was well paid off.
Also read: The mystery of Shankaracharya Temple of Srinagar. You heard about this temple in the blockbuster Kashmir Files.
Shivaji alongwith his commander Veer Baji Prabhu Deshpande and 600 soldiers had proceeded towards Vishalgad Fort (64 km from Panhala) which would be safe haven in the existing situation.It was night of 13th July 1660 (Ashadi Pornima), it was raining heavily, but Shivaji and his men were determined to escape no matter what. Unfortunately Siddi Johar's army led by Siddi Masood who were on the rapid pursuit almost caught up with Shivaji's force when the destination was just 13 km away. There had to be change in plan and who knew this would create glorifying history, the 'Battle of Pavankhind'.
The Master plan to reach Vishalgad – Panhala Kolhapur
Veer Baji Prabhu decided to stay back at Ghod Khind (pass) alongwith with 300 soldiers and let Shivaji proceed to Vishalgad with remaining 300 soldiers. Ghod Khind was very narrow and only a few soldiers could pass at one time and this was the only way to reach Vishalgad. So the plan was to defend and keep enemies engaged at this pass until they hear the cannons fired from Vishalgad fort which would indicate that their Shivaji Maharaj had safely arrived at the fort.
Braveheart Veer Baji Prabhu – The Guerilla warfare
It was ultimate bravery of this man Veer Baji Prabhu, who vowed to fight against 10,000 men army of Siddi Masood with just 300 Soldiers, the Mavlas (hardened mountaineers from Mavla region). This is why it is said to be the bravest war 0f 300 soldiers against an army of 10,000 soldiers.
The battle was fought by Shivaji's force using guerrilla warfare tactic. It lasted for almost 5 hours but the already exhausted Mavlas (after walking almost 50 km in the muddy terrain and dense dark forest, bruised by the thorns) showed extreme determination & fought fearlessly.
Veer Baji Prabhu kept motivating the Mavlas not to give up. He took his last breath only after hearing the cannon fired from Vishalgad fort, he now knew his Maharaj was safe. Panhala Fort History is indeed intriguing.
Why Ghod Khind was renamed as Pavankhind
Only few Mavlas survived who retreated and escaped in the forest. The Ghod Khind was subsequently named as Pavankhind (holy pass) by Shivaji in the remembrance of Veer Baji Prabhu and his Mavlas who sacrificed their life for him.
This escape which started on the rainy night of July 13,1660 (Ashadi Pournima, full moon day of Ashadha month as per Hindu calendar which falls in June-July month) witnessed heroism, bravery and sacrifice for generations to narrate and feel proud about what Chatrapati Shivaji Maharaj has left behind for us.
Panhala – Pavankhind Mohim (mission) – Battle of Pavankhind
In remembrance of this historical event i.e. the 'Battle of Pavankhind' every year during June- August, several Shivaji lovers/trekking enthusiasts treks through the same escape route from Panahala to Pavankhind to Vishalgad.
Panhala- Pavankhind trek details
Below are the details of the Panhala Fort trek based upon my own experiences. I was privileged to undertake the same route taken by heroes from yesteryear. This guide will inspire you to go one this less talked about trek in the Sahyadri range near Kolhapur, Maharashtra.
Base village and destination – Places to visit in Panhala
The trek starts from Panhala and usually ends at Pavankhind. Further it extends till Vishalgad fort depending upon the availability of time and energy.
Trek Distance and Duration – Panhala to Pawankhind Trek
Day 1: Approx 50 km from Panhala Fort to Pavankhind ( 12-14 hours trek)
Day 2: Approx 13km from Pavankhind to Vishalgad Fort (3-4 hours)
Endurance Level– High
Difficulty Level – Medium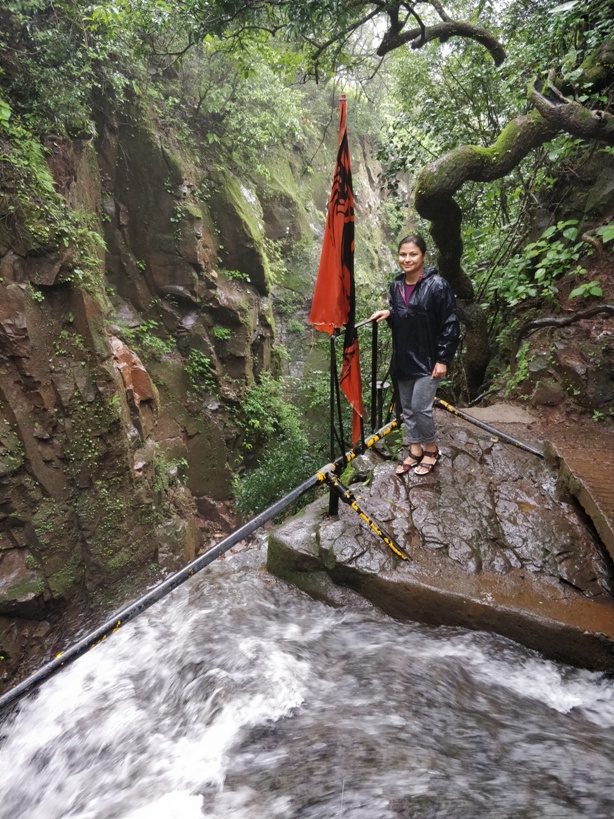 My Panhala Fort trek experience in monsoon
I went on Panhala Pawankhind trek from 13th July to 14th July. I had read about Panhala-Pavankhind Mohim in Shikharvedh's (Trekking group in Mumbai, led by Jagdish Patil) event lists. This group has been organising the mohim since last 11 years consecutively. Later I got to know the story behind the mohim and was keen in joining the trek few years ago but due to some reasons I couldn't.
In the month of June, next year when the monsoon began in Mumbai, I casually discussed about this trek with my then fiance who is now my husband. After few days he sent me event details of the trek which his friend had forwarded and it happened to be of same Shikharvedh group which I referred above.
We finally gave in and decided to go for this trek, the mohim. Sometimes, it can take upto a year for the best of things to happen. Isn't it? For us it was our first long distance trek, an opportunity to get to know each other well. We didn't realise at that of point that we were about to revisit the history.
Journey began – Places to visit in Panhala
On 12th July, it was Ashadi Ekadashi, an auspicious eleventh lunar day of the bright fortnight of the Ashadha month (as per Hindu calendar which falls in June-July month) and that evening at around 7:30 pm I began overnight journey from Dadar, Mumbai, Maharashtra by private bus arranged by the trek organizer alongwith 30 other trekkers including my husband.
Day 1- Panhala to Pandherpani. The route runs through Turukwadi and Mhalunge village, Mhasai Pathar ( Plateau), Kumbharwadi, Chapewadi, Madlaiwadi, Karpewadi and Patewadi villages covering around 44 Km in 12-13 hours.
Bus arrived at Panhala at around 6 a.m. We were welcomed by morning mist. Frankly speaking I didn't want to step out of the bus as it was too chilling outside, just wanted to get cozy and sleep a little more. But soon the team lead called out and asked us to freshen up and pack our day bag.
The same bus would catch us up at the end of the day at Pandherpani, so we had the liberty to carry minimum required stuffs in day bag and leave the remaining stuffs in the bus itself. I freshened up quickly and was ready with the rain gears on as it had already started drizzling and I knew it would continue.
Starting point of Panhala Trek
The trek's starting point was ' Statue of Veer Baji Prabhu Deshpande' located at the centre of Panhala fort. This statue to me was epitome of valour which filled me with abundant enthusiasm, as if I was preparing for some war, no kidding. The slogans of Jai Shivaji Jai Bhavani reverberated through the air and history played a flashback before our eyes. We moved on to make our own personal histories.
After, we moved a little further, we gathered at one place at around 7:30 am. After a brief introduction round we prepared to descend from the Pusati Buruj (bastion).
CROSSING WATER BODIES – THE TRICKY PART
After half an hour's descend we had reached a small village Turukwadi. After walking a few distance on tarred road, we started walking through farm fields. Then came a bit tricky part, we had to cross one field area which was full of water and reach the edge of the field. With the help of stones placed manually by group members, we successfully crossed it by carefully stepping on the stones one by one.
Reaching Mhalunge Village
Once that little tricky task was over came, we proceeded to the ascend that would take us towards Mhalunge village. It was little tiring. I always find first few kilometers of trek bit tiring which mostly makes me think whether I will be able to complete the trek or not, am I capable or not.
But that feeling starts vanishing as I proceed. Keep going is the only mantra then, because you know what's waiting for you ahead and for that you are ready to push yourself. In this case the massive Mhasai Pathar ( Plateau) was waiting for me to embrace it.
Braving the rain and wind
I went crazy the moment I stepped on the Mhasai Pathar plateau. It was breezy and raining heavily by the time we arrived. The breeze was making us move ahead automatically. All the trekkers were scattered at the plateau. Raincoat was not in place, cap wouldn't stay on my head, all attempts to save myself from getting wet were in vain.
Arriving at massive Plateau called Mhasai Pathar
Somehow my husband and I found the opportunity to stop and take video of the beautiful Mhasai Pathar Plateau full of lush greenery, swaying trees and little white flowers which had just started blooming. We captured few pictures on our mobile at the risked of it getting wet.
After all you don't want to lose the chance of cherishing those memories in future through pictures and videos. We were running around like kids, jumping and splashing water on each other.
Breakfast At the temple
Very soon we realised we shall lose out on time if we stay there longer, so we started walking fast to reach the next gathering point that was the temple which is located at the other end of the plateau. When we reached there, the Hindu temple was hardly visible from far due to fog and rain. We had completed 11 km by then, so we deserved to have breakfast that we had carried the previous evening from home.
Lunch at Karpewadi
We resumed the trek after that most need break of half an hour. Within 40 min we reached Kumbharwada and another 40 min walk through small forest area covered with Nilgiri trees took us to Chapewadi.We collected our packed lunch from one of the villagers and proceeded towards Mandlaiwadi and next was Karpewadi. We reached Karpewadi at around 1pm.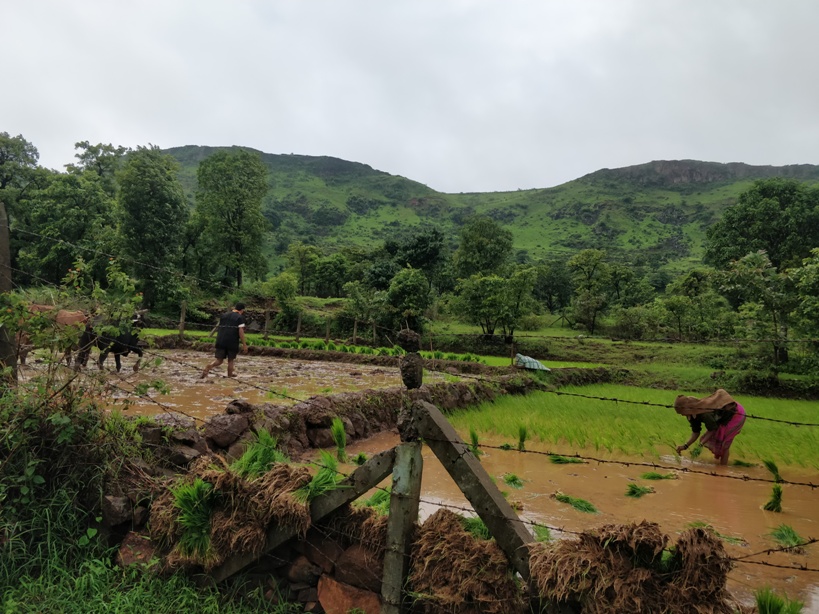 The beautiful village stopped me in my tracks
Enroute, we arrived at a quaint village area where I couldn't hold myself to halt and just be there and enjoy the beauty of that place. Everything what I could see around was so eye pleasing, the greenery, the farms, the farmers happily working in their farms. Some were ploughing their fields with the help of cattle, some were transplanting paddy saplings in organised manner. Even while it was raining heavily, they were merely covering themselves with a village style poncho on their head and back. Despite the flurry of activities, there was a certain peace in that moment!
An Annual Pilgrimage
Bidding farewell to the villagers we moved ahead. Our next destination was Patewadi which was approx 8-10 kms stretch.In between we had our lunch, relaxed for a while and continued the trek.
There were other trekking groups as well and also few Shiv premi ( Shivaji lovers) for whom this mohim is an annual pilgrimage. Some of the devotees had even got their young enthusiastic kids along with them.
Some of my co trekkers knew a lot about this mohim, some had been doing this since 4-5 years so they had their own experiences to narrate. I was awestruck just by hearing the stories and imagining the kind of difficulties Maharaj and his troop must have faced more than 300 years back. I took pride in walking the same path although the difficulty level was not the same, of course.
Trek in Sahyadri through the forest
Walk through the jungle was rejuvenating though it was not that easy as we had to go through muddy patches and cross flowing water bodies here and there. One good thing was that it had stopped raining by then. We had completed 34 kilometers, but didn't have much time to sit and pat our backs for this accomplishment because we still had to cover 10 more kms and it was already 4 p.m. We had to cross more of the dense forest and at dusk it would get extremely dark, thereby, increasing our difficulty level.
Panhala Fort Trek – A difficult trek in Sahyadris
The muddy patches were quite deep as it had rained heavily during the last few days and even on the day we trekked. Although scary, it was fun for me but not so much for everyone else as I saw some trekker's shoes giving up their last breath. You need to have proper water resistant and strong trekking shoes for this kind of monsoon trek suitable for forest terrain.
Moreover we had walked for almost 9-10 hours and shoes had already started biting, some got blisters on their toes, rashes on the thighs. I did not face these issues but my legs were paining severely and body had exhausted after such a long walk through rough terrain, dipping legs inside the mud and pulling it back every now and then. It required a lot of energy.
Night Trek in the dark: We didn't give up
But at this moment there was no desire to give up as going back to the previous village was not a good option. Somehow we had to reach our last village of the day i.e. Pandherpani. We had carried torches with us that helped us during last few kms through the sleepy village. At certain places the path was confusing so we had to wait for few co trekkers to gather and then proceed. At last we were out on tarred road, which, much to our relief, were the last 6 kms.
Arriving at Pandherpani
Our initial plan was to visit Pavankhind on day 1 itself but we were behind our schedule so we decided to do it the next day. We reached Pandherpani at around 8:30 pm after a long day of strenuous walking. Much to our surprise, there was one group who was distributing hot tea to all the trekkers. Ahh, having hot tea after such a tiring day and in the cold evening is just heaven. Need we ask for more?
Authentic home-made dinner at a local's house
We gathered at one villager's house where we were supposed to have dinner. When we started, all 30 of us had started together but at the end of the day, we arrived at the destination in small groups. Those who reached late were the once who faced more difficulties as they had to cover long stretches in dark.
Now it was time to enjoy the local home-made meal after a quick change of clothes which were fully drenched in water. The meal was tasty and filling. It felt so relieving.
Sleeping in a villager's home
We moved to another villager's house where our sleeping arrangement was done. We were all stuffed in two big living rooms one for males and other for females. I applied some ointments on my legs and back, got into my sleeping bag and slept like a child.
Day 2 – Pandherpani to Pavankhind (approx 1 hr) 6 Km trek
Pandherpani to Pavankhind (trek takes approx 1 hr. It is a 6 Km trek . Pawankhind to Vishalgad- 13 km
Next morning I woke up with utmost difficulty, still feeling pain in the legs. We had breakfast at the same villager's house where we had our dinner and were set for Pavankhind, the most awaited one where the battle took place.
Tarred road or bus – How to reach Pawankhind or Pavankhind
It was an easy 6 kms walk on tarred roads, some opted to go by bus. Within 1 hour we were at Pavankhind at around 9 am. Just a few steps of descend took us to the sacred pass, Ghor Khind which is also known as Pavankhind. Many people ask how to reach Pawankhind aka Pavankhind. Not many know that there are two options to reach Pawankhind, i.e., bus and walk.
Arriving at Pavankhind: Goosebumps!
We paid tribute to Veer Baji Prabhu Deshpande's smarak (memorial) built here. I could feel the aura of this brave man roaring with pride. This was the place where he and his fellow 300 soldiers laid their life fighting against thousands of men of Adil Shah's army. I got goosebumps while shouting the slogans of their victory. At that moment we relived the thrilling history. Needless to say, Pavankhind is one of the most important places to visit in Panhala. All the hard work we did to reach Pavankhind made a lot of sense now.
Trekking towards Vishalgadh
We had to head towards Vishalgad now. Due to time constraint, we went to Vishalgad fort base by bus. Climbed the steps for around 20- 30 min and we were at Munda Darwaja (gate). There were many visitors who visit the dargah located at the fort area and it was too crowded.
The area around the fort was unclean and not well maintained. There were too many shops which led to water logging and dirt everywhere.
Veer Baji Prabhu Deshpande's Samadhi
We just took a quick look of the fort and started the trek towards Veer Baji Prabhu Deshpande's samadhi which was located away from the fort area. The route was confusing and not properly marked as hardly anyone visits there. It was a blessing in disguise as its beauty was untouched by the dirt and pollution which we saw at Vishalgad fort. It is one of the best places to visit in Panhala.
Amazing views at Samadhi – Panhala Fort what to see
The view, surrounded by greenery was mind boggling. It was drizzling and was so cool. All I desired was to just feel the fresh air and absorb the absolute beauty that nature had offered us. After half an hour's trek we reached the samadhi, maintained silence for few seconds in the remembrance of the great warriors.
Back to Vishalgadh base and Mumbai
We were back to Vishalgad base from where we began our return journey to Mumbai by our bus. We reached Mumbai late night and that was the end of it.
Itinerary and distances
05:30 Hrs: Panhala
06:15 hrs: Descend from Pusati Buruj
07:00 Hrs: Turukwadi – 2.5 km Complete
07:45 Hrs: Mhalunge Village -5 km Complete
09:00 Hrs: Mhasai Pathar-Mhasai Temple – 11 km Complete
09:45 Hrs: Kumbharwadi – 14 km Complete
10:30 Hrs: Chapewadi – 18 km Complete
Collect Packed Lunch from local villager
12:00 Hrs: Mandlaiwadi – 23 km Complete
13:00 Hrs: Karapewadi -28 km Complete
15:00 Hrs: Patewadi – 34 km Complete
15 mins Break
18:00 Hrs: Pandherpani – 44 km Complete
19:00 Hrs: Pavankhind – 51 km Complete
Quick facts of Panhala Fort Trek
Dinner & Overnight stay – Pandhrepani (villager's house)
Sunday 14th July
Breakfast – Tea
07:30 Hrs: Move 2 Vishalgad by Bus / Trek (13 kms)
09:30 Hrs: Vishalgad
Explore the fort
11:30 Hrs: Move to Mumbai by Bus
Lunch en-route on the highway
23:00 Hrs: Mumbai
Cost of Panhala Fort Trek
The cost for the event was Rs. 2950 / – per head.
How to book Panhala Trek
Trek organizer: Shikharvedh ( led by Jagdish Patil)
There are many other groups in Mumbai, Pune and Kolhapur who organises this trek. One can go on their own as well, but need to study the route before hand as it gets confusing at some places.
How to reach Kolhapur and Panhala from Mumbai and Pune
By Bus
From Mumbai and Pune best way is to take private bus overnight journey. Try to reach early at Kolhapur at least by 5 a.m.
From Kolhapur you can easily get local transport till Panhala fort.
By Train
Mahalaxmi Express – The 17411/17412 Mahalaxmi Express is an express train that runs between Mumbai and Kolhapur. It is a daily service. It operates as train number 17411 from Mumbai CSMT to Kolhapur SCSMT and as train number 17412 in the reverse direction. It goes via Pune.
Source of information about Panhala fort and the battle of Pavankhind: For more, please read on Wikipedia and other references related to Marathas.
Last Thoughts on Panhala Trek
This trek for me was one of its kind as it gave opportunity to revisit the history and valour of the brave Marathas. High endurance level was required for this trek which I wasn't sure whether I will be able to do but I was determined like the Mavlas and yes I recorded my highest distance trek of 44 km in a single day. The rich Panhala Fort history makes this trek all the more worthwhile. Panhala Fort trekking is the best trek if you are looking for trekking near Kolhapur.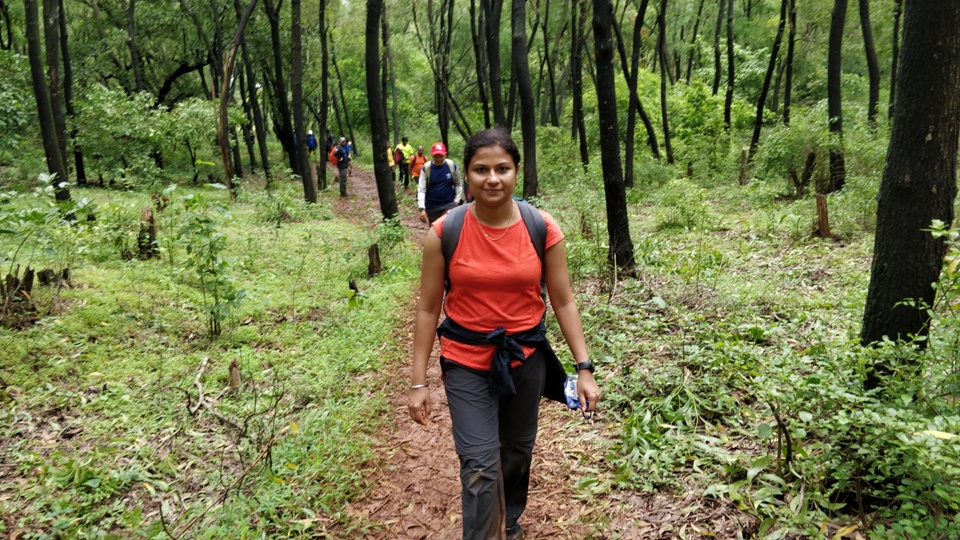 Author Bio
I hail from a small town named Sawantwadi in Maharashtra and have spent my childhood in susegad (quite and relaxed) Goa. Desire to be independent dragged me to the dream city Mumbai where I am currently located.
My wanderlust landed me to numerous places across India and few outside India and trekking became part of my life. I have done more than 20 treks in Sahyadri mountain range of Maharashtra, the most challenging and life threatening of which was Alang- Madan-Kulang range and few Himalayan treks including the popular and deadly Chadar trek in Zanskar region of Ladakh, which was truly worthy of all the risks one carries.
Credit goes to Mumbai for transforming me from shy little girl to bold independent woman who dares to travel alone, eat alone and even watch movie alone if need be.
Follow this blog for more such stories
Free Guides on Maharashtra
Do not miss these free guides on Maharashtra. Please read to dream and plan for that amazing trip of a lifetime.
Best Monsoon Treks in Sahyadris of Maharashtra
Monsoon Trip to Lonavala and Khandala
Gudi Padwa Shobha Yatra in Dombivali
The colorful Kala Ghoda Arts Festival in Mumbai
Babington Point in Mahabaleshwar
Hacks for student life in Pune
Pattaya Street – Restaurant in Navi Mumbai
Top Travel Blogger from India