I have been listed as Top Travel blogger from India more than 25 times. I didn't know this is where I was headed to when I gingerly started traveling solo a decade ago. I have been travelling since 2008, mostly as a solo traveler. What started as a deeply personal journey, triggered by a personal tragedy (I am still not ready to talk about it!), has now translated into a blog and a career. I was going through a rough phase in life and was living without a purpose. Then suddenly travel happened to me, as if by divine intervention and I found the true calling of my life. I started as a solo traveler. It helped me feed my hunger for loneliness, brooding and some serious soul searching (How else, do you think, I lost much of my hair,eh!). It helped me rediscover many hidden facets to myself and my Incredible India. From an introvert, travel has turned me into a forced extrovert. Thanks to travel, from a self destructive person, I have turned into a positive, happy individual.
Pls click below link to read my journey. This blog went viral:
FROM BEING FIRED FOR TRAVELING TOO MUCH TO BEING ONE OF THE TOP TRAVEL BLOGGERS OF INDIA- THE JOURNEY OF NOT QUITTING!
I now want to dedicate my entire life to travel. Trust me it's the best job in the world (though demands lot of hard work and supreme personal sacrifices – more on that later) More than 200 destinations in 21 states of India and 10 countries and 10 years later, travel has turned me into a better person. I never thought one day I will end up winning photography awards and my travel pictures and my stories will be published in India's leading travel magazines, newspapers and online portals. It still freaks me out when people tell me I am an inspiration to them. This was not my vision when I started to travel. That said, it's now impossible to go back to a mundane life. Travel is now my reason of existence.
In November, 2014. I was fired from my corporate job of 6 years, for traveling too much. In fact, I was the only one who was not ever promoted in my 6 years in corporate life. I worked towards not getting promoted deliberately year after year while my colleagues left no stones unturned to ensure their promotion. After small bouts of depression post my firing, I finally realized that it happened for good. As soon as I stopped pretending to look for another job, I booked Everest Base Camp Trek. The trek cleared many things in my head. It made me realize what I really want in life. The immense support from friends and family helped me sail through. My parents have a big role in helping me achieve my dreams.
However I don't want to glamorize travel. This blog is a labor of love. I have spent many sleepless nights, suffered small big struggles everyday to create this blog. I created this blog in order to organize/record my memories, share my stories and empower/inspire my audience to lead a more fulfilling life travelwise. But I always discourage people to follow my example. In fact I keep warning people not to quit their job for traveling. What worked for me might not work for others.
Though I enjoy all genres of travel but I am passionate about adventure, trekking, rural tourism, spiritual, wildlife, eco- tourism and specialize in luxury travel. My writing style is experiential with deep respect for the destination I am traveling to. The recurrent theme in my writing is that of soul searching, seeing things in a positive but realistic way and conservation/protection of culture, environment, destinations, wildlife and local people et al. I share brief facts at the end of my blog.
LISTED AS TOP TRAVEL BLOGGER FROM INDIA
A Soul Window is mentioned as the Top Travel Blogger From India 15 times in just 2 year:
Featured by leading newspaper Hindustan Times as one of the best Twitter handle for Travel related queries. The article on me was published in the print version
Lonely Planet Magazine India mentions me as one of the top travel bloggers from India in November 2017 issue.
Skyscanner features me as one of the 5 travel blogs to follow this year
Best Travel Blogger of India by GrabOn
Hostelavie features me as one of the Top 7 Indian Travel Blogger
Outlook Traveler nominated me as one of the 8 travel bloggers from India for their annual awards 2017.
Travel Triangle featured me as India's most influential travel blogger.
20 Indian Micro-influencers to Boost Your Influencer Marketing Strategy by Crafting Genuis
Thrillophilia mentions me as one of the top travel bloggers from India. Check here.
We Travel Solo lists me as Top 20 solo traveler of India.
Hello Travel mentions me as one of the Top 5 Adventures from India. Check here.
Filtercopy features me as one of the Top 5 honest Travel Bloggers from India
Holidify mentions me as one of the top 100 travel bloggers of India under 'adventure' category. Check it out here.
Jio Joo featured me as one of the best Travel Bloggers in India
Tours in India featured me as Top Travel Bloggers in India.
Trip Crafters listed me as one of the Top Travel Bloggers from India.
Top Travel Bloggers from India by Twinkl.
AWARDS AND RECOGNITION



Won 1st prize (Out of 36,000 entries) in Entertainment category in Mumbai Meri Jaan contest judged by ace celebrity photographer Atul Kasbekar. The prize winning pictures as well as many of my Mumbai pictures are displayed at a permanent Zillion gallery in Mumbai, which is India's largest photo
Won best travel blogger (Adventure) award by ICIT Blogging Awards 2018 in association with Gujarat Tourism
Won 1st Prize in a Photography contest conducted by I-Next newspaper in Lucknow in 2008
Won 1st place in culture category in a photography contest conducted by DNA newspaper on world photography day. It was also published in the paper and exhibited in R City Mall, Ghatkoper, Mumbai.
Won consolation prize in professional category in CIDCO's annual 'Frame it fine' photography. My picture was hence published in CIDCO's 2014 calender.
Was shortlisted twice as India's top 50 contestants out of 20, 000 plus entries for the biggest travel blogging contest – 'Grab Your Dream'.
Was shortlisted as India's top 10 contestants for a travel contest conducted by Ceat
MEDIA LIMELIGHT



Shortlisted for the audition of Fox Traveller Channel's show 'Life Mein Ek Baar' (Hosted by actor Purab Kohli)
Was a semi-finalist for Mr. Lucknow 2008.
Learned acting from Anupam Kher's acting school, Actor Prepares, Mumbai.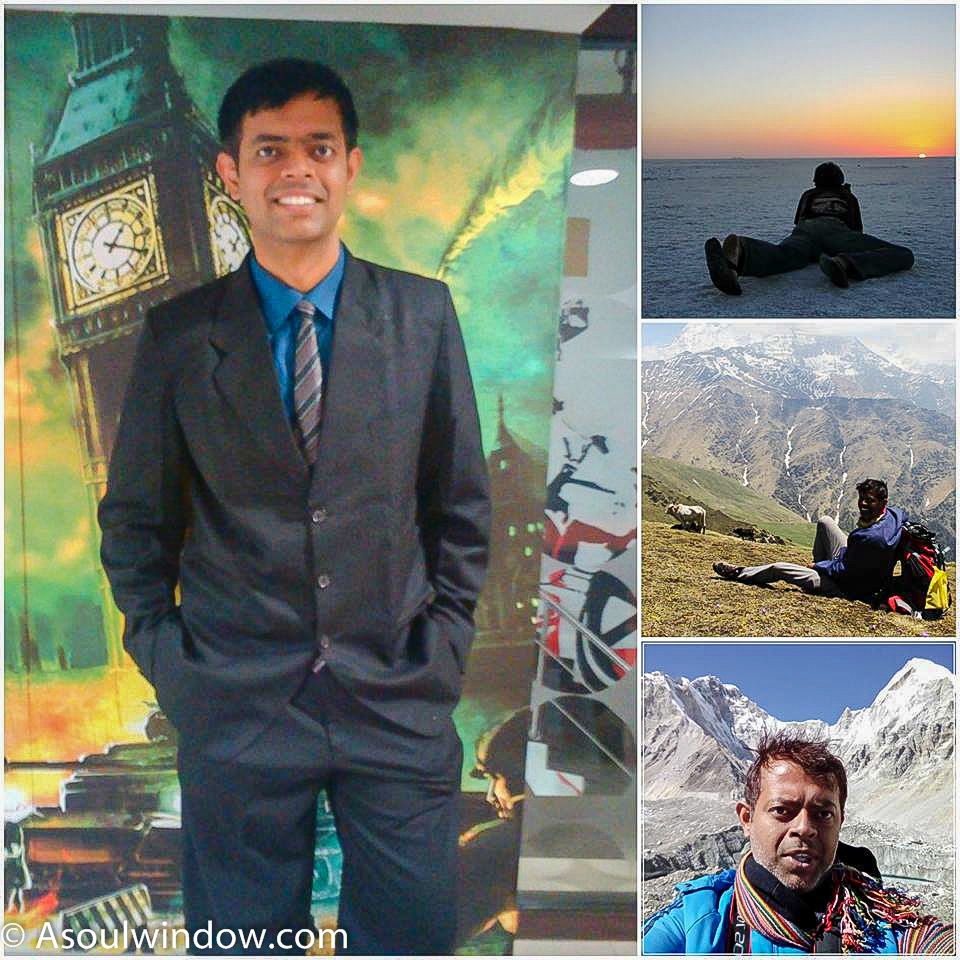 MY PHOTOGRAPHY EXHIBITION

:
Permanent exhibition of many of my photographs at India's largest photo gallery, the Kanakia Zillion Gallery at BKC. I also won first prize in the same contest judged by ace photographer Atul Kasbekar.
Selected for a group photography exhibition conducted by the photography group 'Mumbai weekend Shoot'. It was also listed in Bombay Times' Friday listing: What's Hot!
2 of my pictures were exhibited in a group photography exhibition in Lucknow's Lalit Kala Akademi.
Group Exhibition of my photographs by DNA newspaper on world photography day in R City Mall, Ghatkoper.
My travel pictures were exhibited at Inorbit Mall, Vashi.
MEDIA EXPOSURE
Abhinav Singh has been interviewed by:
Newspaper Times Of India on Everest Base Camp Trek
Newspaper Hindustan Times interviewed me, featuring as one of the top Travel related Twitter handle from India
Your Story Hindi- Viral article
Featured by Aaj Tak Online
Featured by Treebo Hotels
Home Grown– Stories Of 10 Indians Who Quit Stable Jobs To Pursue Their Passions
Indiatimes on getting fired for travelling too much
Radio One, Mumbai interviewed me on Travel
Red FM Kolkata interviewed me on revoking of Article 66 A which prohibits freedom of Speech
Ishq 104.8fm, Noida
Tripoto – How Full-Time Travel Is Actually A Full-Time Job Unless You're A Millionaire
Indiatimes quoted me on Ancestry test
I Diva interviewed me on Freelance life.
Interviewed by iTraveleo
We Travel Solo as top 20 Solo Travelers from India
Itch list on travel
Itch list on traveling with siblings
Blog by Anushree Ganguly
101 Vacations on Travel
Interviewed by Stayzilla on Travel
PUBLIC SPEAKER:



Spoke on 'Why you should not quit your job to travel' hosted by F5 Escapes.
One of the speakers at the Travel Blogging Unplugged International Blogging Event-
Spoke about Jordan at a travel event in New Delhi.
Spoke about my travels at an event organized by India Diaries in Mumbai
SERVED AS A JUDGE:



Judged True Wanderer 7.0 by Wrangler
I judged an international Travel Photography contest organized by Akshayapatra.
COLLABORATION WITH TOURISM BOARDS
I have worked With following Tourism Boards
International: Jordan, Canberra (Australia), Sharjah (U.A.E), Thailand, Sri Lanka, Nepal, Scandinavia Tourism Board, Tokyo Wonderland.
Indian: Uttar Pradesh, Madhya Pradesh, Jammu and Kashmir, Punjab, Goa, Gujarat, Karnataka.
I have also worked with following Brands:
Singapore airlines, Sri Lanka Airlines, Air Arabia, Golden Chariot- Luxury Train, Princess Cruises, Bhutan Bookings, Wildcraft, Wrangler, Columbia Sportswear, PATA, IIFA Awards, Skyscanner, Hard Rock café, Golden Chariot (Indian Railways), Ministry of Environment, Forest and climate change and FICCI, GIO Adventures, Bikat Adventures, Club Mahindra, Myntra, Tata, Clear Trip, Ceat Tyres, Aamod Resorts, Khyber, OYO Rooms, Treebo, Scout My Trip, Rupa Publications, Notion Press, Outbound Konnections, Think Strawberries etc.
TESTIMONIALS
When fellow blogger Spain based Kemkem Casinelli who blogs at Next Bite Of Life surprises you with a testimonial. Thanks Kemkem, I have loved your honest work and travel tips as much! (Pls zoom to read). To read the blog she mentioned about, pls click here

PUBLISHED WORK OF ABHINAV SINGH :
Print:
Print: 18 years of experience of writing for Top print magazines of India
Published in National Geographic Traveller India, both print and online.
Many pictures and writings published in Lonely Planet Magazine India. E,g. : Traveling with parents
Picture published in BBC Travel
Worked as the main photographer for Outlook Traveler getaway's maiden city guide on Mumbai called 'Aamchi Mumbai'. Pictures published in other Outlook Traveller getaway guidebooks as well.

Scuba diving in Tarkarli in Mint
Story on Kila Raipur and Pachmarhi in Travel3sixty, in flight magazine of Air Asia
9 Stories in Railbandhu, India's railway magazine. Includes 4 cover stories.
Cover Story on Heritage walk in Old Hyderabad in Go Getter magazine. Go Air's in flight magazine.
Story On Bhimbhetka in Shubh Yatra
Pictures on Ladakh published in the in-flight magazine of Jet Wings.
Won prize in photography contest done by DNA newspaper.
Picture featured by Times Of India newspaper
Times Of India shortlisted and published my picture on world photography day.
Picture published in Marathi newspaper Pudhari
Cover Story on Rann Of Kutch in Railbandhu, India's railway magazine.
Cover Story on Unseen Rajasthan in Railbandhu.
Cover Story on Sabarmati Ashram and Gandhi Trail in Railbandhu.
Story on Naneghat trek in Railbandhu
Feature story in Terrascape travel magazine
More than 30 of my articles, captions and film reviews published and won many 1st prize in Filmfare
As part of 'A day In the Life Of India' contest, one of my pictures was published in Times of India.
Times Of India shortlisted and published my picture on world photography day.
Online:
We Nomads
Femina
Culture Trip
Multiple travel articles on Tripoto
One of my pictures was selected as Editor's pick for a contest on Better Photography's website.
Won a Photography contest conducted by National Geographic Traveler Magazine online.
PETA Campaigns: I was the official photographer for PETA India's celebrity launches and events for more than a year. I covered campaign launches by Actress Amrita Rao, Lauren Gottlieb, Sunny Leone, Raveena Tandon and the stars of Fugly. Also shot for fund raising event by PETA's founder Ingrid Newkirk's on her annual India It was published across PETA's website and social media platforms.
WORKSHOPS:
Participated in a workshop on Travel Photography /Documentary Photography / Photo The workshop was conducted by renowned photographer Mr.Fawzan Husain (He has worked with India Today and Mid Day)
Did a workshop in Travel Writing by eminent writer and editor of Femina magazine, Ms. Sathya Saran during the Kala Ghoda Arts Festival,. Mumbai, 2012. Also received appreciation from her on my writing.
Did a workshop in Travel Writing by eminent travel writer Mr.Dilip D'souza during the Kala Ghoda Arts Festival,. Mumbai, 2013
Won a photo contest on Hindustan Times NO TV day and was chosen for a street photography workshop with Hindustan Times' National Photo Editor Mr.Gurinder Osan.
Formal training in Photography :
Completed basic course in photography from National Institute of Photography(Mumbai) under the tutelage of commercial photographer Mr. Dharmesh Sachade.
Completed advanced course in photography from Udaan Institute of photography(Mumbai) under the tutelage of celebrity photojournalist Mr. Arko Dutta.
Education:
Hotel Management from Institute of Hotel management, Lucknow, Uttar Pradesh
M.B.A. from Lucknow University, Uttar Pradesh
Link of my online Travel related platforms –
I have good number of followers across social media. I have built a following by fair means over many years. My social media impressions run in lakhs per month.
I enjoy high engagement on my posts. The break up is as below:
Contact details:
Email me for collaborations– [email protected]