Last Updated on December 5, 2019 by asoulwindow
The Great Indian Food Trip, Season 3: KAILASH MANSAROVAR YATRA
I sat in silence in front of the North face of Mount Kailash for hours. I am an atheist and yet I felt a very strong connection with Lord Shiva, whose seat is Mount Kailash. Most of the 3 days which I had spent in the basic guest house of Deraphuk were devoted to staring at Mount Kailash, often agape mouthed and wide eyed. It is no ordinary mountain. It is no ordinary journey either. One evening, the Hindus from different parts of India gathered in front of the holy mountain and started singing bhajan and offering aarti. As the air reverberated with 'Om Jai Jagdish Hare', the atheist in me started losing the game.
I submitted myself to the atmosphere and became one of them, singing bhajan and praising the Lord, like Hindus do in any temple. In that moment, I looked inwards and thanked my destiny which brought me here, in this magical moment. That moment filled me with gratitude for all the opportunities which blogging have brought my way.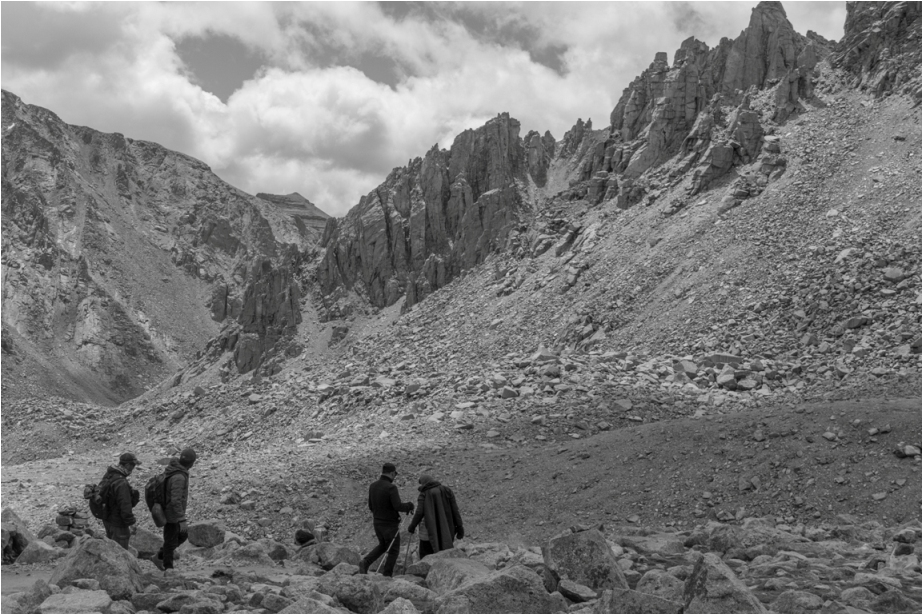 The last time I was with Scout My Trip, it was a 12 day long journey through one of the most gorgeous landscapes in the Ladakh region of India. It was my best journey till date. This year, when Scout My Trip invited me to be a part of just 2 bloggers team to Kailash Mansarovar Yatra, I took some time to understand the importance of Kailash Mansarovar Yatra.
I had heard of Kailash Mansarovar Yatra. I had never dreamed of embarking upon the yatra (journey) the way I badly wanted to do Everest Base camp Trek or say, Annapurna circuit or even Goecha La Trek in Sikkim or Machu Pichu trek in Peru or the Mustang trek in Nepal. Kailash Mansarovar Yatra was not on my mind, not because I didn't find it attractive enough but because there is not much information about it. Not many of the young people who perform the parikrama every season are writers or photographers.
In fact, I think I and Swati Jain are the only travel bloggers who have made it to Kailash Mansarovar Yatra on assignment ever till 2018. So, when this opportunity knocked at my door, I saw it as a blessing by Lord Shiva himself while still maintaining my atheist status. Everest Base Camp had changed my life in 2015. Will Kailash Mansarovar Yatra change my life again? I will find out in the days to follow!
My only disappointment was that no one from the super fun Scout My Trip team was joining us. We were on our own along-with Akbarji and Sunny ji, both of whom represented Madhuban Foods. Sumit ji joined us after few days in Mansarovar.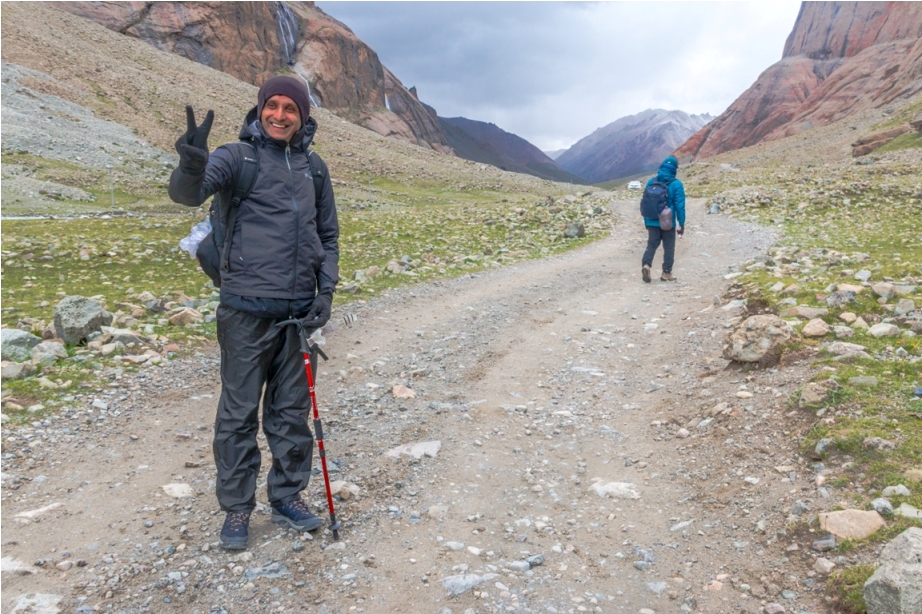 I am an introvert at heart, so I was skeptical how I will cope with complete strangers on this trip. I knew no one except Swati Jain with whom I had done the epic Ladakh trip and other trips.
However, the super fun company of Akbarji and Sunniji not only comforted us but we also forged a strong bond between us, united by our toilet travails and harsh conditions. However, that said, I badly wished if anyone from Scout My Trip accompanied us.
I have fond memories of the Highest Bloggers Meet at Ladakh trip where Deepak, Vineet and dada (real name Mr. Niraj Sinha) cracked us up with their unique humour. I also badly missed the camaraderie me, Swati, Ami Bhat and Samarth Sankhla shared. We even danced on Bollywood songs while the car moved through the incredibly gorgeous Changthang region of Ladakh in India. Me, Ami, Deepak and Samarth even jugabandied on 'Yek Chatur Naar' as we left Kargil. And who can forget the endless punctures and impromptu tea and momo breaks in the middle of nowhere? However, the absence of fun people from Scout My Trip was compensated with a unique brand of humour by Sunnyi and Akbarji while Sumitji had us in splits with many miracle stories about Mount Kailash which he had experienced himself.
WHAT IS THE GREAT INDIAN FOOD TRIP: SEASON 3 ALL ABOUT?
I had followed the previous seasons of The Great Indian Food Trip, an initiative by the cool guys at Scout My Trip. For a hardcore foodie like me, I used to eagerly await their next social media posts while the gang was on their way to eat through India. The first edition was a food trail in Indore. We all know how exciting food scene is in this small town of Central India. The 2nd season was a Biryani trail. I was gobsmacked to discover that there are so many varieties of Biryani in India and every region has their own version. However, Season 3 of The Great Indian Food Trip was not in India and yet very Indian. In fact, it was my first #IncredibleIndia moment outside of India!
I am grateful to be the part of first international edition of The Great Indian Food Trip. Only I and Swati were chosen for this epic trail. It was tailor made for us. I am vegetarian and have experienced high altitude treks before. Swati is vegetarian too and a fitness and Yoga expert. We were the perfect candidates for this edition. This trip was a vegetarian and vegan trail through a country known for its meat dishes, China, that is!
Check out my Instagram posts. Follow me on IG for more free updates
SATTVIC FOOD TRAIL THROUGH 3 NATIONS:
Our Sattvic trail started at the Madhuban Foods outlet at Gurugram. It was the first outlet by the company. I was fortunate to meet the lady behind the menu of this South Indian restaurant. The first outlet was started when Shubhaji discovered a gap in the availability of an authentic Andhra style home made meal in New Delhi.
What followed next was a menu which comprised of healthy, nutritious, light an delicious South Indian meals along with some North Indian dishes like Chola Bhatura. I sampled the amazing Pesarattu with came with assorted chutneys. The other delicacies were so good but I have a small stomach. I packed some and relished it till my flight next morning. I stayed awake all night because when I am alone I miss alarms easily. I have almost missed flights and trains due to this.
Follow me on Instagram for free travel advice and content
SAARE BOLO JAI MATA DI: THE GREAT INDIAN FOOD TRIP AT VAISHNO DEVI!
The next stop of the Great Indian Food Trip- season 3 was Maa Vaishno Devi at Katra in Jammu. It is one of the most sacred places for Hindus across the world. Within the short duration of my stay, I had replaced hellos and Hi with Jai Mata Di. Thanks, hello, hi, welcome, Namaste are not used here. No matter what I say, people addressed or replied to me as 'Jai Mata Di' which quora says, means, 'Victory unto the Mother Goddess'. There is an amazing piety in the air of Katra. There is no place for harsh language, evil thoughts or meat and alcohol here. So, it was interesting to see how Executive Chef Mr. Ram Rattan Sharma rustled up one delicious dish after another in the Katra outlet of Madhuban Foods. All the food we ate at this outlet was Sattvic, i.e., made without onion and garlic. He even served us a vegetarian version of Rogan Josh and other dishes.
THE GREAT INDIAN FOOD TRIP SEASON 3 MAKES A HALT IN NEPAL:
Next, we moved to China via Nepal. We paid our respect to Lord Shiva at the holy Pashupati Nath temple in Kathmandu. Since Mount Kailasha is the seat of Lord Shiva, paying a visit to Pashupati Nath temple makes sense.
I have been to Pashupati Nath temple many times before and yet on my every visit, I get a unique experience. We spent some time quietly and observed another version of Hinduism which is the most dynamic religion in the world. I observed how Hinduism practiced in Nepal is similar to the one practiced in India and yet so different.
MY TWEETS – FOLLOW ME ON TWITTER FOR MORE FREE TRAVEL POSTS:
Based on your votes, Chef Ram Ratan at Madhuban Foods made these vegetarian version of dishes like Yakhni, Chilli Chicken, Afghani Tikka. No Onion, no garlic, low spice, delicious

With @scoutmytrip@WETRAVELPALS#GreatIndianFoodTrip #LetsGoSattvic #MansarovarYatra #TravelPals pic.twitter.com/Ox6Tm0jUDr

— ABHINAV SINGH (@asoulwindow) August 13, 2018
THE GREAT INDIAN FOOD TRIP SEASON 3 IS A SATTVIC TRAIL:
The third edition of the Great Indian Food Trip was about Sattvic food. Sattvic food is plant based food cooked with low oil and spice and without the use of onion and garlic. It is Hindu version of detox diet and is quite popular culturally. It made sense to go on a Sattvic trail this time as we traversed through the landscapes which are important Hindu sites in a country where most people are atheists.
MORE TWEETS BY ME
My stop @ Mansarovar is most rewarding. It's amazing that Madhuban Foods caters healthy & tasty food in another country & at remote locations Kudos to team who station themselves away from family & make it happen#GreatIndianFoodTrip #LetsGoSattvic #MansarovarYatra #TravelPals pic.twitter.com/TilIwfxX9q

— ABHINAV SINGH (@asoulwindow) August 23, 2018
Hinduism has an ancient tradition of vegetarianism which stems from the philosophy of ahimsa aka non violence. Being born in a Rajput family, I had grown up eating meat. In fact, my parents keep telling me how I was very fond of meat and used to steal some when it was still cooking in the pot. Then at the tender age of 14, I gave up meat on ethical grounds. 2 decades later, I am still a vegetarian, by choice!
India is the vegan and vegetarian capital in the world. No other nation can boast so many vegetarians. The vegan movement is only picking up in the West and Veganism is as common in South East Asia as Kangaroos are in Venezuela.
WHAT IS A SATTVIC DIET:
Sattvic food has its roots in Yoga and Ayurveda, the ancient Hindu tradition. A proper Sattvic Diet contains energy unlike the other diet types such as Tamasic and Rajasic. Use of small amounts of certain spices and oil is allowed in a Sattvic diet. Even jaggery or raw sugar is used instead of refined white sugar. Liberal use of legumes, whole grains, seasonal fruits, dairy products, ripe vegetables, nuts, seeds, oils, and non-meat based proteins are encouraged in a Sattvic diet. All fruits are considered Sattvic.
I am a strict vegetarian (on ethical grounds). I am not a vegan yet but I see no harm in procuring the milk in Sattvic tradition. As per the ancient Sattvic tradition, milk is Sattvic if it is extracted from cows which are not 'farmed' to produce milk. As per the purists, the dairy products such as the butter, cottage cheese (paneer) and yogurt should be produced daily and only after the calf has had its share of milk.
Follow me on twitter for free travel information:
Here is complete checklist of things to carry for #KailashMansarovarYatra
Right shoe/jacket/backpacks etc make all the difference
I was sorted when I visited @Columbia_India store. They are the best in business!

Click https://t.co/bQxbowxOeJ#ColumbiaIndia #TestedTough #Trek pic.twitter.com/VMWdO5bo4K

— ABHINAV SINGH (@asoulwindow) October 31, 2018
SEASON 3 OF THE GREAT INDIAN FOOD TRIP WAS IN CHINA!

Not only did the Season 3 of The Great Indian Food Trip passed through 3 nations, but throughout the unforgettable trip, I was amazed to find pure, Sattvic vegetarian food. It is nothing less than a diplomatic victory of the 3 nations involved, viz India, Nepal and China. So, it made sense to consume only Sattvic food as we made our journey to the holy Mount Kailash.
We met Mr.Prakash Shreshtha who is also the President of AKTON (Association of Kailash Tour Operators) and Managing Director Explore Kailash Treks Pvt. Ltd, Nepal in Kathmandu on the night before we left Kathmandu. His humble personality belied the tasks of Himalayan proportions which he had undertaken.
He, in collaboration with Mr.Sumit Partap Gupta, the Managing Director of Madhuban Foods, supervises the logistics support required to supply the ingredients and raw materials for daily cooking. The on ground operation is taken care of by Sumit ji. Mr. Prakash has been instrumental in providing the support to the Kailash Mansarovar Yatris since the last 25 years. However the earlier kitchen was run entirely by chefs of Nepal, which left scope for real Indian Sattvic food. People who have done Kailash Mansarovar Yatra before have told me that they had nothing but daal bhaat and cup noodles to rely on.
I was fortunate to have visited the Kailash Mansarovar Yatra after the foray of Madhuban Foods. What has happened now is the kitchen run by Indian chefs. This filled the gap of providing healthy, nutritious Sattvic food to the pilgrims. Now with standardized food at all the 7 kitchens at all major stops during Kailash Mansarovar Yatra, the pilgrims and trekkers do not have to worry about the food even in the remote locations of China. This is a great news because it is not easy to find vegan and vegetarian food in China.
Moreover, to be able to eat special dishes like ondhiyan and ghevar at such altitudes and at such remote locations is nothing less than a miracle. It is the first time that an Indian company Madhuban Foods has been given the rights to manage 7 kitchens in the remote Tibet autonomous region (TAR)aka Xizang Autonomous Region. Who would have thought just a few years ago that sipping chai and relishing hot pakoras and sewai at a place as remote as Zuthulphuk is possible? The Chinese counterpart, Mr. Wan Quan Lin CEO of China-India Pilgrims Service Centre (CIPSC), has facilitated the same. The role of Mr. Wan is very important here. Even though I could see that China has built or building many infrastructure projects such as proper roads and luxury hotels at locations like Saga and even Mansarovar, Zuthulphuk and even Deraphuk, but the kitchen was left at the disposal of Madhuban Foods. I feel no one else but Indians understand the concept of Sattvic vegetarian food. To my horror, some friends have told me that fish and eggs are considered a vegetarian dish in many countries. Also, prior to the fixed kitchens of Madhuban Foods, we discovered during The Great Indian Food Trip, Season 3 that earlier, the concept of moving temporary kitchen by Nepali chefs was only available.
This meant that the kitchen staff often trekked along-with other pilgrims who had to wait for hours before the food was served to them. Many pilgrims used to skip their meals due to the long wait or often bland food. This has drastically changed now. The food is served hot and fresh, as soon as the pilgrims arrive at a new station. The ability to find a local Indian chef in Kitchen was comforting to all the Hindu pilgrims.
Not only were the Indian chefs able to understand the langauge of each other, but they were also able to meet the specific dietary needs of some of the pilgrims. For example, I saw how a pilgrim requested only fruits for his wife who was on a religious vrat (upwas aka fasting). His demand was fulfilled instantly. A large number of yatris who embark upon Kailash Mansarovar Yatra every year are senior citizens who are more accustomed to eat their regional food. The arrangement of local regional food is particularly useful for them.
It is nothing less than a diplomatic victory of all the 3 nations involved. It would not have been possible to manage 7 Indian kitchens in remote China without the support of any one nation. Be it the luxury hotels in China or the desi Sattvic ghar jaisa khana by Madhuban foods or the logistical support by Nepali counterparts, each had a major role to play to make it happen.
My Experience of food at Kailash Mansarovar Yatra :
Personally, in spite of being a vegetarian, I am open to taste new vegetarian flavours in an alien land. That said, I can't eat the local food every day. At the end of 3rd or 4th day, I start to crave for Indian food. So, I was in a very comfortable situation when I was told that I do not have to worry about the Indian food. In fact, I used to be excited to check the menu every day during the entire Kailash Mansarovar Yatra. Even in my hometown in North India, I was unable to find some of the Indian regional dishes which I found during the Kailash Mansarovar Yatra.
No wonder, I nixed the fruits or local cuisine and instead filled my face with the local Indian Sattvic food at every given opportunity during the yatra. The most memorable was the vegan café at Taklakot and the 'difficult to manage' Deraphuk kitchen. I have written several blogs on my experience of Kailash Mansarovar Yatra because summing it down to just one blog post is injustice to the place. Do check out my other blogs as well under the tab International – China.
I had no idea about this part of the world. This journey has changed my perspective completely and made me hungry to discover more of China and the beautiful world around us. Whether it was meeting the local people riding their cool bikes or the locals selling handicrafts and fossils aka Shaligram, each person has left a lasting impression on my mind.
The Kailash Mansarovar Yatra is the place where even the strangers become friends. No wonder we neded up talking to a lot of local people via sign language but we also interacted with lot of pilgrims from Mumbai, Gujarat and South India. Though we were in private cab on all the days, I loved sharing the 16 hours long bus ride from Mansarovar to Kyirong with fellow Mumbaikars. The dink laddus were passed and songs were sung as we traversed through some of the most beautiful landscapes of Tibet autonomous region of China. We had barely known each other for few hours and yet we shared a rapport within the few hours we spent together.
The entire Kailash Mansarovar Yatra will be forever fresh on my mind. I hardly repeat my destinations, and still want to go back to Kailash Mansarovar Yatra especially the parikrama and Deraphuk once again. It is an experience like no other. Because it is not just a mere mountain or trek! It is a yatra. A journey within!
Spread the love, share this blog
Got any question/comments, ask in the comment section below so that it can benefit other readers.
Email me for collaboration: [email protected]
Be a part of my journey on social media. The travel content I create there is different from this blog.
Pls subscribe/follow/like:
WARNING : COPYRIGHT TO ALL THE CONTENT SHARED HERE REMAINS WITH ME. THE IMAGES AND TEXT IN THIS BLOG ARE BY ME UNLESS MENTIONED OTHERWISE. YOU CAN NOT JUST LIFT THE CONTENT AND USE IT WITHOUT MY PERMISSION. STRICT LEGAL ACTION WILL BE TAKEN IF CONTENT IS STOLEN. YES, I AM SERIOUS.
Top Travel Blogger from India