Last Updated on December 29, 2022 by asoulwindow
HINDU FESTIVALS – WHAT HOLY DIP IN MAHAKUMBH AND ARDHKUMBH IN PRAYAGRAJ MEANS?
This blog is about the largest festival of the world. On the auspicious day of Mauni Amavasya during the Ardhkumbh 2019, 5,00,00,000 Hindus took a holi dip in Ganga river, locally known as Ganga Maiyya or Ganga Maa. Both Maiyya and Maa means mother. I had also attended the Mahakumbh in 2013. This blog is based upon both the Kumbh experiences, 6 years apart. Kumbh festivities changed a lot in the past 6 years. So had I, I discovered!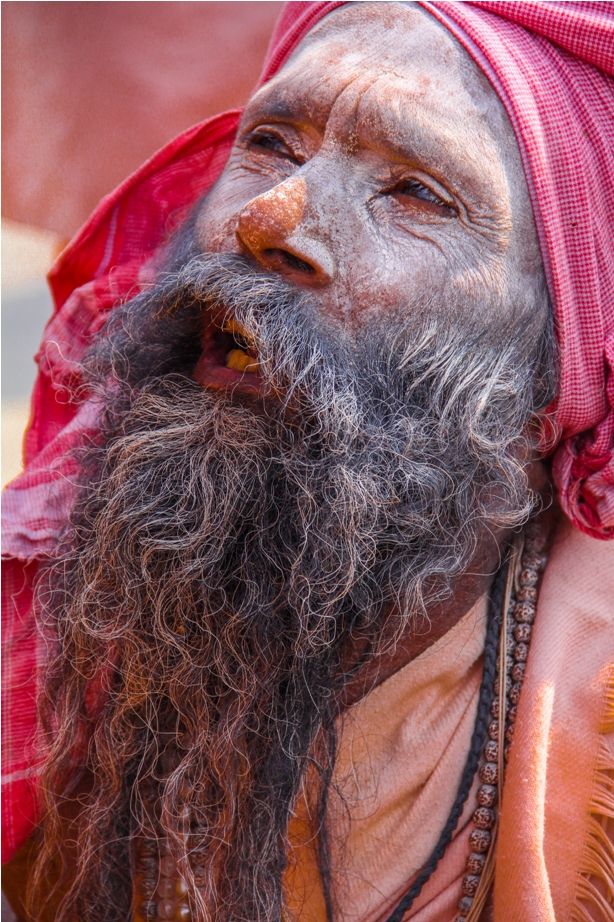 KUMBH MELA, PRAYAGRAJ : A SPIRIRITUAL JOURNEY!
This happened in the Mahakumbh 2013 in Prayagraj, Uttar Pradesh. As soon as I reached the Kumbh Mela grounds, I was pulled by the chants of Hare Rama, Hare Krishna in a distance.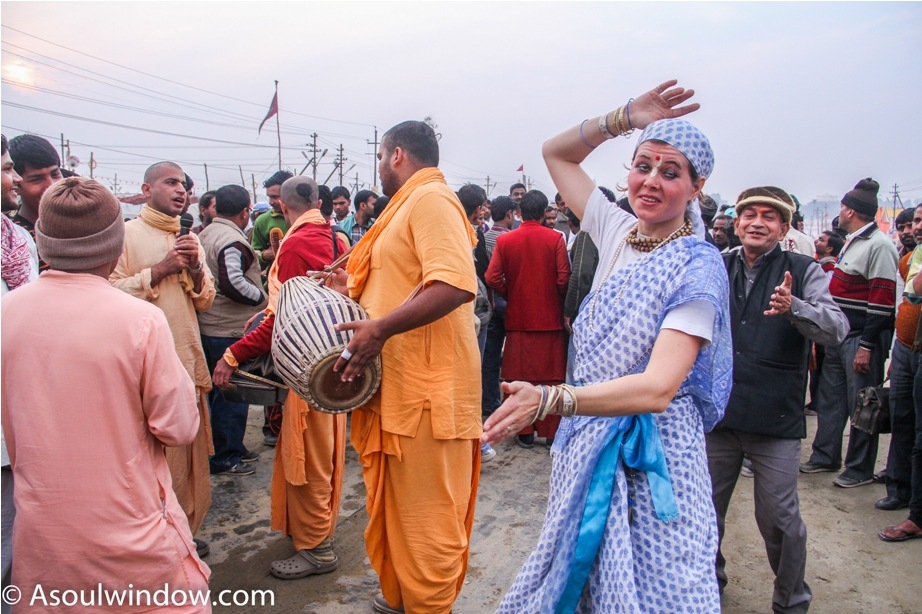 I ran towards the direction of sound and stumbled upon this scene – A foreigner woman dressed awkwardly in a sari (On a T shirt, meh!) and danced to the tunes of the holy Hindu bhajan; a man on dholak (Indian musical instrument) sang along, another one sold Shrimad Bhagwad Geeta (Hindu Holy book) to passer byes.
A man dancing behind the foreigner woman was a local, who, like many others was pulled in the whirlpool of 'Bhakti' (Devotion), dancing in a trance like stance like no one's watching.
I stood there alone, observed, smiled to no one and soaked in the intense atmosphere. Kumbh Mela in Prayagraj is the biggest leveler that the universe has ever seen or will ever see.
HOLY DIP IN THE GANGA RIVER DURING KUMBH MELA, PRAYAGRAJ
Some scenes from Mahakumbh have forever remained etched in my memory. Sample this – A devotee bathes his favourite Shri Krishn Bhagwan while also singing praises for him in the sacred river Ganga. The curious women, also taking a holy dip in Ganga ji, surround him, agape mouthed!
I shot this (Please see picture) in Prayagraj during the Mahakumbh which happens once in every 12 years. Kumbh Mela is said to be the biggest playground for Hindu rituals from all over the world. Kumbh Mela is also world's largest congregation of humans at a place.
When this man entered the water, it was winters and very very cold. It was a solo and budget trip. What ice bucket challenge are they talking about? We have been doing it since thousands of years in India. Without the hashtags!
I recently travelled again during the Ardhkumbh, 2019, this time with a large group of 40 bloggers, V Loggers etc. My friend Parnashree asked me, "What has brought 5 crore people (in a day?) here?". I replied, "Faith", smiled and looked away! Much water has flown under the bridge since the last Kumbh that I had attended.
I used to make fun of all religions back then. I have become more accepting now, though still an atheist!
EVEN AN ATHEIST CAN FIND GOD IN KUMBH MELA, PRAYARAJ:
This picture and text by me was published in May 2013 issue of Lonely Planet Magazine India. Thank God, even then I wrote Ganga not an anglicized Ganges! Sharing the full version of the text which I had submitted:
"After spending a long tiring day shooting at Maha Kumbh 2013, my eyes still wide eyed with all that I saw since morning, I settled down to rest at a lonely corner on the hay stacks near the holy Ganga river. The night at Kumbh looked even better. Relaxed and energised by the crisp February breeze of Allahabad (Prayagraj), my eyes settled on this woman praying by river Ganga .

She performed the pooja at a silent corner, away from the mayhem and chaos of main 'mela' premises. Being an atheist, I was wondering since morning what is the motivation which brings a sea of humanity to this humble city at Kumbh year after year. I stopped questioning religion and faith when I saw this lady being truthful to her faith with complete devotion and surrender. There was something magical about this moment. Something 'je nais se quoi'. If you want to understand India and its 5,000 year old history and culture, Kumbh is the place to be!"
For thousands of years, Hindus have revered the life giving Ganga river. It's amazing that the tradition is alive till date. It's not uncommon to hear people referring the river as Gangaji, the suffix 'ji' humanizes the majestic river."
SCENES FROM KUMBH MELA, PRAYAGRAJ WHICH STAY WITH YOU:
Sample another scene:
"ज़िन्दगी एक किराये का घर है,एक न एक दिन बदलना पड़ेगा.
मौत जब तुझको आवाज़ देगी, घर से बाहर निकलना पड़ेगा."
"Life is like a rented house, one day you have to move out.
When death knocks at your door, you have to vacate the house."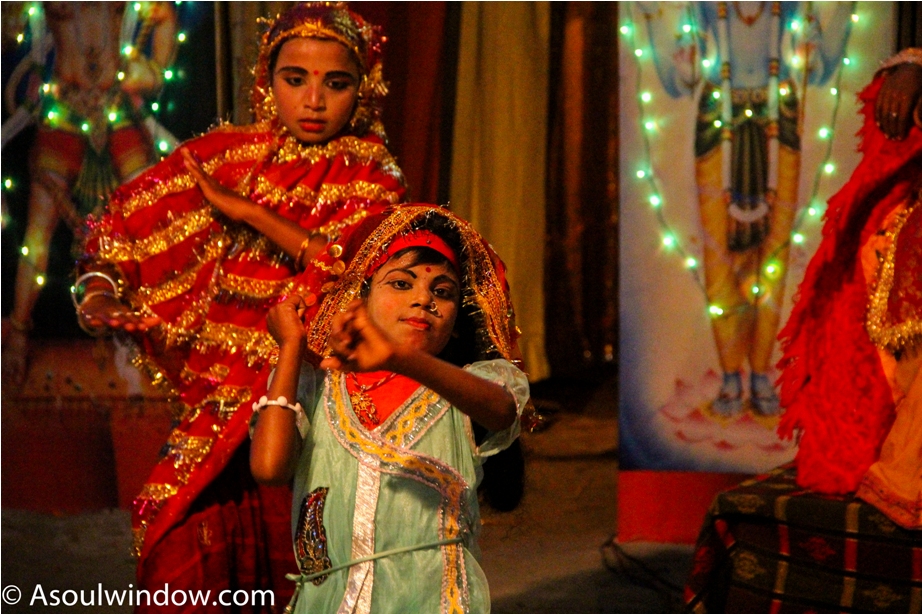 The little girls sung this song with detached emotions on their face (they were thinking about Shinchan) in Maha Kumbh mela in Prayagraj; as if unintentionally enacting the detachment conveyed in the song.
I froze in the moment, observing their song, dance and expressions and wondered if the kids even understood the deep meaning of the song. There was something very attractive in what I saw.
The other kids had the easier job of pretending as God and goddess (They were thinking of Poori Sabzi!) while the adults played musical instruments and collected money from the audience. (Also embarrassingly announced 'who gave how much' on mike!)
I assumed it was a Hindu folk song. Once I was back home, I was surprised to discover on You Tube that it's in fact Islamic qawwali. Told you, India never fails to amuse and surprise me. There is always unity in diversity in India! I wish I had done a video recording of this scene. For those who want to listen to the song, here's the You Tube link
LISTEN TO A BHAJAN IN KUMBH MELA, PRAYAGRAJ
I continued moving around the Kumbh Mela Grounds. It was dark when I was indulging in akhada hopping. I had started early morning. I saw one young Hindu devotee learning his lessons as a mandli (group) of bhajan singers sang a melodious bhakti song with interesting musical instruments in the next pandal (tent).
Yes, Kumbh fair in Prayagraj is the best place to see Hinduism in all its forms. Well, most! I stayed riveted to the ground beneath my feet as I absorbed the moment. The moment has stayed with me till date!
KUMBH MELA, PRAYAGRAJ – A SANGAM OF EXTREME COLD, FAITH & DETERMINATION:
Bathed in the blinding floodlights of the Kumbh Mela Grounds, a holy man offers his prayers to river Ganga, considered sacred for Hindus.
It was early morning and really cold, yet the river was full of scantily clad devotees absorbed in their private conversation with their mother. In India, river Ganga is often referred to as mother – Ganga Maa/Maa Gangey/Ganga Maiyya). The cold didn't deter the devotees.
Kumbh Mela is said to be the biggest playground for Hindus from all over the world and also world's largest congregation of humans at a place. You don't need to promote it. Devotees and Sadhus have been visiting Kumbh Mela since thousands of years in huge numbers. We never cared for Guinness Book Of World Record.
In Hinduism everything is revered. Be it stone, animals, snakes, trees or even rivers. In Prayagraj, people throng to pay homage to Ganga river, locally called as 'Maa Ganga' (Mother Ganga)
You see those people taking the Holy bath in the pictures? It was winters, around 6:30 a.m. and very cold. But that DIDN'T DETER THE DETERMINATION OF PEOPLE. Devotess as old as 90 visit Kumbh Mela.
QUIRKY, FUNNY AND A LOT OF MASTI AT KUMBH MELA, PRAYAGRAJ
Kumbh Mela is not always about deep spiritual experiences. It is also about having a little fun and sense of humour.
बुढ़ऊ, मानो जो कहना हमार, नहाए तिरवेदी चला…….
(Old Man. Listen to me. Let's go for a dip in Triveni)
The sound of this song escaped a colossal tent. Curious, I entered and saw a man dressed as woman in saari jumping on the stage (her braid swaying) with an old man. The Ram Sita Jodi (local dressed as Ram ji an Sita ji) stayed calm despite all the mayhem on the stage.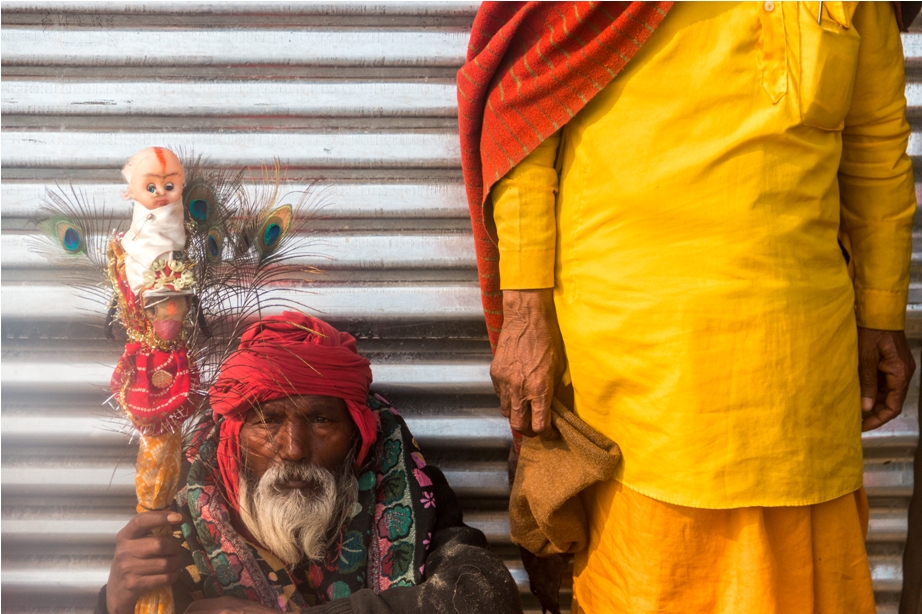 Both were mischievous and had mastered playful expressions. It was fun to watch this light hearted song and dance in Kumbh Mela while everyone else was busy in serious chants and mantras.
THIS I ALL I REMEMBER FROM KUMBH MELA 1995 – PRAYAGRAJ
When Lonely Plant Magazine India and Uttar Pradesh Tourism Board invited me to visit the Ardh Kumbh of 2019, childhood memories flashed before my eyes. I had stayed in Prayagraj from 1994 to 1998 near Mama Bhanja Ka Talaab in Naini and Allahpur. I have been visiting Kumbh Mela since my first experience of Kumbh in 1995. I have faint memories of my first Kumbh experience.
Byomkesh Bakshi & Kumbh Mela – What's the connection?
The only thing I remembered was that I was cranky, irritable because they were going to disclose the name of the killer in the very popular detective show Byomkesh Bakshi. I had been irritating and nagging my parents in Kumbh Mela.
My parents could have just abandoned me in the crowds because it is so easy for a kid to get lost in Kumbh Mela. No body would have known! But, they tolerated my tantrums patiently!
We reached home just in the nick of the time. I was crestfallen as I discovered there was no power at home. Those were the days of long power cuts and no You Tubes or repeat telecasts. I have still not figured out who that killer was. It doesn't matter now! I have not seen TV since 2007.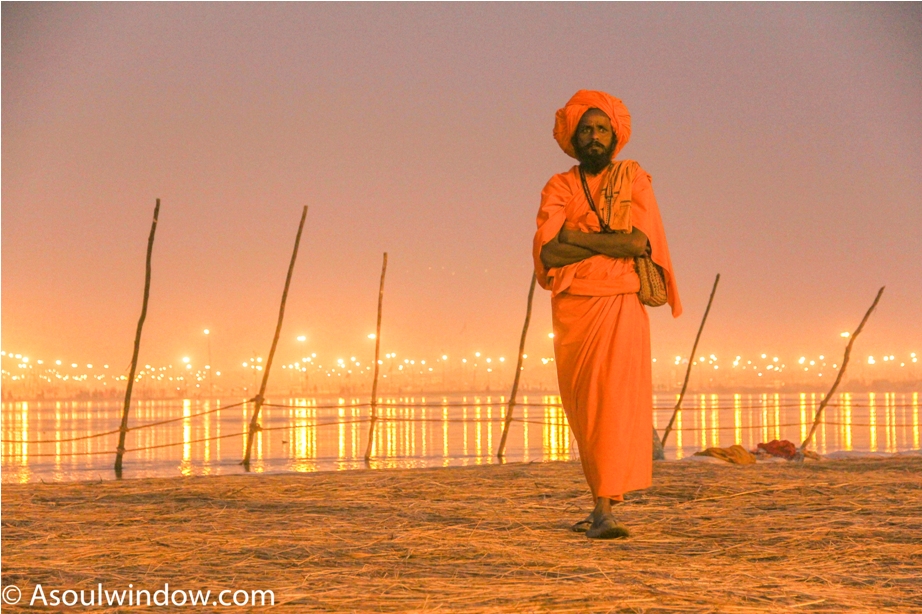 And I have found meaning in Kumbh. I have grown up as a kid since 1995, not only physically, but also spiritually! Throw in some traumatic struggles with religion in between though!
COMING BACK TO KUMBH MELA 2019 – PRAYAGRAJ
First things first, during the Kumbh of 2019, I had returned to Prayagraj after a very long time. 6 years to be precise! (No prizes for guessing this!) I had anticipated huge crowds, filth, smoke, pollution, noise, plastic, open defecation etc. I did meet huge crowds but the other paraphernalia were clearly missing.
The honorable Chief Minister of Uttar Pradesh Mr. Yogi Adityanath and honorable Prime Minister of India Mr. Narendra Modi have changed the face of Uttar Pradesh. I can vouch for it as I grew up in various cities of North India. Being a resident, I have seen how Lucknow received a makeover after Yogi ji took office.
But I was shocked to see the miraculous cleanliness and orderliness at Kashi and Prayagraj. On Mauni Amavasya, more than 5 crore (which is double the entire population of Australia) devotees congregated at the Kumbh premises to take a holy dip in the much revered Ganga maiyya. Despite the huge crowds, the devotees were well behaved, walked in lines and followed rules.
SWACHCH BHARAT AT ITS BEST- KUMBH MELA, PRAYAGRAJ 2019
An old man from rural India was about to pee on the open ground in Kumbh Mela. He had taken 'his position'. Then he looked right and entered one of the mobile toilets which were omnipresent this year. This was the defining moment of Swachch Bharat campaign for me, an unprecedented initiative by honorable Prime Minister of India, Shri Narendra Modi.
Some of the other achievements of Kumbh 2019 were 1 lakh super clean mobile toilets across the Kumbh premises (Even outside it), a dustbin and toilet 5 minutes walk from anywhere in Kumbh Mela, areas divided in the tent city in sectors (The lost and found section this year was not very busy), Makeshift ATMs across the Kumbh Mela Grounds, rooms for devotees to change clothes, free bus and rickshaw rides to reach Kumbh Mela and get out of it.
Even the 'pooja samagri' offered by the devotees were not allowed to flow into the holy river beyond the barricades in water. It was a miracle. I have been visiting Kumbh since more than 20 years now. Never before, had I seen such amazing logistics.
Growing up, I have had to face the jokes on my state Uttar Pradesh. Though, I think that has changed forever. The new Government has restored the pride of people of Uttar Pradesh, one of the most important regions (Political, religious and spirituality wise) in India. And I can see only upward mobility from here!
GETTING LOST AND FOUND IS A THING IN KUMBH MELA – ONLY IN PRAYAGRAJ!
They say a visit to the Kumbh Mela is not complete unless you are lost and found here. Me and my travel blogger friend Parnashree Devi got lost twice when we got separated from our group of 40 plus bloggers. After a tumultuous 30 minutes we did manage to find them again (Remember, sectors?) amidst the massive crowds. It was fun to get lost and instead of sweating we enjoyed being lost in Kumbh Mela. Our happiness (on being lost, eh!) was visible in the videos of the same which we shared on our social media platforms.
BEING BLESSED BY A NAGA SADHU WAS ONE OF THE BEST MOMENT AT KUMBH MELA:
As we were moving around near Juna Akhada, anxious and impatient to find our group again, the sight of a mischievous Naga Sadhu stopped us in our tracks.
As I began taking his pictures, he called me and rubbed ash on my head and forehead. It was a blessing. Then he called Parnashree. Hesitant and nervous, she inched closer to the Naga Sadhu. "Topi Utaar" (Remove the hat!), he ordered Parnashree. She obeyed faster than an elephant obeys a mahout. He rubbed ash on her head too and upon learning that she was recently married, he prophesized, "You will become a mother soon!"
Check out my tweet on him. Picture by Parnashree Devi
WE RAN AWAY, feeling good about the situation and our personal moments with the very cool Naga Sadhus. I am not sure about when the baby is happening though we were blessed enough to be reunited with our group a few minutes after this exciting rendezvous. Kumbh Mela is all about happy endings!
Please follow the hashtag #ASoulWindow on Instagram, Twitter and Facebook for my free tips, pictures, videos and information on all things travel!
Spread the love, share this blog
Got any question/comments, ask in the comment section below so that it can benefit other readers.
Email me for collaboration: [email protected]
Be a part of my journey on social media. The travel content I create there is different from this blog.
Pls subscribe/follow/like:
WARNING : COPYRIGHT TO ALL THE CONTENT SHARED HERE REMAINS WITH ME. THE IMAGES AND TEXT IN THIS BLOG ARE BY ME UNLESS MENTIONED OTHERWISE. YOU CAN NOT JUST LIFT THE CONTENT AND USE IT WITHOUT MY PERMISSION. STRICT LEGAL ACTION WILL BE TAKEN IF CONTENT IS STOLEN. YES, I AM SERIOUS.
Top Travel Blogger from India