Last Updated on January 17, 2021 by asoulwindow
Complete Guide To Shore temple Mahabalipuram
Needless to say, it is called Shore temple because it situated in a scenic location which is on the shore of Bay Of Bengal. This blog is about the ancient Shore Temple of South India. The 2004 tsunami exposed many secrets of the temple complex. Mahabalipuram was originally known as Mamallapuram during the reign of Narasimhavarman II in this region. The heritage sites around Shore temple can be easily covered in a day.
Read on to find out more about this gem of Incredible India.
HISTORY OF SHORE TEMPLE, MAMALLAPURAM
The Shore temple dates back to the 8th century A.D. It was built between 700 to 728 A.D. under the rule of Narasimhavarman II aka Rajasimha of the Pallava dynasty of South India.
My guide told me that Narasimhavarman II was also known as Mamallan and hence the new name of Mahabalipuram is Mamallapuram. Narasimhavarman II build many other monuments which exist till date in Mamallapuram such as the monolithic rathas and cave temples.
He initiated these in the 7th century itself. The Shore Temple is dedicated to Lord Shiva and Lord Vishnu. The Cholas continued to make additions to the Sea Shore temple after they defeated Pallavas and ruled, what is now Tamil Nadu. Isn't Shore Temple history interesting?
Shore temple Architecture
Jalashayana or A Miniature temple
Jalashayana: The name of a unique structure at the Sea Shore temple is Jalashayana. Literal meaning of Jalashayana is 'Located in the water'. This was named so, of course because of the proximity of the shore temple to the sea.
Excavated as early as the 1990s, this miniature temple is located in a depression right in the complex of the Shore temple. You can see a beautifully carved pillar in the middle of the structure. A Varaha or boar is also located in the same well like ruins. It looked gorgeous when the sunrays fell on it when I visited the shore temple in evening. Evening is also the best time to visit Shore Temple.
Terracota Ring Well
Series of Nandi
There are a series of sacred Nandi bulls around the Shore temple which you can not miss. The Nandi Bulls look amazing when evening sun rays fall on it. Hope you are enjoying this information about shore temple.
Tamil Inscription
Inscriptions found from the Pallava era include both Tamil as well as Sanskrit. Sanskrit was popular with the scholars and royal family during the Pallava era. The inscriptions found in the Shore Temple complex reveal that the original names of all the 3 temples are:
Pllikondaruliya
Rajasimha Pallaveshwar Griham
Kshatriyasimha Pallaveshwara Griham
Roof Stone
Temple Spire
As I circumnavigated around the ancient temple, which sits atop a 50 square feet base, I was awed by intricate carving at every nook and cranny. The evening sun had lent a soft glow to the Shore temple, making it look even more ethereal and mystical.
The first structure which impressed me was the 60 feet tall pyramidal spire of the temple, typical of temples of that era. The 5 storey Shore Temple is one of the oldest temples of South India which still survives. Its walls are built of granite. The structure is definitely one of the best ones I have seen in India and other nations. History of Mahabalipuram is full of such gems.
3 temples
Out of the three shrines, 2 belong to Lord Shiva (Somaskanda) while 1 shrine belongs to reclining Lord Vishnu. The reclining Vishnu is locally called Sthala Shayana Perumal or Ananthasayana.
Carvings
As I look closely, the walls depicted the lifestyle of commoners of that era. If you look closely, you will notice exquisite carvings of other important Hindu deities like Lord Ganesha, Lord Brahma, Goddess Parvati , Goddess Lakshmi, Shanda and Narasimha.
Tiger Sculpture
My favourite was however, the statue of a tiger, which looked more like lion to me with its mouth wide open. A figure of Goddess Durga was carved on the right part of the body of the lion. It's interesting to me as mostly in Hinduism Goddess Durga is shown riding a tiger. The tiger faced Yeli has a square cut in its chest. The cut has carved human figures in it. The Yeli was the most well preserved part of the Shore temple. The Yeli figure is in the south direction of the Shore Temple Mamallapuram.
Shivalinga
One of the shrines dedicated to Lord Shiva has been designed in way that the first rays of the sun fall on the Shiv Linga. The Vishnu temple faces west and was built by Narasimha Varman 1 while both the temples dedicated to Lord Shiva face east and were constructed by Narasimha Varman 2. You can see the Shivalinga on the back side of the main temple.
Mystery of Submerged 7 Pagodas
This is the most exciting part of the history of the Shore Temple. It is a temple of mystery. Mahabalipuram was an important trading port during the reign of Pallava dynasty. In fact the shore temple complex doubled up as the landmark for the navigation of ships plying on this route. Interestingly, Marco Polo and other European sailors addressed Shore temple site as Seven Pagodas due to its pyramidal structure. Submerged temples of Mahabalipuram is what makes it exciting. It is the brilliance of Pallava art and architecture that some remains are still around.
From 3rd century to 10th century, this temple of mystery and the nearby area was a bustling port under the rule of the Pallava dynasty. Even evidences of trade with Romans have been found. It is believed that the Shore temple was the part of a 7 temples complex, 6 of which have been swallowed by the sea over the centuries. Only existing Shore temple has stood the test of time since more than a millennium. History of Mahabalipuram is rich indeed. Shore temple in Mahabalipuram indeed has an interesting past.
The Europeans mistakenly christened it as Pagoda due to the shape of the structures. Archeologists believe that the shape indicates Buddhist influence. The name Seven Pagoda has stuck since past 11 centuries and so has the myth around it. It is believed that the seven pagodas served as navigation landmark for the sailors. The Cholas added additional structures to the existing complex after they invaded this region and usurped the land from Pallavas.
Tsunami of 2004 exposed 7 Pagodas
The devastating Tsunami of 2004 exposed ruins of other temples along with ancient artefacts briefly. The Shore temple in Mahabalipuram is the only surviving one since it was the last of the temples. It is a temple of mystery indeed.
The post 2004 tsunami expeditions by ASI (Archaeological Survey of India) and Indian Navy confirmed the presence of ancient walls and structures under the sea. However, their link to the mythical Seven Pagodas could not be established as of now.
Search Mission: During more excavations and searches, evidences of 2000 years old temples have also been found. Some of them even date back to the Tamil Sangam period.
The excavations and more finding are still underway and it would be interesting to see how it unfolds. The new finding might throw more surprises and change the way we look at the history of the intriguing ancient city that Mamallapuram is.
Many ancient coins, idols and artefacts have already been discovered in and around the Shore Temple Mamallapuram. Archaeological Survey of India continues to make new discoveries with passing time and our understanding of the history of Mahabalipuram is still evolving.
Why Shore temple in Mahabalipuram sank
It is still a mystery why this temple sank. Some of the theories given by historians, archeologists and scholars on why Shore Temple sank are as below:
Sinking Base – Some archaeologists and historians believe the foundation of the other structures which was made up of soft soil was not strong enough.
Tsunami – It is claimed that a 13th century tsunami destroyed the other temples and structures.
Earthquake– The possibility of an Earthquake damaging the temples and other drowned structures close to the only surviving Shore Temple is also not ruled out.
Claimed by Sea – It is possible that the fierce tidal waves felled the other structures near Shore Temple Mamallapuram.
Shore temple Architecture
.
Shore temple is one of the best examples of the Pallava architecture. The best examples of quintessential Pallava architecture can be seen in places of great historical significance such as Shore temple and Pancha Rathas of Mahabalipuram and Kailasanathar Temple in Kachipuram, both in Tamilnadu. Shore temple imbibes all the important features of Pallava art and architecture. These temples built by Pallavas are a class apart!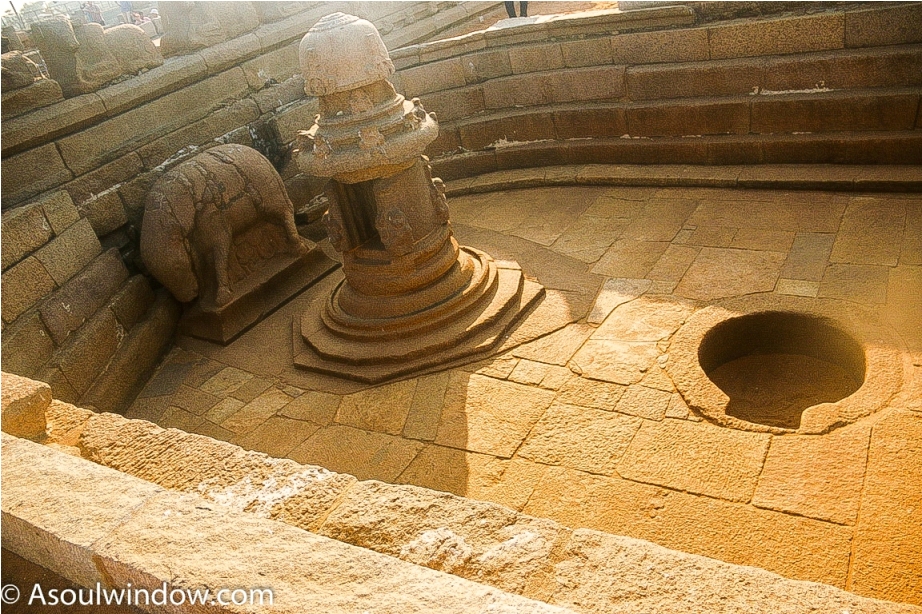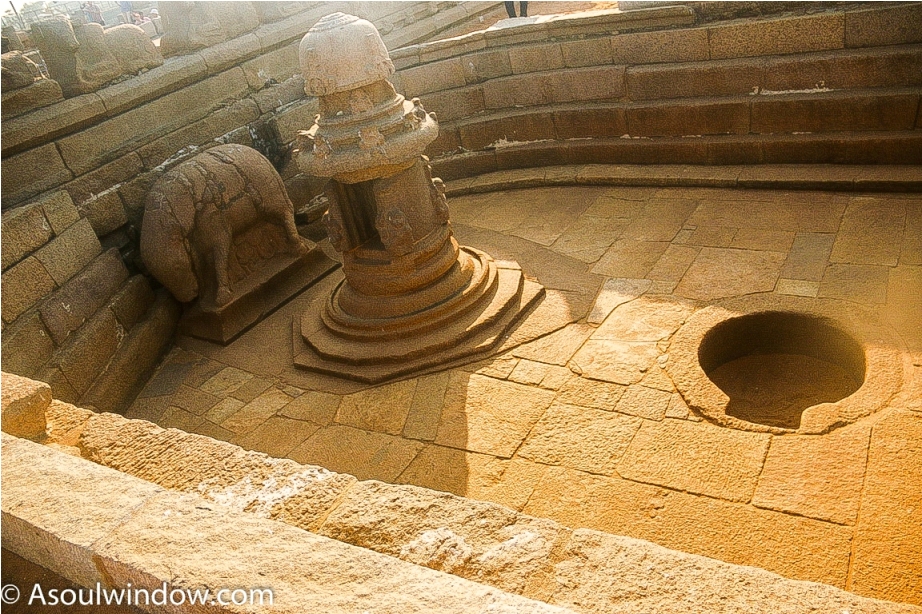 Legends
Much like many South Indian temples, you can also see the connection of King Hiranyakashipu and his son Prahalad in Shore Temple Mamallapuram. After Vishnu ji had killed Hiranyakashipu, the next king was Prahalad. As per the folklore, Bali, the son of important Hindu personality Prahalada had founded Mahabalipura, right at this place.
Plan of Shore temple in Mahabalipuram
Chariot Shape of Shore Temple: Originally, the entire Shore temple complex was built in the shape of the popular rathas or the chariot. In fact, there was a striking resemblance of Shore temple complex with the Dharmaraja ratha. There are 3 temples in the complex of Shore temple in Mahabalipuram. The pyramidal gopura or the tower of the temple is present in two of these temples. Pallava dynasty art and architecture was indeed ahead of its times.
While two of the temples are devoted to Shiv Bhagwan, the third and the smallest of all temples is dedicated to Vishnu ji. It just goes on to show how varying religious ideologies were allowed to mingle in those times. Shore temple plan is a work of genius. Isn't history of Mahabalipuram interesting?
Mahabalipuram Beach
You can also visit the Mahabalipuram Beach which is located at walking distance from the Shore temple of Mahabalipuram. You can spend 1-2 hours here just like I did. Mahabalipuram beach is a great place for people watching. You will see many people and some Indian and foreign tourists enjoying the beach in large numbers.
Do not expect a clean secluded beach. Rather the Mahabalipuram beach is very crowded and at times messy. I saw many makeshift stalls and vendors selling everything from toys to edibles. I made sure I didn't leave the Mahabalipuram beach without sampling some local pakoras or bhajiyas (vegan fritters made with vegetables) with spicy chilies or chilly based sauces.
Mahabalipuram beach is also great for photography. You can include shots of some local people against the backdrop of the sea like I did. You will also get some unusual angles of Shore Temple from Mahabalipuram Beach. Maybe you can try clicking images of Shore Temple from the beach as well.
Shopping
There are some souvenir shops right outside the Shore Temple. You can pick some South Indian themed arte facts and handicrafts. Small stone sculptures and handicrafts made with coconut shells can make for great souvenirs from Shore Temple, Tamil Nadu.
Some shops also sell big sculptures made from stones. These may include idols of Lord Buddha or Hindu deities such as Ganesh ji, Hanuman ji etc. You can also place an order to make an idol of a person, celebrity or replica of any famous monuments or structures.
Distances from the sea shore temple
Mahabalipuram to Chennai – 57 kilometers and 1 hour 24 minutes via East Coast Road
Mahabalipuram to Pondicherry – 97 kilometers and 1 hour 53 minutes via East Coast Road
Mahabalipuram to Pondicherry – 123 kilometers and 2 hour 28 minutes via NH32
Mahabalipuram lies between Chennai and Pondicherry
Other places to see near Sea Shore Temple
History of Mahabalipuram is very rich. There are many places to see in an around Shore temple of Mahabalipuram. Some of the other top places to visit in Mahabalipuram are as below:
Arjuna's Penance
Pancha Rathas
Descent of Ganga ji
Tiger Caves
India Seashell Museum
Krishna's Butter Ball
Krishna Cave Temple
Varaha Cave Temple
Mahishasuramardini cave
Ganesh Rath Temple
Sri Sthala Sayana Perumal Temple
Trimurti Cave
Sculpture Museum
Olakkanneswara Temple
Mamallapuram Lighthouse
Koneri Tank or Lily Pond
Excursions
Pondicherry
Chennai
Crocodile Bank
Covelong Beach
Alamparai Fort
Hotels in Mahabalipuram : Where to stay
There are many hotels in all budgets in Mahabalipuram. While you would love a stay at a beach resort but that may be expensive.
Budget: If you can not afford luxury, budget options are available as well.You can get hotels in Mahabalipuram for as less as INR 500 a day.
Beach Resort and Luxury: If you fancy a beach resort Mahabalipuram, then you will not be disappointed. Mahabalipuram has some world class hotels. The best hotels in mahabalipuram will cost you INR 5,000 and upwards. Most properties are located near the sea shore temple.
Vegan and vegetarian guide
It is very easy to get good quality and cheap vegan and vegetarian food in Mahabalipuram. Of course the food will be expensive in 5 star beach resorts. The food is very delicious in the streets to and may cost you anything between INR 5 to INR 100.
Some vegetarian dishes in Mahabalipuram are Idli (Steamed rice cake), dosa (Crepe like savoury dish) filled with potatoes, Uttapams (Rice pancakes), Bhajiyas (Fritters) etc.
Vegans can eat the same food. Just watch out for the ghee (clarified butter) and curd in coconut chutneys. You can always request the vendor to not add any dairy to your food.
INTERESTING FACTS ABOUT THE SHORE TEMPLE:
The Shore temple of Mahabalipuram was classified as UNESCO World Heritage Site in 1984.
Each year in winter (December/January), Dance festival is organized by Department of Tourism, Govt. of Tamil Nadu. Classical Indian dances like Kathakali, Bharatanatyam, Kathak , Mohini Attam, Kuchipudi and Odissi are performed by the stalwarts in the month long festival.
The rows of beautifully stone carved Nandi bulls line the boundary of the temple.
A large statue of the mythical Varāha (Avatar of Vishnu in the form of boar) stands on the newly excavated new site on the south of the Shore temple of Mahabalipuram.
The Shore temple looks like a chariot when seen from a distance.
FAST FACTS ABOUT SHORE TEMPLE OF MAHABALIPURAM
Admission Fees of Shore Temple
For Indian Citizen: Rs. 10
For Kids: Below 15 ears: Free Entry
Foreign national: INR 500 (USD 6.64)
The tickets are valid for visit to other monuments in the area.
TIMINGS OF SHORE TEMPLE
Shore temple of Mahabalipuram opens from 6 a.m. to 6 p.m. Last tickets are sold at 5:30 p.m. I would suggest you to visit Shore temple and Panch Ratha because they are ticketed and fenced unlike Arjuna's Penance, Krishna's caves, Krishna's butterball.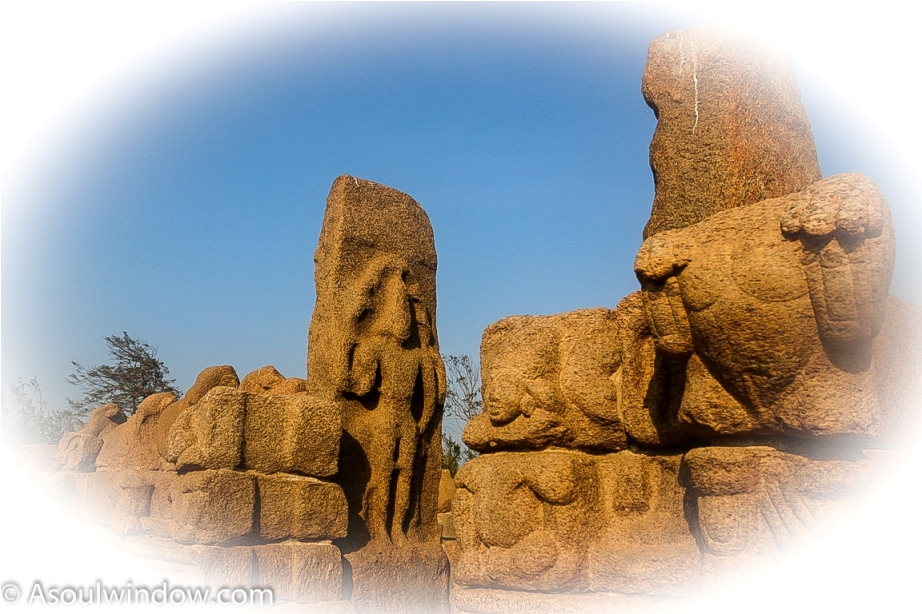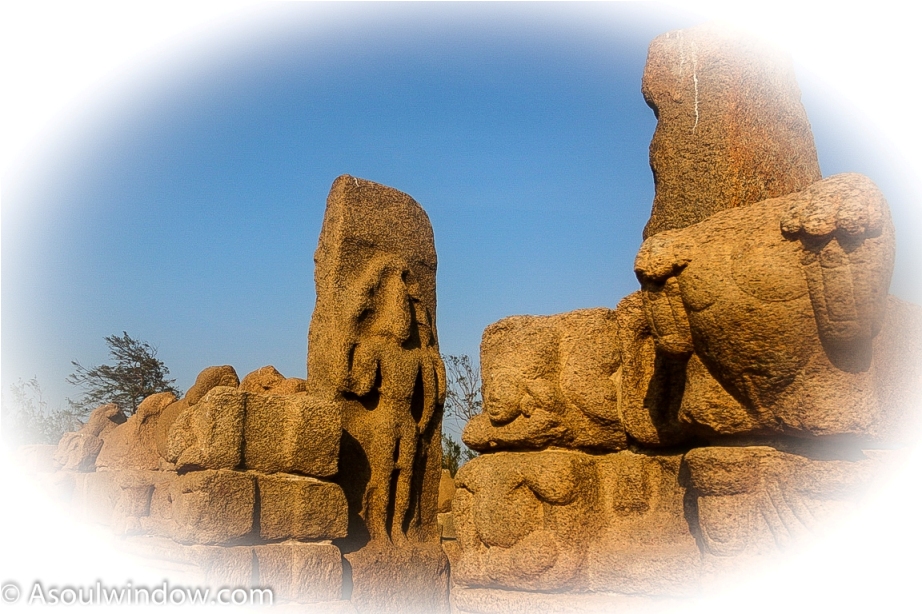 Best Time To Visit the Shore Temple
It is good idea to visit the Shore temple of Mahabalipuram during the golden hour. The time around sun rise and sun set is known as golden hour. This is the best time for architectural photography. The sun rays falling on the Shore Temple makes it look ethereal.
Soul Window Tip: Avoid visiting the Shore Temple on public holidays and weekend if you can. It gets very crowded and noisy on these days.
Time suggested in Shore Temple – Spend 1 to 2 hrs in Shore temple
English Speaking Guide
Hiring a guide to visit all the places in Mahabalipuram is a good idea. The guide will help you notice small details which you will miss otherwise. Do hire only the licensed guides. These guides are approved by government.
English speaking guides are available in Mahabalipuram. Just ask around. The guide will also tell you about the history of Shore Temple and the Pallava and Chola Dynasty. Hope you are enjoying these facts about Mahabalipuram.
Local Transport
Soul Window Tip: Autorickshaws or tuk tuk is available at most touristy places in Mahabalipuram. Most of the places are located within walking distance of each other. If you still need auto to reach nearby places, do not hesitate to hire one. The streets of Mahabalipuram are not very crowded and it is safe to hire rickshwas. Expect to pay around INR 50 between two places in Mahabalipuram.
Best Time to visit Shore Temple:
A visit to the Shore Temple is advised during sunrise or sunset. That's when the temple is in its full glory. I visited during sun set and can vouch for it. Weather Mahabalipuram is mostly humid, so do carry wet napkins, lot of water and snack. Winter has the best weather in mahabalipuram.
BEST MONTHS TO VISIT SHORE TEMPLE:
Winters: Indian winters (November to February) are the best time to visit Shore Temple in Mahabalipuram.
Monsoon: Monsoon (June to September) is also a good time to visit Shore Temple. Just carry umbrella and an open mind. I did visit nearby areas in August once and it was pleasant and the rains were manageable.
Summer: Avoid Summer (March to May). These months can be unbearably hot and humid. It is not impossible though. I have travelled through Bihar in North India in the extreme heat of June.
Weather in Shore Temple, Mahabalipuram
South India, generally is warm throughout the year when compared to North India which has extreme weather patterns. Being close to the sea, the presence of humidity in Mahabalipuram is also there. Do carry a handkerchief to wipe off the sweat from the face every now and then.
What To Wear – You must wear slippers/flip flops, lungi/sarong or half pants, Bermudas and cotton T shirts or sleeveless shirts since it is a humid region.
Soul Window Tip: Due to the humid and often hot weather in Mahabalipuram, it is best advised to wear breathing clothes here. You must pack in below clothes and footwears when visiting Mahabalipuram:
lungi (traditional Indian dress in place of pants)
Half pants, cargos pants
Half sleeve cotton T shirts
Sleeveless T shirts
Slippers or flip flops or chappal
Sandals
How to reach Shore Temple
Chennai to Mahabalipuram is the route everyone takes to visit the Shore temple. Shore Temple is easily connected via buses from Chennai which is the nearest big city.
Chennai to Mahabalipuram by Flight
Chennai is also the nearest airport from Mamallapuram.
Chennai International Airport (IATA: MAA, ICAO: VOMM) is connected to all the major cities of India and some nations. From here you can book a private cab or take a bus to Mahabalipuram and Pondicherry, both on the same East Coast Road or the State Highway 49.
Chennai to Mahabalipuram by Railway
Nearest railway station from Mahabalipura is at Chennai known as the Puratchi Thalaivar Dr M G Ramachandran Central Railway Station.
Drive from Chennai to Mahabalipuram by East Coast Road or ECR
A road trip on the famous East Coast Road starts at Thiruvanmiyur in Chennai, earlier called Madras. It is a very scenic route and a destination in itself. You can stop en route at interesting places such as Cholamandal Artist's Village, Madras Crocodile bank, Dakshin Chitra Heritage Village etc. Chennai Mahabalipuram route has many things to do.
The ECR beach is also lovely. You will see glimpses of sea flickering from the window of your car and bus. If you are a resident of Tamil Nadu, you are already aware of the picturesque East Coast Road.
You can drive your own car or hire a cab from Chennai. It is a great idea to include Pondicherry on this trip too like I did. Pondy is located very close to Mahabalipuram.
Private Taxis from Chennai to Mamallapuram and Pondicherry can be easily hired.
Bus
I took the following route:
Mumbai-Chennai-Mahabalipuram-Pondicherry-Chennai-Mumbai
Reach Chennai to Mahabalipuram by bus: I had travelled from Chennai to Pondicherry on dirt cheap state transport bus of Tamil Nadu. The bus was punctual and it was a smooth ride. Though it was crowded, I had got the seat as I sat in the Chennai city itself. Despite the lack of communication (Not many understand Hindi in South India), the conductor of the bus helped me get down at Mahabalipuram, which was easily missable.
Pondicherry to Mahabalipuram
The distance between Pondicherry to Mahabalipuram is just 96 kilometers and it takes only about 2 hours via the East Coast Road aka ECR. There are many interesting places to visit in Pondicherry which you must explore.
The distance between Pondicherry to Mahabalipuram from the Chennai – Nagapattinam Hwy and NH32 is approximately 125 kms and it takes around 2 hrs 15 minutes. It is just slightly longer than previous route.
MAKE THE TRIP MORE EXCITING!
My first solo trip was – Chennai- Mamallapuram-Pondicherry. I did this circuit in less than a week.
Chennai to Mamallapuram is only 60 kilometers and takes around 1 hour 30 minutes on the picturesque East Coast Road (ECR)
Mamallapuram to Pondicherry is another 100 kilometers and takes around 2 hours on the East Coast Road.
My First Solo Budget Trip
Shore Temple in Mahabalipuram aka Mamallapuram was etched in my memory ever since I read about it in my school days. In 2010, during my first solo trip to Chennai, Mamallapuram and Pondicherry, I did arrive at the Shore Temple but as soon as I reached late evening its gates were closed. I pleaded to the security, "Sir, please let me have a look, I have come from very far. From Delhi saar!" I lied. I had come from Mumbai, which is closer. Never mind, it didn't work anyways and I had to be content looking at it from the rocky beach from across the barbed wire fence. I returned crestfallen, consoling myself with the views of the scenic route of the famous ECR aka East Coast Road of South India
I recently visited it again after 7 years, now as a travel writer and blogger No wonder, I made the most of it and admired the breathtaking piece of architecture to my heart's content. This time, I made a stop here as it was one of the destinations of the Golden Chariot, the only Luxury Train of South India. My Golden Chariot tour was facilitated by the Karnataka State Tourism Development Corporation. It was great to revisit the best places to visit in Pondicherry.
Conclusion – Final Thoughts on Shore Temple
There is no doubt that Mahabalipuram is one of the most important places in not only Tamil Nadu or South India but all of India. The exquisitely carved Shore Temple is an architectural gem and gives a glimpse of the grand architecture of the original structure. A visit at Shore Temple acquainted me with the history of Pallava Dynasty and the rich past of India.
The nearby beach and the amazing vegan and vegetarian food had kept me hooked as well. The East Coast road and the proximity to both Chennai and Pondicherry also make it an easy to reach lucrative destination. Shore temple of Mahabalipuram and nearby places like Pondicherry are some of the best places to visit near Chennai.
The view from my Soul Window is a masterpiece!
Top Travel Blogger from India