Last Updated on October 21, 2018 by
VEGAN & VEGETARIAN GUIDE TO AUTHENTIC
HOMEMADE FOOD OF RAIPUR –
OFFBEAT CHATTISGARH
This blog is your guide to authentic home-made food of Chattisgarh. There are many places where you can sample the real food of Chattisgarh at a shoestring budget, making it ideal for backpackers. Most of the local food of Chattisgarh which is available at stalls in Raipur are vegan and vegetarian by default.
WHERE TO FIND BEST VEGETARIAN AND
VEGAN FOOD IN RAIPUR, CHATTISGARH?
When I visited Raipur, Atal Nagar and Raigarh in Chattisgarh, I realized that much of the food is familiar and yet exotic to me. You will find something for everyone in Raipur. Be it old haunts or newly developed places, you will come across a variety of exciting vegetarian and vegan regional food, much of which will be a first time experience for you. It was for me, at least.
Sadadi Chowk in Sadar market is popular for its food. You will end up hopping between 4-5 famous old shops, sampling papdi, mirchi bhajiya, kachori, samosa, jalebi. You must not miss the dahi bada, bada and kachori at the much loved Naga Maharaj. People have been flocking here since the past 80 years. You sure want to check out, why!
The peda and milk at Sulabh Doodh Bhandar is also quite popular.  This shop is 80 years old as well and during festivals there is a long waiting list outside the shop. You may also want to check out the jalebis at Bhagirathi hotel and balushahi (my father's favourite) at Ramji Halwai.
You can also visit Netaji Chowk, M.G. Road and Marine Drive to sample poha, pav bhaji, chat, vada pao, bhel, pulao, gup chup and local snacks of Chattisgarh. Panipuri is called gup chup here and can be tried at one of the chat stalls near Vivekanand Ashram.
DISCOVER THE BEST OF VEGETARIAN AND
VEGAN FOOD OF CHATTISGARH AT GADH KALEVA:
Located right opposite Mahant Ghasidas Sangrahalaya, Gadh Kaleva is an unpretentious foodie paradise. It was my first visit to exotic Indian state Chattisgarh and much like an excited kid in a mela (fair), I hopped from one stall to another at Gadh Kaleva in Raipur, discovering new things to eat at throw away prices.
Here you can sample vegan and vegetarian snacks of Chattisgarh such as farra, cheela,bafori, ghuska, hathfodwa, mada pida, paan roti,  gulgula, pidiya, paan roti, thethri, bara, chausela,angakar roti, doodh fara, ahirsa,babra etc. Please see the picture of menu for other dishes and rate card. Sweets included gulgula, papchi,babra, khaja, puran laddu, curry laddu and khurmi etc.
Excited to see such a huge variety of local vegetarian and vegan food, we decided to order most of the savoury dishes and share the same. Me and my fellow travel bloggers enjoyed eating the local dishes, all of which we had tasted for the first time.
I had not even heard the name of the dishes except farra which was somewhat identical to steamed and stuffed farah which my mom makes occasionally (because it is too much of a hard work). Of all the dishes I had tasted, I loved cheela the most. We gulped it down with delicious buttermilk aka chass. Amongst sweets, pidiya won my heart instantly. It was like panjiri stuffed in a 'melt-in-mouth' soft shell.
I loved the concept of Gadh Kaleva. In fact all the cities or at least the state capitals should have such food courts where all the major regional dishes are made available under one roof and at reasonable rates. The dishes cost us a negligible amount and yet succeeded in sending us in a food coma. I often end up wasting a lot of time in a new destination, in trying to find exotic local cuisine. Finding them all at one place was God sent.
The seating at Gadh Kaleva is quirky and interesting. Small rooms with chairs and tables are available as well as charpoys which give you a rustic feel of dining in a village home. Many locals had inundated the place when we visited. A large group of housewives had congregated and were having a good time in a corner.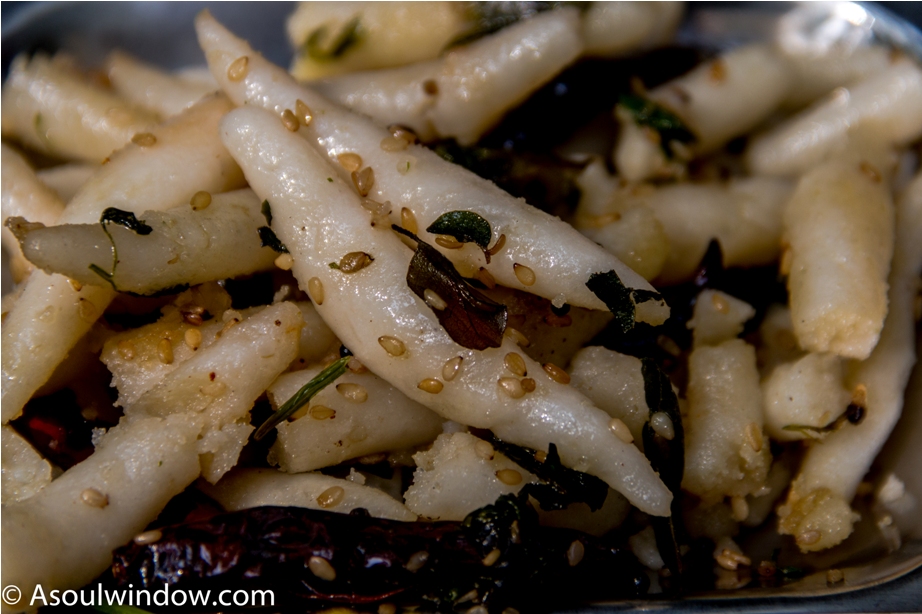 Some people preferred having a proper thali for lunch. The premises are decorated well with street art, abundant greenery, terracotta and metal sculptures. The Mahant Ghasidas Smarak Sangrahalaya, Raipur is right opposite Gadh Kaleva. Entry to Gadh Kaleva food court is free. There is ample parking space.
TREAT YOUR TASTE BUDS AT THE CHOWPATTY OF MARINE DRIVE, RAIPUR:
The marine drive of Raipur is a lively place with a very unique street food culture. The best part is that you can sample not only the local snacks of Chattisgarh but can also taste some of the delicacies of the neighbouring states. For example, I lost self control when I saw a stall selling Maharashtrian vada pao. Though it was not as good as the one easily available in Mumbai, but it was still so much better than what we get in New Delhi.
The Indore pohe at the next stall ha me drooling. I polished off the big plate of poha in a jiffy. Next, I set my roving eyes on the jhalmuri seller. He gave a huge cone of jhalmuri for just INR 20. It had Bengali taste, thanks to the spices used and the liberal use of mustard oil.
HAMAR KALEVA –
THE REAL TASTE OF AUTHETIC HOMEMADE FOOD OF CHATTISGARH:
Do not miss Hamar Kaleva at Marine Drive. The local food of Chattisgarh served here is identical to what you will fill your face with in Gadh Kaleva as well. So, in case you missed out on visiting the latter or want to sample the local food at another place too, then Hamar Kaleva is the place to be. It is an al fresco take away with only tables for you to enjoy the food on. Some of the unique local foods of Chattisgarh which they serve are Farra, Dhuska Bara, Urad Bara, Idhar Kadhi, Chawsela, Moogaudi, steamed and fried Bafauri etc. Phone of shop: 9826666678
The cool breeze of Marine Drive, glitzy neon signs of shops, cafes and restaurants on the opposite side and mixed gentry make it an atmospheric place to hang out with friends and family and binge eat the delectable food. The food served on the street is very pocket friendly and costs between INR 10 to 100.
Spread the love, share this blog
Got any question/comments, ask in the comment section below so that it can benefit other readers.
Email me for collaboration: 21abhinav21@gmail.com
Be a part of my journey on social media. The travel content I create there is different from this blog.
Pls subscribe/follow/like:
WARNING : COPYRIGHT TO ALL THE CONTENT SHARED HERE REMAINS WITH ME. THE IMAGES AND TEXT IN THIS BLOG ARE BY ME UNLESS MENTIONED OTHERWISE. YOU CAN NOT JUST LIFT THE CONTENT AND USE IT WITHOUT MY PERMISSION. STRICT LEGAL ACTION WILL BE TAKEN IF CONTENT IS STOLEN. YES, I AM SERIOUS.