Last Updated on June 23, 2020 by asoulwindow
Satpura National Park & Tiger Reserve – National Park in Madhya Pradesh
This blog chronicles my experience of the Satpura National Park which is a very offbeat National Park in Madhya Pradesh, Incredible India .I spotted wildlife like bison, bear, spotted deer and other species here. A trip to Satpura Tiger Reserve allows you solace, peace and better understanding of the unique flora and fauna of Madhya Pradesh.
About Satpura National Park
Satpura National Park established in the year 1981 is one of the most stunning National Park in Madhya Pradesh. Not only is it the most unique National Park in MP but also the most offbeat one. The sandstone peaks, voluptuous river, ponds, dense jungle, narrow gorges, serpentine ravines, untamed landcspes and a lack of tourists make it stand out. Be it the plains of Churna or the colossal Dhoopgarh peak with a height of 4,430 ft., the sheer variety in the landscape of Satpura forests will blow your mind.
What is so unique about Satpura Tiger Reserve
What makes Satpura National so unique is that it feels so different and the kind of visual delights it offers has no parallels. I reached late night in my resort near Satpura National Park. The dusty road to the resort was mostly pitch dark. The night was illuminated only by the flicker of lights from a passing train and the lights of people's homes and resorts in the vicinity. After a light dinner, I pulled a chair at the balcony of my 1st floor room.
I sat there alone, staring at the dance of a full moon on the calm waters of the mighty Denwa river. The wide river separates the forest from the settlement, making this place an ideal place for wildlife conservation. This is what makes Satpura National Park so unique and visually different from other National Park Madhya Pradesh.
As man animal conflicts are on a rise in wildlife parks across India and beyond, such secluded wildlife havens are the need of the hour. The scattered rays of the moon and the silence of the place triggered deep conversation between me and the nature thriving in National Park Satpura.
Impatient to see the forest in daylight, I got down for a post prandial walk in the campus of the resort after dinner. I was all ears to catch any wildlife sounds. It did not happen. What stopped me in my tracks though was a big colorful toad on the side of pathways.
The toad didn't move as I approached. I bent down to admire the beauty of the toad who unflinchingly remained glued to the floor, pretending to be a statue. The exterior of the toad's body in many hues of green looked like the bird's eye view of a dense forest.
This set the mood for my morning safari the next day. It was way past midnight. Before I called it a day, I stared at the silvery waters again. Few more hours and I would be crossing this river for safari.
Why is Satpura National Park unique – More reasons
Satpura Tiger Reserveis special because it is still uncommercialised like the more famous National Parks of India. The cherry on the cake is that the cellular network is patchy here. Instead of posting about my trip live from the destination, I would rather lose myself in the tranquility of the place.
As our jeep was about to leave the forest, a sambar looked at us curiously from a raised ground. We bid adieu to the Satpura forest with lasting memories of this offbeat Madhya Pradesh tiger reserve.
Sunrise Boat Safari in Satpura National Park
The Satpura Tiger Reserve is located in Hoshangabad district of Madhya Pradesh and can be reached through Madhai gate by a picturesque route. The only way it can be accessed is taking a boat ride through the voluptuous Denwa river. I can't recall any other wildlife reserve with an entry as dramatic and scenic as this. The Madhai Satpura National Park area is just so beautiful. It is also located near the more famous Kanha National Park and Pench National Park in Madhya Pradesh.
This National Park in Madhya Pradesh is just too visually stunning. The boat safari makes for one of the most visually stunning backwater escape you will ever experience. Not to mention, the Park safari is equally good. No kidding, here! This boat safari is run by MP Forest department and the fees charged is very nominal.
I was told it is easy to spot Gaur, Malabar giant squirrel, leopard and sloth bear here apart from the ubiquitous deer species. However, the immense beauty of the forest hijacked my desire to spot wildlife.
Before we boarded the engine powered boat, I took a solo early morning walk around the river. It was still a little dark when I started the boat safari. The crisp, fresh air, silence and solitude were therapeutic to my body and mind ravaged by the city life.
As I ruminated along the bank of Denwa, the sun spilled its colors lyrically in the sky and water. It was one of the most picturesque sunrise I have ever seen. This National Park in Madhya Pradesh won my heart at first sight!
The previous night Denwa wore a silvery sheen. In the morning, it turned into liquid gold. I am impressed with the aesthetic sense of nature. Do not miss the boat safari in Satpura.
My Experience of Jeep Safari – National Park in Madhya Pradesh
As we crossed the river, we were ushered into a jeep on the other side. The vast grassland greeted us. Spotted deers ruled the land on either sides of the track. Langurs monkeyed around in the tall grasses. A crocodile baby's snout stood out amidst the abundant white lotus in the pond. Exotic birds played around and added color to the brown and green landscape.
The open grasslands gave way to narrow path as we progressed our way in the jungle. Surrounded by tall trees on either sides of the track, the forest revealed its secrets to us slowly. Suddenly the driver halted and we stopped our conversations. We trained our eyes on a big ball of unkempt fur moving languorously through the undergrowth.
Satpura National Park is famous for which animal
Well, the animals we spotted in Satpura National Park are listed below in chronological manner. Our hearts skipped a beat as we realized that it was a sloth bear who feeding solo near a huge pond. Reluctant to expose his face to us, the bear ignored our presence insultingly and moved on with his/her early morning routine.
We stared meditatively from a safe distance as the sloth bear vanished in the thick forest. Apparently, black sloth bears are easy to spot in Satpura Tiger Reserve. Giant squirrel can also be spotted in Satpura if you are lucky enough.
A little ahead, we discovered a large group of Indian bison or the gaur robbing trees of its leaves. The largest bovine species of the world, gaur is known for its Herculean strength. I did only one safari in this offbeat National Park in MP, which explains why I was unable to spot other wildlife.
These are the wildlife which Satpura National Park is famous for. I didn't see any tiger on my first safari but one of my friends did spot a tiger and even a leopard when he went for a safari in Satpura National Park. Isn't that amazing? Indian bison we saw were very docile, though they are meant to be very dangerous when provoked. We did not try of course! This National Park in Madhya Pradesh is full of surprises at every turn!
Some of the other species Satpura National Park is famous for are: Tigers, black bucks, Chital, chinkara, mousedeer, barasinga, nilgai (Blue Ox), fox, dholes, leopard, wild boar, crocodiles, porcupine, Flying fox, hornbill, Indian muntjac and peacocks.
What type of forest is Satpura National Park – National Park Madhya Pradesh
Satpura's being located in central india, has a very unique tree life. Flora of Satpura Tiger Reserve which is a deciduous forest boasts of an impressive variety of plants, trees and shrubs in abundance. Narrow gorges, lakes, ponds and ravines form Satpura Tiger Reserve's landscape. Satpura forest Hills in the backdrop enhances the beauty of the moist and dense forest.
Our guide showed us an interesting tree. The Ghost Trees (Local name: kulu) appears like ghosts looming large in forest on full moon. On full moon and starlit nights, its shiny white bark glows. However, much of the white bark is covered in light pink wafer thin external bark. Ghost tree is famous in Satpura National Park. Do not forget to ask your safari driver to show you this tree during your tiger safari in this mysterious National Park in Madhya Pradesh.
The external bark of the Ghost tree clings on to the main body, threatening to peel off any time. The ghostly glow appears on the white bark of the tree. Our guide handed us over a specimen so that we can feel its delicate and smooth texture. He also asked us to rub the leaves of a lavender plant and smell it. The delicate smell grew on me in no time. There are many more interesting indigenous variety of trees found in this unique National Park in Madhya Pradesh.
Another tree commonly found in Satpura National Park is Saaj. Its coarse bark looks like the skin of crocodile, hence it is also called as Crocodile Bark Tree. Tendu, sal, mahua, teak, bel and other trees also dot the landscape of Satpura National Park.
Madhya Pradesh Tiger Reserve – Is Spotting Tigers Easy?
Tiger spotting was not on my agenda when I planned a trip to Satpura forest. Though, you can always spot the tiger in this unusual tiger reserve if you are lucky.So often, we lose out on the opportunity to appreciate the jungle and its other inhabitants in our desperate rush to spot tigers.
This trip encouraged me to indulge in more tiger free safaris. Spotting a tiger in the wild is amazing. No second thoughts on that. However, stressing over sighting a tiger in wild makes the safari experience one dimensional. That said, it is still worth it to come to Satpura for spotting tigers. This Madhya Pradesh Tiger Reserve does show some tigers to the safari enthusiasts once in a while.
Are Tigers still found in Satpura National Park?
But are Tigers still found in Satpura National Park? Yes, very much. My friend saw a tiger inside a cave during his jeep safari. And if you are asking how many tigers in Satpura National Park, well the answer is that the present number is 60-70 tigers as per the census.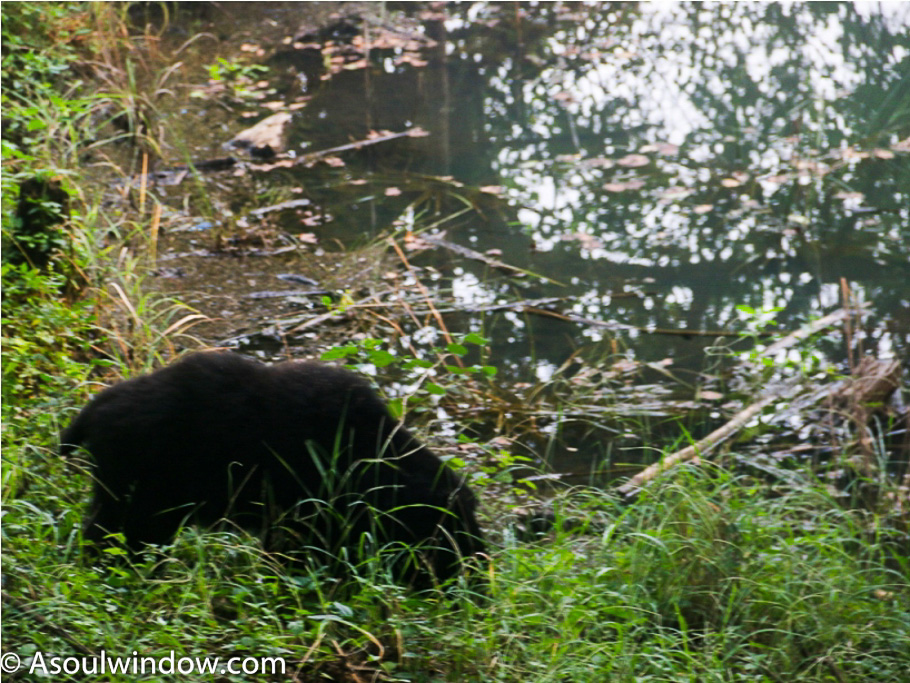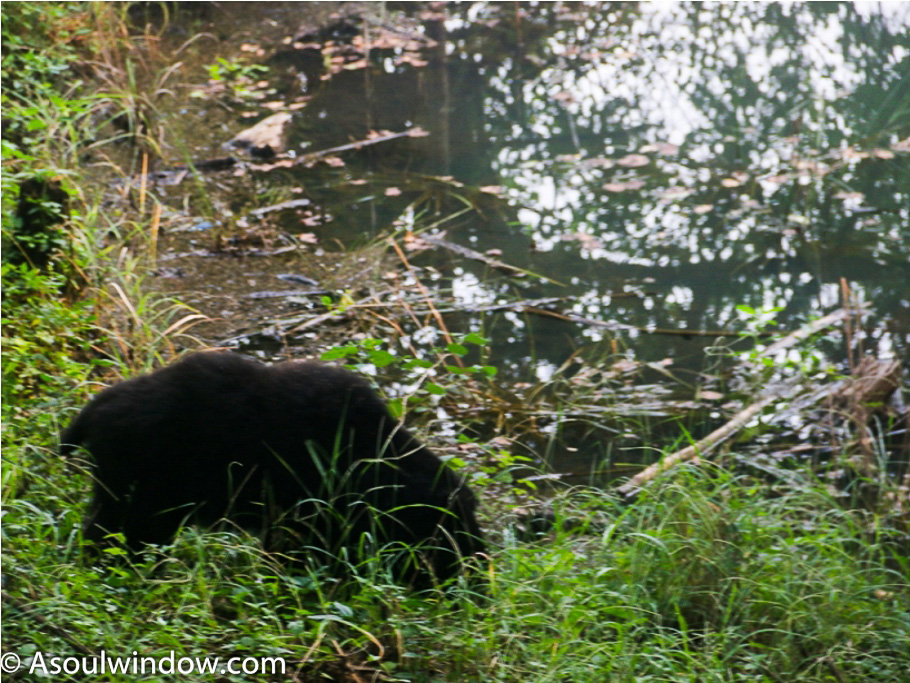 Quirky Facts about birds and animals found in Satpura forest
Sloth bears, armed with long claws, pull ants, termites and beetles with their long lips making a snuffling sound as they munch on the bugs.
Female sloth bears carry their young ones on their backs.
The tallest species of wild cattle, gaurs or Indian bison
Indian bison are the strongest bovine species, weighing upto 1500 kgs.
Thanks to their muscle power, Gaurs are known to kill aggressive tigers.
Male Sambars have antlers which are shed annually.
Where is Satpura National Park located
Satpura Tiger Reserve is a very important wildlife sanctuary in Central India. It is one of the most underrated National Park in MP. This Madhya Pradesh tiger reserve is located near the hill station Pachmarhi. Many people still ask me Satpura National Park in which state. Well it is located in Madhya Pradesh and very close to its capital Bhopal. Satpura National Park is situated close to many places to see in Madhya Pradesh.
Best Time to go to Satpura National Park
The Satpura National Park is open from October to 15 June. This one of its kind Madhya Pradesh tiger reserve is best enjoyed during dry months. Satpura tiger reserve Madai gate is where you will begin your journey from. Below is a list of best time to visit Satpura National Park as per different seasons. You need to look no futher than this complete guide on Satpura National Park.
Summer
Being located in central India, it is very hot in the months of April, May and June but these are also the months when the sightings of animals are easier. Due to extreme heat the shrubs are dry, animals congregate more often near the water bodies and thus the visibility and chances of spotting wildlife is higher during the summer months. This makes Satpura wildlife sanctuary one of the places to visit in Madhya Pradesh during June.
Monsoon
All Madhya Pradesh tiger reserves, including Satpura are closed during monsoon.
Winter
I visited Satpura during October which was the onset of winters in central India. It was very pleasant and not at all cold. October is when all the National Park in MP open up. October to March is pleasant weather with December and January being the coldest months in all the major places to visit Madhya Pradesh. This National Park Satpura is no exception. Winter, though is a great time to pay a visit but summer is the best time to visit Satpura National Park.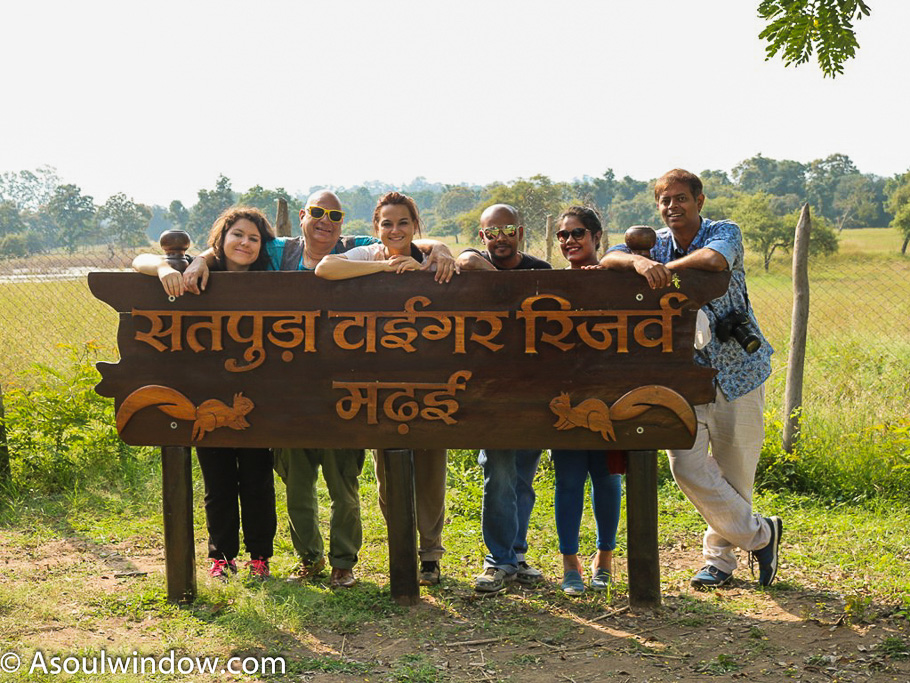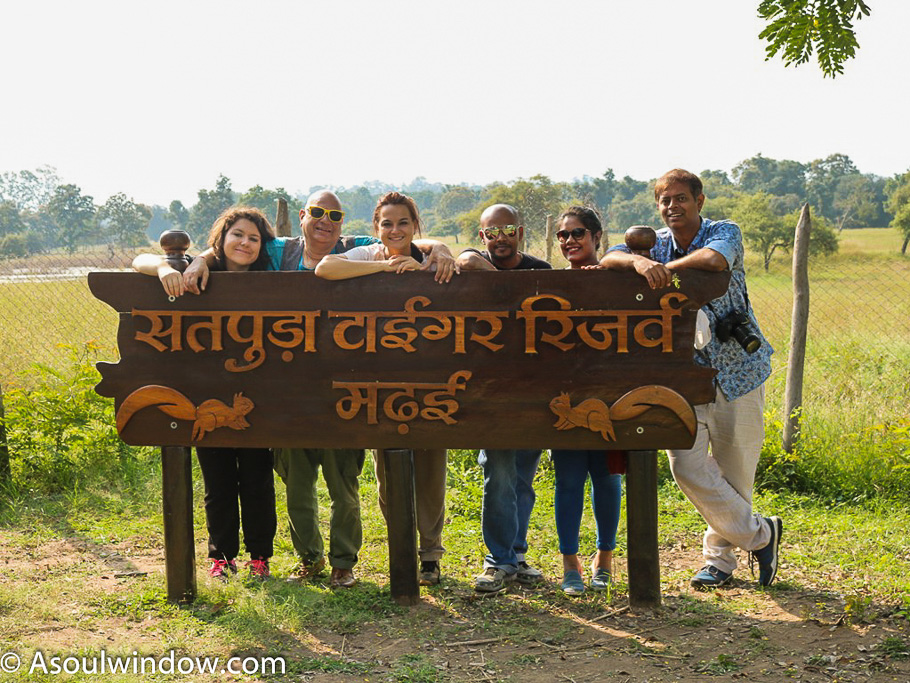 How to reach Satpura National Park- National Park in MP
This National Park in Madhya Pradesh can be easily accessed by many major cities of central India and beyond. Bhopal is the nearest big city and is well connected via train, bus and flight. From Bhopal, one can book a cab to Satpura National Park. Piparia and Sohagpur are the closest railhead from this tiger reserve at 55 kms and 20 kms respectively. Satpura tiger reserve Madai gate is most popular with wildlife enthusiasts. I hope now you are clear about how to visit Satpura National Park.
How to reach Satpura National Park from Bhopal
Bhopal is located just 176 kms away from Satpura Tiger Reserve. Raja Bhoj Airport of Bhopal is the closest airport from Satpura. Bhopal Railway Station is a major junction and is also well connected to most parts of India. It takes 3.5 hours approximately to reach satpura forests from Bhopal.
Itarsi to Satpura
Itarsi is also located close to Satpura and has a railway station. Distance between Itarsi and Satpura National Park is 70 kms and it takes around 1.5 hours to cover the distance. It is a lot easier if you take train to Itarsi.
Indore to Satpura National Park
Distance between Indore and Satpura National Park is 332 kms and it takes around 8 hours to make this journey. It is thus not advisable unless you live in Indore or paying a visit to the city in the first place.
How to reach Satpura National Park from Pachmarhi
It is a wise decision to club both Pachmarhi hill station and Satpura National Park in one trip. Pachmarhi to Satpura National Park distance is just 8 kilometers and can be covered in only 20-30 minutes. But if you want to arrive at Madhai gate, it takes a bit longer. Details are as below.
Madhai to Pachmarhi
Madhai to Pachmarhi distance is just 91 kilometers and this journey can be covered in just 2 hours and 30 minutes via Madhya Pradesh State Highway 19A. Madhai Gate Satpura is whr you have to arrive to start the safari.
How to reach Satpura National Park from Delhi
A road trip or bus ride from New Delhi to Satpura is not advisable as the distance between Delhi and Satpura is 905 kms and 17 hrs via NH44. Flights and train between New Delhi and Satpura is a better option anyday.
Excursions from Satpura National Park
The offbeat Hill Station Pachmarhi is nearby. Clubbing both Satpura Tiger Reserve and the quaint Pachmarhi hill station like I did also makes sense.
The Tawa Dam & Reservoir which was formed due to construction of Tawa dam is a picturesque picnic spot loved by the locals and tourists alike.
You can also visit the unfinished Bhojeshwar temple near Bhopal.
How to go Satpura National Park – Distances
Distance between Kanha National Park and Satpura wildlife sanctuary's Madhai gate is 596 kilometres and it takes around 12 hours to make this journey via MP SH 26 highway.
Distance between Pench National Park and Satpura is 475 kilometres and it takes around 9 hours and 30 minutes to make this journey via MP SH 26 and NH47 highway.
Distance between Bandhavgarh National Park and Satpura is 770 kilometres and it takes around 16 hours to make this journey via MP SH 26 freeway.
Distance between Panna National Park and Satpura is 712 kilometres and it takes around 15 hours to make this journey via MP SH 26 freeway.
Distance between Pench National Park and Kanha National Park is 208 kilometres and it takes around 5 hours to make this journey via MP SH 11 A and NH47 highway.
Other Distances from Satpura Madhai Gate
Jabalpur to Satpura – 230 kms
Nagpur to Satpura – 340 kms
Sanchi to Satpura – 230 kms
The other Nationals Parks of MP are Madhav National Park in Shivpuri, Sanjay National Park in Sidhi, Van Vihar National Park in Bhopal, Mandla Plant Fossils National Park in Mandla. You can combine a trip to the above mentioned amazing National Park in Madhya Pradesh for a memorable wildlife week or even a month if you have the luxury of time and money. This travel experience will stay with you for a long time. Just plan a tour in central India for an amazing wildlife tour across Madhya Pradesh. I have simplified all your queries on how to visit Satpura National Park in an easy to understand language.
Satpura National Park Safari booking
Park safari can be booked through an agent or even the property you are staying at can arrange the same. You can book the safari from the booking counter of Park management which is located at the main entrance gate. 4 wheeled jeeps are used for safari here. The general rules followed here are same as rules followed by Madhya Pradesh Forest Department across all National Parks of MP.
The booking counters are located near the Denwa river at the Madhai entrance gate. The first booking can be done as early as 6 a.m. Once you buy the tickets, you need to take the boat and cross the river. The jeep awaits you at the other side of the river. There is no online booking yet unlike other National Parks of MP. The duration of the jeep decides the fees that you pay.
Elephant safari in Satpura
I DO NOT recommend Elephant safari as it is very cruel to the elephants. The elephants are stolen from their mothers when they are young, beaten and forced to live an unnatural life for your few hours of pleasure and that is a horrible thing!
The biggest of wildlife photographers don't hesitate taking an elephant ride and that doesn't make them right. Be a responsible traveler. Say no to animal abuse. Elephants you can touch are not happy elephants. Period!
What's the solution? Captive elephants need to be rehabilitated and phased out. It is possible. That is how it is done in Africa.
Loo and food breaks
There are designated areas inside the National Park where you get take a leak. The washrooms are not the best but clean and well maintained nonetheless. You can consume food at any of these places and not while the safari is still on.
Which is the best place to stay in Satpura National Park
You can stay at the forest rest house in Churna. It is also known as Churna Rest House. Camping is very popular in Churna. The CHURNA FOREST REST HOUSE aka FRH which is a government run property which is managed by Madhya Pradesh Forest Department. It was built by the British army in 1910 and is this heritage property. Needless to say Churna Forest Rest House is best place to stay in Satpura National Park. Distance between Madhai to Churna is 30 kilometers.
Staying in a heritage property is a very thrilling experience. I had stayed in a similar property in the nearby Pachmarhi. My stay at the MPT Champak Bungalow was beyond amazing. Also run by the government of MP, this heritage hotel blew my mind with its very old British architecture, huge space in room and washroom and sprawling gardens. What's not to love?
Other places to stay in Satpura
There are many luxury properties in Satpura National Park which you can book. Most of the luxury properties are located near the Denwa river near the Madhai entrance gate. Some of the properties have excellent room with balconies, all of which face the Denwa river. You can enjoy the sunrise and sunset right from the luxury of your own room over good food and beverages.
Are there budget places to stay in Madhai, Satpura?
If you do not have a good budget, do not lose heart. You will find option of budget stay in Satpura as well. Yes, I saw some low budget hotels right near the Denwa river. The location is just as good and they charge way less than luxury properties. You can also plan a trip with friends and reduce the cost further by splitting expenses.
Some Frequently asked questions related to this travel blog
How many National Parks are there in Madhya Pradesh
Madhya Pradesh has an amazing forest cover. The total number of National Parks in Madhya Pradesh alone is a whooping 9.
List of National Park Madhya Pradesh are as below:
Satpura National Park & Biosphere or STR – 524 square kilometres
Bandhavgarh National Park – 437 square kilometers (Great for history buffs as well)
Kanha National Park – 940 square kilometres
Pench National Park – 293 square kilometres
Madhav National Park – 354 square kilometres
Panna National Park & Tiger Reserve – 543 square kilometres
Sanjay Dubri National Park & Wildlife Sanctuary – 467 square kilometres
Fossil National Park – 0.27 square kilometres (Archaeologists love this place. )
Van Vihar National Park – 4.45 square kilometres
What are some tourist places in Madhya Pradesh for young people
Madhya Pradesh never ceases to amaze as a solo budget male traveler from India. There are so many tourist places in Madhya Pradesh for young people. Based upon my solo budget travels, I am listing down some of them as below:
Bhopal
Sanchi Stupa
Vidisha
Pachmarhi
Bhimbhetka
Khajuraho
Maheshwar
Indore
Gwalior
Itarsi
Mandu
Burhanpur
Orchcha
Jabalpur
Udaigiri Caves
How many National Parks and wildlife sanctuaries are there in India
India boasts of a total of 103 National Parks and an impressive 544 wildlife sanctuaries. Needles to say India is very rich in biodiversity, a majority of which lies in Madhya Pradesh and Andaman and Nicobar islands itself.
Which state in India has the maximum number of wildlife sanctuaries and National Parks
Both the Indian state of Madhya Pradesh and Andaman and Nicobar island, a union territory has 9 National Parks each. Did you know this? Madhya Pradesh sits on top as the state with maximum number of National Parks in India.
Satpura National Park is a part of which biosphere reserve
Satpura National Park is a part of The Pacmarhi Biosphre Reserve. It is a well conserved area which the Indian government had established in the year 1999 CE. It was declared as a biosphere in the year 2009 CE. You will be surprised to know that wildlife from the not only the lower western ghats but also the Himalyan peaks can be found here.
Apart from the Satpura National Park and biosphere, the two other wildlife conservation areas which make up the Pachmarhi Biosphere Reserve are Pachmaarhi Sanctuary spread across an area of 461.37 square kilometres and Bori Sanctuary sprawling in an area of 518 sq. kms.
Bori Wildlife Sanctuary is surrounded by Satpura National Park in East and North direction and the gorgeous Tiwa river in the west direction.
What is the evidence of prehistoric human life in Satpura National Park
Would you believe that around 55 prehistoric rock shelters have been discovered in Satpura forests till date? Not many know about it, but many evidences of a prehistoric human life flourishing in the dense forests of Satpura have been discovered in Satpura bioreserve. I had visited Bhimbhetka during the same trip. The prehistoric rock shelters are well preserved and you can easily visit them in Bhimbetka unlike the ones present in Satpura.
Conclusion
Satpura National Park or the Satpura tiger reserve is one of the most offbeat National Park in Madhya Pradesh. The fact that fewer tourists visit here, makes it far less crowded and noisy. It is also the most raw and untamed Madhya Pradesh tiger reserve which you can think of! Apart from being rich in biodiversity, Satpura forests are also visually stunning. Though it is not located very close to other National Parks of Madhya Pradesh, but you can still club a wildlife week sort of a trip if you have some spare time. If not, then you can anyways visit it as a weekend trip from Bhopal, capital of M.P., like I did.
Make sure you do not miss out on this one of its kind National Park in MP.
The view from my Soul Window is very unique!
Top Travel Blogger from India