Last Updated on June 4, 2021 by asoulwindow
SHRI RAM JANMABHOOMI MANDIR & TOP PLACES TO SEE IN AYODHYA,UTTAR PRADESH!
I wondered what Ayodhya must be like when my father rushed past the bridge on the holy Saryu river. My family was heading to Bansgaon near Gorakhpur. It is where my ancestral home is. Bansgaon is known for its high population of Shrinet Kshatriya. I am also one of them. My ancestors were from the hills of Srinagar in Paudi Gadhwal area in hilly Uttarakhand. But they migrated hundreds of years ago due to some conflict. But that is not what this story is about.
Before I segway more, let me resume the main story. I kept looking out of the window like my pet dog did on all of his car trips! I tried to see what Ayodhya is all about! The enticing smell of poori and aalu gobhi from the tiffin packed by my mother hampered my concentration.
I focused and craned my neck in opposite direction as the car ran on the baby bottom smooth road. I saw temples. Many temples! Their tall shikhars didn't kiss the sky but they struck a chord with me.
IN SEARCH OF SHRI RAM JANMBHOOMI MANDIR:
I also saw a long ghat on the banks of voluptuous Saryu river! The sand on the banks made interesting shapes and added drama to the monochromatic landscape. It looked like a good spot for the aliens to land their spacecraft.
I, however imagined aarti! I imagined Varanasi. But my eyes were looking for Shri Ram Janma Bhoomi. I could not see it. Or maybe I could not identify it. I promised myself to come back and explore experience Ayodhya.
I always wondered why such an important town was neglected and was hardly seen on the regular tourist map. When I visited Ayodhya, I realized it can be developed as mini Varanasi. There were lots of similarities (and dissimilarities) in both towns.
I am also not sure which town is bigger in stature. Ayodhya is home to Hindu God Ram ji and Sita ji while Kashi or Varanasi is known as the abode of Shiv ji. But then, faith has no space for comparison and one upmanship. That is the prerogative of lesser mortals.
SHRI RAM JANMBHOOMI MANDIR & AYODHYA GET ITS DUE:
I think Ayodhya got its due after hundreds of years when the honorable Chief Minister Of Uttar Pradesh Shri Yogi Adityanath ji took charge. Not only did he change fortunes of the spiritual town, he also gave people new reasons to travel to Ayodhya.
On the eve of Diwali 2018, I traveled to Ayodhya to witness the much talked about 'Deepawali Of Ayodhya' celebrations initiated by Yogi ji. Deepawali celebrations began originally when Ram ji defeated Raavan and returned to Ayodhya. Mud lamps were lit to welcome him. The tradition continues till date. However, growing up very close to Ayodhya, I had never heard of 'Deepawali of Ayodhya'. It was neglected for years.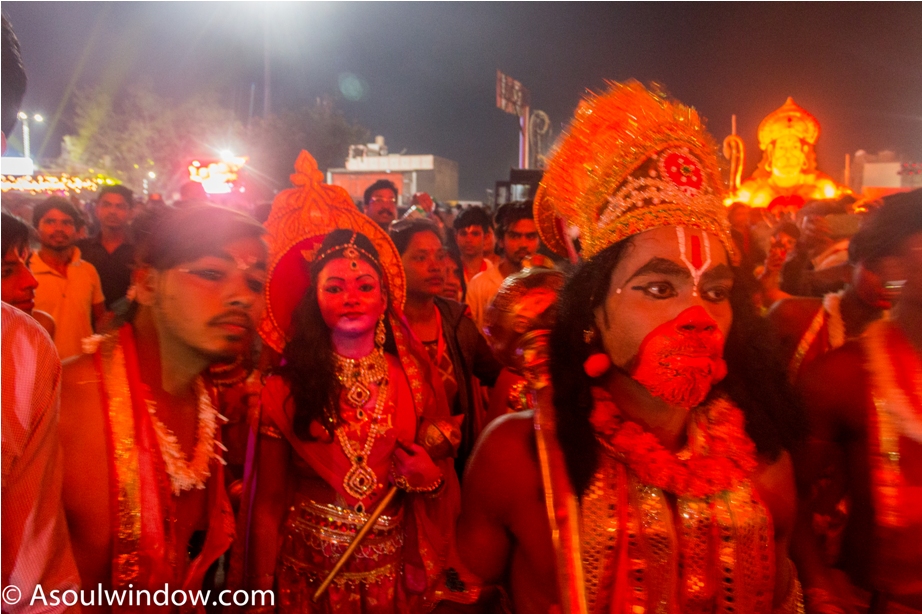 I am sure the regular pilgrims did their own thing despite the lack of maintenance and promotion. They do not need promotion of a place. For example, even if you do not promote a festival like Kumbh, 5,00,00,000 people will still take a dip in holy Ganga river on Mauni Amavasya every six years. In the same way, Ayodhya still attracted Hindu devotees from thousands of years. What Yogi ji did was give it its due respect and place in Indian sub-consciousness.
SHRI RAMJANMBHOOMI & OTHER PILGRIMAGES OF AYODHYA
I was spell bound when I saw 3,00,000 mud lamps lit on the ghats of the Ram Ki Paidi. The ancient temples in the background, chants and Ramayan themed rangolis and even laser shows had pilgrims and travelers mesmerized. It was my best Deepawali ever. It was a real Deepawali, in fact! I also discovered many hidden gems of Ayodhya the next day.
Most of the important places in Ayodhya are at walking distance from each other. You can hire a battery rickshaw or a car if you are not fit to walk. The town is clean, well maintained and uncrowded unlike other religious places in India. Some of the main lanes are pedestrian only making it a pleasant walk and of course no horns.
There are temples dedicated to all the characters of Ramayan except of course, Ravan, the villain. If you are short on time then one day is enough to 'cover' all the main places, but if you want to experience and 'not cover' Ayodhya, then even 2-3 days are less than sufficient.
The ghats at Saryu river are so peaceful, you can send days meditating here only. Evenings can be spent well sampling lip smacking street food of Ayodhya or on a boat ride or just temple hopping, pausing to join a bhajan-kirtan. Or you can do what I did too. Roam around in the unknown nooks and crannies wearing sunglasses and the 'Jai Shree Ram' gamcha available at road side stalls for just Rs. 60. Some Hindu swag, this!
I returned to Ayodhya on invitation by Lonely Planet Magazine India and Uttar Pradesh Tourism Department. Below list of Top Places to see in Ayodhya is based upon my two trips journeys to Ayodhya:
SHRI RAM JANMABHOOMI MANDIR- TOP PLACES TO SEE IN AYODHYA
Shri Ram Janmabhoomi Mandir was hauntingly silent when I visited it. A strict security police guarded the entry gate. His gaze had the precision of an eagle. "No, you can-not shoot that." He approached me politely but firmly. Cameras are not allowed inside the Shri Ram Janmabhoomi Mandir precincts.
Neither are mobile phones or leather. You do not even feel the need of any of these as you pass the multiple security checks after depositing your stuff. It is like having a darshan of Hindu God Ram ji in your austere best.
The devotees need to pass through a one way narrow passage made entirely of metal. The 'cage' is highly guarded. I passed through 5 security checks. Wallet is allowed.
I stopped in my tracks as I got the darshan of 'Shri Ram Lalla' in a tent. It was a poignant moment, made more beautiful by silence. It was, however, so sad to see the most revered Hindu god in a tent. Even after the archaeological and scientific proofs confirming the presence of a Ram Temple here, the governments have failed to build a temple dedicated to Ram ji since decades. After all, it is the birth place of Shri Ram. Why building a temple dedicated to him is so difficult is beyond me? It is a matter of faith of millions of devout Hindus. If no one objected the demolishing of a Hindu temple by Mughal ruler Babur to build Babri Masjid, then why do people object in correcting the wrongs?
SITA KI RASOI – TOP PLACES TO SEE IN AYODHYA
Though Sita Ki Rasoi means the kitchen of Sita ji, but it is infact a temple and not a kitchen. A Chakla Belan (A rolling board and rolling pin) is displayed here as a symbol. As per the tradition a new daughter law in a Hindu household made food on arrival as it is seen as a sign of prosperity. This is still practiced in my Hindu households.
This temple is a symbol of that practice. It is located North West from Shri Ram Janmbhoomi Mandir. You will find it just on the left hand side of the security check of Shri Ram Janmbhoomi Mandir. There is no queue for darshan here so it is easy to miss.
'Janmasthan Sita ki Rasoi' was discovered on the main arch of Babri Masjid by Shri Ram Chander Gandhi who is the grandson of Mohandas Karamchand Gandhi.
HANUMAN GARHI – TOP PLACES TO SEE IN AYODHYA
Where there is Shri Ram, there will be his bhakt Hanuman ji. Hanuman Garhi is always buzzing with activities. Perhaps the most popular place in Ayodhya after Shri Ram Janmabhoomi Mandir, Hanuman Garhi is devoted to Hanuman ji.
The pilgrims visit Hanuman Garhi before visiting Shri Ramjanmbhoomi Mandir to seek permission from Hanuman ji to visit the latter. Hanuman ji is worshiped in his small version. A statue of just 6 inch is worshiped here and that is what makes it special.
If you are not physically fit or old, it might be difficult for you to take 76 steps to reach this temple. The 10th century old Hanuman Garhi is perched on a hillock. Located west of Ramkot, Hindu pilgrims from different parts of India visit Hanuman Garhi to offer prayers to a golden statue of Hanuman ji and ward off evils. The devotees believe that Hanuman ji lived here in a cave. It is still believed that Hanuman ji protects the city from this 'vantage point'.
Hanuman Garhi attracts lot of crowd during the Hanuman Jayanti. The good news is that it is located in a vehicle free zone. Local also call it as Hanuman Teela. I found it as a typical popular Hindu temple, alive with bells, shops selling Prasad and pooja samagri, the works! Hanuman Garhi was established by King Vikramaditya.
DASHRATH BHAWAN – TOP PLACES TO SEE IN AYODHYA
Not far away from the Shri Ram Janma Mandir, I entered Dashrath Bhawan after filing my face with delicious 'Aalu Tikki' from a roadside stall. The silence of the place was broken only by priests who clad in their saffron robes, were singing bhajans in a huge courtyard. It looked like a palace, albeit old.
It is quite crowded during the festivals such as Mahashivratri and Ramnavami. The pilgrims believe that the father of Shri Ram and the King of Ayodhya Dashrath lived here. It is here that Shri Ram and his brothers Laxman, Bharat and Shatrughan grew up.
I entered the other courtyard to arrive at the main temple area. Statues of Shri Ram, Sita ji and Laxman ji were being venerated by the devotees! The tranquil atmosphere was broken once in a while by a bell or a chant! If I had time, I could have spent more time here just observing and absorbing.
Situated in the Ramkot area, Dashrath Bhawan is also known as the Bada Asthan which means the Big Place. Apart from the proximity from Shri Ram Janmabhoomi Mandir, it is also at walking distance from Kanak Mahal and Hanuman Garhi. This place too falls in the no vehicle zone.
KANAK BHAWAN – TOP PLACES TO SEE IN AYODHYA
It is a very important temple of Ayodhya.. Kanak Bhawan is located very close to the other gems of Ayoddhya such as Dashrath Mahal, Hanuman Garhi and Shri Ram Janmabhoomi Mandir. It is a pleasure to walk in this area as it is a no vehicle zone. Also called, 'Sone Ka Ghar' (House of Gold), Kanak Mahal was originally built by queen Kaikei, mother in law of Sita ji. It was a gift to Sita ji when she arrived in Ayodhya after marriage to Shree Ram.
It was later rebuilt by Raja Vikramaditya. Upon further damage, Rani Vrishbhanu Kunwari, the queen of Tikamgarh rebuilt Kanak Bhawan in 1891. That structure stands till date. The beatific statues of Lord Ram and Goddess Sita in the garbhagriha aka sanctum attracts worshipers from around India.
The colossal yet simple building impresses. Peace coupled with immense greenery made me sit here for sometime in silence.
RAM KI PAIRI – TOP PLACES TO SEE IN AYODHYA
Ram Ki Pairi in Ayodhya reminded me of Har Ki Paidi in Haridwar in Uttarakhand.  Though not as big in scale, Ram Ki Pairi still impressed me with its cleanliness, beauty and silence. A tall statue of Shri Ram (full body) and another large statue (face and chest) of Hanuman ji nearby add to the divine atmosphere. The series of spic and span ghats or the nearby banks of wide Sarayu river are great for meditating or even reading a book. There are many ancient Hindu temples, some even in ruins nearby. Temples like Nageshwarnath Temple, Chhoti Devkali Temple, Valmiki Ramayan Bhawan and Shish Mahal, etc. add character to Ram Ki Pairi. Join in a bhajan session or a pooja ceremony in some of the major Hindu temples here.
GRAND CHOTI DEEPAWALI – TOP EVENTS OF AYODHYA
I had attended Deepawali in Ayodhya with zero expectations. What I experienced was unprecedented and beyond words. 3,00,000 diya or mud lamps were lit on the steps of each and every ghat at the pious Ram Ki pairi on the occasion of Choti Deepawali. Choti Deepawali is celebrated on Deepawali's eve.
Not only this, the entire city is decorated with colorful lights, jhalar, Ramayan themed rangolis and what nots. The laser show above the water of the ghats, had the audience in splits. The laser show narrated the important chapters from the Hindu epic Ramayan. The atmosphere is festive and infectious.
Shri Yogi Adityanath, after taking oath as the chief minister of Uttar Pradesh, has not only changed the fortunes of the North Indian state in a positive way, (I am a local, so I can vouch for it) but he has also brought back old glory of Ayodhya. Ignored for many decades by previous governments, Ayodhya is finally getting its due. The grand Deepawali celebrations, frequent mention on the first pages of newspapers and superb roads, cleanliness and infrastructure are some of the salient features of a 'New, confident Ayodhya'.
Swachh Bharat Abhiyan (Clean India Mission) is indeed working!
Though, food stalls are present, it is still better to carry own food and water. One should also reach the ghat section early (before dark) because the entry gets restricted after certain point of time to avoid over-crowding.
NAGESHWARNATH MANDIR – TOP PLACES TO SEE IN AYODHYA
Sounds of bhajan being sung enthusiastically by holy men pulled me towards the ancient Nageshwarnath Temple as I stood near the Ram Ki Paidi in Ayodhya. Nageshwarnath Temple is one of the most frequented and revered temples of Ayodhya. Devoted to Shiv ji, Nageshwarnath Temple attracts a huge influx of Hindus on the pious occasion of Mahashivratri every year. The sanctum sanctorum of Nageshwarnath Temple houses one of the 12 Jyotirlingams.
As per the Hindu ritual, the devotees pray at the Nageshwarnath Temple after taking a dip in the holy Sarayu river nearby. It is believed that the construction of Nageshwarnath Mandir was commissioned by Maharaj Kush, son of Shri Ram. According to the folklore, when Maharaja Kush was having bath on the ghats of Saryu river, he lost his bajuband (armlet). It was found by a snake woman who was a bhakt of Shiv ji. Kush fell in love with the snake woman and built the Nageshwarnath Temple in her honour. It is said that during the rule of King Vikramaditya, the entire Ayodhya city had turned into ruins except Nageshwarnath Temple. Needless to say, Shivratri is celebrated here on a large scale.
CHOTI DEVKALI MANDIR – TOP PLACES TO SEE IN AYODHYA
Built close to a street near the Naya Ghat, devotees visit Choti Devkali Temple to offer prayers to Shri Devkali Ji. It is open from dawn till dusk.
LUV KUSH MANDIR- TOP PLACES TO SEE IN AYODHYA
As I walked barefeet inside the Shri Ram Janmabhoomi Mandir precincts, Luv Kush Mandir on my left attracted my attention. It was an austere temple despite its significance. Devoted to the sons of Sita ji and Shri Ram, it is a must visit when in Ayodhya. Statue of Maharishi Valmiki is also worshipped here. In fact, I noticed many temples located very close to Luv Kush Mandir. Other temples which you can visit nearby include Rangmahal Mandir, Ambardasji Ram Kachahari Mandir and Jagannath Mandir etc.
RAM KATHA MUSEUM – TOP PLACES TO SEE IN AYODHYA
There is no way, you are in Ayodhya and not affected by the immense faith displayed by people. You might also get more interested in learning about Hinduism like I did. Ram Katha Museum situated in Tulsi Smarak Bhawan should end your quest for knowledge.
The Ramayan themed paintings, artefacts, ancient antiques and masks will keep you occupied at Ram Katha Museum, Ayodhya.
Ram Katha Museum is closed on Monday and Government holidays.
GUPTAR GHAT – TOP PLACES TO SEE IN AYODHYA
It is believed by Hindu devotees that Shri Ram took his Jal Samadhi at Guptaar Ghat on the banks of the holy Sarayu river. It was built by Raja Darshan Singh in the early 19th century. There are many temples at Guptaar Ghat which you can visit such as Narsinh Mandir, Purana Charan Paduka Mandir, Ram Janki Mandir and Hanuman Mandir etc.
TRETA KE THAKUR – TOP PLACES TO SEE IN AYODHYA
A trip to Ayodhya is incomplete without paying a visit to Treta Ke Thakur. Also known as Kaleram Ka Mandir. To date, it is very popular amongst pilgrims as they believe that Ram ji performed Ashwamedh Yajna here. A highly revered place, people have been praying to the black sandstone statue since the era of King Vikramaditya. The present structure of the temple which you can see today was constructed by the Raja of Kullu, around 3oo years ago. It was later renovated in 1784 by the queen Maharani Ahilyabai Holkar. She belonged to the powerful Maratha empire and was an empress from Indore. Treta Ke Thakur is located at Naya Ghat.
TULSI SMARAK NHAWAN MUSEUM – TOP PLACES TO SEE IN AYODHYA
Built in 1969, Tulsi Smarak Bhawan Museum is a great place if you are a Tulidas fan or even if not! Located near the Tulsi Chauraha, it is built in the memory of famous poet and saint from 16th century, Tulsidas. There is a wonderful library here where you can go through hundreds of granths and books.
Thanks to the immense amount of Tulsi literature stocked here, this place also attracts researchers and historians. There is also a section here where Ramayan themed artefacts are displayed. The best time to be here is the occasion of Tulsi Jayanti which is celebrated on a large scale here. On regular days, it is open from 6 p.m. to 9 p.m.
CHOTI CHAWANI – TOP PLACES TO SEE IN AYODHYA
It is a beautiful building built entirely in white marble. It is also called Valmiki Bhawan or Maniramdas Chawani. Not many people visit Choti Chawani due to the lack of awareness. However, a visit here is worth it.
MANI PARBAT – TOP PLACES TO SEE IN AYODHYA
Mani Parbat which is located on a height of 65 feet offer spectacular views of Ayodhya. It is of historical and religious importance.
MOTI MAHAL – TOP PLACES TO SEE IN AYODHYA
Moti Mahal which is also kmown as the 'Pearl Palace' was built in 1743. It is located in the nearby Faizabad which was the original capital of Awadh. Although it is not a worship place, but pilgrims do make a pit stop here, enamored by the exquisite architecture. The building stands out due to its grandeur. A lot of money was spent on building this palace which was the residence of Begum Unmatuzzohra Bano or Bahu Begum. She was the wife of Nawab Shuja Ud Daula.
GULAB BARI – TOP PLACES TO SEE IN AYODHYA
Gulab Bari has a large garden with mostly rose plants inundating the fields. The colossal dome of this building can be seen from the road. The tombs of Shuja Ud Daula, the third Nawab of Awadh, and his relatives are located here. It is actually a mausoleum of Nawab Shuja Ud Daula which is located in Faizabad area. There are two entrances of the mausoleum. Lakhauri bricks and lime plasters,which was quite popular in those times, were used to build the tall outer walls built the mausoleum. This grand building was built by Nawab Shuja Ud Daula himself. The building is still used for hosting various events, meetings and prayers also. The building has stood the test of times and still speaks volumes about the extravagance and the lavish lifestyle of nawabs of Awadh.
MAUSOLEUM OF BAHU BEGUM – TOP PLACES TO SEE IN AYODHYA
This tomb is built in the memory of of Begum Bahu who passed away here in 1816. It is a grand tomb and reminiscent of the architecture styles of that era. It is located at Jawaharbagh near Moti Mahal in Faizabad area.
HOW TO REACH AYODHYA FROM LUCKNOW:
Ayodhya is easily accessible from Lucknow which is also the capital of Uttar Pradesh in North India. Ayodhya can be reached from Lucknow in just 2 hours and 30 minutes. Lucknow to Ayodhya is only 135 kilometers from each other. Ayodhya has no airport while Lucknow is the nearest city with an international airport. Both Ayodhya and Lucknow have railway stations which are connected to most big and small cities of India.
From Lucknow you can arrive via a private cab or a shared air conditioned micro van. Both are comfortable options. The latter is a much cheaper alternative though. Government buses (Non air conditioned) available from Polytechnic Chauraha are even more cheap. Volvo buses (air conditioned, more comfortable and also more expensive) are also available from Polytechnic Chauraha in Lucknow.
WHAT IS THE BEST TIME TO VISIT AYODHYA:
There should never be a 'best time' to visit a spiritual p lace. Real faith comes with no conditions attached. That said, there are certain occasions which you can target so that you can make the most of the magic that Ayodhya is! You can time your trip yatra (journey)to Ayodhya during Deepawali. The dtae changes every year. A quick Google search on Deepawali Date 20** will give you answer. The grand show of 3,00,000 diyas happen on Choti Deepawali, one day before main Deepawali. You can enjoy Choti Deepawali in Ayodhya and fly out to make it for 'Ghar Wali Deepawali'. (Deepawali at Home). Just the way I did!
Spread the love, share this blog
Please follow the hashtag #ASoulWindow on Instagram, Twitter and Facebook for my free tips, pictures, videos and information on all things travel!
Got any question/comments, ask in the comment section below so that it can benefit other readers.
Email me for collaboration: 21abhinav21@gmail.com
Be a part of my journey on social media. The travel content I create there is different from this blog.
Pls subscribe/follow/like:
WARNING : COPYRIGHT TO ALL THE CONTENT SHARED HERE REMAINS WITH ME. THE IMAGES AND TEXT IN THIS BLOG ARE BY ME UNLESS MENTIONED OTHERWISE. YOU CAN NOT JUST LIFT THE CONTENT AND USE IT WITHOUT MY PERMISSION. STRICT LEGAL ACTION WILL BE TAKEN IF CONTENT IS STOLEN. YES, I AM SERIOUS.
Top Travel Blogger from India