Last Updated on November 1, 2018 by
PATTACHITRA IN HERITAGE VILLAGE RAGHURAJPUR, ODISHA: OFFBEAT SOLO BUDGET TRIP FROM PURI
This blog is about my visit to Raghurajpur, a small heritage crafts village near Puri in India. Also, check out the very trendy OYO that I stayed at, in Puri. Just a quick scenic drive away from Puri, Raghurajpur is an offbeat destination in the little town in Odisha, popular for the Jagannath Temple.
PURI TO RAGHURAJPUR HERITAGE VILLAGE : PICTURE POSTCARD PERFECT
After visiting Chattisgarh and Jharkhand in September 2018 for the first time, I followed it up with a short trip to Odisha. Super excited and accompanied with Ajit ji, I reached the offbeat heritage crafts village in Raghurajpur.
With eyes peeled for the exotic sights and smells of Odisha, we drove on a bike from the temple town of Puri. With an expected arrival time of 20 to 30 minutes from Puri to Raghurajpur, the ride was picturesque, ranging from ancient temples, sacred lakes, charming houses, and small shops to vast tracts of green fields, and more.
As we were about to enter Raghurajpur, I asked Ajit ji to stop at a pond. I wanted to gaze at the many gorgeous lakes that punctuated the landscape with tiny huts and their reflections in the palm-fringed lake. We also spotted new things such as small decorative boats floating in the lake. Ajit ji told me it was part of a local village festival.
The village was adorned with rivers, lakes and palm groves spread across the landscape, reminding me of Kerala and my favourite state, Goa. In that brief time in Odisha, I fell in love with the region in a very unprecedented way.
Thanks to fellow travel blogger Divya Prasad for introducing me to Ajit Swain ji who took me on a fabulous heritage village tour of Raghurajpur, 15 kms away from Puri.
The main motive of my visit was to see the Pattachitra artists at work. As an added bonus, I witnessed beautiful locales, tasted amazing local food and ventured into the heart of rural Odisha. Ajit ji's NGO is called Dedicated To People, and it does exactly what the name suggests. Based in a village near Puri, they help the underprivileged artists to become self-sustainable and financially independent.
Our first stop was at an artist's home, on the periphery of the heritage village in Raghurajpur. The unassuming artist had his nose buried in a miniature Pattachitra piece that he was working on. It was supposed to be a quick pit stop but intrigued by the unique art form, I lost track of time. As I bombarded the artist with my questions, he took us inside his modest home through dark and narrow corridors.
We climbed a few stairs and arrived at his little workshop, big enough to accommodate just 3-4 people at a time. I walked over to the tiny adjoining balcony which opened to a lovely lake, with more greens than blues. The abundant greenery silenced me as I stared at the beauty which surrounded his house. But I was on a job and not on a languorous shikara ride.
Seeing the artist still engrossed in his work, I realized painting takes a toll on the body as well. The artists often suffer from eye-related issues and back pain. Working on a miniature painting makes it more difficult as it takes longer and one has to be very careful while on such intricate pieces to avoid smudging.
He took a break and showed me some of his best works. Needless to say, I was impressed with so much talent that hides in the nooks and corners of Indian villages. I was equally disappointed when I learned that these artists earn a pittance for their brilliant work.
Government support is mostly absent, so is patronship by corporates or other bigwigs. On the other hand, sly art sellers sell these pieces at high prices in Indian and international markets, keeping most of the profit for themselves.
STAY AWAY FROM THE FAKE PATTACHITRA ARTISTS IN RAGHURAJPUR HERITAGE VILLAGE:
As soon as we entered the heritage crafts village, fancy shops selling Pattachitra lined both sides of the main road. It was more of a pomp and show and less of the soul. I learned that these are retailers who buy from real artists and sell at premium prices at their fancy stores.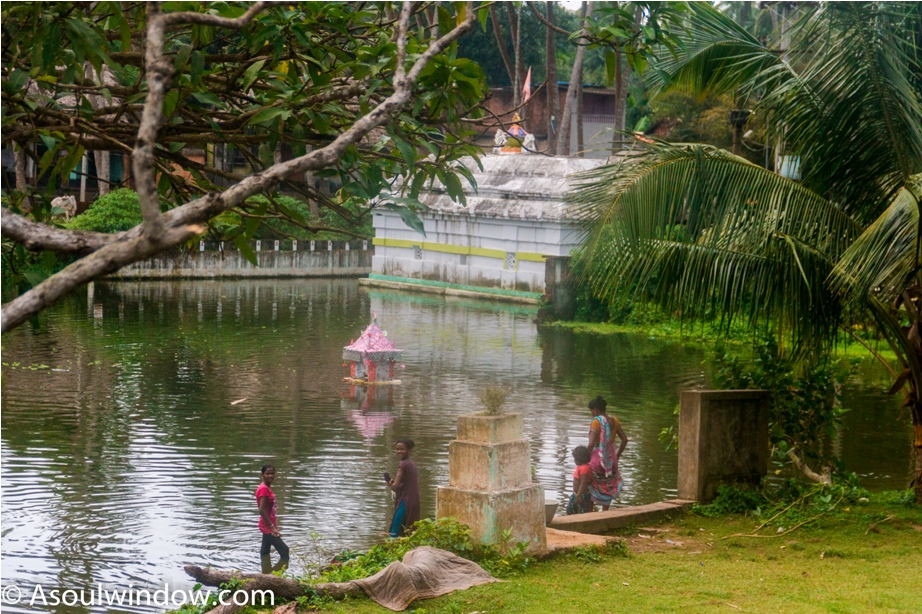 The gullible independent traveller often falls into their trap and is misled into believing that the heritage village begins and ends at these shops. Some go a step further and claim that a particular art piece was made by the dead elders of their family many decades ago, when in fact the person in question, is sitting in the adjoining room.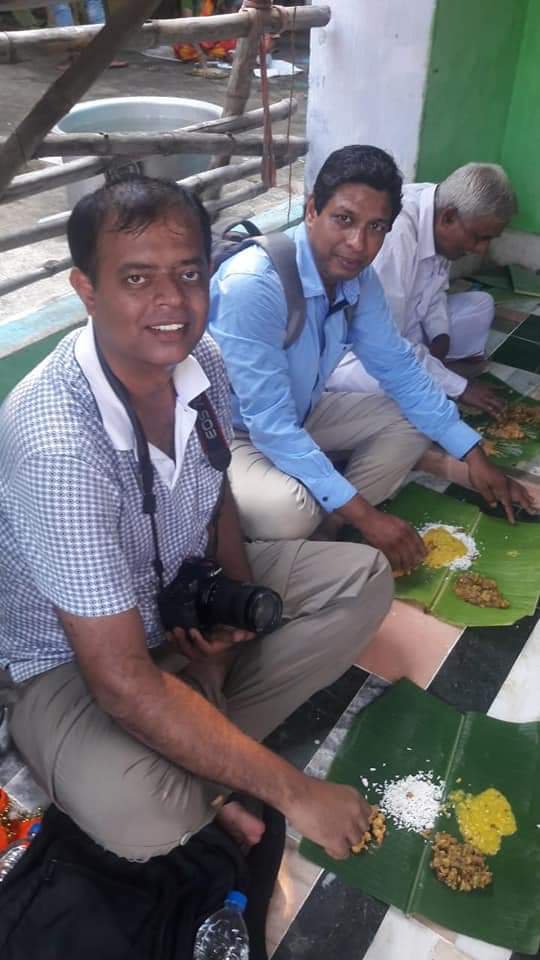 This enhances the 'antiquity' of the art and some do fall prey to the trap. We wore horse blinders instead and continued our journey towards the real heritage village. I did not see a single tourist/traveller when I arrived there, as it was not the season.
VISITING THE AUTHENTIC PATTACHITRA ARTISTS IN THEIR HOMES IN RAGHURAJPUR HERITAGE VILLAGE:
The dance Guru was driving away with his wife on a scooter when we crossed path. Ajit ji stopped the bike and told him we were coming to meet him only. He smiled and said he will be back soon. The bike started running parallel to the beautiful river again. We arrived at the temple, close to which Guruji stays along with many other artists.
DISCOVERING TALAPATRACHITRA IN RAGHURAJPUR HERITAGE VILLAGE
I met a renowned Talapatrachitra artist. Tala means palm while patra means leaf and chitra means picture. Traditionally, Talapatrachitra is an art form where scenes from Hindu mythology are depicted on neatly cut dry greenish yellow palm leaves, mostly in rectangular shapes and stitched together with threads and needles.
Unlike Pattachitra, the images are not paintings but engravings done by a traditional needle. The artist showed me some of his very old tools, which qualify to be categorised as antiques. He also uses modern equipments like a compass that was not available to the artists of yore.
Most of the art pieces had images of Gods and iconic mythological events. Some had interesting variations such as if you flip a fold, a hidden image appears which is always an erotic Kamasutra pose. Quirky and fun!
Sun rays escaped from one of the windows of his modest studio and reflected on his wife who concentrated on painting a coconut with pattachitra motifs.
Coconut of different sizes and shapes hung at one of the corners of the tiny room. I bought some of those as souvenirs and bid adieu.
GOTIPUA DANCE FORM- PRECURSOR TO ODISSI DANCE
I walked up to Guruji's home, who had now returned and was resting on the floor of his studio. A young boy wearing a vest and pants served me water. His swift and graceful body movements hinted at the fact that he was a trained dancer.
I was told that Gotipua is a dance performed by boys who dress up as females. Guruji has even acted in a 2018 Bengali film called Nilacholey Kiriti starring Indraneil Sengupta. His son soon joined us and proudly played a song from Nilacholey Kiriti on YouTube.
He also showed us the scene where Guruji shared the screen with Indraneil Sengupta. You can see his group perform here, from 1:55 onwards.
Guruji's younger son is also a professional dancer. Guruji proudly told me that his son had recently performed in South Africa while he himself had never performed outside of India. On the other hand, his elder son is a Pattachitra artist. Guruji showed his artwork to me out of his personal treasure trunk.
MEETING THE NATIONAL AWARD WINNING PATTACHITRA ARTIST AT RAGHURAJPUR:
Of all the houses of artists that I had visited so far, this one was the largest, while being simple and modest.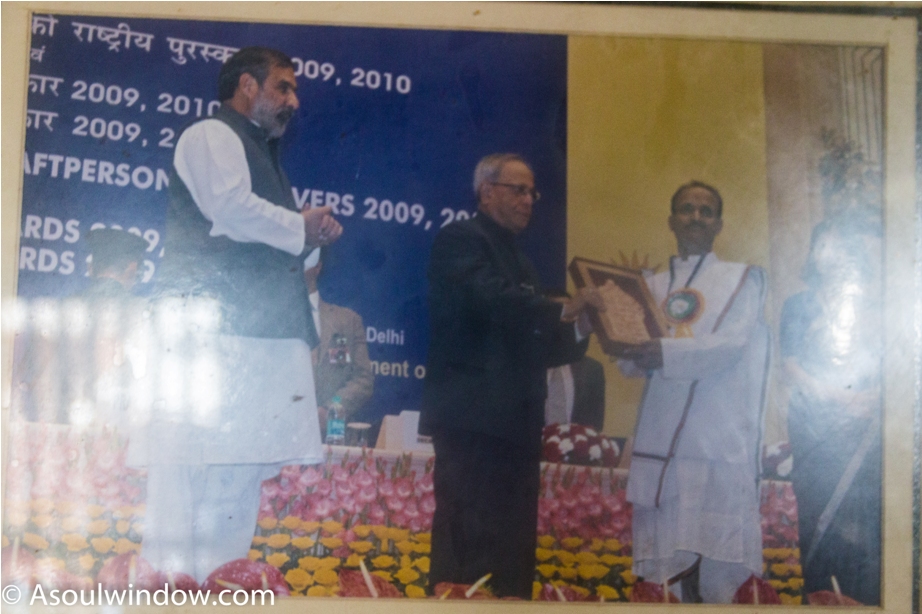 His studio was also huge, where he, his son and daughter were seen painting together as his retired father was resting in another corner.
He showed me around his home. I walked slowly, sometimes going through his awards and accolades, sometimes admiring the old Pattachitra paintings on the wall made by his now frail father.
Thanks to his awards and stature, he commands the highest price for his paintings in the village, sometimes going up to Rs. 1 lakh a piece. I was not surprised when I saw some of his best works.
Small neatly cut circles attracted my attention. It looked familiar and yet so unique.
What caught my attention the most was Ganjapa, the traditional Odia playing cards. Dating back to the 14th century, these cards had beautifully Pattachitra paintings on them.
PATTACHITRA: GIVING LIVELIHOOD TO ORPHANS AND THE IMPOVERISHED:
I am not an artist but I was still completely absorbed in the tour to Heritage Crafts Village at Raghurajpur. From a planned 3-hour tour, the visit extended to 7 hours.
We visited different artists, including an orphan girl who now supports herself with her art skills that Ajit ji helped build in her. It was getting dark when we reached her home. She was sitting and painting on a very old bed.
I alternated between admiring the antiquity of the bed and the brilliance of the painting. Another completed painting was lying on a side platform. She lost her parents when she was very young and since then, she has been living with her sister and brother-in-law.
Soon, her brother-in-law came bearing coconut water for us. Just as he was preparing, the electricity suddenly went off. Torch lights from our mobile helped him make incisions on the coconuts. We gulped down the coconut water. Undoubtedly, it was the tastiest coconut water I have ever had.
Before we visited her, we also made a pit stop at another young girl's house. Hailing from an underprivileged family didn't stop her from developing her skills. Watching her paint diligently was a poignant moment and reinstated my faith in the saying that nothing is impossible.
As I hopped on to Ajit ji's bike, he drove through the narrow lanes. It was a full moon night, so despite the electricity cut, I could see everything clearly. Ajit ji stopped and pointed to a house by the river. "That is the back of Guruji's house!", he said. I retorted, with a tinge of jealousy, "Everyone here seems to be having the best views from their houses".
We then drove by the river quietly; often ducking to avoid getting our heads hit by the tree branches. I continued absorbing the aromas and sounds which seemed accentuated in the moonlight. It was truly a beautiful day!
ABOUT PATTACHITRA:
Pattachitra is a centuries-old cloth-based art form found in Bengal and Odisha. Can you believe that the earliest records of Pattachitra can be traced back to the 1st century AD?
HOW TO BOOK A TRIP TO RAGHURAJPUR, HERITAGE CRAFTS VILLAGE IN ODISHA?
I was so impressed with the art that I didn't realise where time went in Raghurajpur. No wonder that despite being a non-shopper, I ended up buying many paintings and handicrafts. Do pay a visit to this village the next time you are in Odisha. And please carry a large bag as you might end up buying a lot of art to spruce up your mundane walls.
You need to contact Ajit ji to arrange such a trip for you. It's offbeat Odisha at its best. And as a perfect host he served me home-cooked vegetarian Odia meals and showed me around his village. I also had a double lunch at a community feast in a local temple. It was a thrilling day.
P.S.: Thanks to Ajit ji for clicking so many candid pictures of me. Do check out some of the BTS (Behind-the-scenes) too in this post. Odisha, you have totally surprised me! I would love to come back soon.
WANT TO ATTEND A RESIDENTIAL WORKSHOP?
For those who are looking for a deeper understanding of Pattachitra or those who want to master the craft, Ajit ji has a studio where you can stay for a week or more and learn Pattachitra from the local artists.
When I visited the studio, a saree was being hand-painted. If you wish, you can stay longer and learn the art. The studio also has a lawn where he arranges lunches, dance programs and village walks during the season. Please get in touch with Ajit ji for the same.
WHERE TO STAY IN PURI:
I kept my base in Puri and visited Konark, Puri, Bhubaneswar and Raghurajpur.
I stayed at Yellow Hotels by OYO. As you can see in the pictures, the rooms are quite trendy and cool. I was impressed by the sheer size and pleasing aesthetics of their rooms.
The yellow was refreshing, spread through the entire property. My room was very cosy with all possible modern amenities that one can think of. The luggage rack and the large wardrobe helped me organise my belongings neatly and with ease.
The washroom was well-ventilated and had dispensers for hand wash, shower gel and shampoo. The best part was the airy room. It only gave out positive vibes. That's all I needed after tiring sessions of sightseeing, photography and travel.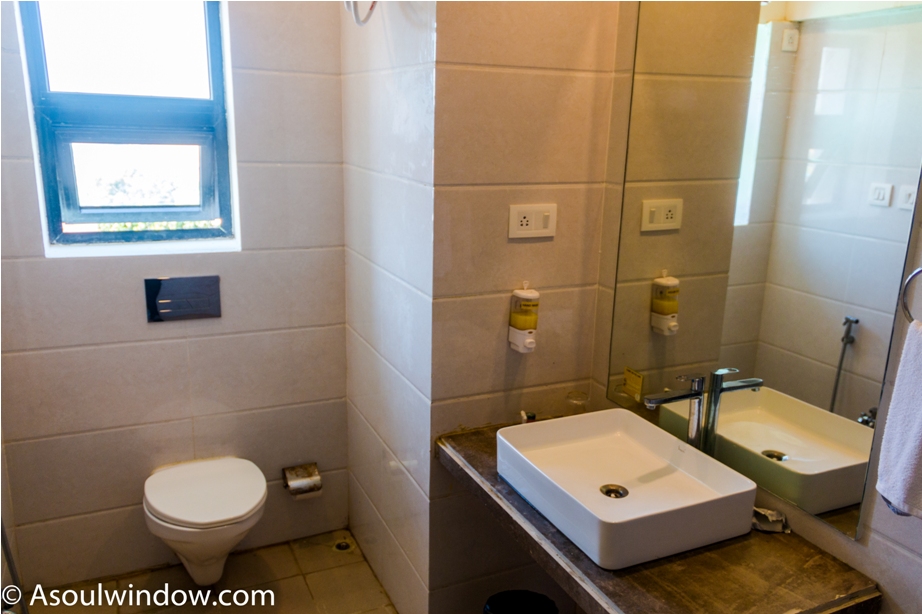 Kudos to OYO for adding such amazing premium properties to their ever-growing list of hotels! Not only have they made it easy to find such properties online and on the app but also, one can choose the hotels as per the budget, location, amenities, etc.
Being a traveler, I know the online presence of affordable properties was absent earlier. OYO has revolutionised the hotel industry in recent years.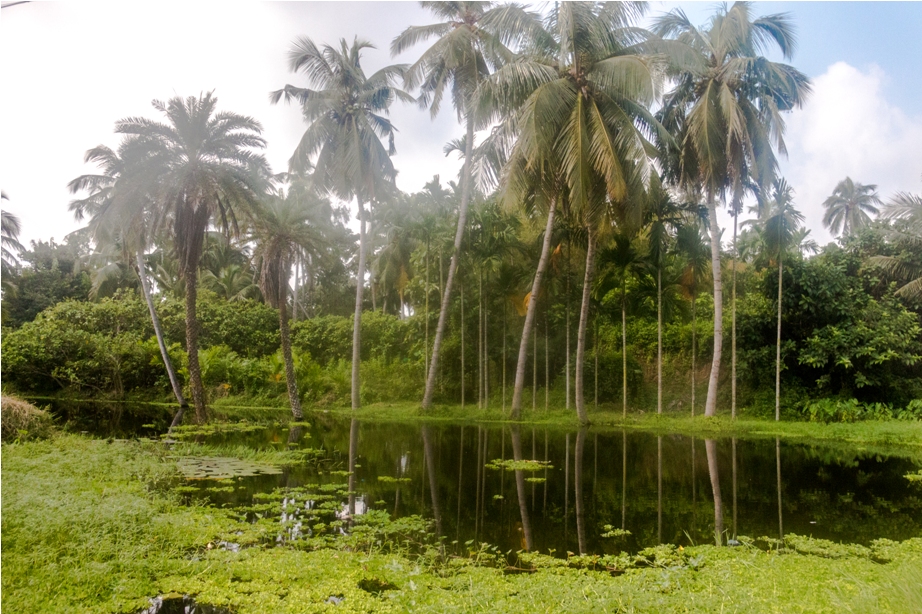 LOCATION OF OYO'S YELLOW HOTELS, PURI:
OYO's Yellow Hotels is very conveniently located at a walking distance from the Puri Beach and the Jagannath Temple. Thanks to that, I ended up visiting these two places often. One of the best features of the property is the Al Fresco Dining option.
Here you can eat sitting amidst green views on one side and the magnificent Jagannath Temple on the other. The property is located above a shopping mall, grocery stores and a food court.
It is also close to many restaurants, ATMs, markets and railway station (Rs.40 rickshaw ride away). Therefore, being very easily accessible.
FOOD AT OYO'S YELLOW HOTELS, PURI:
You can either order room service or dine at Al Fresco — their rooftop dining space. The menu has something for everyone. The prices are reasonable with generous servings. On the first day, I ordered mixed vegetables in black bean sauce with Hakka noodles, followed by veg biryani on the next day.
For now, the breakfast is a la carte. I took that opportunity and ended up ordering my favourite paratha sabzi and sandwiches with fries. This is the affordable luxury at its best. With soul food like this, my #SoulWindow truly opens up to beautiful possibilities and views.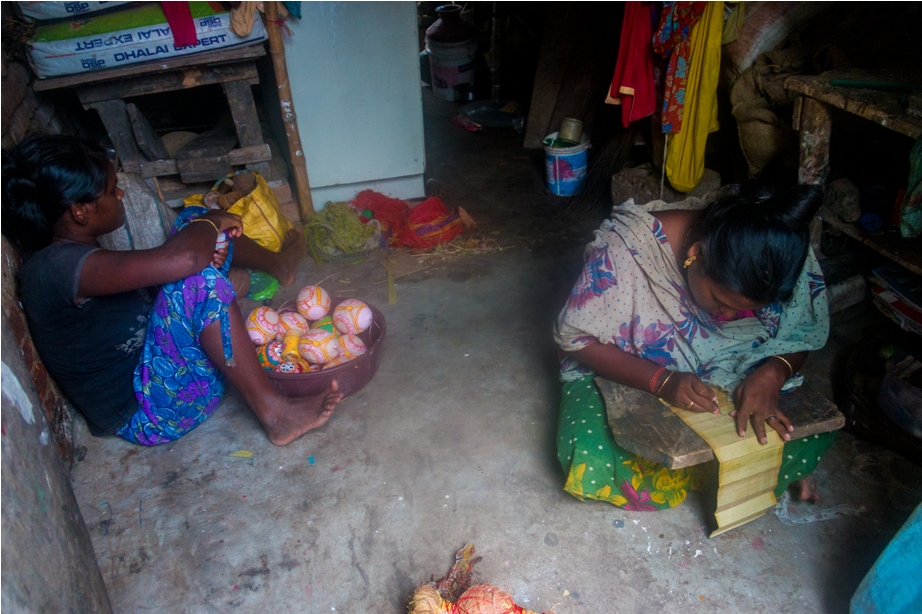 Please follow #ASoulWindow on Twitter, Instagram and Facebook to see my posts!
Spread the love, share this blog
Got any question/comments, ask in the comment section below so that it can benefit other readers.
Email me for collaboration: [email protected]
Be a part of my journey on social media. The travel content I create there is different from this blog.
Pls subscribe/follow/like:
WARNING : COPYRIGHT TO ALL THE CONTENT SHARED HERE REMAINS WITH ME. THE IMAGES AND TEXT IN THIS BLOG ARE BY ME UNLESS MENTIONED OTHERWISE. YOU CAN NOT JUST LIFT THE CONTENT AND USE IT WITHOUT MY PERMISSION. STRICT LEGAL ACTION WILL BE TAKEN IF CONTENT IS STOLEN. YES, I AM SERIOUS.