Last Updated on December 29, 2022 by asoulwindow
DILKUSHA KOTHI RUINED IN MUTINY OF 1857- OFFBEAT LUCKNOW, UTTAR PRADESH, INDIA
Despite having grown up in Lucknow, I had still not been to Dilkusha garden also known as Dilkusha Kothi. It is very close to my house and yet it had eluded me for long. I didn't even know what it looked like. It sure qualifies as one of the top offbeat places to see in Lucknow since very few tourists to Lucknow pay a visit to the Dilkusha garden. Located close to historical La Martiniere college in Lucknow, Dilkusha garden is tucked away in a peaceful location, far from the urban rush of Lucknow. Dilkusha Kothi was badly damaged during the Lucknow siege in 1857. The mutiny had claimed many victims in Lucknow including the Residency and La Martiniere college. However, not much is discussed about Dilkusha garden.
I entered through a gate loosely locked by chain and lock, making it possible to allow one person at a time to pass. As soon as I entered Dilkusha Kothi premises, a sense of gloom and calm engulfed me. Not much is remaining except badly damaged walls of an erstwhile palatial building.
The former glory of Dilkusha Kothi had been reduced to a puzzle of broken pieces strewn around a well maintained garden. No other tourist was in sight. Only a few locals whiled away their time quietly. There was some activity in the adjoining park. Just as I transported myself to the 18th century and imagined what the place originally might have looked like, a squirrel ran past me in a hurry, waking me from my stupor.
THE INDO-EUROPEAN ARCHITECTURE OF DILKUSHA KOTHI, OFFBEAT LUCKNOW
Dilkusha Kothi was built in Gothic style. It was a tall and impressive building originally. Situated on the banks of Gomti river, the lifeline of Lucknow. The building was built in late 18th century under the supervision of the British resident Major Gore Ouseley. Gore Ouseley was a friend of Nawab Saadat Ali Khan (1798-1814), the 6th Nawab of Awadh (English- Oudh). Despite the large campus the evidences of a lavish past is limited to the ruins of few buildings only. Nawab Saadat Ai Khan was particular about aesthetics.
His role was instrumental in building slew of manicured gardens and palaces between the Dilkusha Kothi and Residency. It was the apt oasis for the recreation of Nawab and his visitors. It was also the venue for decadent parties and opulent balls which Nawabs organized to please their English friends.
Later Nasir-ud-Din Haider (1827-1837) further made changes to the original architecture. It is built in the English baroque style. Lakhauri bricks have been used for its construction and it is plastered with limestone, a method typical of those times. Plaster moldings in European style were added as decoration. Not many know that once tall towers stood on the corners of the Dilkusha Kothi. The towers even had circular staircases. None of it can be seen today though.
ANOTHER PALACE BUILT BY NAWAB WAJID ALI SHAH IN DILKUSHA KOTHI- OFFBEAT LUCKNOW
If you go a little towards North East to this palace, you will see remnants of an Indo European palace, built on east-west axis. Similar to Dilkusha Kothi, this palace is also built with lakhauri bricks in European style. The bricks were laid in lime mortar and coated with thick lime plaster.
It was built by Nawab Wajid Ali Shah (1847-56), the last King Of Awadh. An old plague stating the same is still present. During the early days of his rule, the nawab cleared the ground around it. It was used for holding the military exercises for his troops. Later on, this practice was discontinued when the British objected and intervened.
THE HISTORY OF DILKUSHA KOTHI, OFFBEAT LUCKNOW:
Mr. Peter from Tornos who accompanied me, told me that it was originally built as a shikargaah aka hunting retreat for the nawabs of Awadh aka Oudh. Later on, it was also used as a summer resort.
Interesting Trivia: Dilkusha Kothi is very similar to an English country house known as Seaton Delavel https://en.wikipedia.org/wiki/Seaton_Delaval_Hall, which was built in 1721. It is supposed to be a haunted house and unfortunate history. Do Google it and check images. Who would have thought?
WHY DILKUSHA KOTHI WAS TARGETED DURING MUTINY OF 1857- OFFBEAT LUCKNOW
The Dilkusha Kothi suffered major damages during the mutiny of 1857 aka First War Of Independence. Henry Havelock, who was a British general died here on 24th November, 1857. What we see today is the ruin of the hunting lodge. Much of the opulent structures in this area were destroyed by the freedom fighters in the mutiny of 1857. It is one of the most prominent sites of India's First Independence War in 1857.
10 QUICK FACTS ABOUT DILKUSHA KOTHI – OFFBEAT LUCKNOW
The literal meaning of Dilkusha palace or Kothi is 'Heart's delight' or 'My heart is happy'.
It is 4 kilometers away from Hazratganj
Ticket is INR 5 (Indians), INR 100 (foreigners)
Timings: 8:00 a.m. to 6:00 a.m.
Duration: 1 hour is enough
Tips: carry water. There are no shops nearby.
Also visit La Martiniere College which is just 2 kilometers away.
The construction of Dilkusha Kothi was completed in 1805.
Dilkusha Kothi was designed by British architect Major Commander Gore Ouseley.
It is a symbol of the alliance of the English colonial powers and nawabs of Awadh.
You can book your trip with Tornos India for an in depth knowledge of Lucknow. They have brilliant trips in Lucknow and other cities lik Ayodhya, Kanpur etc.
The view from my #SoulWindow is steeped in time!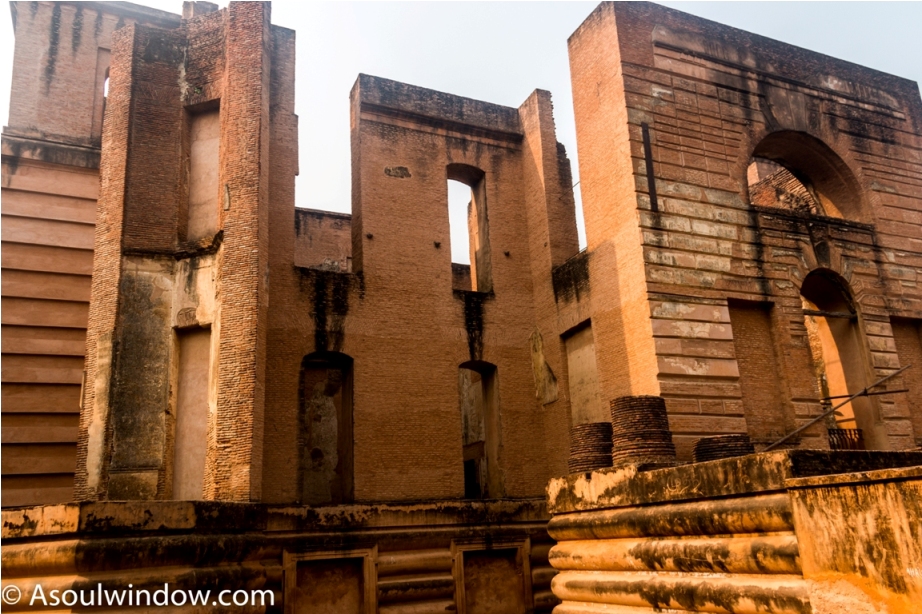 Spread the love, share this blog
Got any question/comments, ask in the comment section below so that it can benefit other readers.
Email me for collaboration: [email protected]
Be a part of my journey on social media. The travel content I create there is different from this blog.
Pls subscribe/follow/like:
WARNING: COPYRIGHT TO ALL THE TEXT SHARED HERE REMAINS WITH ME UNLESS OTHERWISE MENTIONED. YOU CAN NOT JUST LIFT THE CONTENT AND USE IT WITHOUT MY PERMISSION. STRICT LEGAL ACTION WILL BE TAKEN IF CONTENT IS STOLEN. YES, I AM SERIOUS.
Top Travel Blogger from India