Last Updated on April 20, 2022 by asoulwindow
ART IN PARADISE 3D MUSEUM: OFFBEAT & KID FRIENDLY THING TO DO IN BANGKOK, THAILAND!
Art In Paradise three-dimensional interactive Museum in Bangkok, Thailand is great fun for kids and families. It is the first 3D Art museum of Bangkok. Also present in Pattaya and Chiang Mai, it attracts local and foreign tourists every day!
As I deposited my shoes at the ticket counter, I was curious to find out what exactly goes on behind the closed doors. The fact that people were emerging from the exit door, smiling and laughing added to the mystery. I had never visited a place like his before, so I did not have a modicum of an idea of what I should expect inside. It is the first "illusion" and three-dimensional museum in Bangkok.
Activities of Art in Paradise
I WAS CONFUSED IN THE FIRST FEW MINUTES OF ENTERING ART IN PARADISE MUSEUM, BANGKOK
As I entered the first gallery, I was a bit confused about what response the huge paintings on the walls are supposed to invoke in me. I strolled around, trying to figure it out. It did remind me of the viral images of the street art of George Town in Malaysia where tourists pose next to the life-like paintings on the walls and later flaunt on the social media.
Street art is present in most of the big and small cities of the world but who would have thought that it will emerge as a big tourist magnet in Malaysia. Thailand is also keeping up with the neighbours and now boasts of proper 3D art museums dedicated for this particular entertainment activity.
THE 3D ART MUSEUM ALLOWS YOU TO LIVE YOUR FANTASIES
We all have our fantasies as children. As we grow up, reality takes over and we lose the romance of imagination. The 3D art museum in Bangkok rekindles the childlike joy we have long distanced ourselves from. Did you fantasize about getting up, close and personal with dangerous wild animals? Did you ever want to fly sitting atop the mythical flying carpet? Or at least walk on a tightrope with thousands of feet of sheer drop? No, you can not do all this in the 3D art museum of Bangkok but you can pretend for sure in complete safety. Indeed there is a lot to do in Thailand beyond guidebooks. Here are some more Thailand travel tips for you!
It is fun to pose next to huge posters and transport yourself to different places and time zones in a matter of few seconds. As you can see, I took a selfie with people who have never seen an electricity bulb. In real life, I will never lock horn with a bull. However, but I can do that easily in 3D art museum. And oh, I Mister Bean'ed and shamelessly interrupted an intense reading session of a girl who looked like she was few centuries old. I was a bit shy after posing against a few paintings. Though my friends Manjulika and Madhuashree had a great time posing for me.  So, I decided to go behind the camera.
WHO SHOULD GO TO 3D ART MUSEUM, BANGKOK?
I was surprised to see many adults enjoying posing against the painted walls. A local couple in their late 20s didn't leave the wildlife section for more than half an hour. So immersed they were in posing and getting clicked that it made me wonder why only kids should go here. Ideally, this 3D art museum is a fun place for young couples, families, kids and who knows even senior citizens might not want to leave once they get a hang of it!
HOW TO NAVIGATE 3D ART MUSEUM, BANGKOK?
The navigation is pretty easy. One room (section) leads to another. You need to climb a few stairs to head to the 1st floor. The art museum is built on 2 floors. It is divided into sections based upon themes like wildlife, period, country, famous personalities etc. It has 6 permanent exhibition zones.
15 professional artists painted the museum from scratch. The artists took around 3 months to complete the project. It takes around 2 hours to enjoy the art museum.
More than 150 paintings are exhibited for your pleasure over 2,500 square meters of space.
WHAT'S GOING ON AT 3D ART MUSEUM, BANGKOK?
If you are as lost as me, you might get confused in understanding how to use the paintings to make a fun picture. For people like me (and some of you) there are instruction boards near each painting section. They have even given proper ideas of how you can pose with the paintings. I think that saves time and you must go through them instead of wasting time figuring it out! However, the English instructions are not always perfect but can still be understood. I failed at one section where I could have posed upside down in a room. Let's see if you can figure it out during your visit?
HOW TO REACH AND CONTACT DETAILS OF 3D ART MUSEUM, BANGKOK
You can drive down or take subway (MRT), and get down at Thailand Cultural Center exit 3. It is inside Esplanade shopping mall. Lifts are available to reach 3D Art Museum.
Phone- +66 2 660 9130
Address: 99 Esplanade Shopping Mall, 4th Floor | Ratchadapisek Road, Din Daeng, Din Daeng, Bangkok 10400, Thailand
Opening Hours: 10.00AM-10.00PM (Monday – Sunday)
Tip: The tickets are cheaper if you book online.
Facebook page of 3D Art Museum, Bangkok
The view from my #SoulWindow is amusing!
Disclosure: As is common in the travel industry to host the writers and bloggers for reviews and media reports, I was also invited on the press trip to cover it. However, my views are not influenced by the sponsorship. It is my responsibility to give truthful information to my readers on my blog and I have adhered to that personal policy while writing this blog. This particular trip was supported by TAT Delhi, The Tourism Authority of Thailand.
Spread the love, share this blog
Got any question/comments, ask in the comment section below so that it can benefit other readers.
Email me for collaboration: [email protected]
Be a part of my journey on social media. The travel content I create there is different from this blog.
Pls subscribe/follow/like: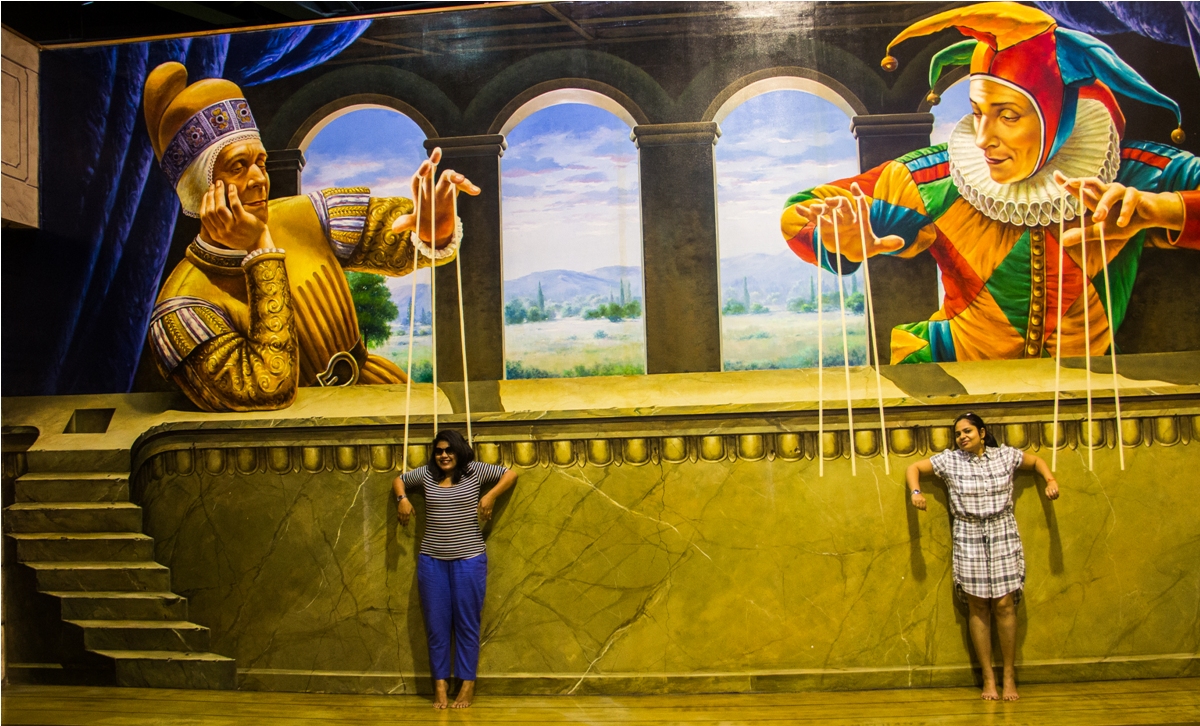 WARNING: COPYRIGHT TO ALL THE TEXT SHARED HERE REMAINS WITH ME. YOU CAN NOT JUST LIFT THE CONTENT AND USE IT WITHOUT MY PERMISSION. STRICT LEGAL ACTION WILL BE TAKEN IF CONTENT IS STOLEN. YES, I AM SERIOUS.
You may also like to read:
Haa valley- Best kept Secret of Bhutan
Exclusive pictures of Wadi Rum- Mars On Earth!
Business Class Lounge at Sharjah Airport
Tulip Festival in Srinagar, Jammu and Kashmir!
Top 10 things to do in Lonavala and Khandala
Top Travel Blogger from India