Last Updated on December 29, 2022 by asoulwindow
Bhavya Deepawali Mahotsav – Ayodhya deepotsav celebrations on banks of Sarayu river, Uttar Pradesh.



This blog is about the Bhavya Deepawali Mahotsav or the annual deepotsav celebrations on banks of Sarayu river in Ayodhya, Uttar Pradesh. It is located in North of India. The grand event made it into Guinness World Record for lighting 3 lakh or 3,00,000 mud lamps aka diyas on a simultaneously. It is a once in a lifetime experience which happens on the eve of Deepawali, i.e. one day before Diwali, the festival of lights.
Below are the top things to do in Ayodhya during the Bhavya Deepawali Mahotsav and regular days:
Witness more than 3,00,000 deep/diya or mud lamps lit at once on the day of Bhavya Deepawali Mahotsav in Ayodhya.
Visit the top places to see in Ayodhya, Uttar Pradesh, India.
Sit and meditate near the sacred Sarayu river.
Perform religious rituals.
Take a holy dip in the Sarayu river.
Eat amazing local food at dirt cheap prices.
Participate in the daily evening
Every year Ayodhya celebrates Deepawali on a grand scale. Bhavya Deepawali Mahotsav was initiated by Chief Minister of Uttar Pradesh Shri Yogi Adityanath ji. The grand deepotsav celebrations on banks of holy Sarayu river attracts devotees and pilgrims from all over India and beyond. In 2018, more than 3,00,000 or 3 lakh diyas or earthen lamp were lit together o n Ram Ki Pairi. It made into Guinness World Record. The magical spectacle is a sight to behold. This blog is based upon my personal experience. I am based in Lucknow and I made an impulsive trip on Ayodhya on the eve of Deeepawali aka Diwali. I returned back to home just in time for Diwali.
"Darkness cannot defeat light and if we all light lamps together, we can remove any darkness,"
Kim Jung-Sook, the first lady of South Korea on her visit to Ayodhya during the Bhavya Deepawali Mahotsav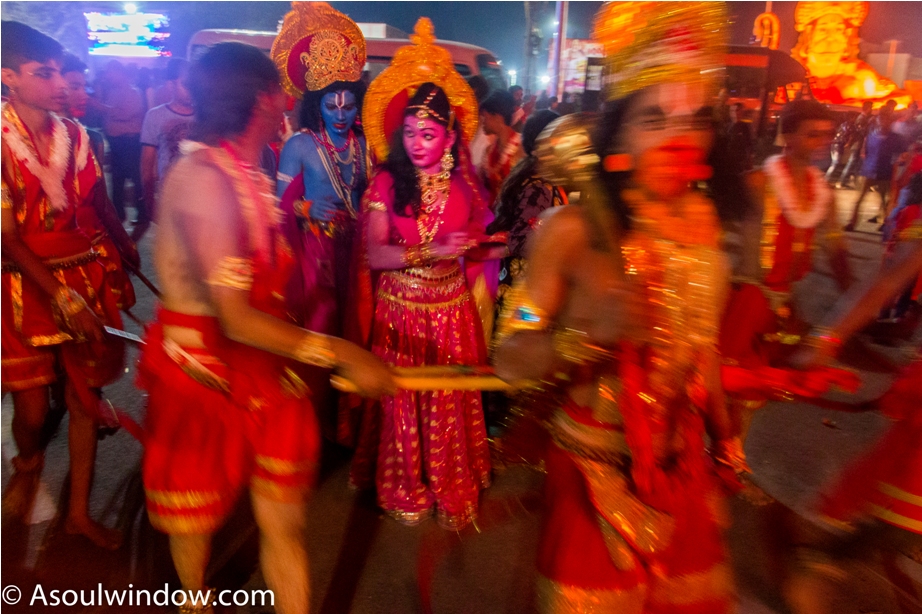 Why is Diwali or Deepawali celebrated by Hindus across the world?
Ramayan is one of the oldest epic in the entire world. There have been many similarities between Ramayan and the ancient Greek epic poem Illiad. Not only is Ramayan 4 times longer than Illiad but it is also older than Illiad. In fact, Hinduism or Sanatan Dharm is often referred to as the oldest religion of the world. It is difficult to sum up Ramayan which has 500 sargas or chapters and 24,000 shlokas or verses. I am writing below the main events due to which Deepawali or Diwali is celebrated in a grand way by Hindus across the world.
THE STORY OF RAMAYAN: HINDU EPIC
Ramayan revolves around the life and times of the crown prince Shri Ram of the Kosala Kingdom. Shri Ram is the 7th incarnation of Hindu deity Vishnu ji. Shri Ram's stepmother Kaikayi, one of King Dashrath's three wives, had manipulated and sent Shri Ram, Sita Devi and Laxman ji on a 14 years forced exile in the forests. This led to many interesting and life changing experiences for the trio.
Towards the end of their exile, the Demon King Ravan from Lanka, now called Sri Lanka abducted Sita devi by deceit because Shri Ram had spurned and insulted Ravan's sister Shurpanakha when she made romantic advances towards him. What followed next were many larger than life events such as building Ram Setu to cross the sea between India and Lanka, Hanuman ji bringing the entire mountain to heal Laxman ji, Hanuman ji burning Lanka the kingdom of Ravan etc. At the end, Shri Ram emerged victorious. When he returned to his capital Ayodhya near present day Lucknow in Uttar Pradesh, he was greeted with much fanfare and thousands of mud lamps were lit to welcome him.
The tradition is still followed every year by billions of Hindu Indians across the world. The Bhavya Deepawali Mahotsav or Ayodhya deepotsav celebrations on the banks of the holy Sarayu river is the biggest such festival celebrated on a grand scale. It is larger than life, just like the events of Ramayan were.
THE ATMOSPHERE IN AYODHYA DURING BHAVYA DEEPAWALI MAHOSTSAV OR DEEPOTSAV
As I disembarked on the highway from the bus a few minutes away from the Sarayu Ghat, I took a shared auto or tuk tuk to the point from where barricading was done as it was wisely made a pedestrian only zone. Despite such immense crowd, the pilgrims, devotees and tourists walked in unbelievable discipline. I observed no pushing, shoving or breaking the lines. In that moment, I knew what makes India works despite so many problems.
I had seen similar discipline during the Mahakumbh festival in Prayagraj. To put things in perspective, Mahakumbh, which happens once in 12 years is the largest congregation of humans at one place. The shops which lined the narrow road were decorated. I picked up a Bhagwa aka saffron colored wrap around scarf with 'Jai Shri Ram' or जय श्री राम written in Hindi all over for just INR 60. I bought one again during a later visit. A foreigner traveler couple who were traveling with me on my 2nd visit to Ayodhya during Mahakumbh loved it so much that I bought two scarves for them as well. I was invited on this particular trip in the capacity of a travel blogger and writer. It was on an exclusive invitation by Uttar Pradesh Tourism Department in association with Lonely Planet Magazine India.
Bhavya Deepawali Mahotsav – Ayodhya Deepotsav celebrations on banks of Sarayu river
As I entered the police controlled areas near the sacred Ram Ki Pairi written in Hindi as राम की पैड़ी, I was mesmerized and agape mouthed when I saw the superb decorations across all the main streets. Scenes from Ramayan were told through decorative electric lights on the huge doors which were built after every few minutes. A huge statue of Hanuman ji became a pilgrim magnet while devotional songs filled the air with piety and a certain utopian contentment. As I walked further I arrived at the ghats on the banks of the sacrosanct Sarayu river.
The ghats of the calm river were decorated with endless rows of Marigold flowers on tall frames. The fragrant orange colored marigold flower is one of the most popular flowers used by Hindus for performing religious activities and rituals.
Ram Rajya or राम राज्य is the Hindu idea of a utopian world. This is how Ram Rajya must feel like. It was surreal! Just wow!
3,00,000 or 3 lakh Mud lamps aka diya lit together in Ram Ki Pairi, Ayodhya– A Guinness World Record.
As I entered the precincts of Ram Ki Pairi, I could not believe my eyes after what I saw. Every inch square of all the ghats such as Janki Ghat, Ram Ghat, Lakshman Ghat, Guptar Ghat, Naya Ghat and Raj Ghat etc were decorated. It made it into the Guinness World Record for being the largest display of earthen lamps aka diya.
Each and every steps leading to the end of the ghat were lit up. The diyas ended when the steps reached water. Saying that it was magical would be an understatement. It reminded me of the Dev Deepawali festival celebration in Varanasi or Kashi which I had attended. But the sheer scale of celebrations left me awestruck.
There was a general bonhomie and geniality which filled the air with joy and cheerfulness. The crisp pink winter of North India made it all the more pleasant. You will not even miss meat and alcohol which is banned here.
The reflection of the flames in the calm waters near the ghats looked ethereal. The bhajans playing in the background sent me into a spiritual coma. I gingerly stepped down the stairs, careful not to step on any diya, fuelled by oil.
I was travelling solo and on a very low budget. Despite the lack of a company I did not feel alone. I sat on one of the step and soaked in the unreal atmosphere. In my mind, I was pinching myself if all that lies before my eyes is actually happening? A devotee silently places a traditional diya or earthen lamps in the water. I sit back and see it disappear as deep thoughts engulf me despite the buzzing activities. It was not just a mud lamp. It was a symbol of many things. The oil represents the dirt in our minds such as hatred, jealousy, lust and greed while the cotton used to light the lamp symbolizes the soul or self or atma in Hindi. A tall statue of Shri Ram looked on, as if approving!
The camaraderie between complete strangers has to be seen to be believed. The convivial atmosphere was infectious. Again, Ram Rajya (राम राज्य ) did anyone say?
Ramayan Themed Laser Shows during Deepawali deepotsav in Ayodhya, Uttar Pradesh
I tore myself away from the crowd as I noticed a commotion near the Ram Ki Pairi. I rushed to see that the crowds had gathered around Ram Ki Pairi to see a never seen before Laser Show on Ramayan. The main events of Ramayan were shown through a brilliant laser show. I had no idea that this was on cards. A baritone and poised voice explained the events though speaker.
The story of Ramayan was gracefully told within a short span of time. The crowd didn't leave the show midway for even a second. They were riveted to where they were standing. I had expected a stampede to see the show. I was wrong! This is the well behaved India they never talk about! The Ramayan themed laser show was a super hit. And it was free!
I found the celebrations very egalitarian. It was a big leveler where people mingle without taking their egos seriously.
Rangoli decorations during Bhavya Deepawali Mahotsav in Ayodhya, Uttar Pradesh
There were many scenes from Ramayan which were beautifully created on the floor. Scenes like Shri Ram and Hanuman ji hugging, Images of Shri Ram, Sita devi and Laxman ji along with Hanuman ji etc graced the floors. But there was a problem with this. Some unruly youth had actually walked over the holy rangolis and scattered the color used to make the rangoli. Even some elderly pilgrims objected and expressed sadness over the same. My suggestion is that a barricade should be made around the Rangoli in future celebrations.
Why visit Ayodhya during the Deepawali Festival?
Deepawali is when Ayodhya looks its best, what with all the larger than life decorations and celebrations. The weather is also good as it is the best time to visit Ayodhya or anywhere in North India. The winter starts to set in during Deepawali in North India. We call it pink winter. You can club this trip with a visit to other cities of Uttar Pradesh such as Lucknow, Prayagraj, Agra, Naimisharanya, Barabanki, Varanasi etc.
International touch to Bhavya Deepawali Mahotsav in Ayodhya – Korea Connection
In 2018, the visit of Mrs. Kim Jung-Sook, the first lady of South Korea gave the Bhavya Deepotsav Mahotsav of Ayodhya an international touch. She witnessed the light and sound show along with the display of 3,00,000 mud lamps or diyas lit together. She also participated in an evening aarti with Shri Yogi Adityanath. She arrived in Ayodhya via a special chopper. She also paid tribute to the Queen Heo Memorial built in the memory of the legendary princess Heo Hwang-ok in Ayodhya. Queen Suriratna Memorial Project took off after the visit of Mrs. Kim Jung-Sook in Ayodhya during Deepawali. Life comes full circle after 2000 years in Ayodhya.
What's more? Performers from as far as Trinidad and Tobago, Cambodia, Indonesia, Laos, Thailand and Russia were invited to perform in various versions of Ramleela as part of the Deepotsav celebrations in Ayodhya.
What is the connection of Korea with Ayodhya?
The visit of Mrs. Kim Jung-Sook, the first lady of South Korea in Ayodhya was not a co incidence. You will be surprised to know that Queen Heo Hwang-ok was a princess from Ayodhya who married to a king Kim Suro in the present day South Korea in 48 A.D. and settled there. The republic of Korea has thus had ancient cultural, historical, civilisational and political links with India. Many people in Korea claim that they are descendants of Queen Heo Hwang-ok.
Role of Shri Yogi Adityanath Government and BJP in Bhavya Deepawali Mahotsav of Ayodhya:
I used to wonder that why Ayodhya is not as popular as other spiritual places in India like Prayagraj, Varanasi, Shirdi, Rameshwaram etc. For years, Ayodhya was neglected by previous corrupt governments. Having grown up in Uttar Pradesh all my life, I can vouch for how the Uttar Pradesh Chief Minister Shri Yogi Adityanath has changed the face of U.P. in a better way and within a short span of time. After he took the oath as UP's CM, I saw many improvements in the fields of trade, transportation, governance, education, sanitation, infrastructure, cleanliness, beautification of cities and of course Hinduism and spirituality. The crime rate of U.P. has also fallen down under his leadership. The changes are visible and being a local and having lived in Uttar Pradesh most of my life, I know what I am talking about. Finally it took Shri Yogi Adityanath and BJP aka Bharatiya Janta Party to give its due to the charming spiritual town Ayodhya, which had been neglected since many years. BJP is India's and world's largest political party.
What Are The Top Places To See in Ayodhya?
On the next day, I visited most of the top places to see in Ayodhya. Places like Hanuman Garhi, Kanak Mahal, Dashrath Mahal and most importantly Shri Ram Janmabhoomi are within walking distance from each other. You can find more information on the same on my detailed blog on Ayodhya. Link for the same is given at the end of the blog.
Other top things to do in Ayodhya
On the next day or on the previous day of the Grand Diwali celebrations, you can also perform poojas, participate in taking a holy dip in the sacred Sarayu river, attend a bhajan, witness the evening aarti or just sit back peacefully on the river banks.
Swachch Bharat – Clean India Mission at work in Ayodhya!
I was happily surprised to see that the entire town was super clean despite the huge crowds last night. Hats off to the administration and the 'Clean India' movement which was initiated by India's honorable Prime Minister Shri Narendra Modi. This government means what it says! Much kudos!
What to eat in Ayodhya? – Vegan and Vegetarian Guide
I ate delicious chats and snacks from the road side stalls and carts. Most things do not cost more than INR 10. You can choose from khasta-aalu, samosa, pani puri, dahi puri and a wide variety of sweets. Uttar Pradesh is one of the best places for sweets and chats in all of India. Make use of it when you are here! You can also easily find full meals such as the healthy thalis comprising of dal, roti and sabzis (curries) at a nominal price.
Thankfully, meat, seafood etc is banned and not allowed in Ayodhya. That makes it a haven for vegetarians and vegans. While all food in Ayodhya is default vegetarian. Vegans need to be careful. Uttar Pradesh is big on dairy, so vegans need to keep a watch on the yoghurt poured on chats and dairy items hidden in sweets. While veganism is still not understood well in India, I would still suggest that you should explain to the shopkeepers about your dietary preferences. Just ask. They can quickly find you vegan options.
What are the dates of Bhavya Deepawali Mahotsav in Ayodhya?
As per the Hindu lunar calendar, Diwali or Deepawali occurs on 15th day of Kartik every once in a year. As per the Gregorian Calendar, it falls somewhere in October or November each year. In 2019, Deepawali falls on 27th October, a Sunday. It is on a weekend, so make your plan now. The good news is that you do not need to miss the Deepawali celebrations at home. You can easily reach your home on the morning of Deepawali as the grand celebrations happen just one day before Deepawali.
I was not sure if I want to travel to Ayodhya to watch the once in a lifetime Diwali celebrations. Most Indians want to stay at home on Deepawali. It is the unsaid rule. Ask any Non Resident Indian (NRI) and they will unanimously say that they miss India the most during Deepawali. (if they can-not make it here, that is!) I had imagined that Diwali celebrations happen on the day of Deepawali. In real, it happens during Choti Deepawali, that is one day before Deepawali or Deepawali's eve.
How to reach Ayodhya:
It is fairly easy to reach Ayodhya. Distance from Lucknow to Ayodhya is a mere 135 kilometers.
Road – It can be covered via road within 2 hours 30 minutes via NH 27 on baby bottom smooth roads.
Air – The nearest airport from Ayodhya is Chaudhary Charan Singh International Airport in Lucknow. It is well connected to many major and small Indian cities along with some international destinations.
Railway – Ayodhya has a railway station. Its station code is AY. The nearest big railway station from Ayodhya is in Lucknow which is also the capital of Uttar Pradesh and the nearest big city from Ayodhya. You can also take a train to Ayodhya from the nearby Lucknow , Prayagraj, Varnashi, Naimisharanya and Chitrakoot.
Public Buses – Regular buses, both private and government are available from Lucknow , Allahabad, Varanasi, Naimisharanya and Chitrakoot. I suggest Government buses as they are cheap and punctual. Both AC and non AC buses to Ayodhya are available. Non AC buses are of course cheaper. Many buses and other transports are available at the Polytechnic Chauraha in Lucknow. You can book without prior reservation like I did.
Where to stay in Ayodhya:
There are no high end luxury hotels in Ayodhya. I stayed at a random guest house for as less as INR 300 a day. It was a basic hotel at walking distance from the popular Hanuman Garhi. Despite the swelling crowds, I was able to find a room as a walk in guest at 12 in the night.
Dharamshalas like Kanak Bhawan Dharamshala, Jain Dharamshala, Ram Charit Manas Trust Dharamshala, Pandit Banshidhar Dharamshala and Janki Mahal Trust Dharamshala are also available.
If roughing it up is not how you unction then you may stay at Hotel Ramprastha, Shri Ram Hotel or the Government run UPSTDC Yatri Niwas.
Reach early at Ram Ki Pairi for Deepawali Mahotsav – Best thing to do in Ayodhya!
It is a good idea to reach early at the Ram Ki Pairi if you want an easy access to the Bhavya Diwali celebrations of Ayodhya. I advise that you get inside the Ram Ki Pairi before dark. After this, they strictly regulate the entry inside the guarded area where the main action takes place. It is still possible to enter the grounds but it becomes difficult as only small batches are allowed after regular intervals. It is a highly guarded and well managed event. It is a high profile annual event. Many dignitaries, politicians and international state heads also grace the event every year. This results in tighter security measures.
Budget Solo Trip – Bhavya Deepawali Mahotsav under INR 1,000
I did this trip under INR 1000. This includes Government buses between Lucknow and Ayodhya. It also includes the accommodation cost (Rs. 300), all the meals, local peanuts, snacks, chats and non alcoholic drinks I had devoured over two days. The good news is that all the places in Ayodhya do not have an entrance fees so it is fairly easy to backpack in Ayodhya on a very very low budget. I am based in Lucknow and New Delhi so it was easy for me. If you are from any other city, you can still go low cost by taking sleeper class trains and staying in cheap rooms under INR 500 like I do most of the times.
Excursions and quick get-aways from Ayodhya:
It is a perfect time to be in Uttar Pradesh as the weather is great and food is just too good during these months. If you want to spend time with your loved ones during Deepawali like I did, then I would suggest that maybe visit other gems of Uttar Pradesh just before Deepawali. Here are some great excursions and quick get-aways from Ayodhya
Lucknow – Visit Lucknow for great vegetarian food, chats, shopping for the world famous Chikan clothes and a walk through the ruins from the times of exploitative British colonists and the lazy Nawabs. There is a lot you can do in this underrated city. It is a complete destination.
Prayagraj – Meditate on the banks of the sacred rivers, visit Anand Bhawan, home of the Nehrus or fill your face with the mind blowing dehati rasgulla or the lip smacking thalis at the Netram Mulchand and Sons, in the Katra area.
Varanasi – It is one of the oldest cities of the world. It has been continually–inhabited since time immemorial. It is a delight to sample the vegan and vegetarian food and beverages of Kashi aka Varanasi. I would personally travel for just Tamatar ki Chat and Choora matar at the Kashi Chat Bhandar, It is out of the world and deserves all the acclaims and accolades it gets. And then of course, you can visit the spiritual places such as the much revered Kashi Vishwanath Mandir, the Buddhist pilgrimage Sarnath or many small and big temples, including the quirky leaning temple at one of the And don't miss a stroll in the lanes and the morning and evening aartis.

Jaunpur – Have you even heard of the special imartis of Jaunpur. My sister in law belongs to Jaunpur and that is how I get to taste it every time some-one from her comes pays a visit. The light yellow colored Imarti is unlike anything you have eaten before. The spongy sweet will leave you begging for more. And oh there is also an old fort in Jaunpur which is a must visit.

Chitrakoot – A holy Pilgrimage city also associated with Ramayan.
Naimisharanya – Also known as Neemsar, Indian sage Ved Vyas revealed ancient Hindu scriptures such as Sahshtra, Purana and Veda to 88,000 Rishis.

Oel – A bizarre frog shaped temple anyone? It is located near Sitapur and can be reached easily from Lucknow.

Parijat Tree – What is a sacred baobab tree doing, of all the places, near Lucknow? Do visit to find out! It is located in Kintoor Village, approximately 70 kilometers away from Lucknow.

Barabanki – The atmospheric Dewa Sharif is worth a visit.

Dudhwa National Park – Sighting a wild tiger is not uncommon here. The breathtaking landscapes will also mesmerize you.

Nepal – You can cross over to Dhangadi in Nepal near Dudhwa National Park for a few hours. For a longer stay, take this route – Lucknow-Gorakhpur- Sunauli- Bhairahwa- Kathmandu.

Gorakhpur –

For a darshan of Gorakhnath Temple.
Spread the love, share this blog
Got any question/comments, ask in the comment section below so that it can benefit other readers.
Email me for collaboration: [email protected]
Be a part of my journey on social media. The travel content I create there is different from this blog.
Pls subscribe/follow/like:
More pictures from the bhavya deepawali mahotsav of Ayodhya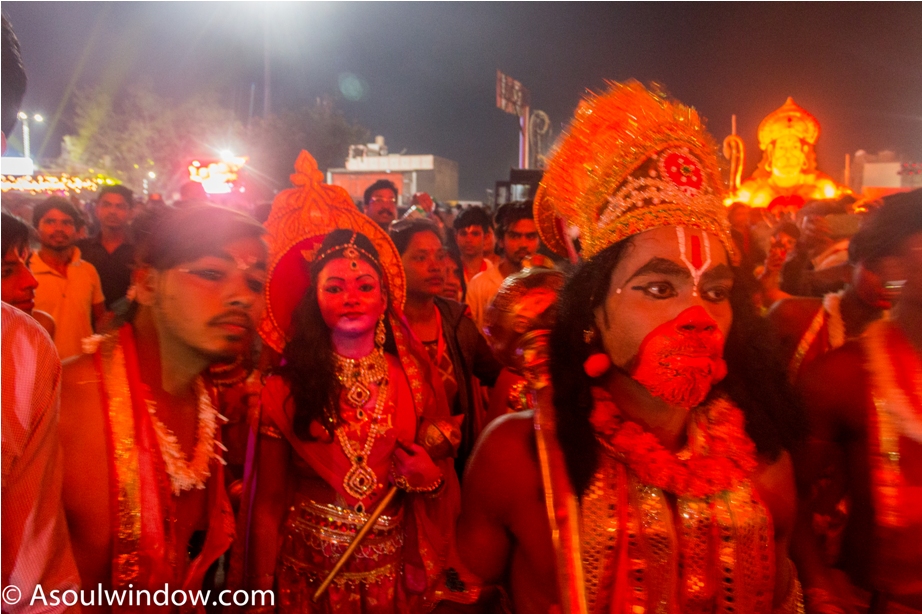 Top Travel Blogger from India