Last Updated on March 6, 2021 by asoulwindow
Yuksom West Sikkim – Road Trip
Yuksom, located in West Sikkim was the first capital of the kingdom of Sikkim. It was here that the coronation ceremony of the first Chogyal or King of Sikkim took place. The throne used for the rituals still exists. There are many Buddhist monasteries located in and around Yuksom valley.
In fact, Yuksom is an important stop on the Buddhist pilgrimage route which includes top places to see such as Dubdi Monastery, the Khecheopalri Lake, the Tashiding Monastery, the Sanga Choeling Monastery, the ruins of Rabdentse, the famous Pelling skywalk and Pemayangtse Monastery in the nearby Pelling. It is one of the best places to see in North East India.
THE GOOD NEWS is that Yuksom is an equally exciting destination for a non trekker. If you are not going on this easy trek, then 2-3 hours are enough to explore all the monasteries and main attractions of Yuksom on foot. It is small but very important (and therapeutic!) The rest of the time can be spent chatting with locals (without bothering them), reading books, eating local food and more aimless walks. These are some of the top things to do from Yuksom.
Altitude of Yuksom is 1,780 meter or 5,840 feet.
Charming Yuksom
Of course, I have seen more beautiful and tranquil places than Yuksom. Still, the charm of Yuksom didn't take much time to cast a magical spell on us. The last time I had experienced so much silence was during the Kailash Mansarovar Yatra in Tibetan region of China and Hunder Village near Nubra Valley in Ladakh. These places were so silent, they appeared like ghost towns. There were hardly any people to ask for directions.
Who says India is overpopulated? They are going to the wrong places.
Huge prayer wheels, many of them, were spinning in a room made up mostly of glass on the main street. The locals made sure they entered the room and moved the wheel before moving ahead. The lush green fields were overflowing with corn crops. Sturdy Hens and cocks of a unique variety, which I had never seen before, claimed the streets.
History of Yuksom
A sign board by Archeological Survey of India at the famous coronation throne sumps up the history of Yuksom as below.
Commemorating the great historical event of the crowning ceremony of Phuntshong as the first Chogyal of Sikkim in 1641. This rectangular stone platform facing east lies within a rubble enclosure. It comprises four seats in stepped pattern with a raised trifoil backrest.
The largest of four seats at the centre was meant for the great Nyingmapa Lama Lhatsun Chembo whereas the seat to his right was meant for Phuntshog. Both the seats to his left were meant for Kartokpa Lama Sempa Chembo and Ngadakpa Lama Rigzing Chembo. This is evidenced from the inscriptions fixed on the backrest of the respective seats. Sempa Chembo and Rigzing Chembo arrived from Western and Southern corner respectively and joined Lhatsun Chombo who first came from Tibet on the North at this place which is known as 'Yuksom' which means the 'Meeting Point of the Three Lamas.'
Phuntshong who came here from the eastern quarter was then consecrated by these three Lamas by the sprinkling of holy water from a nearby pond known as 'Kathok Pokhri'. Phuntshog was coronated to become the 'Fountain head of the secular and religious power.' The kingship was thus established in the country and he was responsible in setting up the first capital (of Sikkim) at Yuksom known as 'Tashi Thenka'
A footprint in stone near the throne is said to belong to Lhatsun Chembo and the huge Chorten in front is believed to contain soil and water from all over Sikkim. The huge Pine tree behind the throne is believed to be associated with the coronation ceremony of Phuntshog Chogyal.
Let us now have a look at some of the top things to do in and around Yuksom in West Sikkim.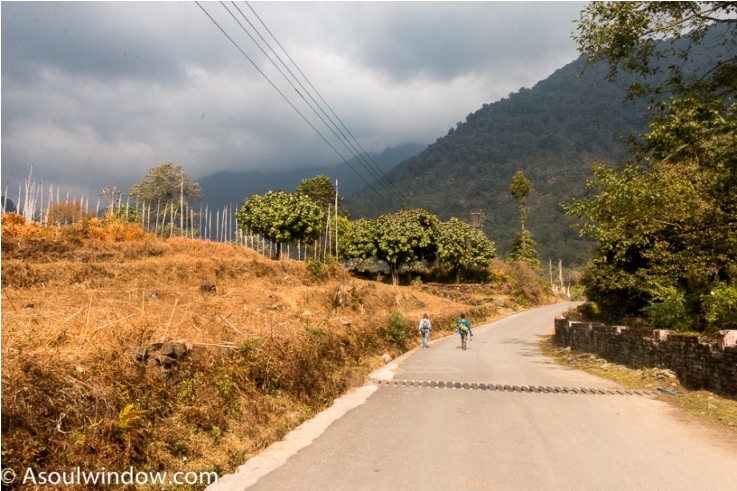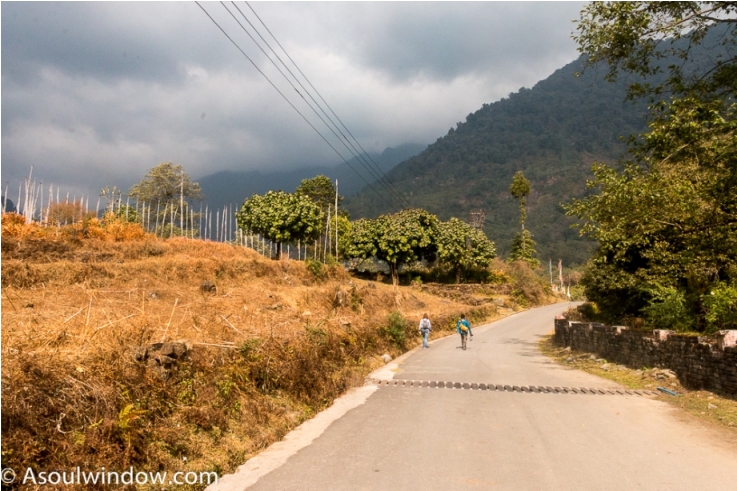 GOECHA LA TREK
Yuksom is also the starting point of the famous Goecha La trek, on which Mount Kenchenjunga is your constant companion. Being a gateway to the Kanchenjunga National Park, Yuksom is a favourite within the trekker community as well. The other treks you can do from Yuksom are Kanchenjunga base camp trek, Dzongri trek and Tashding trek. Since, it is a trekking Mecca, there were few shops who were selling trekking related gears, maps and even services like porters, yaks, guides etc.
It is a high altitude trek in Sikkim.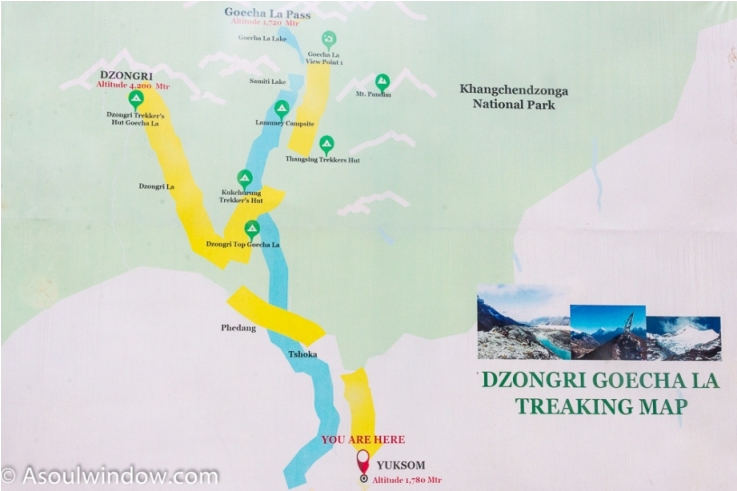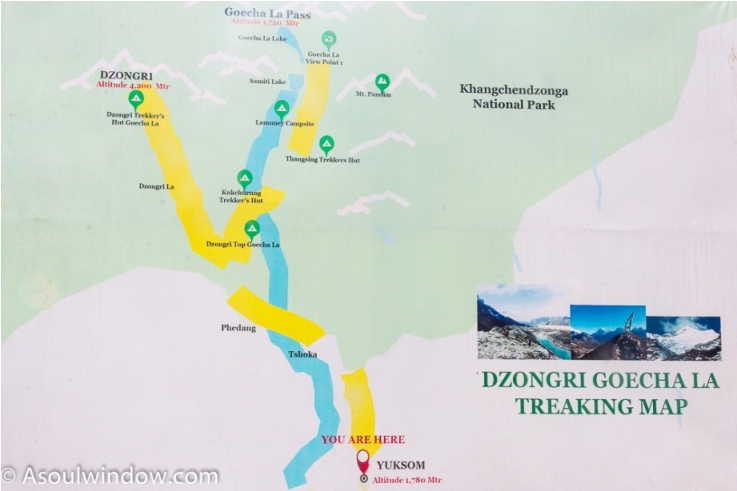 Some of the nearby places towards Goecha La pass (in ascending order) are
Tshoka
Phedang
Dzongri Top
Kukchurung Trekker's Hut
Thangsing Trekker's Hut
Lamuney Campsite
Samiti Lake
Mount Pandim
Goecha La View Point
Goecha La Lake
Goecha La Pass
Altitude of Goecha La is 4,950 meter or 16,207 feet.
Goecha la Trek takes around 7-8 days. 45-90 kilometers.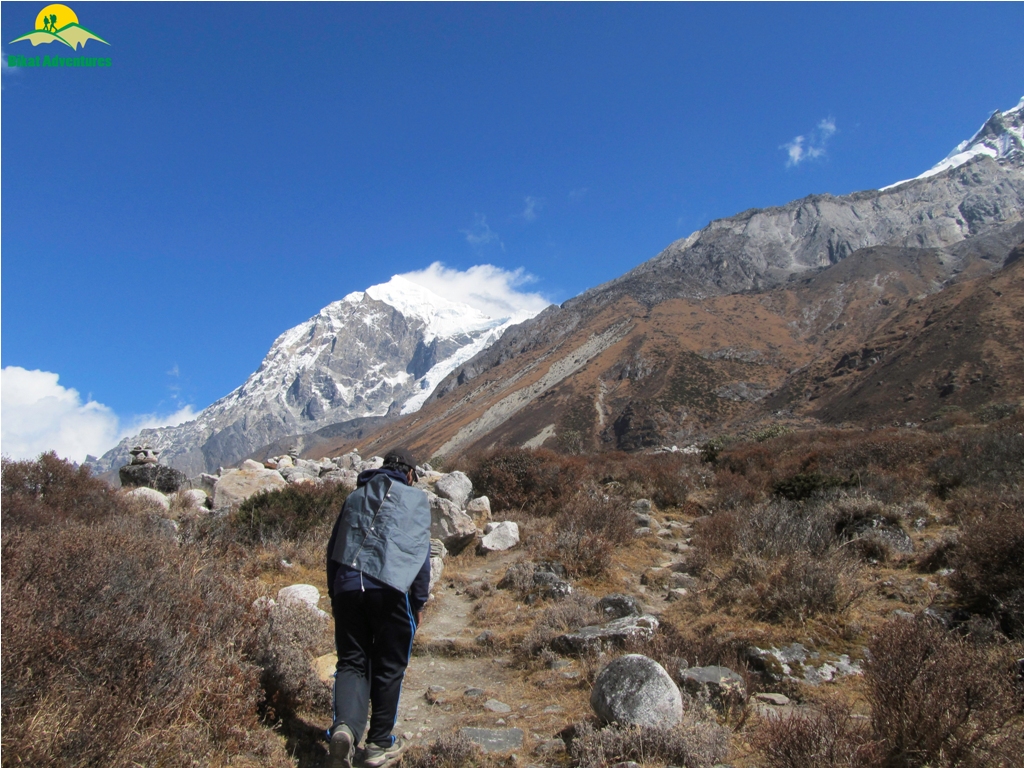 Dzongri la Trek
Dzongri la Trek is another high altitude trek that starts from Yuksom. Many local tour operators conduct this trek. You need good fitness level to attempt Dzongri la Trek.
Some of the nearby places towards Dzongri (in ascending order) are:
Dzongri Top
Dzongri La
Dzongri Trekker's Hut
Altitude of Dzongri is 4,200 meter or 13,779 feet.
Dzongri Trek takes around 4-5 days. 25/50 kilometers
Please see the attached map of Goecha La Trek for details. For a detailed article, please read my blog on Goecha La Trek.
Why Yuksom is Famous
As soon as we entered Yuksom, we knew we made a mistake.
We should have stayed here for some more time. Since it was the last day of our 10 days long epic road trip across Sikkim, we had only few hours to soak in what Yuksom had to offer. We quickly zeroed in on the primary attractions such as the 'Coronation Throne' and the monasteries around it. We also trekked up-to the Dubdi Monastry. Yuksom is also famous for Goecha La Trek, ancient monasteries, beautiful views and uncrowded streets. There are indeed many amazing offbeat things to do in Yuksom.
Coronation Throne Of Norbugang – Top Place to see in Yuksom
Coronation Throne Of Norbugang is the most important place in Sikkim. The nonchalance of locals living around it belies the historical significance of this place though. Just a few touristy shops (like just 2-3 shops) indicate about the place being an 'attraction of sorts'. There are many people who live around this piece of heritage gem.
I bought the entrance ticket from a paan shop (trust me!) which is just outside the main gate of the Norbugang Park which houses the Coronation Throne. I and my friends were separated while entering, thanks to tempting things to click in this area. My friends didn't even know about the ticket before entering. No one bothered to sell them the tickets either.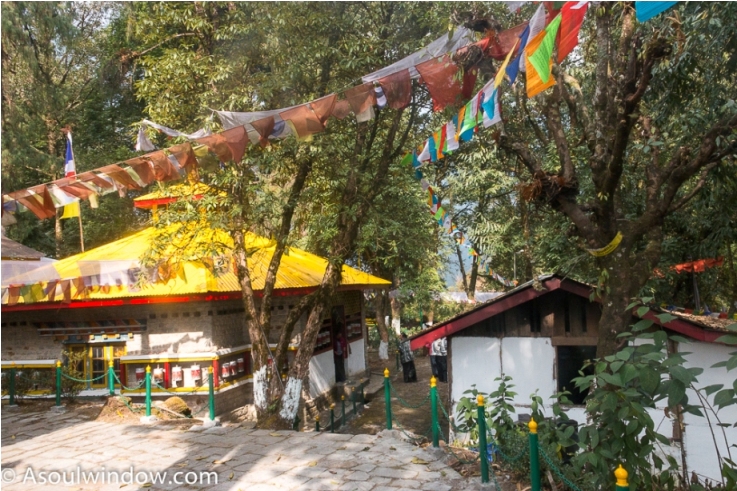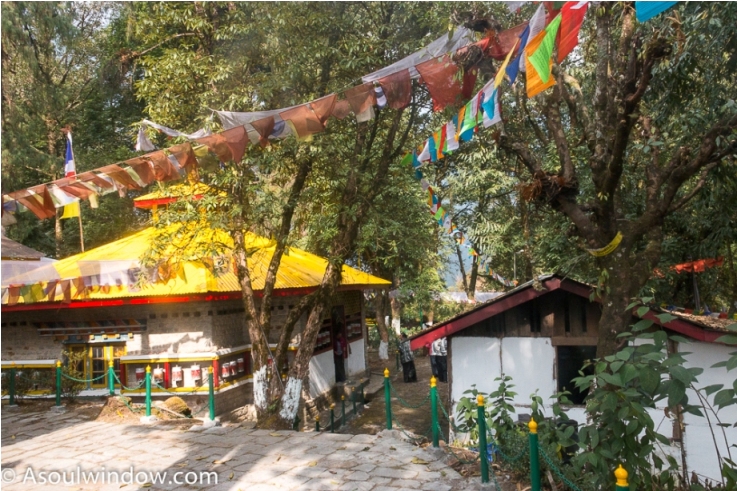 It was in the Norbugang Park that the first Chogyal (King) of Sikkim was crowned as per a long ritualistic ceremony. During a consecration ceremony held here in 1642, Phunshog Namgyal was crowned as the first Chogyal of Sikkim. This marked the beginning of Sikkim Kingdom which continued till the invasion of evil British forces. Water from the nearby Kathok Lake was used for the consecration ceremony.
The four seater coronation throne on which he was crowned still exists along-with the pine tree under which the coronation took place. The highest seat of the throne was reserved for Lama Lhatsun Chhempo who had given his surname Namgye to Phunshog which made him Phunshog Namgyal.
The Norbugang Chorten or Stupa
Right opposite the The Norbugang Chorten or Stupa, Coronation Throne Of Norbugang is located. It is said that water and soil from different regions of Sikkim is kept here. People also believe that the expensive gifts which were offered to the Chogyal of Sikkim during the coronation are still buried beneath the Norbugang Chorten. Very close to the throne, you will see the footprints preserved on the floor. It belongs to one of the three lamas.
Lost again from my group, I explored the Norbugang garden at my own pace. Silence was broken once in a while by the chirping of a bird or the chanting by a devotee. Many Butter lamps flickering outside the chorten added to the mystical atmosphere of the place.
There were no travelers (like zero) present there while we visited. Only few local pilgrims were present when we visited. This made the experience all the more pleasurable. The white buildings and a large number of colorful prayer flags in the garden denied it from being a monochromatic green. The landscape of the place was abundant with indigenous fauna.
Tshamkhang Retreat, Yuksom Sikkim
Another signboard will guide you to Tshamkhang Retreat or meditation centre. It is the retreat residence of Yangthang Rinpoche. It seems like a new building. A huge statue of an unidentified Buddhist deity overlooked the green valley. We removed our shoes and joined a group of women pilgrims who busied themselves with chants and hand held prayer wheels while circumambulating around the statue.
I was reunited with my group again. If you can guide me with the name of the deity, it would be of great help. You can mention it in the comment box below. (Please see the picture with caption). I peeped inside the large hall below the statue. It was unlike any other Buddhist religious place I had been to.
Dubdi monastery
It was an easy uphill trek through dense chestnut forests. I was expecting to see some wildlife here. Though, the only animal we saw was a cat which followed us for a while before losing interest. The trek route has some ancient wooden prayer wheels at the beginning. There are few boards for directions. We didn't need any guide to reach Dubdi Monastery.
The path was well marked and the chances of getting lost here was as strong as the chances of finding Masala Dosa in Nicaragua.
The trek also offers view of the Yuksom village, snow capped mountains and even Pelling in far distance once you gain a little height.
We were the only trekker when we reached apart from a young man from Argentina who told us that he is staying at a home-stay nearby for only Rs. 300 a night (wow) with breakfast. There are apparently more foreign travelers here than Indian ones.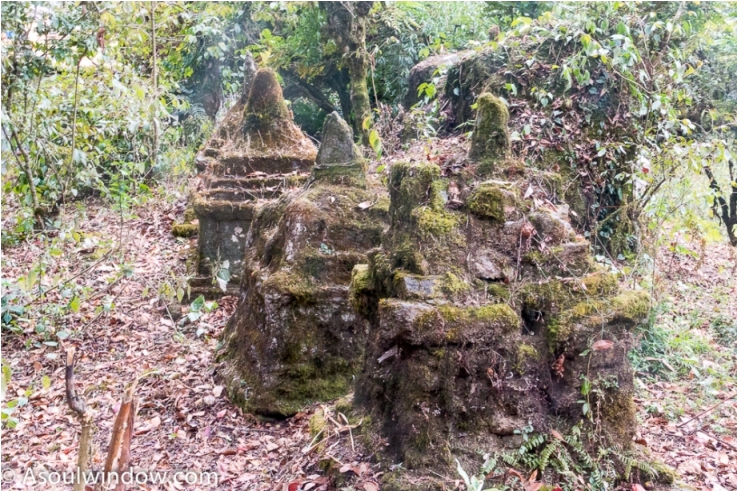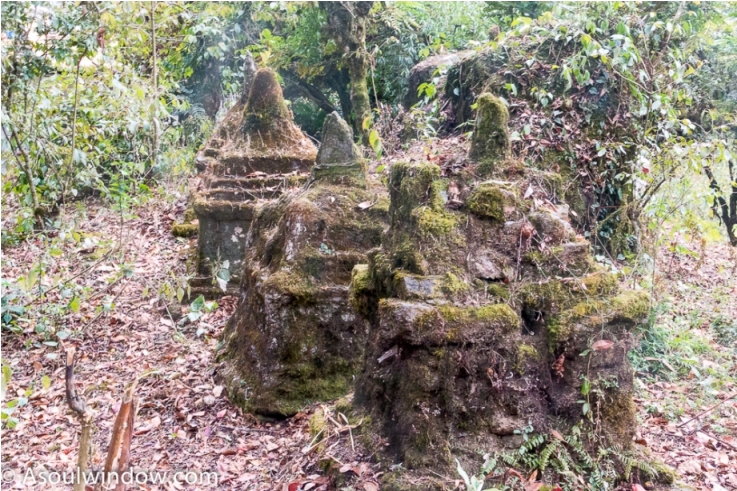 Dubdi Monastery reminded me of Angkor Wat
Dubdi monastery which is one of the oldest monasteries in Sikkim was established in 1701 by the Chogyar Namgyal or Chakdor Namgyal. It is also called the hermit's cell. Curious, we explored the area behind the Dubdi monastery. Scores of small stupas claimed by moss gave it an Angkor Wat feel. Some cracked stupas had branches coming out of them. We walked a little ahead beyond the two rows of tall flags and discovered few more stupas behind a house of a local, separated by a wooden fence.
It was one of my most exciting discoveries. Very seldom have I 'discovered' such ancient heritage in the middle of nowhere. I did that many times in different places of Sikkim such as Tendong Hill in Namchi and Rabdentse ruins in Pelling. I have written about it in detail in other blogs. Please check all the Sikkim related links at the bottom of this blog. I hope you will enjoy reading them.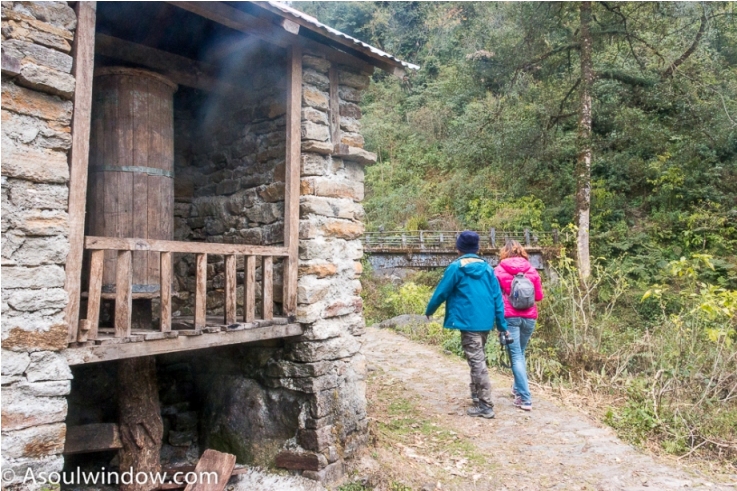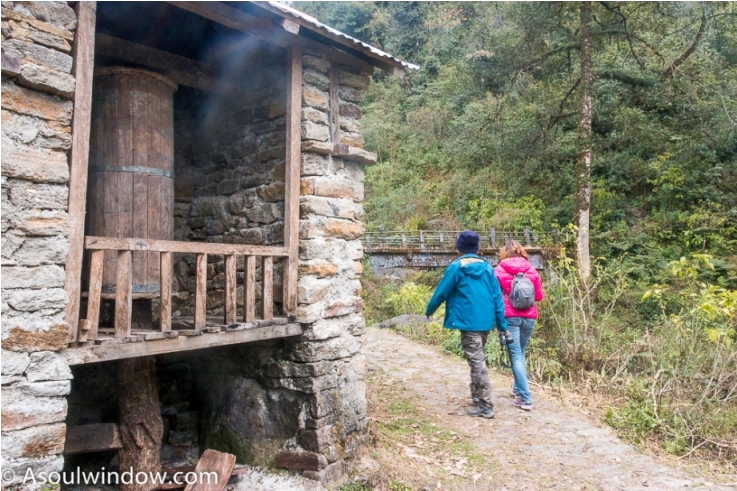 Dubdi Monastery which means 'retreat' in local language, is about 3 kilometers and 1 hour trek away from Yuksom village. Belonging to the Nyingmapa sect of Buddhist Lamaism, Dubdi is built entirely in stone. It is an impressive 2 storey building which is square in shape and faces south. The Dubdi Monastery tapers upwards and topped by a flat roof of iron sheet with projected eaves and surmounted by a bell shaped dome of guilt known as 'Gyaltshen'.
The interiors of Dubdi are no less impressive. If you are lucky and the monastery is opened, you will be able to see the exquisite paintings of divine figures, noble saints, ferocious demons and other Buddhist symbols. In the side aisles of Dubdi monastery, a rich collection of precious manuscripts and other religious texts are preserved carefully for the posterity.
There are sign boards throughout the short trek to monastery. So, rest assured you will not lose your way here. There are paths which lead to Monastic School, Hostel, Tshong and Yuksom Bazaar. The directions are well marked on the signboards.
Hongri Monastery
If you go a little behind the Dubdi monastery, a signboard will guide you to the Hongri Monastery. You can continue the trek and arrive at Hongri monastery on the same route via the Tsong (or Tshong/ Choong) village. It is advised to start early morning so that return before dark on the same day is possible. It is also spelt as Hungree Monastery. This is one of the top things to do in Yuksom valley in West Sikkim.
Kathok Lake
As discussed above, it is a very important lake associated with the history of Kingdom of Sikkim. It is at the centre of Yuksom village and unmissabale. It is a very small pond surrounded by trees and tall Buddhist prayer flags. The locals believe that if you make a wish here, it is granted. Also known as the soul lake of Lama Kathok Kuntu Zangpo, once a year purification ceremony to retain its sanctity takes place here.
Kathok lake is also called Kathog Bla Tsho. Since the Kathok lake is worshipped and considered sacred by the locals, it is protected by the Government of Sikkim under 'Provision of the place of worship (Special provision) act 1919, Government of India.' The Kathok lake was originally sanctified by Lama Kathog Rigdzih Chhempo in 17th century A.D.
Kathok Monastery
It is located near the Kathok lake. It was closed when we visited but was still worth it. It is a very small 1 storey monastery. A rusted spiral staircase to its roof added character to the Kathok monastery. The Kathok Monastery, located on small hillock also gives good bird's eye view of the charming Yuksom village. You can spend some time here just contemplating. Or maybe even read a book here, if you have the luxury of time at your disposal. Though, I am sure, the abundant beauty is very distracting.
Khecheopalri Lake
It is a holy lake and needs more time if you want to go here. We were supposed to stay at a place near the lake. But due to lack of time, we had to be content with just a day road trip to Yuksom valley.
Khecheopalri Lake isalso called Kha-Chot-Palri, the literal meaning of which is the heaven of Padmasambhava. Located in the Khecheopalri village, the lake will stun you with its sheer beauty. The natural lake is believed to be 3,500 years old. The lake is surrounded by dense jungles.
There are small settlements around the Khecheopalri Lake where you can interact with the local people, many of whom are involved in agriculture or tourism. Lepchas are dominant ethnic group who reside here. You can arrive at the Khecheopalri Lake via Pelling Yuksom road. Khecheopalri Lake is a protected lake and is known for eco tourism and as an important pilgrimage destination.This wish fulfilling lake is revered by both Hindu people and Buddhists. In fact, even the Khechoedpaldri hill is considered sacred. Buddhists believe that when seen from above the Khechoedpaldri lake looks like the foot of Buddha. It is the best excursion from Yuksom.
Other Places To Visit in Sikkim
There are many more places to see in Yuksom. The other places to visit in Yuksom are as below. You can see their exact location from the map of Yuksom shared in this blog.
Thong Thong Gyalpo Monastery
Thargthong Rong cave
Fambrong waterfall (It is on the way to Tashiding; see map)
Phamrong or Fambrong waterfalls
Community Information Center
Kanchandzonga Conservation Committee
Kanchandzonga National Park
Rathong Chu River
Trekker's hut
Forest Hut
Tingting
Tashiding
Other activities you can do in Yuksom are as below:
Birding
Bonfire
Bouldering
Butterfly trails
Cultural Show
Cultural Tour
Eco Adventure Camp
Educational Projects
Explore Wild Food
Hiking
Interpretive walks
Jeep Tour Package
Jungle Trek
Mountain Biking
Nature Walks
Organic Farming/Gardening
Photography
Pick Souvenirs
Research Trip
River Cruising
Rock Climbing
Sample organic local food.
Star Gazing
Story telling
Study Medicinal Herbs
Trekking
Village Walk
Volunteering
Wildlife
Sikkim Cab Rental Co. can arrange these experiences for you. Please get in touch with them for a memorable trip in Yuksom and elsewhere in Sikkim.
Also must visit places in other parts of Sikkim are as below:
Tsogmo lake
Nathu La Pass
Yumthang Valley
Lachung
Lachen
Pelling (Pelling skywalk is a must)
Namchi
Ravangala
Zuluk
Gurudongmar lake
Lachen
Dzongu
Nathan valley
Lingtham
Martam
Aritar
Legship
Ohkrey, Rinchenpong and Kaluk
Ralong and Borong
Tso Lhamo Lake
Thangu
Biksthang
Singalila
Yangtey
Geyzing
Barsey Rhododendron Sanctuary Trek
Dukpa Tseshi Festival of Dokpas (High Altitude Trek)
Vegetarian and Vegan Food Guide – Yuksom
Soul Window Tip:
Nice vegan and vegetarian North Indian dishes (Naan and delicious curries) are easily available at reasonable prices at the restaurant above, apart from the local food of course. The name of the place is Gupta Restaurant. It is centrally located. If you still can-not find it, ask around. There are hardly any restaurants here any ways.
P.S. Use their toilet even if you don't want to go. The route to the toilet is interesting, haha.
You can also taste local food such as momos, thukpa etc in other restaurants.
THE BIZZARE LUNCH AT YUKSOM: WHERE TO EAT VEGAN FOOD
The previous night, the owner of the hotel we stayed at in Pelling gifted us a cake. That became our lunch. The carbohydrate rich diet did help us in our trek to the ancient Dubdi Monastery. We sat at an open air restaurant by the same road. A knife was procured from their kitchen and the cake was cut in to 4 parts. It was bizarre but fun!! Very selfishly, we ate our portions. Jacomijn was generous and kind to share her piece of cake with the local kids.
Stops on Pelling Yuksom Road Trip
There are many places to see en route Yuksom from Pelling and Gangtok. I along-with 2 travel bloggers Jitaditya and Jacomijn arrived at Yuksom from Pelling, which, we found was another interesting destination in Sikkim. We mostly drove on smooth serpentine roads on hills as green as the cucumber. My eyes were peeled, absorbing the breathtaking views. Do not miss the Pelling skywalk.
Who must be living in those small houses and shops, perched on the edge of the roads, I thought as wind ruffled my hair wildly. Whoever they are, they must have pink cheeks!
RIVER ORANGE GARDEN
Each square inch on the road we drove was a destination in itself. We could not resist stopping at the nice but touristy River Orange Garden. You will see a signboard 'Welcome to River Orange Garden' by the roadside while driving to Yuksom town from Pelling.
Most travelers make a pit stop here to take a stroll in the picturesque garden and buy cheap (but good quality) walnuts and oranges from the shops. You will see many orange trees laden with fruits here. If you go further down, you will arrive at the scenic Rimbi River. Do spend some time here. It is a nice place. We even saw a local fair going on, a little ahead. I bought lots of local black lozenges which was so hard to chew that I had to give it to someone and threw the one I had in my mouth!
Where To Stay In Yuksom Sikkim
We did not stay so we don't have any experience of the stay. We arrived from Pelling, made a day trip to Yuksom in West Sikkim and left for Gangtok before dark. There are many options to stay in Yuksom. From hotels to home stays, you will find a variety of accommodation in Yuksom.
Yuksom Homestay
There are many charming home stays in Yuksom where you can stay with local people at very reasonable prices.
We had been told that Limboo homestay in Yuksom for just INR 1000 for two was nice.
Contact of Limboo homestay is:
Email: [email protected]
Whatsapp Phone Number – 9735106236, 9733084983, 08348167763, 08001409139
There are many home stays here which cost as low as Rs. 300 per day with breakfast (I am not making it up!).
Norgay's homestay in Yuksom also seemed good. It is centrally located and offers stay and organic local food. (Call them up at 9647880699). Some enterprising homestay owners also offer activities like guided bird-watching tours, rock climbing, mountain biking, star gazing, organic farming, culture tour and nature walks, the works! Spending a night at one of the Yuksom Homestay will be memorable.
Shopping Guide of Yuksom in West Sikkim
You can buy some local handicrafts and utility items from small stores near the holy Kathok Lake. 2-3 small shops line the main entry of the dirt track which leads up to the Coronation Throne Of Norbugang. The local products are well displayed and priced reasonably. Do buy some lovely souvenirs from Yuksom to support the locals financially.
How To Reach Yuksom from Pelling and Gangtok
It is fairly easy to reach Yuksom from Pelling, which is located in West Sikkim. It is well connected with Pelling and Gangtok and the road conditions are excellent. The journey is a destination in itself.
How to reach from Pelling to Yuksom
Most people arrive from Pelling to Yuksom. We also made a day trip from Pelling to Yuksom though ideally we should have stayed back in Yuksom, West Sikkim. There are many Yuksom hotels to suit all budget types.
Yuksom is located just 40 kilometers away from Pelling.
Reach Yuksom by private cab/taxi
Arriving at Yuksom via private cab is the best experience. Not only can you stop anywhere but you can enjoy great views from the window, on the way.
We booked through Sikkim Cab Rental Co. Their drivers are expert and have very good local route knowledge. Their cars are well maintained and the best part is that they charge reasonable fees. They also arrange trips across Sikkim and help you book nice hotels in Yuksom Sikkim, depending upon your budget and other requirements customized to your needs.
Contact Details of Sikkim Cab rental Co is: 9647593670 / 7407328887
You can also reach Yuksom from Gangtok, the capital of Sikkim.
Nearest Railway Station from Yuksom
Sikkim does not have railway network of its own. The nearest railway station from Yuksom and elsewhere in Sikkim is at West Bengal, the neighboring state. You can book train till New Jalpaiguri in Siliguri of West Bengal. From there you can take a cab or bus to Gangtok and other places in Sikkim like Yuksom
Distance between New Jalpaiguri to Yuksom is 145 kilometers and it takes 5 hours and 30 minutes via NH10.
Nearest Airport from Yuksom
Pakyong Airport in Gangtok is the only airport in all of Sikkim.
Bagdogra airport in West Bengal is other option from where you can reach Yuksom.
Other airports near Yuksom are as below:
Saidpur (SPD) – 192 kilometers
Darbhanga (DBR) – 264 kilometers
Kathmandu in Nepal (KTM) – 285 kilometers
Paro in Bhutan (PBH) – 120 kilometers
Buses to Yuksom Valley
Direct buses to Yukosm are not available. You can come to Gangtok via bus from New Jalpaiguri and Siliguri in West Bengal. From Gangtok, you can take the private taxi or shared cab to Yuksom in West Sikkim.
Shared taxi to Yuksom Sikkim
From SNT bus stand in Gangtok, you can find a direct shared jeep to Yuksom. Reach early, as only one taxi plies on this route daily. It leaves at around 11 a.m. daily. You can also catch a shared cab from Jorethang and Legship. You can get direct jeeps for Yuksom from here. However, the service is not very regular and the chances of hopping on to a shared cab after 3 p.m., on this route become slimmer.
Best Time to visit Yuksom: Yuksom weather
We visited Yuksom during January. I was rejuvenated by the pleasant Yuksom weather during January. We didn't experience any snowfall in Yuksom. It was bright and sunny and still cold breeze made us comfortable when we visited.
Distances from Yuksom
Yuksom is one of the top offbeat places to see in Sikkim. Listed below is detailed information on distances between Yuksom and other places in Sikkim and West Bengal. It will help you plan your Sikkim trip. Also do read my blog on ready made itinerary of Sikkim.
Distances between Yuksom & other places in Sikkim
Distance between Jorethang to Legship is 25 kilometers and it takes around 40 minutes via Nayabazaar-Legship-Reshi road.
Distance between Pelling to Yuksom is 40 kilometers and it takes around 1 hour 45 minutes via Pelling-Rimbi road.
Distance between Geyzing to Yuksom is 41 kilometers and it takes around 1 hour 30 minutes via Pelling Rimbi road.
Distance between Legship to Yuksom is 56 kilometers and it takes around 2 hours via NH510
Distance between Ravangla To Yuksom is 56 kilometers and it takes around 2 hours 30 minutes via NH510
Distance between Jorethang to Yuksom is 60 kilometers and it takes around 2 hours 30 minutes via Nayabazaar-Legship-Reshi road.
Distance between Namchi to Yuksom is 80 kilometers and it takes around 3 hours 15 minutes via Namchi-Nayabazaar road and Nayabazaar-Legship-Reshi road.
Distance between Dzongu to Yuksom is 131 kilometers and it takes around 6 hours 30 minutes via NH510.
Distance between Gangtok to Yuksom is 140 kilometers and it takes around 5 hours 10 minutes via NH10
Distance between Lachung and Yumthang valley to Yuksom is 175 kilometers and it takes around 7 hours 30 minutes via Gangtok-Chungthang road.
Distance between Lachen to Yuksom is 180 kilometers and it takes around 7 hours 51 minutes via Gangtok-Chungthang road.
Distances to Yuksom from West Bengal
Distance between Siliguri to Jorethang is 82 kilometers and it takes around 2 hours 45 minutes via NH10
Distance between Siliguri to Yuksom is 141 kilometers and it takes around 5 hours 15 minutes via NH10.
Distance between New Jalpaiguri to Yuksom is 167 kilometers and it takes around 5 hours 39 minutes via NH10
Distance between Bagdogra to Yuksom is 173 kilometers and it takes around 5 hours 45 minutes via NH10
Last Word on Yuksom – Conclusion
Yuksom is a dream destination. It is one of the best places to see in West Sikkim. Located close to the famous Khecheopalri Lake, Yuksom is unlike any other places you must have been to. The distance between Gangtok and Yuksom is also very less, which makes it easy to visit Yuksom. There are many interesting things to do in Yuksom.
Availability of good variety of vegan and vegetarian food is an added bonus. From cheap home stays to more expensive luxury hotels, you can find it all in Yuksom. What's more? You can start the Goecha La Trek and Dzongri la Trek from Yuksom village. It is one of the most beautiful but difficult treks of India. Do visit this offbeat destination in Western part of Sikkim. Sikkim lies in North East India.
The view from my Soul Window is so soothing!
Top Travel Blogger from India