Last Updated on June 29, 2023 by asoulwindow
Positano Italy Amalfi Coast Guide
Say the word Positano and colourful houses tumbling down the cliffs springs up in one's mind. Located in the heart of Amalfi Coast in Italy, this place with its winding roads, sparkling seas and houses perched on cliffs is a Traveler's Paradise!
Get lost in this charming vertical town, as you uncover its beauty, one layer at a time. The best part is that in order to travel in Positano, you do not need to navigate much through the traffic on road. Instead explore Positano intimately through the winding steps, which are often steep.
What is the Amalfi Coast?
The Amalfi Coast is a beautiful stretch of mountainous coastal road that stretches from Naples to the Isle of Capri. With scent of lemons lingering in the air to pink Bougainville's adorning every corner of the streets to intricate artistic ceramic pottery being sold in local shops, Amalfi is a treat to one's eyes.
Amalfi is the land where the sun kisses the sea and white sand beaches adorn its shores. Is Positano Italy on the Amalfi Coast? Yes, in fact Positano is the first town you will come across in Amalfi Coast, if you are coming from the western side.
Fun Fact: Positano is one of the major tourist attraction points in Italy. The 'who is who' of the world have their vacation homes here. Yes, you get the picture! Here are more such interesting facts about Italy.
Where is Positano?
So, where is Positano Italy located? Well Positano is located in one of the most beautiful southern part of Italy. Positano is a small village which is located near major places such as Amalfi Coast, Naples, Sorrento etc.
Amalfi comprises of 13 picturesque towns on the coastline. Each town is so unique that one will be spoilt for choices on deciding where to stay.  While planning our Italy trip (Read the itinerary here), we knew we had to include Amalfi coast in our itinerary. With many options on hand, the decision was a hard one.
What region is Positano Italy in?
The gorgeous beach town of Positano lies in the Campania region of South Italy. Positano Village lies within the Amalfi Coast in Province of Salerno. Thanks to its strategic location, there are so many other exciting destinations which you can add in your Southern Italy itinerary.
Instagram Spots in Positano Italy
The choice was between choosing the most beautiful town or choosing the town where there is ease of transportation. We finally decided to go with Positano as we had seen multiple images on social media and it was as if Positano was calling out our name.
Positano is probably the most instagrammed town on Amalfi coast. If you are a Bollywood movie buff then you would have heard the song "Ghungroo toot gaye" starring Hrithik Roshan. Yes, the song was shot in this beautiful paradise. Some other films which feature Positano are Under The Tuscan Sun, Nine, Kath and Kimderella, Only You etc.
Positano is home to long winding roads with cute little cafes offering mesmerizing views of the sea. It's also a very popular destination for romantic getaways.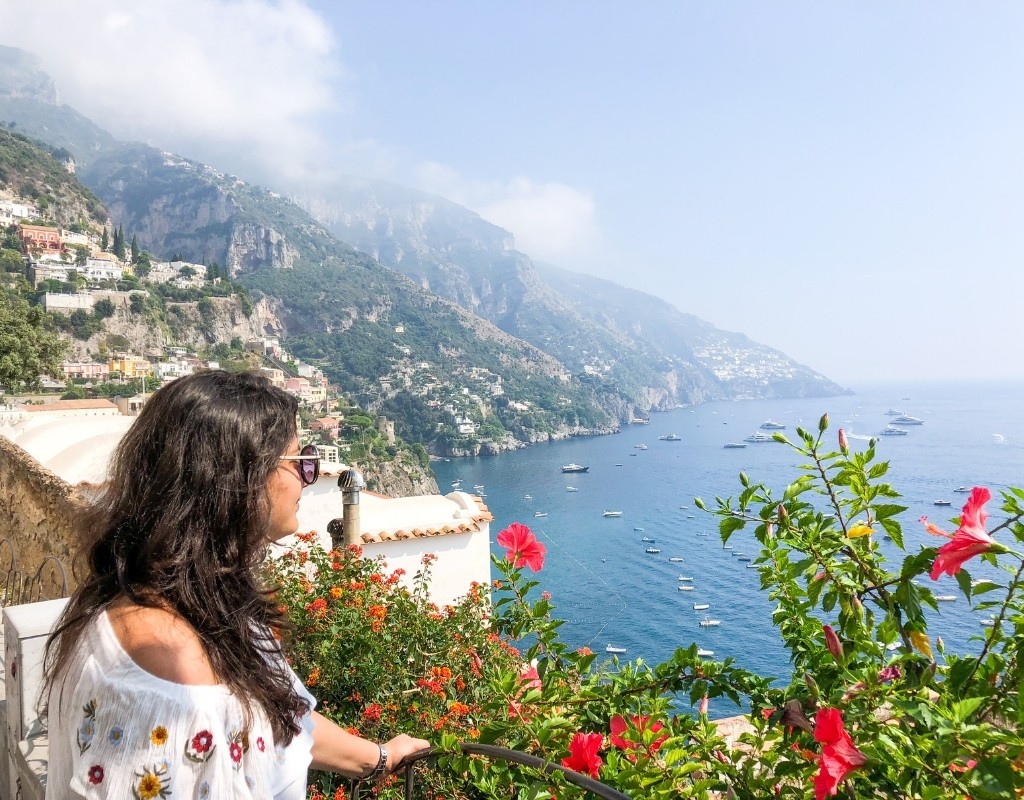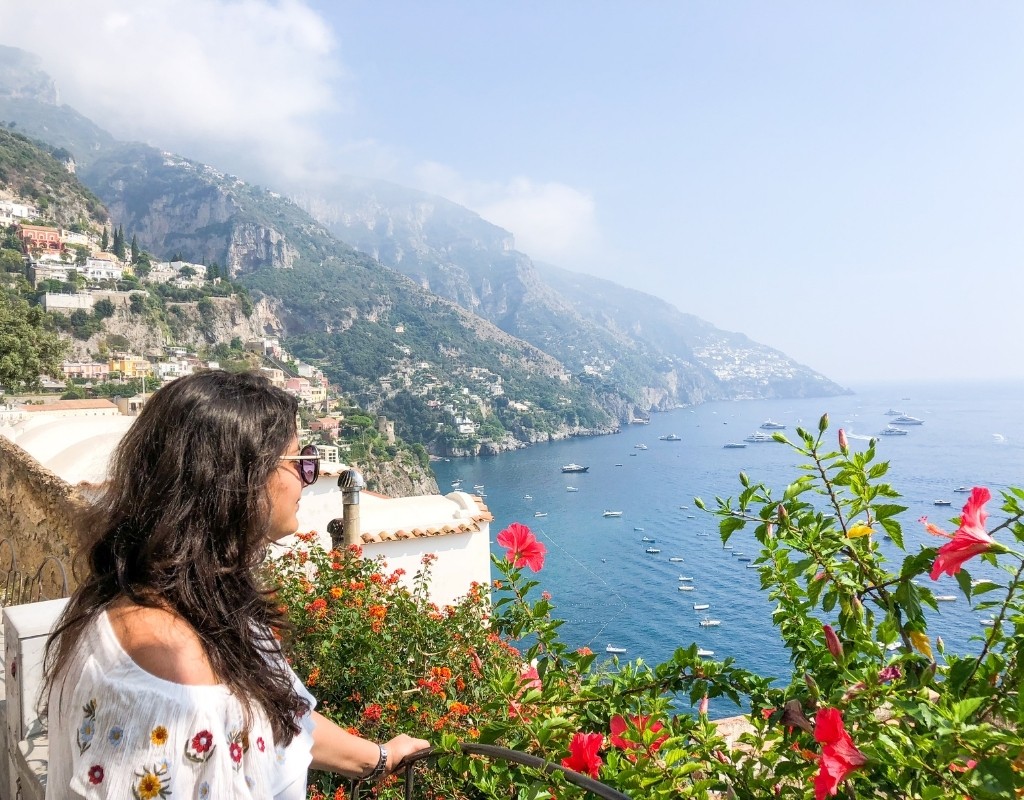 History of Positano
The beauty of Positano belies its turbulent past. It survived not only the multiple attacks by the Ottoman pirates but also natural disasters such as a Tsunami in the year 1343 C.E. when much of the town was destroyed.
That said, during the 15th to 17th century C.E., Positano emerged as a major trading port and hub. This too saw its downfall over the years though and the status of Positano was reduced to nothing but just a fishing village. This was when most of residents had migrated to United States of America. Positano is again prospering, thanks to the tourism in Positano.
How old is Positano Italy
Prehistoric sites from the Upper Palaeolithic era have also been found at Positano. It was inhabited by the hunters gatherers.
What is Positano Italy known for?
Why visit Positano Italy? Well, Positano is famous for its picture postcard perfect beaches, great food, winding roads and a laidback vibe. That said, it can be pretty crowded during the peak season. Positano is also popular amongst celebrities and Instagram influencers, Youtubers and Travel Bloggers like myself for the immense photo opportunities it provides.
This vertical village is a pleasure to discover on foot. All these make Positano a perfect holiday destination in Europe and Italy. These are some of the best reasons why you should go to Positano Italy. Positano is also known for its ruins from the Roman Empire. These are some of the top reasons why you should go to Positano. These quotes on Italy will make you want to pack your bags and fly to Italy.
Things to do in Positano
Relax by the beach: The first thing one does upon reaching this picturesque town is hitting the beach. Let's face it, sun, sand, blue water, colour popped houses, what not to like! Get that perfect tan and sip a lemon sorbet. You can consider renting out a sunbed for the day and just sit and watch the waves crashing on the shore. It is one of the best things to do in Positano. You can also hang out at one of the beach clubs. For one chair you may have to pay upto €25. Beaches are number one reason of why you should go to Positano Italy.
Shopping: Who doesn't like shopping right? Positano has some of the most fashionable collections in varied colours. It is famous for its linen clothing decorated with lace.
Sapori e Profumi di Positano
Shop here for handmade soaps, perfumed candles, body creams etc. Via dei Mulini, 6.
I Sapori di Positano – This is the best shop to buy the lemon products made in Positano and Amalfi coast. You name it, they will have it!
Maria Lampo– For handcrafted clothes, head to Maria Lampo for genuine Moda Positano.
Note: The clothes are priced on an expensive side. One can opt for souvenirs such as fridge magnets or ceramics. Since lemon is a local product, you will find everything related to lemon such as lemon soap, lemon candy, lemon scented perfume etc.
Hire a Scooty: This is one of the best ways to explore the Amalfi coast. Since the winding lanes are narrow, it's better to hire a scooty instead of a car. There is nothing like zipping around the narrow lanes with wind blowing on your face.
Ride the Sita Bus: If you wish to explore the coast in a more economical way then hop on a Sita bus and get off at the next town. For town hopping this is the best option.
Opt for a ferry ride: One of the best ways to explore the other towns of Amalfi, such as Minori, Maiori, opt for the ferry ride. Though a bit more expensive than the other modes of transport, this is definitely one of the best ways to explore the other towns.
Rent a Kayak: Kayaking is one of my favourite activities and we opted for a kayak ride in the evening. Nothing like beautiful sunset views with water splashing around you. No doubt, it is one of the best things to do in Positano Italy.
Visit a lemon farm: This was on our to do list however due to paucity of time, we had to give this a skip. I have heard some amazing reviews and you must definitely check this out.
Hike the Path of Gods: The Path of Gods is a trail of 4 miles offering beautiful views of the sea and coastal towns. The trek is of moderate difficulty and if you are not comfortable hiking on your own then you can hire a guide. It is a must see places to visit in Positano. If treks are your thing then you will also like to check this trek in Cinque Terre from Monterosso to Vernaza here .
Visit the Santa Maria Church: The beautiful church is right in the middle of the town and is open daily. It is one of the top things to see in Positano, the gorgeous coast town.
Visit Capri: Go on a day tour to the isle of Capri and visit the Blue grotto. Located on the Tyrrhenian sea near Sorrento Peninsula, Capri is a must visit island. Located close to the Gulf of Naples, it is a popular resort town. Even in the Roman Era, Capri was popular. Some of the places to visit in and around Capri are Anacapri, Belvedere of Tragara, Nerano, Blue Grotto, Praiano, Sorrento, Ravello and the 2 harbours called Marina Grande and Marina Piccola. Also visit the stunning 3 islets of Li Galli. Also known as Sirenuse, it is located near Positano.
Roman Ruins: Also, keep your eyes peeled for the ancient ruins from Roman era, limestone crags and sweeping views of nearby towns. You can see many ancient ruins of the villas which belonged to the Romans. Most of these old ruins are located close to the Church dell'Assunta. I always loved to explore historical places when I travel. Some historians claim that the town was founded as early as the 9th century. Also watch out for remains of the fortified walls, watch towers. These are some of the best places to see in Positano.
Visit Pompeii: Enjoy a day trip to the historical Pompeii from Naples. You can also club a wine tour in this itinerary. We all know about the preserved city of Pompeii. It was devastated when Mount Vesuvius exploded in 79 C.E. Discover the ancient Roman history by walking through the ruins of Pompeii. It takes only one hour to arrive at Pompeii from Positano. One day tour or half day tour to Pompeii is possible, depending upon your budget.
Click some memorable Pictures: If you love clicking pictures like me then you will absolutely love Positano. Every turn and corner offers amazing views of the coast which can be a great backdrop for your photos. No wonder, so many movies and music videos are shot here.
Visit Collegiate Church of Santa Maria Assunta
Easily identifiable, thanks to its colossal majolica tiled dome, you can see this visually stunning church from most places in Positano. Do visit the Church. Also check out the Byzantine icon of a black Madonna which dates back to 13th century.
15. Museo Archeologico Romano Museum
Learn about the history of Positano Italy at the Museo Archeologico Romano. You can see precious specimens of some of the original architecture from the Roman era. The site of the museum was originally home to a very old Roman Villa. The facility of multi media display is also available.
Ticket price of Museo Archeologico Romano – EUR 15 per person. This includes 30 minutes tour with a guide.
Timings of Museo Archeologico Romano –
11 April to 31 October – 9 a.m. to 8:30 p.m.
1 November to 10 April – 10 a.m. to 4 p.m.
16. Beaches of Positano – Known for its gorgeous beaches, Positano boasts of some of the best world class beaches. Soak in the Mediterranean sun, indulge in great food and drinks and do nothing but relax at the Positano beaches. Some of them are as below:
Spiaggia Grande – Popular with regular people and even celebrities, artists and even actors, Spiaggia Grande is one of the most beautiful and longest beaches in and around the Amalfi Coast. It is approximately 300 metres long.
Laurito Beach – This craggy beach is not very popular with tourists. It is a small beach which is frequented by the local people. Do check out Da Adolfo restaurant here.
Fornillo Beach – Located close to the Spiaggia Grande beach, the Fornillo beach is accessed from a picturesque coastal path which starts from the Spiaggia Grande beach. Ask around if you are unable to find the way. For those who love secluded and peaceful beaches, Fornillo Beach is the answer. Beach Chairs are cheaper here.
Arienzo Beach – Towards the East, you need to climb 300 steps to arrive at the Arienzo beach. The walk here is steep. You can arrive here via a shuttle boat from Positano as well. Though Arienzo is a small beach, most people love it because it allows longer time under the sun.
So, if sun bathing and tanning is your thing, head to Arienzo. You can choose between the beach club and free beach area, depending upon your budget and needs. You can get good sun in Arienzo as late as 6 p.m. unlike other beaches in Positano, where sun hides behind the mountains by afternoon.
Other beaches to visit in and around Positano Italy are Fiumicello, San Pietro, Remmese and La Porta.
17. Attend festival – If you can, the do time your visit to Positano Italy on 2nd July. This is when the Church of the Madonna delle Grazie is abuzz with religious festivities. This is one of the best time to be in Amalfi Coast as it offers a deep immersive experience of the local lifestyle.
15th August, which is also Independence Day of India, is celebrated with feasts and fun activities. The Landing of the Saracens is re enacted on this day. Watch out for another Italian festival called Ferragosto as well, as it falls around the same time.
18. Visit Nocelle: It is located on the pathway between Monti Lattari and Agerola. The main square of this tiny hamlet offers spectacular views of the Faragliono rocks and Capri Island. Located near Sentiero degli Dei, it is an offbeat place to visit in Positano and Amalfi Coast.
19. Go Hiking and Trekking – There are many hiking and trekking trails in and around Positano. Wear good shoes and carry water and snacks as you head out for hikes and walks.
20. Where to Eat Positano Italy
Positano is known to be the high-end town on Amalfi coast and the prices do run steep here. Having said that, it's not impossible to find a restaurant that is pocket friendly. Here are some of the best places to eat in Positano. The food is one of the top reason why you must visit Positano.
I would recommend the following restaurants where we spent a good deal of time.
La Zagara: This was one of my most favourite and go to places in Positano. From pistachio filled croissants to aphrodisiac chocolate chilli pastries (Yes, you read that right), this restaurant has it all. We especially loved the "Delizia Al Limone" which is a lemon dessert. Bonus point, the restaurant is close to the beach and it was only 2 mins away from our hotel. You will find vegetarian and vegan options here. This is why you should visit Positano Italy.
Bruno: This restaurant had some of the most stunning views of Positano. Tables parked along the sidewalk offering infinite view of the sea. The food here was expensive but good. I didn't appreciate the service much however the views made up for it.
Rada: You must dine al fresco in Rada as you enjoy your romantic date on the terrace of this charming restaurant. Perched on a cliff, you can soak in views of Positano and the sea from here. You must eat here when in Positano. Vegan and vegetarian options are available.
Collina bakery: They are very famous for their lemon sorbet, lip smacking pizza and Cannoli. If budget is a concern then you can save some money by opting for a take away and eating it by the beach or in your hotel.
Casa e Bottega: If you are watching your calories and is health conscious then Casa e Bottega is the perfect choice. Take your pick from their selection of healthy smoothies, assorted salads, fresh fruit juices, avocado toast etc. Casa e Bottega is a paradise for vegetarians and vegans as well.
Best Time to visit Positano
Without a doubt the best time to visit Positano would be summer however if being a part of a throng of tourists is not your cup of tea then I suggest you consider the non-touristy months. I visited the town in the month of September and the weather was just perfect, a little chilly at night however I could dip my legs in the sea without catching a cold. If you wish to go for a swim then chose the summer months for your tour.
Positano Weather
The weather of Positano is typically Mediterranean which means it is mostly mild throughout the year making Positano a pleasant year round destination. That surely makes it worth visiting anytime.
Winters – During winter, the minimum temperature hovers around 6 °C.
Summers – The days are long during summer. Expect sunny and warm weather.
How many days to spend in Positano?
I spent total 4 days in Positano. Infact, I loved it so much that I cancelled my stay in Rome by a day and added it to Positano. To do justice to this place, spend 4-5 days at least. Considering the fact that you will take time to reach this place, you will have to set aside half a day to shrug off the tiredness.
More so, if you wish to visit the Isle of Capri and see the famous Blue Grotto then that tour itself will take a day. You can also make day trips to many places. There are many Amalfi Coast Towns nearby.
What to see in Positano Italy in one day
One day trips can also be planned when you actually reach Positano Italy. However, the one day trip will not do justice to the beautiful views and places that Positano offers. So it is better to plan a longer vacation here. In one day, you will only be able to see some beaches and dine at few places.
Places to Stay in Positano
You will love the variety of Positano hotels. Positano has some of the most beautiful boutique hotels offering magnanimous views of the cliffs and the sea. If you are wondering where to stay Positano Italy, please see below suggestions:
La Tavolozza Residence – While choosing a hotel, we had a specific budget in mind and decided to go for a B&B named " La Tavolozza Residence" managed by 3 wonderful ladies. The owners gave us a warm welcome and the rooms gave a stunning view of the town. Another reason for choosing this hotel was its proximity to the port as we arrived by ferry. The Sita bus stop was also a 5 min walk from the hotel. Win win! Choose from the wide choice of Positano hotels!
Le Sirenuse Positano – One of the most popular stay options in Positano, the much celebrated Le Sirenuse Positano is located just 200 meters away from the gorgeous beaches of Italian coastline. All the rooms here have a privat balcony. What's more? It is also home to a Michelin star restaurant. Make sure you dine at the terrace which offers sweeping views of the Mediterranean sea. Spa, sauna, hammam are added bonus. Le Sirenuse Positano is only 40 kms away from the Amalfi coast. It is 16 kms away from Sorrento.
Villa Treville Positano – If you are looking for luxury, do stay at the Villa Treville Positano. You can enjoy the 5 star luxury by staying in of the tastefully done rooms of the Villa Treville Positano. Private beach and the luxurious Jacuzzi bath are cherry on the cake. Feel like a celebrity as you indulge in the world class amenities and treatment.
Free Wi-Fi is on the house as well. The suites and rooms of the Villa Treville Positano faces the Tyrrhenian Sea. It takes only 15 minutes of walk to arrive at Positano from the hotel. It is super expensive, but if you have deep pockets, then why not? Villa Treville Positano, after all is one of the most luxurious of Positano hotels.
How to Reach Positano
Being away from the hustle and bustle of major cities and giving you the much-needed break, Positano does not have an airport. You however need not worry as there are multiple other options to reach this beautiful town. You can travel from Rome to Amalfi Coast or better still Naples to Amalfi Coast.
The 2 most viable options are Sorrento and Salerno.
If you are coming from Salerno then you can either:
Take the Sita bus that runs frequently along the Amalfi coast. Note, the bus being the most economical option is always packed and one that may not warrant you a guaranteed seat.
There are private buses that run along the Amalfi coast too. Here you would be guaranteed a seat however the cost would be higher than that of the SITA bus.
Hire a private taxi and make you way to Positano
Opt for the ferry ride. Check the ferry timings in advance to avoid being stranded at the port for a long time. This is by far the fastest mode of transport and the views along the way are right out of a painting. The boat tours are very popular during the summer months. You can opt for private sunset cruise as well. It is more expensive of course.
If you are coming from Sorrento then:
If you are coming from Sorrento then chances are you are coming from Naples or Rome. In either case, take the circumvesuviana train to Sorrento. Upon reaching Sorrento, either hire a private taxi/ opt for Sita bus/ opt for a private bus.
What airport is near Positano Italy?
Napoli Capodichino airport or Naples International Airport (NAP) in Naples is the closest airport from both Amalfi coast and Positano.
Distances from Positano:
The distance between Sorrento to Positano is only 16.7 kilometers and it takes around 30 minutes to cover the distance via SS163.
The distance between Pompeii to Positano is only 35 kilometers and it takes around 1 hour to cover the distance via SS163 and SS145.
The distance between Naples to Positano is only 57 kilometers and it takes around 1 hours 10 minutes to cover the distance via SS145 and A3
The distance between Salerno to Positano is only 64 kilometers and it takes around 1 hours 19 minutes to cover the distance via SS145 and A3/E45.
The distance between Rome to Positano is only 273 kilometers and it takes around 3 hours and 24 minutes to cover the distance via E45. Train between Rome and Positano takes less time. For just 20-30 Euro a day, you can rent a car as well. The high speed train costs just Euro 15.
The distance between Vatican City to Positano is only 280 kilometers and it takes around 3 hours 35 minutes to cover the distance via E45.
The distance between Sicily to Positano is only 712 kilometers and it takes around 8 hours 30 minutes to cover the distance via E45.
The distance between Naples to Amalfi Coast is only 61 kilometers and it takes around 1 hour 10 minutes to cover the distance via A3.
The distance between Rome to Amalfi Coast is only 277 kilometers and it takes around 3 hours 25 minutes to cover the distance via E45.
Positano Italy on Backpacking Budget
There are several ways by which you can cut your cost of Positano trip. You can opt for cheaper options and save a lot of money without compromising on the typical Positano experience. Below are some tips and tricks for the backpacking budget trip to Positano Italy.
Is Positano Italy Expensive
Compared to other places in Italy, Positano and Amalfi Coast is 2-3 times more expensive, thanks to its grand views, instagrammable spots and celebrity culture. In fact, most of the beaches are privately owned and they charge you a fee for even taking pictures. The public beaches are always crowded, so it is better idea to come early morning for better photo opportunities, for Instagram, of course! Despite all this, Positano is worth a visit!
How expensive is Positano Italy?
Well, to give you an idea, below are some of the going rates in Positano Italy.
A cocktail can cost you upto Euro 3.50 to 7
A Full meal can cost upto Euro 15 Euros
Caprese Salad – 13 Euros
Mixed salad – Euro 6.50
Bruschetta – 8 Euros
Margherita Pizza – 13 Euros (It is 3-5 Euros elsewhere in Italy)
Pizza Marinara – Euro 13
You can save cost by just ordering a Big Pizza slice (Instead of whole) at some places.
Ferry from Sorrento to Positano – 14 Euro to 18 Euro
Bus from Sorrento to Positano – 2.50 Euro to 3 Euro (50 minutes)
Bear in mind that you are of course, paying for the location as well.
Where to stay in Positano Italy on a budget?
Hostels anyday are cheaper than luxury hotels.
Airbnb is also another option. You may also split cost if you are travelling with friends.
Also, accommodation is much cheaper in Sorrento. Hotels in Positano are two times more expensive than Sorrento. Sant' Agnello also has cheap stay options.
Budget Tips for Positano Italy
Rent a scooty/vespa/motorbike
Rent a car (car parking is a pain though)
Take buses
Stay in hostels
Walk. Walk. Walk. Positano is pedestrian friendly!
Stay in Airbnb and split costs
Stay a little far from Positano
Buy food from super stores
Pack ready to eat food packets from India.
Travel in off season
Is Positano Italy safe?
Positano is one of the safest places in Italy. You just need to take precautions which you would take in any other city or country. Though the roads are narrow here, but it is still a pleasure to drive on the coastal roads of Postinao Italy. Take care of your personal safety while driving. The paths are winding and if you are not comfortable driving here, then maybe not.
Last Word on Positano Italy – Conclusion
Positano Italy is surely one of the most offbeat places to see in the popular Amalfi Coast of Italy. A wide variety of Positano hotels offer you amazing stay options as well. Whether solo trip or customised private tours, Positano is perfect for all types of travellers.
I hope you found my guide of Positano village useful. This is one location that one can return to year after year and will stay in your heart forever.
Positano is a visually stunning beach town. The charming Mediterranean houses painted in hues of yellow, pink, white, blue etc blends seamlessly with the blue waters of the sea. The silver grey color of the beach compliments the greenish Monti Lattari mountains. It looks even more beautiful during the evening and night, when it is bathed in lights. Aren't these some great reasons why you should visit Positano Italy?
Author Bio
Positano Travel Guide by Jesal who blogs at Tourist to Travellers. I am a finance professional living in India with a traveler's heart. When I am not hustling in the finance field, you will see me planning a trip. I am a thorough budget planner and my blog is an attempt to help people plan their trips on a budget.
Top Travel Blogger from India