Last Updated on January 6, 2022 by asoulwindow
About Pelling
Pelling is a nice small town near Namchi in West Sikkim. Sang-Ngag Choling Monastery, Pelling skywalk, Singhshore Bridge, Rabdentse ruins, Uttarey village, treks, Ravang La, Tibetan colony are some of the major attractions and top places to see in and around Pelling.
There are many interesting things to do in Pelling with family and kids. Even solo backpackers like me will enjoy Pelling.
Here is all you wanted to know about Pelling Sikkim. All the frequently asked questions on Sikkim Pellling are answered here.
Altitude of Pelling Sikkim
The altitude of the small hill town of Pelling Sikkim is 7,200 feet or 2,150 meters. This is why the weather and temperatures in Pelling are always soothing and pleasant throughout the year.
Where is Pelling located?
Pelling is located just 10 kilometers away from Geyzing, which is also a district headquarter. Pelling is located near the major tourist attractions of West Sikkim such as Uttarey, Singshore bridge, Ravang La Buddha statue, the Tibetan settlements near Ravang La and Char Dham of Namchi.
Top things to do in Pelling
What do you do at Pelling? There are many activities you can do with friends, family and kids in and around Pelling Sikkim tourist places. The best things to do in Pelling include the following:
Walking on skywalk
Taking long leisurely walks
Exploring nearby destinations
Exploring rich history of Pelling
Soaking in the view of Himalayas
Attend a prayer at a Buddhist monastery
Why is Pellling famous?
Pelling in Sikkim is famous for the Pelling skywalk, which is also the first skywalk of India. Located near the massive statue of Chenrezig,the Pelling skywalk is popular with both kids and adults alike. What adds to the fame and popularity of skywalk in Pelling is the fact that you can see spectacular views of Mount Kangchenjunga from the Pelling skywalk on a clear day.
Places to see in Pelling Sikkim
What are some must visit places & things to do while visiting Pelling? Below are some popular and offbeat places to see in Pelling, which I visited. This complete guide will help you to plan your Pelling tour. Do not miss these major attractions of Pelling Sikkim.
Buddha Park Ravang La
While arriving at Pelling from the unique Namchi in Sikkim, we made a quick stop at the famous Buddha Park in Ravang La. The sprawling campus of the Buddha Park Ravangla also called as Tathagata Tsal impressed me with its 'simple grandeur'.
The tall Buddha statue, perched peacefully on a raised platform was surrounded by well-manicured gardens.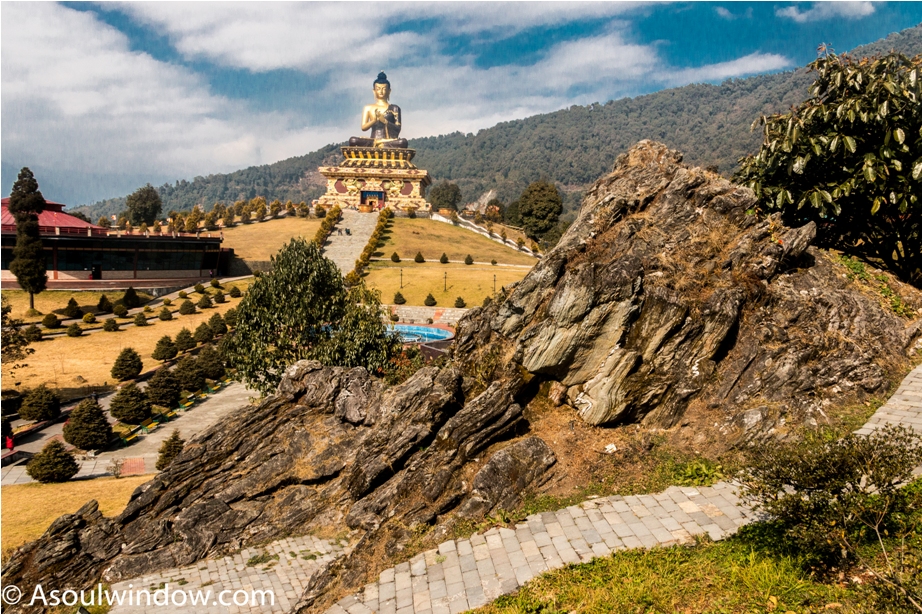 One needs to take several steps to arrive here. The pleasant weather, soft Buddhist mantras playing everywhere and disciplined visitors made my trip to Ravang La pleasurable.
I enjoyed relishing vegan momos and shakes near the entrance of the Buddha Park Ravang La. You can also visit some new additions right behind the café area. You will see many Buddhist stupas, prayer wheels greeting you. Not many people know about this place.
En route from Namchi to Ravang La, you can also visit a Tibet settlement, much like the Tibetan Colonies of Coorg, Bir Billing and Mcleod Ganj in Himachal Pradesh. I have visited many regions in Tibet during the epic Kailash Mansaovar Yatra, a Hindu pilgrimage, so it was interesting to see the unique Tibetan culture that flourishes in India.
Entry fee of Ravang La Buddha Park: Ravang La Buddha Park is a ticketed place. The entry fee to Ravang La Buddha Park is many times higher than other places of interest in India. Indians need to pay an admission fee of INR 50 to enter Ravang La Buddha Park aka Tathagata Tsal.
The maintenance and ticketing are handled by Mane Chokerling Development And Management Committee Rabong, South Sikkim.
Email Id to Contact Tathagata Tsal is tathagatatsalrabong@gmail.com
Rabdentse Ruins Site
Also known as the Machu Pichu of Sikkim, the Rabdentse Ruins Site is a unique historical monument. The ancient ruins, remains of a grand palace, pleasant weather and breathtaking views make it a very special offbeat place to visit in Sikkim.
I have written a detailed blog on Rabdentse Ruins Site. Do read it to understand the interesting history of Sikkim.
Pemayangtse Monastery: Top Place to see
Despite located in a peaceful location, the Pemayangtse Monastery was buzzing with the activity of Buddhist monks, both kids and adults. It is a must-see place. The impressive architecture of the grand Pemayangtse Monastery was in complete contrast with the austere Buddhist lifestyle we are familiar with.
You can spend time listening to the prayers inside the Pemayangtse Monastery or soak in the panoramic views of Pelling town from here. I enjoyed watching the activity of the child monks in the residential quarters for the monks. The child monks played around in a disciplined manner as the adult monks watched over with a somber face.
It is an important stop during Pelling sightseeing.
Pelling Skywalk
The Pelling Skywalk is the new addition to Sikkim. Skywalks are bridges with glass bottoms where tourists take a walk. Generally, skywalks are created in places which have scenic beauty. The glass floor of the skywalk bridge is always built on a sheer drop, generally over a valley or gushing river.
The Pelling skywalk is also situated on a picturesque location. The skywalk is one of the best things to do in Pelling with family and kids.
Also read: Skywalk of Rajgir in Bihar
Why Pelling Skywalk was a little scary
The skywalk in Pelling, though not very deep was still scary. It gave me the illusion that I was walking on air. At other times, I felt as if the glass will break and I will fall several feet immediately.
I thought it would be a cakewalk but even I my legs shook at certain places. The (shaky legs) stroll on the skywalk is still the best things to do in Pelling Sikkim. It is in fact fast growing as a preferred picnic spot amongst tourists and local people.
The other skywalk I walked on was on a Cruise from Dubai to Fort Kochi.
Sang-Ngag Choling Monastery
The moment I moved towards the Pelling Skywalk, huge prayer flags in multiple colors greeted me on a slightly uphill walk. I knew there must be a Buddhist religious place nearby. Turned out, the skywalk in Pelling is located adjacent to the Sang-Ngag Choling Monastery.
Much like other massive statues of Buddhist figures I saw across India, Sang-Ngag Choling Monastery houses a colossal statue of Chenrezig. I accessed the base of the 137 feet tall statue through multiple stairs.
Imitating the local people of Pelling, I also swirled the golden prayer wheels that are present on either side of the stairs. The views from the base of the statue were brilliant. I also saw a new perspective to the Pelling Skywalk as this vantage point allowed me a bird's eye view of the skywalk.
The other massive Buddha figure are located in Diskit in Ladakh, Tawang in Arunachal Pradesh, Spiti, Namchi and Ravang La in Sikkim, Bodhgaya, Hyderabad, Aurangabad, Amravathi, Sarnath, Rewalsar, and Kushinagar in Uttar Pradesh.
I saw a massive Buddha statue in Thimphu in Bhutan as well. I saw three massive Buddhist figures in Ravang La, Namchi and Pelling in Sikkim within a span of 11 days of road trip in Sikkim. Apart from Ravangla and Pelling, the statue of Padmasambhava I saw in Samdruptse in Namchi was equally impressive.
Pelling skywalk is the first skywalk of India. Other Skywalk in India include the skywalk in Rajgir in Bihar.
There is ample car parking space available outside the Sang-Ngag Choling Monastery and skywalk. Also visit some Buddhist buildings and stupas or chortens right behind the car parking area. There are no fancy restaurants outside the skywalk. I picked up some snacks and water bottles from small shops near the parking lot.
Views of Mount Kangchenjunga & Himalaya
Can we see Kanchenjunga from Pelling? On a clear day, mostly in winters, you can see awe inspiring views of Mount Kangchenjunga from the Pelling Skywalk.
Mount Kangchenjunga is the third highest mountain in the world at a height of 28,169 feet or 8,585 meters. The highest mountain is of course Mount Everest in Nepal.
Indians are lucky that they get to see such majestic views of some of the tallest mountains of the world so easily. Pelling sightseeing is full of such surprises that no one had told you about!
Soul Window Travel Tip
Try to catch the view of Mount Kangchenjunga and Himalayan peaks during sunrise and sun sets. I had seen an incredible view of a Himalayan Mountain bathed in the orange lights of a rising sun. I enjoyed this view right outside my hotel in lower Pelling.
While I have dropped all my false ambitions to climb Mount Everest, I did successfully complete the Everest Base Camp trek in the Khumbu region of Nepal. You can also get breathtaking views of Mount Kangchenjunga and other snow-clad Himalayan peaks from various places in Gangtok, the capital of Sikkim.
Lower Pelling
The lower Pelling area is full of hotels. For people with walking issues or any handicap, it is a good idea to stay in lower Pelling. I myself had stayed in lower Pelling. My hotel was no great shakes but I saw an amazing scene from her on the morning of the day when we were leaving. I was aimlessly walking on the streets of Lower Pelling on our last day here because all my co travelers were sleeping and I was restless.
Just then I saw commotion by local people near my hotel. I rushed to see the early morning sun rays enveloping the snow-clad mountains in a glorious sheet of gold. The golden sun rays made the mountains look ethereal. I had seen such views during the high altitude Roopkund trek in Uttarkhand. Unfortunately, I was out on a casual, 'say hello to the street dogs' kind of a walk, so I was not carrying a camera.
Middle Pelling
The Middle Pelling is also just a collection of shady and luxury hotels. Do not try to find some local lifestyle here as much of it is highly commercialized. All 3 of us are vegetarians, so we used to come here every evening in search of some vegan momos and chai in a dingy road side eatery with little light. Comforting!
You need to walk on a slight elevation as you move from Lower Pelling to Middle Pelling. Pelling sightseeing is incomplete without a walk here.
Upper Pelling
Upper Pelling is the most lively and vibrant of all. It was buzzing with souvenir shops, restaurants, medical shops, grocery shops etc. Some of the finest hotels and restaurants with best views of the valley are also present in Upper Pelling. We spent some time at a small restaurant followed by a visit to the local souvenir shops. It sold local items at very cheap prices.
We picked some souvenirs like Tea Set, key chains, show pieces and even super cheap local walnuts for family and friends back home. We later went on a walk. It can get very dark and cold here on most days. We found our comfort by joining a local man over a road side bonfire.
You can easily walk from Lower Pelling to Upper Pelling via Middle Pelling within few minutes on a slight elevation. The roads are dark in night, so we used mobile torch to navigate our way through this.
Pelling Bazaar: Shopping Guide
What are the things to buy in Pelling? The most vibrant area of Pelling is the Pelling Bazaar or the Pelling market. Located in upper Pelling, the Pelling market, though not as big as other cities, had fancy hotels, restaurants, souvenir shops, medical shops and grocery shops etc.
Do not expect a buzzing market place as you must have seen in other hill stations such as Manali, Shimla, Nainital etc. The Pelling bazaar is so small that you can count the number of shops located here. I and my friends explored Pelling market to try local vegetarian and vegan food and pick some souvenirs. It is a must see place in Sikkim Pelling.
Excursions from Pelling
It is not common knowledge that there are many points of attractions located near Pelling. These major tourist attractions around Pelling are a must visit. Most of these places of interests are located within a short drive from Pelling. There are also many unusual places to see in and around Sikkim Pelling that no one talks about.
I am spilling the beans in this information packed, detailed travel blog on Sikkim Pelling. Below are some of the best places to see in and around Pelling.
Singshore suspension bridge: Top Place to visit
While going to Uttaray village from Pelling, we stopped at the massive Singshore Suspension Bridge. Not many know that the colossal Singshore Suspension Bridge is the highest suspension bridge of India and second highest suspension bridge in all of Asia.
We were famished from all the Pelling Sightseeing since morning, so we stopped at a Nepalese restaurant who served us sumptuous Newari lunch and refreshing drinks for a throw away price. As we waited for the lunch, we decided to enjoy a walk on the largely empty suspension bridge. The views of the deep valleys and gorges had me in splits.
Uttarey village
Passing through the famous Singshore Bridge, the second tallest suspension bridge in Asia, we arrived at Uttarey. A quaint village in West Sikkim, Uttarey impressed me with its virgin beauty. Untouched by commercialization, the authentic lifestyle, fresh fruits, charming villages and offbeat places to see made me fall in love with Uttarey.
As our cab wheeled towards Uttarey from Pelling, we stopped at the Dentam point to enjoy the bird's eye views from here.
It was followed by a visit to the Titanic Park, a quirky building made in the shape of Titanic ship. Just nearby, we arrived at the ancient Buddhist monastery called Kagyu Gumpha and a mysterious Hindu temple called Yuma Temple. Then we visited the Uttarey market on the main road and picked some locally produced Gouda and Emmental cheese from Sikkim Dairy Product Pvt. Ltd., an Indo Swiss collaboration.
Other places to visit in Uttarey are the Hindu Durga Mandir, Tenzing Hillary Memorial Park, Tinjurey aka 3 hills, Ranidhunga, Barsey Rhododendron Sanctuary and Mainebass waterfall.
Uttarey is located near the international border between India and Nepal. We made a day trip to Uttarey from Pelling, both in West Sikkim. You can read my detailed blog on Uttarey if you want to know more about this offbeat destination in West Sikkim.
Yuksom
Yuksom is a complete destination in itself. But since it is so close to Pelling, you must visit Yuksom as a day trip from Pelling like we did. However, I would advise you to stay in Yuksom at least for 2-3 days. It is a charming place with very few people.
Top places to visit in Yuksom are historical places such as Coronation Throne of Norbugang, Dubdi Monastery trek, Hongri monastery, holy Kathok lake, Kathok monastery, Norbugang chorten, Tshamkhang retreat and Khecheopalri lake. The route to the famous high-altitude trek called Goecha La trek and Dzongri La trek also starts at Yuksom.
Khecheopalri lake
The holy Khecheopalri lake is located very close to Pelling and you can plan a day trip to both Khecheopalri lake and Yuksom. The locals believe that Khecheopalri lake is 3,500 years old. Also known as Kha-Chot-Palri, Khecheopalri lake is considered sacred by both Hindu and Buddhist people.
The main people who inhabit the serene Khecheopalri village are Lepchas who are the indigenous people of Nepal and Sikkim in India. I have written on Khecheopalri lake and Yuksom on my blog. Khecheopalri lake is just 31 kilometers away from Pelling.
Other places to visit in Sikkim
There is no dearth of places to see in Sikkim. Below are some of the best popular and offbeat places to see in Sikkim.
Aritar
Zuluk
Barsey
Lachen
Dzongu
Legship
Thangu
Geyzing
Singalila
Yangtey
Martam
Lingtham
Tashiding
Biksthang
Nathula Pass
Tsomgo Lake
Nathan Valley
Gurudongmar
Tso Lhamo Lake
Ralong and Borong
Ohkrey, Rinchenpong and Kaluk
Where to stay in Pelling
Pelling has hotels, lodges, luxury resorts, budget accommodation and hostels for all budgets. From a backpacking hotel to a luxury hotel, you can get any type of accommodation in Pelling. I stayed in a shady hotel in lower Pelling run by a Bengali man. It was not a nice experience so I will not recommend the place here.
Budget Accomodation in Pelling: Most of the budget hotels and lodges are located in lower Pelling, Middle Pelling and Upper Pelling. In fact, this area is packed with no sightseeing places but hotels of all kinds. You can book in advance or just walk in at any hotel.
The Elgin Mount Pandim, Pelling – If you are looking for a 5-star resort in Pelling, then you must try the luxurious The Elgin Mount Pandim, Pelling. In the evening, I, Jitaditya and Jacomijn dined at this luxury heritage hotel in Pelling spread across 8 acres. It was a beautiful property with a huge garden, surrounded by dense pine jungles and offered panoramic views of Pelling and Singalila range.
We spent the night huddling around an indoor bonfire over drinks and some delicious snacks, followed by a multi course dinner. This heritage luxury property was originally owned by the Royal Family of Sikkim.
Do stay here to experience old world charm in a fairy tale setting. It is one of the best luxury hotels in Pelling. Celebrities such as Indian Prime Minister Shri Narendra Modi, cricketer Sanjay Manjrekar, actor Rajat Kapoor, actresses like Aparna Sen, Sameera Reddy, Antara Mali and Rituparna Sengupta have stayed here.
Best time to visit Pelling
Pelling in West Sikkim has a good weather throughout the year. The best time to visit Pelling is, well, every time.
Winter: I visited Pelling in January. It was sunny in morning and afternoon and pleasant in evening and night. It was not very cold. We were able to feel warm by just wearing light jacket. The best time to visit Pelling are the months of September, October, November, December, January, February, March, April and May.
Summer: June is the hottest month in Pelling. But you can still travel to Pelling in June.
Monsoon: Expect heavy rains in July and August. You can still travel to Pelling but it will be inconvenient.
How many days to spend in Pelling?
How many days are required to visit Pelling? We had arrived in Pelling in the evening of Day 1. We had visited Rabdentse ruins while we headed to Pelling from Namchi in car. It was about to get dark when we left Rabdentse ruins.
We arrived after dark in lower Pelling. We checked into our hotel, walked up to the middle and upper Pelling market and spent the time dining and relaxing.
What can I do in 1 day in Pelling?
On next day we saw all the major tourist points of attractions of Pelling in the first few hours of morning itself. Then we headed to the quaint Uttarey village and spent the entire day there.
What can I do in 2 days in Pelling?
If you are short on time then 1 day is sufficient to spend in Pelling. However, I recommend spending at least 3 days in Pelling. You can try slow travel and enjoy more time in places such as Uttarey and other nearby places of interest.
Solo Trip Tips for Pelling
Pelling is not your everyday solo travel destination. Though it is easily accessible, sometime lack of public transport makes solo travel in Pelling a little difficult. However, it is still possible to visit Pelling Sikkim on a solo backpacking budget.
Luxury travel Tips for Pelling
I was surprised to see many world class luxury hotels in Pelling. Finding luxurious amenities in Pelling is not a hassle for the luxury travelers. Despite being a small town, Pelling boasts of all the modern frills you can think of.
Pelling – Budget Backpacking tips
You can plan a backpacking trip to Pelling too. Low-cost hotels, cheap food and traveling via public transport on a shoestring budget is a possibility in Sikkim.
What is the budget required to visit Pelling?
Well, you can't spend much in Pelling as the ticket cost for domestic tourists is very low. That makes Pelling a budget friendly place in Sikkim.
Which Tour Company to book for Pelling
I prefer booking a personal cab as public transport is not always easy to find in Sikkim and other states of North East India.
It also saves a lot of time. For example, we saw many places within a short span of 11 days, just because we were traveling on a private cab arranged by Sikkim Cab Rental Co. They have the advantage of local expertise and can help design and run a well-managed tour in Pelling and other places to visit across Sikkim. Their cars are spic and span and their drivers are capable of driving on hilly roads of Sikkim.
Is Pelling safe to visit?
Pelling in Sikkim is the safest place I have ever been to. Despite walking on dark roads with a female company I did not feel unsafe in Pelling. In fact, I have traveled extensively in Sikkim and found it one of the safest places to travel in entire India. Pelling is safe for solo travel for both males and females.
Language spoken in Pelling
Language spoken and understood in Pelling are Hindi, English, Gurung, Nepalese, Limbu, Newari, Sherpa, Mangar, Bhutia, Sunwar, Tamang, Lepcha and Rai. Since Pelling is located on the border of Nepal, it is natural for locals to understand and speak various languages of Nepal. However, you can easily travel in Pelling Sikkim with simple Hindi and English.
Vegan and Vegetarian Food in Pelling
It is very easy to find North Indian style Vegan and Vegetarian Food in Pelling. The Bengali run hotel we stayed at served nice vegetarian food such as the protein and carbohydrate rich daal-chawal and bhaji with salad.
You can also try delicious Tibetan food in Pelling Sikkim. The local and authentic Tibetan food include Tingmo, Nenthuk, Thukpa, barley Tsampa, butter tea etc. Khapsey is available during Losar.
The Tibet settlement near Ravang La offers great Tibetan food.
Vegan and vegetarian versions of these lip-smacking Tibetan dishes are available at most restaurants of Pelling.
Some restaurants also serve my favorite Ema Dhatshi from Bhutan and mouth-watering Newari Thali from Nepal.
Also try the local alcoholic drink of Sikkim known as Tongba. I had two large mugs of Tongba and wanted more! You can also find Ara, Chhhaang and Raksi, other local alcoholic beverages of Sikkim. I found Ara to be too strong for my taste.
Churpi– the hardest cheese of the world is also commonly sold in Sikkim. It is called as chauri gai in Nepal. Also known as Himalayan chewing gum, it helps people stay warm in places like Pelling Sikkim and Nepal. I saw people selling churpi in Bhutan as well.
Festivals of Pelling
You must attend the below mentioned festivals of Pelling Sikkim
Losar
Losar is the Tibetan New Year which is mostly celebrated in the month of February or March as per the Gregorian calendar. Losar is the first day of the lunisolar Tibetan calendar.
Losar is also celebrated with much fanfare in Buddhist places such as Tibet, Arunachal Pradesh, Spiti, Mc Leodganj, Dharamshala, Ladakh, Bhutan, Nepal and so on. Lhochhar, the Nepalese version of Losar is celebrated eight weeks before the Tibetan Losar.
Soul Window Facts
Did you know that Losar, which is largely seen as a Buddhist festival has its roots in the pre-Buddhist era in Tibet? The followers of Bon religion of Tibet practiced a winter incense-burning ritual in aeons ago. It was not until the rule of Pude Gungyal (317-398), the 9th Tibetan ruler, that the Bon custom was clubbed with the harvesting season and gave birth to the annual Losar festival.
In Hinduism as well, the harvest season is celebrated with festivities. The Hindu New Year also falls in the Gregorian month of March or April. The similarities between Buddhist and Hindu cultures are many!
Kanchenjunga Winter Tourism Festival
Kanchenjunga Winter Tourism Festival is a 5-day long festival which is celebrated annually in Pelling and other nearby tourist attractions such as Uttarey Village, the dreamy Yuksom, Rinchepong and Tashiding in West Sikkim. This festival takes place in the month of December.
Expect the below activities in Kanchenjunga Winter Tourism Festival:
Yoga
Music
Dances
Food stalls
Meditation
Flower show
Nature walks
Competitions
Bird watching
Sightseeing trips
Cultural programs
Local Craft exhibits
Kanchenjunga Winter Tourism Festival is run by district government officers, Pelling Tourism Development Association and local NGOs in collaboration with each other. The aim of the Kanchenjunga Winter Tourism Festival is to promote the sightseeing attractions of West Sikkim as a desirable tourist destination.
Adventure activities in Pelling
Adventure sports and adventure activities in Pelling which you can do during festival or even otherwise are listed as below:
Trekking
Kayaking
Paragliding
Rock-climbing
Mountain biking
White water rafting
Traditional local sports
ATM in Pelling
Pelling has very few ATMS. I advise you to withdraw money from Gangtok, the capital of Sikkim right at the beginning of the Sikkim trip. This will help you to spend in small shops on the way which do not accept digital payment.
What to wear in Pelling?
I visited Pelling in the second week of February and found the weather to be perfect. It was warm and sunny in afternoon and slightly cold during early morning and night. Light jackets and thermal wear served me well in Pelling.
Photography Tips for Pelling Sikkim
The golden hour during sun-rise and sun set is the best time to take pictures of the snow peaks of the majestic Himalayas.
There are some stunning locations for photo shoots at the Pelling skywalk and the tall Singshore bridge as well. Thank me later!
Toilet facility in Pelling Sikkim
There are not many public toilets in Pelling Sikkim. You may use the toilet of a random restaurant if you buy something there. The toilets of restaurants are generally very clean and well maintained.
How to reach Pelling
Pelling makes for an easy and quick weekend destination from Gangtok, the capital of Sikkim.
How do I get to Pelling? It is fairly easy to reach Pelling. We arrived Pelling from Namchi in Sikkim and after the Pelling tour, we left to Gangtok after a day trip to Yuksom. You can plan Pelling trip from many other destinations in Sikkim. The below distance chart will help you plan your Sikkim itinerary with ease.
You can also read my blog on Sikkim itinerary which has a detailed description of the route I took for 11 days long road trip in Sikkim. It was a journey of a lifetime.
Namchi To Pelling route
Recently, I visited Pelling from Namchi, both of which are located in West Sikkim in Eastern India. It was an 11 day long epic road trip across Sikkim with my travel blogger friends, Jitaditya from Assam and Jacomijn from Netherlands in Europe. It was a trip to remember. We saw the best of Sikkim within a span of few days.
The entire state of Sikkim is an offbeat destination in itself. Places like Namchi and Pelling are popular and yet not as visited as other famous destinations of India such as Nubra valley in Ladakh, Lonavala in Maharashtra or Manali in Himachal Pradesh.
After Pelling, I moved to the lovely town called Yuksom known for its Dubdi Monastery. I have written a complete guide on Yuksom. Visiting Yuksom helped me understand the history of Chogyals of Sikkim and how Sikkim was integrated in to India. Do read my blog on the History of Chogyals as well.
My blog A Soul Window is an award-winning travel blog and has also been ranked as No. 1 travel blog of India. A Soul Window keeps getting mentioned as top Indian travel blog of India every now and then.
Distances from Pelling Sikkim to other places
Below are the distances of Pelling from other places to see in Sikkim in ascending order. This distance chart will help you plan a customized Sikkim itinerary. If you want to have a relaxed holiday, then Sikkim Cab Rental Co. will help you plan a memorable road trip across Sikkim.
Distance between Khecheopalri lake and Pelling is 31 kilometers and takes 1 hour, 15 minutes via Pelling Rimbi road.
Distance between Singshore Bridge and Pelling is 32 kilometers and takes 1 hour, 25 minutes via Pelling Dentam road.
Distance between Uttarey and Pelling is 35 kilometers and takes 1 hour, 40 minutes via Pelling Dentam road.
Distance between Yuksom and Pelling is 40 kilometers and takes 1 hour, 45 minutes via Pelling Rimbi road.
Distance between Kaluk and Pelling is 40 kilometers and takes 1 hour, 35 minutes via Pelling Dentam road.
Distance between Ravang La and Pelling is 48 kilometers and takes 1 hour, 50 minutes via NH510.
Distance between Namchi and Pelling is 68 kilometers and takes 2 hours, 20 minutes via Namchi Nayabazaar road and Nayabazar Legship Reshi road
Distance between Gangtok and Pelling is 129 kilometers and takes 4 hours, 10 minutes via NH10.
Distance between Yuksom and Gangtok is 161 kilometers and takes 5 hours, 22 minutes via NH10.
Distance between Lachung and Pelling is 201 kilometers and takes 7 hours, 10 minutes via Gangtok-Chungthang road.
Distance between Lachen and Pelling is 206 kilometers and takes 7 hours, 21 minutes via Gangtok-Chungthang road.
Distance between Yumthang valley and Pelling is 226 kilometers and takes 8 hours via Gangtok-Chungthang road.
Distance between Gurudongmar lake and Pelling is 272 kilometers and takes 9 hours, 45 minutes via Gurudongmar road.
Distance of Pelling from places in West Bengal
Distance between Darjeeling in West Bengal and Pelling is 72 kilometers and takes 2 hours, 44 minutes via Nayabazaar Legship Reshi road and Darjeeling Jorethang Road.
Distance between New Jalpaiguri in West Bengal and Pelling is 134 kilometers and takes 4 hours, 20 minutes via NH10.
Distance between Siliguri in West Bengal and Pelling is 130 kilometers and takes 4 hours, 10 minutes via NH10.
Distance between Bagdogra in West Bengal and Pelling is 140 kilometers and takes 4 hours, 29 minutes via NH10.
Local Transport for sightseeing in Pelling
I didn't notice many rickshaws or tuk tuks in Pelling Sikkim. You may hire a cab to see tourist places in Pelling. Many local operators also run many sightseeing tour in Pelling Sikkim.
Which is better Pelling or Lachung?
I have visited both Pelling and Lachung and I can vouch that both the destinations are worth a visit. It is injustice to call Pelling better than Lachung and vice the versa.
While you can explore the history of Sikkim in Pelling, Lachung, Lachen and Yumthang valley offers breathtaking views at every step. Ideally, you should visit Pelling, Lachung, Lachen as well as Yumthang Valley.
Conclusion: Why visit Pelling Sikkim?
Is Pelling worth visiting? The Pelling skywalk, which is the first skywalk of India is helping Pelling gain popularity as a destination in West Sikkim. Whether you choose to stay in lower Pelling, middle Pelling, upper Pelling or a hill top luxury resort, the choice of accommodation will spoil you.
When in Sikkim Pelling is a must visit place. An easy weekend getaway from Gangtok, Pelling is a must-see place in West Sikkim.
Thanks to the proximity, you can easily combine your Pelling trip with Ravangla, Singshore Bridge, Uttarey, Yuksom, Khecheopalri lake, Namchi, Gangtok and other places to visit in Sikkim and West Bengal.
Though Ravangla, Pelling Skywalk and the Singshore Bridge are the most famous places near Pelling, I was stunned to discover plethora of activities and places to see in Pelling. Must do Pelling activities like trekking, bird watching, eco-tourism, waterfall hikes etc make it one of the best places to visit in West Sikkim.
Do visit the unexplored hidden gems of Pelling if you want to stay away from the crowds! The lesser-known places around Pelling are absent from the traditional travel guide books, written in an old school format.
This is the most comprehensive travel guide on Pelling Sikkim. Do share it with your friend and family.
The view from my Soul Window is serene!
Pin this blog to save the blog and plan a trip later!
Related Blogs
Blogs on Sikkim
Below are my comprehensive travel blogs on exciting tourist places in Sikkim. I have written on these places based on my personal travel experience.
Gangtok Guide
Lachung Guide
Lachen Guide
Pelling Guide
Pelling Skywalk Guide
Yumthang Valley Guide
Char Dham of Namchi Guide
Rabdentse Ruins Guide
Brief history of Chogyals
Sikkim Itinerary
Goecha La Trek Guide
Blogs on Buddhist Destinations
Following are the most unique Buddhist places to see. I have travelled to the said destinations and documented my experiences on my travel blog A Soul Window – rated as best Indian travel blog.
Piparahwa Stupa travel guide
Kushinagar travel guide
Shravasti travel guide
Lumbini travel guide
Vaishali travel guide
Rajgir travel guide
Bodhgaya travel
Lamayuru Monastery travel guide
Mulbekh Monastery travel guide
Sanchi Stupa travel guide
Dambulla Caves travel guide
Mechuka travel guide
Chiu Gompa of Tibet travel guide
Top Travel Blogger from India