Last Updated on April 8, 2022 by asoulwindow
BHIMASHANKAR TEMPLE TREK – JYOTIRLINGA DARSHAN
About Bhimashankar Temple
Bhimashankar Temple is one of the 12 Jyotirlingas located across India, making it a prominent pilgrimage site for Hindus. Famous for its Swayambhu Lingam (Self emerged linga), one can't ignore the awe inspiring scenes from ancient scriptures carved in the pillars and door of the Hindu temple. Apart from 12 Jyotirlingas, Shiv Bhagwan has 64 forms. Many people also trek to Bhimashankar like we did. Keep reading for a complete guide to Bhimashankar trek in monsoon, based on a personal experience.
The Bhimashankar Shivling is much revered. Do pay your respects to the sacred Bhimashankar Shivling. Millions of bhakts and devotees have been visiting the Bhimashankar Jyotirlinga temple since times immemorial. Trimbakeshwar in Nashik and Grishneshwar are the other two Jyotirlinga shrines located in Maharashtra.
The other Jyotirlingas are as below:
South India – Rameswaram in Tamil Nadu, Mallikarjuna at Srisailam in Andhra Pradesh.
West India – Bhimashankar, Trimbakeshwar in Nashik and Grishneshwar, both in Maharashtra, Nageshwara Jyotirlings at Dwarka in Gujarat, Somnath in Gujarat
North India- Kedarnath in Himalayas of Uttarakhand, Omkareshwar in Madhya Pradesh, Mahakaleswar at Ujjain in Madhya Pradesh, Viswanath at Varanasi in Uttar Pradesh.
Bhimashankar History
How old is Bhimashankar temple? The ancient Bhimashankar temple was constructed in 13th century C.E. by Vishwakarma sculptors. There had been many additions to the temple over the years. Nana Phadnavis, a well known Maratha statesman and influential minister, added the shikhara or the spires in 18th century.
Even Chhatrapati Shivaji Maharaj, the most celebrated Maratha ruler has visited Bhimashankar Temple and offered his prayers. A dedicated shrine for Lord Shaneeshwara is also located within the temple premises. You must pay a visit to both, especially the Bhimashankar Jyotirlinga. It is the best place to visit in Bhimashankar.
Bhimashankar Architectural Style
The Bhimashankar temple was built around the Swayambhu Linga or the Shivlinga that self emerged from the ground. This holy Linga is located right in the middle of the sanctum of temple. Lingam is the main image here which represents the stambh or pillar with no beginning and end. Therefore, it is a symbol of the infinite nature of Shankar Bhagwan. Outside the main shrine, you can see an idol of Nandi Bull, the vahana or mount of Shiv Bhagwan.
The fact that this spiritual abode is built in a picturesque location, adds to its appeal. The temple reflects different architectural designs because it has been altered several times over the centuries. Built in the Nagara architectural style, its shikhara was built by Nana Phadnavis.
You can notice exquisite carvings of Hindu deities, human beings, celestial being etc on the pillars of temple and the door of the shrine.
Mahashivratri at Bhimashankar – Festivals
Owing to the influx of people, especially during the Mahashivratri, the area around the Bhimashankar temple is bustling with lodges, hotels, restaurants, shops and dharamshalas, parking lot and even a bus stand. It is the top things to do in Bhimashankar.
Pilgrims visit Bhimashankar in large groups during the Shravan month, more so on Mondays. Also watch out for Poornima festival.
Legends and stories of Bhimashankar
There have been various accounts of legends associated with Bhimashankar Mandir. Below are the main legends:
Legend 1
As per Hindu beliefs, Bhima and his mother Karkati used to live in the Dakini jungles of Bhimashankar. Bhima was Kumbhakarna's son, who was the brother of Demon King Ravan from the Hindu epic Ramayana. Enraged after learning that Kumbhakarna was killed by Vishnu ji in the form of Shri Ram, Bhima decided to take revenge. He started performing penance to impress Brahma ji.
Pleased with his devotion, Brahma ji granted him with enormous strength. But Bhima used this advantage to harass the people and bring them trouble. He locked up Kamrupeshwar, a passionate devotee of Shankar ji and pressurized him to worship Bhim (himself) instead. Such was the devotion of Kamrupeshwar to Shankar ji that he refused these demands by Bhim.
Furious, Bhima tried to demolish the Shivalinga with his sword. In no time, Shiv ji appeared and killed Bhima, turning him to ashes. It is believed by Hindus that the Bhimashankar Jyotirlinga is located at the same spot where Shankar Bhagwan manifested himself. Isn't this story interesting? Let's have a look at another legend below.
Legend 2
According to the ancient Hindu scripture, Shiv Mahapuran, Vishnu ji, the Hindu deity of protection and Brahma ji, the Hindu God of creation had an altercation about the creation of the world. Bhagwan Shiv pierced the 3 lok or worlds, viz. Earth or bhu lok, world of Gods and underground world or patal lok as a Jyotirlinga, the infinite light pillar. Vishnu ji and Brahma ji were given the task to ascertain that which direction the light ends. While Vishnu ji searched in downward direction, Brahma ji searched in upward direction.
While Vishnu ji accepted to lose, Brahma ji said a lie that he finally managed to discover where the light ends. Unhappy with his lie, Shiv ji appeared as 2nd light pillar and cursed Brahma ji that he will never be worshipped or included in religious ceremonies.
Pleased with honesty of Vishnu ji, Shankar ji granted him with a blessing that he would be worshipped by people till eternity. All the 12 Jyotirlinga sites are thus the spots where Shankar ji manifested as a blazing column of light. Hindu devotees believe that Shankar ji partly appears from Jyotirlinga, a supreme partless reality.
Legend 3
As per the other legends, Tripurasura, a demon did penance in the deep forests of Bhimashankar in order to impress Shiv Bhagwan. He wanted to be immortal. Pleased with the dedication and devotion of Tripurasura, Shankar ji agreed to give him the gift of immortality on the condition that he will exercise his power to help the needy people who are in trouble.
Tripurasura though agreed with this condition but eventually he broke his vow and started giving trouble to both humans as well as Gods. The Gods requested Bholenath to end this cycle of trouble, Shankar ji then prayed to his wife Parvati ji. Both Shiv ji and Parvati ji took the form of Ardhanari Nateshwara and killed the evil demon Tripurasura.
Bhimashankar Trek – Complete Guide
Bhimashankar trek is the most beautiful trek in the Western Ghats. The trek passes through dense deciduous forest. Bhimashankar Wildlife sanctuary established in 1984 is spread over 131 square kilometers. One must keep the eyes peeled for spotting a Giant Malabar Squirrel or Shekru along with tiny crabs, deers, rare birds etc.
Throughout the trek, one comes across few shops where trekker can sample authentic local food like Jhunka Bhakhri and Kande Pohe along with tea. The locals have set up these makeshift stops. It is the next best things to do in Bhimashankar after Jyotirling darshan.
Monsoon is the best time to trek here owing to perfect weather and beautiful views. The valley in monsoon is verdant and blanketed by a thick mist, lending it an aura.
The trek culminates at the ancient Bhimashankar Temple. Being one of the 12 jyotirlingas located across India, it holds great importance for pilgrims. The melt in mouth kandi peda available at the temple is not to be missed. Those who do not want to trek can easily reach Bhimashankar Temple via Government run buses or private vehicle.
Bhimashankar is one of the most popular treks in Maharashtra. Every monsoon, trekkers flock to the Sahyadris in Maharashtra to enjoy the bounty of nature. Though trekking in Maharashtra is great in all seasons, monsoon is the most delightful time. The western ghats come alive with rain powered greenery, mist and pleasant weather.
Time taken for Bhimashankar trek
A medium level trek, it takes 5 hours to reach the Bhimashankar temple from the base village Kathewadi. Ganesh Ghat and Shidi Ghat are the two routes for trekking. Ganesh Ghat is easier and less tricky than Shidi Ghat. From either ways, it remains one of the most beautiful trek in the Western Ghats.
Base Village Kathewadi
As we reached Karjat from Mumbai's local train, we headed straight away to Kathewadi, the base village of Bhimashankar Trek. Even before we started to ascend, the simple yet beautiful Kathewadi usurped all our attention. We decided to spend some time here before beginning the trek. The fields were nearly empty when we reached.
Translucent yellow colored crabs scampered around as we sat next to the small water stream. Few local villagers, toting umbrellas, went about their work. Bright colored spiders kept themselves busy expanding their webs. Flowers of multiple hues and fruits filled the trees. In the far distance, the mountains enveloped in mist, loomed large. The view of the mighty mountain from the plains of Kathewadi gave us a perspective of what lies ahead. We realized, in few hours, we would be on top of these mountains.
Stop at Ganesh Mandir
After having our fill of the lemonade sold in the lone hut in vicinity, we started our march to the trekking trail. As soon as we started to ascend, a herd of goats welcomed us on the rough rocky patch. Half an hour later, we arrived at a Ganesh Temple which offered shelter. Some trekkers seeked blessing for a successful trek. 10 minutes later, we arrived at a flat surface. Exhausted, the group decided to take rest on the rocks. The rocks faced the valley and offered us breath taking views of the plains and mist laden mountains in the distance.
Eat Jhunka Bhakari near waterfall
After the brief rest, we reached a small waterfall after 10 minutes. We used the opportunity to wash our sweaty faces and of course for photo ops. Just 5 minutes away, we took another break. We didn't need this break for rest. What made us stop was the irresistible aroma of food which escaped a hut.
A local woman was making Jhunka Bhakri on the clay oven fuelled by wood fire. A hanging lantern indicated that she lived in the middle of the forest without any neighbours to speak of. Jhunkha Bhakri is the staple food of rural Maharashtra.
Bhakri is a round, flat unleavened bread made often with rice flour, bajra (pearl millet), jowar (Sorghum), wheat or other flours. It is thick and typically harder than the usual roti. Jhunka is a thick gram flour based curry.
High in protein and carbohydrates, Jhunka Bhakri was a perfect meal to power our trek. We settled ourselves on the wooden logs and shared the Jhunka Bhakri which was served with onion and chillies. The smell of burning wood and pleasant weather made it taste even better.
Views at Bhimashankar Trek
Energized, we started the Bhimashankartrek again. More crabs awaited us as we negotiated the water filled patches on the trekking trail a little ahead. What followed 20 minutes later stopped us in our tracks. A series of 7 waterfalls, located next to each other on a large mountain made our best moment on the trek.
This spot is one of the main reasons why people choose Bhimashankar trek. We stood there mesmerized and watched the spectacle agape mouthed.
We came across many small water streams as we trekked on wet patches again. By now the forest had become denser. The bird calls had become more concentrated. The rocks were now covered in green moss. So were the branches of the trees. Some trees were so tall, we had to crane our neck to admire their beauty.
Snails leisurely moved around the tiny red mushrooms. The small termite homes made their presence felt, thanks to the unique design. Water droplets dropped lyrically from the translucent new leaves. This patch of Bhimashankar trek slowed us down. We often stopped to admire the nature's bounty, even bending down to observe small plants, mushrooms and insects.
Pass through Bhimashankar Wildlife sanctuary
We tried hard to spot shekru (Giant Malabar Squirrel) and birds in the dense forest but failed. Bhimashankar Wildlife sanctuary spread over 131 square kilometers is rich in flora and fauna. Established in 1984 with intent to protect the habitat of the Giant Malabar Squirrel, the deciduous forest is home to 9 tribal villages.
Rare and common wild animals such as mongoose, monkeys, leopards, Sangai deer, bhekar (Indian Munjtac or Barking Deer), sambar, randukkar (wild boar), Ud manjar (Indian palm civet), porcupine, wild hare etc are found here. Trees like Karambu (clove tree), oba, jambul are commonly found in this region.
What to eat – Kanda Poha Break
After burning calories, we were hungry again. Luckily, we came across another hut occupied by only one man and his pet dog. He didn't live here but operates the small shop to serve food for the trekkers. We savoured the kanda poha with tea and it drizzled lightly. He told us that before sunset he would pack and leave for his home along with the pet dog, lest the leopard drags the dog away.
Routes of Bhimashankar – Ganesh Ghat and Shidi Ghat
We moved on and braved the most difficult patch of the trek. There are two routes to trek on the Bhimashankar trail. Ganesh Ghat and Shidi Ghat. Shidi Ghat is slightly more tricky and difficult. We chose the Ganesh Ghat route. It's relatively easier yet demands caution and energy. Steep pathway on this patch had us huffing and panting.
Going forward, we had to skillfully cross a narrow path. It was close to a sheer drop in the valley. The rain had made the rock slippery so we had to maneuver our way skillfully and with great caution. We crossed the path one person at a time. As we reached the other side, we were rewarded with beautiful views of the villages below. The green vistas complemented the tiny rural houses.
Arrive at Bhimashankar Temple
Around one hour more of trekking through dense forest, we arrived at a wide clearing. Suddenly the forest disappeared and we found ourselves in the midst of a vast green field shrouded in thick mist. Cows grazed along the large pond while dogs came running to us looking for food. We knew civilization is around the corner.
Just 5 minutes later, we were thrilled to see the Bhimashankar temple complex bustling with activity. Tourists, trekkers, devotees, shopkeepers and locals filled the streets and seamlessly blended with each other.
Pay respects at Bhimashankar Temple- 12 jyotirlingas
We headed to the ancient Bhimashankar Temple. We arrived late evening here. The light was fading and we were surrounded by dense fog. It was also slightly cold when we reached.
What to eat at Bhimashankar Temple area
We stayed overnight after buying bags of kandi peda, a local sweet offered at the temple as prasad. The melt in mouth peda is sinfully delicious. We packed some for home the next day before catching the bus for Pune. From Pune we traveled to Mumbai via train. It was a perfect weekend destination from Mumbai.
Best Time To Go To Bhimashankar Mandir Trek.
Winter– Though Bhimashankar is a year round destination, but the winter months of October, November, December, January and February are the best time to do the Bhimashankar trek as the weather is very pleasant in these months.
Monsoon– Monsoon months are the best time to trek through the verdant hills of Bhimashankar forests. Another benefit of trekking during monsoon is that we saw many waterfalls and the weather was really pleasant. Monsoon months in Maharashtra are from June, July, August and September. Beware of heavy rains though, we were lucky that it didn't rain much!
Bhimashankar Trek In August – I trekked to Bhimashankar in August which was the perfect time. We enjoyed trekking on a clear sunny day mostly with a slight drizzle and dense mist at the top near Bhimashankar Mandir. This is why, I realized, it is the most beautiful trek in the Western Ghats.
Summer– Summer is also a good time, but you will get dehydrated easily. Also it is very sunny and hot during summer in Maharashtra. Summer months in Maharashtra are March, April and May. This is also the time when Bhimashankar forests do not look very beautiful. Expect dry brown landscape as compared to the lush green scenes during monsoon and winter months.
Bhimashakar weather- Built at 3,250 feet of height, the temple is enveloped in mist during monsoon.
What to carry to Bhimashankar trek
Healthy desi snacks like peanuts chikki, dates (khajoor), roasted peanuts, roasted chana, Maharashtrian vegan food such as thali peeth, pooran poli, Gujarati vegetarian food such as thepla, assorted khakhra, assorted chakli, bhakarwadi, assorted farsaan etc.
Raincoat
Plastic bags
First aid kit
Mosquito repellents
Torch (Just in case it gets dark)
Sunscreen
2 liter water per person
Rain protection for camera
Fully charged camera and empty SD cards (16 GB to 32GB are ok if you take videos as well)
Flip flops, slippers or chappal
What to wear for Bhimashankar Trek
Sturdy shoes
Loose cotton shirts
Loose cotton lowers or track pants
Carry an extra set of clothes for next day.
Places to visit near Bhimashankar Mandir
Gupt Bhimashankar – This spiritual place is accessed by a walk in the jungle through breath-taking views, especially in monsoon
Naagfani Point – Also known as serpent hood, expect great views of sundown from here.
Kondhawal waterfall – It is a colossal waterfall. Do not miss it if you have time.
Bhakadevi – It is a large water body enveloped by lush green mountains. It is one of the best things to do in Bhimashankar.
Nashik
Pune
Shirdi
Mumbai and Navi Mumbai
Bhimashankar Trek Difficulty level
It was a moderate trek. I did huff and puff like many but I managed easily as I was young. Some men in their 50s were having a hard time trekking. So do trust your fitness level before deciding to go on Bhimashankar trek. It is also not technically difficult trek. It is just a walk in forest with very few steep paths and just one slightly risky patch. Watch out for slippery rocks when trekking in monsoon.
Shopping venues near Bhimashankar District
There are many shops which line the streets outside Bhimashakar temple from where you can pick assorted items. From Pooja samagri (Things required for rituals and prayers), to toys for kids and from delicious local specialty Kandi Peda to daily use items, you can buy a lot in and around Bhimashankar temple. Do buy some of these and support local economy.
However, do not expect any shop throughout the trek except some makeshift places to eat, run by local people. Bhimshankar trip is incomplete without local flavor.
Locals Go Here
The local people of Maharashtra come in large number to Bhimashankar Mandir on daily basis. Most of the pilgrims you will see at Bhimashankar district are the local people of Maharashtra as it is very close to Mumbai, Navi Mumbai and Pune.
How many steps to Bhimashankar Temple
There were around 230 broadly made stairs or steps which we walked on to reach Bhimashankar Mandir. You will see many makeshift stalls selling food, snacks and pooja samagri on either side of the steps. It is a very easy ascend and descend. We walked on the steps when it was heavy mist here. It is easy to go on Bhimashankar tour.
Internal Transportation
You do not need any internal transportation in and around the Bhimashankar temple as it is a relatively small place. Most of the points of interest are located at walking distance from each other. That said, Auto Rickshaws and buses are available right outside the Bhimashankar Mandir premises, in case you fancy going to places to visit near Bhimashankar. This will help you in planning Bhimashankar trip.
Bhimashankar Wildlife Sanctuary
Bhimashankar Wildlife Sanctuary is famous for the much revered Bhimashankar Jyotirlinga, voluptuous waterfalls, lush green rolling hills, dense jungles, vivid flora/fauna and ample trek opportunities. One of the best wildlife sanctuary near Mumbai, it is home to some interesting animals such as leopards, Giant Flying Squirrel etc. Bird watching enthusiasts can also spot many rare and common birds in Bhimashankar Wildlife Sanctuary.
While pilgrims are interested in Bhimashankar Mandir, the trekking enthusiasts love the incredible views Bhimashankar Wildlife Sanctuary offers. It is one of the most popular things to do in Bhimashankar.
Bhimashankar Forest
The Bhimashankar Forest consists of a mix of evergreen forests, semi- evergreen as well as deciduous forests. Bhimashankar is also known since it is the source of the Bhima river which merges with Krishna river near Raichur.
Thanks to the various tributaries (Ghod, Bhima etc) of the Krishna river and Ulhas river that flows in this region, there is a constant water supply in the Bhimashankar Wildlife Sanctuary. I visited in August and did witness a glimpse of the heavy rainfall that this region receives during the monsoon months, mostly from June to August.
In summer however, lack of water is not uncommon in Bhimashankar forests. It is one of the best places to visit near Bhimashankar temple.
What is Bhimashankar Wildlife Sanctuary famous for
Well, below are some of the major reasons why Bhimashankar Wildlife Sanctuary is so famous not only in Maharashtra but across India:
Bhimashankar temple
Much before Bhimashankar district became a cool trekking route for urban youngsters, Bhimashankar temple was still visited by millions from across India. The much revered Shri Bhimashankar Jyotirlinga is very sacred to Hindu people from across the world.
This is the number one reason why Bhimashankar temple is so famous. It is one of the 12 important Jyotirlingas of the world, thus making it a very important Hindu pilgrimage destination of India. Shiva Bhagwan Bhakts come here every day in large numbers. Bhimashankar Shivling is one of the most worshipped Shivlings of the world.
Malabar Giant Squirrel or Shekru
Also known as the flying Giant Squirrel or the Indian Giant Squirrel, the Malabar Giant Squirrel calls dense jungles of Bhimashankar as its home. I heard their voice while I was on a Cobra trail in Agumbe in the South Indian state of India Karnataka, which incidentally also is home to western ghats. No wonder, the Malabar Giant Squirrel is Maharashtra's state animal as well. The Indo Malayan Squirrel is an endangered species. It is called as Shekru by locals of Maharashtra.
This herbivorous animal feeds mainly on flowers, nuts, fruits, tree bark etc. Some exception has been noticed as some squirrels are seen eating small eggs of birds and insects as well. Indian Giant Squirrel is arboreal and diurnal.
Thanks to the conservation efforts made by the alert authorities at the Bhimashankar Wildlife Sanctuary, the Malabar Giant Squirrel has a safe and protected haven here. Its scientific name is Ratufa indica.
Bhimashankar Trek in Monsoon
The Sahyadris in Maharashtra come alive in monsoon. Bhimashankar Trek is one of the best treks to do in Maharashtra and it offers many chances to sample delicious local food.
Bhimashankar Trek is one of the best trails to enjoy monsoon in Sahyadris. The trek in monsoon offers breathtaking views of the village, valleys and waterfalls. The best part of the trek is the mountain face with 7 waterfalls. One must also be alert to spot small insects, mushrooms, the works! It is a good time to get a darshan of Shri Bhimashankar Jyotirlinga.
Birdwatching in Important Bird Area
The thick forests of Bhimashakar are paradise for birdwatchers. Declared an Important Bird Area or IBA by Bird Life International, many species which are endangered globally, including the critically threatened species of birds are found here.
It is also home to restricted range bird species, many vulnerable species and near endangered species of avian life. Do carry a binocular and telephoto lens if you are interested in birdwatching and bird photography. Also carry protection from rain if you are trekking in monsoon. It is one of the best things to do in Bhimashankar.
Trekking
As already discussed above in detail, the Bhimashankar forests are famous for its beautiful treks.
Biodiversity
The entire Western ghats that spans many states of India is known for its rich biodiversity. Teeming with a great variety of flora and fauna, Bhimashankar wildlife sanctuary is a magnet for botanists and wildlife enthusiasts. Keep your eyes peeled for you might spot an exotic insect, bird, mammal or even a mushroom as you trek deep in the jungle. This is why it is one of the best wildlife sanctuary near Mumbai.
Western Ghats
The beautiful western ghats is a destination in itself. This is also why Bhimashankar wildlife sanctuary is famous. It is one of the good places for trekking near Pune or in Maharashtra.
Sahyadri Range
One of my most favourite mountain ranges is the beautiful Sahyadri Ranges of Maharashtra. I did many treks such as night trek to Harihar fort, Rajmachi Trek, Naneghat Trek, Lohagarh Fort, Dhak Bahiri trek, Raigad Fort etc in Maharashtra which made me fall in love with the rugged and wild character of Sahyadri Ranges.
Many of these mountains also have ancient forts built on hill top and conquered by Chhatrapati Shivaji Maharaj, the biggest hero of Maharashtra. It is always so thrilling to trek in the Sahyadri Mountain Ranges. There are many treks near Nasik, Pune, Mumbai and Navi Mumbai which you can consider.
Bhimashankar Location
Bhimashankar Wildlife Sanctuary is located in the Ambegaon & Khed Taluka in the beautiful Sahyadri range of the Western Ghats in Maharashtra. Bhimashankar Mandir lies in the Pune district, Thane district and Raigarh district in the Northen-Western part of Maharashtra.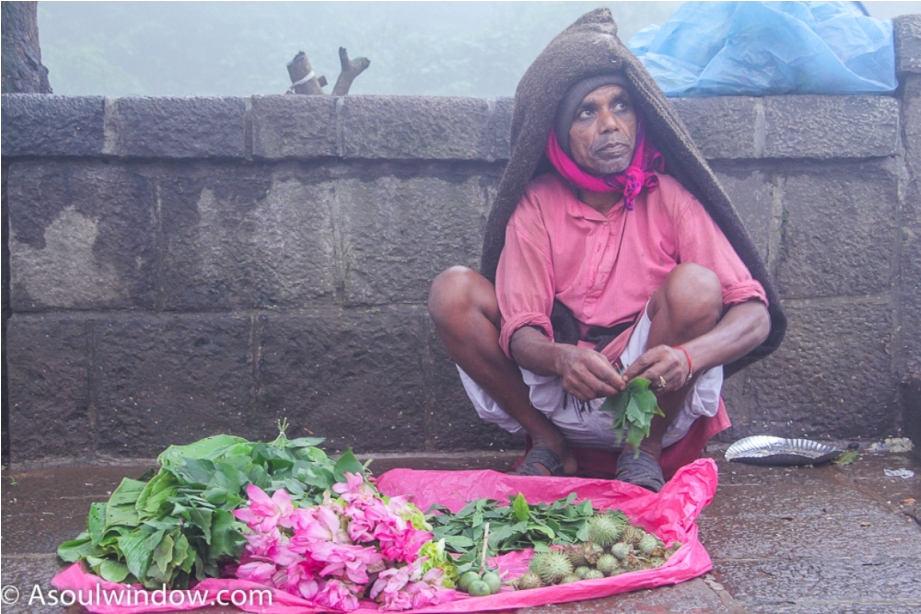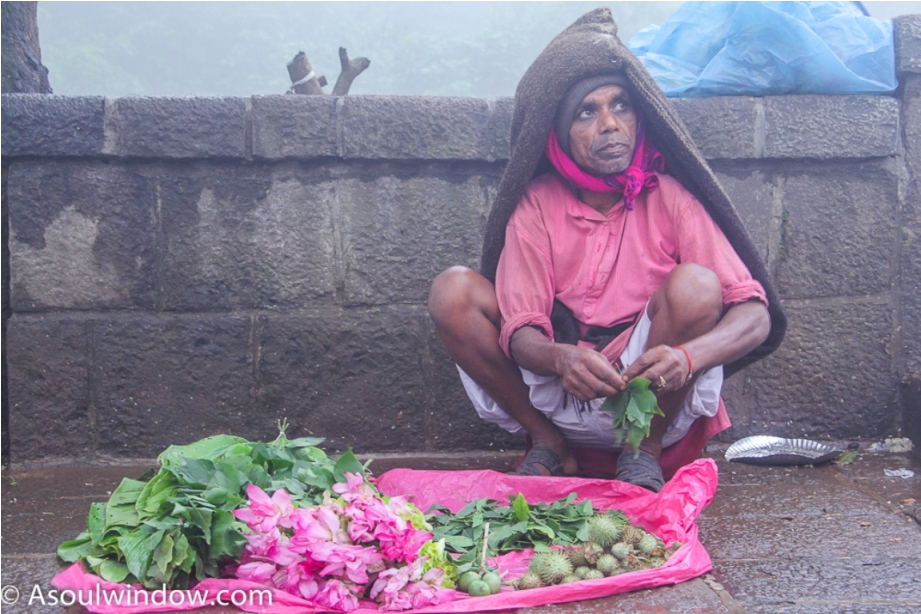 Bhimashankar temple timings
Below is a detailed timing for various activities in the sacred Bhimashankar Mandir. You can plan your trek or bus ride keeping in mind the below timings of Bhimashankar temple.
Kakada Aarti – 4:30 a.m.
Nijarpur Darshan – 5 a.m.
Regular Pooja and Abhishek ceremony – 5:30 a.m.
Naivedya Pooja – 12 p.m.
Regular Pooja and Abhishek ceremony – 12:30 p.m.
Madhyan Aarti – 3 p.m.
Shringar Darshan – Starts at 4 p.m. to and ends at 9:30 p.m.
Evening Aarti – 7:30 p.m.
Bhimashankar temple closing time – 9:30 p.m.
How much time it takes to get a nice darshan in Bhimashankar temple?
There was a long queue to enter the Bhimashankar Mandir when we visited. It takes around 45 minutes to 75 minutes to get a proper darshan in Bhimashankar. However, it takes much longer during Shravan month, Mahashivratri and other festivals.
Is Bhimashankar trek safe?
Yes, it is very safe to trek in Bhimashankar forests. The locals are friendly and the paths are very safe to trek on. It is also easy to find food stalls and natural water sources throughout the trek.
Night Trek – However if you ask me if it is safe to go Bhimashankar at night, I have a different advice. There are two answers to it. It is safe to reach Bhimashakar in night by private vehicle or public transport. However, I will not advice a night trek to Bhimashankar as you can forget the path and also the threat of meeting a leopard is also there.
Bhimashankar hotels – Where to stay
I and my office friends stayed at a super budget stay right in front of the entrance of the Bhimashankar Mandir. It was a dingy hotel. All of us were easily accommodated in two rooms. There are many such Bhimashankar stay options. You can find Bhimashankar hotels and guest houses, lodges in all budgets.
Below are some nice Bhimashankar hotels options:
Bhimashankar Resorts
Below are some resorts in Bhimashankar which offer semi luxury, luxury and clean homely atmosphere. Do not expect a super luxurious Bhimashankar resort here but decent accommodation is available.
MTDC Bhimashankar
As is common with all MTDC (Maharashtra Tourism Development Corporation) properties, they have the best locations across Maharashtra. Located in Rajpur village, the MTDC Bhimashankar sprawls over 5 acres. You can choose from one of the 8 dormitories, 48 deluxe rooms or 3 VIP accommodations. 8 people can stay in 1 dormitory.
There is also a conference hall with projector. Expect great vegan and vegetarian food at MTDC. It is located 9 kms before the Bhimashankar Mandir. Huge parking space for 45 cars is also available at MTDC. All the rooms here come with a private balcony. Bathrooms are clean and have western toilets and geyser. Bhimashankar hotels MTDC is your best accommodation option here.
Hotel Natraj Bhimashankar
Nataraj Holiday Resort is just 8 kms away from the Bhimashankar Mandir. They even have a banquet hall. Their rooms are clean and airy. Expect to eat good vegetarian and vegan food viz. Jain food, South Indian, Punjabi and even Chinese food.
The location of Nataraj hotel Bhimashankar is peaceful and quiet. Tandoori roti/naan with butter Paneer Masala is great here. There are no lifts here. Ample place for parking is available. Also try the Maharashtrian cashew curry (Kaju). Hot water is available. It is one of the most popular of all Bhimashankar hotels.
Ratwa Resort Bhimashankar
This affordable resort has spacious room, good vegan and vegetarian food and nice service. Ratwa resort is spread across a large area. It has 2 different varieties of rooms which include family rooms for more people and regular rooms for 2 pax aka double occupancy. Each room has attached toilet with wash basin and hot water service.
Contact numbers – +91 9421008880, 9850248880
Blue Mormon Resort
Named after the beautiful blue mormon butterfly, Blue Mormon Resort is one of the best hotels in Bhimashankar. They also arrange forest treks, local guides and visit to the tribal villages. You can opt from 9 rooms villa, executive suites, super deluxe room, bunglow, cottage or deluxe suite. They sprawling lawn is impressive. Prices start from INR 2,500 for 2 pax.
Bhimashankar Hotels and Accomodation
Below are some of the best Bhimashankar hotels and guest houses where you can stay"
Bhakt Niwas
This is located right next to Hotel Natraj Bhimashankar. It is a budget accommodation. Shraddha Guest house is also a good stay option.
Hotel Shivamrut Bhimashankar
It is located just 6 kms away from Bhimashankar. The bus stand is 5 kms away. It has 15 well appointed rooms, hot water facility, attached bathroom, TV, dressing mirror, wardrobe etc. Back up generator is also available.
Hotel Kshitij Bhimashankar
This is another good hotel to stay in Bhimashankar. Expect good food, nice service and clean rooms.
How to reach Bhimashankar
You can use this guide to plan the Bhimashankar Trip from Pune and Mumbai. There are many ways from where you can reach Bhimashankar Mandir. I began my trek from Bhimashankar from Vashi in Navi Mumbai. Many of my friends joined from different places such as Dombivali, Kharghar, Dadar etc.
We congregated in Navi Mumbai and started the trek to Bhimashakar after reaching base village from here by transport. Below is a detailed idea of how to reach Bhimashankar. It is located in Bhavagiri village, 50 kms away from Khed village. It is just 127 kilometers from Pune.
How is the road to Bhimashankar
The road to Bhimashankar is smooth. Expect to see lot of greenery during and post monsoon. This is wht I prefer the window seat as the views are breathtaking. You can stop at many places for fuel, breakfast, lunch, dinner, snacks etc. Your Bhimashankar Trip will be memorable for sure.
Reach Bhimashankar by Trek or Bus?
You can choose to trek or take a bus. We started with a 5-6 hours trek through Bhimashakar forest, paid a visit to Bhimashankar Temple and stayed overnight at a hotel near temple. Next morning we took a bus and left for Navi Mumbai.
You can do the same or do trek both ways or take a bus both ways.
Distances from Bhimashankar
Bhimashankar to Nashik distance is 205 kms via NH60
Mumbai to Bhimashankar distance 196 kms via Mumbai Pune highway or Bengaluru Mumbai highway
Lonavala to Bhimashankar distance is 111 kms via Mumbai Pune highway or Bengaluru Mumbai highway, 3 hrs.
Pune to Bhimashankar distance is 110 kms via Maharashtra State Highway 54 and NH60. 3 hours and 20 minutes.
Bhimashankar trek from Mumbai
It is very easy to reach Bhimashankar from Mumbai and Navi Mumbai, like we did. Mumbai to Bhimashankar is an easy route. You can reach here by taking local trains and MSRTC buses. Do plan Bhimashankar tour with friends and family.
Mumbai to Bhimashankar distance is 196 kms via Mumbai Pune highway or Bengaluru Mumbai highway. It takes around 5 hours to cover the journey by road. It takes 6 hours from NH752.
How to reach Bhimashankar from Pune – Jyotirlinga near Pune
It is very easy to arrive at Bhimashankar from Pune and vice the versa. This is why it is counted as some of the good places for trekking near Pune or in Maharashtra. Bhimashankar trek from Pune is very popular due to its proximity and ease of travel. Also this is the only Jyotirlinga near Pune, so many devotees and pilgrims also pay a visit. Below guide will help you plan the Pune to Bhimashankar yatra.
Route: Bhimashankar by road route is Bhimashankar – Manchar – Pune – Chakan – Mumbai Pune Expressway.
This is the best route from Pune to Bhimashankar Temple
Distance between Shivajinagar in Pune and Bhimashankar is only 127 kilometers.
Distance between Pune to Bhimashankar is 110 kms via Maharashtra State Highway 54 and NH60. It takes around 3 hours and 20 minutes to cover the distance.
Pune to Bhimashankar bus – Maharashtra State Road Transport Corporation runs buses regularly between Mumbai, Pune and Bhimashankar.
Pune to Bhimashankar bus fare depends if you are traveling by the cheaper non AC MSRTC buses or the privately run more expensive luxury buses. Luxury buses fare are around INR 1,500 per person.
Cabs – You can also take private cab from Pune to Bhimashankar. It makes sense when you are traveling with family and friends. Pune to Bhimashankar cab can be booked online or on the spot.
Do plan a trip to the best trekking place in Pune. Thank me later!
Last Word on Bhimashankar temple Trek – Conclusion
Bhimashankar temple trek is the perfect union of faith and adventure. Not only can you get a divine darshan of the Bhimashankar Jyotirlinga, but you can also taste the delicious kandi peda and trek through the Bhimashankar wildlife sanctuary.
Bhimashankar trek will be one of your most memorable experiences in the Sahyadri ranges of Maharashtra. The good quality Bhimashankar hotels, resorts and easy accessibility from Pune to Bhimashankar make it a perfect weekend destination from Mumbai and Pune.
The view from my Soul Window is spiritual!
A different version of my experience of Bhimashankar trek was published in Railbandhu magazine, official magazine of Indian Railways.
Top Travel Blogger from India