Last Updated on December 5, 2019 by asoulwindow
KAILASH MANSAROVAR COMPLETE CHECKLIST: THINGS TO PACK AND CARRY VIA THE CHINA ROUTE.
This packing list for Kailasha Mansarovar Yatra is suitable for pilgrims who are going via China route. It involves only 2 days of trekking. Rest of the days are spent on a fantastic road trip through picturesque locales. Continue reading for an exhaustive list of things to pack for the epic Kailash Mansarovar yatra, a high altitude trek in China via India and Nepal.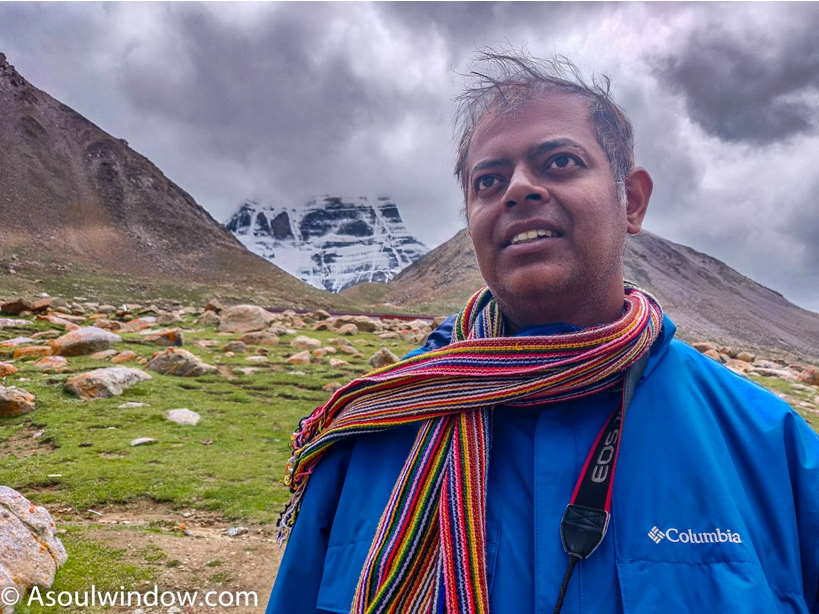 PACKING ADVICE FOR KAILASH MANSAROVAR YATRA IN CHINA
Packing for Kailash Mansarovar Yatra was not easy. It is never easy when you are planning a high altitude trek where you will be trekking as high as 18,000 plus feet. I remember how I was a nervous wreck when I had planned my Roopkund Trek and Everest Base Camp trek. The former was my first high altitude trek and me and my friends Vipul and Srikanth spent many days in malls just buying stuff and exchanged many mails discussing what we should buy and what we already have and what we can share to keep the costs low.
With some experience now, I was better prepared to pack for Kailash Mansarovar Yatra in China. Despite being given a packing list by Scout My Trip, the road expert I traveled with, I ended up packing more than I should have. A packing list is never the same for everyone.
Different people have different needs and at times we tend to over-pack fearing lack of facilities and shops at such hostile terrains. That said, it still helps big-time to hear it from someone who has already been there. I would have been lost had Scout My Trip not shared a packing list with me. It matched more than 95 % of my requirements. I skipped some things because I knew I would not need them. I have mentioned it in brackets below. I over packed some things, owing to the fear of unknown. I hope the below list helps you pack. This packing list for Kailash Mansarovar Yatra is suitable for all genders and most age groups. I am sure you know what to add and what to drop from this list. If you still have any questions, do let me know in the comment section below, I will immediately solve those queries.
DUFFLE BAG OR BACKPACK?
KAILASH MANSAROVAR YATRA PACKING LIST
Before we left Kathmandu in Nepal, for the Kailasha Manasarovar Yatra, we were handed over one duffle bag for each person where we could keep all our luggage which we would need throughout the yatra (trip). The content of this luggage was supposed to cover all our needs from Kyirong to Kyirong, the border town in China.
Since I was more comfortable in packing my belongings in the super sturdy and spacious Columbia backpack, I opted for the latter and chose not to use the duffle bag. I like to have control on my belongings and prefer carrying it myself. In case you are opting for the duffle bag, please put an identification mark on the bags. In fact, it is advisable to have an identification mark or name tag for all your bags.
However, if you want to opt for duffle bag, make sure you keep the day essentials in a daypack. The duffle bag will be taken from you in the morning and will be given to you in the evening every day. So decide wisely.
DUMP THE EXTRA LUGGAGE IN KATHMANDU
Cleverly, I had kept one set of the shirts, trousers and undergarments and any other extra luggage in the Royal Singhi hotel in Kathmandu. I knew I would use all my packed clothes and will have a messy bag upon return from the arduous journey to Kailasha Manasarovara Trek. So, it was wise to keep a fresh pair separate. It was kept safe in the hotel. Unessential items I dumped in Kathmandu were fat books (why I have to carry them on treks! Always!), all jeans (too thick and heavy), a speaker (like really?), clothes soiled till now (India to Nepal) etc.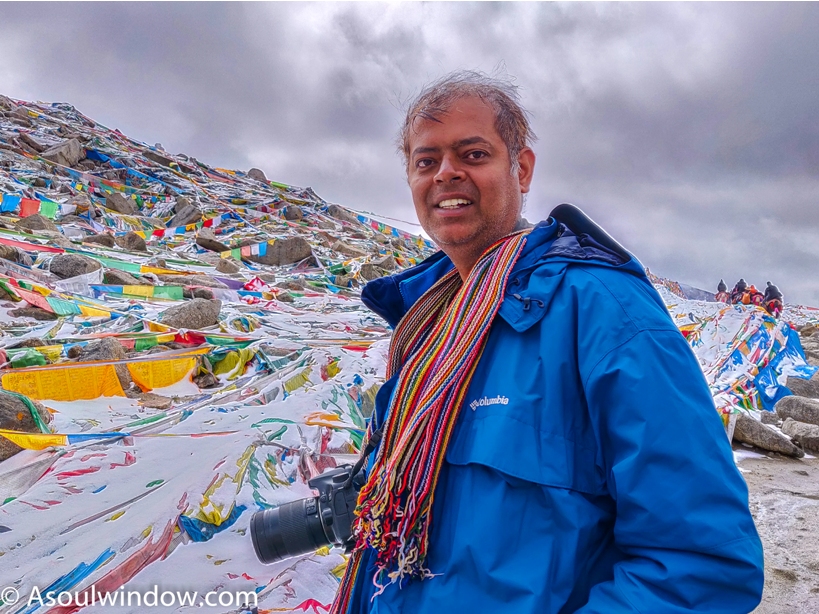 We were also instructed to carry an extra daypack for both the parikrama days. However, I chose to carry my Columbia backpack, which weighed around 10 kgs after packing. But I will not advise others to carry more than 5 kgs on the parikrama days. My bag was heavier because I had lots of camera equipments and other contraptions as well for shooting videos and images.
COMPLETE LIST OF THE PARIKRAMA DAY PACKING:
Parikrama day backpack (30-40L)
Food such as dates, chocolates, dry fruits. Though, Madhuban Foods will give you excellent home-made Indian vegetarian lunch (We got Methi thepla and aaluu jeera – delicious and filling) for the parikrama, you should still carry some more dry snacks for the parikrama on both days. On first day, you will find some tea shops midway. On second day too some tea shops are set up high in the mountains. But it takes a while to reach them and the food served is not as per the Indian taste.
Water Bottle: At least 2-3 litres of water per person. You can refill the water bottle from a gushing river like I did. I did not use a filter bottle because the water was pure and clean. If you are still not comfortable drinking from the river (like a girl from Singapore I offered it to), you can carry a water bottle which purifies water as well.
Electral: I normally mix it in the water I am carrying.
Diamox: On second day, you will reach the Dolma La Pass (and Gauri Kund) which is the highest pass at 18,600 feet. It is not an easy altitude to be on even for the best of us. So it's better to continue the diamox routine till at least the end of the parikrama.
A raincoat or water proof cover for bagpack. Though my Columbia backpack was already water proof, I still wanted to protect its exterior from water. I wore a poncho which really helped me cover from rain on the first day of the parikrama. Not only did it keep my backpack externally dry but also saved my electronic and clothes. Though I was carrying water proof Columbia backpack, I still needed to cover my pant and shirt.
DO NOT carry any clothes for change during parikrama days. It is unnecessary baggage as the real trek aka parikrama is only for 2 days if you are going via the China route. I suggest on day 1 wear fresh clothes after bath and wear the same clothes for the next 2 days. Change the clothes when you finish the parikrama at Darchen which has Hot Showers in semi luxurious hotels. During the parikrama your only stay will be in Deraphuk which has really basic stay facilities and no shower area (as on 2018).
Paper soaps and toilet papers. You might have to answer nature's call in the open, so be prepared.
Wear proper clothes. I wore 1 vest topped by Columbia inners followed by1 thin and quick dry Columbia T shirt, a sweater and 1 Columbia jacket. You may add or reduce more layers as per the weather on the day of your parikrama and your preference. Maybe carry an extra sweater in backpack.
A muffler. It is light and multi-purpose. I always carry one.
Trekking poles. You will need this even if your colony kids call you 'He Man' or 'Indiana Jones.'
Most of the products I used were carefully picked from the Columbia sportswear store at Mall Of India, Noida. Do check out their good quality adventure gears and other products here
PACKING CHECKLIST TIPS FOR THE ENTIRE
KAILASHA MANSAROVAR YATRA
Food-I love carrying Indian snacks such as Khakhra, Bhakarwadis, Aalu Bhujia, Banana chips etc. Since except 2 days you will mostly be traveling in buses or cars (depending upon your package), so must carry some food with you especially on days when the drive is long such as Kyirong to Saga and Saga to Mansarovar. Madhuban Foods will give you packed Indian vegetarian lunches on all days. Expect to enjoy Puri, Sabzi, Pulao, fruit juices and fruits like apples daily facilitated by Indian company Madhuban Foods. (They served Rahul Gandhi too when he embarked upon the journey) They are sensitive to the needs of Indian pilgrims and will always provide you healthy, nutritious, vegetarian Indian meals through the journey and stops.
Hot water bottle: I suggest fill one or two water bottle from the Madhuban Foods kitchen before you start the journey. They have large hot water tanks installed for pilgrims at each of the 7 stops. I personally prefer room temperature water, so I didn't carry any hot water flask with me.
Hot water bag
Backpack: If you chose to carry backpack instead of duffle bags, your best bet is Trail Elite™ 55L Backpack by Columbia. It is easily the best backpack I have used thus far. It is also the lightest and most airy I have ever used. What the back draft tensioned back panel does is that it keeps the back away from the bag, allowing room for air circulation and ventilation, thus making trekking comfortable for you. Technology at its best! The sternum strap with load filter adjustability makes it a cushy job to carry this backpack. The design of the backpack is such that it is easy to find your things. Thanks to the numerous compartments, I can segregate my socks, undergarments, toiletries, electronics, clothes and soiled linen. The strategically positioned zips made it really easy for me to find any item. It also helped me at various security checkpoints in Nepal, India and China. In Nepal, as we entered the National parks, our bags were examined many times. All I had to do was unzip the central zip which would expose the contents of my bag. This saved me from manually taking out each item from the bag and keeping them back.
Sunglasses with UV protection: The sun is harsh here
Sunscreen lotion: At least SPF 35 since the sun is unforgiving here. You might not wish to peel off the skin from your nose with the same flair as that emotionless model in the peel off face mask advertisement.
Camera with extra batteries: Before I left Kathmandu, I had charged both the batteries of my DSLR. I bought an extra battery for the trek. Expensive but worth the investment. It will serve me in other treks too where electricity is not available for days on end. Except Kyirong, Saga and Darchen, at all the other places in Kailash Mansarovar Yatra in China, you will be able to charge your electronics only for few hours, which can be as low as 2 hours at Deraphuk.
Multiple pin plug and international adapter: See above point.
SD Cards: Make sure you have emptied all the SD cards before you leave India. I carried around 100 GB and used them all.
Good Sturdy Trekking shoes: I carried excellent trekking shoes by Columbia. The quality, as is common with all Columbia products was just what I was looking for. It was the first time I was trekking wearing Columbia shoes and I must say I am going to try only Columbia on all my high altitude treks henceforth. Unlike other trekking shoes Columbia shoes are not heavy and are not leather based. I am very happy to go leather free Kailash Mansarovar Yatra onwards. And since it is also a pilgrimage than a regular trek, leather free shoes make sense. In Hindu temples in India, it is mandatory to keep leather (belt,shoes,wallet) in locker before entering a temple. Mount Kailash is no less than a temple. Got the drift,eh?
The shoes are also waterproof which helped in a big way as I was often required to walk on wet surfaces and in rain. Not on a single day, did I have to suffer wet shoes. It was equally good on snow surfaces. You will have to walk on small patches of snow during the parikrama days.
The grip of the shoes on most terrains was excellent.
Trekking Poles/ sticks: Many people ignore it seeing it as a sign of weakness. But I strongly support the idea of carrying trekking poles while on a trek, high altitude or even otherwise. Not only does it help in distributing your body weight but it also helps you negotiate and balance when trekking on loose rock and snow. I did walk on many rocky patches, puddles of water and on snow as well. My sturdy Columbia shoes and the walking poles/sticks helped me navigate and balance easily. Some people carry two poles at a time, I prefer carrying one as I also have to carry a heavy DSLR camera around my neck all the time.
Torch light and spare batteries: Head torch is best as you can keep your hands free. This is especially useful when you are going out to answer nature's call in the pitch dark. At places like Mansarovar and Deraphuk many men and women pilgrims prefer to defecate in the open. So, a head torch comes handy.
CLOTHES TO CARRY ON
KAILASH MANSAROVAR YATRA:
Columbia Inner Thermals (vest) 2 set (1 if you can manage to wear it on all colder days). The inner or the baselayer by Columbia is the best one I have used so far. It is light in weight, easy to wear and keep you warm. Really warm. It was very useful for the parikrama days.
Carry 2-3 smart casual wears for places with a hint of civilization such as Kyirong, Saga, Darchen, Taklakot aka Purang. Make sure you carry light clothes. For example, the light and quick dry T shirts and pants by Columbia wear were apt for long trips like this. On one of the day in Taklakot, I even washed both the Columbia wears for reuse. It dried in few hours.
Light weight towel: A Bihari gamcha works well or any quick dry towel!
Under Garments (at least 5 sets): Repeat if you can.
1 big Cloth or plastic bag to keep all the soiled linen daily. It helps to compartmentalise the clothes and keeps the dirty ones separate from the clean ones.
Lightweight cotton long loose fitting pants.
Cargos (Note: No jeans please. They are very uncomfortable during this journey)
T-shirts – Carry at least 4 to 5. Again, quick dry light weight T shirts from Columbia saved the day for me. I even washed 2 of the Columbia shirts in aka Purang aka Burang. It dried within few hours and helped me save space by not carrying extra weight. The best feature of Columbia's 'Tech' T shirts is their Omni Wick technology. What it does is that unlike regular cotton T shirts, the body moisture is pulled away and evaporated quickly. This is a great feature for hikers and trekkers as it helps in staying dry. What's more? You will also be protected from the hazardous ultra violet sun rays with UPF 50. Check out their Tuk Mountain Men's Short Sleeve Shirts. I liked the orange colored one.
Down jacket (Insulated jacket): I wore my blue Columbia jacket not only throughout the trek/parikrama but through the entire journey. The good looking jacket was appreciated by one and all. The jacket became so popular amongst my co-travelers by the end of the trek that its mention seeped into our conversations every now and then. Some even asked me for its quick review on the location itself. Well, the Bugaboo™ Interchange Jacket by Columbia which I wore was the best I have owned till date. Not only did it keep me warm even without any layers, it also protected me from rain.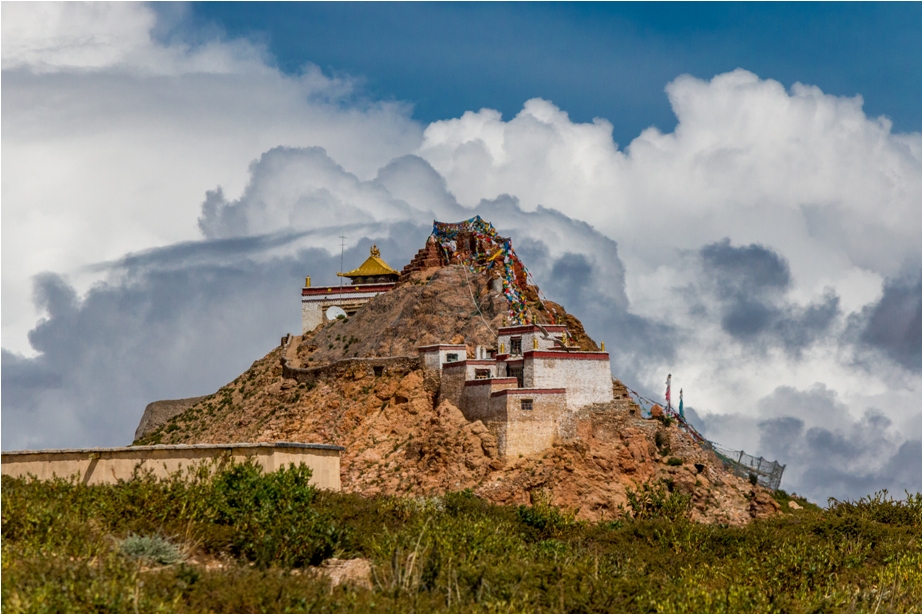 On one day I had hiked up alone to the ancient Chiu Gompa monastery near Mansarovar lake as my co travelers meditated. While returning, it started raining and I was not carrying any umbrella or rain coat. I was worried about my expensive DSLR camera. I was not even carrying the camera cover. Luckily, I was wearing Columbia's Bugaboo™ Interchange Jacket. I had no option but to think on my feet. I quickly unzipped my jacket, inserted the camera and zipped it again. My head was protected by the attached water proof cap to the jacket. And the quick dry Columbia pants and shoes which I was wearing left me with zilch worries about dampening my clothes, shoes or spirits. As I arrived inside my hotel room, I quickly unzipped my jacket. Not a single strand of my T shirt or any part of the camera was wet. In that moment I knew I made a wise decision to go for all things Columbia for Kailash Mansarovar Yatra.
Warm trousers (at least 1) – I loved my Columbia pants. It was quick dry, light weight and takes very little space to pack.
Warm Pullover (High neck) – Optional. I didn't carry. I used muffler to cover my neck.
Woolen Shirts/sweat shirts – 2
One pair of gloves– Carry real good ones.
Monkey cap (balaclava)
Warm cap
Scarf
Dust Mask: Many places are dusty, dust mask helps for sure, though I managed without it.
Cotton, trekking and woolen socks: I carried 2 pairs of regular socks and 1 pair of thick and long woolen socks for the tough Parikrama days.
Shawl and muffler: Shawl takes up lot of space, so I had skipped it. But many prefer carrying a shawl. I did carry muffler. It is a multi purpose gear which I carry on all my treks.
Swimwear covering shoulder & knees for bath at Manasarovar (if you need): I didn't need. I took a dip (or 10) in my regular clothes.
Sunglasses (with UV protection) + retainer (thread / chain)
PERSONAL FIRST-AID KIT:
Ace Bandage for the ankle
Adhesive strips and roll.
Band-aids
Betadine
Lip balm/ Chapsticks
Cotton
Dettol/Savlon
Antifungal powder, foot Powder and Cream
Gauze pads
Lighter
Safety Pins
Small Scissors & knife
Amrutanjan or Vicks Vapourub/Vicks tablets, Vicks inhaler/
MEDICINES:
Anti-diarrhea tablets
Ciplox eye drops
Dehydration Salt (electrolytes) Packets.
Diamox for AMS
Moov spray or Heat Balm for muscles/ joints.
Ibuprofen Tab (painkiller)
One course of antibiotic (Either Azithromysin or Amoxicillin)
Paracetamol (anti-inflammatory and pain killer)
Your regular medicines
Look at that path. Columbia shoes helped me navigate these rough stretches with ease. Thank God for little mercies. Kailash Mansarovar Yatra in China. Model: Swati Jain
PERSONAL HYGIENE/ TOILETRY:
Anti bacterial hands wash
Deodorant
Face and body moisturizer
Paper soap (Helped me a lot!)
Multi Nail clippers / Swiss army knife
Sanitary napkins (for women)
Shaving kit
Small hand mirror – I didn't carry/need
Soap
Sunscreen SPF 35
Tissue /toilet roll
Tooth paste and brush
Wet wipes / Body wipes
Wide tooth comb / brush
WHAT ELSE TO PACK FOR
KAILASH MANSAROVAR YATRA?
2 metal bottles to keep drinking water for daily needs. You can refill them from rivers.
A nice book: I avoid it though. It is extra weight/space and you will not get any time to read anyways. Good for photo ops though ('Reading book in the Himalayas,eh!)
Binoculars- Avoidable
Extra metal bottle to carry the holy water from Mansarovar lake back home.
Pooja Samagri as per the tradition you follow.
Protein bars, chocolate, dried fruits, candies, snack, ready-made foods
Some great songs in your cellphone
Spread the love, share this blog
Got any question/comments, ask in the comment section below so that it can benefit other readers.
Email me for collaboration: [email protected]
Be a part of my journey on social media. The travel content I create there is different from this blog.
Pls subscribe/follow/like:
WARNING : COPYRIGHT TO ALL THE CONTENT SHARED HERE REMAINS WITH ME. THE IMAGES AND TEXT IN THIS BLOG ARE BY ME UNLESS MENTIONED OTHERWISE. YOU CAN NOT JUST LIFT THE CONTENT AND USE IT WITHOUT MY PERMISSION. STRICT LEGAL ACTION WILL BE TAKEN IF CONTENT IS STOLEN. YES, I AM SERIOUS.
Top Travel Blogger from India