Last Updated on June 5, 2020 by asoulwindow
THE DENSE FORESTS OF ADJOINING villages of Peora, Nolikan and Sonapani in
Mukteshwar look deserted and lonely from a distance. Once you start to see through the dense foliage, you discover it is teaming with life. It is populated with birds, butterflies, reptiles, wild animals and humans who chose to call it home. As I took an evening walk in the forest with Manvendra, who runs the Leela Orchards, Sonapani home-stay in Mukteshwar, he educated me about a brave lady who lives all by herself in the middle of a dense, dark forest. Engrossed in his tales, I kept my eyes and ears alert for any sign of wildlife around the trail. After few minutes, we arrived at a makeshift gate to a lone white building in the distance. The gate was nothing but horizontal wooden logs loosely hooked on to vertical wooden poles. It was not meant to ward off humans but animals. The animals who rob her kitchen garden of fruits and vegetables she so painstakingly grows with help of laborers. This is apparently a big deterrent to most farmers in the Mukteshwar and nearby Ramgarh area. The white house was locked when we entered the lawns. Its architecture was a mix of modern architecture and traditional architecture of the region. In Uttarakhand, 'Bakuli' refers to the group of house, mostly of the same family. As the family grows, more addition to the existing building is done generation wise. Cattle are always tied in the ground floor room. This particular house was not a Bakuli since the next generation chose to stay in the glitzy capital of India, New Delhi.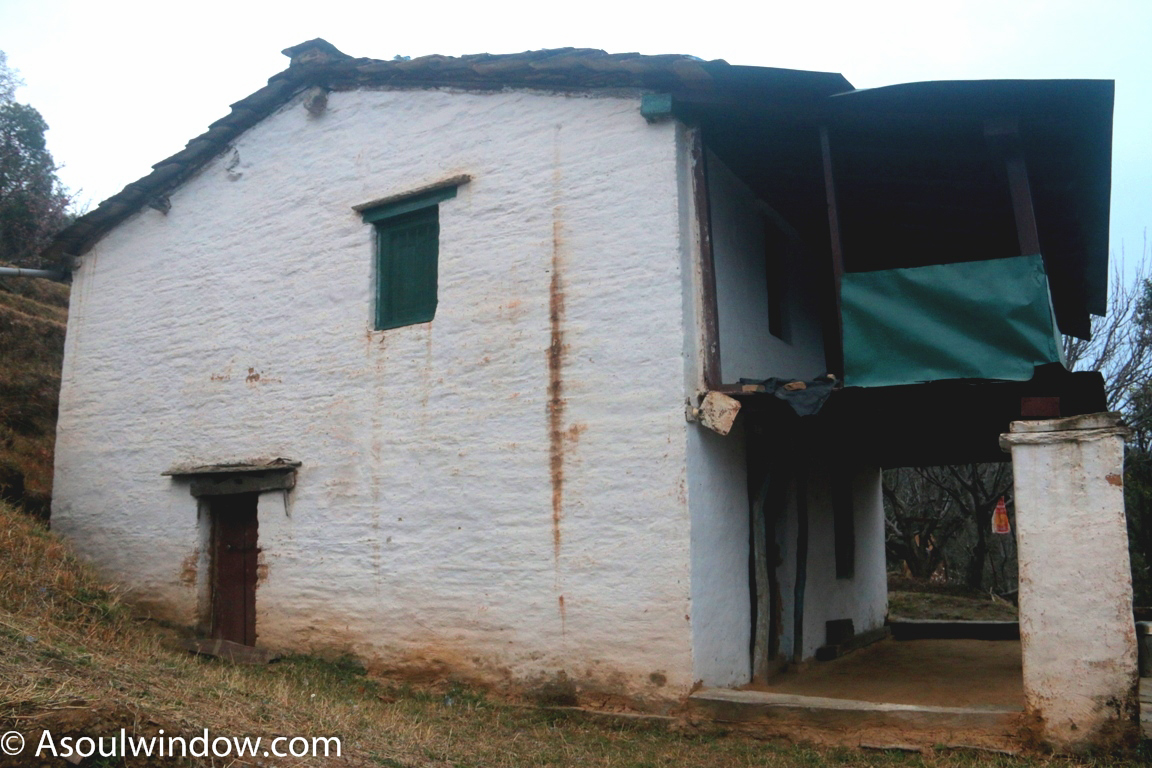 Himalayan Spangle, a beautiful butterfly, clung fiercely to its pupa on a tree in front of the house. Much like the lady we had come to meet. She refuses to leave this place despite all the adversity. I would soon know why she still clings to this house in the middle of nowhere.
"जड़ाऊ को अभी भगाया, बंदरो ने भी परेशान कर रखा है….." (I have just shooed away the Swamp Deers aka Barasingha. The monkeys have been troubling me too.) The meditation of the Himalayan Spangle was disturbed by her coarse voice, unadulterated and unmeasured. Her name is Mrs. Kamla Pandey. She was delighted to see Manvendra, who is also a family friend. Kamlaji and Manvendra are neighbours and co- owned a dog. The dog lived upto an astonishing age of 18 years.
Ever since her husband, Late Shri Narayan Dutt Pandey, former sub inspector in New Delhi police breathed his last, she has resolved to stay all by herself at this isolated house in the middle of a dense forest, rife with wild animals. Danger from wildlife, lack of human interactions, irregular electricity supply and the challenges in keeping the soil of her farm fertile and grow organic vegetables and fruits has not deterred her. She has been living here alone since past 7 years. Sometimes her brother, who lives in a village nearby, pays her a visit.
She cooks food by herself. She has to walk for 3 plus kilometers to catch sporadic public transport to main town near the Sathkol Ashram. She sources grocery supplies from village vendor who sometime visits her and from a shop near the Ashram gate.
"बस ऐसे ही बगीचे में घूमना फिरना….मजदूरो को देखना…चाय पानी देना…यहाँ पे बगीचा है….मकान है मेरा….मैं कैसे न रहूँ यहाँ…..?" (Just roaming around my garden, checking up on the laborers, giving them tea and snacks…..Here is where is my house, my garden….How can I leave this place?), She replied with a sunshine smile when I asked, "What do you do here all day?"
She showed me around her sprawling terraced farm which she called bageecha (garden). It was abundant with pink and white flowers. In March the hills of Uttarakhand burst with a riot of colours, thanks to the flowering season. From Mid May to July, these flowers will give way to abundant fruits like khubani (Apricot), aadu (peach), plum, apple, pear. Nearby a tree was drooping with the weight of tens of jamer. It looked like an Orange, but I was told it is so bitter that its consumption harms teeth. It is used like a lemon, in chutneys and pickles. The apples trees were pruned to encourage new growth which is good for the health of the tree and the fruits. The dark brown, leafless branches of the tree made it look like it is dead. In reality, the tree was just gearing up for the upcoming fruiting season. I uncovered a plastic sheet to see spring water flowing under the ground. This is the natural irrigation source for farming in the area. Some of the beds in the farm were dug up. She told us, she pays laborers to dig up the soil. It helps in keeping the soil fertile otherwise it becomes hard and unfit for farming.
Kamlaji showed us around with a big smile and vivaciousness which is difficult to match up to. Her enthusiasm for life and positivity belied the challenges that she faces in her routine life. Before shifting here, she lived in Delhi for many years with her husband and kids. Her kids still live in New Delhi and following the footsteps of their father, they serve in police too. Her kids visit her at this place in summer.
"Do you ever miss New Delhi?" I ask
"याद आती है पर क्या करें ? मजबूरी है…यहाँ छोड़ दें तो फिर बर्बादी है न…..क्यूँ? " (Yes, at times I do miss New Delhi. But if I abandon this land, it will all be destroyed. No?)
Whenever she misses her former life in New Delhi, she visits her children and live with them for around 3 months.
"पर अब अच्छा लगता है यहाँ भी……परदूशन नहीं है …हवा अच्छी है…अक्टूबर में फिर जाउंगी दिल्ली तीन महीने के लिए….." (Now I like it here…There is no pollution….the air is fresh…In October I will visit New Delhi again for 3 months.)
Note: It is a part of a series which I run on my blog. You can follow the hashtag #MyGrationSW series on my Instagram, Facebook and Twitter too. (Links below). To read other migration stories on my blog, pls see the tab MyGration Story.
The view from my #SoulWindow is BRAVO!
Be a part of my journey on social media. The travel content I create there is different from this blog.
Pls subscribe/follow/like:
WARNING : COPYRIGHT TO ALL THE IMAGES AND TEXT HERE REMAINS WITH ME. YOU CAN NOT JUST LIFT THE CONTENT AND USE IT WITHOUT MY PERMISSION. STRICT LEGAL ACTION WILL BE TAKEN IF CONTENT IS STOLEN. YES, I AM SERIOUS.
Top Travel Blogger from India