Last Updated on September 1, 2019 by
Why I said no to New York Times – False propaganda writing on Kashmir!
A few days ago, I received an e-mail from a senior journalist from The New York Times. They must have found me after a Google search. Had they done a little more search they would have also realized that I was a horrible choice for the kind of work they expected from me. It was like trying to milk the snake. Let's see how propaganda news and false reporting by big names in international publications work? It is related to the revoking of article 35A and 370 in Jammu, Kashmir and Ladakh in August 2019.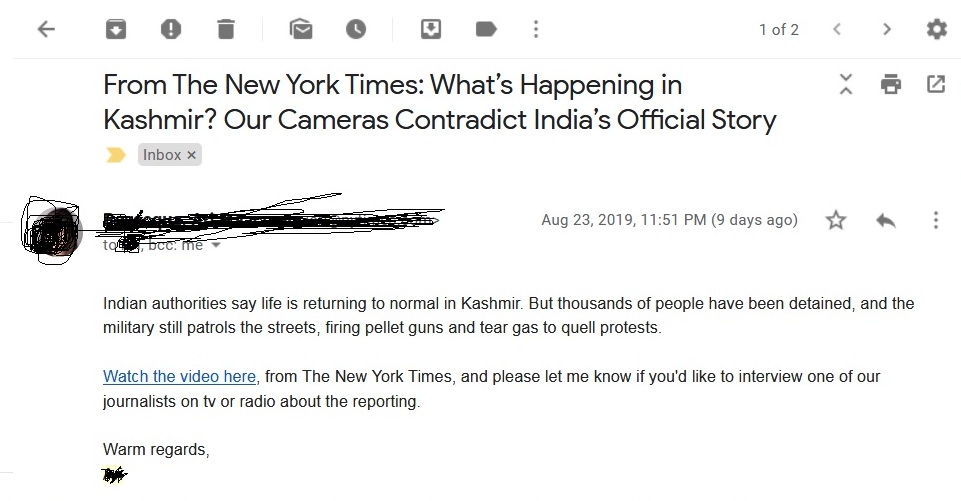 Mail From The Biased New York Times
The mail I received from the New York Times was as below (verbatim):
"Indian authorities say life is returning to normal in Kashmir. But thousands of people have been detained, and the military still patrols the streets, firing pellet guns and tear gas to quell protests.
Watch the video here, from The New York Times, and please let me know if you'd like to interview one of our journalists on tv or radio about the reporting.
Warm regards,
XYZ"
(Just click on video and you will see the kind of hatred and venom is being circulated by big names. I feel the video is from unverified sources.)
My reply To The New York Times
My reply to the mail was as below (verbatim),
"Hi XYZ,
Thanks. But I can't take up this work solely because it tarnishes the image of my nation (India). I have not even been to the place (Kashmir) to witness the so called conflict in the region. Writing based upon secondary sources will also ruin my credibility as a writer. I can't blindly agree with a writer in this age of fake news.
I have many other positive story ideas. Pls let me know if you want to consider any of these:
A story on Mattur in Karnataka, a village where everyone speaks Sanskrit, a dying language.
Successful wildlife conservation stories from India such as growing numbers of Tigers, lions, rhinoceros, crocodiles etc.
How India taught the world to calculate by giving zero to the world.
I have many more such fresh ideas which are a far cry from the regular one sided (and often boring) narratives on India.
Pls let me know if we can work on these stories instead?
Thanks,
Abhinav
(The 'India giving zero to the world' was a bit sarcastic, I agree! I received no reply to this mail).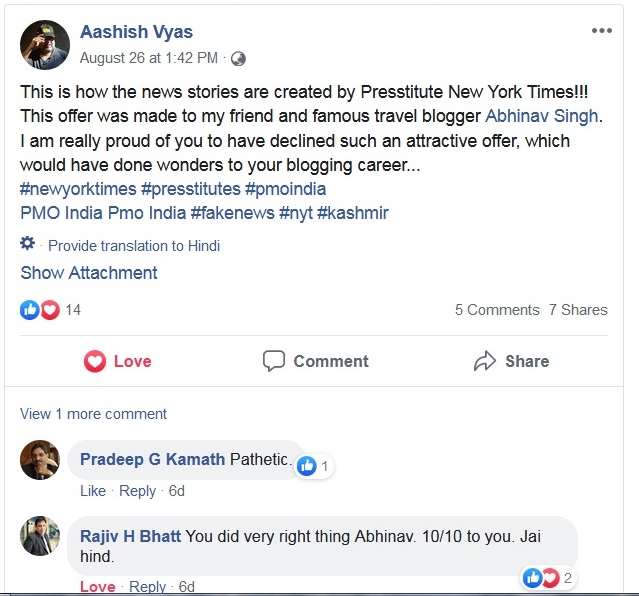 Why I rejected a proposal from New York Times?
First things first! Why an American media house is even interested in what is going on in India. There are far more exciting things to cover what's going on in Hong Kong or better still United States of America. It is high time, India and Indians stops entertaining such portals. Why is India always shown in a poor light in foreign media, especially white nations? Could it be that India is one of the few super powers of Asia and the world and a potential economical and cultural threat?
Why I am hiding the name of sender of the mail from New York Times?
I have deliberately hidden the name of sender of the mail from New York Times because I do not want other bloggers and writers who are read to sell their soul and nation for a few hundred easy bucks. I am well versed with the rates of international publications. For an Indian, it is a very good amount at which most Indians will not think twice before saying a 'Yes'. More than money, getting published in New York Times or any 'similar white world' portals can do wonders to the profile of the writer. But I chose not to go for it. And it took me no time to decide it.
I did ask the payment details to the sender of the mail. I was just faking it to check how much is the going rate? Just to give you an idea an article like this fetches upto 500 USD or more!
Huge Response to my casual Facebook post
I received a huge response to my casual Facebook post. I receive more than 75 shares on the Facebook post, each one of those were organic. The commenst which came with shares were overwhelming. It was not as big as a post I did on the cleanliness in Varanasi which received 18,000 shares. Yes, you read that right! I had shared the good work done by Government to clean the Ganga maiya, (as we call it). I had posted very below average pictures of a clean Varanasi. People loved it and they still share it. Perhaps people love it because they saw honesty and positivity in my posts. Luckily, all my posts which have organically gone viral are about positive developments in India. This is how I want to grow as a write. In an age when influential people are ranting and whining, sometimes also in their sleep, I choose to see the positivity of India, one of the super powers of Asia and world. It is good for my blood pressure!
One of my Facebook friends even called me 'A National Hero!' It was not what I had expected, anticipated or 'hoped' for. I had casually posted it! Eerily most of my casually posted updates have gone viral on Twitter and Facebook. I had not even posted with the intention of going viral. It just happened to me. People saw my honesty and integrity. I had love pouring in from as far as Africa, London, USA and many parts of India including Arunachal Pradesh, South India, Maharashtra and North India.
When this happened, I was in Bangalore I the capacity of a travel writer and blogger. I was in a happy food coma zone and still unable to believe that I was getting to eat so much authentic masala dosa and idlis.
And then this happened!
This could have given a massive push to my writing career and maybe even a longer relationship with New York Times and many other major international publications. But I do not want to become another Farkha Futt or Fardeep Furdesai and hang my head in shame for the rest of my life. I am with my chosen government and India! Always!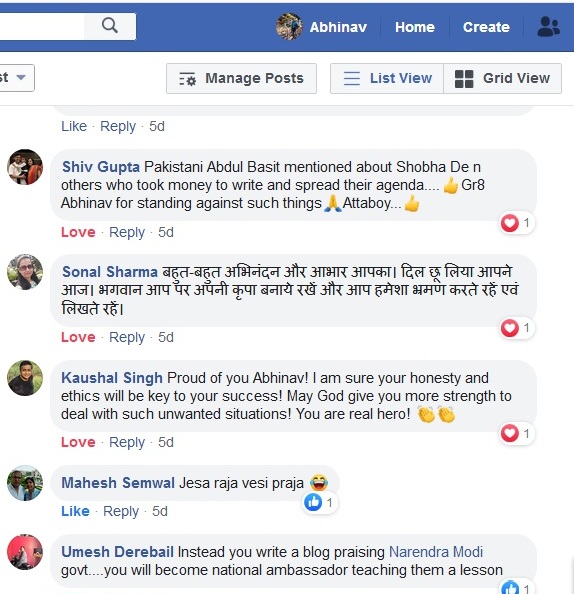 Top Travel Bloggers of India posting anti Army and Ant India posts
Many so called Top Travel Bloggers Of India had posted lame anti India, anti Army and anti government posts on this 15th August, 2019, Independence Day of India. Even the left wingers didn't support them and these top travel bloggers of India were trolled big time. People saw the blind hate in them. I understand they hate the present government for no fault of theirs (the government). But is it that difficult to separate the state from army and nation. In their unjustified hate for the government, why did they hate their army and nation as well.
Indian army deserves better. Ever wondered how and why those so called top travel bloggers of India were able to write all that trash under the ugly red dots they hid their faces behind. The answer is simple. It is because Indian army keeps them safe and Indian Government gives them freedom of expression which they misuse. Many of those travel bloggers lost popularity overnight by just one misplaced preachy and one sided post. Some even deleted their posts after they failed to handle the criticism by well educated, well travelled rich Indians.
This is what I had posted on Facebook along with the screen shots:
"Editor from New York Times approached me to write a propaganda piece against Indian government on the Kashmir issue.
As a writer, writing for New York Times can do wonders for your career. But I can't stoop so low for career progress and the about me section of my blog.
I have replied with a stern no. But I am now aware that many writers will accept it. It's too hard to not accept USD 300 to USD 500 per 1000 words. I now know how the propaganda is done. Not all say no. But हमसे ना हो पाएगा. As a freelancer I need to make money a lot of money to make freelancing survive. But I am clear this is not how I want to make money.
My request to travel writers and bloggers …don't sell your nation for money and other short term gains. And pls don't ask me for contact even if you are very close to me. I won't share. Sad times.
Edited :
A bit overwhelmed with the shares and 'proud of you' s. Honestly I didn't expect it. Neither did I post it for this. It's just what I thought was the right thing to do. No right and left here. It's just about the nation. West is no one to ask me to report from unverified secondary sources. It's a dangerous style of writing. Be wary of media people. Honestly I was taken aback when I received this. It exposed the reality of western media. It's all baseless propaganda."
Last Thoughts on rejecting propaganda article by New York Times:
I have no idea why New York Times wanted me to report on an issue without even visiting the place, especially when Kashmir is such a sensitive topic and so much fake news around Kashmir is being pedaled frequently. And I feel that the current Government of India is doing pretty fine on all frontiers. Even if it was not, international media is no one to police us. We all know about the vested interests.
I sincerely hope that people who agree to malign their own country for easy money and fame stop it. The nation always comes before the individual. You will go, but the nation should not! I made this tough choice at my own expense. I do not want to sound like I did a big sacrifice by saying No to New York Times. It's just that it felt right and good for my daily sleep. This bias and false reporting by New York Times and other publications has to go! I am happy to write on positive news about India. Trust me, there are many than you would like to listen to!
The views from my Soul Window are satisfying!
Do share this blog if you want people to know the reality behind the fake reporting and propaganda news from a media personal (me). In the world of vested interests and benefits, it is very rare that a media person speaks about it. This news needs to be told to the world.
Links of my other viral posts – It is organic and positive!
My Your Story interview goes viral!
Link of my online Travel related platforms –
Blog – Twitter  – Facebook Page  – Instagram  – You Tube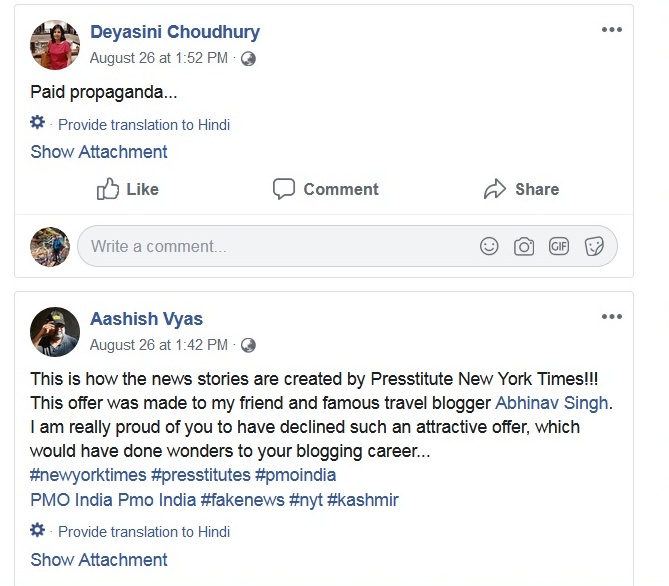 Spread the love, share this blog
Got any question/comments, ask in the comment section below so that it can benefit other readers.
Email me for collaboration: 21abhinav21@gmail.com
Be a part of my journey on social media. The travel content I create there is different from this blog.
 Pls subscribe/follow/like: