Last Updated on December 5, 2019 by asoulwindow
MANAS NATIONAL PARK, BODOLAND, OFFBEAT ASSAM GUIDE & CHECKLIST
This blog is a complete guide to the offbeat Manas National Park located in the Bodoland region of Assam. It is an offbeat destination. Assam is a North Eastern State of India. This blog includes Safety guidelines, Where to stay, Jeep Safari Timings, Jeep Safari Cost, useful Contact Details, Best Time To Visit and How to Reach Manas National Park.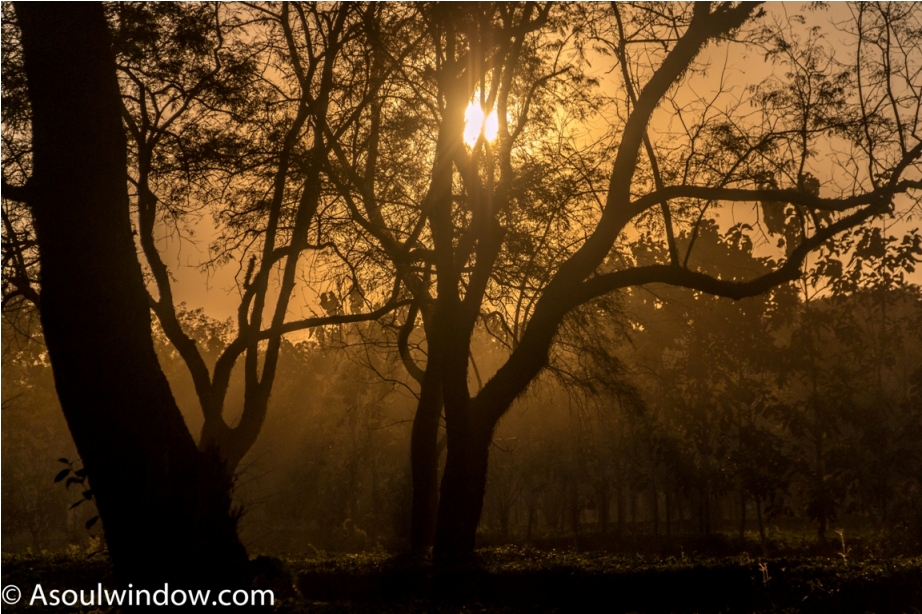 We all have heard about the National Parks of North East India but how many of us have actually visited those, especially the people who are not from North East India. Manas National Park was my first introduction to wildlife reserve in this region. Though I had amazing experiences at the Ranthambnore National Park, Corbett National Park, Bandhavgarh National Park, Satpura National Park and Pench National Park etc, I found Manas National Park very different from the above mentioned.
Not only the landscape of Manas National Park was unique, but I also saw some new species. It was an exciting 7 hours long safari. We didn't even have proper lunch during this safari. Who cares for lunch anyways when the view from your Soul Window keeps you riveted to your seats!
MY SAFARI EXPERIENCE – MANAS NATIONAL PARK, BODOLAND, ASSAM GUIDE:
I and other bloggers started on this unique safari early morning. I had refused to be part of the elephant safari because it is just too unethical to sit on the back of the gentle giant. Nothing you say can justify it! So, we chose to go on a jeep. The 7 hour long safari rewarded us with many wildlife sightings and breathtaking views which will stay with us for a long time.
Unlike the safaris I did in Africa, I find the safaris in India more exciting. In Africa, wild animals can be seen very easily. There is no thrill! In India, though there are many wild animals in all the National Parks, the excitement and difficulty of spotting one, thanks to the thick forests (Africa has open grasslands) makes it all the more special.
So, we did spot many wild animals and birds in the Manas National Park after craning our neck (some were perched on trees) and having our eyes peeled, mistaking the wood as animals quite often .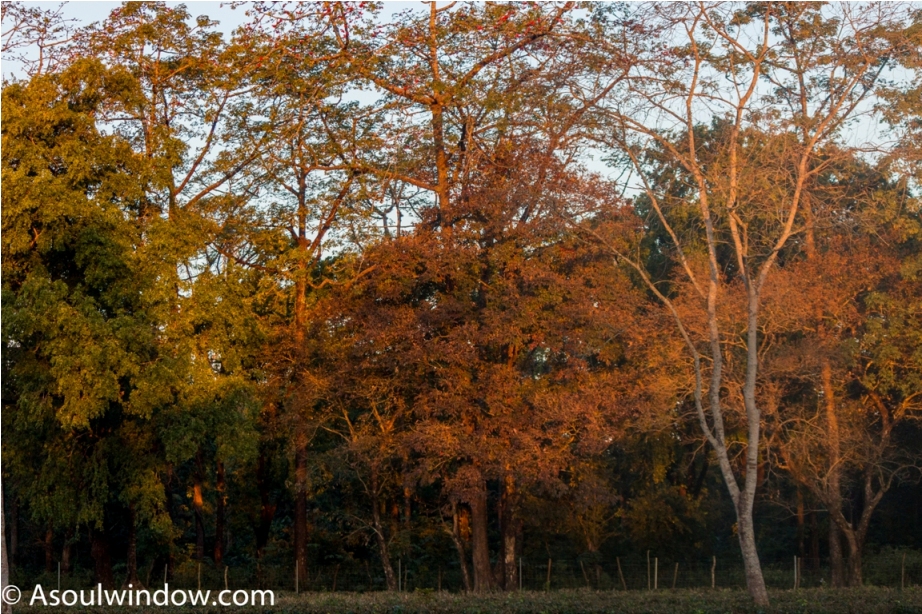 MAMMALS I SAW IN MANAS NATIONAL PARK, BODOLAND, ASSAM GUIDE
As the wildlife safari at Manas National Park began, the thick forest started to reveal itself to us, one animal at a time. A black giant squirrel also known as Malayan giant squirrel (Ratufa bicolor) was busy foraging food on a tall branch, exposing itself to us in bits and parts.
Till then I had only heard the sound of one. But, I realized it is much easier to spot one in North East India. I saw another one a few days ago in Hoollongapar Gibbon Sanctuary near Jorhat. The lesser known sanctuary is famed for its Western Hoolock gibbons.
On returning from the safari, we saw the squirrel again. We waited under the tree, exactly below the squirrel who perched on a dense branch and stuffed his/her face with berries. We waited patiently for the squirrel to fall and drop on us. Not even a half eaten berry fell on us. Nature is smarter than us. Shattered, we moved on in pursuit of more hidden gems.
We saw many bird species such as a pheasant and eagle and even a jungle fowl which disappeared in the thick undergrowth before I could say 'Cheese'.
WE MISSED GAUR BUT SAW HUGE WATER BUFFALO – MANAS NATIONAL PARK, BODOLAND, ASSAM GUIDE
The bloggers in the jeep before us also saw a huge Gaur. I saw many of them in the Satpura National Park. Still I wanted to see one. Wildlife in India can never get repetitive and boring. We missed seeing the gaur despite waiting for sometime but we made up by seeing a huge Buffalo, staring at us menacingly from the dry fields inundated with grass yellowed by sun.
A PEACOCK DANCE WE SAW – MANAS NATIONAL PARK, BODOLAND, ASSAM GUIDE
We also saw a peacock dancing around a peahen. We stopped our safaris jeeps at far distance. It was for the first time I was seeing a peacock dancing in the wild. Highly excited that we were, we tried to suppress it and waited for the performance to unfold.
Unfortunately, the peacock got distracted and called 'pack up' in a jiffy. The blockbuster got shelved even before they started! The peacock and peahen duo left as soon as they sensed our presence. I felt a bit sorry for ruining their love life. It is common knowledge that peacocks dance to attract peahen during the mating season.
The other birds we spotted in this epic full day safari were Red-vented Bulbul, Changeable hawk Eagle, Crested Serpent Eagle, Kalij Pheasant and Pallas's Fish Eagle.
In Search Of Big Fives Of India- The Mammals
We were adamant to spot the Big Fives of India. You can find Big Fives only in Africa and India. The best part of Manas National park is that you can spot big animals like Royal Bengal Tiger, Wild Elephant, Rhinoceros, Wild Asian Buffalo, Gaurs etc within the forest area. It is a rare combination and very few places in India can boast of it. Luckily, we managed to see Wild Elephant, Rhinoceros, Wild Asian Buffalo and Gaurs.
We failed to spot Tiger. We could not locate the endemic and endangered Golden Langur found only in this region but it was compensated with a good sighting of Capped Langur which is also found in these parts. We also saw a Barking Deer.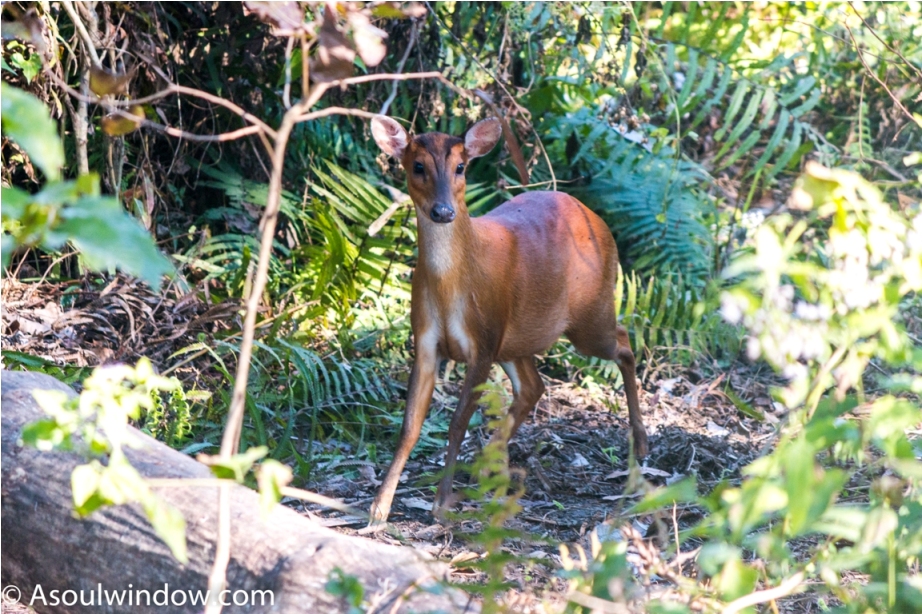 I was excited to spot my first Wild Elephant with calf. But it could have been my last day. The mother elephant got aggressive, attacked me and other bloggers. We were saved in the knick of time. More on that later in a separate blog.
Just as we were finishing the 7 full day safari, disappointed that we didn't spot an Indian Rhinoceros, found in abundance in Assam, we saw one. In far distance, beneath tall grass yellowed by a setting sun, the Rhinoceros was calling it a day!
I might have skipped a heartbeat or two when I saw a Wild Water Buffalo also known as Wild Asian Buffalo for the first time. Staring at us menacingly from chest length dry grass, the Wild Asian Buffalo looked menacing and even more dangerous than all the Tigers I had seen in wild.
It was an unforgettable safari. We could not have asked for more. After this safari I am keen to explore even more wildlife sanctuaries in North East India such as Kaziranga National Park, Pobitora National Park, Nameri National Park, Orang National Park, Dibru-Saikhowa National Park and the popular Namdapha National Park.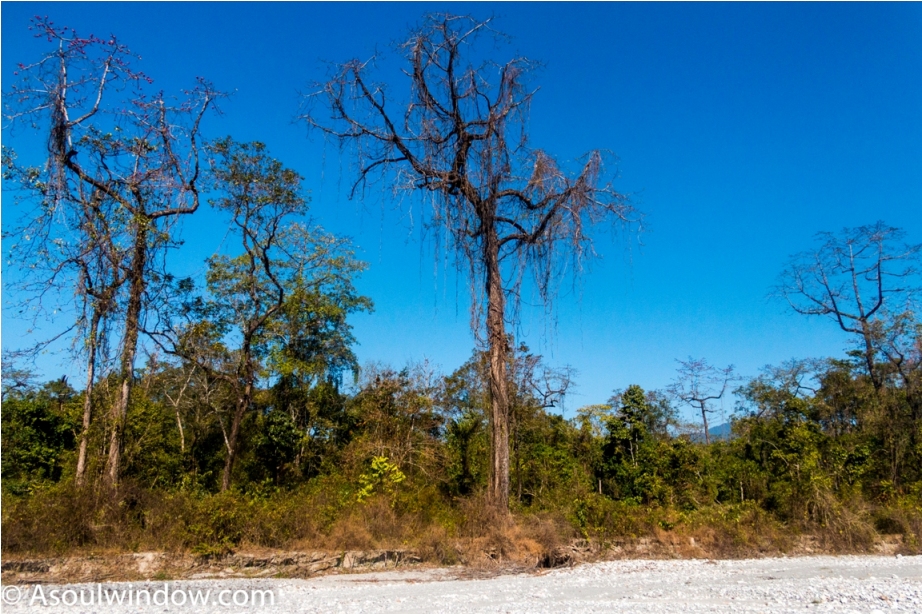 BIRDS I SPOTTED IN MANAS NATIONAL PARK, BODOLAND – ASSAM GUIDE
Red-vented Bulbul
Changeable hawk Eagle
Crested Serpent Eagle
Kalij Pheasant
Pallas's Fish Eagle
A dancing Peacock and peahen
MAMMALS I SPOTTED IN MANAS NATIONAL PARK, BODOLAND, ASSAM GUIDE
Black Giant Squirrel or Malayan Giant Squirrel (Ratufa bicolor)
Capped Langur
Wild Water Buffalo aka Wild Asian Buffalo
Black Giant Squirrel or Malayan Giant Squirrel (Ratufa bicolor)
Barking Deer
Wild Gaur
Wild Elephant with calf
Indian Rhinoceros
OTHER ACTIVITIES OUTSIDE MANAS NATIONAL PARK
Unlike other National Parks where you do not have anything worthwhile to do during the noon, there is a lot you can do even if you are not going on safari (which will be a shame anyways!)
Sample Local Vegan Food – I loved the local vegetarian and vegan Pitha. It was mildly sweet and very healthy. The fried fritters made out of curry leaves were good too and so was the Assamese pitika and chutneys. You can have these at the hotel where you are staying.
Bodo Village Walk – You can visit many Bodo villages and engage with their lifestyle. Many villages surround the boundary of Manas National Park. You will find one near your hotel/resort.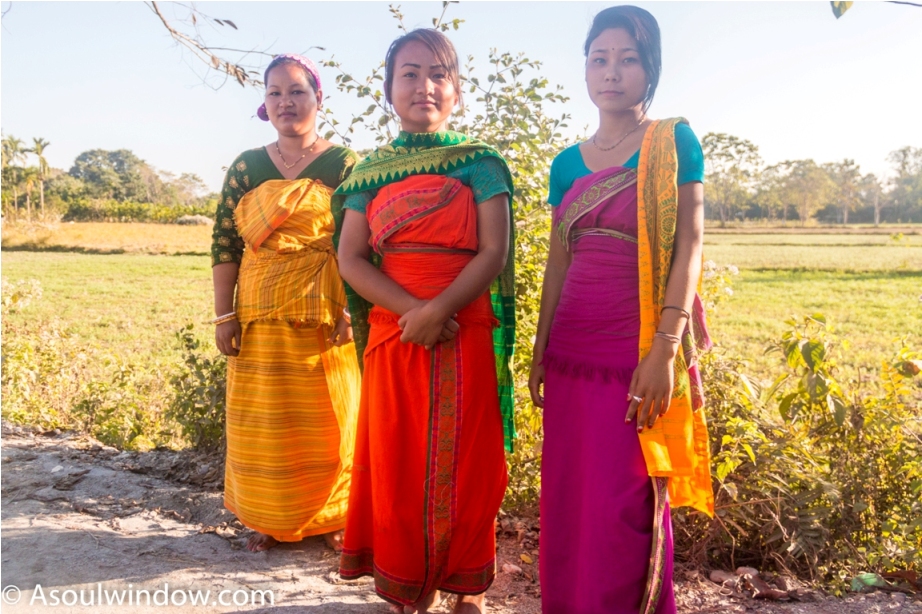 Textile Trail – Bodos are known for their rich textile tradition. You can visit a home to understand their textile culture. And now that you are at it, why not buy local Bodo clothes such as a Jwmgra (scarf) like I did. Equivalent for men is gamsa or gamosha. The intricate hand-made design on clothes is known as Aronai is also a scarf worn by both males and females. The traditional dress of women is called dokhona.
Dance Performances – Tribal dance performances, Traditional Bodo dance, Popular Assamese Bihu dance can also be arranged by the hotel and resort you are staying at.
Bodo Village Walks – A walk in tea estates is worth it especially during the sunset. You can see the workers tending to the tea gardens or just soak in the ambiance and the fragrant surroundings.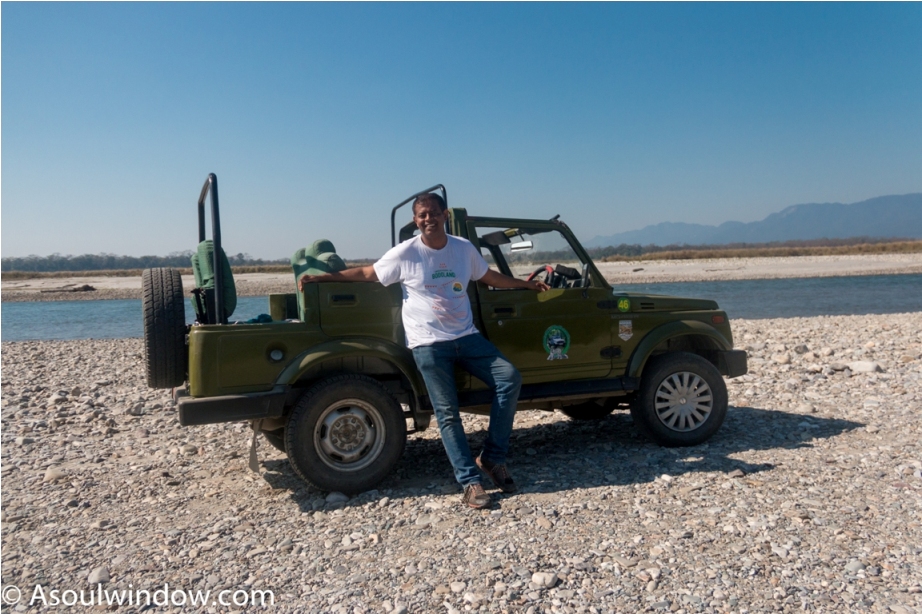 Elephants – Please avoid elephant related activities for entertainment. I have elaborated more on this in the 'Where to Stay' section of the blog.
Bird-watching – You do not need to stay inside the Manas National Park to be able to enjoy bird-watching. You will see scores of birds right in the premises of your hotel. Keep your cameras and binoculars ready.
ABOUT MANAS NATIONAL PARK
Located on the foothills of the Eastern Himalayas of India and Bhutan, Manas National Park is a World Heritage Site and a Tiger Reserve. Manas river is the main river which flows here. Some very rare animals are found here. It is also the home to India's Big 5. Many endemic species which are not found elsewhere also call it home.
Some quick facts about Manas National Park –
Total Core Area – 500 square kilometers
Established in – 1990
Location – Barpeta, Assam, India
Villages – Pagrang is the only village inside the forest. There are around 56 villages outside the boundary of Manas National Park.
World Heritage site – Manas national park was declared as a World Heritage site in December 1985 by UNESCO
Past – It was the hunting reserve of Raja of Gauripur and Cooch Behar royal family previously.
Wildlife Conservation – Exceptional conservation work has been carried out after the devastation and rampant poaching during the traumatic Bodoland Movement. It was stripped off from UNESCO's List of World Heritage in Danger on 21st June, 2011 due to the impressive and successful conservation efforts.
Ranges – Manas National Park has 3 ranges. The central range is called Bansbari (near Barpeta Road), the western range is called Panbari and the eastern range is called Bhuiyapara (near Pathsala). Bansbari range is where most travelers come to for jeep safari. We did the same.
LANDSCAPE OF MANAS NATIONAL PARK
Manas National Park is one of the world's single largest protected areas. The rugged landscape is very raw and undisturbed unlike some of the other popular National Parks of India. The river flowing inside the Manas National Park is gorgeous. The landscape reminded me somewhat of some regions of Corbett National Park in Uttarakhand in North of India.
The dirt tracks surrounded by dense trees gave way to large swathes of land with nothing but big stones on the floor and an open sky. Some regions had tall dry grass (I visited in January), tall enough to hide a huge Asian Wild Buffalo which we saw! Such variety in landscape is not easy to find in most National Parks.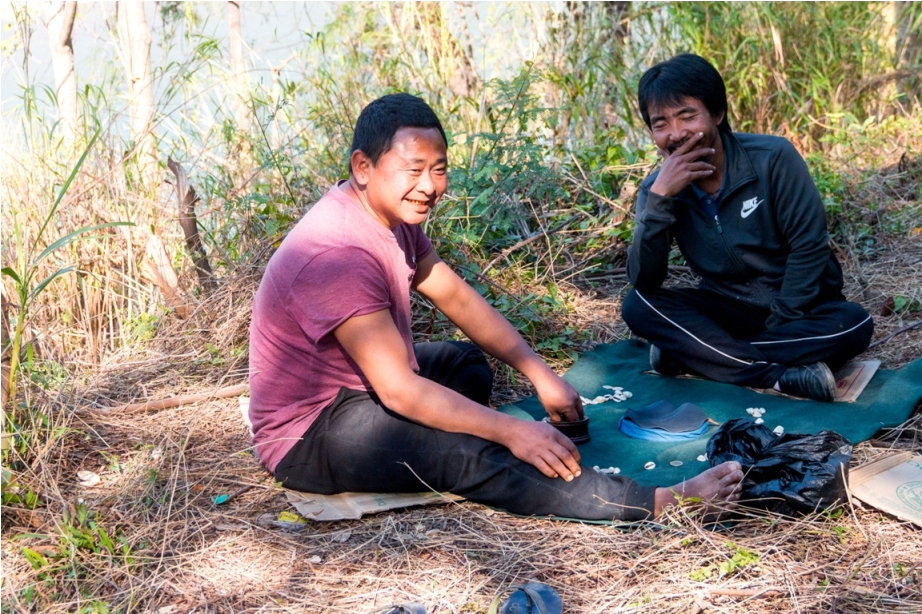 EXPLORE THE INDIAN BHUTAN BORDER
I am a self proclaimed border junkie. Borders give me a kick every time I am on one. So I was excited to be on the border of India and Bhutan within the boundaries of the Manas National Park. Yes, the safari gives you an opportunity to interact with Bhutanese people. You can even buy chips and juices and even wines from the people of Bhutan like we did.
The Bhutanese men will be dressed in their traditional dress gho trying to sell you their products. You can also get a glimpse of the much talked about unique architecture of Bhutan in the Manas Hotel at Panbang in the Bhutan side.
The Bhutanese men sat on the ground and were playing a local game making loud sounds. I do not know the name of the game. If you know, please let us know in the comment section. The Bhutanese women were nowhere to be seen though!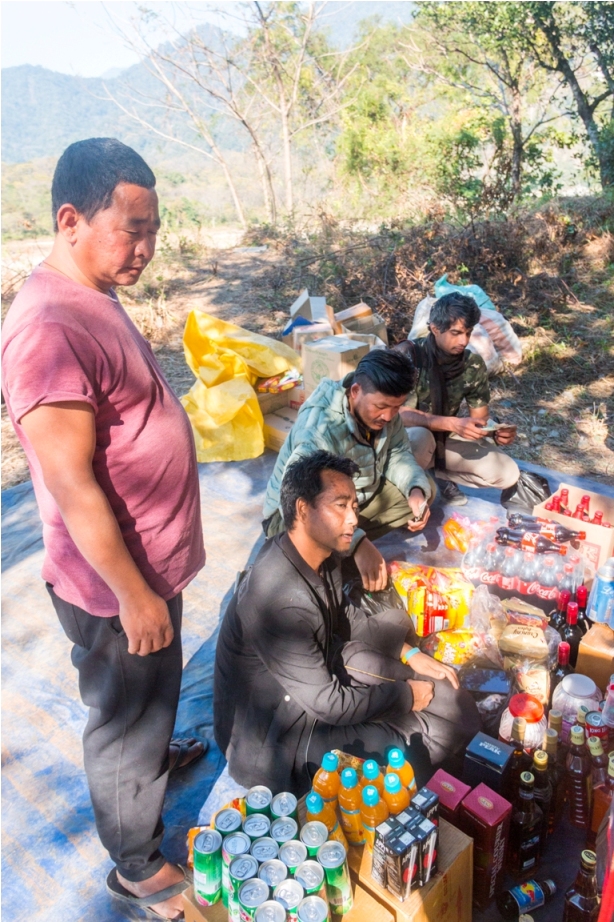 The picturesque river divides the Manas National Park in India from the Royal Manas National Park in Bhutan. The Bhutanese Himalayas in far distance make for a pretty backdrop. It made me yearn to travel to Bhutan. I have travelled to Bhutan two times. It was one of my best travel experiences.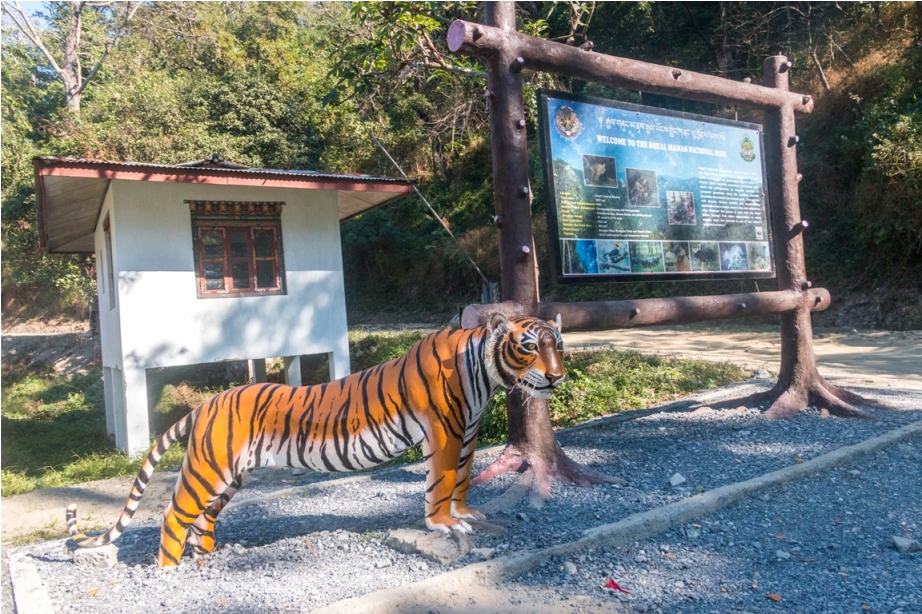 TOILET FACILTY:
There are clean and well maintained loos inside the Manas National Park. Both male and female toilets are basic but very usable. One free public toilet is located in the India side at the India Bhutan border. The landmark is the Manas Hotel in Panbang region of Bhutan. Travellers are allowed to roam freely in the Indian side.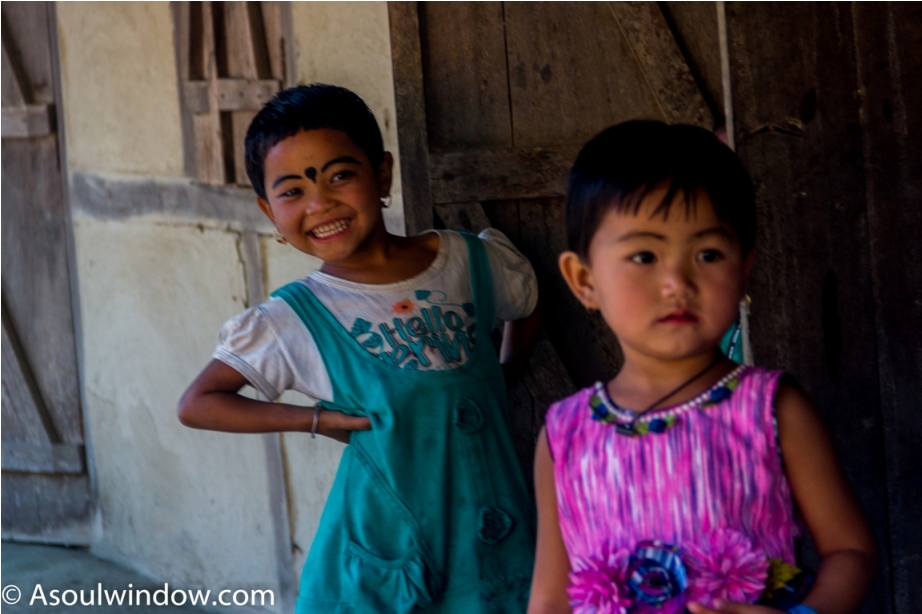 BEST TIME TO VISIT MANAS NATIONAL PARK, BODOLAND – OFFBEAT ASSAM GUIDE
I visited Manas National Park in winter during the month of January. In fact I celebrated new years at the Manas National Park.
Manas National Park is open for jeep safari from October to May. We all know that Assam gets heavy rainfall during the monsoon; sometimes it even gets flooded and causes severe damage to the flora and fauna of the region. Therefore, from June to September the Manas National Park remains closed for general public. Sometimes it can extend to mid October depending upon the weather and rainfall.
SAFETY CONCERNS REGARDING MANAS NATIONAL PARK, BODOLAND – OFFBEAT ASSAM GUIDE
Despite the rumors regarding Bodoland, I found it very safe. It was like any other National Park Of India. In fact due to lesser crowds than other National Parks Of India, the jeep safari experience and wildlife sightings are even better. There are many villages around the Manas National Park. The sight of workers busy in plucking buds in a tea garden around the park is comforting. I found it very safe and much like any other place in India.
JEEP SAFARI TIMINGS OF MANAS NATIONAL PARK, BODOLAND – OFFBEAT ASSAM GUIDE
Below are the jeep safari timings of Manas National Park
6:00 a.m. to 3:00 p.m.
JEEP SAFARI PRICES OF MANAS NATIONAL PARK, BODOLAND – OFFBEAT ASSAM GUIDE
Below are the costs for a jeep safari in Manas National Park
INR 20 per person for entry fees of Manas National Park – Indian travelers
INR 250 per person – Foreign travelers
INR 300 per Safari Jeep
INR 50 per still camera – Indians travelers
INR 500 per still camera – Foreign travelers
INR 100 per camcorder – Indian travelers
INR 500 per camcorder – Foreign travelers
Full Day safari –
WHERE TO STAY IN MANAS NATIONAL PARK, BODOLAND – OFFBEAT ASSAM GUIDE
There are many stay options near the Manas National Park. My Top Picks are as below:
1. Smiling Tusker Elephant Camp – Ecotourism at its best!
I stayed at the lovely Smiling Tusker Elephant Camp located just next to the boundary of the Manas National Park.
Room – You have the option of staying here in a tent or separate cottages. I stayed in a cottage. It was a nice, airy and spacious room. The washrooms were big and even had a separate dressing room with wash basin. There was also an extra bed apart from the double bed in the room.
Garden – All the rooms face a large manicured garden which is located next to a picturesque tea estate. There are also swings for kids, though even I was enjoying it early morning with a thick blanket all over me. I looked ridiculous but it was fun!
Food – The vegetarian and vegan food here was delicious. I had different types of Assamese pitika which is smashed potatoes/brinjal/tomato etc mixed with spices and herbs. It is exactly same to the bharta or chokha eaten at my home in Lucknow or elsewhere in North India. Delhi food served here was passable. Stick to local food!
Also served here are poori bhaji, cut fruits, juices, assorted fritters and of course the Bodo Cuisine.
Please Leave The Elephants Alone –
Contrary to their name, the resident elephants at Smiling Tusker Elephant Camp are made to work all day. I am sure the elephants are not smiling when people participate in the ridiculous 'Walk With The Elephant', give them forced bath or ride on them. Please say a strict no to any entertainment involving elephants here or elsewhere. It is just not ethical.
Did you ask,
"But they have been doing it for so many years. What will these elephant do when not making money through entertainment?"
If you do not take a stand, this will never stop.
I highly recommend staying at the Smiling Tusker Elephant Camp, just leave the elephants alone and say a firm no to elephant rides/safaris and amusement activities involving elephants even if the kids with you find them cute! They arrange very nice tours in the nearby Bodo villages and tea estates. Do that instead! They also arrange an amazing Bihu performance in the garden on request. Do not miss it.
Contact Details of Smiling Tusker Elephant Camp –
Facebook Page – Please click here
Email of Smiling Tusker Elephant Camp : [email protected]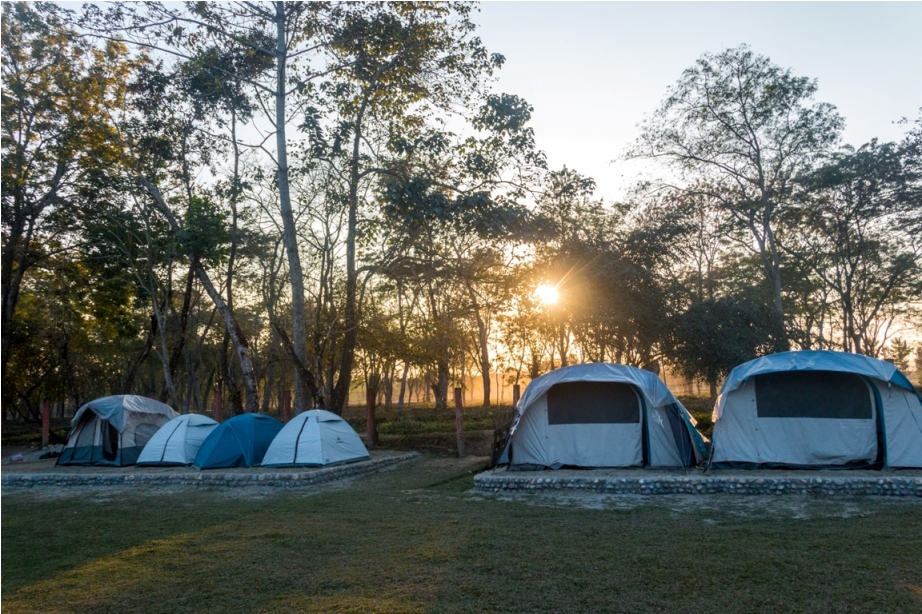 2. Mathanguri Forest Rest House – Stay Inside Forest
If you fancy staying in the core area of Manas National Park, then you should stay at the Mathanguri Forest Rest House. It is one of its kind accommodations available here. It is run by government and is the only property inside the park. It is an experience to stay at the 127 years old heritage bungalow on a small hill overlooking the Manas river. The river acts as boundary between the Manas National Park in India and the adjoining Royal Manas National Park in Bhutan. The Bhutanese Himalayas are visible from here. Please do not expect luxury. Simple meals are available. Of course, venturing out during the night is prohibited due to safety concerns. Expect power cuts most of the day. Only few rooms are available here so book in advance. Mobile coverage is non-existent here.
The boat ride on the river from Mothanguri to Bispani, which is 35 kilometres away is possible.
Contact Details of Mathanguri Forest Rest House
Phone- 03666-261413, 260288, 260289, 03666-260289, 260338
Fax: 03666–261413,
Email: [email protected]
3. Manas Maozigendri Jungle Camp – Stay With Ex Poachers!
Also known as Thobgang Manas Jungle Tourist Camp, it is located near Kokilabari, both cottages and tents are available here.
Run by MME aka Manas Maozigendri Ecotourism Society, you can meet many ex poachers who have turned conservationists here. During the Bodoland Movement, the poachers were hired to make money by selling animal parts. Gradually things improved. More on this story later.
A stay here is very meaningful. Do not expect luxury. The rooms are spacious, clean and airy. The food is just the way I prefer it, simple and delicious. If you stay here, you will also be contributing to the community. So why not!
Phone – +91 7896946621/ 9954958383/9613049142
Contact of local naturalist Rustom – 0789 694 6621
4. MANAS HOTEL, PANBANG, BHUTAN
I am not sure if Indians are allowed to stay in the Manas Hotel in the Panbang area of Bhutan. Indians are allowed to walk up to it. They have food, lodge and even a bar! It looked basic to me. But worth a stay due to its location next to the river.
Contact of Manas Hotel, Panbang, Bhutan
Phone – 03 – 742069
Mobile number– 17932676 and 17920675
Email – [email protected] , [email protected]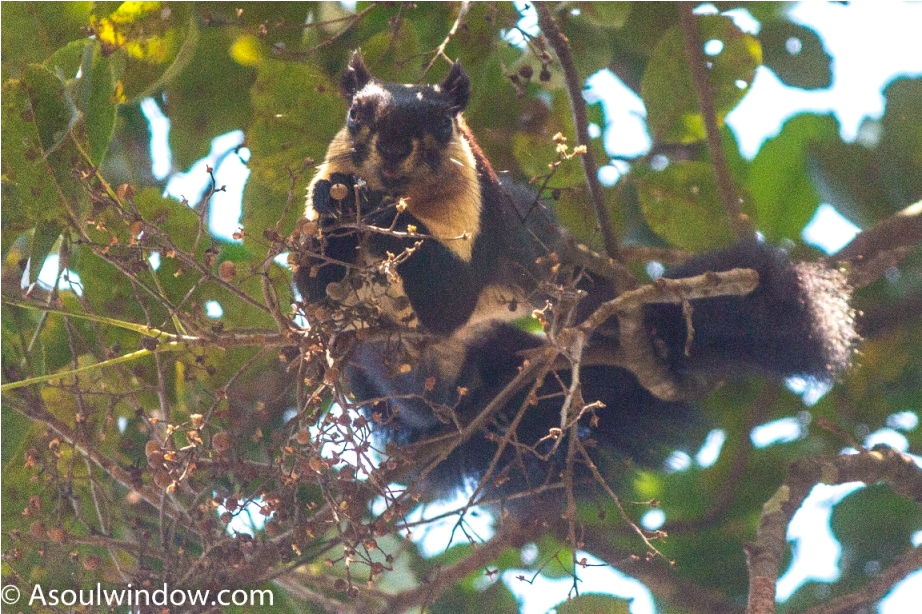 HOW TO REACH MANAS NATIONAL PARK, BODOLAND – OFFBEAT ASSAM GUIDE
My trip was organized by Root Bridge Foundation.
You can plan your trip with them for a hassle free experience. They also take travelers to Majuli , also in Assam.
It is very easy to reach Manas National Park. Please go through this section to plan a trip.
By Road:
Manas National Park can be easily accessed via Siliguri and Bagdogra, Guwahati and Bongaigaon, the four closest big cities.
Distance from Siliguri to Manas National Park is 361 kilometer via NH27 on very good roads. It takes around 8 to 9 hours.
Distance from Bagdogra to Manas National Park is 369 kilometers via NH27 on very good roads. It takes around 8 to 9 hours.
Most travelers from outside of Assam take above route for easy navigation and access as Bagdogra also has an international airport.
Distance from Bongaigaon to Manas National Park is a mere 70 kilometers via NH27 and SH6 on very good roads. It takes just 1. 5 hours to cover the distance.
You can also consider Bansbari. Bansbari is 22 kilometers away from Barpeta Road.
Distance from Guwahati to Manas National Park is 136 kilometers and it takes around 3-4 hours to reach on very good roads via NH27.
Distance from Dibrugarh to Manas National Park is 573 kilometers and it takes around 13-14 hours to reach on very good roads via NH715 and NH27. Not a good idea, but just in case if you wanted to know!
By Rail:
You can follow the same instructions as given above in the road section. If you want to save time your best options are Barpeta Road Railway Station, Bongaigaon or Guwahati followed by Siliguri and Bagdogra.
Barpeta Road Railway Station is just 22 kilometers away from Bansbari which is the main entry point of Manas National Park. These places are well connected with other parts of India. Many trains from Delhi make a stop here.
By Air:
The nearest airport from Manas National Park is Guwahati International Airport aka Lokpriya Gopinath Bordoloi International (LGBI) Airport. It is followed by the well connected airport at Bagdogra known as Bagdogra International Airport. Please see above for distances.
CHECKLIST OF MAMMALS FOUND IN MANAS NATIONAL PARK, BODOLAND – ASSAM GUIDE
There are 55 species of mammals found in Manas National Park. Below is a checklist of some of the mammals:
Indian Wild Elephant
Sloth Bears
Indian Leopards
Clouded Leopards
Royal Bengal Tiger
Black Panthers
Asian Golden Cat
Dholes
Indian Rhinoceros
Asian Water Buffaloes
Hog Deers
Chital
Barking Deer
Sambar Deer
Barasingha
Indian Gaur
Smooth Coated Otters
Golden Langur
Capped Langur
Hoolock Gibbons
Assamese Macaques
Slow Loris
BIRDS FOUND IN MANAS NATIONAL PARK, BODOLAND – ASSAM GUIDE
Manas National Park is teeming with avian life. The Bengal Florican (Houbaropsis bengalensis) and the great Pied Hornbill are some of the rare birds found in Manas National Park in Bodoland, Assam. Manas National Park is a delight for the ornithologists, bird watchers and bird photographers. Even the erudite safari jeep guides help you spot and identify the birds with enthusiasm.
There are 380 species of birds which are found in Manas National Park. Below is a checklist of some of the birds:
Migratory birds found in Manas National park during winter are
Cormorants
Ruddy Shelduck
Ducks
Forktails Riverchats
There are many different species of birds found in Manas National Park. You can spot different types of:
Babblers
Bitterns
Buntings
Bustard quails
Buttonquails
Chats
Coucals
Cuckoos
Curlews
Doves
Egrets
Fairy bluebirds
Flycatchers
Herons
Ibises
Leafbirds
Malkohas,
Martins
Monals
Parakeets
Pelican
Pigeons
Pipits
Sandpipers
Shrikes,
Snipes
Spoonbills
Storks
Swallow Shrikes
Swifts
Thrushes
Treeswifts
Trogons
Wagtails
Warblers
Wood swallows
Checklist of some bird species found in Manas National Park, Bodoland, Assam are as below
Bengal Florican
Indian Peafowl
Kalij Pheasant
Jungle Fowl
Brahminy Ducks
Black-breasted parrotbill aka Paradoxornis flavirostris
Scarlet Minivet
Bristled Grassbird aka Chaetornis striata
Bee eater
Jerdon's babbler aka Chrysomma altirostre
Marsh babbler aka Pellorneum palustre
Slender-billed babbler aka Turdoides longirostris
Grey Hornbill
Great Hornbill
Oriental Pied Hornbill
Rufous-necked hornbill aka Aceros nipalensis
Bulbul
Egrets
Pelican
Herons
Harriers
Magpie Robin
Grey-crowned prinia aka Prinia cinereocapilla
Merganser
Ruddy Shelduck
There are many different species of vultures, falcons, hawks, kites, harriers, eagles and bustards found in Manas National Park, Bodoland, Assam. Some of them are as below:
Sea Eagles
Crested Serpent Eagles
Ospreys
Fishing Eagles
Falcons
Slender-billed vulture aka Gyps tenuirostrisi
Amur falcon
Lesser kestrel aka Falco naumanni
ENDANGERED ENDEMIC WILDLIFE OF MANAS NATIONAL PARK, BODOLAND – ASSAM GUIDE
Pygmy Hog
Golden Langur
Hispid Hare
Assam Roofed Turtle
HERPETOFAUNA (REPTILES & AMPHIBIANS) FOUND IN MANAS NATIONAL PARK, BODOLAND, ASSAM
Around 50 species of reptiles and 20 species of amphibians are found in the Manas National Park. Below is a checklist of some of the reptiles and amphibians:
CHECKLIST OF REPTILES FOUND IN MANAS NATIONAL PARK:
Asian house gecko aka Hemidactylus frenatus
Asian Water Monitor aka Varanus salvator
Assam Day Gecko aka Cnemaspis assamensis
Blue fan-throated lizard
Bluethroated Lizard aka Ptyctolaemus gularis
Brahminy Blindsnake aka Indotyphlops braminus
Common Garden lizard aka Calotes versicolor
Frilled gecko aka Hemidactylus platyurus
Gray's Forest Lizard aka Calotes maria
Khasi bent-toed gecko aka Cyrtodactylus khasiensis
Little skink aka Eutropis macularia
Spotted Litter Skink aka Sphenomorphus maculatus
Striped grass skink aka Eutropis dissimilis
Tokay Gecko aka Gekko gecko
Variegated Mountain Lizard aka Japalura variegata
Water Monitor Lizard
White-spotted supple skink aka Lygosoma albopunctata
CHECKLIST OF FROGS FOUND IN MANAS NATIONAL PARK:
Asian common toad, Asian black-spined toad aka Duttaphrynus melanostictus
Assam Forest Frog aka Hylarana leptoglossa
Boreal Floating Frog aka Ingerana borealis
Green tree frog
Himalayan Tree Frog aka Polypedates maculatus
Indian Balloon Frog aka Uperodon globulosus
Indian Bullfrog aka Hoplobatrachus tigerinus
Indian skipper frog or skittering frog aka Euphlyctis cyanophlyctis
Nepal Cricket Frog aka Fejervarya nepalensis
Ornate Pygmy Frog aka Microhyla ornata
Pierre's Cricket Frog aka Fejervarya pierrei
Terai Cricket Frog aka Fejervarya teraiensis
Twin Spotted Tree Frog aka Rhacophorus bipunctatus
CHECKLIST OF SNAKES FOUND IN MANAS NATIONAL PARK:
Asian Water Monitor Varanus salvator
Brahminy Blindsnake aka Indotyphlops braminus
Eastern Cat-eyed Snake aka Boiga gokool
Himalayan Keelback aka Rhabdophis himalayanus
Indo-Chinese Ratsnake aka Ptyas korros
King Cobra aka Ophiophagus hannah
Ornate Flying Snake aka Chrysopelea ornata
Pope's Pitviper aka Trimeresurus popeiorum
Siamese Cat-eyed Snake aka Boiga siamensis
Tawny Cat-eyed Snake aka Boiga ochracea
LAST THOUGHTS ON MANAS NATIONAL PARK, BODOLAND, ASSAM
The offbeat Manas National Park in Bodoland, Assam, India is a very unique experience. Though Tigers are not easy to spot here but what we saw during the full day jeep safari tour was unforgettable. We were rewarded with great wildlife sightings. The local Bodo culture added to the 'Manas experience.' It is a very unusual and 'value for money' destination if you are wildlife planning a trip with family and friends.
The view from my Soul Window is more than satisfying!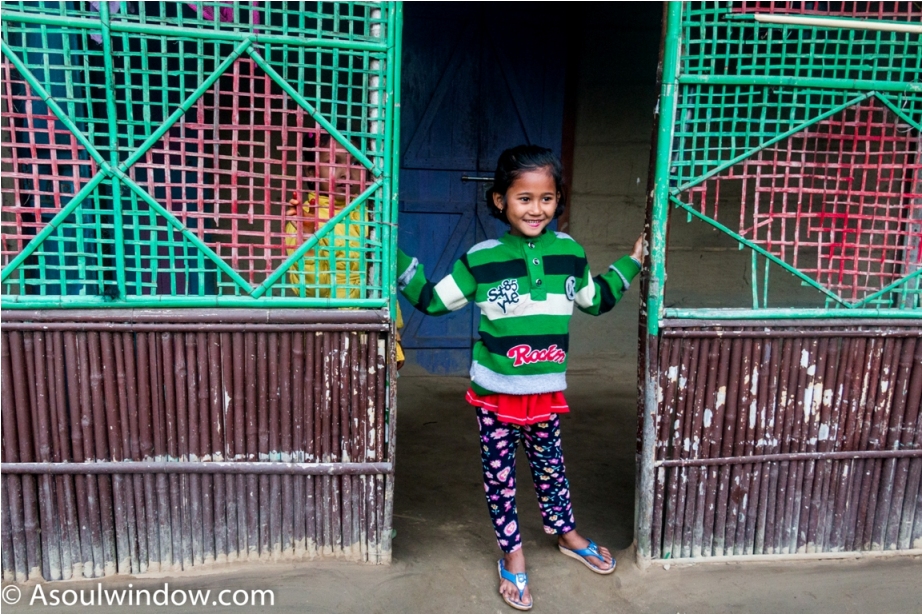 Spread the love, share this blog
Please follow the hashtag #ASoulWindow on Instagram, Twitter and Facebook for my free tips, pictures, videos and information on all things travel!
Got any question/comments, ask in the comment section below so that it can benefit other readers.
Email me for collaboration: [email protected]
Be a part of my journey on social media. The travel content I create there is different from this blog.
Pls subscribe/follow/like:
WARNING : COPYRIGHT TO ALL THE CONTENT SHARED HERE REMAINS WITH ME. THE IMAGES AND TEXT IN THIS BLOG ARE BY ME UNLESS MENTIONED OTHERWISE. YOU CAN NOT JUST LIFT THE CONTENT AND USE IT WITHOUT MY PERMISSION. STRICT LEGAL ACTION WILL BE TAKEN IF CONTENT IS STOLEN. YES, I AM SERIOUS.
Top Travel Blogger from India