Last Updated on September 22, 2023 by asoulwindow
TOP THINGS TO DO IN RANCHI, JHARKHAND!
This blog is about my brief stay in Ranchi, which is an offbeat destination in Jharkhand, India. I have listed down some of the top things to do in Ranchi. Do check out the nice hotel near Ranchi Railway Station which I booked via the OYO Rooms app.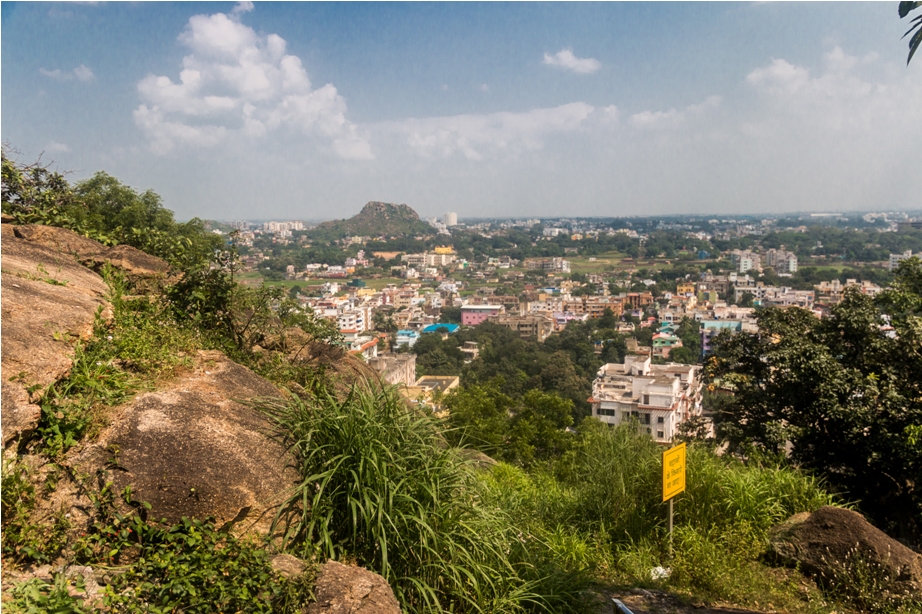 This was my first time in Ranchi and Jharkhand as well. It reminded me of Lucknow and Patna. The small town of Ranchi had the relaxed pace and clean streets of Lucknow (Uttar Pradesh) and food and culture reminiscent of Patna (Bihar). There is not much to see/do/eat in the Ranchi city itself but if you choose to venture a little out of the city, the outskirts will amaze you with gushing waterfalls, wilderness and open spaces. The city itself, I found was very clean and uncrowded in some parts. My connection to Jharkhand, erstwhile Bihar goes back to decades. I have some of my distant relatives still living in Ranchi. Though, I chose not to meet them and instead explored the city at a very slow pace. Here are top things to do in Ranchi:
Tagore Hills, Ranchi
Tagore Hill also known as Morabadi hills has connections to Nobel laureate Rabindranath Tagore. His elder brother Jyotirindranath Tagore had called this place his home for many years. Needless to say, he chose this place for silence, peace and meditation. A plaque at the place says that from 1910 to 1925 Jyotirindranath Tagore lived here in solitude and established 'Shanti Dham'. His only companion here were domestic dogs Ganju and her pup (Puppy) and also a monkey called Roopi. Many luminaries and noted personalities used to come to visit him on his secluded abode on the hills in the place now called as Ranchi.
Not many know that the less feted Jyotirindranath Tagore was the inspiration behind many works of Rabindranath Tagore. Jyotirindranath was an erudite who well versed in Eastern and Western literature and arts. And he taught the same to younger brother Rabindranath Tagore.
After the demise of Jyotindranath, the Morabadi Hills was abandoned and it slipped into obscurity. Lack of maintenance turned it into a scary ruin where no one ventured. Luckily, the tourism department of Jharkhand intervened and did the beautification of the place. The cleaned the overgrowth, built neat steps and restored old rooms. 'The Tagore Hill Trust', a government undertaking, now maintains the place.
There are many marble plaques that speak about the life and times of the lesser celebrated and known brother of Rabindranath Tagore. As soon as I entered the main gate of Tagore Hills (It is walled), an oasis of greenery and cool air swallowed me. It was a far cry from the busy traffic of the crossroad nearby. Broad steps led me to the top. As I climbed up, two paths vied for my attention. I chose the left steps first and arrived at a rough patch with sweeping views of the Ranchi city. A small patch. Under a thoughtfully made canopy overlooking the city from top, young couples cootchi-cooed. I am not sure if the Tagores would have approved.
I then stepped down and moved to the other steps on the right. This is where you get the best views. The view of the Ranchi city from the top most point was breathtaking. As soon as I arrived in Ranchi, my mother kept asking me on phone, "Did you see any hill?" She was disappointed when I said 'No, there are no hills in Ranchi." She must have heard of the hills from her relatives. But her 'travel writer' son disappointed her with his half baked knowledge. It is only after I arrived at the top most point of Ranchi, were I able to see its hills and numerous picturesque lakes. The top of Tagore Hills gives you a 360 degree view of the Ranchi city.
The houses, their naked rooftops, clothes hung out for drying in the backdrop of scenic landscape. Yes, I did spot many hills exiting within the city from this point. And in far far distance, I could see a hint of long mountain ranges, shrouded in mist and mystery. "This is where the waterfalls must be." I told myself. The small temple like structure which looked very old, offered the best of views. I imagined Tagore brothers ruminating and meditating on it in silence. There were some scribblings on the floor of the structure in Bengali. I am not sure if it was an original feature or added by some enthusiastic Bengali fans. Tagore is a Bengali and is worshipped like a Demi God in Bengal. The wind was fresh, cooler and breezy here, unlike the heat and dust of the city below.
Closes at: 5: p.m.
Entry free
Ramkrishna Mission Ashram, Ranchi
It was a solo budget trip for me. After soaking in the atmosphere in solitude and silence, I stepped down. I walked upto the busy chowk. En route I saw many ashrams such as Ramkrishna Mission Ashram. Its building has a very unique architecture. There are two buildings of ashram on either sides of the clean road. In one building, you can buy literature and visit the Auditorium, library, Vivekanand exhibition and even a clinic while on the other hand, you can visit the temple.
Location: Swami Vishuddhanand Road, Morabadi, Ranchi-8.
Website: rkmranchi.org
Opening time:
April to September-
Morning- 4:30 a.m. to 12:00 noon
Evening- 4:00 p.m. to 8:45 p.m.
October to March:
Morning- 5:00 a.m. to 12:00 noon
Evening- 3:30 p.m. to 8:30 p.m.
Ranchi lake aka Bada Talaab
There was a major confusion when I visited the famed Ranchi lake. The locals were confused about which lake I really wanted to see since there are many lakes in Ranchi, as I could see from the Tagore Hill. Finally, I showed them pictures of the Ranchi lake on Google. They identified it as 'Bada Talaab' (Big lake). When I finally arrived here, I was disappointed to see it. It didn't look as glamorous as it did on Google images. I left in no time and walked towards Pahadi Mandir which was close by.
Pahadi Mandir, Ranchi
Like Tagore Hills, the famed Pahadi Mandir of Ranchi is also built on a hill. You enter through a big gate and take the stairs to arrive at Pahadi Mandir. The campus is lined with people selling 'pooja samagri', flowers, and other offerings to Gods. It is a Hindu temple, much revered locally. Built at a height of 2140 feet from the sea level, the pahadi mandir is dedicated to Hindu God, Lord Shiva. It was under the control of British before the independence of India. This is the first temple of India where Indian fag is hoisted. The reason is very interesting. The British used to hang the Indian freedom fighters here. It was earlier known as 'Tiriburu' and was later called as 'Faansi Gari' during the British rule.
A local freedom fighter from Ranchi, Krishna Chandra Das hoisted the first Indian flag on this temple in memory of Indian freedom fighters who lost their lives here. Since then, the ritual of hoisting Indian flag began every Republic Day (26th January) and Independence Day (15th August). There is also a stone here which commemorates the Indian Independence.
This place attracts pilgrims in large numbers during the Hindu festival Shivratri and Savaan. You need to climb 468 steps to arrive here. Once you reach here, you will be rewarded with sweeping views of the Ranchi city.
MORE THINGS TO DO IN RANCHI?
When I posted about my stay in Ranchi, I received many comments one of which was from Mayuri Shukla. She gave me some valuable suggestions regarding Ranchi. I am copying her comment here verbatim. It will help the readers of this blog, "you are in Ranchi .. awesome.. of all the places u would be visiting like Khel gaon, Harmu Dam, Pahari Mandir, do try to explore about convent lace. It's an embroidery work, done on net – very intricate work and time consuming and also has a deep rooted history but sadly doesn't have a proper visibility. Nothing much is available on internet either. If you could possibly explore about this shrinking artwork and do an article, am sure it will be of huge benefit to the people involved in this field."
Due to the paucity of time and pre planned itinerary, I failed to do a story on convent lace, which sounded interesting. In case you want info on the same, pls go through the below information shared generously by Mayuri:
"Convent lace somewhere started with Ursuline Sisters Foundation established in 1903 , my best bet would be to approach this missionary.
Here's the address of one of their branch – Ursuline Provincialate Kanke Road 273/303 Ranchi 834 008 Jharkhand, INDIA
E-mail: [email protected]
Tel. +91(0)651/2285480 Mobile: +91-9973863384.
If not mistaken there's a lady named Sr. Suchila Shalini Xalxo who might provide more insight. Good luck"
WHERE TO STAY IN RANCHI

?
I stayed at Capitol Residency Ranchi. First things first! Just as I was checking out, I saw eminent author and Member of Parliament from Rajya Sabha, Mr. Rakesh Sinha in the lobby of Capitol Residency Ranchi. He was off for some seminar in the city, dressed slickly in his usual Indian costume. Before, I could nag the erudite gentleman for a selfie, he left in a jiffy. It was thrilling to see him staying in the same hotel as mine since I have admired the way he speaks on debates on Indian News channels.
CHECK IN AT CAPITOL RESIDENCY, RANCHI
Arriving at Capitol Residency and locating it on Google maps was very easy. It was at a walking distance from the Ranchi railways station which means I wasted no time and money to arrive at the hotel. As soon as I stepped out of the railway station, I inserted location of the hotel in the Google maps. Within few minutes, I arrived at the hotel.
Trying hard not to be distracted by assorted cakes and bakery items on the left of the front desk of the hotel, I initiated my check in. It was a smooth process and the formalities were completed within few minutes and the key were handed over to me. As the bell boy carried my luggage, I admired the interiors of the grand lobby.
I had booked the hotel via the OYO Rooms app. It was very convenient for me to choose a hotel under my budget and in the location I wanted to stay. It is so easy to find hotels in OYO rooms app location wise. It also allowed me to filter based on various parameters such as 'whether the hotel has a lift or not', 'Is breakfast included', the pictures of the property, the works!
LOCATION OF CAPITOL RESIDENCY, RANCHI
What I liked the best was that I could figure out which place is how many kilometers away from the Capitol Residency. Only after I assured that most points of interests in Ranchi are close to the hotel, I went ahead with the booking. And as it turned out, the place indeed was very close to most of the places in Ranchi and is well connected by public transport. Cabs are also easily available.
STAY AT CAPITOL RESIDENCY, RANCHI
The interiors of the hotel were impressive. Despite not being huge in size, they had utilized the space well. My room had a wardrobe on the right as soon as I entered. Next to it was the washroom with a curtain dividing the WC and shower area. Opposite the washroom was a rack for luggage, a large mirror, a cabinet below the television and a writing desk. There were different light fittings for different moods. Next to my bed were a coffee table and two sofas. Tired from overnight train journey, I switched on the air conditioner and crashed at the comfortable bed as soon as I was done with exploring the room.
FOOD AT CAPITOL RESIDENCY, RANCHI
The food at Capitol Residency was exceptional. Whatever I ordered at the hotel was brilliant. Be it the nicely done Pasta in pesto sauce or the Indian paneer curry and rumali rotis, the taste was perfect! In fact, I felt like staying for more just for the food. The room had a well stocked mini bar as well. Beer, vodka, whiskey? You name it, they have it!
The breakfast buffet was lavish and had variety. I was excited to find gunpowder besides the idli counter. Being a vegetarian who prefers healthy eating, I opted for Idli, 1 vada, poha, cut fruits and assorted juices. It was a delight to see them offer healthy juices like beetroot, carrot, cucumber etc apart from the usual ones like pineapple, apple, orange etc. The food served at the breakfast buffet was as good as the a la carte food.
WHAT TO EAT IN RANCHI?
Food in Ranchi is interesting and costs so low. The street food reminds me of food from Uttar Pradesh and Bihar. That said, Ranchi has its unique food too. I like that street food is served in cups made with green leaves in all over the Ranchi city. Not only is it eco friendly, but there is a feel good factor too. Lets see what you should eat in Ranchi.
DHUSKA
It is a round and flat snack commonly available on the streets of Ranchi. It is made with a batter of rice and lentils and deep fried. It is often served with chana (grams), chickpeas or potato curry. The texture, I found was coarse, thick and chewy which makes it a very filling meal. Traditionally, it is a breakfast meal, but I found that it is available throughout the day. My food blogger friend Maneesh Srivastava told me that Deepak Hotel near Meenakshi Cinema served amazing aalu dum and chana fry with dhuska.
It is: Both Vegan and Vegetarian
BHUJA: This is a very healthy option. If you are watching your weight, go for bhuja which is not only economical but also nutritious. It is dry roasted cereals mostly without oil. Peanuts and grams are often added to an instant bhel of assorted bhuja like puffed rice (laiya aka murmura), flattened rice (chooda aka chivda)
It is: Both Vegan and Vegetarian
AALOO BHUJIA
These are thinly sliced potatoes, often with peel. These are shallow fried and eaten with rice-lentil (Dal Chawal) or roti and dal. These are easy and quick to make too. Having grown up in Uttar Pradesh, I have eaten this as staple since childhood. My mom makes it very frequently. It is also my personal favourite.
It is: Both Vegan and Vegetarian
LITTI CHOKHA
These popular snacks commonly found in Bihar, Jharkhand and Uttar Pradesh is very healthy, nutritious and filling. No wonder it is a staple food in the rural and even urban places in these Indian states. Sattu (gram flour) is filled and slow baked on smoldering cow dung or coal. It is then dipped in (optional) desi ghee aka Indian clarified butter and served with spicy mashed potatoes or mashed brinjals or both mixed together. We even make it on bonfire every winter at home.
However, I feel that Liiti Chokha of Lucknow (Uttar Pradesh) is much better than what we get in Patna (Bihar) and Ranchi (Jharkhand)
It is: Both Vegan and Vegetarian
AALU TIKKI:
I am also a big advocate of the aalu tikki available in Lucknow and I have failed to find a city which serves better chat than what Lucknow offers. No the overrated Benaras Chat is no match either. Lucknow, I feel is the undisputed king of Chat but not many say that. However, I surprisingly enjoyed the chat in Ranchi which did not look very tempting until I ordered one. The hand ground coarse spices made it all the more delicious. Cost: Only INR 10
It is: Both Vegan and Vegetarian. However, watch out for curd which most vendors add.
SAMOSA
Samosa at all the places I ate at in Ranchi were delicious. Their potatoes were well spiced and even the coat crisp and crunchy. I know, it is a common food and you would wonder what all the brouhaha is about. But I strongly recommend that you give it a shot and try to eat samosas in Ranchi from multiple shops. I liked the halwai shop called 'DEHATI' (see pic) the most. They serve in a leaf cup and offer two chutneys, spicy green and sweet red. This one is not to be missed. At INR 7 each.
It is: Both Vegan and Vegetarian
JHALMURI
This is the Bengal influence. Thanks the proximity to Bengal, you will find jhalmuri easily in most places in Bihar and Jharkahnd. It is a healthy and light snack available on roadside mostly in evenings. It is made with puffed rice mixed with chopped onions, chillies, tomatoes, potatoes, spices etc. What makes it different from bhel and truly Bengali is the use of mustard oil. Starts at INR 10 only.
It is: Both Vegan and Vegetarian
The view from my Soul Window is new to me!
Spread the love, share this blog
Got any question/comments, ask in the comment section below so that it can benefit other readers.
Email me for collaboration: [email protected]
Be a part of my journey on social media. The travel content I create there is different from this blog.
Pls subscribe/follow/like:
WARNING : COPYRIGHT TO ALL THE CONTENT SHARED HERE REMAINS WITH ME. THE IMAGES AND TEXT IN THIS BLOG ARE BY ME UNLESS MENTIONED OTHERWISE. YOU CAN NOT JUST LIFT THE CONTENT AND USE IT WITHOUT MY PERMISSION. STRICT LEGAL ACTION WILL BE TAKEN IF CONTENT IS STOLEN. YES, I AM SERIOUS.
Top Travel Blogger from India