Last Updated on May 24, 2021 by asoulwindow
Exciting Tiger Safari in Dudhwa National Park & Tiger Reserve
Falling in Upper Gangetic plains of the Terai lowlands of India and Nepal, the Dudhwa National Park is home to many endangered species of birds, mammals and reptiles. Big mammals such as Tigers, Rhinoceros and Wild elephants are found here. It is thus popular with both wildlife enthusiasts and Bird watchers.
Dudhwa Tiger Reserve includes Kishanpur wildlife sanctuary, Katarniaghat wildlife sanctuary along with Dudhwa National Park, all of which are located close to each other. The charm of Dudhwa is its raw wildness. This offbeat National Park is not commercialized at all. That's what makes it special and different.
Location
Where is Dudhwa National Park located
Sprawled across a whooping 811 square kilometers, Dudhwa National Park is located in the terai region, close to Lucknow, capital of Uttar Pradesh in North India.
Located close to the border town of Gauriphanta in India and Dhangadhi in Nepal, Dudhwa National Park is one of the best wildlife destinations in India.
Where is Dudhwa Tiger Reserve
Together with Kishanpur wildlife sanctuary and Katarniaghat wildlife sanctuary, it forms the Dudhwa Tiger reserve of the Lakhimpur Kheri district.
In which state is Dudhwa National Park located?
Dudhwa National Park is located in Uttar Pradesh, the northern part of India. It is located close to Lucknow. It is my home state and one of the largest states of India which includes famous cities such as Lucknow, Varanasi, Prayagraj, Mathura, Kanpur etc. I grew up in Kanpur, Prayagraj and Lucknow in that order.
History of Dudhwa National Park
The 490 sq km area of Dudhwa National Park was marked as a wildlife sanctuary in 1958, thanks to the growing threat from converting the wetlands into agricultural fields which in effect pushed Barasingha on the verge of extinction.
Below is a timeline of the history of Dudhwa National Park
1958 – Originally in the year 1958, it was established as a wildlife sanctuary for barasingha aka swamp deer.
1977 – In January 1977, it was announced as Dudhwa National Park. The efforts made by the famous hunter turned wildlife conservationist Billy Arjan Singh were instrumental in granting the National Park status to this area.
1979 – Dudhwa was established as a Dudhwa Tiger Reserve.
1987 – Along with Kishanpur Wildlife Sanctuary and Katarniaghat Wildlife Sanctuary, Dudhwa was officially declared as Dudhwa Tiger Reserve. After it became a part of 'Project Tiger', the national park emerged as a successful hub for tiger conservation.
Why Dudhwa National Park is famous
Dudhwa National Park is famous for its unique landscapes such as grasslands, dense jungles and marshes, proximity to Nepal, fragile ecosystem and impressive population of tigers and sambar aka swamp deers.
This is why Dudhwa National Park is one of the best places to visit in and around Uttar Pradesh. The unique terai ecosystem of Dudhwa might just even be last of its kind in the world. Dudhwa National Park is also famous for its uncommercialized services unlike more popular National Parks such as Ranthambore National Park in Rajasthan and Bandhavgarh National Park in Madhya Pradesh. Thus I found the ambiance in Dudhwa more natural and raw, much like another offbeat wildlife destination called Satpura National Park in Madhya Pradesh. You will not find any touts here or irritating commercialization.
Landscape of Dudhwa National Park
The alluvial plains of Dudhwa National Park are a sight to behold. There are many natural ponds, lakes, rivers, rivulets and pools which exist in and around Dudhwa Tiger reserve. The land is very fertile here thanks to the Indo Ganges ecosystem. This combination makes Dudhwa Tiger Reserve a paradise for natural lovers, birders and wildlife enthusiasts. The flat grasslands punctuated with tall trees make for a spectacular view.
What is Terai Ecosystem
The Dudhwa Tiger reserve, which includes the Dudhwa National Park, Kishanpur wildlife sanctuary and Katarniaghat wildlife sanctuary boasts of a unique terai jungle ecosystem, which is a lowland region in sub Himalayan area.
Also found in the foothills of neighboring Bangladesh, Bhutan and Chitwan National Park in Nepal, a terai region is a marshy grassland, a perfect habitat to nurture many varieties of tall grasses and mammal species such as Rhinoceros, Barasingha (Swamp deer) which depend on such a terrain to sustain and thrive. The Terai-Duar savanna and grasslands eco region also support clay rich swamps, dense forests of sal and scrub savannah.
These low lying lands found near river banks, however are also notorious for being vulnerable to floods every monsoon. Case in point the frequent floods in the terai jungle regions of West Bengal, Assam and Bihar. The low land regions of the Brahmaputra river basin are known as 'Dooars'. It is called Dooars in Indian states like West Bengal and Assam and nations like Bhutan and Bangladesh.
Terai jungle regions are found in North India, East India, South Nepal and around Indo Gangetic plains. It is also found in India states like Uttarakhand and Haryana. Terai is an Urdu word which means foot hill of Himalayas or low lying land. Some locals say Dudhwa is named so after a milk collection center nearby. Dudh means milk in Hindi.
Himalayan rivers such as Ganga, Yamuna, Rapti, Kosi, Sarda, Narayani and Karnali pass through these terai belts. These are all huge perennial rivers which are rich in alluvial deposits.
About Katarniaghat Wildlife Sanctuary
Dudhwa Tiger Reserve comprises of Kishanpur Wildlife Sanctuary, Dudhwa National Park and Katarniaghat Wildlife Sanctuary. Established in 1975, it is a protected forest ever since. It sprawls across a huge area viz. 400.6 km2 or 154.7 sq miles. This undiscovered heaven is worth a visit. The landscape of Katarniaghat resembles Dudhwa and yet different.
Located in the terai region of the Bahraich district, Katarniaghat Wildlife Sanctuary is one of the most underrated and offbeat wildlife destinations of India. It was in 1987, when Katarniaghat Wildlife Sanctuary was included in the Project Tiger – A Government led tiger conservation programme.
Known for its sprawling grasslands and lakes, you can also do a boat safari in Katarniaghat Wildlife Sanctuary. It reminded me of boat safari I did in Chitwan National Park in adjacent Nepal.
Katarniaghat Wildlife Sanctuary enjoys the proximity of other prominent tiger habitats such as Bardia National Park in Nepal and Kishanpur Wildlife Sanctuary and Dudhwa National Park in India.
Birds: Katarniaghat Wildlife Sanctuary is home to some of the most endangered species such as rare birds like long billed vultures, white backed vultures and Bengal Florican.
Reptiles: Some of the reptiles found here are the paradise flying snake, viper, Burmese Rock Python, the very rare red coral kukri snake, banded krait and yellow speckled wolf-snake.
Gharial Conservation: It is also home to Gharials (aka fish eating crocodile or gavial). In fact one of the most successful conservation stories of Gharials are from Dudhwa and Kukrail in Lucknow. In fact they can be seen co existing with mugger crocodile and Ganges dolphins in Girwa river. It is their natural habitat. The local tribal people often destroyed their nests and eggs for food. To save them from extinction, Government started Gharial Conservation project since 1975.
Mammals: Other rare species found in Katarniaghat include Tigers, Wild elephants, hispid hare, Rhinoceros, Swamp deer, Gangetic Dolphins etc. The tiger conservation in Katarniaghat has been successful. The current number of tigers in Katarniaghat is above 20 and growing.
Wildlife safari in Katarniaghat is possible.
READ : Florican Dance in Rajasthan
About Kishanpur Wildlife Sanctuary
Also a part of Dudhwa Tiger Reserve, the Kishanpur Wildlife Sanctuary is located near Mailani. Spread over 227 square kilometers or 88 square miles of terai belt, Kishanpur Wildlife Sanctuary is home to Bengal Florican, Lesser Florican, python, leopards, tiger, wild boar, barking deer, hog deer, swamp deer or barasingha, chital or spotted deer or axis deer and ghariyal etc. Kishanpur sanctuary is thus a must visit.
The distance between Bhira town in Lakhimpur Kheri District and Kishanpur Wildlife Sanctuary is only 13 kilometers.
The distance between Dudhwa National Park and Kishanpur Wildlife Sanctuary is only 30 kilometers. Located on Sharda river's banks, more than 450 species of resident and migratory birds are found in Kishanpur Wildlife Sanctuary and Dudhwa Tiger Reserve. Jhadi Tal is a good place to spot these birds, especially during winters.
Smooth coated otters can also be seen in Jhadi Tal. Some of the exotic birds found in Kishanpur Wildlife Sanctuary are common pochard, red crested pochard, white-eyed pochard, snakebird, pintail, dabchick, spoonbill, black necked stork, river tern, mallard, grebe and shoveller etc. It is thus a great place for bird watching in Uttar Pradesh.
Kishanpur Wildlife Sanctuary was founded in 1972. It is not easy to spot a tiger in Kishanpur Wildlife Sanctuary. Sharada Beat, which is located close to Jhadi Taal, is the best place where you may spot a tiger. It all depends on your luck though.
Also read: Birdwatching Check list for Dudhwa National Park
Shahjahanpur is the nearest railway station from Kishanpur Wildlife Sanctuary.
Fauna of Dudhwa National Park
Big animals – Apart from tigers, other big animals found in Dudhwa National Park are wild Asian elephants and Indian Rhinoceros. The Rhinoceros were easily found in Dudhwa region over 150 years ago. The Rhinoceros was first re introduced to Dudhwa in the year 1984 in the month of March from Pobitora Sanctuary located in Assam. I saw many Rhinoceros in Kaziranga National Park, also in Assam. I also wrote about it in a separate blog. I tried hard to spot Indian Rhinoceros in Dudhwa National Park but failed.
Dudhwa Tiger Reserve is also home to one of the largest population of swamp deer or Barasingha in the world. It is the biggest of its kind of population of Barasingha at a place.
Another rare mammal, Hispid Hare, which was considered extinct, was found in Dudhwa again in the year 1984. Amphibians like Indian narrow headed softshell turtle are also found in Dudhwa.
Other mammals of Dudhwa are Terai Grey langur, Rhesus monkey, sloth bear, jackal, honey badger or ratel, spotted deer, neel gai or blue ox, sambar deer, hog deer, kakad or barking deer or Indian muntjac, porcupine, leopard cat, civet cat, fishing cat, jungle cat etc.
Flora of Dudhwa National Park
You will get a variety of landscapes in Dudhwa national Park, much of which is mosaic grasslands punctuated with dense jungles. The muddy marshes are also omnipresent in Dudhwa. One of the most rich forests of Saal Tree in the world is found in Dudhwa Tiger Reserve. Trees of jamun, bahera, asna, gular, shisham, sehore are also naturally found in the forests of Dudhwa National Park.
You will be surprised to know that some of these trees may be as old as 150 years. I was particularly impressed by the tall trees, some of which may measure as much as 21 meters or 70 feet tall. The saal forests are the most dense ones. The teak forests are another reason what Dudhwa is famous for.
The different types of forests found in Dudhwa National Park include the most deciduous forests, dry deciduous forests, tropical semi evergreen forest and tropical seasonal swamp forest. The Forest department of Uttar Pradesh maintains and patrols the jungles. More than 19% of the area of Dudhwa comprises of grasslands which I noticed was also the case with Chitwan National Park in Nepal.
My Safari Experience in Dudhwa National Park
Wasting no time we quickly booked our Safari jeep and guide and invaded the Dudhwa National Park. As soon as we entered we were greeted by a herd of Cheetal, the spotted deer. No one was excited to see them, yet we faked some excitement to keep the morale of the group high. We passed through unending queues of termite mounds or nest. These fortresses were awe inspiring and the tallest one dwarfed even a 6 footer like me. These mounds are just as deep as they are tall and contains water in its depths, the guide told me.
Spotting Tigers in Dudhwa National Park
Tiger conservation in Dudhwa Tiger reserve was successful due to the efforts by hunter turned conservationist Billy Arjan Singh.
Like others, we also aimed at spotting tigers. Shielding our faces from intense cold of December, we kept our eyes peeled for those orange and black stripes. Our guide informed us that the Tiger sightings have been good this season. On an average a tiger is sighted every day ever since the park opened. My childhood friend Sudeep Garg, who is an excellent wildlife photographer, has paid many visits to Dudhwa National Park and Dudhwa Tiger reserve.
On one of his visits, Sudeep spotted a tiger in the Dudhwa National Park. The tiger charged at their safari jeep angrily and vanished. On another occasion, Sudeep spotted tigers in Kishanpur wildlife sanctuary in Dudhwa Tiger reserve. He is yet to spot tigers in Katarniaghat wildlife sanctuary though.
You can also spot tigers in Pilibhit Tiger Reserve, which is also in Uttar Pradesh. It is a beautiful region. I visited it while I and Sudeep were on our way from Lucknow to Sattal for bird watching. I was told a story about a Pilibhit tiger who was very aggressive. The tigers in Pilibhit are not as used to seeing human as compared to other National Parks of India.
Birdwatching in Dudhwa National Park
There are around 400 species of endemic and migratory birds which are found in Dudhwa Tiger reserve. Some of the migratory birds which can be seen in Dudhwa in winter months are white necked storks, painted storks etc. Some other interesting bird species found in Dudhwa Tiger reserve are Sarus Crane, hornbill, white rumped vulture, Bengal Florican, swamp francolin, Asian barbet, minivets, great slaty woodpecker and owls.
As we headed to Dhangadhi in Nepal from Dudhwa National Park in India, I could not help but admire the breathtaking views en route.
Out of all the country experiences what really took my breath away was the impulsive stop we made near a pond when our roving eyes spotted a pair of huge woolly necked stork aka Bishop stork. We took gentle slow steps in a bid to not disturb their peace. But the birds were smarter than I thought.
They soon sensed our presence and fled in a jiffy, displaying their beautiful body in its different avatars at various stages of flight. In deep silence when I saw these storks take gentle poetic flight in perfect synchrony amidst an ethereal backdrop of dried trees, it more than made up for my not sighting a tiger.
I realized a safari should not always be about tigers and it should not be confined to a national park as I saw many birds outside the Dudhwa National Park. That is true for bird sanctuary also.
Nature Interpretation Center
As is common with most National Park, wetlands and wildlife sanctuaries of India, Dudhwa National Park also has a well maintained Nature Interpretation Center in its premises. You can learn about the local flora, fauna etc. It is a great place to visit for both kids and adults alike.
Meet Tharu People & see Tharu Dance
Did you know that most Tharu people live in Nepal. Some of them also live in the fringes of Uttar Pradesh, India near Dudhwa Tiger Reserve. They have been living in this region much before Dudhwa was declared a National Park or Tiger reserve. You can enjoy well managed Eco tourism here.
History of Tharu People
Due to the persecution by Islamic invaders and Mughals long ago, the women had migrated from Rajasthan to these safer havens. During the battle of Haldighati, the women had fled from their servants while their husbands stayed back. The husbands could not survive the atrocities by Mughals and never returned. The malarial jungles separated them from the oppressor and they ended up disconnected with the mainland. The women married the servants and local people. This created a unique matriarchal society.
Tharu Huts – This also resulted in unique language, culture and dance. The Tharu people of National Park Dudhwa know the forests of Terai very well and are an expert at tracking wildlife naturally. Do meet them if you want to interact with the ethnic, indigenous people of Dudhwa National Park. You can even stay with them. Their eco friendly Tharu huts are made up of cow dung, straw, manure and of course mud. You will also notice large containers in their homes. These are used as grain storage. This is Eco tourism at its best.
Tharu Cuisine –Tharu people live across 40 villages around Dudhwa National Park. Do sample their unique cuisine if you want to. Cooking classes are also available on demand. Your local guide can arrange this trip. Farming is their major economy. They mostly work in sugarcane fields, many of which I saw in and around Dudhwa Tiger Reserve.
Tharu dance – You can have an immersive experience of local lifestyle by seeing a traditional Tharu dance or by visiting an authentic Tharu village. I saw a spectacular folk music and dance performance by Tharu people in Chitwan National Park in Nepal. You can also see it in Dhangadhi in Nepal.
Tharu Culture – Tharu people are great craftsmen. You can buy baskets, dhurries, rugs etc. The baskets are very unique as they are made with local grass. You can also buy attractive jewellery and colorful dresses worn by local Tharu women. The Tharu people are closely connected to nature and live in harmony with their environment.
Visit Dhangadhi – The Indo Nepal border
Dhangadhi, the 10th largest city of Nepal, is located very close to Dudhwa Tiger Reserve. Do read my detailed blog on Dhangadhi. You can easily go to Dhangadhi from Uttar Pradesh in India. Now you know why Dudhwa Tiger Reserve is one of the best places to visit in and around Uttar Pradesh. There is so much to do here. There is a vast stretch of agricultural land between Dudhwa National Park in India and Dhangadhi in Nepal.
Chitwan National Park in Nepal
I have been to Chitwan National Park in Nepal as well. The terrain there was very similar to that of Dudhwa National Park. Do read my blog on Chitwan National Park. I was lucky to see many crocodiles and a Rhinoceros with baby in Chitwan National Park.The terai region of Nepal is spread across a mind boggling 33,998.8 square kilometers or 13,127 square miles. Isn't that impressive?
Wait till I tell you that it makes up 23.1 % of all of area of Nepal. Home to around 50 wetlands, the terai region of Nepal hover at a very low altitude of just 220 to 984 feet or between 67 to 300 meters. Intriguing indeed!
And to imagine that Nepal is also home to some of the tallest mountains in the world, including the Mount Everest! I was lucky in successfully participating in the Everest Base camp Trek in the month of October when the views are the best! That was one of my first high altitude treks in the Himalayas.
What is the best time to visit Dudhwa National Park
The best time to visit Dudhwa National Park is during summers. The sightings of tiger and other animals are better in summer. May and June are very hot months in Dudhwa National Park but great for spotting tigers and other species.
If you are looking for bird watching then winter is a better time as many migratory birds are found in Dudhwa National Park and its periphery during winters.
Dudhwa National Park opening dates
Dudhwa National Park opening date for public every year is from 15th November to 15th June. The park remains closed during the monsoon months. The area receives major rainfall during June, July and August every year and thus the park is closed by the Forest department.
Where to Stay in Dudhwa National Park
We were to check in at a plush Guest house of a sugarcane factory where my father used to frequent for inspection before he got retired. The benefits of staying in the middle of all the action trickled in even post retirement. The guest house was in a calm, peaceful, well maintained colony where the officials lived. A far cry from the midnight chaos which prevailed just a few meters away. The family soon cocooned in the cozy Guest house but my heart yearned for something more earthy and unkempt.
Some of the best hotels to stay in Dudhwa National Park are as below:
Dudhwa Forest Rest House – You can stay in this government run property called Dudhwa Forest Rest House. Expect good food and spacious rooms in good location, close to Dudhwa National Park. The facilities here include welcome drink, complimentary breakfast, room service, exclusive jeep safari, private naturalist or forest guide etc. Prices are around INR 5,000 per person.
Tharu Huts – If you want to stay in a traditional Tharu hut that is also possible. There are around 14 Tharu huts in Dudhwa. It is a unique accommodation option and you must try to stay here. 4 huts are also available in Sathiana.
Dormitory – Dormitories are low cost accommodation and are available in Dudhwa National Park.
How to reach Dudhwa National Park

It is fairly easy to reach National Park Dudhwa. Lucknow, the capital of Uttar Pradesh, is the nearest big city from Dudhwa Tiger Reserve. In order to reach Kishanpur Wildlife Sanctuary from Dudhwa National Park, you need to cross the 15 kms long agricultural patch that exists between both.
How to reach Dudhwa National Park from Lucknow
Dudhwa National Park has always been so close to my home in Lucknow, Uttar Pradesh.  But blame it on the poor advertisement of the place and my procrastination to explore the familiar terrains, it took me 32 years to finally make the journey to the National Park known for its impressive tiger population.
Train – The nearest railway station from Dudhwa Tiger reserve is Shahjahanpur. You can take a train from Lucknow to Shahjahanpur.
Road – The road trip from Lucknow to Dudhwa National Park is scenic. You can also sample local food on the way. It is a comfortable ride on smooth roads.
Route
Here is the route if traveling to Dudhwa National Park from Lucknow on road:
Lucknow – Sitapur – Lakhimpur – Gola – Khutar – Mailaani – Palia – Dudhwa National Park. Total 228 kms.
Here is the route if traveling to Dudhwa National Park from New Delhi on road:
New Delhi – Muradabad – Bareilly – Pilibhit tiger reserve – Khutar – Mailaani – Palia – Dudhwa National Park. Total 428 kms.
Flight – The nearest international airport from Dudhwa Tiger reserve is in Lucknow, the capital of Uttar Pradesh. Lucknow airport name is Chaudhary Charan Singh Airport. You can take a train or cab from Lucknow to Shahjahanpur.
Bus – You can also take a bus from Lucknow to National Park Dudhwa.
Distances
Chandan Chowki is 15 kms away from Dudhwa National Park
Gaurifanta is 25 kms away from Dudhwa National Park
Palia is 10 kms away from Dudhwa National Park
Lucknow is 221 kms away from Dudhwa National Park. It takes around 5 hours and 15 minutes via SH90 and NH30.
How far is Dudhwa National Park from Lucknow

Located just 221 kms away from Lucknow, we expected to reach the park in 3 hours. Despite smooth roads, almost zilch traffic at places and an efficient driver, we were often forced to drive at a yawn inducing 10 kms/hour. The distance of 221 kilometers between Dudhwa National Park and Lucknow can be covered comfortably in 5 hours and 15 minutes via State Highway 90 and National Highway 30.
How to reach Dudhwa National Park from New Delhi

By rail– If you are coming from New Delhi, then you can take train to Shahjahanpur or Lucknow. If you want to break your journey and come to Lucknow first then you can take train from Lucknow to Shahjahanpur. Lucknow mail is a good overnight train. From Shahjahanpur, you need to reach Dudhwa by a short road trip
How to reach Katarniaghat wildlife sanctuary

Katarniaghat wildlife sanctuary falls within the Dudhwa Tiger Reserve. You can drive from Dudhwa national Park to Katarnia ghat wildlife sanctuary. The road condition is very good and it's a pleasure to drive here. The roads are also empty mostly.
Dudhwa Jeep Safari Package Cost
Dudhwa Jeep Safari Package cost is very low when compared to other National Parks of India. Apart from transportation cost, accommodation and meals cost the main costs you will have to bear in Dudhwa National Park are as below:
Jeep safari
Jeep safaris happen in different parts of Dudhwa Tiger reserve.
Jeep safari fees: INR 2000
Guide fees: Safari jeep cost includes Guide fees and vehicle entry fees.
I was impressed to see female naturalists or wildlife guide accompanying us in our safari jeep.
Entrance Fees of Dudhwa
Indian: INR 50 per person
Foreigner: INR 300 per person
Timings for safari in Dudhwa:
Morning safari – 7 a.m. to 10. a.m.
Evening safari – 3 p.m. to 6 p.m.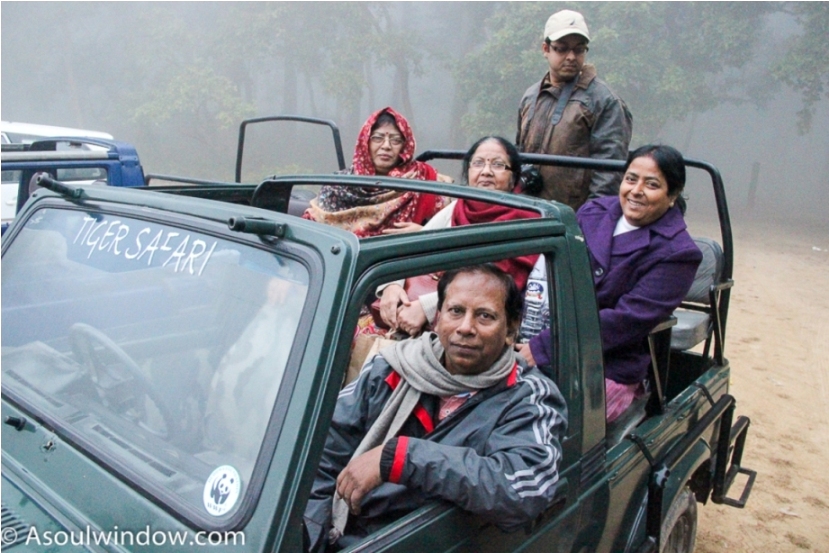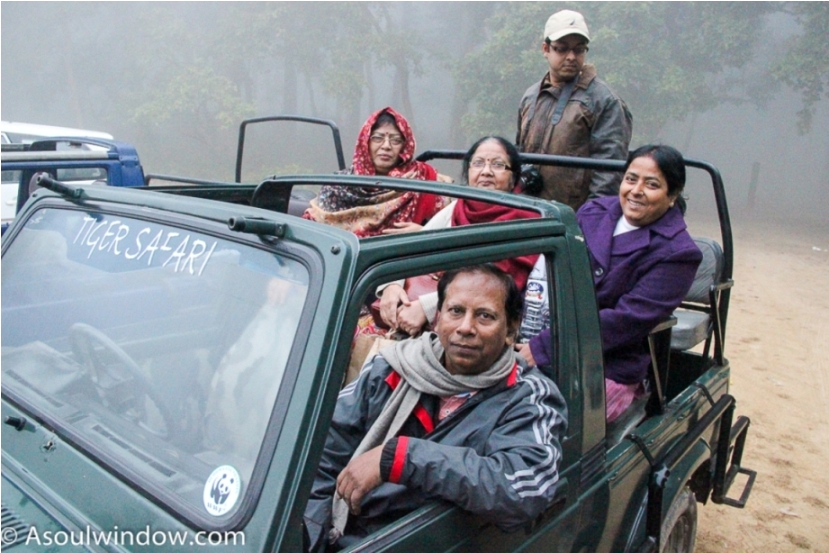 Zones in Dudhwa National Park
Below are the 5 Zones in Dudhwa National Park
Dudhwa Safari Zone for tigers and elephants.
Sonaripur Safari zone for Greater one horned Rhinoceros.
Kishanpur Safari zone for tiger and bird watching
Chuka Tiger Reserve or Pilibhit tiger reserve for tigers.
Katarniaghat safari zone for boating, dolphins, crocodiles, gharial and tigers.
Elephant safari: I do not recommend Elephant safari. It is cruel to the elephant. I have seen mahouts hitting them with sticks and forcing them to move on uneven paths with 6 people sitting on top of them. Elephants belong to wild and are not meant to be chained all day. So, please stay away from Elephant Safari. Jeep safari any day is better.
What is it like to visit Dudhwa National Park in India
It was December when I visited Dudhwa National Park. It was December of North India. And the sun has bid adieu for the day. The infamous dense fog, thanks to the North Indian winters kept us thrilled and alert to take each step cautiously. Things got even worse after we took a break in Lakhimpur Kheri for fresh sand roasted groundnuts with coriander chutney and tea.
Soon we were driving in zones without electricity. The dark night and narrow roads only added to the drama. And we were all alone in that nondescript hinterland, cut off from civilization. Not very different from an alien spaceship doing some soul searching after landing in the middle of Rann Of Kutch on a moonless night.
Our anxiety was punctuated by sporadic comforting sights of another living breathing organism in the same space. Like that nervous fox, perhaps, on a postprandial walk with her litter. Or that random local riding the bike alone, braving the bone piercing cold, darkness, fog and other atrocities. In the last leg of our journey, suddenly the fogs cleared and we were greeted with kilometers long lines of bullock carts and trucks stuffed with nothing but mountains of sugarcanes. Most Indians have experienced that ghastly smell from sugarcane processing units while making train journeys.
I can count on my fingers how many times I have woken up at 5:30 a.m. on a cold December North Indian morning. Bathing of course is impossible. I stepped out to evaluate the weather condition on which our happiness depended in the next 3 hours. The fog had enveloped everything in its way. Water droplets gently fell on me. "Is it raining?" I panicked in my half sleep, hands permanently swallowed by my jacket pockets.
Turned out it was the dew, falling poetically from the dense canopy of trees. Not hoping to spot much wildlife, we anyhow hopped on to our car, passing through the misty roads illuminated dimly by a shy sun. The dry leafless branches of the trees, emboldened by thick fog looked eerie and haunted.
So this is what it is like to visit Dudhwa National Park in India. Of course the experience will be different each time and during different months.
Vegan and Vegetarian Food in Dudhwa National Park
You will get good quality North Indian Food in and around Dudhwa National Park. It is easy to get vegan and vegetarian food in Dudhwa. You can also sample traditional food of Tharu people. Let me tell you about my quirky food experience in Dudhwa.
As we maneuvered through the unexpected traffic jam in the remote interiors of Uttar Pradesh, my eyes and tongue showed a biased affinity towards the umpteen roadside dhabas and tea stalls, catering to the many truck and bullock cart drivers.
The family preferred to eat the home made food packed few hours before. Shunning it, I conspired with my driver and headed to the nearby dhaba. Even at midnight in a bone chilling weather it was buzzing with activity what with customers flocking to find some comfort in food, conversations and the warmth from the little bonfire. Sitting on a wooden bench the paint of which had peeled off, I indulged in people watching.
Their faces softly lit by the 'Laalten' (lantern) still popular in Indian villages where electricity is enjoyed by a privileged few. As my food arrived I hurriedly ducked in the sumptuous Rajma, Aaloo tamater, tandoori roti and rice. All this was just under INR 50. My soul satisfied, we soon called it a day, lest we find it difficult to wake up really early in the morning to catch the safari.
Local Economy of Dudhwa National Park
Apart from wildlife tourism, this place's economy clearly revolves around sugarcane and nothing really goes waste. The sugarcane leaves are one of the sturdiest and long lasting thatching material, I was told. For the first time I found myself in the middle of all the action as we drove through mist laden empty roads.
Apparently sugarcane is the currency here. The economy of the village revolves around sugarcane. Every night the area goes through the same drill. My driver tells me that the bullocks in bullock carts are so accustomed to the routine that their driver often sleeps on the cart while the bullock pulls the cart and reaches the destination without any human instruction.
Is Dudhwa National Park safe?
Yes Dudhwa National Park is very safe despite its remote location. The local people are very friendly and helpful. The government officials are also very alert and helpful. Do visit Dudhwa without any worry. A personal vehicle just adds to your safety but it is equally safe to travel here in public transport.
Which river passes through Dudhwa National Park?
The river which flows through Dudhwa National Park is Mohana and Suheli river. Mohana river also flows in neighboring country Nepal. The rivers which flow in Katerniaghat wildlife sanctuary and Kishanpur wildlife sanctuary are Geruwa river or Giriwa river and Sharda river respectively. These rivers are tributaries of the major river known as Ghaghra. It is also possible to enjoy a Boat ride in Geruwa river.
Conclusion Dudhwa National Park
Dudhwa National Park is one of the best National parks of not only Uttar Pradesh but all of India. It is worth it to visit the Dudhwa Tiger reserve which includes Katarniaghat Wildlife Sanctuary and Kishanpur Wildlife Sanctuary. The jeep safari, bird watching and traditional Tharu cultural experience make it a great wildlife destination in North India. You must visit Dudhwa national Park for an offbeat wildlife experience.
The view from my Soul Window is untamed!
Top Travel Blogger from India