Last Updated on November 21, 2017 by
IN SEARCH OF ONE HORNED RHINOCEROS & OTHER WILDLIFE IN CHITWAN NATIONAL PARK: NATURALLY NEPAL!
This blog is about my visit to Chitwan National Park in Nepal. Chitwan is very close to the border of India and is rich in flora and fauna. The main wildlife draw at Chitwan National Park is the one horned rhinoceros.
It was not the right season to spot one horned Rhinoceros in the Chitwan National Park. "Why did we even come here?" I was complaining mostly to myself as our Canter van navigated through the tall elephant grass. The elephant grass (Saccharum ravenna ) is one of the world's tallest grass and prevents soil erosion.
We were moving around only through the periphery of the core zones of Chitwan National Park, a small section of nearly 932 sq km (2600 sq km in 1950s) of forests which make the Chitwan National Park. Nobody comes to Chitwan National Park to spot the elusive Royal Bengal Tigers. One horned Rhinoceros are the star here for a change.
I had given up the hope to spot any rhinos when the massive Canter van ahead of us got stuck in a muddy patch. The entire canter van was booked by a western couple who looked as disappointed at not sighting a rhino. The 'sticky' situation under the humid air and harsh sun made it worse.
We stopped our van and volunteered to help. More villagers joined and after half an hour of sweat and hard work, we were back on track. However, this time we were not even trying to spot rhino or any wildlife for that matter. We were just returning to the hotel, crestfallen.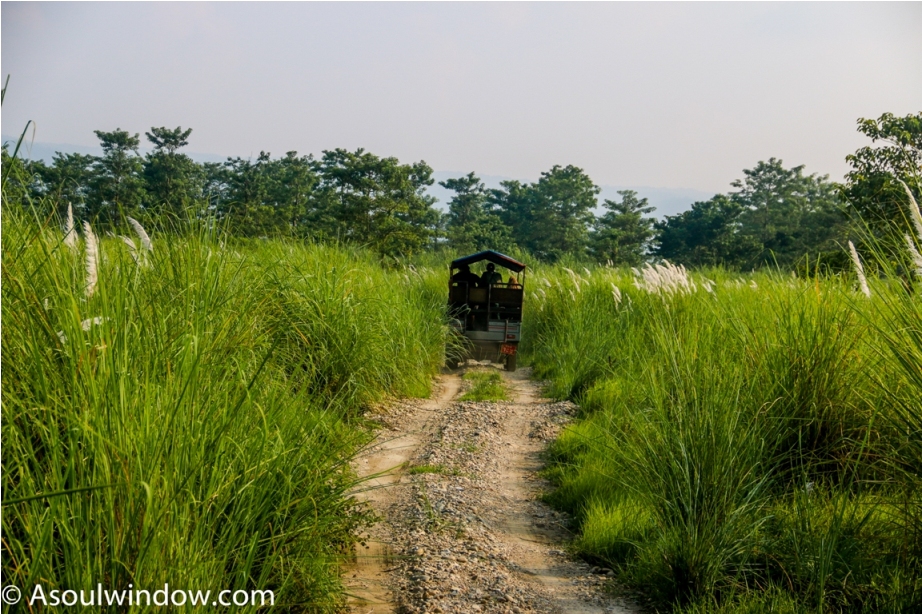 Then suddenly one of my co travelers Divyakshi Gupta prophesied, "We will see a rhino and a baby." She said it plain faced, with the precision of an Oracle. Dismissing her predictions as an insult to our injury, we continued with our jokes and idle banter, wiping sweat every now and then.  "I predicted in Kanha and Ranthambore (India) too and it came true" She insisted. We ignored again.
Just as we moved a bit ahead, the canter van stopped abruptly. I looked around expecting well a 'Rhino and a baby'. Instead it was a mugger baby, which slipped off quickly into the muddy water as soon as we stopped the van. We moved further and the canter van stopped again, this time slowly. Our hearts stopped when we saw a female one horned rhinoceros with a baby nonchalantly snacking on knee length grass not very far away. I looked back at Divyakshi and exchanged smiles silently.
It was definitely the best moment of my 2 days stay at the Chitwan National Park. After a failed attempt to spot one horned rhinoceros in Dudhwa National Park near Lucknow in India, I was ecstatic to succeed this time. Maybe I should do my wildlife safaris exclusively with Divyakshi. Three canter vans parked themselves behind each other as the mother son duo chomped their way through the grass silently. Two of the vans housed wide eyed Europeans.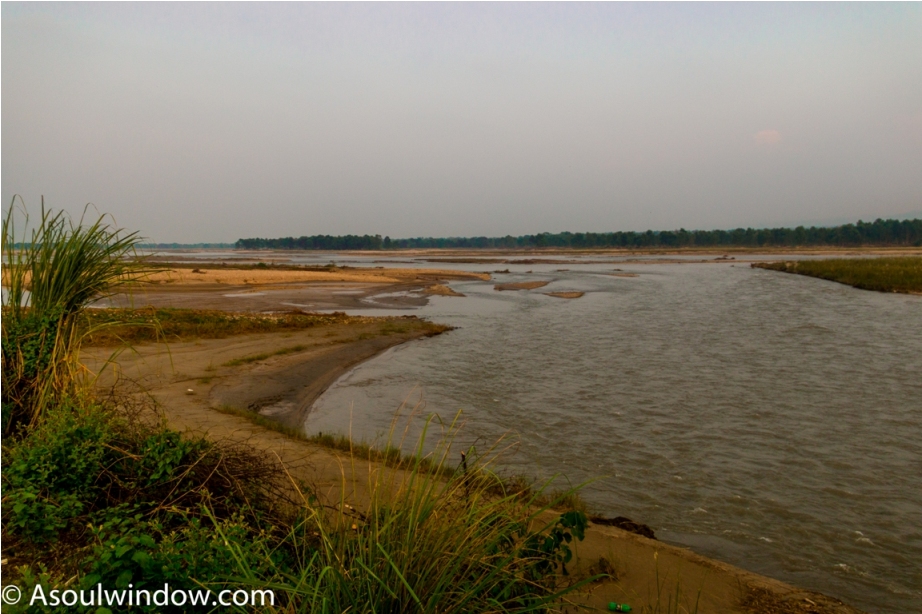 Many rhinoceros in Chitwan National Park became a victim of poaching during the decade long Maoist insurgency. To protect and conserve the wildlife of the terai region of Nepal, Royal Chitwan National Park was established in 1973 and was declared a World Heritage Site in 1984. Decades ago, when the population of rhinoceros reached an alarmingly low number, the government even introduced Gainda Gasti (Rhino Patrol) which employed armed men at different parts of the sprawling Chitwan National Park.  With relentless efforts and continuous vigil, the numbers of rhinos have increased. Chitwan National Park is very similar to Dudhwa National Park (India) in character, which is just few kilometers across the border.
The adult males are mostly solitary animals while the female stay with their calves till the time they are around 4 years old. The form short term groups only for special occasions such as monsoon. One interesting fact about the one horned rhinos is that they like to defecate at a designated spot. Apart from poaching, the other factors that lead to Rhino mortality is the fight between dominant males for territory and mate. Males are also known to be aggressive to females during mating season.
CANOE RIDE IN BHUDE RAPTI RIVER IN CHITWAN NATIONAL PARK :
We had already spotted many species of reptiles, mammals and birds in the early morning canoe ride we took. The 45 minutes canoe ride pierced through the calm Bhude Rapti river. The narrow wooden canoe was not like anything I have sat on before. With no life jackets, we spotted many mugger crocodiles, who camouflaged themselves well in the muddy waters, not very far from us. We didn't even want to think the consequences of the boat capsizing in the middle of the river. Khoon Bhari Maang anyone?  My only solace was the fact that Bhude Rapti river is a slow moving river and the water is not deep.
BIRDS I SPOTTED DURING THE CANOE RIDE AT CHITWAN NATIONAL PARK:
Of the 543 species of birds found in Chitwan National Park, we managed to spot some of them. As soon as the canoe ride began, the mud nests of the restless Sand Martin Swallows welcomed us on either side of the Bhude Rapti river. Sand Martin Swallows typically build their nests in muddy walls near a water body which could be a lake, river or ocean. They flitted over hurriedly and in large number around the sprawling colony of nests, never settling at a spot.
Other avian species we spotted easily were Spotted Doves, white throated Kingfisher, herons, common greenshank, a Rufous treepie, Asian open billed stork and white browed wagtail.  The birds either meditated on the island of pebbles in the middle of the rivers or kept a watch over us from the higher branches of the trees. What took my breath were two Oriental pied Hornbills we spotted very easily at the Elephant Breeding Center. They moved from one branch to another, wary of human presence but not afraid of it. Despite being counted as one of the smallest and common Asian hornbills, the duo still managed to impress me with their size and beauty. Found mostly in subtropical or tropical moist lowland forests, the Oriental pied hornbill.
The Oriental Pied Hornbill is mostly frugivores, i.e., prefers eating fruits and berries like papaya, figs etc. However, it also feeds on snails, small fish, crab, termite, lizards, insects, spiders, eggs, centipedes, millipedes, scorpions and earthworms etc.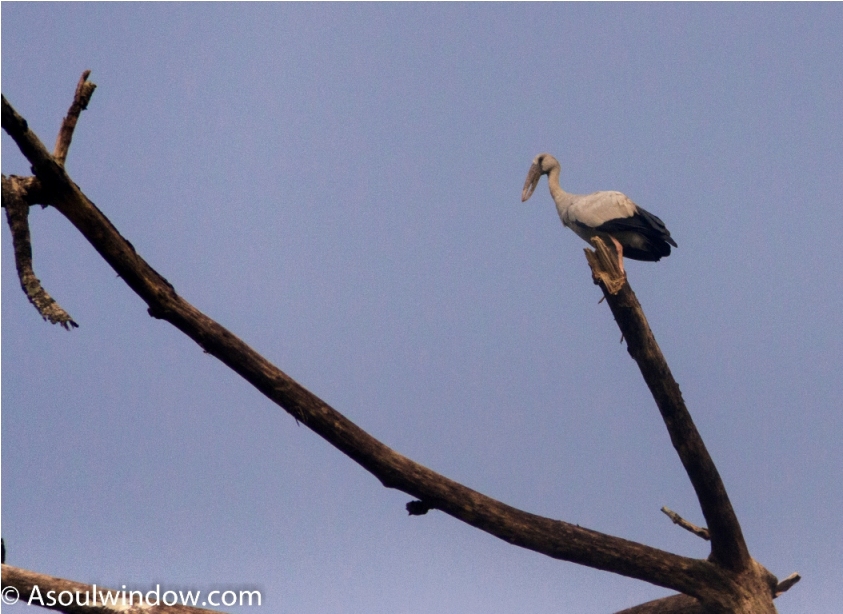 THE MAMMALS I SPOTTED DURING THE CANOE RIDE AT CHITWAN NATIONAL PARK:
Chitwan National Park is rich in fauna. Some of the mammals found here are: crab-eating mongooses, honey badgers, sloth bears, Asian palm civets, large and small Indian civets, smooth-coated otters, yellow-throated martens, golden jackals, Bengal foxes, spotted linsangs, striped hyenas, wild dogs, , fishing cats, jungle cats, leopard cats, wild boars, Gaur, Chital, sambhar deer, hog deer, Red Muntjac, black naped hare, hispid hare, flying squirrels, Indian porcupine, Indian pangolin.
However, during the canoe ride we managed to spot only Chital, the Rhesus monkey and the langur which goofed around on a fallen branch at the edge of the river, unmindful of the dangerous presence of crocodiles and alligators.
THE ELEPHANT BREEDING CENTER AT CHITWAN NATIONAL PARK DISAPPOINTED ME:
I got off the canoe and excitedly moved towards the Elephant Breeding Center at Chitwan National Park only to be disappointed. I kept my camera inside the bag, unable to bring myself to click pictures of elephants swaying backward and forward in distress. The elephant and calves were chained. However from 10:30 a.m. to 3:30 p.m. the elephants are 'allowed' freedom to graze in certain designated areas in the forest. That's the routine followed here. It was more of a zoo than anything else. I was intrigued by the huge adult elephant's skull in an interpretation center near the entrance. There is also a shop present here where you can buy soft drinks and snacks.
WHAT ELSE TO DO IN CHITWAN NATIONAL PARK?
Our hotel arranged for a song and dance show where locals performed. I initially was skeptical to go for it dismissing it as a tourist trap. However, I did attend and came out impressed. It was an amazing display of talent. I will write about it in another blog.
FACT FILE:
 WHERE TO STAY IN CHITWAN NATIONAL PARK:
I stayed in Landmark Forest Park Hotel in Sauraha. The newly renovated property is near the entrance gate of the Chitwan National Park. It is set in a secluded place near the villages but is still a short drive away from the main market.
The air conditioned room I was assigned had a mid-sized balcony overlooking the pool area of the hotel. It has a garden bear the pool area. The rooms are spacious and equipped with amenities like Television, mini-bar, lamps etc. The washroom was clean and well equipped. The hotel has a restaurant which serves Indian, Chinese and Continental. Their Indian food was very good. (P.S. Tava roti is available on demand)The staff is very friendly and entertains any special dietary requirements you have. The ground level restaurant has a bar as well. The guide for the safari was assigned to us by them.
HOW TO REACH CHITWAN NATIONAL PARK:
ROAD TRIP TO CHITWAN NATIONAL PARK: We arrive at Sauraha in Chitwan via road. From Kathmandu Sauraha is 4 to 5 hours by road and Pokhara is 5-6 hours by road.
If you want to make a road trip from India, following route is suggested – New Delhi- Lucknow- Gorakhpur- Sunauli- Bhairahawa –Chitwan (You can make a stop for Lumbini- the birth place of Buddha, after Bhairahwa)
FLIGHT: Nearest airport is Bharatpur. It is just a short flight away from other cities of Nepal.
BUS: Chitwan is well connected via buses from Pokhara and Kathmandu.
TRAIN: There is no rail network in Nepal.
BEST TIME TO VISIT CHITWAN NATIONAL PARK:
October to December is a good time
Please avoid monsoon which is June to September
The view from my #SoulWindow is rewarding!
Spread the love, share this blog
Got any question/comments, ask in the comment section below so that it can benefit other readers.
Email me for collaboration: [email protected]
Be a part of my journey on social media. The travel content I create there is different from this blog.
Pls subscribe/follow/like: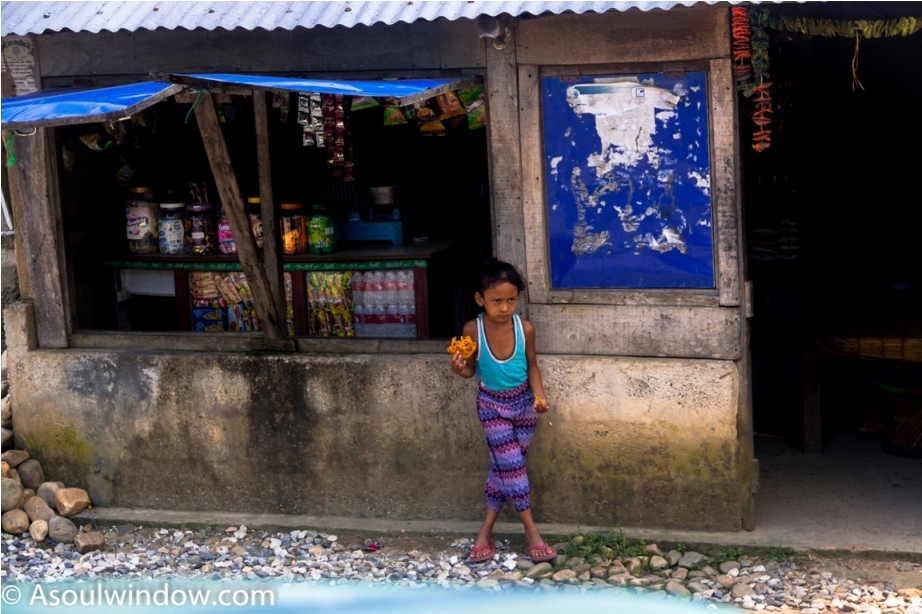 WARNING : COPYRIGHT TO ALL THE TEXT SHARED HERE REMAINS WITH ME. YOU CAN NOT JUST LIFT THE CONTENT AND USE IT WITHOUT MY PERMISSION. STRICT LEGAL ACTION WILL BE TAKEN IF CONTENT IS STOLEN. YES, I AM SERIOUS.