Last Updated on December 5, 2019 by asoulwindow
Top Offbeat Things To Do In Rural Rajasthan: This winter why not traverse through the less explored offbeat destinations in Rajasthan. Be there before tourists throng it! Incredible India!

Every year in winter, tourists from across the world and India inundate the famous cities of Rajasthan. However, if you are bored of the cliched destinations in Rajasthan, I would suggest a detour to its rural landscapes.
There are so many offbeat places to see in Rajasthan such as Garadia Mahadev Temple near Kota , the nearby Bundi, Unexplored Chittorgarh, Ranakpur Jain Temple, Underrated Alwar and so many more. I can never get bored of Rajasthan!
In my solo road trip to the offbeat and rural Rajasthan, I realized that is where the true heart of Rajasthan lies. Offbeat Rajasthan is raw, real, quirky and hospitable! I hopped on to the ever reliable Rajasthan State transport buses and Indian railways to make this journey to the far interiors of Rajasthan happen. I discovered the true beauty of this Royal State like never before. I have seen so much of Rajasthan and it still never fails to surprise me. During my journey, I also happened to unearth the heartwarming stories of man and animal living in harmony, very unique to this state.
PUSHKAR
Pushkar fair needs no introduction. It is one of the most popular and largest cattle fair not only in India but in the world. There is plenty to do here. Hot air balloon rides, rural Circus shows, seedy magic shows, rural sports, and sumptuous food had me hooked for 2 days. I could not resist ODing on Daal-Bati-Churma (Dough Balls served with lentils and sweet powder), lasoon Ki Chutney (Garlic sauce) and gatte ki sabzi (Curry of gram flour cakes) in the many restaurants that line the streets.
An 'open to all' impromptu magic show on grounds (pay as you like!) had the audience riveted. My city bred mind was amused to see the spectacle. The snake charmer had his own stardom. After downing countless sips of tea from kulhad (mud cup), I headed to Pushkar lake. Claimed by humans and pigeons alike, the lake oozed spirituality as thousands thronged to take a dip in the holy water. Soon a religious procession at a road nearby distracted me.
Hundreds marched in colorful attires, crushing softly the fragrant rose and marigold flowers beneath their bare feet. Absorbing the hedonic scents, I moved to the bus stand for a quick stop at Ajmer. I spent some time admiring the sunset at the Anna Sagar lake in silence. Not far away was Ajmer Shariff Dargaah. I couldn't resist a soul stirring qawwali session. Being a vegetarian, I stayed away from the restaurants, though binged on the sweets at street shops. 'Dhai Din Ka Jhopra' nearby is a must, but before sunrise.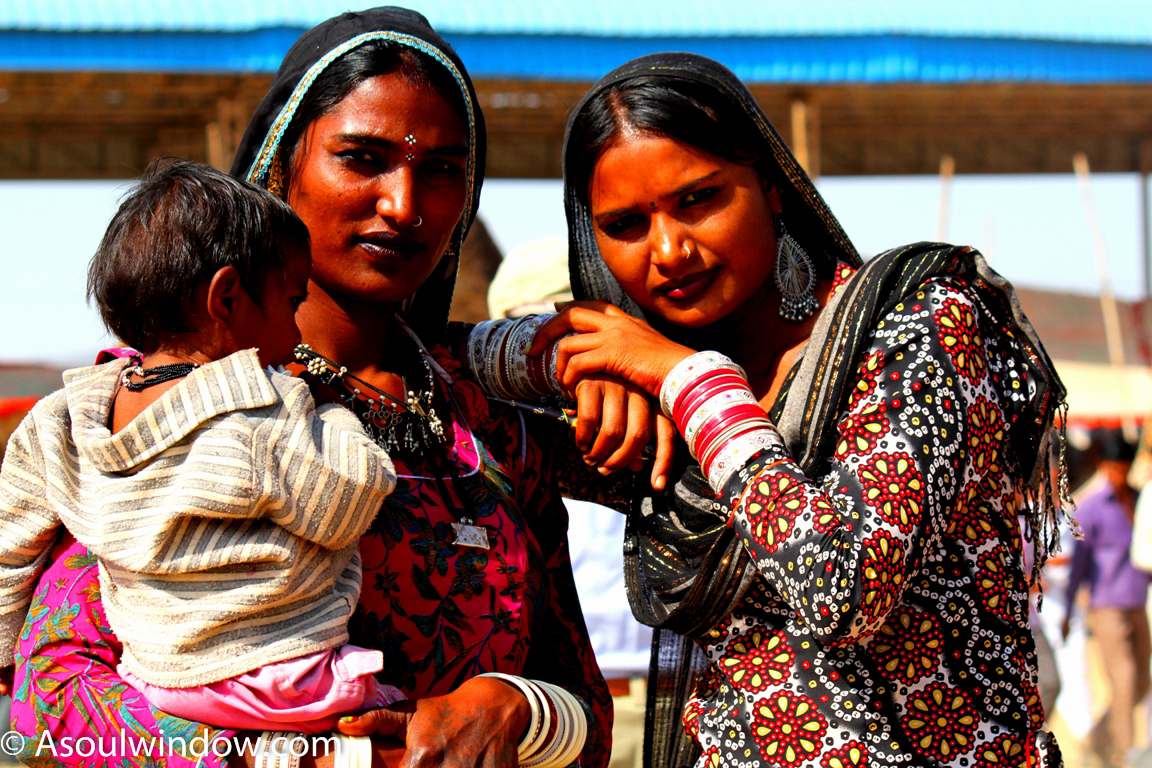 KHICHAN
Sevaram Malli Parihar, who lives in the nondescript dusty village Khichan, has been awarded several times for his focused wildlife conservation efforts. Some 20,000 demoiselle cranes migrate to Khichan and surrounding areas from Siberia every year in winter. He has worked overnight to ensure that the birds are not harmed by human intervention, electric poles, the works!
He has a set routine every morning. His day starts with feeding countless number of cranes in a bird feeding ground facing his house. He often identifies any injured bird and gets them admitted to an animal hospital nearby if required. The birds have invented a routine for themselves as well. They feed in batches in a disciplined manner. I was amused to see how the second batch of cranes waited patiently outside the fence of the feeding ground until. They didn't enter until the first batch is at least halfway through the feed. Such discipline!
After talking to Sevaram and spending quality time with him, I was impressed with the determination of a 'powerless' man. It's humbling to see how an uneducated village man brought about enormous change in the attitude towards wildlife conservation. I have always maintained that only locals with the help of government can help sustain and bring momentum to wildlife conservation. Such stories restore my faith in humanity. It is heart-warming indeed to witness the one of its kind cordial relationship the cranes share with the local villagers and animals. Rajasthan sure knows how to extend its hospitality to human and animals alike.
OM BANNA TEMPLE
Om Banna is a unique temple, only one of its kind in India. The diety worshipped here is a 350 cc motorbike and not a clay idol. It is situated on the highway towards Pali and the nearest big city is Jodhpur. The owner of the motorcycle was one Om Singh Rathore. The folklore has it that some years ago, he met an accident and perished at the spot where a tree still stands (and worshipped). It is said that the police locked the bike many times in the station. Every time, the same bike re appeared at the accident spot, as if by magic! The word spread far and wide and today pilgrims throng the place and offer their prayers. The bike has finally been relocated to the spot, a little away from the tree, owing to the sentiments of the 'pilgrims'. The much revered tree exists at the exact spot. The temple and the bike has been shifted a little beyond in order to avoid disruption in traffic.
Some of the thousands of devotees who throng every day, offer alcohol as a tradition. I saw many newly weds visiting the temple. It is considered auspicious to do so. The 'God fearing' passer byes often make a stop at the temple. The legend has it that doing so ensures safety on the road. I was amazed and amused to hear the customized Om Banna Aarti being belted passionately by the local singers. The roadside shops sold only Om Banna merchandise such as Om Banna stickers, Books, CDs and Decorative pieces. Faith has many faces in India.
BIKANER
The world knows Bikaner for its famous aaloo bhujia, but did you know about the secrets that it hides? The narrow lanes of the old city boast of many drop dead gorgeous havelis. As I made my way through the winding lanes, the ancient havelis struck with their grandeur. The exquisitely carved haveli display varied embellishments and architectural styles.
If you are attentive (and erudite), it's easy to spot Mughal, Rajpoot and even British architecture style on the havelis' façade. Some craning of neck helped me to appreciate the beauty of the delicate stone jaali, chajjas, windows, et al. The red sandstone gives the haveli a character of its own. I think it is best to make a visit early morning since there is not much traffic in the streets. That said, really early morning is the trick, lest be prepared to get embroiled in the morning rush hour. You can easily lose track of time as you explore the serpentine roads, admiring one haveli after the other. These havelis are unique to Bikaner. I found some havelis locked up. However, the locals still live in many of these.
Karni Mata Temple
In Rajasthan the curious can find many quirky places. Top position on that pyramid is perhaps claimed by the Karni mata temple world famous for the thousands of black rats it shelters. And worships! 30 kilometers away from Bikaner, Karni Mata temple at Deshnoke, is also known as, the temple of Rats. Rats rule here and how! There are theories galore on how and why the people of Rajasthan began worshipping the approximately 20, 000 rats in this temple.
It is said that despite such huge numbers the place has never fallen prey to any epidemic. I could not walk smoothly without bumping into a rat. In this temple if you step on a rat, you have to pay hefty fine. It is accepted that if a rat crosses your leg, luck will be on your side. That said, if you have been able to spot a rare white rat it is said to bring you even better luck. Many rats did cross my legs though I am not sure if it brought me any luck or not.
They were every-where, feeding off the milk pot, resting in the holes, fighting for a spot in the holes, sharing the abundant food quietly, the works!
TAL CHAPPAR BLACKBUCK SANCTUARY
So few wildlife sanctuaries in the world allow you to explore on your own, without a guide, on foot! Tal Chappar lets one walk in the sanctuary at your own pace. This is exactly what I did one fine winter morning. The haven for blackbucks and other species such as wild boars, neelgai and many birds, Tal Chappar is an under rated delight. Early morning and evening is the best time to appreciate the beauty of this land and its inhabitants.
FACT FILE
How to reach by Train (In logical order)
Pushkar:
Train Number: 19032, Yoga Express
Destination: New Delhi (21:25, day 1) to Ajmer (6:40 a.m., Day 2)
Khichan and Om Banna temple
Train Number: 15014, Ranikhet Express
Destination: Ajmer (13:40, Day 1 ) to Jodhpur (17:35, Day 1)
Bikaner
Train Number: 14708, Ranakpur Express
Destination: Jodhpur (10:00, Day 1) to Bikaner (15:35, Day 1)
Karni Mata Temple:
(Road Trip from Bikaner)
Tal Chappar : Reach from Bikaner
There is much more to see in Rajasthan, easily one of my favourite states in India. Rajasthan Tour Packages helps in traveling through the state hassle free.
Note – A different version of this article was published as a cover story in the official railway magazine of India called Railbandhu.
Spread the love, share this blog
Got any question/comments, ask in the comment section below so that it can benefit other readers.
Be a part of my journey on social media. The travel content I create there is different from this blog.
Pls subscribe/follow/like:
WARNING : COPYRIGHT TO ALL THE IMAGES AND TEXT HERE REMAINS WITH ME. YOU CAN NOT JUST LIFT THE CONTENT AND USE IT WITHOUT MY PERMISSION. STRICT LEGAL ACTION WILL BE TAKEN IF CONTENT IS STOLEN. YES, I AM SERIOUS.
Top Travel Blogger from India