Last Updated on December 8, 2021 by asoulwindow
Topic: Best Veg restaurants in Mathura, famous food and Mathura peda
"Madhuradhipate Akhilam Madhuram!"
Translation: "Everything about the Lord of the City of Sweetness is sweet."
About Vegetarian and Vegan food in Mathura
Best vegetarian restaurants in Mathura, famous food in Mathura and the delicious Mathura Peda were flashing on my mind as I excitedly boarded the 2-hour long train for Mathura trip from New Delhi. Being a vegetarian, I was excited to try food in the pure veg restaurants of Mathura.
Luckily, since meat is prohibited around the sacred Shri Krishna Janmasthan, therefore it was easy for me to find great vegetarian restaurants in Mathura. Being a pure vegetarian by choice and despite being a Rajput man, such places always get the foodie in me excited.
I am a connoisseur of all vegetarian and vegan food. My gastronomic interests are far and wide within the vegetarian food. Going on a food trail in Mathura, therefore made sense!
Some of the best places to eat in Mathura offer lip-smacking chat, sweets like rabdi, Gajar ka halwa, snacks such as kachori, bedhai, Gujrati dishes, lassi and other beverages. Many restaurants in Mathura serve these.
My Mathura tour would have been incomplete without sampling the famous street food, meals, chats, beverages and sweets of Mathura.
Which sweet is famous in Mathura?
Not many know that the word Mathura is the modern form of 'Madhura', a word in ancient Sanskrit language. Madhura stands for sweet.No wonder, Mathura has been known for its sweets since times immemorial.
Mathura is famous for its different kind of pedas, a dry sweet with short shelf life. I saw shops selling the world-famous Mathura peda on almost every road here. In winters, Gajar ka halwa is also very popular here. Malpua is another sweet famous in Mathura.
Gazak and Rewri, the dry sweets with longer shelf life also sells during winter in Mathura and much of Uttar Pradesh, Madhya Pradesh, Punjab, Haryana and New Delhi.
You can find these sweets in almost all major restaurant in Mathura.
What are the other famous sweets of Mathura?
There is no dearth of famous food in Mathura. The soft melt in mouth Mathura Laal peda is generally flavored with cardamom and dusted with powdered sugar.
Do not miss filling your face with the Mathura special sweets. The best sweets to eat in Mathura are
Mathura Peda
Lal Peda
Makhan Mishri
Mawa
Khurchan
Malpua
Rabri
Gajar Ka Halwa
Jalebi
Ghewar
Temple food of Mathura
Mathura Peda is the literally ambrosia, the "food fit for Gods". Peda is offered as Bhog or Prasad to Shri Krishna.
Makhan-misri, the favorite of Shri Krishna and the creamy and delicious Rabri is also offered to the beloved God Krishna ji as a prasad.
Soul Window Observations
During my travels across India since 2008, I have observed how the temple food or prasad or bhog reflects the regions it belongs to.
While the moong bean sprout prasad in the Vaishnavite Sattras of Majuli river island in Assam reflects the simplicity and lightness of North East India, the lavish Mahaprasad at Shri Jagannath Puri show how the local people of Odisha have protected the Odia cuisine from foreign invasions.
In the medieval Hindu temples of Odisha, you will find the most authentic regional food before British, Portuguese, French and Mughals from Uzbekistan in Central Asia forcefully invaded India.
The prasad I had at Mata Vaishno Devi in Jammu was simple too. Just a few puffed rice and sweets. I love the prasad of South India. I still can not forget the taste of tamarind rice served as bhog in Meenakshi Temple of Madurai in Tamilnadu. Temples of Gokarna in Karnataka also serve special bhog.
Why is peda famous in Mathura?
Mathura peda are some of the best ones in the world. Peda is unarguable the most famous food in Mathura.
Peda is famous in Mathura because Mathura was the birthplace of peda. Mathura deserves a 'Geographical Indicator' tag for producing the finest of pedas, a very popular sweet in not only North India but rest of India as well. 'Geographical Indicator' or GI tag considers the place of origin for any product which includes cooked or raw food etc.
In a world of one-pot meals, you will be surprised to know that only two ingredients are used to make Mathura Peda, which are: khoya or mava (milk solids) and boora (granular unrefined sugar).
I sample different variety and colors of peda in Mathura. While some were coarse, others had a creamy and crumbly texture. The caramelly texture of some pedas had me asking for more.
Almost all shops also sold pedas with less sugar and more sugar. I personally preferred the peda with less sugar in it. It was also creamier and smoother. I had packed 4 packs of Mathura special sweets for friends and family.
Banke Bihari or Brijwasi are some of the most famous shops to buy Mathura Peda from.
Other types of Peda
There are many different varieties of Mathura Peda. All of the below mentioned peda varieties have their origin in Mathura and Uttar Pradesh.
Goras Peda
Goras Peda are popular in Wardha in Maharashtra in West India. The place where Indian politician Mohan Das Karam Chand Gandhi used to run an ashram, was where goras pedas originated. This lighter versions of melt in mouth pedas are made up of cow's pure milk.
Kandi Peda
Another brilliant melt in mouth peda I had was in Bhimashankar in Maharasttra in West India. The taste lingers even after so many years of doing the trek to Bhimashankar. The peda of Bhimashankar is known as Kandi Peda.
Dharwar Peda
The Dharwar peda enjoys its own GI tag. The peda of Dharwad, which is located in Karnataka in South India also has its roots in Uttar Pradesh. It was some 130 years ago that peda was introduced to Dharwad by an immigrant from my home city Lucknow in Uttar Pradesh.
Jale Khoye ka Peda
The jale khoye ka peda from Bhind in Madhya Pradesh is chocolaty in color and tastes much different.
Kesariya Malai Peda
This unique peda is made with chenna with mawa or khoya. Kesariya malai peda is made in West Bengal near the 7 sisters of North East India.
What are the famous Street food of Mathura?
The best street food to eat in Mathura are
Kachori and Alu Bhaji
Bedhai
Tehri
Heeng Kachori
Poori Sabji
Bhalla
Onion Samosa
Onion Kachori
Alu Tikki etc.
Fara
Khaman Dhokla
Poha
Satvic Thali
What are the best beverages to drink in Mathura?
The best beverages to enjoy in Mathura are
Lassi
Saffron Milk with dry fruits
Hot flavored milk during winters
Bhaang, an edible drink made up of cannabis is also a must have. It is widely used in India to prepare various traditional food and beverages.
What dairy products sell in Mathura?
Mathura has had a rich tradition of animal husbandry and dairy. The dairy business in Mathura has continued since more than 5,000 years ago, the times of Shri Krishna in Dwapar Yug, that is. You will get to eat high quality dairy products in Mathura such as
Milk
Lassi
Butter
Desi Ghee
Dahi (Curd)
Makhan Mishri
Many people also buy and take home excellent A2 quality grainy desi ghee. It makes for a great souvenir and a gift for people back home. These are some of the best quality Mathura food products.
What else to eat in Mathura?
Besides the local traditional dishes of Mathura, you can also easily eat below mentioned cuisines and vegetarian and vegan food in Mathura:
Mughlai
Continental
Junk food: Pizza, pasta, burger, fries
South Indian: Dosa, Idli, vada, uttapam
Gujarati food: Dhokla, Khaman, fafda, khakhra, Gujarati Thali
Gujarati Food
Shri Krishna is highly revered in the Indian state of Gujarat in West India. In fact, Somnath and Dwarka, two of the biggest Hindu pilgrimages associated with Krishna ji are in Gujarat. Much like Govardhan, people do parikrama in Dwarka as well.
This is why Gujaratis visit Mathura and Braj Bhoomi in large numbers every year. This makes it easy to find great Gujarati food in Mathura. I ate nice dhokla and khaman off the street vendors in Holi gate and near Shri Krishna Janmasthan.
Nice Gujarati Thali or platter is also available at many shops near the Holi gate and Tilak gate.
Vegan Guide for Mathura
Since Mathura is a meat free and alcohol-free zone, so it is easy to travel as vegetarian in Mathura. However, watch out for desi ghee. Many people, especially the upmarket popular restaurants will add desi ghee or clarified butter on top of your food. Ghee and honey can even be mixed with the food.
Many street hawkers do not add desi ghee to food as it is expensive. You must still ask before buying street food from vendors. Pedas also contain ghee.
Places to eat and drink in Mathura
Below are some of the top places to eat in Mathura. I ate great pure veg food at these places. The best restaurants of Mathura are as follows.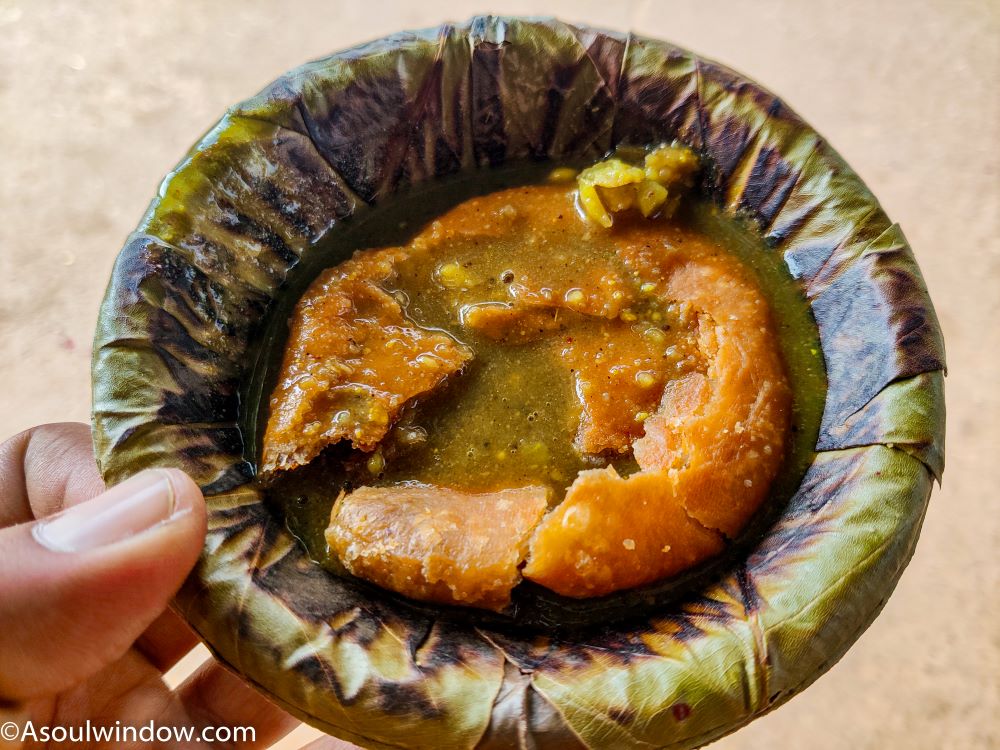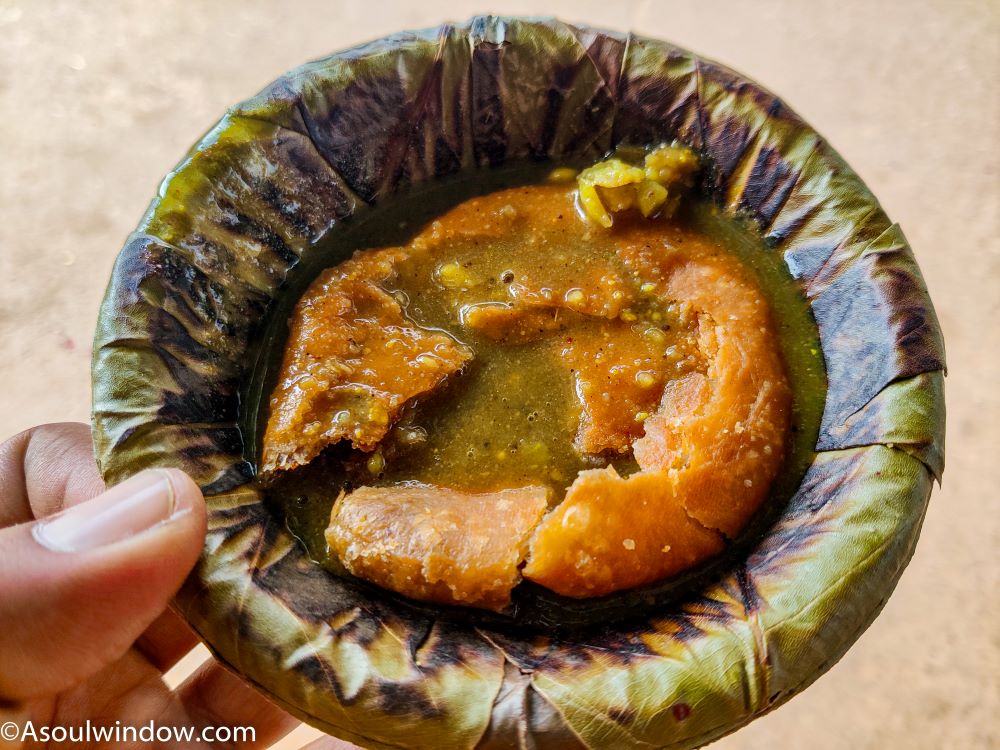 Oma Pehalwan Kachori Wala
After peda, the most famous food in Mathura is the breakfast dish which include bedhai and kachoris. This Mathura famous kachori has many takers.
Oma Pahalwan Kachori shop is a localrestaurant famous for its kachoris. It is located near Potra Kund. Both are situated at walking distance from Shri Krishna Janmbhoomi. I had tasted both kachori and bedhai here.
I loved them both but somehow bedhai at Govardhan has the best taste still. It is a pure vegetarian place to eat in Mathura. They were closed when I reached at 12 p.m. This is why reach here early for a sumptuous breakfast. Try to eat at Oma Pehalwan Kachori Wala by 9 a.m. to 10 a.m.
Oma Pehalwan Kachori Wala is easily the most famous food joint in Mathura. The Daal Kachori and Alu sabzi sold here is heavy and very filling. Expect lots of people here, waiting in line for their turn. Crispy Jalebi made in desi ghee is also famous here.
Kachori is made with moong ki daal, red chilies, coriander leaves, saunf, black pepper, heeng (asafetida), turmeric and other masala or spices. The Alu Sabzi bursts with flavors.
Heeng kachori is available here from 5:30 a.m. This place serves one of the best street foods of Mathura. Easily one of the best places to eat in Mathura, quality and hygiene standards here are good.
Famous for: Kachori and Alu ki Sabzi, Heeng Kachori.
Address: Near Potara Kund and Shri Krishna Janmasthan, Mathura
Main Brijwasi Pede Wale
Do not forget to fill your faces with a sumptuous breakfast here. I particularly loved their poori sabzi. They also sell bedhai and kachori. You can recognize it with the crowds that surround it in the morning.
The famous street food here is very popular and gets finished quickly, so reach early. It is located at walking distance from The Krishna Janmasthan Temple Complex. This is a one of the best restaurants in Mathura for breakfast.
Girraj ji Chat Bhandar: I had delicious Aloo Tikki and Panipuri here. You can try too. It is located opposite Janmbhoomi. Mobile: 9027751124. They also sell lip smacking gujhia, dahi bhalla, papdi etc.
Bhojnalaya: If you fancy a healthy meal, then head to a bhojnalaya which serves pure vegetarian sattvic food at very low prices. I had a set unlimited thali here for just Rs. 100. The food here was delicious, healthy and satisfying. It is a lesser-known restaurant in Mathura. Despite the lack of advertising, the food at this restaurant is nice and at great prices. No wonder, it is always houseful.
The thali which is also known as Bhojan Prasad, comprised of
Curry: I had Aalu Mangodi
Dry vegetable: I had lauki and alu gobhi.
Yellow Daal
Roti
Rice
Rayta
Papad
Kheer
Only one person is allowed to eat in one thali. This restaurant is run by Shri Krishna Janmasthan Sewa Sansthan, Katra Keshadev. I also refilled my water bottle from the free RO water tap here. Many devotees did that. It was houseful when I visited. This is the best restaurants in Mathura, near Janmasthan for healthy pure veg meal.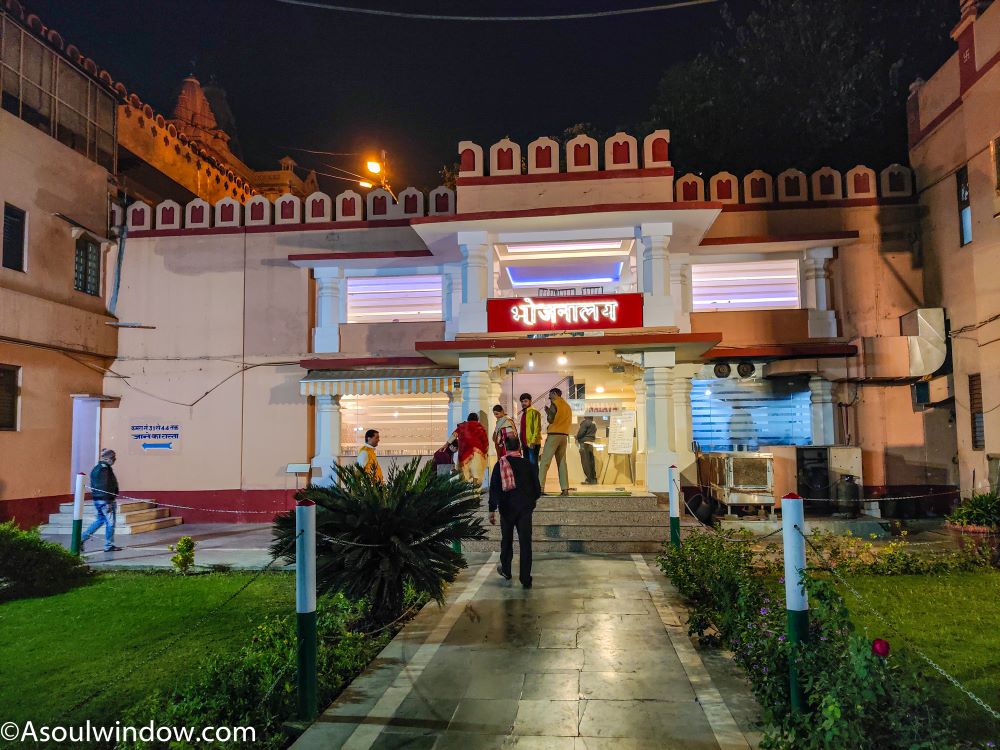 Brijwasi is the top restaurant in Mathura for a reason. They serve full meal. I had Chola rice here. You can also have full thali, a la carte meals, snacks, chats here. I also bought Mathura peda from here as they have the best peda in Mathura. This shop is air conditioned.
Sit down dining space is available here. You can also fill your bottle with free RO water here. You can also buy various types of dry namkeens from here. They serve only pure vegetarian food in this restaurant of Mathura. It is located at walking distance from the Krishna Janmasthan Temple Complex.
Craving to have the most famous food in Mathura? Head to Brijwasi, one of the best restaurants in Mathura.
Hotel Brijwasi Royal
Famous For: main course meals
Address: State Bank of India Chauraha aka crossroads, near Railway Station of Mathura.
It is a 3-star hotel. So, expect higher prices.
Heera Foods
Famous For: Vegetarian Thalis.
Address: Opp. CNG Filling Station, Delhi Mathura Highway, NH-2, Mathura 281001,
It is a reasonably priced restaurant and a perfect choice if you are looking for a complete healthy meal. It is open for both lunch and dinner.
Basera restaurant, Mathura
Famous For: Pure vegetarian restaurant that serves North Indian cuisine.
Address: Masani. NH-2 Bypass, Masani-281003
Gokul Restaurant and Beer Bar
Famous For: Established in 1970, you can have great North Indian food here.
Address: Mathura Bypass. Delhi bypass, Gokul, NHL-2, Bypass-281001
United canteen
It is also known as Dampier canteen. This restaurant in Mathura is popular with locals.
Famous For: Pyaj ki kachori (breakfast), pyaj ke samose (evening snacks)
Address: Dampier Nagar, Mathura
Annapurna Khaman Dhokla House
Famous For: Khaman Dhokla, Masala Dhokla with sev, Poha, fresh fruit juices and other Gujrati dishes.
Address: Chatta Bazaar, Holi gate, Mathura
Phone: +91 9760242967
This restaurant in Mathura specializes in Gujrati food.
Gujrati Hindu Lodge
Famous For: Expect unlimited vegetarian Thali which consists of 2 curries, daal, steamed rice and rotis.
Address: In a lane near Vishram Ghat.
This is a great place to taste authentic vegetarian Gujarati food for lunch and dinner in Mathura. This restaurant is also near Mathura railway station.
Dalmiya Bhojnalaya
Famous For: Indian vegetarian thalis for lunch and dinner
Address: Vishram Ghat, Mathura
Timings: 10 a.m. to 3 p.m. and 6 p.m. to 9.30 p.m.
Shankar Mithai Wala
Famous For: Poori sabji, sweet lassi, salted lassi with cumin.
Address: Holi gate, Mathura
Puris are fried in desi ghee here. Lassi is served in kulhad or earthen pots here. Dining space is available.
Babulal Sharma Magode Wale
Famous For: Mangoda, bread pakora, Chola bhatura, chola samosa.
Address: Holi wali gali, Mathura
It is a street shop. 3 types of mangoda are available her: Potato, cauliflower and daal.
Shriji Chat Bhandar
The board said: Professor Bhura Chat Wale. This hole in the wall chat shop is known for its alu tikki, basket chat, chat, golgappa etc. I found the chats here nice but not out of the world. You can give it a try if you are not from Lucknow. My benchmark is the chat of Lucknow, which I think is the best in the world. That said, still, here they serve one of the best street foods in Mathura.
Famous For: Aloo Tikki Chat, Sev Puri.
Address: Chatta Bazaar, Mathura
Phone 8126912281, 8630979711
Megha Chaat
Famous For: Besan cheela, Pani Puri, Bhalla.
Address: Inside the DD Plaza, near railway crossing and Sareen Petrol Pump, Mathura.
Reach here by 7 p.m.
Brijwasi Mithai Wala and bakery
They sell only sweets, snacks and non-alcoholic beverages. It is located right next to Tilak Dwar. If you are coming from Janmasthan, just ask them to drop you at Brijwasi Mithai wala at Tilak Dwar (which is near Holi gate). This shops sells all the famous food in Mathura, especially the sweets and snacks.
No wonder, it is one of the best places to eat in Mathura.
Famous For: Mathura peda, malpua, special badam milk, coconut barfi, gajar ka halwa, namkeen and bakery items.
Address: Holi gate, Mathura
This is one of the most famous sweet shops of Mathura.
Gosai Pede Wale
Famous for: Regular peda, pakka peda, laal peda, naram peda, roasted groundnuts and assorted namkeens.
Address: Near Prayag Ghat, Shubham Road, Janam Bhumi, Mathura, Uttar Pradesh 281001
Gosai Pede Wala which was established in the year 1832 is the oldest sweet shop of Mathura. There are two Gosai shops here. Another shop was established in the year 1820. Do pack Mathura pedas from these shops which are more than 100 years old. The shelf life of pakka peda is 2 months. Naram peda last only few days.
Do not forget to buy namkeen and roasted groundnuts too. The groundnuts are flavoured with 26 spices and the shopkeeper says that it is one of its kind in the whole world! Phew!
Shankar Mithai Wala
Famous For: Puri Sabzi for breakfast, assorted sweets and Lassi.
Address: Near Holi Gate, Mathura
This old sweet shop of Mathura is also an old one. It is popular with not only local people but also tourists.
Gopal Ji Chat Bhandar
Famous For: Expect kachori-sabzi in breakfast and bread pakora, samosa in evening.
Address: Near Holi gate and Brajwasi chat wala, Mathura
Visit this place to sample the famous food in Mathura. It is easily one of the best places to eat in Mathura.
Kaaku Paan Shop
Famous For: Assorted paans
Address: In front if Hanuman temple of Javahar Haat, Mathura.
Frequently Asked Questions
Is non veg allowed in Mathura?
Since Mathura Dham is a teerth sthal, one of the holiest pilgrimages of Hindus, meat is banned in Mathura. Opening meat shops and serving non vegetarian food in hotels and restaurants in rightly banned in Mathura. Keeping in mind the sentiments of local resident and devotees, banning meat is a welcome step in Mathura.
An area of 10 square kilometer around the birthplace of Shri Krishna in Mathura-Vrindavan has been identified by the Government as sacred 'teerth sthal' or pilgrimage site.
The liquor and meat ban in Mathura is implemented since 30th August, 2021. Therefore do not expect meat and alcohol in restaurant in Mathura.
Why is meat banned in Mathura?
Mathura is revered as seven most sacred cities in India. Thanks to the chief minister of Uttar Pradesh, Shri Yogi Aditya Nath ji, Mathura city was declared a major pilgrimage center for Hindus and therefore meat and liquor is banned in Mathura Dham. Barsana and Nandgaon, the villages associated with life and times of Shri Krishna, 8th avatar of Vishnu ji were already revered teerth sthal.
In fact, not many know that holy places associated with the life and times of Shri Krishna and Radha ji such as Radhakund in Goverdhan, Baldev, Barsana, Nandgaon, Gokul and Vrindavan were already declared as teerth sthal and meat and liquor was banned here.
Sale and consumption of meat and liquor was already banned in Nandgaon and Barsana. The meat and liquor ban has just been extended to a larger area so that it doesn't hurt the sentiments of local people and devotees.
This is why sale and consumption of liquor and meat is banned in the area of 22 wards of the Mathura Nagar Nigam. No restaurant in Mathura near Janmbhumi serves meat and alcoholic beverages.
Soul Window Facts
Did you know that there is a meat and liquor ban in following places as well?
Ayodhya
Chitrakoot
Deoband
Dewa Sharif
Haridwar
Misrikh-Naimisharanya
Rishikesh
Shri Jagannath Puri
Mata Vaishno Devi and Katra
Kedarnath
Badrinath
Vrindavan
Barsana
Nanggaon
Govardhan
Is chicken ban in Mathura?
Excise and animal husbandry departments, municipal corporation, police, district administration and Food and Drug Administration (FDA) are responsible for ensuring the ban of liquor and meat which involves chicken, mutton and fish in Mathura town.
District excise department along with the above-mentioned Government bodies keep a vigil and help ensure the compliance of liquor and meat ban in Mathura.
Is alcohol ban in Mathura?
The concerned departments have relocated the existing licensed liquor shops of Mathura outside the limits of teerth sthal area. Much like the other holy places of the world such as Karbala in Iraq or Mecca and Medina in Saudi Arabia in Middle East, it makes total sense to ban liquor and meat in Mathura.
Best time to try local food in Mathura?
Winter is the best time of the year if you want to try the best local food of Mathura. This is also when the farmers markets are abundant with wide variety of fresh vegetables and fruits. You can taste the delicacies such as gajar ka halwa only in winter season.
In winters, as per ancient Hindu scriptures, one is not allowed to eat green leafy vegetables as it causes harm to human health. This is why winter is also a good time to eat Makke ki roti and sarso ka saag which is a popular dish from the nearby Punjab in North India.
Conclusion: Veg Food in Mathura
Now that you know all the Mathura famous dishes and Mathura famous food shops, do plan a weekend getaway from New Delhi to just go on a pure veg food trail in Mathura.
Having grown up all my life in east Uttar Pradesh such as Varanasi, Kanpur, Prayagraj, Lucknow, I imagined the food of Mathura to be same as I grew up eating. Yes, the famous food of Mathura did have the same 'chatak' flavour of Uttar Pradesh to it and yet it was different.
The Mathura peda which comes in many sizes, colors and flavours and even sugar content are the most famous sweets of Mathura besides Gajar Ka Halwa. I grew up eating these sweets all my life and I can vouch that the best peda and Gajar Ka Halwa I had was in Mathura.
To summarize, the restaurant in Mathura serves some of the best vegetarian food. In fact, many Mathura pure veg restaurants are worth coming back to again and again. I might just travel again to Mathura from New Delhi for just food alone.
The view from my Soul Window is creamy!
Pin this blog to save the blog and plan a trip later!
Related blogs
You may want to read these related blogs as well.
Blogs on Uttar Pradesh
All About Shri Krishna Janmasthan
Visit Mathura in one day
Shri Ram Janmbhoomi in Ayodhya
Bhavya Deepotsav celebration of Ayodhya
Kumbh Mela In Sangam
Birthplace of Chandrashekhar Azad
Hot air balloon Festival in Taj Mahal
Pink Tea, Samovar and more in Lucknow
History of Dilkusha Kothi in Lucknow
Life of Begum Samru of Meerut
History of Dussehri Tree
Dhangadhi –India and Nepal border
Dudhwa National Park Guide
Birdwatching in Dudhwa National Park
Lakh Bahosi Bird Sanctuary
Blogs on Shri Krishna
The many Sattras of Majuli
Guruvayur Temple around Thrissur
The Sri Ranganathaswamy Temple
Shri Jagannath Puri
Miracles of Shri Jagannath Puri
Shri Jagannath Puri Kitchen
Guide to Rath Yatra of Puri
Top Travel Blogger from India