Last Updated on April 4, 2023 by asoulwindow
OFFBEAT BANDIPUR NEPAL: BUDGET TREKS, HERITAGE, EUROPEAN FEEL & FOOD!
Did you know about the offbeat destination of Nepal called Bandipur? It is a well kept secret popular amongst western and Europeans backpackers. Overshadowed by more known places in Nepal like Kathmandu , Everest regions, Pokhara, Chitwan National Park and Nagarkot etc, Bandipur is unperturbed by lack of attention, for it is loved by few who care.
Despite the lack of publicity, the charming Bandipur holds on to its own. I am sure in next few years it will be a much sought after hot destination favored by the discerning travelers from across the globe.
WE DISCOVERED THE OFFBEAT BANDIPUR BY FLUKE: NATURALLY NEPAL
As me and other travel blogger friends were on our way to Pokhara from Kathmandu, the capital of Nepal, the driver suggested we made a pit stop at Bandipur. I was not very keen. It sounded gimmicky. A European style village, anyone?
But, as I strolled on the dirt paths, observing village homes and makeshift huts, my jaws dropped when I stepped foot on the impressive heritage precincts of Bandipur. All of a sudden, the character of the place metamorphosed.
Quaint minimal huts gave way to scores of well preserved ancient buildings. Few Nepali locals were replaced by hundreds of Europeans dressed like a true blue bohemian. Expensive western cafes competed with Nepali shops selling cheap sil rotis and samosa. As so many things vied for my attention, I realized I had discovered a very special place. A Nepal which I didn't know existed!
THE HERITAGE PRECINCTS OF OFFBEAT BANDIPUR, NEPAL:
The cobbled pathway was surrounded by tall buildings built in traditional Newari style. Luckily, vehicles are not allowed in this zone, hence I craned my neck and admired the beautiful architecture without the fear of being hit. We had parked our car just before the heritage area starts.
For a frequent traveler, there is no bigger joy than to be able to stroll carelessly in a tourist area, without having to worry for vehicular traffic.
As I discovered the sparsely populated heritage village in limited time, I could not help but fall in love with it instantly. The buildings on either sides of the cobbled pathways were centuries old, some dating back to 18th century. Not many know that Bandipur was once a part of an important trade route. In ancient Newari culture, it was a popular place.
Years of restoration efforts have made it what it is today. Oodles of money and time were spent to turn this neglected gem of Nepal into a heritage town. There is a beautiful locked temple at one end of the Heritage quarters of Bandipur.
The pedestrian zone tag, clean streets, fresh air, road side cafes and al fresco dining lent Bandipur a quintessential European feel. Developed as an eco friendly zone, there are a lot of activities which can be done in Bandipur without causing damage to the environment.
Of all the places that I have visited in Nepal, I found Everest region, Pokhara and Bandipur to be the most organized, clean and pollution free.
Bandipur is a secluded haven, situated in Tanahun district of Nepal. A far cry from the whirligig of the bigger cities of Nepal, Bandipur is great for those who seek a bit of aesthetic, quiet, great organic food and a bit of adventure.
TOP OFFBEAT THINGS TO DO IN BANDIPUR:
OFFBEAT TREKKING TRAILS GALORE IN BANDIPUR:
Travelers mostly come to chill in Bandipur. However, for the adventurous souls, there are many trekking trails which start right from the Heritage area of Bandipur. Towards the end of the heritage area, look for a sign board which clearly mentions the trekking trails and the direction.
In case you are confused, feel free to ask the ever helpful locals or the café owners and shopkeepers.
Expect to make your way through agricultural fields and cute little villages. You will find some tea houses on the way. There will also be long patches which will be deserted.
Therefore, it is my personal advice that you should carry at least 2 litres (or more) of water per person for each trek. And of course, pack some snacks and sandwiches. Most trek are easy level though and can be done in a day.
GO CAFÉ HOPPING IN OFFBEAT BANDIPUR, NEPAL
Thanks to the many Europeans who stay in Bandipur, often for days on end, the heritage area of Bandipur has a great selection of European and continental food apart from the staple Newari food of the locals.
The cool cafes serve anything from pizzas to pasta, to big fat burgers, fries, falafel, mezze platters, coffee, tea and what not! The food and beverage quality at most places in Bandipur is excellent and so is the ambiance. I really wanted to feel the place after dark. But unfortunately, we had to leave the place before dusk so that we could reach Pokhara on time. A quick survey of restaurants will give you an idea of what suites your taste and pocket. Some of the cafes have their menus with prices outside their outlets. Vegan and vegetarian food is available here easily at moderate prices.
I ate at: The Himalayan café, Bandipur Bazaar, Tanahun. We stopped at this cool café the sitting area of which faced the green valley. The staff is young and cheerful. The ambiance of the place is upbeat and lively. We ordered impressive big vegan burgers, nice potato wedges and disappointing hash browns. Their portion size is huge. Phone: 977- 9818712232
You can find them on Facebook at @thcbandipur
SHOPPING TIPS FOR OFFBEAT BANDIPUR:
I am not much of a shopper but I understand many people love shopping. Many street vendors have souvenirs on offer. There are some hic shops too if street shopping is not your thing.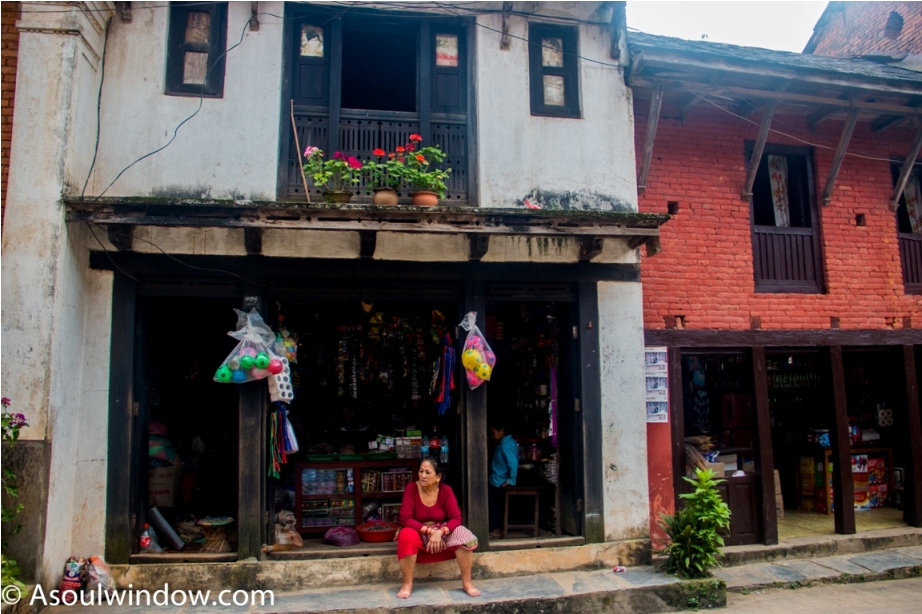 The things which you can pick from here are local crafts, decorative products, trekking and adventure gears and even health bars, grocery, cool T shirts, scarfs and caps.
VISIT THE HISTORICAL KHADGA DEVI IN BANDIPUR: A HINDU TEMPLE
A little away from the heritage area, I hiked up (easy) to Khadga Devi, a much revered temple for the locals. I took a flight of stairs to arrive at the temple only to find it locked. The architecture of the temple is nothing to write home about. Its ordinary façade belies its importance. Each year, during the Nepali Hindi festival Dasain, villages from different places throng to the temple. Animal sacrifice (which I do not support) is done here with the sword of Mukunda Sen, the 16th century king of Palpa. Khadga is the local word for sword. The sword is sacred and considered the symbol of shakti.
I languorously walked around the temple and observed the small statues of Hindu deities on the stark white temple walls. I enjoyed the quiet and tranquility of the place and lazed here for some time, even though we were getting late for Pokhara.
TEENDHARA AT OFFBEAT BANDIPUR IS NO GREAT SHAKES, YET WORTH A VISIT:
Me and my co traveler Ami stole some time and made it a point to visit Teendhara while our other friends Dipanshu, Ragini, Swati and Divyakshi enjoyed great food at the café. Towards the end of the heritage quarters, a road took us to Teendhara. We passed cute kids waving us from their balconies, local Newari women smiled at us from their windows, men concentrated on their gossips as we moved ahead, soaking it all in.
Braving the muddy paths, we arrived at Teendhara to discover a damp squib. It was not as grand a sight as we had expected. However, as we studied the ornate stone spouts, we fathomed its beauty and appreciated its aesthetic value.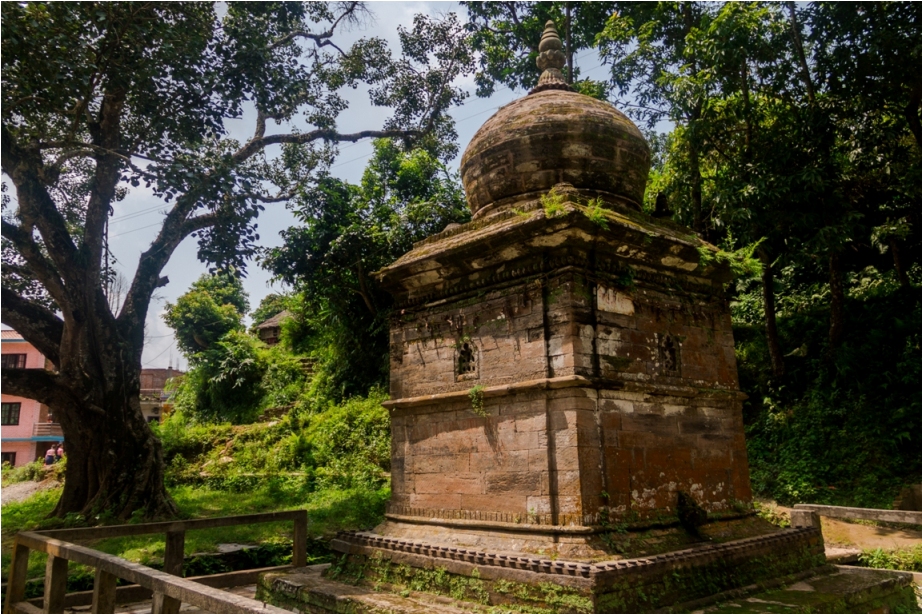 We walked on the dirt tracks of the silent village to arrive here. The literal meaning of Teendhara is 3 water streams. The beautifully carved ancient water taps was the end of a water channel which transported the natural spring water. When we visited, the local villagers were washing their clothes. People also come here to have bath. When we looked closely, we noticed the intricate designs on the stone spouts. Some of these were recognizable creatures some were in the shape of mythical beings. The wall on which the spouts were placed had gathered moss due to constant brush with water. The locals have been using the stone spouts for hundreds of years and it's an integral part of their daily routine.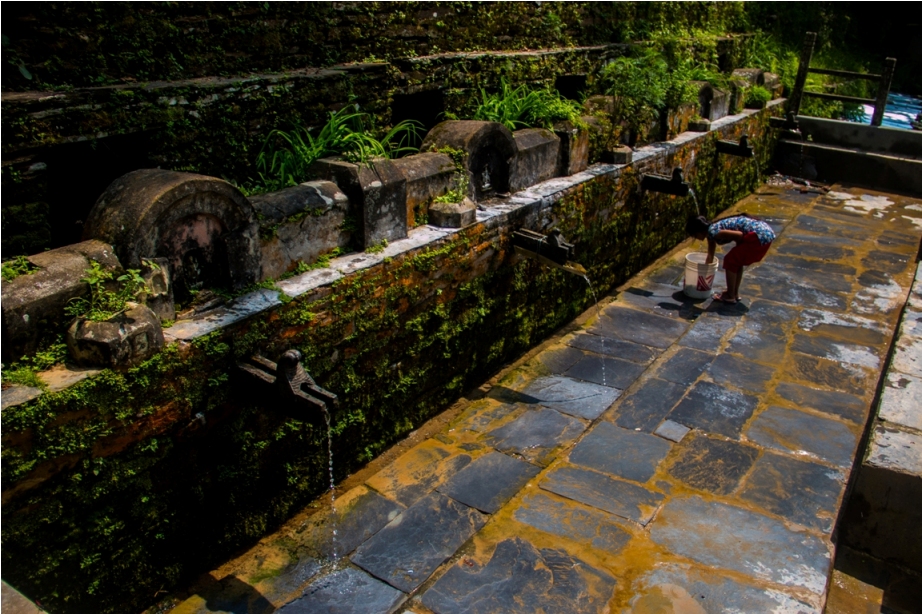 Tundikhel: On clearer days, you can see grand views of the Himalayan range. Winter, of course is the best time to view snow clad mountains such as Manasalu, Himchuli, Annapurna range, Ganesha Ladtad and Dhaulagiri.
Gurunche Dada: It is one of the easy day hikes. If you are pressed for time or afraid of treks, it is a good one to start with.
Siddha Cave and Monastery:
The naturally formed cave can be reached from the Bandipur heritage complex within 1.5 to 2 hours depending upon your pace and trekking habits. You will pass lush green open fields and muddy paths. Hiring a local guide will be helpful as the path can get lonely at times and it is not marked. Though there are chances that you might meet helpful locals or other trekkers en route.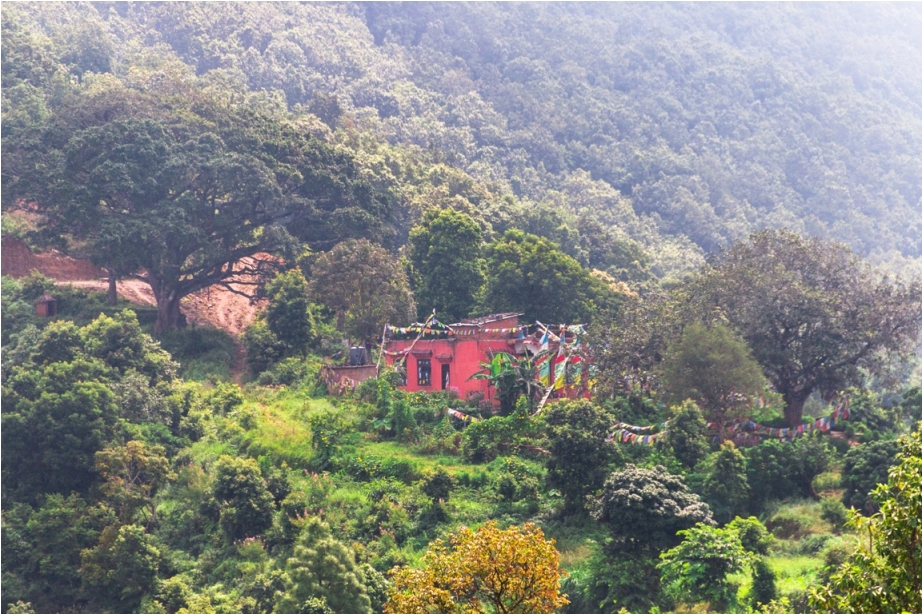 WHERE TO STAY IN BANDIPUR, NEPAL?
Imagine staying inside one of the many Heritage buildings of Bandipur. It will be a special experience. I even stumbled upon some home stays a little away from the heritage area. The architecture of these home stays was not as great as the restored heritage buildings but the views were amazing. One of them had a huge lawn and faced the open valley! And it was at a throw away price. Wow is the word!
Those who love communing with nature will love to stay here long term. Since mine was a day trip, I did not get a chance to stay here, but I would love to come back and stay in one of those heritage buildings and also the homestay. Stay option available her vary in budgets and categories. Explore Himalayas can help you find a good one.
OTHER OFFBEAT THINGS TO DO IN BANDIPUR, NEPAL:
Pls see the map of Bandipur, Nepal
Visit Bandipur center
Visit Tundikhel
Thani Mai/Purano Kot
Teendhara
Raniban
Take the road to Ramkot
Orchid valley
Visit Mahalaxmi Temple
Visit Bindhebasini Temple
Visit Memorial Park
Take the old trail to Dumre
Do paragliding
Visit Buddha Sadan Shakyamunu Monastery.
BEST TIME TO VISIT THE OFFBEAT BANDIPUR:
I would suggest at least 2 to 3 days stay in Bandipur. There is so much to do here. Keeping the activities in mind, I believe October to February are the best months to visit Bandipur.
The pleasant weather and the greenery after the rainy season will keep you calm.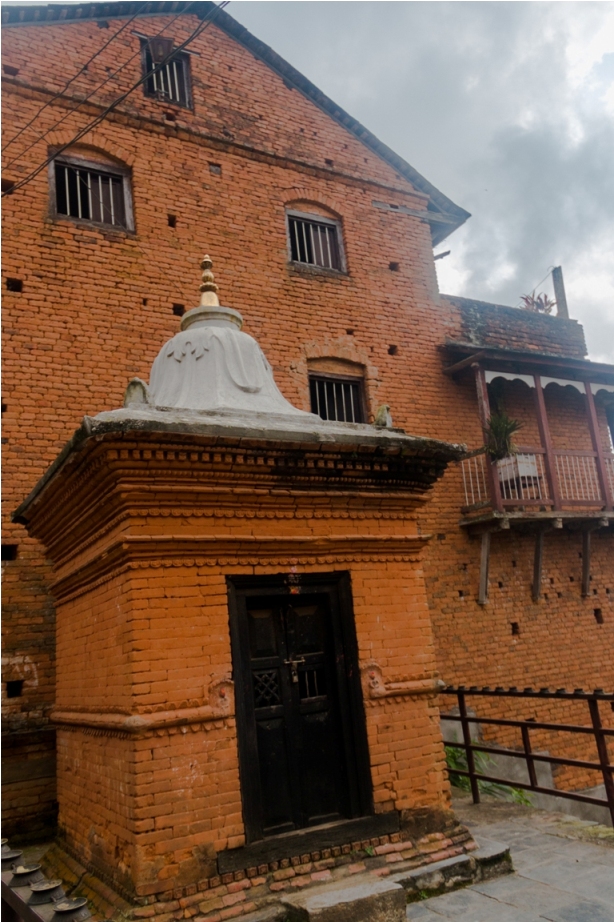 HOW TO REACH OFFBEAT BANDIPUR, NEPAL:
BY FLIGHT: Tribhuvan International Airport in Kathmandu is the closest airport to Bandipur. From Kathmandu you can hire a taxi.
BY TRAIN: Railways are absent in Nepal.
BY BUS: From Kathmandu, Pokhara and Narayanghat, you can take a public bus to Dumre. If you are fit and keen you can hike for 3 hours from Dumre to Bandipur. The easier and quicker way is to book a taxi (NC 500) from Dumre. If you are a backpacker like me and want to save money, you can catch a crowded public bus from Dumre to Bandipur (NC 20).
Bandipur is en route Kathmandu and Pokhara.
The view from my #SoulWindow is a pleasant surprise!
My Tip: Please reach Bandipur before dusk as it is located in a remote place with limited means.
About author- Abhinav Singh is a New Delhi based travel blogger and writer with 18 years of experience in writing. He has travelled, mostly solo to more than 200 destinations since 2008. He writes about his travels on his blogs and social media channels.
You can follow Abhinav at-
Social media- Twitter – Facebook Page – Instagram – You Tube
ALSO READ MY OTHER BLOGS ON NEPAL & OTHER NATIONS:
Day 1 of Poonhill Trek in Nepal- Nayapul to Tikhedhunga
Day 2 of Poonhill Trek in Nepal- Tikhedhunga to Ghorepani
Day 3 of Poonhill Trek in Nepal- Ghorepani to Tadapani
Day 4 of Poonhill Trek in Nepal- Tadapani to Ghandruk
Mysterious life of Kumari- Living Goddess Of Nepal
Kumari and Indra Jatra Festival of Nepal
Spotting One Horned Rhinoceros in Chitwan Nepal
Kathmandu Guest House- Oldest hotel of Thamel
Guide to Tiger's Nest Monastery aka Paro Taktsang
6 Exciting monsoon treks in Sahyadris, Maharashtra
Great shoes for treks- Wildcraft's Amphibia Sphere Outdoor Adventure and Trekking Shoes
White Water Rafting in Punakha, Bhutan
Hot Air Balloon near Taj Mahal
Body surfing in Jim Corbett National Park
Ziplining in Jim Corbett National Park
Ladder Climbing in Jim Corbett National Park
Spread the love, share this blog
Got any question/comments, ask in the comment section below so that it can benefit other readers.
Email me for collaboration: [email protected]
WARNING: COPYRIGHT TO ALL THE TEXT SHARED HERE REMAINS WITH ME. YOU CAN NOT JUST LIFT THE CONTENT AND USE IT WITHOUT MY PERMISSION. STRICT LEGAL ACTION WILL BE TAKEN IF CONTENT IS STOLEN. YES, I AM SERIOUS.
Top Travel Blogger from India