Last Updated on December 5, 2019 by asoulwindow
WHEN I SAW TIGER LIGHTNING T 83 ATTEMPT KILLING A SAMBHAR CALF- WILDLIFE AT RANTHAMBORE NATIONAL PARK, INCREDIBLE INDIA!
This blog is about watching a real life attempt by Tiger Lightning T 83 to kill a Sambhar Calf. We saw this once in a lifetime spectacle in the zone 4 of the Ranthambore National Park in Rajasthan. The park is great for wildlife enthusiasts. This is my Incredible India moment!
The stranger in our hotel boasted during the breakfast that she spotted 8 tigers in 2 days. By this time we had seen only one (See my other blog) and I was optimistic that we will see more. We had barely entered the zone 4 of Ranthambore National Park in the evening when the driver of our open canter van parked besides a small pond adjacent to a dirt track. Turns out a tiger was half submerged in the water of the small pond. The extreme heat of June (North Indian plains) draws the tigers and other animals to the water bodies, making it easier to spot them.
The tiger stayed in the pond for a long time and was unfazed by the presence of a (well behaved) fleet of canter vans and safari jeeps stuffed with curious humans. My canter van was facing the back of the Tiger. All the occupants of my canter van congregated at the left front part of the canter van.
The Tiger would sometimes turn and show the face. The drama continued for a long time as the Tiger played hide and seek with us. An eye there, a paw there! That was all we could manage from behind the branch of a tree which obstructed our view.
Then suddenly, the Tiger emerged from the pond. A collective gasp followed. Between hushed tones and self monitored whispers, cameras were pulled out into action. The Tiger stood under the evening light for some while as if allowing us ample time to have a good view. Neither did the Tiger look at us nor did the tiger make any attempt to leave the place in a hurry. It was a relaxed movement, unaffected and confident. Until…………..
WE SAW A TIGER HUNTING A SAMBAR. OR DID WE?
Then all of a sudden the Tiger started crouching. With slow measured steps, the tiger moved towards an unidentified animal in far distance. It was difficult for me to believe that in no time I would be seeing a Tiger hunting not in an idiot box but in real. Flesh and bones. And blood! It was a surreal feeling! I tried hard to spot the prey when someone exclaimed, "It's a Sambhar calf." I found it. The calf was blissfully unaware of the presence of the Tiger when the latter continued moving stealthily.
And then it was a chase. Between clouds of dust and tree branches, we managed to see the Tiger chase the calf with deft focus. It was at a far distance. I am not sure of the fate of the calf. Once the dust settled, we could spot neither the Tiger nor the calf. Nor did we see the mother Sambhar at any point of time. It doesn't matter. What matters is that we still saw a real kill attempt by a Tiger. A first is always special. This will forever be etched in my memory for a long time. After this, we spotted 4 more tigers within few minutes of each other. Do check out my other blogs to read about those thrilling experiences. The links are shared at the bottom of the blog.
WE ENTERED THE ZONE 4 THROUGH HAMID KUND. RANTHAMBORE NATIONAL PARK
Before all the drama, we could not help but admire the Royal past of Ranthambore. This is how our evening safari started. The Ranthambore fort was visible at a distance as soon as we crossed a gate adjoining to Hamir Kund. A sign board said that the water body is infested with crocodiles though I failed to see one in spite of keeping my eyes peeled. The ancient gate we crossed evoked the royal past of Rajasthan. The gate even had a staircase on the right side of its walls.
This gate gives access to the Ranthambore fort, Jogi Mahal and zone 1,2,3,4,5 of Ranthambore National Park. I would have been too optimistic to spot a tiger here since it was a check post kind of a place, buzzing with human activity. We did spot the usual suspects viz sambar, chital (spotted deer), peacocks, owls and of course monkeys. A fearless bird sat on a twig close to our stationery (for permissions) jeep, its beak wide open thanks to the extreme heat of June in North India. The bird expected food from us which is a depressing thought because this particular species of bird developed this habit when irresponsible travelers started feeding them on safaris. Sad!
Unlike the zone 6 of Ranthambore National Park I visited in the morning (please see my other blogs in the 'Wildlife' tab.), the approach road to zone 4 was smooth tar road.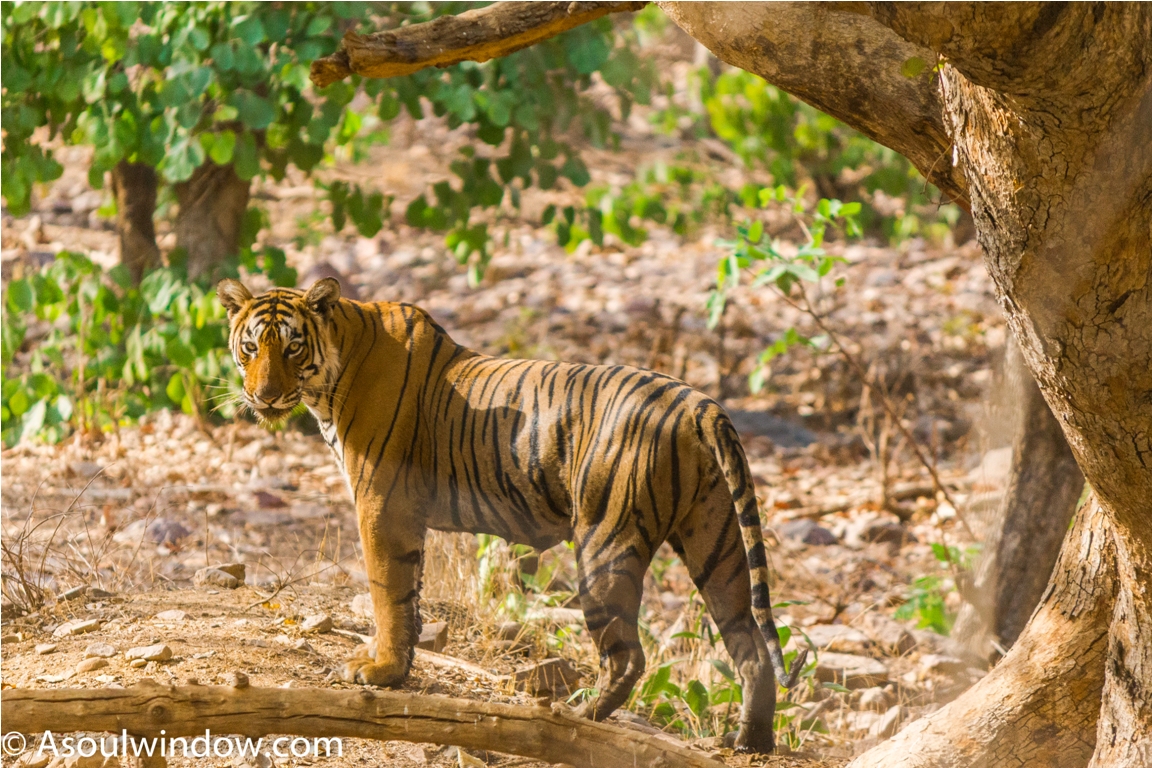 THE TIGER WE SPOTTED WAS LIGHTENING T 83:
We had spotted Lightning T83, the granddaughter of famous tiger Machchli T 16. Lightning is also the sister of Arrowhead T 84 aka Machchli Junior, the tiger we spotted after few hours of spotting Lightning. (Pls read my other blog on how we got really lucky to spot Arrowhead). She is also the daughter of tiger Krishna aka T- 19. (We also spotted Krishna with her new cubs, read about it in my other blogs) Her brother is T 85. She is known to stray at the periphery of the park. She once fell into a well and was rescued by the forest department.
THE ANCIENT RANTHAMBORE FORT AND HAMIR CHAND CHAUHAN:
I had imagined the Ranthambore Fort to be on a lower ground. It was instead perched on a high mountain in a distance. It is possible to drive up to the fort and explore it but limited time for Tiger made us choose the obvious. That said, on a future safari, I do intend to cancel my tiger date and explore the fort for sure. And if I am really lucky I can spot a tiger on the road to the Ranthambore Fort.
Hamir Dev Chauhan ruled Ranthambore from 1282 to 1301. The ancient and formidable Ranthambore Fort was declared a UNESCO World Heritage Site in 2013. The real age of the fort is disputed but it is believed that its construction began in mid 10th century during the Sapaldaksha rule and successive occupants of the fort added their own structures to the original edifice.
BEST TIME TO VISIT RANTHAMBORE FORT:
Summer is the best time to visit Ranthambore or any wildlife park in India (If Tiger is what you are keen on, that is). Due to extreme heat, the Tigers expose themselves in the open, often near a water body to cool themselves off. The lack of greenery also makes it easy to spot the Tigers, even from a distance.
WHAT TO WEAR DURING A WILDLIFE SAFARI IN HOT WEATHER?
I wore outfits by Columbia Sportswear. The deftly designed shirts and pants kept me cool even in the scorching heat of Rajasthan in June. The Omni wick and Omni Shade technology used helped me keep dry and cool even in extreme weather. There was not a modicum of sweat rolling down my spine. I recommend my readers to give it a shot while they are on an outdoor trip.
My other thrilling WILDLIFE experiences you will love to read:
Spotting Tiger Kumbha. Just 3 feet away from me!
Night Wildlife trail in Agumbe
In search of elusive King Cobra in Agumbe
Tiger free safari in Satpura National Park
Spotting my first Wild Tiger in Bandhavgarh National Park
One horned Rhino duo in the beautiful Chitwan National Park, Nepal
All thing wild in Pench National Park
Birdwatching in Shitlakhet, Almora
List of Wildlife Sanctuaries in Coorg
Spread the love, share this blog
Got any question/comments, ask in the comment section below so that it can benefit other readers.
Email me for collaboration: 21abhinav21@gmail.com
Be a part of my journey on social media. The travel content I create there is different from this blog.
Pls subscribe/follow/like:
WARNING: COPYRIGHT TO ALL THE TEXT SHARED HERE REMAINS WITH ME. YOU CAN NOT JUST LIFT THE CONTENT AND USE IT WITHOUT MY PERMISSION. STRICT LEGAL ACTION WILL BE TAKEN IF CONTENT IS STOLEN. YES, I AM SERIOUS.
Top Travel Blogger from India