Last Updated on December 12, 2016 by
Think unforgettable food, exceptional sunsets, unique geography, traditional handicraft, soulful music of the soil! Kutch has this and much more to offer. What's not to love! Plan a trip to this wonderland this Rann Utsav, a 3 month long extravaganza which celebrates all things Kutch!
Myriad geographies dot the landscape of India. One of the most outstanding locations is the White Rann of Kutch or GROK (Greater Rann Of Kutch). Those travelers who are bored of repeating the same beaches and hills on their vacations will appreciate this unique change of Indian geography. Come any time between December to February and treat your eyes with endless vast expanse of white giving a great backdrop for the annual Uttarayan aka kite festival. Many enthusiasts from across the globe flock here every year to flirt with the sky with their kites which are often dramatic, larger than life and quite colorful.
I boarded a 16 hour long train called Kutch express from Mumbai to Bhuj alongwith my office friends Vipul Sinha and Rohit Rai. What made the journey memorable were the people and the food I encountered en route. As soon as the train halted at Surat, I hopped off at the platform and retuned with pile of khaman dhoklas, fritters and theplas almost falling off my hand. I had little idea more food was waiting for me. An elderly man sitting opposite us fed us a sumptuous buffet of Gujarati food.
Before we got our first glimpse of Rann, we made a detour to Kalu Dunger. It is the highest point (approx 1515 feet/462 metres) in Kutch. We waited patiently for a quirky ceremony conducted by the priests of 400 years old Dattatreya temple. On a round platform, away from human presence, the priests keep a mound of Prasad (holy food) which consists of cooked rice sweetened with jaggery. This 400 year old ceremony takes place every morning at 11 a.m. and just before dusk. In older days, the calls of 'Le Ang, Le Ang" (Take my body) beckoned the jackals. These days, ringing of bells tell them about the food lying on the platform.
As per the folklore, Guru Dattatreya aka Pir of Pachchmai made a stop here as he walked the Earth. As he came across starving jackals, he offered his body for them to eat. Miraculously, his body parts regenerated as the jackals feasted.
Ignoring the touristy traps of camel riders, we headed impatiently to relish the view of the vast sea and Rann from the top, trying hard to ascertain the border of India and Pakistan. The multi hued (blue, brown, pink, white) landscape mesmerised us with its beauty and grandeur. The landscapes changes color on the whims of moving clouds and as the light above it changes.
A border town junkie, I was fast losing my patience to reach one of the most unique India-Pakistan border and experience it up, close and personal. Indira Bridge, a mere dot when seen from Kalu Dunger, is a deserted land peopled only by army personnel. I was heartbroken when I was told that one needs permission from DM's office in Bhuj if one wants to view the Pakistan side. A flock of pigeons flew past me nonchalantly, seemingly, mocking my predicament.
We took the baby bottom smooth road to Rann from here. The drive was pleasant thanks to the crisp February weather and an empty road. Large swathes of arid land, brown and barren, sandwiched the road. During monsoon, the landscape displays multiple personality disorder as the rain water floods the either sides of road. You are at the unique Banni grasslands!
Just before the sun decided to commit suicide, I took baby steps on the overwhelming expanse of Rann, observing it minutely, trying to make a sense of the spectacle before my eyes. It is difficult to explain the feeling of walking on tons of tiny salt balls, crushing softly under my shoes. The unruly breeze carried the quintessential taste and smell of salt. In a distance, I noticed tourists who had strayed far in the white desert, dwarfed by the grandeur of the Rann. The air reverberated with the rustic music which the local folk artists made. Have you seen a more atmospheric venue in India for an al fresco concert? I have not!
In no time, the glorious orange sun drowned beyond the Rann in a hurry. I dropped everything and gave all my attention to the grand show. The setting sun, casting an orange glow to the desert, gently swallowed by the desert, left me stoned.
We patiently waited as it was supposed to be a full moon night. After sometimes, it appeared poetically, changing its position and colors. We stood there, agape mouthed, watching a yellow moon turn into an ethereal white ball. The Rann was still white, now reflecting in the glory of borrowed moonlight.
The scenes of a bunch of locals losing themselves as they perform an impromptu garba jig, seduced by the rustic music of folk singers on the erstwhile quite Rann (bathed in orange glow of a sun set) is something which I will not forget in a lifetime.
WHAT TO EAT:
As we left Bhuj for Rann of Kutch, our cab driver took us to a roadside cart where we filled our faces with sumptuous Gujarati breakfast. We binged on the 'Can-I-Have-One-More fafda', freshly fried with raw papaya chutney and crackling jalebis. We couldn't help but pack some more from the roadside cart.
Annapurna Guest House in Bhuj serves the best Gujrati Thali (their claim) in town. I was impressed when I sampled one. Make sure you go with an empty stomach; the portions are big. Ask for Undhiyo, a winter special.
WHAT TO SHOP:
Many shops sell local handicrafts, embellished with rich embroidery, beads and mirror work. Also look out for wall hangings, keychains, dolls, decorative mirrors, bedsheets, toran, footwear, pathan suits, bandhni saree, jackets, the works!
WHERE TO STAY:
Gateway to Rann Resort: Dhordho, the last Indian village.
The resort is indeed a gateway to Rann Of Kutch. At a convenient distance of 4 kilometers from the White Rann Of Kutch and walking distance from Rann Utsav, it's the ideal resort to stay in Kutch during Rann Utsav. The urban traveler can experience living in a 'Bhunga', the traditional Kutchi mud houses, without compromising on comfort. The resort is equipped with all the modern facilities minus the unnecessary frills of a 5 star property.
Pic above: Me at Gateway to Rann resort (Pic: Vipul S.) and interiors of a 'bhunga'
The area is peaceful, and the weather is very pleasant in the winter months. The rooms are spacious and decorated using the Kutchi textile and arts and craft, lending an authentic local flavor to the vacation. There are free music programs (Tips appreciated) during the evening followed by sumptuous Gujrati dinner. There are many Bhungas to choose from. The resort is the ideal place to experience local culture and flavours. The tariff includes the buffet style meals.
 Contacts : Check their website here
Check their tariff here
Mobile: +91-94094 75359 ( 10:00 am to 5:00 pm )
Email: [email protected]
Book rooms at least 1 month in advance on the website. The rooms fill up real fast especially on full moon nights. Avoid AC rooms. You don't need one during winter.
Other stay options:
Budget: There are many cheaper small hotels nearby. We checked some and the rooms were available for walk ins. (February). These are run by locals. Ask around and someone will guide you to one such bhunga nearby.
Luxury: Luxury tents by Gujarat Tourism is pretty expensive. Go for it only if you have deep pockets. The location is within the Rann Utsav Campus.
When to visit:
Full moon night between December to February is good. February is ideal because the air is crisp and there are not much tourists. Avoid Christmas and New Year.
Rann Utsav:
Entry is free. There is lot you can do here. We went on the Valentine's day and still there were not many people. We sat on Charpais (Cot) and had memorable night as a wonderful music band belted one Bollywood song after another. In fact, the concert was one of the highlights of the Rann Utsav. The band played soulful Bollywood numbers to a small attentive audience who got much involved.
We also saw local dances and cultural shows. It is also a great place for stargazing. Choose a dark moon if you are interested in stargazing. It's free in Rann Utsav. In fact, everything is free in Rann Utsav except the food and shopping of course!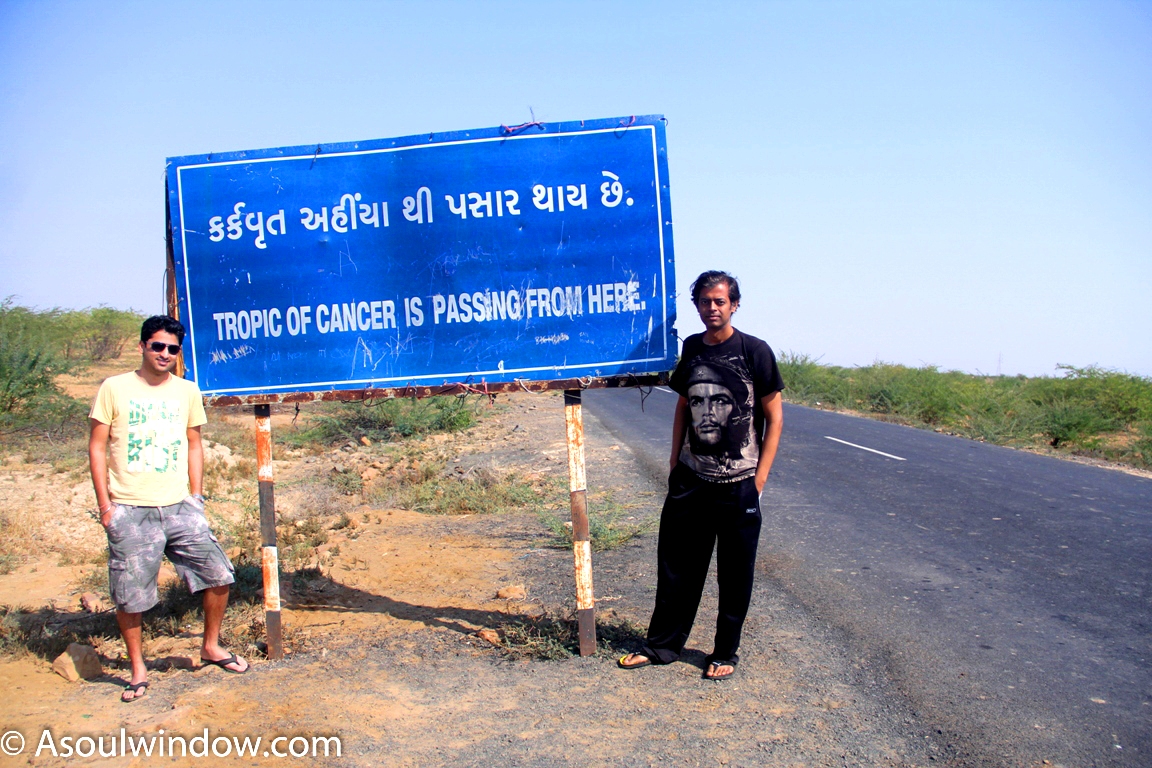 Cab: I hired a cab from Bhuj to Dhordo and back for Rs. 3500 for 2 days. The ride included a visit to Indo-Pak border, Kalu Dunger, Rann Of Kutch, Rann Utsav and a dam on the way.
Tip: Ask your cabbie to stop at the 'Tropic of Cancer is passing from here' sign board.
Distances : Mumbai to Bhuj distance – 864 kms.
New Delhi to Bhuj distance – 1139 kms.
QUICK FACTS:
The total area of the Greater Rann Of Kutch and Little Rann Of Kutch is a whooping 30,000 square kms.
Greater Rann of Kutch is not to be confused with Little Rann of Kutch which is famous for endangered Wild ass and lacks a salt desert.
Thanks to tropic of cancer passing through the region, it's one of the hottest and driest regions in India. (Max. Temp soar upto 50 degrees)
A mysterious 'ghost light' known locally as 'Chir Batti' is reported in the region. On dark nights, villagers have reported seeing a ball of fire (which changes its color) in motion.
Bollywood films such as D Day, Ram Leela, Lagaan, The Good Road, Refugee etc are shot here.
Rann of Kutch was once a part of Arabian Sea.
At the 400 year old Dattatreya temples, the desert jackals, common in the area is fed temple Prasad everyday at 11 a.m. There's free 'langar' for humans Donation advised.
The region attracts large numbers of migratory birds, most notably, the flamingos who rest and nest here.
The ruins of Dholavira, once a part of great Indus Valley civilisation, is not very far.
Rann Utsav, is a 3 month (November to February) festival which celebrates the culture of Kutch in all its glory. Expect great local music, dance, food and stargazing.
A quick itinerary: The cheaper way
Day 1:
Make sure you catch a train (sleeper class saves money) which drops you at Bhuj early morning. Book a cab (not much of public transport there) for 2 days outside railway station. Head straight to Kalu Dunger. Enjoy the views of Rann, India Pakistan border and ocean from the highest point in Kutch. Nearby is a 400-year-old Dattatreya temple, eat the free community meal called 'langar' (It would be great if you can donate some money to a counter nearby, we did!) Watch the jackal feeding ceremony held every day at 11 a.m.
Next head to Indira Bridge for the kick of standing on the India Pakistan border.
Check in at the hotel. Rest and head to Rann Of Kutch in evening. Stay here till full moon appears. Enjoy the night at the Rann Utsav (Entry free) next to the hotel
Day 2:
Leave Rann and explore Bhuj. There is lot to do in Bhuj viz. ancient monuments, shopping, tasteful food etc. Expect a busy day.  It is a must to plan a day for Bhuj. This small town is full of interesting things to do. The scars of a massive earthquake are still there. Yet, most of the ancient monuments are in good condition. See a 19th century Pragmahal Palace,  Aaina Mahal,  Bhujiyo Hill, Chhatardi, Hamirsar lake, Shree Swaminarayan Temple, Bhujodi village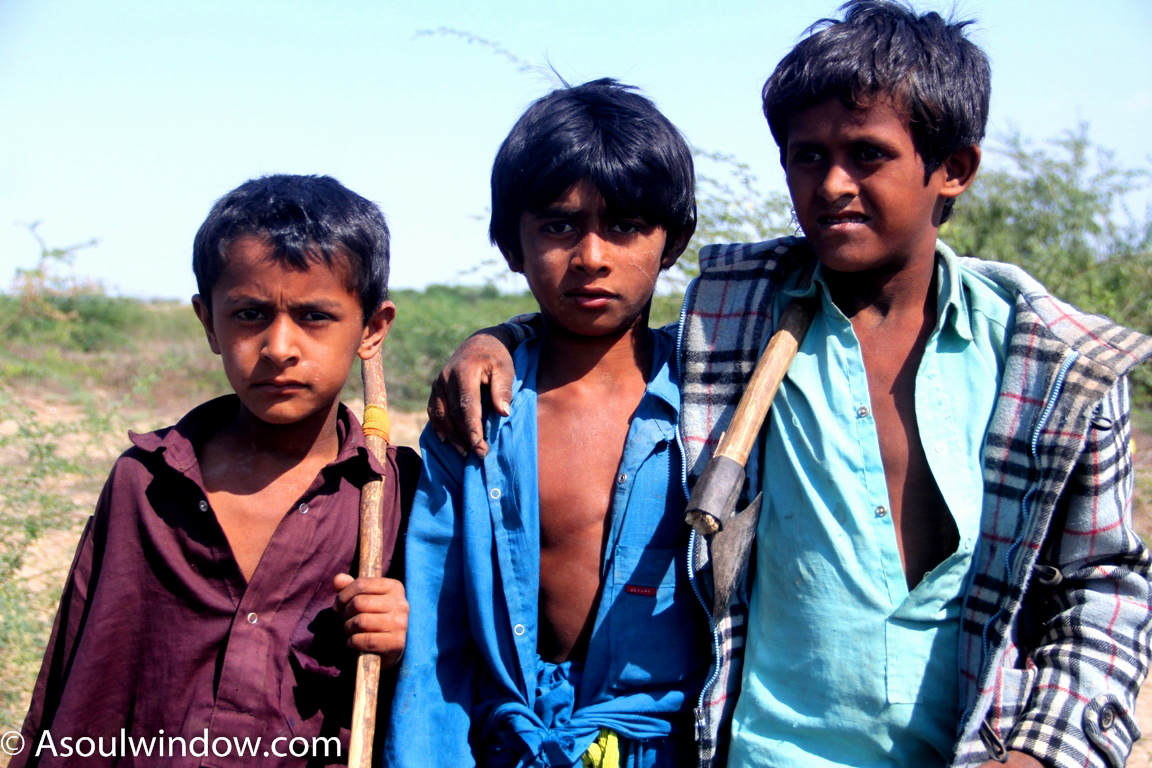 ———————————————————————————————————————
10 Interesting places to visit near Bhuj
 Circuit 1:
Travellers can go from Bhuj to Ahmedabad. From Ahmedabad, they can drive down to Nal Sarovar Bird sanctuary and Little Rann Of Kutch, in that order.
Ahmedabad Participate in a heritage walk in the ancient gated colonies in old city called 'pols'. Explore the grand Jami Masjid, go on a food trail in this culturally rich city. Distance – 334 kms from Bhuj
Little Rann Of Kutch : Its shares the name with Rann of Kutch but the geography of LROK is much different from White Rann Of Kutch. Not many go to the underrated wild ass sanctuary. Dasada is the nearest town. It is 276 kms away from Bhuj.
Nal Sarovar Bird Sanctuary: During winter, this place turns into a birder's paradise. Lakhs of migratory and local birds congregate here. Time stands still as you watch them return home as the sun sets in comforting silence. Nearest town is Sanand. Sanand is 21 kilometres from Ahmedabad and 309 kms away from Bhuj.
Lothal : Nourish your eyes and grey cells by visiting the well preserved ruins of Indus valley civilisation. It is just 85 kms from Ahmedabad.
Circuit 2
 Visitors can club Junagarh and Sasan Gir (in that order) which are both close from Bhuj.
Junagarh: Did you know Junagarh hides a secret? A Taj Mahal lookalike, that is! Mahabat Maqbara is an outstanding piece of architecture, much similar to the Taj. A discerning traveller will enjoy the gems such as Jamia masjid, Adi Kadi vav, Buddhist caves, mausoleums, tombs in Junagarh has it. Who would have thought! It is an easy 336 kms away from Bhuj.

Sasan Gir: Visit this national park which is the last refuge of the endangered Asiatic lion. Wildlife enthusiasts will love it. It is just 78 kms from Junagarh and 400 kms from Bhuj)
Other excursions:
Mandavi Beach The beaches of Mandvi are known for the windmills that dot the shore. It is 60 kms from Bhuj. One can reach here via taxis and buses.

Dholavira: History lovers' paradise, it is an important site and was once one of the main cities of the great Indus Valley Civilisation. A smooth, almost empty and scenic road from Bhuj will take you there. Expect salt desert on either sides of road. It is 218 kms from Bhuj.
Lakhpat: The walls of a 18th century fort surrounds this city. History buffs, rejoice! It is 135 kms from Bhuj
Porbandar: Kirti mandir, the birthplace of Mahatma Gandhi's is the main attraction. Not far away are sanctuaries and beaches. It is 377 kms from Bhuj
HOW TO REACH RANN OF KUTCH
Nearest railway station: Bhuj.
From Mumbai
Mumbai to Bhuj:
19131 Kutch Express:  All days (16 hrs)
22903 Bhuj AC Super fast: Wed, Fri, Sun (13 hrs)
Bhuj to Mumbai
19132 Kutch Express:  All days (16 hrs)
22904 BDTS AC S F Express: Mon, Thu, Sat (13:50 hrs)
From Delhi
Delhi to Bhuj
14311 Ala Hazrat Express: (26 hrs)
From Bhuj
Bhuj to New Delhi
14312 Ala Hazrat Express: Thu, Sun (26 hrs)
14322 Bareilly Express: Mon, Wed, Sat (22 hrs)
The view from my #SoulWindow is full of variety!
A shorter version of this story was originally published as the Cover Story (February, 2016) of Railbandhu, India's National Railway magazine.
Email me for collaboration : [email protected]
Be a part of my journey on social media. The travel content I create there is different from this blog.
Pls subscribe/follow/like:
Spread the love, share this blog
Got any question/comments, ask in the comment section below so that it can benefit other readers.
WARNING : COPYRIGHT TO ALL THE IMAGES AND TEXT HERE REMAINS WITH ME. YOU CAN NOT JUST LIFT THE CONTENT AND USE IT WITHOUT MY PERMISSION. STRICT LEGAL ACTION WILL BE TAKEN IF CONTENT IS STOLEN. YES, I AM SERIOUS.