Last Updated on September 1, 2023 by asoulwindow
LAKH BAHOSI BIRD SANCTUARY KANNAUJ – COMPLETE BIRD CHECKLIST & GUIDE
Out of the 25 wildlife sanctuaries of Uttar Pradesh, Lakh Bahosi bird sanctuary is a very important sanctuary for both resident and migrant birds. Lakh Bahosi Bird Sanctuary is located in Kannauj, which is known for its rich history and irresistible perfumes called itra or itar apart from bird-watching and bird photography.
The exact location of Lakh Bahosi sanctuary is Harsen block of Tirwa Tehsil. Lakh Bahosi Pakshi Vihar is home to a whooping 60,000 birds on a good day. Yes, it is a bird photographer's paradise indeed.
Thanks to concentration of a large number of birds and species, a bird watching trip in Lakh Bahosi sanctuary is even more satisfying than the many big bird and wildlife sanctuaries of India.
So, use this complete guide on Lakh Bahosi Pakshi Vihar and get ready to get some amazing bird shots. I was super impressed with this lesser known bird sanctuary.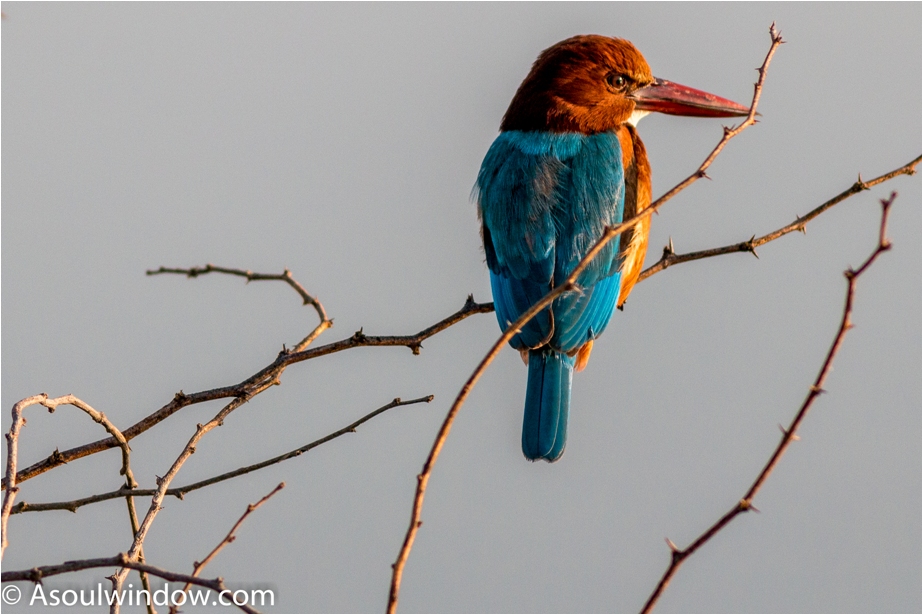 Lakh and Bahosi are actually names of two lakes which are located next to each other. Spread across 80 square kilometers, the boundaries of this sanctuary is shared with 5 villages namely, Lakh, Bahosi, Barauli, Bariamau and Poorarai.
No wonder, it is also one of the largest sanctuaries dedicated to birds in India. A part of Upper Ganga canal also lies in Lakh Bahosi Pakshi Vihar.
History of Lakh Bahosi Pakshi Vihar
Lakh Bahosi bird sanctuary was established in the year 1988 as a wetland. It took mammoth efforts to turn the canal fed twin lakes into a bird sanctuary back then. The shallow saline lakes are now teeming with bird life and have created a vibrant ecosystem of its own.
What was once a shooting site for erstwhile local zamindars is now a protected sanctuary, thanks to the efforts of Uttar Pradesh Government.
The sanctuary's main aim was to provide a safe haven to native birds and migratory birds. Any human construction was prohibited and natural habitat of avian life was retained in its original form so that the birds feel safe here and find their food. The local aquatic plants and mammal species also add to the ecosystem.
Thanks to the high maintenance and the seriousness in commitment towards the wildlife conservation, Lakh Bahosi bird sanctuary has been identified as 'Important bird area' by Bombay Natural History Society aka BNHS. Lakh Bahosi Pakshi Vihar is also identified as an important site for the 'National Wetland Conservation Programme' run by the Government of India. It is also a part of 'Luptpray Pariyojna' of Uttar Pradesh government.
Migratory birds in Lakh Bahosi
During the autumn and winter, the Lakh Bahosi bird sanctuary is buzzing with the arrival of migratory birds in large numbers. They come here from different parts of the world. The birds find Lakh Bahosi bird sanctuary a safe place since they receive enough food for themselves in a protected environment.
In India, more than 1300 species of birds are found. Out of these, around 200 species of birds found in India are migratory birds. The migratory birds arrive in India from countries as diverse as Siberia, China, Tibet and many Middle Eastern and European nations as well.
Most of these migratory birds brave the high altitudes of Himalayas. These birds cover a distance of as much as 8,000 kilometers or more. Since I visited during winter, I saw many migratory birds such as Pelican.
I was excited to see huge pods of Pelicans lazing around on a small island inside the lake. Other local birds seemed equally delighted to share their home with these foreign guests.
List of Migratory birds
Gray leg Goose
Bar headed Goose
Pintail
Common teal or Eurasian teal
Red Crested Pochard
Wigeon
Gadwal
Common Coot
Great Crested Grebe
Mallard
White Gull
Great White Pelican
List of Local Endemic Birds
The Asian Openbill Stork
Painted Stork
White necked stork
Black necked stork
White Ibis
Glossy Ibis
Black Ibis
Darter
Cormorant
White breasted Kingfisher
White throated Kingfisher
Pied Kingfisher
Spoonbill
Egret
Purple Heron
Gray Heron
Black Drongo
Pheasant tailed Jacana
Bronze winged Jacana
Indian Spot billed duck
Whistling teal or lesser whistling duck
Comb duck
Indian Moorhen
Pigeon
Hoop
Parakeets
Blue Jay
Mynah or Maina
Bee eater
Sarus crane
Facts File
Area – 80.23 square kilometers
Established – 1988
My Experience
I and Sudeep arrived at Lakh Bahosi Bird Sanctuary a bit late in the morning as we had come via a road trip from Lucknow by private car. We had packed lunch and water and stopped in small shops midway for tea and loo breaks.
I was impressed with how well maintained Lakh Bahosi Bird Sanctuary was. There were proper wired fences and marked pathways to facilitate the movement of local people and birds without disturbing them. A high ranked official was visiting the sanctuary when we arrived there.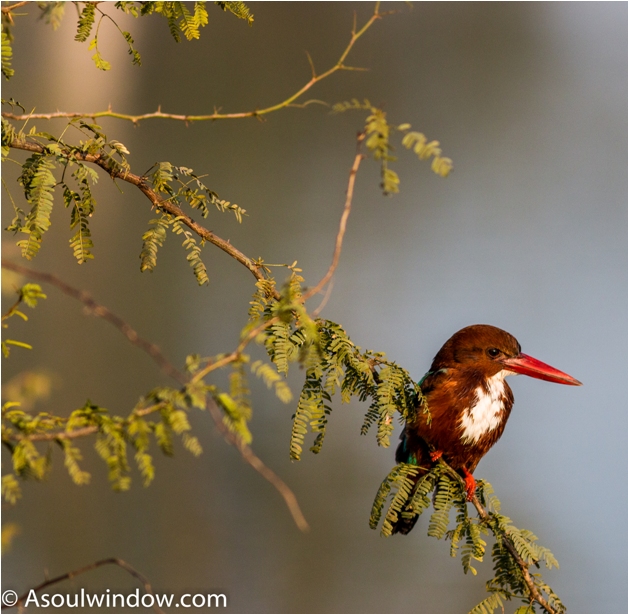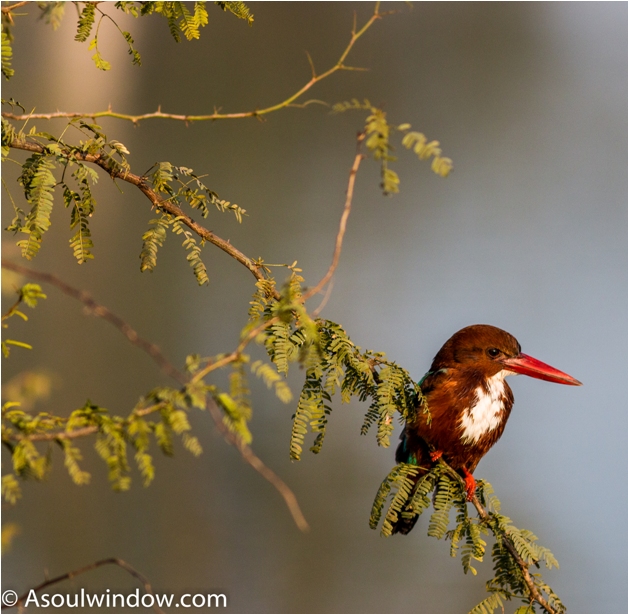 We gingerly stepped on marshy ground frequently, punctuated with crawling on our all fours for a good shot. It was a hit and miss. Just how frustrating bird photography can be! There were many villages and agricultural lands nearby where we saw some farmers going about their daily routine.
We even saw a Neel Gai family (Blue Ox) in far distance, who sensed our presence as well. They played hide and seek with us behind a tree in the undulating emerald green agricultural fields.
After having our packed lunch, we parked ourselves in the viewing shade near the bird interpretation centre in Bahosi. Many birds, including the pelicans which ran away had congregated on the small islands between the Bahosi lake.
We sat there and waited for more birds to descend as it was around 4 p.m. Sudeep got excited on seeing some rare birds which my untrained mind was immune to. "Just another duck", I said to myself. It turned out to be a migratory bird which is sighted rarely.
Our Best Sighting
We returned back more than satisfied with the trip to Lakh Bahosi. What I liked about this sanctuary is the fact that you can see more birds within a small area and without any DISTURBANCE.
Painted Stork
The best sighting here was to see a large Painted stork struggling to swallow a huge fish. His catch was so huge that it took around 15 minutes to be able to swallow the fish. It was interesting to look at how nature works.
Pelicans
We ventured deeper in search of birds and were rewarded with breathtaking sightings of Sarus Cranes and a huge flock of Pelicans. Our hearts skipped a beat when we saw massive Pelicans chilling out in far distance. Though we were very far and discreet, they still flew in a jiffy. I am not sure if they sensed our presence, but I am not ruling it out either.
Sarus Crane
The Sarus Cranes were in abundance here. We saw many Sarus Crane couples and couple with an offspring. I had always wanted to see Sarus Cranes closely in wild and it was my first time. They happily posed, gave flight shots and even made sounds.
Mammals Found in Lakh Bahosi
On a lucky day, you can even spot an elusive fishing cat, mongoose, neel gai or blue bull, jackal and monkeys in Lakh Bahosi Bird Sanctuary. You can also spot various species of reptiles and amphibians.
How To Reach Lakh Bahosi Bird Sanctuary
Lakh Bahosi bird sanctuary is located just 6 kilometers away from Indargarh Kasba and 17 kilometres away from Tirwa Tehsil. Lakh Bahosi bird sanctuary is located on Kanpur Delhi road also known as old Grand Trunk Road on NH91. Located between the nearest biggest town Kannauj and Lakh Bahosi bird sanctuary is 38 kilometres.
I have mentioned below on how you can reach Lakh Bahosi bird sanctuary. I and Sudeep visited the Lakh Bahosi bird sanctuary via a private cab. That is also a great option if you have some extra cash at your disposal.
Nearest airport – Lucknow is located just 163 kilometres from Lakh Bahosi bird sanctuary. It takes 3 hours to arrive here from Kanpur.
Nearest railway station – Kannauj railway station is located just 38 kilometres from Lakh Bahosi bird sanctuary.
Nearest bus station – Kannauj bus station is located just 38 kilometres from Lakh Bahosi bird sanctuary.
Best time to visit Lakh Bahosi bird sanctuary
November to March is the perfect time to pay a visit to Lakh Bahosi bird sanctuary. This is also the best time for bird watching and bird photography in Lakh Bahosi bird sanctuary. As I told you earlier, winter is the best time to see abundant migratory bird life in Lakh Bahosi bird sanctuary. Also, the pleasant weather makes it all the more pleasurable.
Early morning and early evenings are the best time for bird photography in Lakh Bahosi bird sanctuary. So, a bird watching session at 6 a.m. and 3 p.m. onwards is ideal in Lakh Bahosi bird sanctuary.
Best places to stay in Lakh Bahosi bird sanctuary
While we visited Lakh Bahosi bird sanctuary on just a day trip from Lucknow, my hometown, the local authorities offered us a place to stay at. There are some Government owned guest houses where you can stay if you have some spare cash and time.
I recommend staying for an extra day as that would help you in getting even better bird shots and bird sightings. Lakh Bahosi is a very remote area, so do not expect state of the art facilities and luxury. That said, you will get decent rooms at reasonable prices at below mentioned guest houses.
Below are some of the best places to stay at in Lakh Bahosi Bird Sanctuary:
Van Vishram Grah Bahosi (Kannauj)
Rooms available: 3 rooms are available here
Electricity: Available
Wi-Fi: Not available
How to book: You can contact Van Sanrakshak Lupt Pray Pariyojna, Uttar Pradesh, Aranya Sadan, Sector 19, Indira Nagar, Lucknow.
Phone contact: 0522-2716422
E mail id: [email protected]
Food: Not available. You will have you arrange your own meals. Do pack some food to see you through breakfast and lunch at least. Ask the locals, who will help you arrange a dinner, if you plan to stay at Lakh Bahosi Bird Sanctuary.
Paryatan Vikas Nigam Vishram Grah (Kannauj)
Rooms available: 4 rooms are available here.
Electricity: Available
Wi-Fi: Not available
How to book: Contact manager, Tourist guest house, G.T. road aka Grand Trunk Road, Kannauj, Uttar Pradesh, India.
Phone contact: 05694-234275
Main Office Address
Mukhyalaya, Aranya Sadan, Shisham Bagh, Sector 19, Indira Nagar, Lucknow – 226016.
E mail: [email protected]
Contact: 0522-2716322
Guide for Lakh Bahosi bird sanctuary
You must hire a local Guide to save time and spot birds and other mammals easily in Lakh Bahosi Bird Sanctuary. Guide Karan Singh is very well informed and even the best of bird photographers have taken his help. Magazines like Outlook Traveler have featured him as well. He will be around. Ask any official near the Bird Interpretation Centre. He has been identified as one of the most devoted and knowledgeable forest department official across India.
He can be contacted at this phone number +91 8126831160
Soul Window Tip
Though Lakh and Bahosi are both located close to each other, you need to take a vehicle. Both the lakes are located just 4 kilometeres away from each other. A private vehicle is best as not much public transport is available here. Walking is also possible but you will lose precious time when birds do their activity the most.
We had amazing sightings at Bahosi. We didn't explore much of Lakh as we found Bahosi more navigable and it also had better infrastructure.
Food Tips
Carry your own food and water. There are no shops or restaurants here. Barring a paan gumti, I didn't see any other shop. You can buy snacks such as namkeen, biscuits and cigarettes (Please smoke in room, if you have to and dispose off cigarette butts carefully).
I recommend carrying enough filtered water with you. Though, we were on a day trip, we carried enough food and water to see us through the day. For two of us we carried 4 litres of filtered water in metal bottles. You must not encourage buying the plastic water bottles.
Road Trip Tips
The road trip from Lucknow to Lakh Bahosi Bird Sanctuary was very smooth. We stopped en route for some snacks like samosa and tea.
Clean Loo Guide
There is a very clean and free toilet near the bird interpretation centre in Bahosi. It is free of charge. If it is locked, request a local person to open it for you.
Safety
Lakh Bahosi Bird Sanctuary is quite safe. We explored on foot. In pursuit of birds, we ventured deeper into the sanctuary. Marked pathways helped us follow a path and remember it while returning back to our base which was bird interpretation centre.
Other places to explore at Lakh Bahosi Bird Sanctuary
Most of the best places to see in Lakh Bahosi Pakshi Vihar are located at walking distance from each other. A bird watching walk on the 10 kilometer marked pathway around the lake and beyond is also pleasant in early morning. The pathway is a great vantage point to click the birds without intruding their space.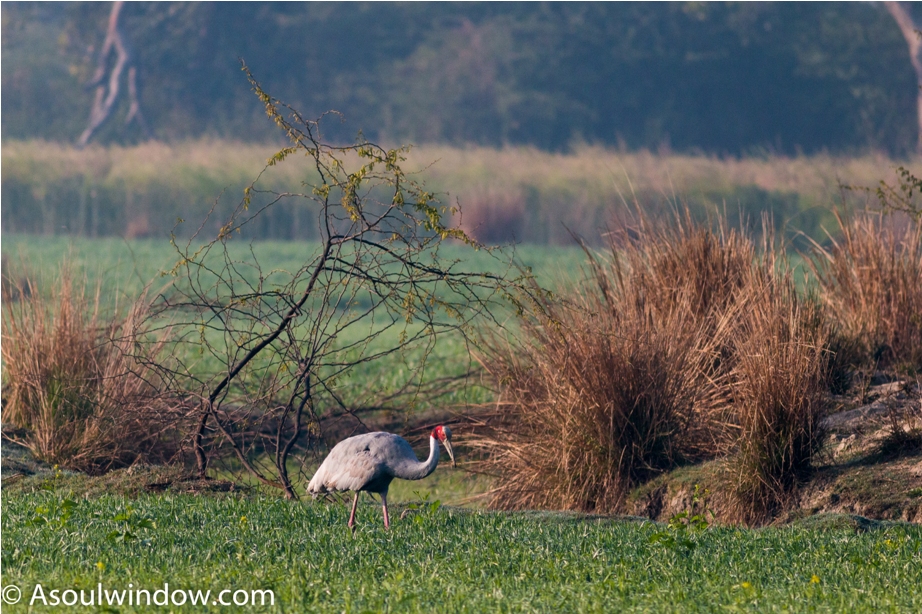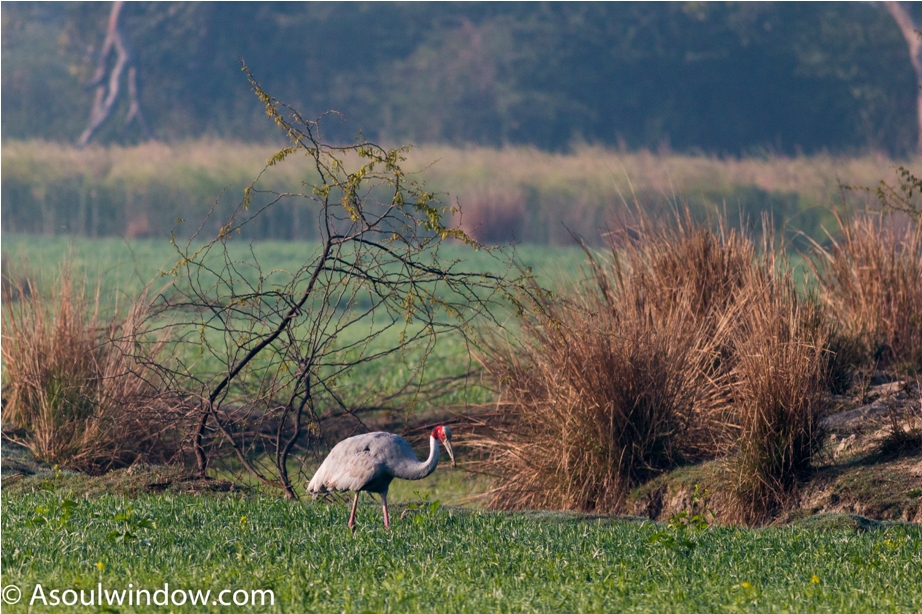 You will see many species of birds, and if lucky, then some mammals, reptiles and birds as well. Keep your eyes peeled for the heronries, the colonies of herons where they breed, mostly in dense trees located next to each other.
Below are some of the other attractions of Lakh Bahosi Bird Sanctuary which you can enjoy or make use of. Pls see the below list of nearby attractions:
Attractions of Bahosi
Forest Rest House
Ticket Booking Window
Bird Interpretation Centre
Children Park
Watch Towers
Boat Ghat
View Shades or observation gazebo
Attractions of Lakh
Watch Towers or observation gazebo
Boat Ghat
View Shades
Important Rules for Lakh Bahosi bird sanctuary
Venturing out in the night is not allowed
Playing loud music is not allowed
Setting a fire is banned
Smoking and drinking is not welcome
Carrying inflammable objects are frowned upon
Causing any damage to any wildlife or their natural habitat is strictly punishable.
Throwing waste material, polythene packets and empty boxes and bottles indiscriminately is prohibited. There are dustbins near Bird Interpretation Centre in Bahosi, make use of it.
Driving with a fast speed is prohibited in Lakh Bahosi Bird Sanctuary premises.
Hooligans will be sent back right away. Some people treat Lakh Bahosi Bird Sanctuary as a picnic spot. If you see someone doing that, complain to the local authorities.
Admission Fees of Lakh Bahosi Bird Sanctuary
Entry Fees – Rs. 30 per person
Camera Fees – Rs. 50 per person
Vehicle entry fees –Rs. 100 per vehicle
A local authority will give you a receipt for the same at Bahosi. Make sure, you do not explore Lakh Bahosi Bird Sanctuary without getting these formalities done.
Bird Interpretation centre at Bahosi
We requested the local guide to open the gates of the Bird Interpretation Centre, who happily did so. Located near the Bahosi Lake, the Bird Interpretation Centre is a well maintained facility to acquaint you and your kids with the birds found at Lakh Bahosi lakes.
The main aim of the Bird Interpretation Centre was to raise awareness and instill sensitivity towards birds and animals in people and kids. Enhancing the knowledge about the avian life was another objective of this exercise.
Life size models, moving images and photographs are used for explaining the important features, diet, breeding, habits and life styles of these birds. There is also an audio visual room, where you can see documentaries on birds.
I was impressed to see many sign boards explaining about various birds near the watch tower as well. Tough in dilapidated state, the sign board served its purpose still.
Complete Checklist of birds found in Lakh Bahosi Bird Sanctuary.
Ducks and Goose
Indian Spot-billed Duck
Lesser Whistling-Duck
Ferruginous Duck
Tufted Duck
Graylag Goose
Knob-billed Duck
Ruddy Shelduck or Brahminy duck
Bar-headed Goose
Cotton Pygmy-Goose
Northern Shoveler
Gadwall
Northern Pintail
Little Grebe
Doves
Red Collared-Dove
Rock Pigeon
Eurasian Collared-Dove
Spotted Dove
Laughing Dove
Cormorants
Little Cormorant
Indian Cormorant
Great Cormorant
Little/Indian Cormorant
Big Birds
Great White Pelican
Sarus Crane
Asian Openbill
Eurasian Spoonbill
Painted Stork
Woolly-necked Stork
Black-necked Stork
Pochard
Red-crested Pochard
Common Pochard
Common Sandpiper
Wood Sandpiper
Egrets
Great Egret
Intermediate Egret
Little Egret
Cattle Egret
Herons
Indian Pond-Heron
Gray Heron
Purple Heron
Predatory – Carnivorous birds name list
Oriental Honey-buzzard
White-eyed Buzzard
Black Kite
Black-winged Kite
Shikra
Eurasian Kestrel
Egyptian Vulture
Short-toed Snake-Eagle
Greater Spotted Eagle
Tawny Eagle
Steppe Eagle
Bonelli's Eagle
Eurasian Marsh-Harrier
Crow
House Crow
Large-billed Crow
Lark
Ashy-crowned Sparrow-Lark
Bengal Bushlark
Greater Short-toed Lark
Sand Lark
Oriental Skylark
Crested Lark
Prinia
Warbler
Booted Warbler
Hume's Warbler
Blyth's Reed Warbler
Bulbul
Red-vented Bulbul
Red-whiskered Bulbul
Myna
Robin
Indian Robin
Oriental Magpie-Robin
Flycatcher
Taiga Flycatcher
Taiga/Red-breasted Flycatcher
Wagtail
Gray Wagtail
Western Yellow Wagtail
Citrine Wagtail
White-browed Wagtail
White Wagtail
Pipit
Paddyfield Pipit
Olive-backed Pipit
Francolin
Black Francolin
Gray Francolin
Babbler
Common Babbler
Large Gray Babbler
Jungle Babbler
Crake
Ruddy-breasted Crake
Brown Crake
Baillon's Crake
Yellow-wattled Lapwing
Plover
Kentish Plover
Little Ringed Plover
Stint
Temminck's Stint
Little Stint
Tern
Whiskered Tern
River Tern
Ibis
Black-headed Ibis
Red-naped Ibis
Glossy Ibis
Oriole
Indian Golden Oriole
Black-hooded Oriole
Weaver birds
Baya Weaver
Black-breasted Weaver
Common Tailorbird
Munia
Scaly-breasted Munia
Tricolored Munia
Sparrows
House Sparrow
Yellow-throated Sparrow
Pipit
Long-billed Pipit
Tawny Pipit
Rosy Pipit
Other Birds Found in Lakh Bahosi Bird Sanctuary
Bluethroat
Garganey
Eurasian Wigeon
Green-winged Teal
Indian Peafowl
Greater Coucal
Eurasian Moorhen
Eurasian Coot
Gray-headed Swamphen
White-breasted Waterhen
Black-winged Stilt
Red-wattled Lapwing
Ruff
Common Greenshank
Oriental Darter
Indian Gray Hornbill
White-throated Kingfisher
Rose-ringed Parakeet
Black Drongo
Rufous Treepie
Wire-tailed Swallow
Common Chiffchaff
Lesser Whitethroat
Indian White-eye
Asian Pied Starling
Asian Koel
Osprey
Eurasian Hoopoe
Common Kingfisher
Pied Kingfisher
Indian Roller
Coppersmith Barbet
Plum-headed Parakeet
Ashy Drongo
Long-tailed Shrike
Zitting Cisticola
Brahminy Starling
Siberian Stonechat
Common Redshank
Desert Wheatear
Black Redstart
Brown Rock Chat
Purple Sunbird
Indian Silverbill
Red Avadavat
Green Sandpiper
Suggestions
Lakh Bahosi Pakhis Vihar, though very well maintained needs a little more in terms of upkeep. For example, the boat which was meant for a boat ride was dysfunctional.
Though it is very well managed, Lakh Bahosi Bird Sanctuary still needs some improvement. There is a lot of movement of local residents within the sanctuary area. I also saw open defecation in the conserved land. I understand that these things happen because of close proximity of the sanctuary with the farming areas.
The movement (apart from serious birdwatchers) in the sanctuary needs to be restricted. I also saw some picknickers, not interested in birding, who were making a little noise in the observation deck. Also, the boating service was not available. The boat was tethered to a messy area and wwas not available for a ride, perhaps because of the few number of people who visit here.
Conclusion
Lakh Bahosi bird sanctuary near Kannauj is a heaven for bird watchers and bird photographers alike. Especially during winters, when migratory birds come in huge number it becomes a bird watchers magnet.
Being located close to Lucknow it can be easily reached by a private car. One or two days are enough for getting good bird shots in Lakh Bahosi Bird Sanctuary. It is one of the best bird sanctuaries in not only Uttar Pradesh but also India.
I have also shared a comprehensive list of bird found in Uttar Pradesh as well as Lakh Bahosi Bird Sanctuary.
The view from my Soul Window is chirpy!!!
Top Travel Blogger from India