Last Updated on December 5, 2019 by
TOP TOURISTY & OFFBEAT PLACES TO SEE IN COORG, MADIKERI IN 2 DAYS
Coorg is a wonderful weekend getaway from Bengaluru and Mysuru. It is a quick and easy destination. This blog lists things like top places to see in Madikeri and Coorg which is also called Kodagu. It is located in Karnataka in South India. These are the top touristy and offbeat places to see in Coorg and Madikeri in 2 days. If you want to see Coorg in one day, you can cut some of the places listed below.
The complete guide cum blog also lists the top places to see in Coorg, top vegetarian and vegan Kodagu cuisine to try, Excursions from Coorg, best place to see in Coorg, how to reach Coorg etc. It is based upon my personal visit to Coorg.
The present Madikeri was known as Mercara during the British colonial era. Prior to that it was known as Muddu Raja Keri which means Town of Mudduraja. It was last rechristened to Madikeri by the Government of Mysore. Below are the top places to visit in Coorg and Madikeri:
Sri Omkareshwar Temple, Coorg
The thick mist had enveloped Sri Omkareshwar Temple when we arrived there. It was lightly drizzling. The temple was the first place I visited in Coorg. It was an impressive introduction. As I entered the main gate of the temple's campus, a huge pond (with fish) welcomed me. Fishing in prohibited in this pond as it is a sacred place. Sri Omkareshwar Temple is definitely the top place to see in Coorg.
Islamic Architecture of Sri Omkareshwar Temple, Coorg-
What struck me instantly about the temple was its unusual architecture. Firstly, the temple was huge. Built in 1820 C.E., the temple's architectural style is a combination of Hindu, Gothic and Islamic styles. It's eerie to see an Islamic central dome on a temple devoted to Shiv Bhagwan. You will also notice 4 Islamic minarets, which is an Islamic feature.
Timings of Sri Omkareshwar Temple, Coorg
The best time to visit the Sri Omkareshwar Temple is when rituals are going on. You can follow the below daily schedule to time your visit:
Abhisheka – 6:30 a.m. to 6:45 p.m.
Ganga Pooja – 7:00 a.m.
Maha Pooja – 12:00 p.m.
Maha Pooja – 8:00 p.m.
About Sri Omkareshwar Temple, Coorg
The 19th century temple was built by King Lingarajendra II as act of penance for murdering a Brahmin. A Shivlinga is worshipped near the entrance door of the temple. The Shivlinga was brought all the way from Kashi (Varanasi), the holiest of the holy city.
I personally loved the ambiance of the temple and the spirituality that it exuded. It was a calm and silent place. The sweet fragrance of the incense stick, flowers and the rituals performed by the priest sent me into a spiritual coma.
Raja's Seat: Top Place To Visit In Coorg In 1 Day

The literal meaning of Raja's Seat is the 'Seat of the King'. It is called so because in olden days, the kings of Kodagu used to visit this place with their queens to soak in the views and watch the sun set.
It was very misty when I arrived here, so I could not see any view. On clear days, you get great vies of the green valley below. Apart from views, the park is good for those who love picnics in the outdoors. There is a large elephant statue at one corner of the park. Near the statue, but outside the boundary of Raja's seat, a South Indian temple can be visited. There are also many shops outside Raja's seat from where you can buy locally produced coffee and even filter coffee maker. You can even taste the unique local Kodava cuisine of Coorg in some nearby restaurants.
Abbey Falls: Top Place To See In Coorg

It is located a bit away and still accessible from the main Coorg city. I am not much fond of waterfalls but I was impressed with this one. As soon as we arrived at the Abbey Falls area, friendly streets dogs came running to us, wagging their tails, expecting what else but a little food and love in return.
I picked bhel (average, avoid) from the main entrance and munched away. As I entered the main gate of the Abbey Falls, the verdant coffee fields echoed with the sound of cicadas. It was a dense forest which was dominated by coffee and banana plantations. Someone warned me about leeches. But since there is a very clean cemented walking path, I didn't see a single leech. It is a well paved way and is senior citizen friendly as well. It takes just a few minutes of walk to reach the Abbey falls from its main gate.
I was impressed with the Abbey Falls as soon as I had a first glimpse of it. Abbey Falls was not very tall. It was very broad though. Water gushing from the top in full force was dramatic and impressive. It was muddy brown water.
There was a proper viewing point. You can also climb up another viewing tower for a different perspective. There was also a broken bridge nearby which I am sure allowed even more thrilling views of Abbey Falls.
Namdroling Nyingmapa Monastery – Must see offbeat place in Coorg



This unique Tibetan monastery located near Coorg is also known as Thegchog Namdrol Shedrub Dargye Ling or བོད་ཡིག ཐེག་མཆོག་རྣམ་གྲོལ་བཤད་སྒྲུབ་དར་རྒྱས་གླིང་། It is located in Bylakuppe which is a little away from the main city of Coorg. Established in 1963, it is world's biggest teaching center of the Tibetan Buddhism's Nyingma lineage. Originally, a simple temple made out of bamboo stood here. The sprawling campus of the Namdroling Nyingmapa Monastery is spread over nearly 80 square feet or 7.4 m2. It is a good idea to visit the monastery during Tibetan festival called Losar or Tibetan New Year. (February or March as per Gregorian calender). Expect 2 week long festivities which include display of colosaal Thankga paintings, dramatic Lama Dances and processions.
Gaddige aka

Raja's tomb –Top Place to Visit in Coorg



I saw this on the way from Abbey's Falls to Coorg city. The three tombs built in Indo- Sarcenic architectural style were built in the 19th century. The tombs belong to the Kodava royal family. In fact, Gaddige houses the mortal remains of the royal Kodavas. Gaddige has a unique architecture which reflects both Hindu and Islamic elements. A central tomb is surrounded by 4 minarets on all sides reflecting typical Islamic architectural style. Carving of Nandi bull's on the same reflects Hindu architecture. It is interesting to know that Shiv Bhagwan is worshipped inside the tomb. The left tomb was built in 1834 C.E. This is the tomb of Veerarajendra's guru Rudrappa. The largest of the 3 tombs which is in centre belongs to Doddaveerarajendra, a Kodava King and his wife, Mahadeviamma. The right tomb was built in 1820 C.E. in by Chikkaveera Rajendra, the last king of Coorg for his father Lingarajendra.
Gaddige or Raja's Tomb is located in Mahadevpet, approximately 1.5 kilometers from Madikeri.
Muttappa Temple –Offbeat Coorg



This temple is a must visit place in Coorg. What makes it convenient is that it is located merely 350 meters away from the Gaddige tombs.
Basaveshwara Temple –Offbeat destination in Coorg



Located in Somwarpet area, the nearby places to see here are Kotebetta, Kumaradhara Falls aka Mallalli Abbi, Beelur Golf Club and Malemalleshwara Betta. It is approximately 40 kilometers away from Coorg.
Honnamana Kere – Must see Place in Coorg



It is located 60 kilometers and 1 hour, 40 minutes away from Coorg. It is a holy lake located close to the Sulimalthe village in Doddamalthe.
Pushpagiri Wildlife Sanctury – For Flora and Fauna



Located in Somwarpet, it is a prominent wildlife sanctuary of Karnataka. Karnataka has a total of 21 wildlife sanctuaries. Pushpagiri Wildlife Sanctury is 2 hours and 75 kilometers away from Coorg.
Madikeri Fort and Museum – For History Buffs



Also known as Mercara Fort, it was built by Mudduraja, the Haleri king who was the ruler of Coorg aka Kodagu from the year 1633 C.E. to 1687 C.E. Built during the end of the 17th century, Madikeri Fort also housed a royal palace. Many additions were made to the Madikeri Fort by different rulers over a period of time. Tipu Sultan, for example reconstructed the Madikeri Fort in granite. He also rechristened the place as Jaffarabad. The Madikeri Fort fell in the hands of Dodda Vira Rajendra in the year 1790 C.E. From 1812 C.E. to 1814 C.E. Linga Rajendra II renovated the Madikeri Fort. In 1834 C.E, the British colonists made further additions to the Fort. The Madikeri Deputy Commissioner's Office is also located within the campus of the Madikeri Fort.
The Madikeri Fort Museum houses weapons, objects and artefacts etc from the era of Tipu Sultan, Muddy Raja and British. The well maintained Madikeri Fort Museum is housed inside St. Mark's Church within the fort precincts. The church was built in the year 1859 C.E.
Distance between Madikeri fort to Coorg is just 18 kilometers and it takes around 30 minutes to complete the journey.
Kaveri

Nisargadham – Picnic Spot In Coorg



Kaveri Nisargadham is a picnic spot which in reality is a delta formed by Kaveri river. Spread over 64 acres, it is inundated with teak trees, sandalwood and bamboo groves. You can even stay at treetop bamboo cottages. Avoid elephant rides. It is just cruel to the gentle giants. Boycotting elephant rides is the only solution. Boating can also be done here. Ypu can reach here via a fun hanging rope bridge. Namdroling Monastery is located close to the Kaveri Nisargadham. It is located just 3 kilometers away from Kushalanagara and 30 kilometers away from Madikeri.
Bhagamandala – Holy Temple and river confluence
It is a popular pilgrimage located in Kodagu or Coorg. The Triveni Sangam or kudala where the mythical Sujyothi river and the Kannike river meet are sacred. The much revered Sri Bhagandeshwara temple near Triveni Sangam is popular with Hindu devotees.
It is a scenic place, located near Mount Koppatti and Mount Thavoor. The nearby Shola forest range is also great for treks and hikes. It is also known as Bhagandeshwara Kshetra. As was common with all Islamic invaders of India, Tipu Sultan had renamed Bhagamandala as Afesalabad when he ruled this area from 1785 C.E.–1790 C.E. Predictable, he also burnt and destroyed the original temple that stood here. However, King Dodda Vira Rajendra took control of Bhagamandala again in 1790 C.E. Other temples to visit here are Padi temple, Aiyangeri temple and Chinnathappa Temple. Distance between Bhagamandala and Madikeri is 33 kilometers.
Talakaveri- Top Excursion from Coorg



Also known as Talacauvery, it is the source of the holy Kaveri river, thus making it a much revered place for Hindus. In fact, Talakaveri is a major pilgrimage of Hindus, especially Kodava people of Kodagu aka Coorg. Many devotees throng Talakaveri to offer their prayers to the life giving river. A kundike (water tank) and a temple are built at the source of Kaveri. Devotees even take a holy dip in the kundike on special auspicious occasions. Cauvery Sankramana (mid October) is celebrated with much fanfare at Talakaveri every year.
It is located close to Bhagamandala in the green Brahmagiri Hills.
Distance from Coorg to Talakaveri is 54 kilometers and it takes around 1 hour and 30 minutes to complete the journey.
Chelavara Falls – Offbeat Place to see in Coorg



Chelavara Falls is a beautiful but very dangerous waterfall. One must not enter the waterfall as off late many deaths have been reported here. It is around 100 feet deep. One needs to walk for around 200 meters from parking area to reach here. Chelavara Falls is located near Cheyyandane village. You can access Chelavara Falls via Virajpet – Talakaveri State Highway (SH 90).
Padi Sri Subraya (Sri Igguthappa) Temple
Padi Sri Igguthappa Deva and Goddess Kaveri are the two main deities worshipped by the Hindus of Coorg aka Kodagu. Every year, the Holy Procession of Sri Igguthappa Deva starts at the Padi temple during Malma Festival. There are many legends and myths associated with the temple.
Iruppu Falls

–Must see offbeat place near Coorg



Also known as Lakshmana Tirtha Falls, the best time to visit it is during or after the monsoon season. Apart from being a picnic spot, the Iruppu falls is also a pilgrimage. It is believed that when Shri Ram and Laxman ji were passing through the Brahmagiri range looking for Sita mata Shri Ram asked Lakshman ji for fresh drinking water. When Lakshman ji shot an arrow in the Brahmagiri Hills, water gushed out of it. It is known as Lakshmana Tirtha Falls.
The nearby Rameshwara Temple attracts pilgrims on not only Shivratri but also on daily basis.
Mallalli Falls – Offbeat Places to visit in Kodagu



The gorgeous milky white waterfalls is located in the foothills of the Pushpagiri Hills. Falling from a height of 1000 metres, it looks dramatic and beautiful. Is located 26 kilometers away from Somwarpet. One can reach Mallalli Falls via an easy and picture postcard perfect trek.
Mandalpatti View point – For Great Views in Coorg and Madikeri



Perched on a height of 4050 feet, Mandalpatti View point offers breathtaking views of the valley. A part of the Pushpagiri reserve forest, Mandalpatti is also known locally as 'Mugilu-Pete' or 'Mugilu-Peth', the literal meaning of which is Market of Cloud. There is no entry fee here. It is open from 6 a.m. to 6 p.m. It is approximately 30 kilometers away from Madikeri. Also visit nearby Kanchi Kamakshi Temple
Nagarhole National Park – For Wildlife enthusiasts



It is a popular National park of South India. It is a Tiger Reserves, located close to the more popular Bandipur Tiger Reserve. You can spot Indian leopards, jungle cats, Bengal tigers, sloth bear, dhole, striped hyena, wild elephants, Gaur, Indian giant flying squirrel, pangolin, Chital and Sambar here. The waterfalls, verdant valleys, hills and water streams add to its beauty. Some birds found in nagarhole National Park are Nilgiri wood-pigeon, Oriental white-backed vulture, lesser adjutant, greater spotted eagle and red-headed vulture. Distance between Nagarhole National Park to Coorg is approximately 73 kilometers and time taken to cover this journey is 2 hours.
Nalaknad Palace – Not to be missed destination in Coorg!



The Kodava people also call it Naalnaad Aremane and it is known as Nalkunadu in Kannada. Constructed between 1792 C.E. and 1794 C.E., it was where the Chikka Veerarajendra, Haleri kings of Kodagu, stayed when the evil and shrewd British colonists took over. This is a protected monument. The architecture of the red tiled palace is remarkable. You must visit this place when you are in Coorg.
Karnataka International Travel Expo – KITE
I was invited as a hosted media for the Karnataka International Travel Expo – KITE from 25th August to 27th August 2019. It was a B2B event where 400 Hosted Buyers from more than 25 countries congregated in Bengaluru where business opportunities and tourism products were discussed. It gave ample networking opportunities to all the participants.
I also got an opportunity to see Honourable Chief Minister of Karnataka, Shri BS Yediyurappa talk about tourism, politics and more. Smt. Sudha Murthy, the Chairperson of the Infosys foundation was also seen talking to media. She has been appointed as the chairperson of the Vision Group which will promote tourism in Karnataka, the South Indian state of India.
KITE was organized by Department of Tourism, Government of Karnataka in association with Karnataka State Tourism Development Corporation, Jungle Lodges & Resorts & Karnataka Tourism Society.
WHERE TO STAY IN COORG/MADIKERI?
Stay at – I stayed at Hotel Mayura Valley View, Madikeri. It is not a luxurious property but has everything which can guarantee you a comfortable stay at affordable prices. I am not very fond of luxury. Why spend so much on stay. I like luxury once in a while. But for someone like me who travels for 20 days in a month, budget properties or hotels like Hotel Mayura Valley View Madikeri are a good choice when traveling with family.
Their large rooms have huge wardrobes, a TV and attached bathroom with hot shower. Their dinner just about passed the muster. I particularly loved their breakfast. In fact, I had the best coconut chutney of my life here. It was thick, flavoursome and topped with crispy fried chillies and oil. It went well with idli, badas, upma etc. Fresh fruits and toast were also available. Their dinner included soups, Gobhi Manchurian, Veg Kolhapuri, Daal, Rice etc.
As is common with most government properties in India, the location of Hotel Mayura Valley View wins hands down. You can even have an al fresco breakfast or lunch in their patio facing the valley. It offers sweeping views of verdant valleys in far distance. No wonder we preferred our breakfast in the open area.
EXCURSIONS FROM COORG
There are many places near Coorg or Kodagu and Madikeri. You can club these destinations if you have no budget limitation and time constraints.
Some of the places located near Coorg are:
Mysuru
Vrindavan Garden
Channapatna
Srirangapatana
Bengaluru
HOW TO REACH COORG FROM BENGALURU AND MYSURU?



Coorg is an easy place to reach. You can reach Coorg from Bengaluru and Mysuru via bus, car, train and flights. While buses are readily available, you need to
Reach Coorg by air –
The closest airport from Coorg is in Mangalore. Distance between Mangalore and Coorg is 135 kilometers.
Bangalore has the second nearest city with an airport. Distance between Bangalore and Coorg is 250 kilometers
Bangalore is a bigger city than Mangalore.
Reach Coorg by road–
I visited Coorg from Bangalore via road on NH75 highway. It took me around 6-7 hours to make the journey via Channapatna and Mysuru.
Reach Coorg by railway –
The nearest railway station from Coorg is in Mysuru. Bengaluru also has railway station from where you can take a train to Mysuru. Distance between Mysuru and Coorg is 120 kilometers.
Reach Coorg by bus –
There are many buses available from Majestic bus stand in Bengaluru. You can also get buses from Mysuru. You can visit KSRTC website for bus timings. It is run by government hence the travel fares are reasonable and bus is always on time.
WHAT IS THE BEST TIME TO VISIT COORG?
Coorg in August –
I visited Coorg in the last week of August. Despite warnings from friends and family that it is flooding in Coorg, I took the plunge when the Tourism Board of Karnataka invited me in the capacity of a travel blogger. I found the weather to be pleasant with an occasional drizzle. It was also misty at times.
Coorg has a tropical weather. October to May is a good time to visit Madikeri and Coorg or Kodagu if trekking is on your mind. Otherwise September to June is best time to visit Coorg.
Though it is an year round destination but you will be saved from rains if you visit Coorg between October and May.
LOCAL VEGETARIAN AND VEGAN KODAVA CUISINE OF COORG
You must try the Kodava cuisine when you are traveling to Coorg or Kodagu. The Kodava Cuisine is uncomplicated, healthy and easy to digest. Kodava cuisine is coconut based. Coconut oil, onions, garlic, herbs, spices are also liberally used in Kodava cuisine. Do also try the pickles of Coorg. Instead of oil, salt brine and spices are used for long shelf life of pickles.
Some of the vegan and vegetarian Kodava food you can eat in Coorg are
Akki otti -Rice flatbreads with local herbs and spices. It is served with chutnys made with jack fruit seed, coconut, gingelly seeds and horse gram etc.
Baale Kaamb curry – Curry made with stem of banana plant
Baimbale curry – Curry made with tender bamboo shoots
Chekke curry – Curry made with unripe jackfruit
Chekke Kuru curry – Curry made with jackfruit seeds
Chikklundé – Sweet puffed rice dumplings
Ellu pajji -Chutney made up of sesame seeds,
Kadambuttu – Steamed rice balls
Kemb Curry – Curry made with colocassia plant
Kemb Kande curry – Curry made with colocassia yam
Kumbala -Pumpkin curry
Kumm curry – Mushroom curry
Maange Curry – Curry made with raw wild mangoes, jaggery and spices
Maange Pajji – Curry prepared with ripe wild mangoes with coconut & curd.
Mudure Kanni – Curry made with thick juice of boiled horse gram with spices.
Pavakké – teasle gourd prepared in milk
Therme Thopp curry – Curry made with coiled tender leaves of fern.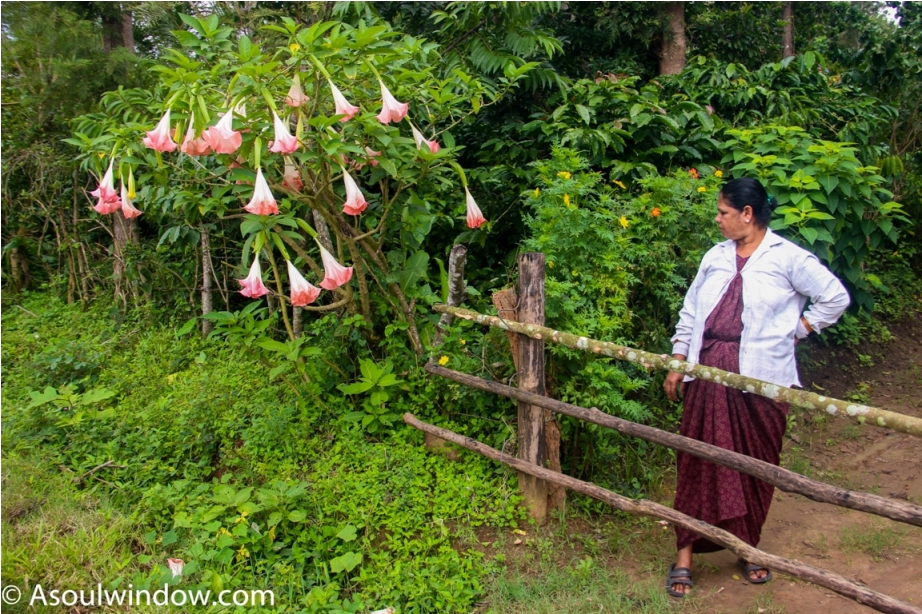 Kodava pickles can be made with following ingredients:
Ambate or hog plums
Badava Puli which is a citrus fruit,
Kai Puli or bitter orange,
Lemons,
Mushrooms which are known as kumm locally in Coorg.
Nellikai aka goose berries,
Raw mangoes,
Tender bamboo shoots called Baimbale
Last thought on Coorg as a weekend destination from Bengaluru and Mysuru:
Coorg is an easy weekend destination from both Bengaluru and Mysuru. What are you waiting for? Give the pub a skip for a weekend and head to Coorg and Madikeri instead. I have mentioned the best of touristy and offbeat places to see in Coorg and Madikeri in 2 days.You can increase or decrease the pace or cut places depending upon how many days you want to spend in Coorg. You can easily use this guide and cover best places to see in Coorg and Madikeri in 1 day or even 3 days.
DO NOT MISS THESE FREE GUIDES ON KARNATAKA
TOP WILDLIFE SANCTUARIES IN COORG
BEST SEASON TO VISIT COORG WITH FAMILY
JAVA RAIN RESORT IN CHIKMAGLUR
COBRA TRAIL IN FOREST OF AGUMBE
EXCITING NIGHT TRAIL IN AGUMBE RAINFORESTS
GOLDEN CHARIOT ONLY LUXURY TRAIN OF SOUTH INDIA
Spread the love, share this blog
Got any question/comments, ask in the comment section below so that it can benefit other readers.
Email me for collaboration: [email protected]
Be a part of my journey on social media. The travel content I create there is different from this blog.
Pls subscribe/follow/like:
WARNING : COPYRIGHT TO ALL THE CONTENT SHARED HERE REMAINS WITH ME. THE IMAGES AND TEXT IN THIS BLOG ARE BY ME UNLESS MENTIONED OTHERWISE. YOU CAN NOT JUST LIFT THE CONTENT AND USE IT WITHOUT MY PERMISSION. STRICT LEGAL ACTION WILL BE TAKEN IF CONTENT IS STOLEN. YES, I AM SERIOUS.