Last Updated on March 3, 2018 by
WHY YOU SHOULD STAY AT KOHKA WILDERNESS CAMP NEAR PENCH NATIONAL PARK, MADHYA PRADESH?
WE ARRIVED LATE NIGHT AT KOHKA WILDERNESS CAMP:
Much like my wildlife trip to Bandhavgarh National Park and Satpura National Park, both in Madhya Pradesh, India, I arrived after dark in Kohka Wilderness Camp. Located very close to Pench National Park, known for its tigers, Kohka Wilderness Camp is just 3 hours away from Nagpur airport. We made the journey from the airport on smooth roads, stopping only for sampling local snacks en route.
The vada and kachori we tasted was unlike what we get in Maharashtra. Nor was it easy to find a vada pao here. I realized that though we were in Maharashtra, this region (East) called Vidarbha is very different from the western Maharashtra (Mumbai, Pune etc). Post the snacks break, we crossed the border and entered the Indian state of Madhya Pradesh. Soon, vagrant spotted deers started appearing on the road itself, as is common with most sanctuaries and national parks of India.  We entered the sleepy village, near which Kohka is set in.
CONVERSATIONS OVER BONFIRE AT KOHKA WILDERNESS CAMP
As we entered the Kohka Wilderness Camp, the soothing silence and the low lighting across the 3 acre property comforted me and my friends. Our host Mr. Shourabh Ghosh, also the co-founder of the property gave us company over the bonfire and regaled us with anecdotes from his tough but inspiring journey of how he quit his hospitality job in Ireland and took the chance of starting a property in Pench National Park from scratch.
The next day, co founder Mr. Sanjay Nagar told us his side of story. He too quit a well paying Chartered accountant job to live this dream. After some meaningful conversations and sumptuous dinner, the 4 of us chatted and laughed till late night, secretly waiting for morning, so that we can explore the property.
ROOMS OF KOHKA WILDERNESS CAMP:
Kohka Wilderness Camp is a beautifully landscaped property located very close to the two main gates of Pench National Park. It is tastefully done up and attention is given to details. The rooms are cozy, have different mood lighting options and have dark wooden furniture lending the room an earthy feel. The beds are not wooden though. The cemented raised platform served as a bed and space was left on the side to keep belongings. Comfortable mattress and a variety of pillows ensured I had a very comfortable sleep during my trip. The rooms have no Television on purpose. Places like these encourage more meaningful pursuits such as deep conversations, reading etc. Though you do get good internet connection here, just in case you need to shoot that important mail.  A wooden extra bed is provided on demand.
WASHROOMS IN KOHKA WILDERNESS CAMP:
Since I stayed at Kohka Wilderness Camp for 4 nights and 4 days, the wooden rack next to the washroom came handy for me to organize my luggage. The large mirror next to it served as a dressing table. The washroom was done in earthy colors and there was an option of shower and bucket-mug. A small stool was also provided for those who prefer a sitting bath. I was most impressed with the bamboo shower. Mr. Shourabh told us that he himself makes it every few days. Since bamboo ends up attracting fungus, the bamboo shower heads are changed frequently. The pressure of water was impressive and so was the facility of mixing hot water and cold water.
After a hot shower, I decided to sit outside the room for sometime.  The large patio or sit out area was already my favourite. We sat on the rocking chairs for sometime and chatted again and just lazed around.
BIRDWATCHING INSIDE KOHKA WILDERNESS CAMP
Since it was early morning so on suggestion of Mr. Sanjay, an avid birdwatcher and photographer himself, I stationed myself near the large tree within the Kohka Wilderness Camp. I was rewarded with some great birds and butterfly shots. The property itself attracts many species of birds and butterflies especially in the early morning. No matter which corner of the property you are in, you will find a flowering plant bursting into a riot of colors.
No wonder the nectar attracts the birds and butterflies in large numbers. Post the shoot, I climbed up the 'machan' which offered me bird's eye view of the property, the village, forest and the Kohka lake.
Some of the birds I spotted in the property are Purple sunbird, Oriental Magpie Robin etc.
THE INSPIRING STORY BEHIND KOHKA WILDERNESS CAMP
Both Mr. Shourabh and Mr. Sanjay left well paying comfortable jobs as hospitality professional and Chartered Accountant in Ireland and Mumbai respectively. One fine day, the duo decided to give up their jobs and without second thoughts they embarked on a new journey which many dream of. They told us about their journey, their hardships and challenges fondly, smile never leaving their lips.
They started their own NGO which helps local students with education. It was heartening to know that Mr. Sanjay spent his own money on buying more than 20 laptops and introduced it in the curriculum. They also help locals earn by sourcing the toiletries, furnitures, décor items, spices and pickles from the villagers.  Even the beautiful bed cover was made by a local. The facewash, bath gel, soaps and hand wash were also made by the locals. I was delighted to see that how the duo were making about a big change, one step at a time. They also help spread health awareness among villagers. These are the kind of real heroes I have always admired. You can find more information on The Kohka Foundation and support them.
SAFARI IN PENCH NATIONAL PARK:
We did two safaris facilitated by Kohka Wilderness Camp. Our safari at the Turia gate (Madhya Pradesh) was rewarding. Though we did not see the tiger but we knew its location and waited for half an hour for it to appear.
We did see a pack of jackals and wild boars and the resultant tension which brewed when they discovered that a tiger is nearby. We also did a safari in Khursapar gate of Pench national Park (Maharashtra) as we were told that tiger sightings in this zone have been good. Unfortunately, it rained and dwindled our chances of spotting the tiger. More about that in a later blog. Both the gates are very close to the Kohka Wilderness Camp.
VISIT TO POTTERS COLONY NEAR PENCH NATIONAL PARK:
Mr. Sanjay took us to a local village called Pachdhar. "That is where the local famous tantric lives. He is very popular amongst the villagers." But that was not where we were going! We visited the house of one of the potters that lined a nondescript street. We made our way through pots, toys and decorative items made with clay to arrive at the courtyard of the family house. It was the first time I tried my hand at pottery making and predictably I failed miserably. The girls fared much better and I sulked for 2 days.
I realized it takes days to master the art and is not every one's cup of tea. The mud is locally sourced and after kneading, it is given the final shape on the potter's wheel. We bought some tea cups and decorative pieces.
VILLAGE WALK NEAR KOHKA WILDERNESS CAMP, PENCH
The village walk near the Kohka Wilderness Camp is interesting. For us world weary city folks it was a pleasure to just soak in the simplicity, smell the Earth and observe the slow paced lifestyle. We city people tend to glamorize the rural lifestyle, little realizing the hardships the villagers go through. From lack of medical facilities to scarce employment opportunities, there is a lot which they have to deal with.
I was happy to know that one of the talented boys from the village was picked up for painting the gorgeous Warli painting on the walls of public spaces of the Kohka Wilderness Camp. Warli is a popular Maharashtrian art form. Most of the locals employed at Kohka have also been selected locally and trained.
SUNSET AT KOHKA LAKE NEAR PENCH NATIONAL PARK:
One of the best experiences you can have at Kohka Wilderness Camp is a walk to the Kohka lake. As you take left from the property, the government appointed guide takes you on a forest trail. Carpeted with dry leaves of teak trees, the trail helped us see many species of birds and observe easily missable phenomenon such as ant's nest, well camouflaged moths and nests of funnel web spiders.
All of my friends also heard a roar, though me and our guide failed to hear it as we walked over the dry leaves. He trail leads to Kohka lake and we spotted birds like Spotted owlet, lesser whistling ducks, Common hawk cuckoo, crested serpent eagle, ruddy shelducks, crusted serpent eagle, ashy prinia, Indian roller, spot billed duck, ashy-crowned sparrow lark and many more. We even spotted a keelback snake aka dhoriya in the Kohka lake. After a rewarding session of birdwatching, I was amazed when folks at Kohka Wilderness Camp ended the walk with a High Tea by the Kohka lake.
Right from the chairs to fresh snacks and tea, everything was taken care of. It was a pleasure to indulge in food and conversations as a setting sun lyrically painted the lake red. Moments like these are priceless. The team packed of all the waste and disposed them off responsibly.
That is one of the benefits of staying at Kohka Wilderness Camp. While guests at other resorts have to come here via a vehicle, guests a Kohka can make repeat visit as it is located just few minutes away from the property. No wonder, I made a visit again in search of more bird shots.
FOOD AND SERVICE AT KOHKA WILDERNESS CAMP, PENCH
Food will be one of the main reasons why I would like to go back to Kohka Wilderness Camp. They have a large Kitchen garden and they use only organic farm grown vegetables for all the preparations. For a vegetarian like myself, I used to look forward to all the meals. One can easily find the difference in taste since the ingredients are fresh and organic. There is no set menu as such but you can request from the selections they have.
A huge fan of Maharashtrian food, I requested Jhunkha Bhakhari, a staple of Maharashtra and thecha (Hot chilly chutney). It was so delicious, I ordered another bowl.  Same goes for the arbi curry (Colocassia), Palak Paneer (Spinach and cottage cheese curry) etc.  The desert I loved the most were Puran poli and tilli gujhiya served on a bed of Shrikhand. We asked for a repeat of course. The pickles were made by local women.  I especially loved the sweet and sour lemon pickle and the spicy mango pickle.
I got some for home and some of my friends and family members got to taste it and have been raving since. I appreciate that how local talent is promoted by the duo at Kohka Wilderness Camp.
The service staff was very attentive, polite and courteous. I wish more resorts and hotels nurture local talent and employ them in the hospitality sector.
RESPONSIBLE ECO FRIENDLY PRACTICES AT KOHKA WILDERNESS CAMP, PENCH
Kohka Wilderness Camp impressed me with its eco friendly practices. They have a solar panel in place. They also have an option of refilled filtered bottle or mineral water. All four of us decided to go for the refilled water bottles. It helps us to cut the plastic waste generated from buying packaged water bottles. I liked the idea of using Old newspapers as table mats. I was told that not a single tree was cut while designing the layout of the property. I prefer hotels and resorts which have eco friendly practices in place.
LEISURE ACTIVITIES AT KOHKA WILDERNESS CAMP:
We indulged in carrom board sessions and enjoyed reading wildlife magazines. You can also watch wildlife documentaries, swim in the pool, get spa sessions and much more.
How to book and reach Kohka Wilderness Camp, Pench National Park:
Pls check their website for details.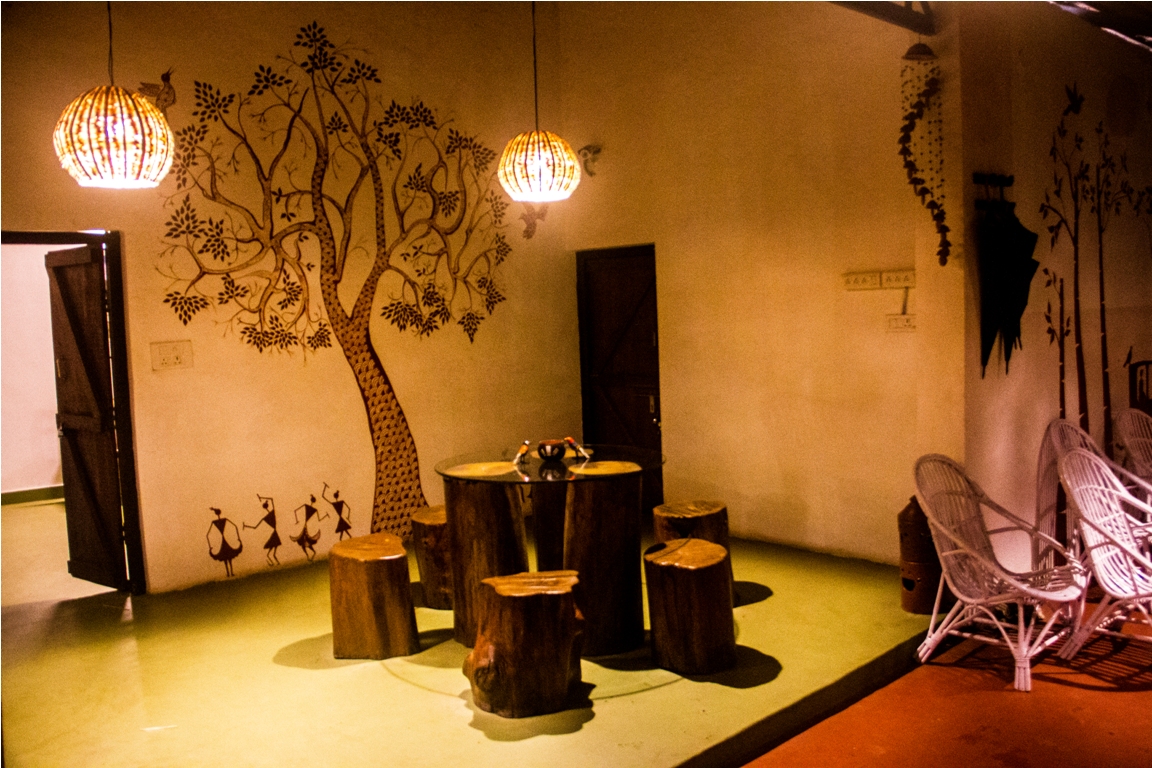 The view from my #SoulWindow is enriching!
Spread the love, share this blog
Got any question/comments, ask in the comment section below so that it can benefit other readers.
Email me for collaboration: [email protected]
Be a part of my journey on social media. The travel content I create there is different from this blog.
Pls subscribe/follow/like:
WARNING: COPYRIGHT TO ALL THE TEXT SHARED HERE REMAINS WITH ME. YOU CAN NOT JUST LIFT THE CONTENT AND USE IT WITHOUT MY PERMISSION. STRICT LEGAL ACTION WILL BE TAKEN IF CONTENT IS STOLEN. YES, I AM SERIOUS.