Last Updated on February 5, 2020 by asoulwindow
This blog is a 2 part series of my experience in the rainforest of Agumbe, (Karnataka, India) facilitated by i Travel Group. We spotted many species during our trails. It is one of the finest wildlife experiences in the Western Ghats of India.
Agumbe is the wettest place in South India. For obvious reasons it is also known as the Cherrapunji of South India. In August 1946, the highest rainfall in a single month was recorded at 4,508 millimetres. In 2014 it even surpassed Cherrapunji when it received 5,625.4 mm rain. Agumbe received 7000mm rain on an average.
July is mostly the wettest month in Agumbe. Located in the Shimoga district of Karnataka in India, it is one of the richest bio diversity hot spot. The Western Ghats (World Heritage site, UNESCO) is home to some of the rarest species in India.
In my 2016 failed trip to Agumbe, I wandered around in vain trying to spot exotic species of snakes, amphibians, insects etc. My only wildlife experience in Agumbe that year was catching a fleeting glimpse of a long fat snake, few frogs and fish in a reservoir that gnawed at my feet.
Little did I know that you need an expert's guidance to spot the well camouflaged creatures. I visited again in 2017, this time under the tutelage of the i travel Group, a Mumbai based company founded by Ritesh Kadam. I was also better prepared to brave the rains this time. I wore a very effective rain jacket which had protected me through harsh rains during the trails.
I have known Ritesh online since 2014. So, when he presented an offer to accompany him for the trip, I instantly agreed as I had admired the carefully curated trips he takes. It turned out to be the most enriching and intellectually stimulating experience of the year so far. Ritesh's sincere passion for wildlife reflects in the way he handles wildlife expeditions.
Sensitive to the ecosystem, Ritesh takes small groups of discerning travelers who are genuinely intrigued by the mysteries of the wild. Janani Krishnan, Ritesh Kothari and Rochana Poddar from Mumbai took a break from their busy corporate lives and accompanied us. Their enthusiasm for the trip was palpable when they spotted some well camouflaged species themselves and listened attentively when Prashanth P (Research Station Master) and Sujan Bernard (naturalist) discussed snakes.
Both Prashanth and Sujan work at Kalinga Centre for Rainforest Ecology founded by P. Gowri Shankar in 2012. They research, conserve and even rescue King Cobras (Ophiophagus hannah). Gowri Shankar has been featured in documentaries like – 1) The King and I on the BBC 2) Secrets of the King Cobra on the National Geographic Channel, 3) Asia's Deadliest Snake on Nat Geo, One Million Snake Bites on BBC and Wildest India on Discovery Channel.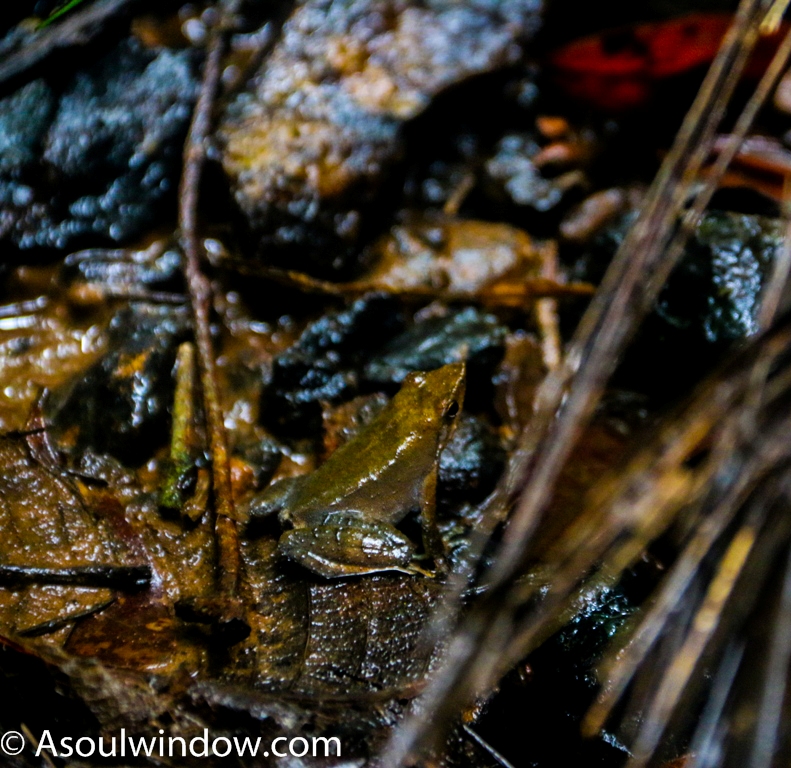 Sujan has also handled King Cobras for shows on similar channels. While we were still there, Sujan received a call on their helpline number for a rescue. The locals, unlike so many parts of India, don't kill the snake. They revere the snakes, especially the King Cobra, which is colloquially called Kalinga.
King Cobras are elusive in the monsoon. There was thin chance that we could spot one. However, there were many more species on our mind and we managed to spot quite a few. We went for many trails including 2 trails in pitch dark nights.
Day 1 of the Agumbe Rainforest Expedition:
On the first day itself, after breakfast, as we were bracing ourselves for a leech infested walk through the jungles, Prashant urged me to come near a tree next to the dining hall. It took me a while to spot the green vine snake aka flatbread snake (Ahaetulla nasuta). Quite similar to the green vine snake (Oxybelis fulgidus) found in Central and South America, it is long and slender and moves slowly like a chameleon.
Its movement was so hypnotizing that often I used to just shut my camera and observe its gait. Being a diurnal snake, it was easy to spot in day, as was evident in another sighting the next day. On second day, we spotted another green vine snake, yawning and basking in the sun, perhaps as a result of heavy downpour the previous night. With zilch movement, it looked like a twig of a shrub. Only Sujan's expert eyes helped us spot it. Mildly venomous, it feeds on lizards and frogs.
A white spider (unidentified, pls see picture) played hide and seek on a leaf. A signature spider was busy expanding his kingdom on a tree as we proceeded for the first walk in to the forest. An Indian Bull frog (Hoplobatrachus tigerinus) cleverly camouflaged, sat quietly on a slushy ground.
It ignored our presence and continued pretending to be a leaf. It was green in color. I was told that with age, it becomes grey in color. It is commonly found in India, Nepal, Pakistan, Afghanistan, Myanmar and Bangladesh. A delicate red and black Damsel fly justified its name as it sit meditatively on a twig.
Damsel flies are sexually dimorphic pretty much like the female Wood Spider (Nephila pilipes ) which busied itself dining on a lifeless dragonfly nearby. It was amusing to see that the female spider was much bigger than the male. While females (black) can grow up to 30-50 mm, males (bright orange) are as tiny as 5-6 mm, making it 4-10 times smaller. No one answered my sexist remark, "How does that even work?"  I found female gigantism and male dwarfism both amusing and baffling.
We passed through the farmed land, spotting slugs and translucent earthworms (lazing on a leaf) to arrive at a clearing. It ended at a water body, pregnant with the abundance of August rain. Negotiating the shallow water streams on foot in dense jungle, we stopped in our tracks, when Ritesh pointed to a tiny creature in a hush-hush tone.
We got down to our knees and in absolute silence admired the tiny Kottigehara dancing frog (Euphlyctis cyanophlytis). They have a typical habit of shaking their feet to garner female attention during the mating season. Hence the name! Their other common names is Indian skipper frog.
Water scorpions (Nepidae) zipped past swiftly in the water stream. Water scorpions are not really scorpions. They are tiny aquatic Heteropteran insects which look like scorpions. In another pool of water nearby, skittering frogs rested under water nonchalantly. It camouflaged itself well blending with the color of mud beneath water. The more easily spottable tadpoles (black and bigger in size) swam in the pond poetically. The water was so clear we could see all the creatures easily.
The most visually appealing (for me) creature we spotted on this day was Pill Millipede. Fat and blue in color, it crawled slowly in the undergrowth. It turned in to a ball (or pill) the moment it sensed our presence. The 11 to 13 segments on its body, allows it to roll and protect itself from predator. The locals call it 'Roli Poli'. They are detritivore, i.e., they feed on decomposing plant matter. We also spotted Malabar Torrent dart. I spotted them again 2 days later in Java Rain Resort in Chikmanglur.
Day 2 of the Agumbe Rainforest Expedition:
The previous night, we went on an exciting night trail in rain forest of Agumbe where we spotted snakes like pit viper, rat snake and other gems like tarantulas, bioluminescence etc.
I woke up on second day in my tent to the melodious song which Malabar Whistling Thrush (Myophonus horsfieldii) made. I am a fan of the whistling sound which the bird makes. It is more melodious and versatile than the over rated cuckoo sound. The last time I heard the bird sing was when I stayed at my friend's traditional home in Kankavali (Sindhudurg district, few hrs away from Goa.) Their whistle is human like, hence they are also affectionately called Whistling Schoolboy. (Google up their whistle) They whistle mostly in dawn.
I stepped out and listened to more amazing morning sounds of the forest. A woodpecker drummed on a tree. The sound was quite strong and reverberated around the jungle alternating with the sound which Malabar Giant Squirrel (Ratufa indica) made. I saw none of the above, but they made their presence felt with their distinct sounds.
However, I did have a fleeting glimpse of a pair of Whistling ducks swimming languorously in the small pond near the Kalinga Centre for Rainforest Ecology. It was a beautiful morning for sure. Later during the day trips, we spotted varieties of grasshoppers, Blister beetle, Damsel fly, dragonflies, katydid (leaf insect). I was awed by the camouflage of katydid. Its shape and color made it look like a leaf.
Just when I was taking my afternoon nap, a coral snake visited the camp area. Disappointed that I missed a chance to see one, I was praying that it appears again. After few hours, I did see one sliding in the undergrowth.
Day 3 of the Agumbe Rainforest Expedition:
We braved leeches and passed nests of Funnel web spider to arrive early morning at the Akkibatha Rashigudda peak. It was a small uphill hike. It's only after reaching the peak, I fathomed the scale of the dense rainforest of Agumbe. Sujan, who has worked in BBC and Nat Geo documentaries, told us that only secondary forest (new forest cover) remains today.
The primary forest (Trees around 100 years old) has fallen prey to human activities in the area. As the green cover shrinks, the balance in the ecosystem suffers. I realized the urgent need of wildlife and forest conservation and habitat protection. You get that perspective only after spending quality time spotting many species of endangered snakes, insects, birds, frogs. The sheer number of species I spotted in just 2 days is overwhelming. No wonder Western Ghats (I love them more than Himalayas) have rich bio diversity. And oh, we heard a tiger roar from the peak. If only we could spot orange and black stripes amidst the dense green foliage. This was one of my most fulfilling and enriching trip of the year so far.
As we were about to leave, a Blue Mormon butterfly (Papilio polymnestor) took fancy to my Wildcraft shoes drying in the sun. The official 'state butterfly' of Maharashtra (Indian State) hovered around my shoes as I watched in amusement. It was our way of saying good bye to each other.
How to plan a trip to Agumbe:
You need expert guidance in Agumbe to spot species. In my earlier solo trip to Agumbe, I failed to spot any species. I would recommend curated experiences by i Travel Group . It is a Mumbai based company headed by Ritesh Kadam. Ritesh takes batch of discerning travelers who yearn to learn something new on meaningful trips such as this. Passionate and knowledgeable about wildlife, Ritesh offers many enriching travel experiences in a responsible way. His trips are sensitive to local environment and culture. You can contact him at ritesh.kadam@theitravelgroup.com or call him at +91 9503839398 for enquiry or booking.
Kalinga Centre for Rainforest Ecology, Agumbe has good facilities. They have documentary shows, educative workshops on snakes, accommodation in clean and dry tents and superb meals. The in-house chef Pramod BS served us sumptuous South Indian meals such as Kadabu, Kokum Rasam, Upma and Kesari Bhath flavored with clove.
Recommended book on snakes of India –
Snakes of India – The Field Guide by the famous Romulus Whitaker and Ashok Captain is a must read for all information on Indian snakes.
How to ward off leeches:
In a rainforest like Agumbe, presence of leeches is common. It is nothing to worry about. They are harmless creatures. If you take good precaution, you can minimize the number of leeches getting on your body. I easily picked leeches from my body and sent them back to jungle. In case you are squeamish about it, you can use a tissue paper, simple paper or even a leaf to pull them off your skin. I don't recommend putting salt on them. There is no need to kill them when you can get rid of them humanely. Never wash a leech injury with water. Blood caused due to a leech bites doesn't clot. Wipe off the injury with paper and cover it with another clean paper till the flow stops.
Responsible Tourism In Agumbe Rainforest:
Pls remember Agumbe is not your serene picnic spot. It is an ecologically sensitive zone. Below are some pointers which you must take care of:
Please be careful while walking. Watch your steps as you might crush a creature. Best is to take baby steps.
Take pictures but
Don't touch any of the creatures.
Don't pluck any plant material
Don't collect any specimen of flora or fauna from the jungle.
Don't talk or sing loudly.
Don't litter. Pack your non biodegradable waste and dispose off to the nearest city Udupi or in your home city.
Top Tips for an expedition to Agumbe Rainforest:
Carry flashlights for night trails.
Keep your camera in a box filled with silica gel, so that it absorbs moisture and prevents fungus on lens.
Carry macro lens. Kankavali,

Read a bit about snakes before the trip starts and after it ends.
Carry some snacks. You can buy banana chips, fruits etc from Someshwara, just an hour away from Agumbe if you are coming from Udupi.
Take a loo break at Someshwara when coming from Udupi. The loo was very clean.
Carry Rain Gears, mosquito repellent, umbrella and sturdy shoes.
Combine a trip with Udupi. Even Agumbe can be extended by one more day. There is a lot to see in Agumbe. (Read: waterfalls, trekking trails and the 'Malgudi Days' house near the Bus stand)
The views from my #SoulWindow shattered all the myths I had about snakes!
Spread the love, share this blog
Got any question/comments, ask in the comment section below so that it can benefit other readers.
Email me for collaboration: 21abhinav21@gmail.com
Be a part of my journey on social media. The travel content I create there is different from this blog.
Pls subscribe/follow/like:
WARNING : COPYRIGHT TO ALL THE TEXT SHARED HERE REMAINS WITH ME. YOU CAN NOT JUST LIFT THE CONTENT AND USE IT WITHOUT MY PERMISSION. STRICT LEGAL ACTION WILL BE TAKEN IF CONTENT IS STOLEN. YES, I AM SERIOUS.
Top Travel Blogger from India