Last Updated on April 15, 2020 by asoulwindow
TOP PLACES TO VISIT NEAR NASHIK – TREKS NEAR NASHIK
Nashik is an interesting city for all those who love mountains and mountaineering. Nashik is often overlooked due to the nearby great cities of Pune and Mumbai. But you must try some treks here whether or not you are into mountaineering. These are some of the best places to visit near Nashik. Nashik is surrounded by beautiful mountains of Sataputa and Satmala mountain ranges. Their beauty is intensified in the monsoons, which is the best time for trekking near Nashik. Many Treks near Nashik lead up to some ancient forts so you will also get to visit fort near Nashik during trekking. Let's look beyond places to visit in Nashik. These places also make for amazing weekend getaways from Mumbai. A trek near Mumbai is always a satisfying experience. These treks thus easily qualify as the perfect weekend getaways near Mumbai.
Following is a list of major treks near Nashik, with difficulty level, distances and other important information which will be your perfect guide. These Nashik tourist places will leave you with fond memories.
KALSUBAI PEAK – TOP MAHARASHTRA TREK
The highest peak in Maharashtra and one of the most breathtaking trek in the Sahyadri is Kalsubai. Kalsubai trek is located just 60 km away from Nashik which means that it takes around 1-2 hour drive through the ghats to reach Kalsubai from Nashik. The views from the top are astounding. But the hike to the top requires a moderate level of stamina and expertise in climbing. You can see Harshchandragad and the wildlife sanctuary all around from the top. On another side is the shining river – which is the backwaters of Bhandardara Dam or Bhandardara Lake. It is best to start the trek early in the morning at 4 am or 5 a.m. so that, you can watch the sunrise from the top of the fort and Kalsubai shikhar. You must visit this fort near Nashik. Kalsubai trek is the most popular places to visit near Nashik. How is the Kalsubai trek difficulty level, many ask. Well, despite its height it is a moderate level trek.
Related Article: Treks near Pune and Mumbai.
SALHER FORT TREK – PLACES TO VISIT NEAR NASHIK
Salher is the second highest peak in Maharashtra after Kalsubai. Salher Fort Trek takes you to the highest fort in Maharashtra. Needless to say the trek up to the top of Salher Fort will require a minimum level of skill and expertise and stamina. Salher fort is 2-3 hours away from Nashik. The distance from Nashik to this fort near Nashik called Salher Fort is 109 km. According to the mythological story Lord Parshuram– an incarnation of Lord Vishnu, did his extreme meditation at Salher fort. It is said that he won the earth and then gave it back.
SALOTA FORT TREK – TREKS NEAR NASHIK
This fort is located very close to Salher Fort. It lies in the Nashik district and it is 110 km away from Nashik. The climb gets a bit tricky due to the rocky patches along the way. From the top, you can see Salher Fort nearby. No separate history is known about Salota Fort. There are three doors which lead to the Salota Fort. The climb to this fort near Nashik is really strenuous. Salher trek or Salher Fort Trek is also quite popular.
MULHER FORT – FORT NEAR NASHIK
In the same region is another fort Mulher. It is 123 km away from Nashik and it will be a 3 hours drive to the base village of Mulher. You have to first reach the Mulhermachi here. From this point there are three forts around – Mulher Fort, Hargad Fort, and Mora Fort. If you start early you can do all these forts in a day. There are no hotels at Mulher village. The locals may or may not provide homestays. Do tick off this one of the best places to visit near Nashik.
HARGAD FORT – WEEKEND GETAWAYS FROM MUMBAI
After Mulher Fort, you can attempt to climb the Hargad Fort which is one of the best places to visit near Nashik. This fort is 116 km away from Nashik. The trek up to the fort is the most scenic in monsoon. The valleys and mountains around are green. You can watch a lot of waterfalls too. But the rocky patches do get slippery while doing this trek in the monsoon. Salher and Salota forts are also visible from the top, apart from Mora Fort, Mulher Fort and Nhavigad Fort.
MORA FORT – TREK NEAR MUMBAI
Mora Fort is near Hargad Fort in Nashik district. It is 116 km from Nashik and if you are driving almost 3 hours drive. It is a fort trio of – Mulher, Hargad and Mora Fort. For all of them, the base village is Mulher village. All these forts were maintained by Shivaji Maharaj to keep an eye on the important routes of Surat – Burhanpur. There is no drinking water on the top so it is advisable to carry your water. Looking for best places to visit near Nashik? Look no further!
RATANGAD FORT OR NHAVIGAD FORT
Nhavigad Fort is also called as Ratangad Fort. Also spelt as Ratangarh Fort, the base village for the trek is Patalwadi. From Nashik to Ratangad Fort or Ratangarh Fort, the distance is 83 km. There is no water at the top so carry your water bottles. The climb here is a steady uphill and difficult climb. The hill has no rocks or trees where you could hold on. The only way to the top is from the rock-cut steps. In the monsoon, the route is quite slippery and dangerous. It is best to hire a local guide from Patalwadi village to reach the top. Enjoy the views from one of the top places to visit near Nashik.
Don't miss to read: Top Monsoon Treks in Maharashtra
MANGI TUNGI FORT – BEST TREKS NEAR NASHIK
Mangi Tungi Fort is 125 km from Nashik. It is a set of two pinnacles atop a high raised plateau. The entire set up is peculiar shaped. The western summit is called Mangi and the eastern summit is called Tungi. There are several Hindu and Jain temples at the top of Mangi-Tungi Fort. The place is a real sacred spot among the people in Maharashtra. There are seven old temples on Mangi and five old temples on Tungi. There are steps all the way to the top of Mangi Tungi Fort.
KAVNAI FORT – PLACES TO VISIT NEAR NASHIK
Kavnai Fort is a small fort near the base village Kavanai. It is 43 km away from Nashik. There is a pond atop the fort. The fort was built by the Moguls and later captured by the Peshwas. The fort is near Igatpuri. The trek up the Kavnai Fort is really good, and at the last stage, are some rock-cut steps. There is also a ladder available which can be used. The majestic stone gate and a pond are the only structures atop the Kavnai fort as of today.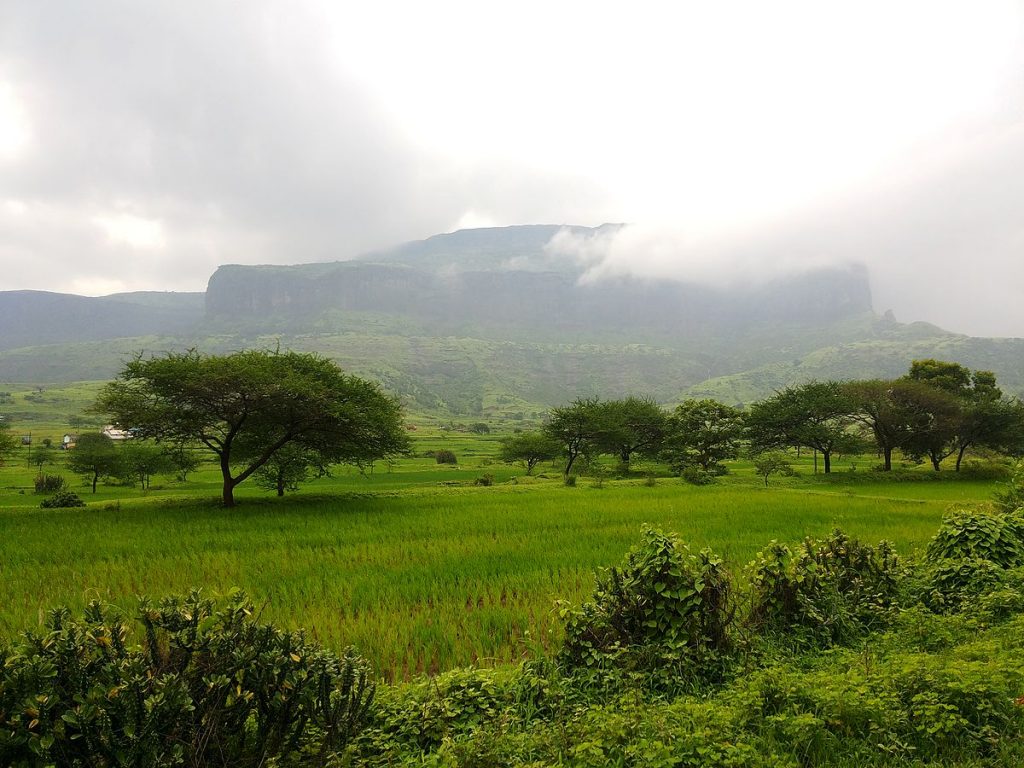 ANJANERI FORT TREK – FORT NEAR NASHIK
Anjaneri fort trek is located near the Trimbak region of Nashik. It is just 30 km from Nashik city. Anjaneri Fort is said to be the birthplace of the Hindu mythological character from Ramayana called – Hanuman Ji. The fort is named after Hanuman Ji's mother Anjani. 108 Jain caves have been found here. You can see these during Anjaneri trek. They are said to be from the 11th or 12 century. Anjaneri fort trek is one of the must do treks near Nashik. Anjaneri trek is one of the most popular weekend destinations, giving it the top slot in places to visit near Nashik.
LAST WORD ON TREKS NEAR NASHIK:
There are many charming treks near Nashik. These are of great historical importance as you will end up visiting many forts during the trek. If you are looking for a trek near Mumbai, then these fort treks qualify. These make for memorable weekend getaways from Mumbai thanks to their proximity to Nashik, Pune and Mumbai. Do not miss these places to visit near Nashik.
This article is written by Shraddha. Shraddha Maheshwari is a travel blogger from India who frequently writes about her experiences on her blog Shepherd Traveller. Apart from paragliding, bird watching and hiking in the mountains, she also loves watching sunrises. You can connect with her on Instagram @shepherdtraveller. 
Spread the love, share this blog
Got any question/comments, ask in the comment section below so that it can benefit other readers.
Email me for collaboration : [email protected]
Be a part of my journey on social media. The travel content I create there is different from this blog.
Pls subscribe/follow/like:
Top Travel Blogger from India