Last Updated on September 1, 2023 by asoulwindow
DIRANG BOUTIQUE COTTAGES – FINEST OF DIRANG HOTELS
Are you looking for a lovely stay in a picturesque town in Arunachal Pradesh, India? Look no further than the newly opened Dirang Boutique Cottages in Arunachal Pradesh, a brainchild of the very talented Sange Tsering. Sange runs the successful Holiday Scout, is a pioneer of tourism in North East India. It is the first property opened by Sange. It is the best Dirang Hotels you can ask for. Another hotel by Sange is coming up in Bomdilla, which is just 1 hour away from Dirang Arunachal Pradesh.
The homestay cum farmstay is surrounded by breathtaking views and historical gems such as the ancient 9th century Dirang Dzong. It is the most beautiful and best value for money budget hotels in Dirang Arunachal Pradesh I have stayed at. Arunachal Pradesh Tourism is booming and Dirang serves as a wonderful getaway from Assam.
Tucked away in the Eastern Indian Himalayas, Dirang Arunachal Pradesh is a visually stunning place. Dirang sightseeing is a visual delight. In fact, my jaws dropped at the sheer beauty of the place when we arrived here after dark. I could not wait till morning to see how the place looks like under some sun! The sound of flowing water and fluttering Buddhist prayer flags, the silhouette of massive mountains masquerading as the protector of the valley and the flickering of lights in far distance deepened the mystery of the place for me. I found it hard to wait to explore Dirang Boutique Cottages and Dirang Arunachal Pradesh.
ABOUT DIRANG BOUTIQUE COTTAGES – BEST IN DIRANG HOTELS
Opened in 2019, Dirang Boutique Cottages is a destination in itself. The picturesque Dirang Chu river, quaint villages nearby, suspension bridge adorned with Buddhist prayer flags, a permeating sense of quietude and vast open spaces make Dirang Boutique Cottages stand out. The presence of a family makes it all the more comforting. There is a childlike joy in crossing the suspension bridge built over the undulating reptilian of a river. One needs to cross the bridge to arrive at the property once you are done with Dirang sightseeing. Budget hotels in Dirang Arunachal Pradesh just got a little better! And more photogenic! Arunachal Pradesh Tourism is the best thing you can gift yourself!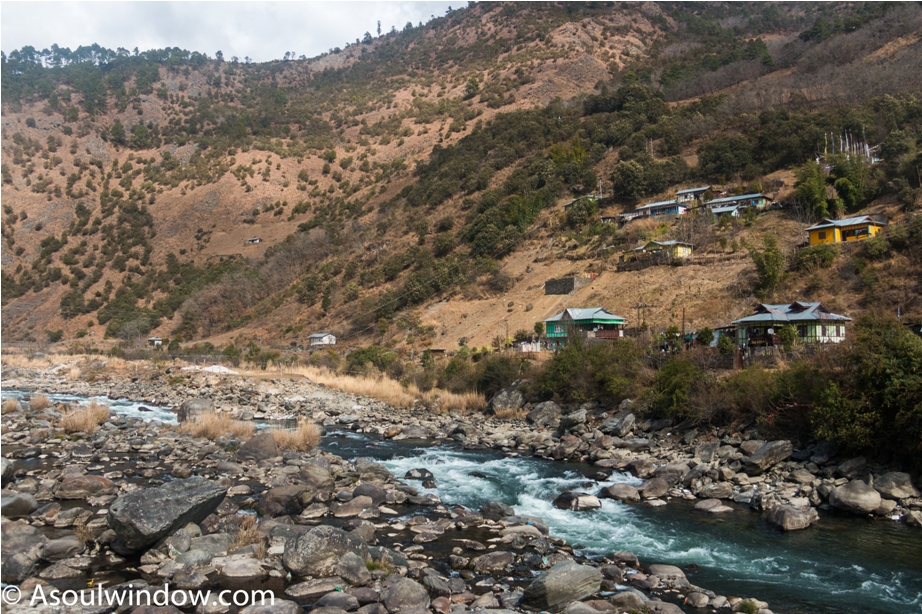 LOCATION OF DIRANG BOUTIQUE COTTAGES – ARUNACHAL PRADESH TOURISM
The picturesque Dirang Boutique Cottage is located in a stunning place. The voluptuous Dirang Chu river flowing right next to the property adds to its charm. The huge round stones punctuate the free flowing river. Tall mountains surround the property. There is not much human construction near the Dirang Boutique Cottages making it a peaceful cocoon nestled in the Eastern Himalayas. You can visit some small villages nearby or take a languorous stroll around the swift but shallow Dirang Chu river early morning and evening.
Sange Tsering from Holiday Scout wanted the architecture of Dirang Boutique Cottages to blend with the local Monpa architectural style. He ordered several trucks of local mountain stones to build the beautiful cottages. Local hand bricks were used in the construction of the sprawling dining area.
DREAM LIKE DIRANG BOUTIQUE COTTAGES – ARUNACHAL PRADESH TOURISM
The sprawling property spreads across a large area. In fact, I could see the cottage from the highway as we drove from Bomdilla to Dirang. In its location, it stands out as the only building bathed in light after dark. A stone cobbled path lines all the cottages. Flower beds with multicolored flowers make it come alive. The huge lawn facing all the cottages is a wonderful place for sun bathing during the afternoon.
You can even enjoy a lazy cuppa in morning and evening and a bonfire late night. And just as the tall Buddhist prayer flags made me philosophical early morning, the cute in house Lhasa Apso puppies broke my stupor and melted me with their innocence. Lhasa Apso are Tibetan dogs. What's not to love? So when are you going to stay at this dream like budget hotels in Dirang, Arunachal Pradesh.
ROOMS OF DIRANG BOUTIQUE COTTAGES – DIRANG HOTELS
The rooms of Dirang Boutique cottage are designed in a traditional way. Be it the wooden beds or the rocky interiors, it stands out due to its simplicity and aesthetics. There are two beds per room. The window of each room opens up to the lawn area. There are many electric points in the room, including the one near bed and one near washroom. There is a small wardrobe in each room, where extra blankets and pillows are stored. You can also request a room heater.
Each attached washroom has western style toilets, mirror, shower and a geyser. So rest assured of a comforting hot shower. The washrooms are well ventilated and spacious. Thanks to a sudden boom in sustainable Arunachal Pradesh Tourism, new properties like Dirang Boutique Cottages make it a memorable journey!
ORGANIC FOOD AT DIRANG BOUTIQUE COTTAGES – DIRANG HOTELS
One of the best parts of Dirang Boutique Cottage is that they grow their own food in the huge farm area within the property premises. It is simply satisfying to see freshly plucked organic vegetables from the garden in the wok. We also had delicious freshly sliced tight kiwis from the garden. It was one of the most delicious kiwis I had ever tasted. The property also has several orange trees. Arunachal Pradesh is known for its delicious native oranges. I plucked a fresh orange right from the tree and devoured. Yes, you can do that here. Sange also showed me geranium plants. I crushed a leaf and was impressed with the divine smell. You may want to request Sange a hot tub of water with geranium leaves in it!
Sange's mother also gifted us a huge jar of the carefully crafted and colorful Khapsey. It tasted a little like shakarpara that my mom makes in Uttar Pradesh. What made khapsey different was that it came in various designs, colors and unlike shakarpara, khapsey is mildly sweet. Khapsey is made every year during Losar festival much like shakarpara which is made by my mom every Holi. Both festivals fall close to each other in the month of February and March.
I also had memorable momos aka dimsums or wantons and the comforting and nutrition packed daal-bhat (lentils with rice) with aalu bhujiya (shallow fried potatoes). They local authentic local food. Many people think that it is hard to find vegetarian and vegan food in Arunachal Pradesh which is nothing but just a rumour. You will find amazing variety of vegan and vegetarian food in not only Dirang Boutique Cottages but most of Arunachal Pradesh.
What's more? Apart from regular vegetarian and vegan Indian food, you can also find great Jain Food, i.e., food cooked without meat, fish and even onion, garlic. Who would have thought?
COMMON AREA – DIRANG BOUTIQUE COTTAGES
There is a lovely common area where you can sit back and read coffee table books on North East India, play indoor games or better still chat till your jaws hurt. Free Wi Fi is available here. There is very good cellular internet reception here as well so you can even do some work, though I don't recommend it. This place is meant to be enjoyed rather than burying your nose in the phone. Sange lives here with his mom and cousins. This adds to a home like atmosphere of Dirang Boutique Cottage without compromising on the products and services offered.
The huge sitting area is informal and decorated with elements from other North East Indian states such as the famous masks from Majuli in Assam, wooden art from Longwa in Nagaland etc. The dining area is in the same room. The walls are painted in bright yellow making it a lively and energetic space.
The beautiful graffiti which depicts the best of North East India is great for a photo op. On one wall you can see all the certificates and awards which Sange earned through the years. There is also a service window between the hall and the kitchen door from where they serve the food. You can even call for some extra chutney or curry right from your chair, just like you do at home.
There is also a space behind the kitchen where people gather around a local and traditional fireplace. We sat here for long hours chatting endlessly over some comforting French fries, pakoras (onion fritters), tea and warmth. Ah, someone take me back here!
There is also a neat attached washroom and wash basin here.
DIRANG BOUTIQUE COTTAGES – GREAT FOR PHOTO OPS AND DIRANG IMAGES
The good news is that Sange Tsering, the owner of Dirang Boutique Cottage is an excellent photographer. The cherry on the cake is that Dirang Boutique Cottage is one of the most photogenic places I have stayed at. Sange is well versed with the place (it is his home after all!) and knows the right frames and best locations for a photo shoot. The visually stunning property provides a great natural backdrop for memorable pictures. The nearby suspension bridge is also apt for great pictures as you can see in this blog. So keep those SD cards empty and batteries charged for a gorgeous Photo Shoot. Also, don't forget to wear some good looking clothes while you are at it.
It is also a great location for film shoots, TV series, documentary shoots etc. I would personally love to see Bollywood stars Alia Bhatt romancing Ranbir Kapoor in the scenic location.
PLACES TO SEE IN AND AROUND DIRANG BOUTIQUE COTTAGES – ARUNACHAL PRADESH TOURISM
Sange arranges day tours as well as long trip around Dirang Boutique Cottage for Dirang sightseeing. He can take you to all the below mentioned places and more for Dirang sightseeing. Below are the highlights of Dirang Tourism:
Amazing places to see in Dirang are as below: Arunachal Pradesh Tourism
Visit the 9th century Dirang Dzong. It is spread over a huge area. Here you can visit centuries old buildings, including an old jail and some monasteries.
Go monastery hopping – Dirang Arunachal Pradesh is primarily Buddhist. So there is no dearth of some peaceful Buddhist monasteries here.
Excursions from Dirang Boutique Cottages:
You should stay for a longer period in Dirang Arunachal Pradesh because there is a lot you can see beyond Dirang Sightseeing. The fact that Dirang weather is perfect throughout the year makes it all the more pleasant. Below are some places to see near Dirang and Dirang Boutique Cottages, the finest budget hotels in Dirang Arunachal Pradesh. Yes, Sange from Holiday Scout can take you here as well. Enjoy the sheer variety of Arunachal Pradesh Tourism :
Sangti Valley – It is a beautiful place just 15 kilometers away from Dirang Arunachal Pradesh.
Eagle's Nest Wildlife Sanctuary – Birdwatchers love this place as it is home to more than 400 species of birds.
Mandala Top – The '108 Mani' at Mandala Top is not to be missed. It reminds one of Dochu La pass in Bhutan. Both religious people and picknickers flock here.
Bomdilla – Bomdilla lies 1 hour before Dirang if you are coming from Bhalukpong. Bomdilla is colder than Dirang Arunachal Pradesh.
Sela Pass – This popular and visually stunning high altitude pass needs no introduction. You can further go upto Tawang from Sela pass or come back if you are short on time. I recommend going to upto Tawang though.
CORPORATE SOCIAL RESPONSIBILITY – DIRANG BOUTIQUE COTTAGES
Sange Tsering from Holiday Scout is very different from the other tour operators I have met. He runs a super successful tour agency called Holiday Scout across North East India. But his dream is not to selfishly hoard all the profits he makes. He wants to give back to society all his life. And the good news is that he has already made a start. At present he trains two local talents Pema and Karmu. He has adopted them and trained them to become a qualified chef. In fact, both Pema and Karmu gave us a cooking class of delicious Paneer Momos (Cottage Cheese wantons). "Who knows, one day they will win Master Chef India?" My destiny changed after becoming top travel blogger from India, so yes I do believe in miracles!
Holiday Scout also supports 1 school called Chug Government School. We paid a visit to the school while coming to Dirang from Bomdilla. They have sponsored 2 children. The expense of their school uniform, tuition fees, stationery and books etc is sponsored by Holiday Scout. What's more? Sange Tsering, with the help of his friends also painted the school. What was once a worn off building now looks vibrant and brims with positivity after the painting was done.
We visited the school and were pleased to see the changes with our own eyes. The kids performed a special and cute dance on the song called, 'Tashi Delek' (A greeting in local language) in all their sartorial glory. Sange gifted pencil box to each one of them. The bonhomie and camaraderie was to be seen to be believed.
We need more change makers and responsible tour operators such as Sange Tsering from Holiday Scout in not only India but entire world!
COOKING CLASSES – HOTELS IN DIRANG ARUNACHAL PRADESH
Sange's cousin Pema gave us a cooking lesson. While the girls were close to making a nice momo, the boys failed big time. It's not about Boys can't cook. It's just that I don't enjoy cooking. But those who love to cook will have a great time here learning local dishes such as Thukpa, momo and that delicious red chutney that come with momo. I do not know any other budget hotels in Dirang Arunachal Pradesh who offer this.
HOW TO BOOK AT DIRANG HOTELS:
You need to contact directly with Sange Tsering from Holiday Scout for making any reservations at this gem of a Dirang hotels.
Contact:
Phone number of Dirang Boutique Cottage is +91 9862290952 . Also check out the website of Holiday Scout for more amazing experiences in North East India. You ask and they will make it happen!
PRICES AT DIRANG BOUTIQUE COTTAGE – DIRANG TOURISM
It's a steal! It was hard to believe for me that 1 night stay with breakfast costs just under INR 3,000 here. The pricing makes it gem of a place. This is the finest Budget hotels in Dirang you will find.
BEST TIME TO VISIT DIRANG BOUTIQUE COTTAGES – DIRANG WEATHER
Dirang Arunachal Pradesh is a year round destination and you can visit Dirang Boutique Cottage throughout the year. This is why Arunachal Pradesh Tourism is thriving off late! Arunachal Pradesh, no wonder, is co incidentally also my favourite state in not only North East India but all of India.
HOW TO REACH DIRANG BOUTIQUE COTTAGES: DIRANG TOURISM
It is very easy to reach Dirang in Arunachal Pradesh from Assam. After enjoying our wildlife safari at Kaziranga National Park, we headed straight to Dirang Boutique Cottage the next day. We stopped at the border town Bhalukpong. Bhalukpong is a small town which lies on the border of Assam and Arunachal Pradesh. In fact, interestingly, the town lies in both the states. You can have a hearty meal in one of the cafes at the Bhalukpong in Arunachal Pradesh side.
You can also visit the Tippi Orchid Research Centre which is just 20 kilometers away from Bhalukpong. It is a premier research centre for orchids in the world and largest in all of Asia. From here the routes suddenly becomes picturesque as you pass through mountains, waterfalls, breezy and sparkling rivers. You can also stop at Kaspi village and pay your respects at the famed Nag Mandir. The mountain cliffs here are home to many beehives. We started late so missed these attractions. We crossed the border just as it was about to get dark and could not see the views. You can plan well in advance if you want to enjoy the views as well. It is supposed to be a destination in itself. We stayed overnight in Bomdilla as well before proceeding to Dirang Arunachal Pradesh the next day.
DIRANG BOUTIQUE COTTAGES – BEST BUDGET HOTELS IN DIRANG BETWEEN GUWAHATI AND TAWANG
Dirang lies between Guwahati and Tawang. It takes approximately 16 hours to travel between Guwahati and Tawang. Hence it makes sense to explore the picture postcard perfect Bomdilla and Dirang. Tawang is very cold, so staying at Dirang is also comforting as it is warmer than both Bomdilla and Tawang, thanks to its proximity to sea level. Yes, Dirang weather is just perfect. When we visited Dirang in January, Dirang weather was crisp, sunny and pleasant in the day and mildly cold in the night.
DISTANCES FROM DIRANG ARUNACHAL PRADESH:
Below is a chart of some of the distances of Dirang from other places in Assam and Arunachal Pradesh:
Kaziranga to Bomdilla is 205 kilometers and 7 hours apart. We covered the distance in one day at a stretch.
Kaziranga to Bhalukpong is 2 hours and 88 kilometers away.
Bhalukpong to Dirang is 5 hours and 138 kilometers away on Chariduar – Tawang road.
Dirang to Sangti Valley – 15 kilometers
Dirang to Se La Pass is 2 hours and 62 kilometers away on NH13.
Se La pass to Tawang is 2 hours 30 minutes and 73 kilometers away on NH13.
Dirang to Tawang is 4 hours and 30 minutes and 134 kilometers on NH 13.
LAST WORD ON DIRANG BOUTIQUE COTTAGE: ARUNACHAL PRADESH TOURISM
Arunachal Pradesh Tourism deserves gems like Dirang Boutique Cottages. Holiday Scout singlehandedly is changing the tourism in Arunachal Pradesh in a sustainable way by training local talents, nurturing them and creating amazing Tourism products with few parallels in not only India but entire world! Dirang Boutique Cottages is one of the best budget hotels in Dirang Arunachal Pradesh. And it is located in a beautiful place.
Dirang sightseeing makes it worthwhile to come all the way to Dirang Arunachal Pradesh. The pleasant Dirang weather, friendly local people, great organic vegetarian and vegan food makes Dirang a wonderful destination. And of course, by now you know which Dirang hotels to stay at! What are you waiting for? Plan a trip soon to Dirang Arunachal Pradesh. Dirang Tourism awaits you!
MORE FREE TRAVEL GUIDES FROM NORTH EAST INDIA
Pls read below related blogs from North East India as well:
Free Guide to Hornbill Festival
Complete Information on Manas National Park Assam
The fun filled Dwijing festival in Bodoland Assam
The amazing Basar Festival of Arunachal Pradesh
The mind blowing Orange Music Festival in Arunachal Pradesh
Top Places to see in Ukhrul, Manipur
Complete Guide to Loktak Lake Manipur
Rabdentse Ruin Site in Pelling Sikkim
How Sikkim became a part of India
Top FREE Places To See In Gangtok
Fun Filled Winter Itinerary of Sikkim
Full Information on Goecha La Trek in Sikkim
The view from my Soul Window wants me to stay back!
Top Travel Blogger from India