Last Updated on December 26, 2018 by
GUIDE TO ORANGE MUSIC FESTIVAL IN DAMBUK ARUNACHAL PRADESH- OFFBEAT NORTH EAST INDIA!
WHAT IS ORANGE FESTIVAL, DAMBUK, ARUNACHAL PRADESH:
Orange festival at Dambuk IS A HEADY COCKTAIL OF music, local lifestyles, food, nature, adventure and of course unlimited oranges. The orange festival happens once in a year in December.
It is a wonderful way to end your year with! The vibes of the place is fun filled, positive and cheerful! The place becomes even more vibrant after the sun set. Please do not travel solo here. You will end up missing your friends, such are the vibes of the festival.
FORMAT OF ORANGE FESTIVAL, DAMBUK, ARUNACHAL PRADESH.
There is a lot happening in Orange Festival, often simultaneously. The events of the festival go on all day till as late as 12 a.m. here, which we joked, 'is like 3 .m. in North India'.
In the morning, you can enjoy the thrilling 4X 4 rallies by the river or indulge yourself in parasailing or go for sight-seeing (or even discovering new places). I had attended the 5th edition of Orange Festival which was inaugurated by the Chief Minister of Arunachal Pradesh, Mr. Pema Kundu.
You will not be able to leave the festival ground once the performances start in the evening, mostly by 5 p.m. We forgot about the dinner as we danced the night away on the beats of crazy bands from not only different regions of India but across the world. The mood lighting across the venue was very creative. Please see the attached schedule for an idea of how a day at Orange Festival at Dambuk feels like.
And oh, there is an orange eating competition too in which anyone can participate, except the residents of Dambuk.  That said, you can buy oranges from the local sellers who sell it at Rs. 100 a bag. Do not pick oranges from the trees, even if the posters encourage you to. You might end up stealing from local resident's orchards. On one of the days, I had an overdose of Vitamin C as I could not resist the oranges all day.
LOCAL CULTURAL SHOW AT ORANGE FESTIVAL, DAMBUK, ARUNACHAL PRADESH
In the day time, you can enjoy the local songs and dances by the residents of Dambuk and other regions. You can also click them in their sartorial glory or chat with them backstage. I missed all the cultural shows and dances as I was busy indulging myself in plethora of adventure activities available in Dambuk. You can divide your time wisely and enjoy both.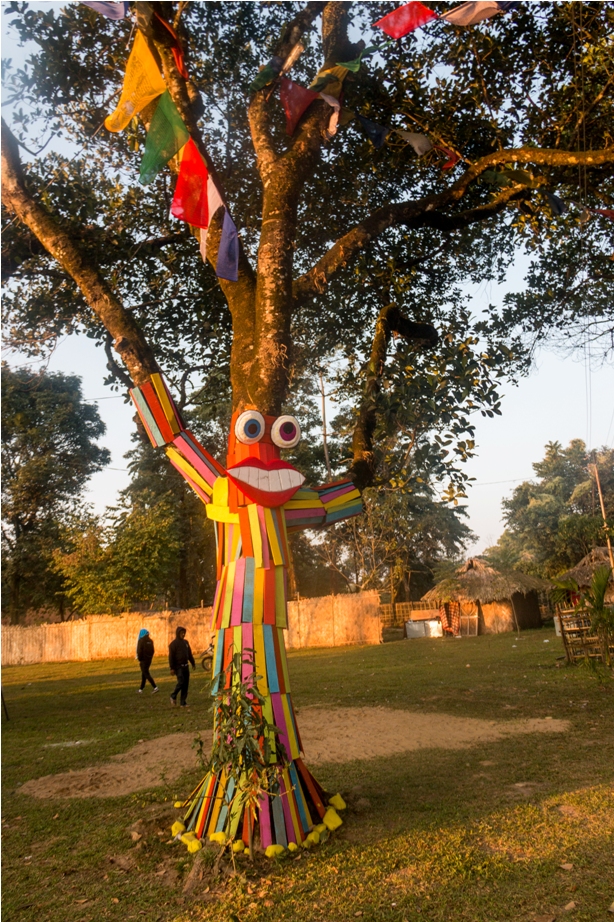 ROCK SHOWS AND OTHER STAGE PERFORMANCES AT THE ORANGE FESTIVAL, DAMBUK, ARUNACHAL PRADESH
Of all the 5 festivals I attended in North East India within a month, the music at the Orange Festival at Dambuk was the best, often exceeding the many levels of craziness. Some of the performances were larger than life and unreal, such as Bombay Bassment. The band members were of African descent. They hypnotized the audience with their infectious Hip Hopping.
The main vocalist had incredible energy. Though I found the man with grey hair and quirky beard playing at the DJ the quirkiest, cutest and coolest! The whacky band regaled the 500 plus crowd sans a break, as they belted out one energetic number after another.
As per the brochure, "The Mumbai based urban music act has earned a reputation for its uninhibited live performances and playful energy that makes hip shaking compelling ." I agree, when they were performing, I did not see a single soul who was not dancing.
Another band, my favourite Tarik had all our attention. I had traveled along with them on a tempo traveler from Dibrugarh to Dambuk on the first day of festival. I got a glimpse of their infectious energy and non conformity as we joked during the journey. Later, the vocalist, the very cool Wan tapped on my back in the al fresco food court and I had my fan boy moment. (See picture)
The brochure said about Tarik, "It is the tribal punk act from Shillong whose musical content is an eccentric blend of punk and radical themes with a Khasi twist." I did pick up some Khasi words en route.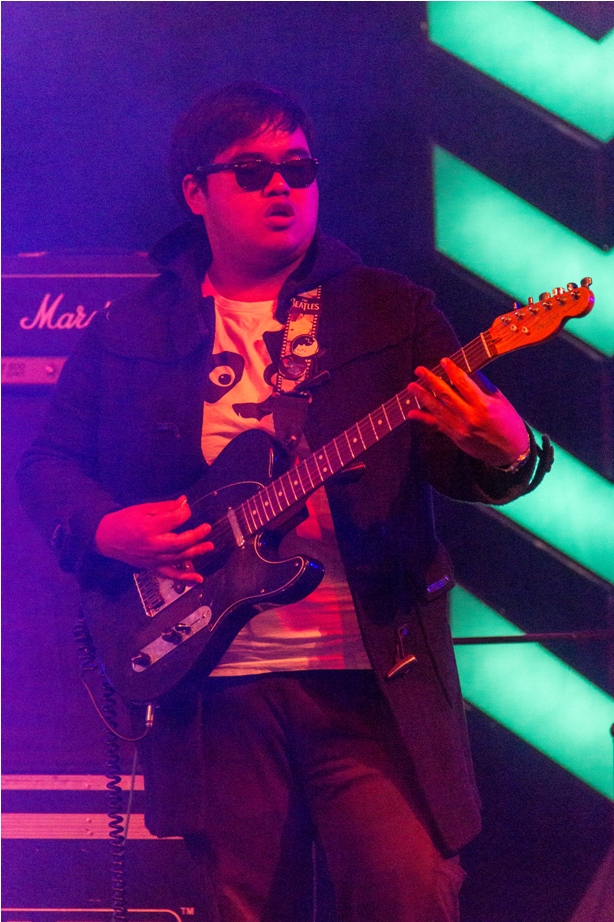 Another memorable performance was that of a lone Bengali girl who sang on the tunes of the American band called The Bluegrass Journeymen. Her melodious song 'Bago Bago' song transported me to music coma. The petite singer could give any Bollywood playback singer a run for her money. The band had spent a lot of time in West Bengal and even jammed with Bengali Baul Musicians in Santiniketan.
There was a Hip Hopping band who sang in chaste Hindi. My favourite was, 'Main Gairkanooni' (Me, illegal). I was craving for a Hindi band badly in all the music festival. I finally got my moment here. The local audience kept demanding Hindi songs from the Tamil Nadu (South India) based band called Jhanu. Of course, it was not fulfilled. That said, I feel music has no language. The songs played by the band had the crowds begging for more. There was a time, I switched off my DSLR camera and danced my heart out. Quoting the brochure, "Jhanu is a Tamil rock band, the first of its kind to have successfully blended the energy of modern rock with the aesthetics of poetic Tamil."
I also loved the soulful Bipul Chettri and the Travelling Band. "With their soulful folk/rock music, that has a rich aroma of hills, the band has taken over not only the Nepali speaking community across the globe but every music follower who wants to feel a connection to their roots.
I badly wanted to see David Angu and the band, The Iron maidens and Ladies Compartment. Me and other bloggers became a massive fan of David Angu and the band during the Bas Con aka Basar Confluence.
See my blog on Bas Con. I somehow realized that they were performing after their act was over. I (We) am in love with their music and the Galo folk songs which they sing. We often joke, "David and band is like apne ghar ka" (David and band is like our own people.)Hope to catch them live again!
HOW ECO FRIENDLY ORANGE FESTIVAL IS? DAMBUK, ARUNACHAL PRADESH
The Orange Festival was not as eco friendly as the Bascon aka Basar Confluence (That is the bench mark), yet there is scope. The huts and food stalls were all made of bamboo or were tents, including luxury tents. They can take ideas from my blog on Bas Con and make it a 100 percent eco friendly and Zero Plastic zone.
VEGETARIAN AND VEGAN FOOD GUIDE AT THE ORANGE FESTIVAL, DAMBUK, ARUNACHAL PRADESH
As I have said many times before, it is not easy to find vegetarian food across North East India (Assam and Manipur still fare better), but it is not impossible. Though the rate list of food at Orange Festival starts at Rs. 200, I was happy that at least they have options for vegetarians.
Mainstream food such as Pav Bhaji (vegan) was available on the stalls. I also sampled an amazing Orange Pudding (Rs. 150 for a small cup but worth it) and OKayish black chana aka grams(At Rs. 10 per scoop) at one of the food stalls.
I suggest that if you are a vegetarian or a vegan, you should load up (Over eat! Over eat!) on food at your respective tents. It is easy to find filling and nutritious Dal Chawal and sabzi (lentil with rice and curry) in most accomodations.
They grow a lot of cabbage in this part of India. You can also pack a lot of munchies. I request you to pack in paper bags even if the easier plastic option is available and allowed. You can also buy the Kiwis (Rs. 100 for a bag of small kiwis) at the food stalls or the oranges. (Rs. 100 for lots of oranges which can feed all the fans of Udai Chopra)
Do not forget to take back the fancy and eco friendly bamboo basket in which they sell oranges. It is my magazine rack now. Though my mom insisted that she wants to keep onion and garlic in it! I was horrified and didn't agree!
BEVERAGES AT THE ORANGE FESTIVAL, DAMBUK, ARUNACHAL PRADESH
There is a wonderful bar in the bus which can-not be missed unless you want to become a horse and starting your dream by donning blinkers.  We picked 2 beer cans (the usual fare) but nothing can beat the local beverages. You can go happy high on Poka aka Apong. It is the local rice beer. Some called it Rice wine. For me it will always be Poka. Do not miss the Kiwi flavoured Poka at Rs. 200 for a small mineral water bottle. I wish they replace it with bamboo bottles.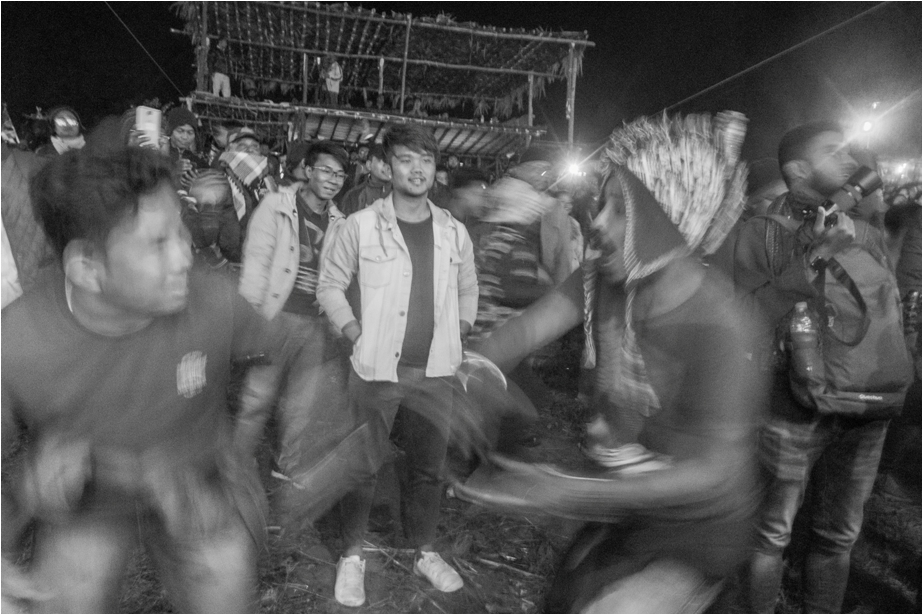 You should also not miss the delicious Orange juice.  They pressed it right in front of you on order. The fresh juice had orange flesh as well and was very refreshing and unlike any other orange juice I have had before.
And of course, you have your regular tea and coffee always available. Cigarettes are also available at stalls. I suggest, if you are a smoker, you should carry many packs from Dibrugarh itself. The price of cigarette is slightly higher at the venue than the M.R.P.
SCENIC LOCATION OF ORANGE FESTIVAL, DAMBUK, ARUNACHAL PRADESH:
Even if Orange festival did not exist, I would have still loved to visit Dambuk. The place is so picturesque that you would want to do nothing here. I, however did explore Dambuk as much as I could have. The roads are surprisingly in excellent condition. Lined with trees on either sides of the road, most of the roads except the small and rocky dirt track to venue are in perfect condition. Allow the baby bottom smooth roads to take you to unknown territories.
The mountains, rivers, crystal clear water (I could see the floor of river) and pebbles reminded me of Jim Corbett national Park and Rishikesh in North India. That said, Dambuk has an individuality of its own. It is familiar and still not. The density of people is very low (India is crowded, says who?), making it a pleasure to move around despite the festival crowd. You can even see snow on some far away mountains on some of the clear days.
It was dry and slightly cold (Not as cold as Mechuka though) during my 5 days stay. It rained for more than 24 hours continuously. I skipped the festival on the rainy day and wrote this blog from my tent when I was not taking the naps under the blanket. Despite all the craziness happening near the media campsite in Bomjir (15 minutes drive away), I decided to take it slow and suppressed my FOMO. In between writing (I wrote 3 blogs in a day, each 2000 words), I enjoyed playing with the very cute dog pups as it drizzled lyrically.
ADVENTURE AT ORANGE FESTIVAL, DAMBUK, ARUNACHAL PRADESH:
I participated in the very scenic river rafting in the wide river with 5 rapids. It was my 3rd rafting experience and the most beautiful. It lasted for an hour. Some of my friends also tried their hand at river Scuba diving and parasailing. They told me it was a wonderful experience. I had planned the same for the next day but had to cancel both the adventure activities due to rains. One could also try cycling here.
STAY SAFE AT ORANGE FESTIVAL, DAMBUK, ARUNACHAL PRADESH:
Just like any place, all kind of people come here. Nothing untoward happened to me but I did hear cases of eve teasing and drunken abuses. On request of my fellow travel blogger, the commandos and tourist police was immediately employed not only near the stage but across the festival venue. I appreciate the local authorities and the organizers of the Orange Festival to implement the suggestion with immediate effect. In case you become a target of eve teasing, I suggest do not react. Instead approach the nearest police or commando. Same goes if some-one abuses a man. Instead of reacting and involving yourself in a brawl, just approach the police or ignore and leave the place. And do not be that person either. Drink and party responsibly.
TOP PLACES TO SEE IN AND AROUND ORANGE FESTIVAL, DAMBUK, ARUNACHAL PRADESH
You can visit below mentioned places in and around Dambuk in Arunachal Pradesh:
Hawa Camp for Lohit View
White water rafting
Igjhass Auditorium
Buddhist temple
Dibru Saikhowa National Park
District Museum
Kherem Post Office
Tingrai Club
Digboi Oil Refinery
DRDA
Dangari
Roing
Ferry ride from Dambuk to Roing is picturesque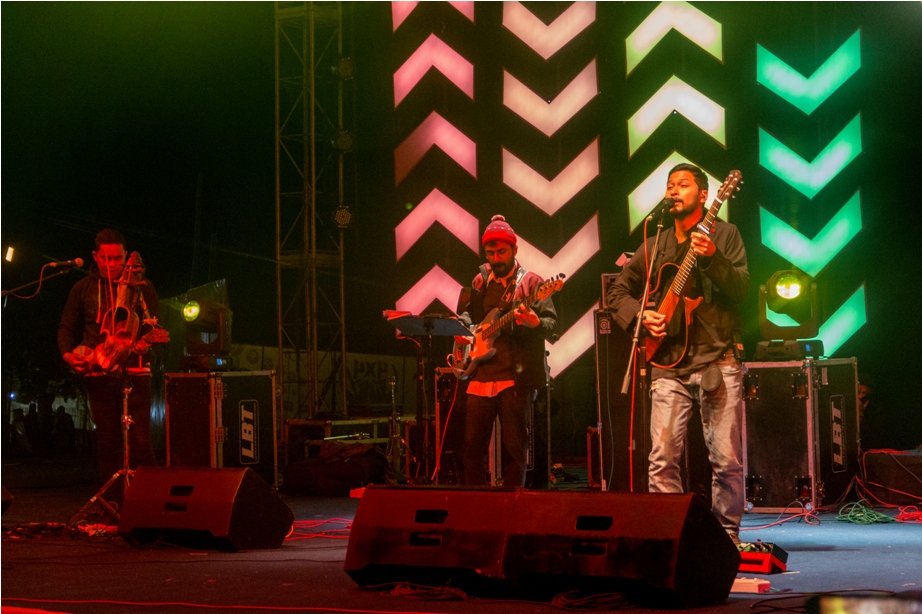 BEST TIME TO VISIT ORANGE FESTIVAL, DAMBUK, ARUNACHAL PRADESH
Orange festival happens once every year in the month of December. Watch out for the schedule at the website of Arunachal Pradesh Tourism or the social media handles of Orange Festivals. .
HOW TO REACH ORANGE FESTIVAL, DAMBUK, ARUNACHAL PRADESH
The nearest railway station or airport is in Dibrugarh. From Dibrugarh, the roads are baby bottom smooth. The route passes through the verdant tea estates of Assam. We crossed the Bogibeel Bridge, which is the longest rail road bridge in India. It was recently inaugurated on Christmas by the honorable Prime Minister Of India Mr. Narendra Modi. I was surprised to see that the roads in this part of Arunachal Pradesh were unbelievably good. The same can-not be said for other parts of Arunachal Pradesh.
From Dibrugarh, it is a 4 hours long road trip to Dambuk. We stopped at Dhaba 37 NH with a fake Air India mascot on either sides of the entry gate. The food here was exceptionally good but expensive. This is your last chance to eat a good meal though. I loved the paneer masala and raita here. It is located at the AT road in Tinsukia District near Haphjan. We enjoyed dining in the al fresco area. They have in room dining too and clean toilets. There is a children's park nearby as well.
The view from my #SoulWindow is VERY RICH IN VITAMIN C!
Please follow the hashtag #ASoulWindow on Instagram, Twitter and Facebook for my free tips, pictures, videos and information on all things travel!
Spread the love, share this blog
Got any question/comments, ask in the comment section below so that it can benefit other readers.
Email me for collaboration: 21abhinav21@gmail.com
Be a part of my journey on social media. The travel content I create there is different from this blog.
Pls subscribe/follow/like:
WARNING : COPYRIGHT TO ALL THE CONTENT SHARED HERE REMAINS WITH ME. THE IMAGES AND TEXT IN THIS BLOG ARE BY ME UNLESS MENTIONED OTHERWISE. YOU CAN NOT JUST LIFT THE CONTENT AND USE IT WITHOUT MY PERMISSION. STRICT LEGAL ACTION WILL BE TAKEN IF CONTENT IS STOLEN. YES, I AM SERIOUS.