Last Updated on December 23, 2018 by
COMPLETE GUIDE TO HORNBILL FESTIVAL, KISAMA NEAR KOHIMA – OFFBEAT NAGALAND, INDIA!
WHAT IS HORNBILL FESTIVAL ALL ABOUT?
Ever since I started traveling in 2008, I had wanted to visit the HORNBILL FESTIVAL at Kohima in Nagaland, one of the seven sisters in the remote North East part of India. It was not so easy for me to make it for the Hornbill Festival since I worked in Mumbai and was a strictly budget traveler (No flights). And it happens just once the year.
The will to visit Hornbill festival grew stronger around the year when they FIRED ME FROM MY JOB FOR TRAVELING TOO MUCH! Even after I was fired, I could not visit Hornbill festival due to many reasons, one of them being my traumatic struggle to gain a foothold in blogging. But, finally I was here.
FORMAT OF HORNBILL FESTIVAL, KOHIMA, NAGALAND:
You can never get bored at the Hornbill Festival (except for the unending 18,264 choirs in the evening maybe! Yawn!) There is always so much happening in and around the festival grounds or the multi level designated areas for every tribe. Personally I enjoyed watching the tribes performing impromptu near their respective Morung.
A Morung used to be bachelor's dormitory in Nagaland where boys lived till they married. A visit to Morungs was more spontaneous and exciting to me than stage performers. It also allowed me to watch the performers with better proximity.
The local cultural dances are performed at the festival ground which is akin to a large stadium. On one of the days, same dances and songs were performed twice a day, i.e, before the announcement of lunch and after it. Avoid one set of performances unless you really like something. Like, I did a repeat watch of the very eccentric and fun Wangla dance by the Garo Tribe.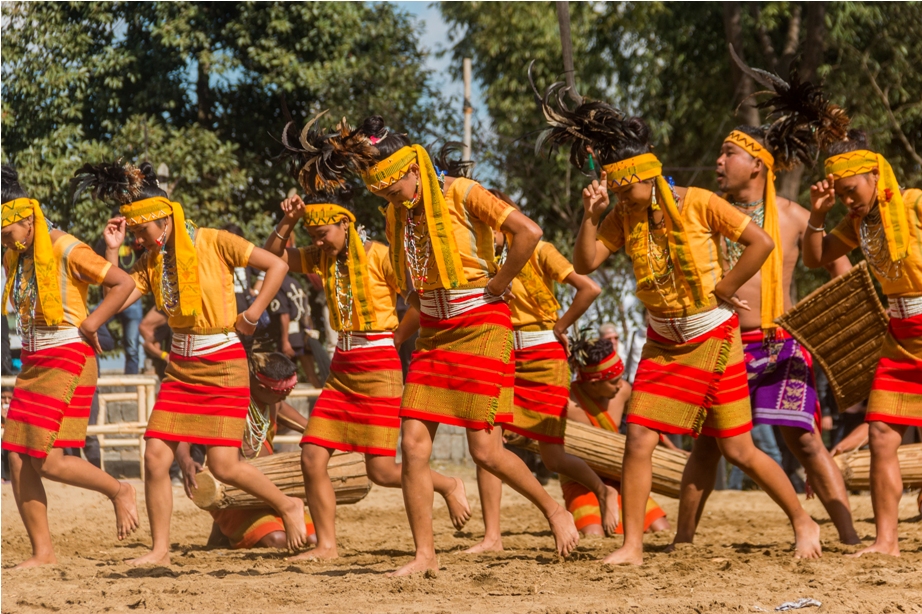 Alternatively, you can have fun with shady people who are trying to convert you to an obeying Christian (meh!) or hang out at the shopping area, visit the World War Museum or the Horticulture area (Not to be mistaken with 'Hottie Culture', eh!) or chat with your friend over a tea/coffee/water/whatever or just hang out at one of the cool houses. Activities available here are endless.
You can pick the time table of the scheduled programs from the Information Desk (it is near the stadium) for free of cost. Once the dances by all the tribes at the stadium are over, you can stay around for some nice performances by local singers.
Two girls, sitting next to us told us excitedly, "Hey, that is my friend singing!" It was immediately followed by, "Can you guys not talk and giggle for some time please!" I smiled and pulled out a chewing gum from my bag!
Avoid the mundane speeches by the authorities and Chief guests though. I was excited to see Indian home minister Mr. Rajnath Singh from close proximity.
SOUL WINDOW TIP: Morung was also a better vantage point for photographers. I would rather have a bamboo hut in the background than an ugly stage. But if you anyhow want to shoot the performances on stage and festival ground, go for the stairs near the seat of chief guest. Go earlier than others.
VISIT THE MORUNG OF LOCAL TRIBES AT HORNBILL FESTIVAL, KOHIMA, NAGALAND:
It is not easy to understand the various tribes of Nagaland, let alone those of the entire North East India! So, for someone who does not get to travel a lot, Hornbill festival is a great platform to understand the demographic diversity and to engage with the tribes directly.
Some people who have seen the festival over the years told me that Hornbill festival is losing its authenticity. I can-not compare since it was my first time at the Hornbill Festival, but I still found it to be authentic, exciting and devoid of brands' blitzkrieg.
Visiting the Morung of each tribe and later watching them perform gave me a good insight into the respective lifestyles of the different tribes. They were also very patient for selfie requests.  Many times in a day, the tribe members would break into a song and dance in front of their Morungs. I enjoyed watching those 'gigs'.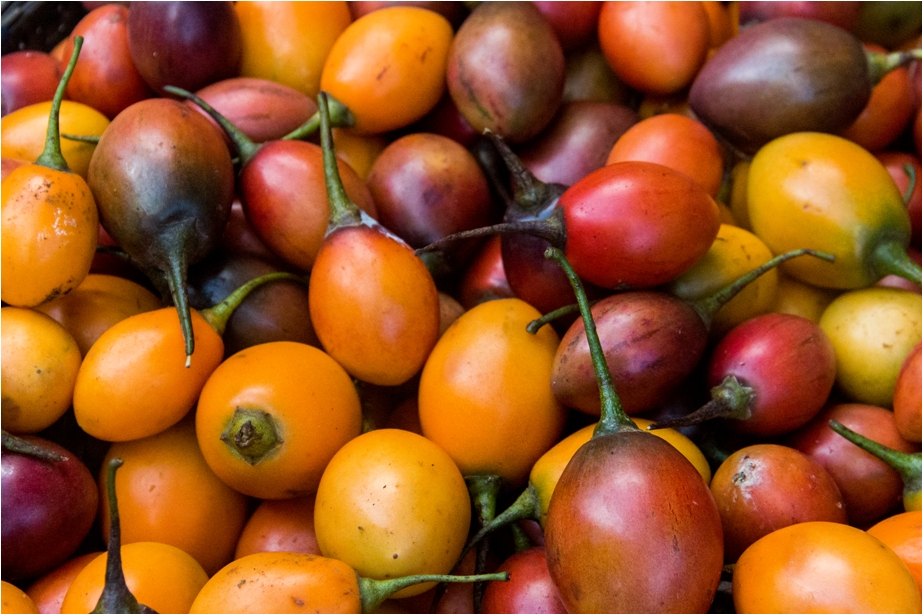 You could even sample their food and drinks. I was particularly amused to see the quirky tomatoes which looked like small brinjals. The Konyak Morung even had a real rifle which you can shoot in the air for Rs. 100 for 1 shot! Who would have thought!
SHOPPING GUIDE: BUY LOCAL FOOD AND SOUVENIRS AT HORNBILL FESTIVAL, KOHIMA, NAGALAND:
You can pick the jewelries, shawls, clothes, bags, even fruit juices (all of them a bit overpriced though) from almost all the Morungs of the tribes.
You can also visit the nearby shopping area to pick locally produced products. As usual, I picked up food souvenirs (Bhoot Jholakia Chutney) since I was traveling in North East India for 2 months on a stretch.
Some of the products I liked were bamboo cups, beer mugs, hornbill shaped merchandise, magnets, coasters, hats and Naga Shawls (Expensive for me at Rs. 3,000 per shawl) etc.
The girls could buy some offbeat tiaras or a show off necklace and other jewelleries which the local women wear.
LOCAL CULTURAL SHOW AT HORNBILL FESTIVAL, KOHIMA, NAGALAND:
Of all the performances I saw at Hornbill festival, I loved the Wangala dance by Garo Tribe the best. The music and the dance was quirky and seemed a bit too aggressive for a docile harvesting occasion. I was lucky to be able to watch that dance twice. Dances by other tribes were also equally rivetting. Dances by artists from other states like Chattisgarh, Rajasthan, Jammua and Kashmir were nice but did not fit in with the theme of all things Naga. I expected to see local performances only. Sporting events like Tug Of War was very exciting but a bit stretched. It could have been for a shorter duration. I (We) was most impressed by a women who made the audience speechless with her flawless acrobatics.
Soul Window Tip: Plan A trek to Dzukou Valley. It is very close to Kisama. Ask around and find a company. The trek is only 3 hours long (One way) Stay overnight for amazing sun set.
HOW ECO FRIENDLY HORNBILL FESTIVAL AT KOHIMA IS:
I LIKED THEIR intention but still it failed to match my expectations which Bas Con aka Basar Confluence had set with 100 % compliance to eco friendliness. I have a green thumb so I was happy when the 'plastic police' at Bas Con politely asked the travelers to leave their plastic bottles at the entry gate. But they did not offer any alternative. For example, folks at the Bas Con gave us a bamboo tumbler every time they took away a plastic bottle.
We could refill the tumblers (with water or local beer-will you ever behave?) from refilling stations across the festival grounds. Something like this could have been implemented here. Yes, you can always carry metallic water bottles but in case you lose it or forget to bring it along, you will have to buy some food to get free water. I was lucky to have my campsite within the entry gate, so we never worried about water.
I liked that akin to Bas Con (that is the bench mark), the food stalls were made entirely of bamboo poles and leaves. It was impressive indeed, especially because it was the 19th anniversary of the Hornbill festival when I visited (December 2018). I was happy to see that they were able to sustain their claim of eco friendliness for 2 decades! Even the plates, spoons, straws and bowls were made up of bamboo. So much of news on the straw nuisance makes the round across the globe. They even came up with metallic straws with was met with criticism. I wonder, how no one thought about bamboo straws. The answers to world's plastic problems lie not in New York or London, but in North East India! If only, they cared to look!
AN ECO FRIENDLY WASH BASIN WHICH AMUSED ME:
A very quirky bamboo structure caught my attention. Turned out it was the eco friendly wash basin for hand wash. A long bamboo pole was placed horizontally on vertical bamboo poles.
Small cuts were made on the horizontal pole for refilling water. Small holes were made on one side of the horizontal pole with small bamboo sticks as stoppers. So every-time, I wanted to wash my hand, I just needed to unplug the bamboo stick (which was tied to the horizontal pole) and wash! Multiple liquid soaps (in plastic though, ugh!) were also tied to the bamboo structure.
Did you understand what I am trying to say or should I write more? Maybe look at the pictures instead, if I failed as a writer!
ECO FRIENDLY TOILET AND A DOOR MAT MADE OF BAMBOO?
A quirky door mat also made a strong statement on eco friendliness. The bamboo rings were tied to each other and made for a wonderful door mat.  So, if I wanted to wipe my feet off the mat, then all I needed to do was………oh just let it be, look at the picture instead.
They even had an eco friendly toilet made entirely of leaves and bamboo poles. It was free. A paid toilet in cemented building was also available. It was priced at Rs. 10 per leak. I would rather prefer a bladder infection.
VEGETARIAN AND VEGAN FOOD GUIDE AT HORNBILL FESTIVAL, KOHIMA, NAGALAND:
I WROTE a separate guide on vegetarian and vegan food you can eat at Hornbill Festival. There is plethora of options for the same.
WHERE TO STAY AT DURING HORNBILL FESTIVAL, KOHIMA, NAGALAND:
We stayed at a camp site organized by the very dependable Holiday Scout. They have very good knowledge on many destinations across all the states of North East India. It was a fun stay. I would wake up every morning for some silent 'Me Time'. There was a look-out point which offered bird's eye views of Kohima city in far distance.
The camps were on multi level. The toilet and bath areas (Yes, they have hot water!) were very clean and were built in stable tents with wooden floor. They served vegetarian and vegan food along-with all the other necessary evils.  The sleeping bags (given by camp site) were very comforting and helped us stay warm in the December cold.
The best part of the camp site was the atmospheric bonfire area where I and my friends bonded over nice live guitar gigs by multi talented in house rock-star! When he was not playing, we were having a little fun with drunk people. We also met the brother of Bollywood actress and queen of Netflix, Radhika Apte (Badlapur, Parched fame). He stayed in the same camp as ours.
LOCATION OF HORNBILL FESTIVAL, KOHIMA, NAGALAND:
Kohima is not very scenic. It is a dusty, chaotic and crowded town. I had expected Mashobara out of Kohima(Duh!)! It is instead an ordinary transit town with accessibility to many exciting destinations in Nagaland and beyond. Kisama is more peaceful and clean.
STAY SAFE AT HORNBILL FESTIVAL, KOHIMA, NAGALAND:
Traffic Police of Nagaland is very efficient. If they spot you with even one and a half frowns, they will come running to you with genuine concern and frowns of their own, "Anything wrong? Can I help you?" "I was just looking for Gewürztraminer wine? (I said to myself). I was simply amazed at their alertness and willingness to help. Maybe Delhi police come here for a decade long training here!
My observations apart, I and my female friends found Hornbill festival, Kisama and Kohima very safe and friendly. If at all things go wrong here, like in any other destination, just approach a policeman or traffic police and DO NOT REACT OR ENTER A SCUFFLE! They don't 'sell' bravery awards at the shopping area here. There are many police men across the festival venue. Be wise!
EXCITING THINGS TO DO IN AND AROUND HORNBILL FESTIVAL, KOHIMA, NAGALAND:
Explore the Church and World War Museum near the festival grounds.
Visit Kohima Museum
Explore Kohima city, especially the poignant War Cemetery and the Churches. (There is not much to see in Kohima.
Explore nearby villages such as Vishvema and Khonoma.
Visit Dimapur Ao Baptist Church. It is the largest church in Asia.
Understand Angami lifestyle at Bara Basti
Spend 2 days at Dzukou Valley trek. The trek can be completed in 1 day, but I suggest you come back the next day. The sunset is not to be missed.
Explore the heritage of Dimapur.
Head out to Imphal (5-6 hrs) and Loktak lake in Manipur
Visit other places in Nagaland such as Mon Town and (far away and bumpy roads, for both) Visit Touphema Tourist Village, 41 kilometers away from Kohima.
HOW TO REACH HORNBILL FESTIVAL, KISAMA NEAR KOHIMA, NAGALAND:
I started on a bus (Rs. 150) at 10:35 am from Jorhat and reached Kohima via Dimapur at 9:30 p.m. I had to leave the bus at Dimapur. It was 4 or 5 p.m. The taxi drivers tried to fool me by telling me that no more taxis will ply on this route now. I was also told that even if I find one it will cost me Rs. 500 one way. Regular Sumo rate from Dimapur to Kohima is INR 300. I persuaded him to carry me in the same Sumo for INR 300. The bus didn't make any stop for lunch, so eat properly before you leave.
I had a very nice unlimited Vegetarian Thali for Rs. 50 in Jorhat. (See picture for details of place. I also got my bus tickets from this restaurant. It is near a crossroad and very close to ISBT, Jorhat. Do not miss the early morning bus from Jorhat. It might get difficult to find another public transport. The closest railway station from Hornbill festival is at Dimapur from where you can take a shared Sumo opposite Dimapur railway station.
BEST TIME TO VISIT HORNBILL FESTIVAL, KOHIMA, NAGALAND:
Hornbill festival happens every year, usually from 1st to 10th December. 1-3 days are sufficient to enjoy the festival.
HOW TO GET INNER LINE PERMIT FOR HORNBILL FESTIVAL, KOHIMA, NAGALAND:
Just before the hills started (Dimapur to Kohima route), our Sumo was stopped by the police. We were asked to show our ILPs aka Inner Line Permits. If you have traveled to Ladakh in North India, you will know what Inner Line Permit is. Both Indians and foreigners need Inner Line Permit for access to some areas in Nagaland and Arunachal Pradesh. I did not have the hard copy of the Inner Line Permit.
I showed them the soft copy of my Inner Line Permit arranged by the very dependable Holiday Scout even before I arrived in Nagaland. They still asked me to come till their station near the main gate with signboard, "Welcome to the Hills!" We were asked to sign and fill our details in a register. They had also requested me to show them my Aadhar Card. If you are an Indian traveler, always carry Aadhar card. If you are a foreigner traveling in North East India, keep your passport handy at all times.
Though you can get your Inner Line Permit done at both Kohima and Dimapur, I suggest that you reach early in Dimapur and stay there for 1 day to get the Inner Line Permit . It takes only few minutes but it is possible that you might reach Dimapur late and their office is closed by then. Alternatively, you can book your trip with Holiday Scout which is a reliable travel agent who can take care of your Inner Line Permit even before you arrive, thus saving you from hassles and time waste. Holiday Scout has trips where they include many exciting and remote destinations tailored around the Hornbill festival. Check this quora discussion for more information about ILP.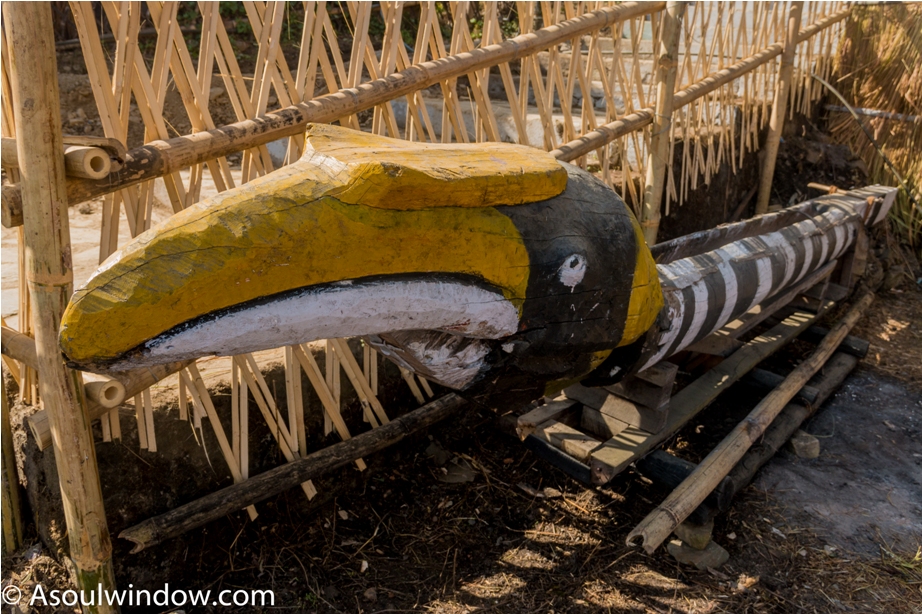 VISIT HORNBILL FESTIVAL, KOHIMA, NAGALAND WITH YOUR FRIENDS AND WHEN YOU ARE YOUNG!
Michelle and Nikki, whose blog Cheeky Passport is a lot of fun were already in North East India when we visited. We had been planning to meet since long on whatsapp and Facebook. We finally met at the hornbill festival. You should follow them on blog and social media for informative and fun updates.
I also met Amit Chandna from Delhi. He was a stranger but we bonded so well that we ended up traveling across Manipur for 10 more days. I had planned this itinerary solo. I love solo traveling, but I love it if I have a fun and laidback company. My blogger friends had also accompanied me.
Niranjan, Parnashree, Sandeepa Chetan, Prakriti, Srikanth gave me fun company. We had already bonded like one big joint family in Basar, Arunachal Pradesh. We had unimaginable fun at Hornbill too. Having so much fun should be banned. Festivals like Hornbill should be enjoyed with family, friends and close friends. Solo travel is fine but you will love it if you could share a joke, watch a dance together or discover aaloo ka paratha at one of the stalls.  Life is beautiful if you can find a fun company! Avoid people with emotional baggage though.
The views from my #SoulWindow are VYING FOR MY ATTENTION!
Please follow the hashtag #ASoulWindow on Instagram, Twitter and Facebook for my free tips, pictures, videos and information on all things travel!
Spread the love, share this blog
Got any question/comments, ask in the comment section below so that it can benefit other readers.
Email me for collaboration: [email protected]
Be a part of my journey on social media. The travel content I create there is different from this blog.
Pls subscribe/follow/like:
WARNING : COPYRIGHT TO ALL THE CONTENT SHARED HERE REMAINS WITH ME. THE IMAGES AND TEXT IN THIS BLOG ARE BY ME UNLESS MENTIONED OTHERWISE. YOU CAN NOT JUST LIFT THE CONTENT AND USE IT WITHOUT MY PERMISSION. STRICT LEGAL ACTION WILL BE TAKEN IF CONTENT IS STOLEN. YES, I AM SERIOUS.