Last Updated on December 28, 2018 by
ADVENTURE AT MECHUKA AND OTHER TOP THINGS TO DO – ARUNACHAL PRADESH ON A BUDGET
The lovely landscape of Mechuka. Adventure At Mechuka, Arunachal Pradesh, India
WHAT IS ADVENTURE AT MECHUKA ALL ABOUT?
I HAD SEEN a wonderful video on Mechuka few years ago on You Tube. Some one shared it on Twitter. It looked like Bhutan, what with undulating meadows and suspension bridges!
Since then, I had nursed the dream to visit Mechuka. That is the power of You Tube, social media and travel blogs.
I finally made it here. Though I didn't find Mechuka much similar to Bhutan, I still appreciated the unique beauty of Mechuka. It was a familiar landscape and yet not!
Every year, people from different regions of India and other countries congregate at Mechuka to explore the valley and combine the experience with myriad adventure sports. Adventure At Mechuka is quite a happening annual event.
Yes, you can visit Mechuka at other times too. But it's a good idea to add some adventure to plain sightseeing. Someone told me, Mechuka changes its color 4 times in a year, as per the season! It gave me the excuse to visit Mechuka again and again.
FORMAT OF ADVENTURE AT MECHUKA FESTIVAL : ARUNACHAL PRADESH



The day time can be well spent in exploring the attractions near the valley or indulging in adventure sports such as parasailing, Hot Air Balloon (tied to ground), mountain biking, white water rafting (in chilly water) or you can try your hand at rifle!
In the evening, you can enjoy the music show at the stage near the festival ground. There is something for every-one. Visiting Mechuka during the festival is fun, thanks to the festive vibes.
SOUL WINDOW TIP:
It was very very cold when we visited Mechuka. In fact it was one of the coldest places during my 2 months long trip to North East India. The dew on my tent froze when I woke up the next morning!
The leftover water in the soap dish froze too. So, it is advised that you should carry thermal wears, down jackets, hand gloves, mufflers, inners and woolen socks etc.
HOW ECO FRIENDLY ADVENTURE AT MECHUKA IS: OFFBEAT ARUNACHAL PRADESH
Fragile places like Mechuka needs to be more eco friendly than what I had experienced there. Till date Bas Con (Basar Confluence) has been the best eco friendly destination I have been to.
It is a wonderful role model to follow. Please read about Bas Con in my other blog. I was not very happy to see lots of plastic and thermocol used commonly. I would suggest carry your own plates, glasses and home-made snacks until they get it right.
Also, please collect any plastic which you generate and dispose them off responsible, preferably in your own city. That is how I do it!
WHERE TO STAY AT DURING ADVENTURE AT MECHUKA FESTIVAL: ARUNACHAL PRADESH



There are many tents and home stays and wooden hotels available in Mechuka. Mechuka is a very small place. The accommodation fills up really fast, so it is advised to book your place in advance.
The sleeping bag provided to me in the camp was very warm. They had common toilet area which was well maintained and clean. My camp was 1 minute walk away from the festival ground. The camp was sandwiched between a river on one side and mountains on the other side.
VEGETARIAN AND VEGAN FOOD GUIDE AT ADVENTURE AT MECHUKA FESTIVAL:ARUNACHAL PRADESH
There is a lot of option for vegetarians and vegans in Mechuka. While vegetarian/vegan momo (Ask them for spicy momo sauce though to go with your noodles) is a myth in North East India, you can enjoy hot hakka noodles, poori – sabzi, Thukpa (Check if they use chicken stock) dal chawal and sabzi (Aaloo gobhi was delicious!).
The stalls also sold Jhalmoori in eco friendly cups. Wafers, chips and namkeens are also available but in plastic bags. Instead, go to any of the lovely café and order some food. I and my blogger friends spent lovely time chatting sweet nothings at one local and unpretentious café in the bazaar area.
LOCATION OF ADVENTURE AT MECHUKA FESTIVAL: ARUNACHAL PRADESH
Mechuka is a valley with sparse vegetation. The valley is surrounded by tall mountains, many of which are snow clad. Ground at some places moved when I walked on it.
There is not much of human construction, barring few monasteries, home-stays, restaurants and shops. There are many lovely villages and monasteries in and around Mechuka.
One of the mountains looked like the Holy Kailash Parbat in China. The venue of Adventure at Mechuka is next to a river in the backdrop of tall infertile mountains.
STAY SAFE AT ADVENTURE AT MECHUKA FESTIVAL: ARUNACHAL PRADESH



Mechuka is relatively a safe place but cases of eve teasing by drunk locals or travelers is possible. In case, you feel someone is bullying you or behaving nastily, DO NOT react!
Just approach the local authority which can be police or the tent owner. Males should not get in a scuffle with others. Just walk away. Stay extra cautious on the last day.
EXCITING THINGS TO DO IN AND AROUND ADVENTURE AT MECHUKA FESTIVAL GROUND: ARUNACHAL PRADESH

Visit the Hanuman face
Visit the Gurudwara
Visit the waterfall near gurudwara
Visit the old Monastery
Visit the nearby monastery. On the way, take a look at Mechuka from above. It looks like a Scandinavian country from above.
Spend some time in the scenic Dorjeling (Not Darjeeling!) village. Explore the village and a monastery.
Have fun on the many suspension bridges across Mechuka and nearby villages.

On the way to Dorjeeling. Adventure At Mechuka, Arunachal Pradesh, India

Visit the Indo-China border nearby
Go on treks and hikes
Go to Basar. It is 12 hours away from Mechuka via rough but scenic roads.
HOW TO REACH ADVENTURE AT MECHUKA FESTIVAL VENUE
We arrived at Mechuka from Basar in Arunachal Pradesh. It took us 12 hours on rough roads. The route was picturesque though. There are enough toilets and restaurants on the way to keep you going.
BEST TIME TO VISIT ADVENTURE AT MECHUKA FESTIVAL
The adventure at Mechuka happens every year in the month of November. Keep tabs on their website for dates.
The views from my #SoulWindow are PICTURESQUE!
Please follow the hashtag #ASoulWindow on Instagram, Twitter and Facebook for my free tips, pictures, videos and information on all things travel!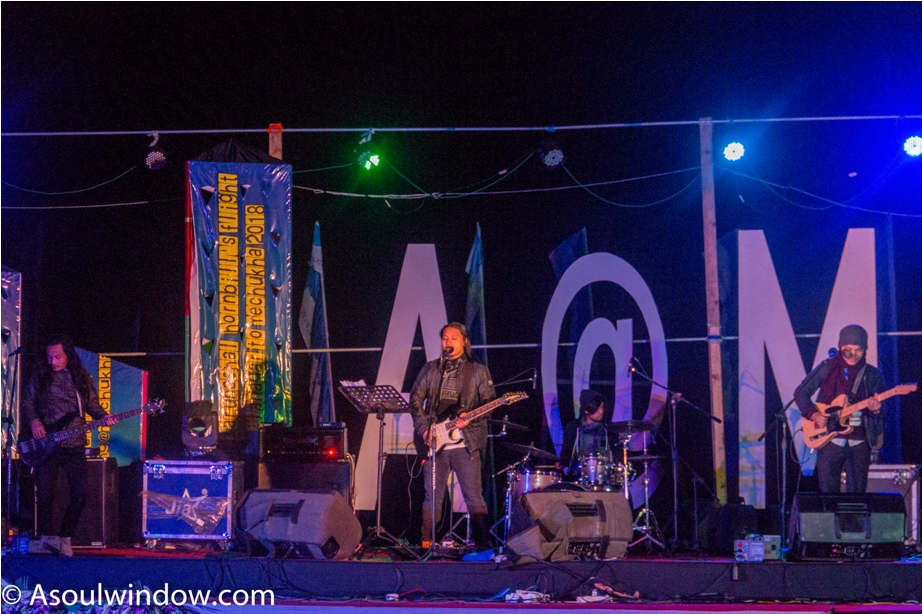 Spread the love, share this blog
Got any question/comments, ask in the comment section below so that it can benefit other readers.
Email me for collaboration: 21abhinav21@gmail.com
Be a part of my journey on social media. The travel content I create there is different from this blog.
Pls subscribe/follow/like:
WARNING : COPYRIGHT TO ALL THE CONTENT SHARED HERE REMAINS WITH ME. THE IMAGES AND TEXT IN THIS BLOG ARE BY ME UNLESS MENTIONED OTHERWISE. YOU CAN NOT JUST LIFT THE CONTENT AND USE IT WITHOUT MY PERMISSION. STRICT LEGAL ACTION WILL BE TAKEN IF CONTENT IS STOLEN. YES, I AM SERIOUS.