Last Updated on December 5, 2019 by asoulwindow
Music of cymbals, drums and trumpets waft in the air dramatically, spiritual chants adding to the aura of the place. Thousands of Ladakhis drop their conversation unceremoniously and glue their eyes on the elaborate ceremony. His Holiness the Gyalwang Drukpa, spiritual head of the 1000 year old Drukpa Order, revered as Naropa's reincarnation, dons the Six Bone Ornaments. There is a strange meditative stillness in the air. Many people had gathered here, struggling under the scorching sun, only to witness this historical event. What made it extra special is the fact that Naropa Festival commemorates the millennial birth anniversary of Naropa.
It was my first time in Ladakh and the occasion could have not been any better. It is not every day that you are invited for an exclusive Press Trip to witness the Kumbh Mela of The Himalayas – The Naropa Festival. As I arrived at the festival venue near Hemis Monastary of Drukpa Lineage, from a distance, I saw a 'well disciplined' mob of thousands dotting the landscape. Soon, I passed audience, many of whom braved the sun with their colorful umbrellas, nuns sitting with patience and waiting for the action to begin, families camping in the hills nearby, often seen praying, chatting and passing on 'tsampa', a local dish to each other.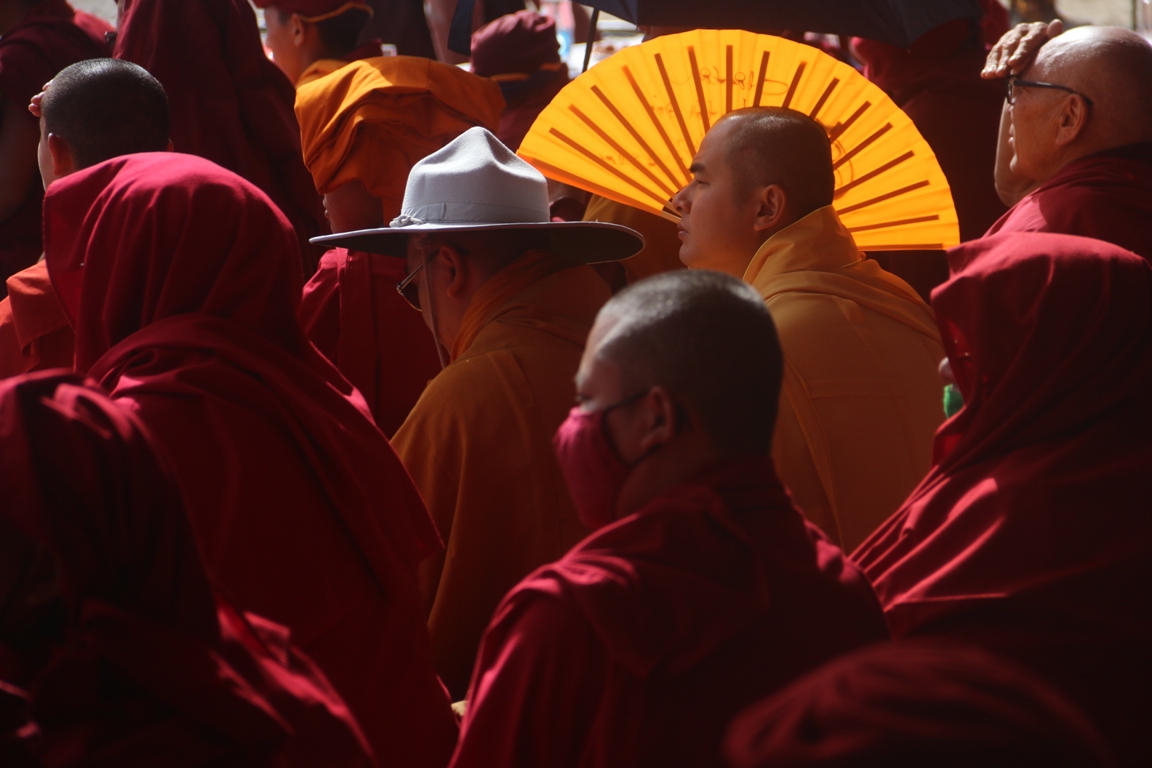 The stage was set. The background was grand Naropa Palace, huge artificial lotus and dragons flanking on its stairway. Brown barren mountains filled up the canvas, sometimes revealing the snow stained mountains behind. For 7 days, this place was where all roads of Ladakh led to, what with Ladakhis from far away regions filling every inch of the campus.
Though Ladakh hosts many festivals round the year, but Naropa festival, celebrated every 12 years, is the most important and holds a sacred status. Once the ceremony got over, the six bone ornament was put on display under tight security. Thousands lined up everyday for that one glimpse. It is the physical legacy of Saint Naropa– left behind after his liberation.
Saint Naropa (1016 – 1100 CE). He introduced a rich alternative tradition in Buddhism. Much of his teachings are still followed across Ladakh and has helped shape the values, culture and identity of an entire race. Six yogas of Naropa, one of the fundamental pillars of Vajrayana Buddhist tradition, is his legacy. He was also the Chacellor of nalanda University in Bihar. Being a fan of the ruins of Nalanda, it was interesting for me to learn this. The Dakinis (sky dancer) offered Naropa, upon enlightment, the six bone ornaments and flew into the sky. It is now donned by His Holiness, every 12 years in front of a race who adore him.
With great power comes great responsibility. His Holiness, Gyalwang Drukpa has millions of followers worldwide, many of whom had come to Naropa Festival to see him live. Men, women and kids hold hands and bow every time he passes through. It is a healthy mix of veneration and love of his followers for him. Over one week, I could see the camaraderie, mutual faith and good humour he shares with his 'fans'. He would rejoice, clap excitedly at live Bollywood performance and local performances alike and then he would use the platform for conveying social messages.
On the last day of the festival, as I arrived from an hour long walk from Hemis Monastary, just in the nick of time, I caught him addressing his people live. He spoke passionately about gender equality, animal welfare, environment, education, cleanliness and the need to rise above religious boundaries. I have not seen a spiritual leader talk like these ever. In a previous address, the chief guest His Eminence N.N. Vohra, the governor of Jammu and Kashmir divulged details of his recent long cycling expedition to an attentive audience of thousands. "Do you know, that His Holiness has arrived at Hemis Monastary for this festival not on plane, nor in car, but after a grueling cycling expedition of 2500 kilometres with 200 'Kung Fu' Nuns over the period of 2 months! The purpose of the expedition which began in Kathmandu on 3rd July was to instill in people the values and raise awareness on gender equality, peace, cleanliness and environment." He said with pride as the audience thundered with claps.
He has taken upon himself to promote universal harmony and inner peace by integrating the spiritual tenets of love and appreciation into daily life. A secular global NGO founded by him – Live to Love (www.livetolove.org) helps him achieve the humanitarian goals. I was so impressed after visiting the charitable Dog shelter and the '3 Idiots' School that I have decided to pen a separate blog on these. And oh, there is also a place I visited which is known for the holding the place in the Guinness Book of World Record for 'most Trees planted' It was a part of his 'one million trees' campaign. His Holiness ended his sppech with an announcement of a 10 day long Eco Pad Yatra (Eco walk) in the remote regions of Ladakh. This spiritual leader bilives in actions and not mere words. He sets an example everytime he picks up a plastic bottle from the road in front of his followers. Many have been embarrassed, emotional and many even shed tears when they see their spiritual guru doing that. I have always believed that if one has the power to engage with a large number of followers, one should indulge in socially relevant and beneficial causes. They have dubbed him a 'Rock Star Monk' not for nothing!
Entertainment goes hand in hand
The Naropa festival was not always about spiritual activities. Many local and Bollywood artists enthralled the audience from morning to evening. Plays, Cham dances, folk songs, Bollywood and international music concerts, laser light show, regional dances, musical jugalbandis etc kept the audience engaged. For me many of the dances were exotic as I had seen them for the first timite. My favourite was a Nepali song and dance, A Ladakhi song and dance, an Australian duo and a Ladakhi instrumental session.
Among the Bollywood performances, shows by singer Shreya Ghoshal, musician Shankar-Ehsaan-Loy was my favourite. Hollywood actress Michelle Yeoh talked passionately about her association with Live to Love.
The 7 days spent in Naropa festival will stay with me for a lifetime. I am back in Delhi, but the music of cymbals, drums and trumpets still resonate in my ears! I am planning to visit Ladakh again with parents. With parents I want a hassle free trip, so I I will book Ladakh Tour Packages. It helps me concentrate on travel and not bother with the logistics.
Spread the love, share this blog
Got any question/comments, ask in the comment section below so that it can benefit other readers.
Be a part of my journey on social media. The travel content I create there is different from this blog.
Pls subscribe/follow/like:
WARNING : COPYRIGHT TO ALL THE IMAGES AND TEXT HERE REMAINS WITH ME. YOU CAN NOT JUST LIFT THE CONTENT AND USE IT WITHOUT MY PERMISSION. STRICT LEGAL ACTION WILL BE TAKEN IF CONTENT IS STOLEN. YES, I AM SERIOUS.
Top Travel Blogger from India