Last Updated on April 16, 2019 by
11 DAYS WINTER ITINERARY & GUIDE FOR AN EPIC ROAD TRIP IN SIKKIM!
This blog is a complete guide and winter itinerary of 11 days through Sikkim. We visited amazing places like Gangtok, Lachung & Yumthang Valley, Chumthang, Namchi, Ravang La and Rabdantse Site, Pelling, Singshore suspension bridge, Uttarey, Yuksom. This Sikkim guide can be adapted for any season as weather in Sikkim is pleasant through the entire year!

The year began on a wonderful note. From 5th of January to 15th of January, I, Jacomijn Heupink ("Call me Jacky", she said), a popular blogger from Netherlands and Jitaditya Narzary, a popular blogger from India along-with our driver from Sikkim Cab Rental Co. embarked upon what was an epic trip of a lifetime.
We saw the best of North, West, East and South Sikkim in just 10 days!
SIKKIM WINTER ITINERARY – BEYOND GANGTOK
I had underestimated Sikkim. Or maybe I had not given it much thought because not much is documented about it. This is evident because many of the places which we visited do not even exist on the internet. (Rest assured, now they are!). My exploration in Sikkim was limited to just a small trip to Gangtok with parents. I wrote a detailed blog on it. I discovered more new places to visit in Gangtok on this trip.
Below is my itinerary which you can follow or modify as per your budget, health and available time. If you need further guidance, please ask me in the comment section below. I readily reply.
Day 1 – 5th January – Arrival in Gangtok
Day 2 – 6th January – Sightseeing in Gangtok
Day 3 – 7th January – Arrival at Lachung near Yumthang Valley via Chumthang
Day 4 – 8th January – Sightseeing in Lachung & Yumthang Valley
Day 5 – 9th January – Lachung to Gangtok
Day 6 – 10th January – Gangtok to Namchi
Day 7 – 11th January –Temi Tea Garden & Tendong Hill Trek in Namchi
Day 8- 12th January –Namchi to Pelling; Stop at Ravang La and Rabdantse Site in Pelling
Day 9 – 13th January – Pelling, Singshore suspension bridge & Uttarey sightseeing
Day 10 – 14th January –Yuksom and back to Gangtok
Day 11 – 15h January – Departure from Sikkim
DAY 1 OF SIKKIM WINTER ITINERARY – ARRIVAL IN GANGTOK.
5th January
I arrived in Sikkim in the night. I took a bus from the Siliguri bus stand. It passed through the familiar landscapes I took some years ago. You will notice the positive change as soon as you arrive in Sikkim from West Bengal. I waited for my friends do sightseeing. The bus ticket costed me 200 INR. The taxi from MG market costed me 100 INR (just 2-3 kilometer). I called it a day at the vibrant Tag Along Backpackers. I had just returned from another epic trip from the offbeat destination Bodoland in Assam. I took advantage of the extra time and washed all my soiled clothes.
DAY 2 OF SIKKIM WINTER ITINERARY – SIGHT SEEING IN GANGTOK
6th January
We did sightseeing in Gangtok and nearby areas all day as my clothes dried in the balcony of the hostel. I discovered many new places and enjoyed reliving the places I had travelled to before. Pls refer to my other guide on Gangtok for details.
DAY 3 OF SIKKIM WINTER ITINERARY – BRIEF STOP AT MANGAN
7th January
Our foray into North Sikkim began on this day. We stopped at a view point which offered great views of the valley below. We stopped at Mangan for refueling. They also have a nice restaurant opposite the petrol pump if you are hungry. We had amazing vegetarian momos at a makeshift shop en route. Plastic bottles are strictly prohibited beyond Mangan Forest Check Post Even carrying a Satellite Phone is strictly punishable in Sikkim. We stopped for a waterfall called Amitabh Bachchan waterfall, because it is tall.
Check out my video on Temi Tea Garden in Sikkim!
Mangan is also the place from where you can decide to visit many destinations in North Sikkim on a whim! Though, you need prior permission to go to places like Dzongu or any place after Mangan. You can get it done in Gangtok on previous day. Sikkim Cab Rental Co. helped us in arranging for permissions even at late night and on last minute. Choose from below:
Distances of Mangan to other destinations in North Sikkim are as below:
Mangan to Dzongu village – 17 kms.
Mangan to Sangkalang – 07 kms
Mangan to Hee – Gyathang is 11 kms
Mangan to Passingdong is 10 kms
Mangan to Lingdem is 22 kms
Mangan to Tingbong is 20 kms
Mangan to Gurodongmar lake is 125 kms
Mangan to Lachen is 58 kms
Mangan to Chungthang is 30 kms
Mangan to Yumthang is 76 kms
Mangan to Lachung is 52 kms
DAY 3 OF SIKKIM WINTER ITINERARY – ARRIVAL AT LACHUNG AND YUMTHANG VALLEY VIA CHUMTHANG
7th January
Beautiful views of Teesta river and green valleys, gushing waterfalls and small villages didn't allow us to sleep in the cab. We finally arrived at Chungthang, which means that you are close to many destinations. On our left was Lachen and Gurudongmar lake, but since Jacky is a foreigner, so we skipped it. Foreigners are not allowed at the lake because it borders with China. Indians can go after obtaining permissions. On our right was Lachung and Yumthang valley. We chose the latter. We arrived just 1 hour before it turned dark. We stayed at a home stay in Lachung.
DAY 4 OF SIKKIM WINTER ITINERARY – SIGHTSEEING IN LACHUNG AND YUMTHANG VALLEY IN SNOW
8th January
This day was reserved for long leisurely walks in the snow capped landscape of Yumthang valley and the greener Lachung. We started early morning to Yumthang and explored the lovely Lachung yet. It was so sublime and peaceful, I wanted to stay here for more. Random aimless walks in the lanes of Lachung and exploring its monasteries was therapeutic.
Since we went in winter, the Yumthang valley which is carpeted in flowers in summer was entirely snow clad. Blinding white snow! I loved it. Though, I want to see in during flowering season as well. I want to come back to this place! And next time when I cokme here, I will ensure that I explore Chumthang, Gurudongmar lake and Lachen as well.
DAY 5 OF SIKKIM WINTER ITINERARY – LACHUNG TO GANGTOK
9th January
We left Lachung early morning after visiting some more monasteries. The driver took a different road this time to Namchi so that we could enjoy a different route. We also made a quick stop at the Gurudwara in Chumthang. Arrival at Gangtok again.
DAY 6 OF SIKKIM WINTER ITINERARY – GANGTOK TO NAMCHI
10th January
After breakfast in Gangtok, we made a pit stop at a quirky destination Tarey Bhir. We joked that it's like the Great Wall Of India. Well, almost! We arrived at a lovely homestay at Namchi. Of all the places I have visited in Sikkim, along-with Tag Along Backpackers in Gangtok, I personally loved my stay here as well. What's common at both the places? Sheer warmth of the host and great food!
We enjoyed the night, chatting with the host over bonfires and Tongba, the local Sikkimese drink. The hotel/home-stay was right opposite to the famous Sai Mandir Mandir. Oh yes, we also visited Chardham and Samdruptse etc before it became dark. More on that in a separate blog!
DAY 7 OF SIKKIM WINTER ITINERARY – TEMI TEA GARDEN & TENDONG HILL TREK, NAMCHI
11th January
This was a relaxed and yet exhausting day. Relaxed because we didn't move around much and were constantly surrounded by nature! Exhausted, because we did a trek! The day started on an easy note in the lush green Temi Tea Gardens. I bought some tea from the nearby shops and we headed to Damthang Bazaar for the trek to Tendong Hill.
Just as I was complaining about the sameness of the landscape as we climbed up, I was in for a mind blowing surprise at the top! Ancient Ruins of a Lepcha Heritage Site had us agape mouthed. It was a very meaningful denouement to what we thought was just another trek!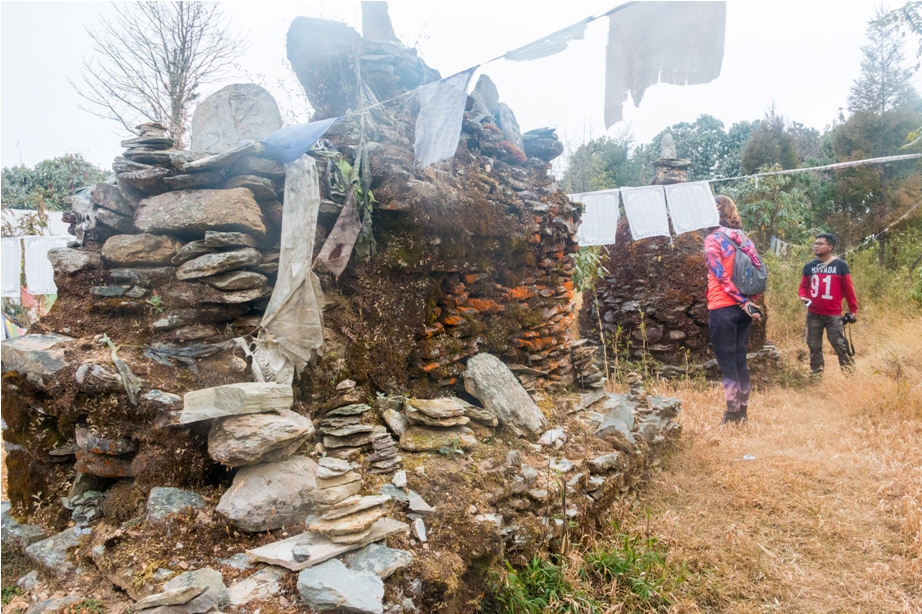 DAY 8 OF SIKKIM WINTER ITINERARY – RAVANG LA RABDENTSE SITE, FIRST CAPITAL OF SIKKIM IN PELLING
12th January
We visited Aahaley Gumpa aka Decchen Chhyoling Gumpa, another monastery with a large campus early morning before leaving Namchi. On the way, we also visited the atmospheric Ngadak Thupten Shedup Dhargay Choeling Gonpa which was built near the ruins of the ancient Ngadak Chyangter Monastery which was destroyed during an earthquake. I could not take my eyes off it! You can also visit Namchi Rock Garden. Many stairs though! Namchi Bazaar is easier.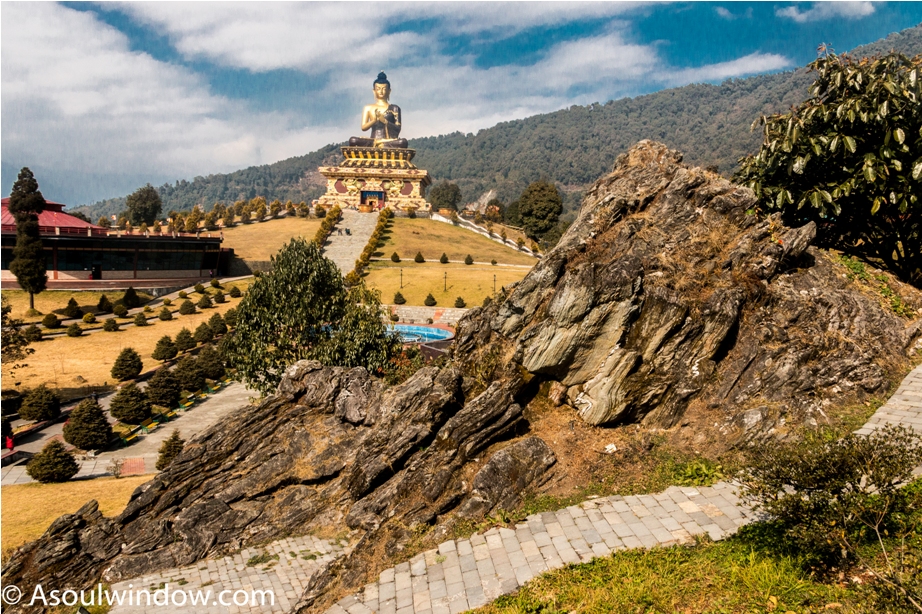 We stopped en route at impressive Buddha Park Ravang La. We explored other buildings in the vicinity followed by a lunch of delicious fried vegan momos at their restaurants. We made it to ancient Rabdentse site before dark. Also known as the Machu Pichu of India (Not my words!), Rabdentse site had me amazed.
We arrived here 2 hours before it turned dark. Rabdentse site was the capital of Sikkim Kingdom from 1670 to 1814. Ruins of an ancient palace and worn down chortens added to its allure. I loved it!! A gimmicky bird zoo in the same campus was ridiculous though! Pemayangtse Monastery is also nearby.
DAY 9 OF SIKKIM WINTER ITINERARY – SIGHTSEEING IN PELLING AND UTTAREY
13th January
Day started with Sang-Ngag Choling Monastery and Skywalk in Pelling. Rabdentse site was visible from here. We then visited Singshore suspension bridge. The Singshore suspension bridge is second highest Suspension Bridge in all of Asia and the highest suspension bridge in Sikkim.
I looked down from the Singshore suspension bridge. The views were beyond breathtaking from here. We ate a sumptuous Newari Thali made by Nepalese people at an open air restaurant near Singshore suspension bridge.
SINGSHORE SUSPENSION BRIDGE & MYSTERIOUS YUMA TEMPLE
13th January
We then visited Maney Bong Kagyu Chorten which was built in 1991. Just below the chorten was the mysterious Yuma Temple. It seemed like a version of Hinduism.  Bells, Trishul, marigold flowers, kalash around the Yuma Temple were tell tale signs. But what is it doing in a Buddhist territory?
There was no one to explain. This place is not even on Google. Do not forget to see the quirky house made in the shape of a ship. It is located in Uttaray Village, just few kilometers away from the Singshore suspension bridge.
LUXURIOUS DINNER AT PELLING
13th January
As we retuned we made a pit stop at Sikkim Dairy Product Pvt. Ltd. (and bought lot of locally made Gouda and Emmental cheese) We also stopped at the Dentam view point where I bought Lozenge which were so hard that none of us could eat. Uttarey, a small village of North Sikkim is worth a visit. West Sikkim is gorgeous as well. We returned to Pelling when Jitaditya's friend treated us with a lavish dinner at a luxury property in Pelling.
DAY 10 OF SIKKIM WINTER ITINERARY – ARRIVAL AND SIGHTSEEING IN YUKSOM
14th January
The early morning sun rays on the snow clad mountains were one of the most amazing I had seen. We left Pelling soon after the sunrise. We passed waterfalls, a lovely but touristy river orange garden and reached Yuksom. We were heartbroken as soon as we arrived at Yuksom. It was so beautiful and 'feel good' that we felt bad on not staying here. We were here for just a day visit.
CORONATION THRONE OF NORBUGANG, YUKSOM!!!

14th January
We visited many monasteries such as Karthok gumpa and even the Coronation Throne of Norbugang. It is a very important place because Phuntsog Namgyal, the first Chogyal King was crowned here with much fanfare in 1642.
TREK TO DUBDI MONASTERY, YUKSOM:
14th January
We trekked up-to the ancient Dubdi Monastry. The remains of very old stupas in the middle of forest were eerie. It was in the middle of nowhere. Dubdi Monastery was established in 1701 under the reign of Chakdor Namgyal.
Here is the worst part, an Argentine told us that he is staying with a local in a home-stay for as low as Rs. 300 with breakfast. It killed us. We could have stayed had it not been our last day. We anyways left for Gangtok. You can also visit Limboo Monastery. By the way, the Goecha la Trek starts from Yuksom. I suggest that you should stay at Yuksom or near the Khecheopalri lake which is holy to both Hindus and Buddhists.
DAY 11 OF SIKKIM WINTER ITINERARY – DEPARTURE FROM SIKKIM
15th January
We left Gangtok to reach Siliguri for our respective trains and flights. I moved to Nagaon near Guwahati in Assam to attend my blogger friend Parnashree's wedding. Sometimes, all the things fall into place so easily! Like it did in my 2.5 months long Epic North East India trip!
HOW TO BOOK A ROAD TRIP OF A LIFETIME: RELIABLE CAB SERVICE IN GANGTOK, SIKKIM:
When traveling around Sikkim, it is best advised to hire a cab since public transport is not easily available and the views and stops are too good to be enjoyed from a shared vehicle. Sikkim Cab Rental Co is pioneer in cab services across Sikkim, Meghalaya and other states of North East India. They are even starting services in Bhutan. Their drivers are well trained, courteous, very co-operative and have good local knowledge. Their cabs are well maintained, clean and in excellent condition. The best part is that they have very reasonable prices. You can book cab with them for a hassle free and memorable road trip across Sikkim.
WHERE TO STAY IN GANGTOK AND OTHER PLACES IN SIKKIM:
In Gangtok, I would recommend staying at the Tag Along Backpackers. Since you would be traveling in and out of Gangtok more than once, it is advised that you choose a nice cozy place to crash in when in Gangtok. It is located next to the National School of Drama in the Development Area. You can walk up to M.G. Market from Tag Along Backpackers. It is also very close to other attractions of Gangtok.
The host Maneesha will not only regale you with the impromptu guitar gigs in the café below but she will also serve you some of the best apple pies you have eaten. She cooks them fresh daily. The food of the café is great and so is the lovely ambiance and minimalist décor. They also arrange many exciting activities in the area such as cycling and other adventure sports. Tag Along backpackers is an experience in itself. It is unlike any other hostel you would have stayed at before.
For reliable home-stays and hotels in other parts of Sikkim, please get in touch with Sikkim Cab Rental Co. They can arrange your stay as desired. Most of these places in Sikkim have charming home-stays, luxury hotels and even tents. Sikkim Cab Rentals and Co. will help you find the best one for all budget types. Take your pick.
OTHER DISTANCES FROM SIKKIM TO OTHER PLACES IN SIKKIM:
From Gangtok to Lachung is104 kms
From Gangtok to Lachen is107 kms
From Gangtok to Yumthang is150 kms
From Gangtok to Dzongu is 70 kms
From Gangtok to Chungthang is 87 kms
From Lachen to Gurudongmar Lake is 67 kms
From Lachen to Lachung is 47 kms
NJP to Gangtok: 120 kms
From Bagdogra to Gangtok is 124 kms
From Gangtok to Kabi Lungtsok is 20 kms
From Gangtok to Dikchu is 35 kms
Check out my best pictures and free travel tips on Instagram , such as this Gorilla trek I did in Uganda, Africa:
Spread the love, share this blog
Please follow the hashtag #ASoulWindow on Instagram, Twitter and Facebook for my free tips, pictures, videos and information on all things travel!
Got any question/comments, ask in the comment section below so that it can benefit other readers.
Email me for collaboration: [email protected]
Be a part of my journey on social media. The travel content I create there is different from this blog.
Pls subscribe/follow/like:
WARNING : COPYRIGHT TO ALL THE CONTENT SHARED HERE REMAINS WITH ME. THE IMAGES AND TEXT IN THIS BLOG ARE BY ME UNLESS MENTIONED OTHERWISE. YOU CAN NOT JUST LIFT THE CONTENT AND USE IT WITHOUT MY PERMISSION. STRICT LEGAL ACTION WILL BE TAKEN IF CONTENT IS STOLEN. YES, I AM SERIOUS.