Last Updated on January 11, 2022 by asoulwindow
A LOCAL'S GUIDE TO BEST VEGAN FOOD IN VADODARA IN BUDGET. GUJARAT, INCREDIBLE INDIA
I was hosted by my friend Soniya Shah in Vadodara. I went on a food trail with her across Vadodara, breaking myths and bread. This story is about food that fueled a weekend in Vadodara. It taught me a lot about Gujarati cuisine. No, Gujaratis don't eat 'Dal Tadka' or Pizza for dessert. I am thankful to Soniya for taking us to all the best places to eat in Vadodara. Much of Indian Street Food is not only nutritious but also delicious and vegan/vegetarian by default.
Travelling through the 'local' prism can amplify a trip in more ways than one. So when a friend, Soniya Shah, living in Vadodara, suggested that I hop over from Mumbai to distract myself from my busy city life, I gladly agreed. I went along with my other Mumbai friends Nishant Bajpai and Pradnya Kalindi. I had no discernible opinion about Vadodara and was glad to ditch stalwarts like Gir, Kutch and others, on the promise that a whole new world was going to open up – that too in the gastronomic department.
My arrival in the city on a weekend was marked by a welcome feast at her own home. We discovered, it's always good to have a friend host you as a traveller in her city. Not only will she take you to all the right places but will also make some authentic local food for you herself. The trademark Gujarati hospitality took no time to come to the foray.
As I entered her home, my eyes had to scan a long stretch of the dining table, entirely packed with Gujarati sweets and savouries – chakli, shakarpara, khakhra, ganthias and more covered every inch of the checkered table cloth by centuries of treasured Gujarati recipes. Between assimilating both, the calories and the trivia that came with the dishes, I learnt how khaman is different from dhokla – the former made with gram flour is spongy, sweeter and moist and the latter, a dish made with rice and lentils or semolina, is tighter, savoury and less moist. To me, both looked the same when I was laying my hands on them. My Gujarati cuisine education had commenced.
It must have taken Soniya hours in the kitchen to come up with these magnificent portions, textures and forms, but she wasn't going to be the object of industry the whole weekend. As the evening approached and my stomach and senses were ready for another agreeable assault, off we went to Sasu Maa Restaurant; the name, possibly coined to commemorate a generous mother-in-law. It was the longest meal I've ever had.
Once the waiters were done with their blitzkrieg of never ending starters, we were presented with the Rs 240/-thaalis so huge that it was imperative one would feel guilty of wasting food eventually. The 24 contents ranged from a variety of Indian breads (millet, corn and wheat), khichdi, bateta nu shaak (potato curry), dudhi nu shaak (gourd curry), kadhi, sev tameta nu shaak (tomato curry), a mixed veg, dahi vada and more.Naturally, I lost my cool when the over zealous waiter insisted on refilling my glass of buttermilk and another round of snacks while I was still struggling to leave only a respectable amount of food on my plate. It was almost sadistic. Now, I suspect that the astute christening of the restaurant hints towards the taxing relationship between a mother in law and daughter in law.
Gujrati Food ain't all sweet!
As much as I enjoyed the mammoth dinner, while walking back, I joked how Gujarati dishes were partial to sugar and that the dal fry could very well replace the dessert. Soniya, having grown up without the stereotypes, smiled. The next day, I was going to be introduced to a dish, so hot, that a statement about sweet Gujarati food would be forever erased from my palate.
When the chatakha arrived at breakfast, I didn't think much of it. It was a heady mixture of patra (rolled and fried colocasia leaves),potatoes, yoghurt, sev and lots of secret spices and sauces mixed like a bhel, albeit a Gujarati one. I pretended that chatakha had cast no effect on me. However, the sweat running down my forehead belied my pretence. We quickly ordered hot jalebis, bhajiya usal and poha to offset the effect. Amused at my false bravado, Soniya, promised to make the rest of the day more palatable.
Having fed our grey cells, it was time to head for lunch to Jai Mahakali Sev Usal restaurant for its famous Sev Usal. The long queues, which made us, wait for half an hour, established its popularity. We continued breaking more myths, as we broke the pao and dipped it in oily 'sample' (spicy liquid curry) and usal. What makes it different from Maharashtra's missal pao is that it comes with a variety of spicy chutneys. I am now convinced that people, who stereotype Gujarati food as sweet, don't know where to go.
We made a quick detour to Shree Jagdish Farsaan Mart at Jubilee Bagh to pack in lots of lilo chivda, khakhra, dalmoth etc for home. Sweet and sour Bhakharwadi is the star attraction here. Of course, we could not resist binging on the perishable Sev Khamani (Crushed khaman topped with sev) and special pedas in nearby shops.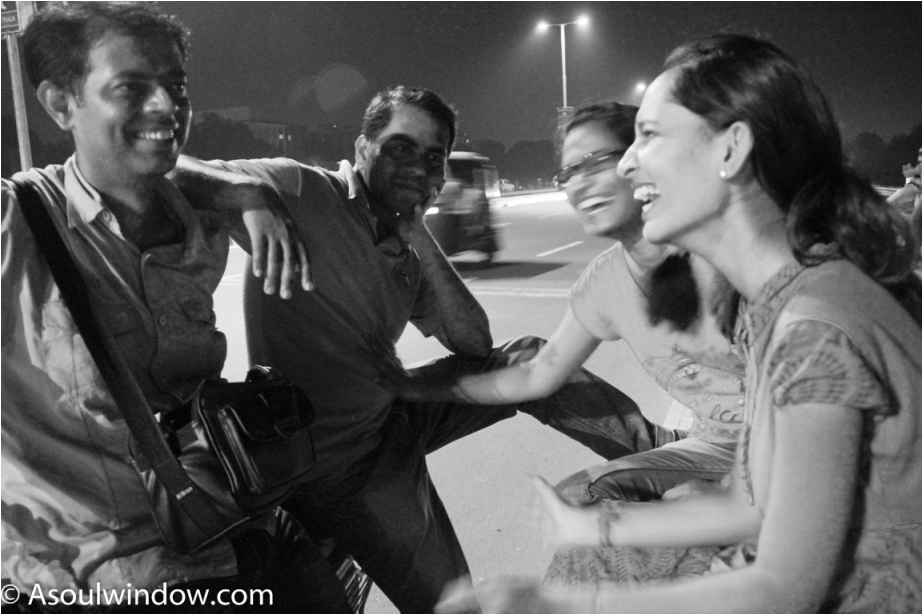 Our last dinner in Vadodara turned out to be most exciting. Soniya took us to Ratri Bazaar  which is mostly al fresco food court and attracts youngsters since it's open till as late as 2:00 a.m.  Such places are hard to find even in metros. We nibbled on the many snacks for dinner, most notably papdi nu lot. These are steamed rice cakes topped with a drizzle of oil and spicy powder. We rounded it off with multi flavour Rajasthani kulfi, much popular in Vadodara and stayed there until they started to pack up.  Of all the places, I had never imagined Vadodara to hold the fort for Gujarati nightlife– but then, even that was themed around food.
At 2 a.m. we found ourselves taking a post prandial walk at the breezy Akota bridge at Dandiya Bazaar. To my surprise, the walkway by the bridge was full of youngsters exchanging sweet nothings; some with their lovers, some with their pet dogs. It's a very popular hangout zone for locals, much like the Marine Drive of Mumbai. I thought Vadodara must be another conservative small town. Another myth was broken when a stunt biker whizzed past me, precariously creating sparks on road as he vanished in a jiffy.
FACT FILE
 Top tip:
Go with an empty stomach to Sasu Maa. Sharing is not allowed.
Address : 1/2, Gr. Floor, Gokulesh Complex, Alkapuri, Vadodara.
Lunch comprises of 24 items, mainly Chaas, 3 farsaan, 4 curries, 1 dal kadhi, rice, breads (phulka/bajri rotli), 3 sweets and other accompaniments. Dinner is same with 2 bonus items viz. Khichdi and a special 'biscuit Bhakri'.
Timings : Lunch : 11:30 a.m. to 3:30 p.m.
Dinner :  7:00 p.m. to 10 30 p.m.
Price :      Rs. 240 per unlimited food in thali.
Phone :    +91 9725047579,0265 2327038
Chatakha
– Head to Krishna restaurant on Madhanjapa Road, near Paththar gate in old Baroda. It is not on the menu. Ask them to make it for you. Once done bingeing, take a stroll in the city area and admire many of its heritage buildings and gates.
Shree Jagdish Farsaan Mart
Stock up on long lasting snacks from the legendary shop. This shop was established in 1948 and is the original outlet from all the branches which have mushroomed. Check for astonishing varieties of chivda, viz. Lilo chivda, sukha chivda, farali chivda ,makai chivda , solapuri chivda, gehun chivda.
Address: In front of Jubilee Bagh Garden, Raopura. Phone : 0265-2438183
Timing– 7:30 a.m. to 10:00 p.m.
This outlet is not to be confused with other Shree Jagdish Farsaan Marts in the vicinity. Those are run by the uncles of the owner of the original shop.
Vegetarian Food Trail in Vadodara, Gujarat. Incredible India.
Duliram Pedewala:
Buy the melt-in-mouth pedas from Duliram Pedewala.
Address : Nawabwada-Naka, Raopura Main Road, Raopura.
Phone : 0265 – 2424588, 0265 – 2432180 (Numbers not verified, phone disconnects)
Ratri Bazaar:
Address: Mangal Pandey Road, Fatehgunj, Kareli Baug, Vadodara.
Jai Mahakali Sev Usal :
Address: GF 14/15 Prathamesh Plazza B/H Nehru Bhavan, Kirti Stambh, Palace Road, Vadodara Phone number – 097120 01963
Did you know dhokla and khaman are different? Vegetarian Food Trail in Vadodara, Gujarat. Incredible India.
How to reach Vadodara: 
Mumbai to Vadodara is 6.5 hours;417 kms
Ahmedabad to Vadodara is 2 hours; 121 kms
Great For: Road trip with friends and family
Route from Ahmedabad to Vadodara: The route is simple if you catch the Narol road and then hit NH8. Since this road has tolls, the ride is much smoother than the other options.
 Where to Stay in Vadodara:
3 star property. It's just 2 min away from railway station
Phone : 083477 73372
Address : Near BBC Tower | Sayajigunj, Near Railway Station, Vadodara 390020
Tariff starts
Single – Rs. 2600 plus tax
Double – Rs.  2800 plus tax
Features –  Swimming pool , free wi-fi , breakfast included.
,Address: Opp. Saffron Tower, Near Methodist Church, Fatehgunj, Vadodara-390002
Phone: +91 265 663 3333
Tariff Starts at :
Single – Rs. 2999 plus taxes
Double – Rs. 3799 plus taxes
Feature – Free wi-fi , free gym
Distance:
Airport – 4 kilometers away
Railway station – 2 kms away
Arudh Mahal Homestay; Double AC rooms, rates include breakfast, excl taxes
Top tip for Vadodara: Feed the grey cells too, and reserve a few hours for Laxmi Vilas Palace, the residence of the royal family of Vadodara. It's 19th-century Indo-Saracenic architecture boasts of exquisite mosaic work, grand chandeliers and artworks that is open for visitors to see. We took a break from our eating frenzy and explored the underrated Laxmi Vilas Palace. It also served as an excuse to digest all the food and the fact that Gujarati food can be hotter than Andhra meals if it wants to be.
The palace struck us with its grandeur. As I walked through the garden, dotted with antique sculptures and live peacocks, I realised that famous painter of yore, Raja Ravi Verma once walked on the same paths. He stayed here for a long time under the patronage of Maharaja Saiyajirao Gaikwad III. Some of his paintings are still displayed in the part of palace which is open for public.
(Timings 10am-5pm, Mon Closed; Entry Rs 170 per head)
Spread the love, share this blog
Got any question/comments, ask in the comment section below so that it can benefit other readers.
Email me for collaboration: [email protected]
Be a part of my journey on social media. The travel content I create there is different from this blog.
Pls subscribe/follow/like:
WARNING : COPYRIGHT TO ALL THE TEXT SHARED HERE REMAINS WITH ME. YOU CAN NOT JUST LIFT THE CONTENT AND USE IT WITHOUT MY PERMISSION. STRICT LEGAL ACTION WILL BE TAKEN IF CONTENT IS STOLEN. YES, I AM SERIOUS.
Top Travel Blogger from India