Last Updated on March 23, 2023 by asoulwindow
5 Things to Know About Goecha La Trek
Goechala La trek is the gateway to several North-Eastern Himalayan ranges, including Mt.Kanchenjunga (28170 ft.), the world's third highest mountain. Pride of Sikkim (a Northeast Indian state), Goecha La is situated in one of the greenest zones of the world, Kanchenjunga National Park. Once on the View Point 1 Peak (15,100 ft.) (the authorities do not allow access to Goecha La Pass (16,208 ft.), so yourtrek destination isView Point 1), you come almost face to face with Mt. Kanchenjunga. Goecha La is also the base camp for the Kanchenjunga Trek. Rocky terrain, glaciers, flora, fauna, and stunning Samiti Lake, together offer you a spectacular and a memorable experience.
Goechala Trek, Sikkim, Incredible India! Pic by: Bikat Adventures
Gradient:
Besides being quite a long trek circuit of approximately 90 kms, the trail of Goechala trek too is challenging. You experience the mighty and at times unforgiving side of Himalayan geography. This complete belt has huge mountains withhigh altitude, great width and sharp peaks. In fact, Goecha La Trek is often also unofficially called the 'big mountains trek.'
Accordingly, the gradient is a 'moderately difficult' one and only experienced trekkers should attempt it. You should have done at least a couple of high altitude treks of over 9500ft., say something likeRoopkund Trek.This surely is not recommended for the beginners. Going in groups with a reliable trek operator is ideal for a smooth and safe trek flow all along.
Duration:
It's a round hike Yuksom to Yuksom. On an average, the terrain generally takes anywhere between 9-11days, depending upon the individual capacity.Add to it the travel time from your city to New Jalpaiguri (NJP) Railway Station. If you are coming by air, the nearest airport is Baghdogra. From NJP or Baghdogra, Yuksom is 7-8 hours run by road. Usually it comes to around 12 days of total travel.
Season & Temperature:
September-December are usually the preferred trek months. The terrain is mostly snowy, but that's what you are taking so much efforts to see. You might get quite a few rain showers too. The day temperatures are approximately13-18°C and nights chill at 3-5°C.
Fitness:
Goecha La trek is a beautiful but strenuous trek in terms of the long distances to be covered and the stiff climb involved. Also, this trek involves much over a week and accordingly you pack stuff, which adds to the weight of the backpack. Effectively, you tread for around 15-20KMs per day with approximately15Kgs backpack. That requires a lot of endurance and perseverance. Therefore, prepare 2 months in advance. A fully fit and experienced trekker aging over 12 years can take this trek. Endurance & stamina building is extremely critical for this hike. You should be prepared to cover 10km in 1hour with a 15kg backpack, on an incline.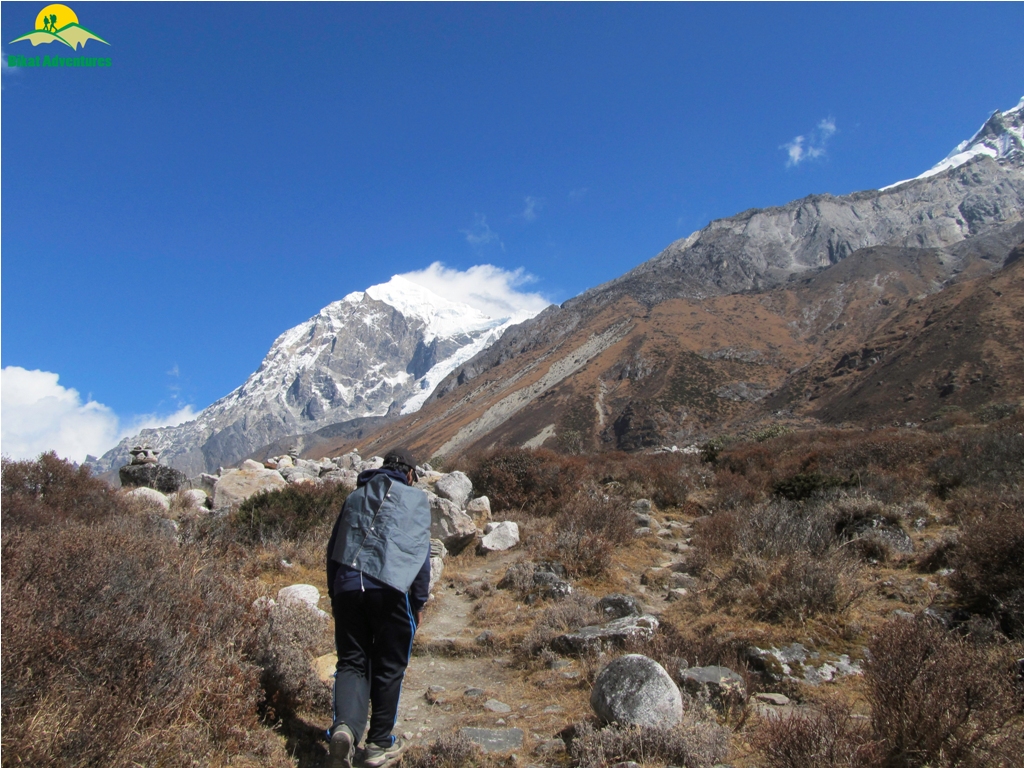 Start with jogging daily. Your fitness needs to be at a level that right at the outset of the preparation, you are already able to do 5km in 35 minutes. Gradually the timing should come down to 25 minutes. Swimming, cycling, and taking stairs with a 12-15kg backpack and without many breaks can help too. With lesser oxygen at heights, your heart needs to pump almost double. Therefore, before heading for any high altitude trek, you need to build your legs & back strength, flexibility and balance over minimum 6-8 weeks.
Legs strength is particularly important need throughout the Goecha La Trek. Start with 3 sets of 8 squats each for the first week, graduating it to 3 sets of 15 squats each in the next 3 weeks. You need to be flexible too to carry all the weight uphill. Adaptable muscles help you before as well as 'after' the trek, reducing post trek muscles soreness. Therefore, take up stretching exercises for shoulders, lower back, hips, quadriceps and hamstrings.
Things to Pack

for Goecha La Trek
A 40-60 ltrs sturdy and supportive backpack with rain cover, torch, trekking pole and durable, flexible, & comfortable trekking shoes, preferably waterproof, are a must. 3 warm layers of wool & fleece, 3 trek pants, 3 full sleeves collared T-shirts, 2 dry fit full sleeves T-Shirts, thermals and a waterproof jacket should suffice. Sun caps, synthetic hand gloves, sun glasses, woolen scarves, 2 pair of sports & 2 pair of woolen socks, and toiletries are other essentials. A couple of cutlery, water bottles, whistle, plastic covers, and a comprehensive First Aid Kit are a must. Also carry only the best hiking microspikes.
Spread the love, share this blog
Got any question/comments, ask in the comment section below so that it can benefit other readers.
Email me for collaboration: [email protected]
Be a part of my journey on social media. The travel content I create there is different from this blog.
 Pls subscribe/follow/like
WARNING: COPYRIGHT TO ALL THE TEXT SHARED HERE REMAINS WITH ME. YOU CAN NOT JUST LIFT THE CONTENT AND USE IT WITHOUT MY PERMISSION. STRICT LEGAL ACTION WILL BE TAKEN IF CONTENT IS STOLEN. YES, I AM SERIOUS.
Top Travel Blogger from India