Last Updated on December 12, 2019 by asoulwindow
TOP THINGS TO DO IN UKHRUL: OFFBEAT BUDGET TRIP IN MANIPUR, INCREDIBLE INDIA!
ABOUT UKHRUL- OFFBEAT MANIPUR!
Below is a guide on best places to see in Ukhrul along-with the best time to visit Ukhrul and the best place to stay in Ukhrul. It also answers how to reach Ukhrul from Imphal. It is easy!
I had not even heard of Ukhrul, till a co-traveler mentioned about. India has so many destinations, often hidden that it is not possible to see it all in one lifetime. As I have said again and again, India is a traveler's dream come true and much different than what biased western media will want you to believe. I and Amit Chandna, my co traveler, planned to visit Ukhrul on a whim. We planned to go to Ukhrul as we lazed around in our hotel room in Imphal, the capital of Manipur.
TOP PLACES TO SEE IN UKHRUL – OFFBEAT MANIPUR!
SHIRUI KASHONG PEAK AT UKHRUL:
The easily accessible Shirui Kashong Peak is not to be missed. With altitude as high as 2835 meters above sea level, it is advised to dress accordingly when you plan to visit. There are many unique herbs of medicinal value and plants found here. No wonder, Shirui Kashong Peak is a favourite with researchers and scholars. Come May and June and find yourself surrounded by a riot of colorful flowers, including the rare Lilium mackliniae. Watch out for the annual Shirui Lily Festival in the month of April.
VILLAGE WALK IN UKHRUL-
I and Amit, my co traveler walked around the village one early morning. We loved exploring the narrow mud pathways passing through cute homes, kitchen gardens, schools, markets, unusual looking churches, the works!
We chose the area which offered bird's eye view of the valley in far distance. It was worth it. We were amused to see that most homes love to grow their own vegetables in their own kitchen gardens.
We particularly loved one garden which grew a canopy of squash at the entrance of her home.
It was inundated with squash. Not far away, a bed of weird cabbage claimed a strip of land.
Weird, because the cabbage grew on a long stem, unlike the shorter cabbage crops I am familiar with. People here also have a fondness of growing and displaying flowering or ornamental plants.
One particular home had pots with gorgeous flower arranged on a rack outside the home. The village walk around the homes also offered us a peek into the lifestyles of locals.
We even sat inside Calvary Church where locals were attentively listening to the bland sermons. Again, it was unlike the Church I am familiar with. It was rather a small hut with seating on floor and plastic chairs.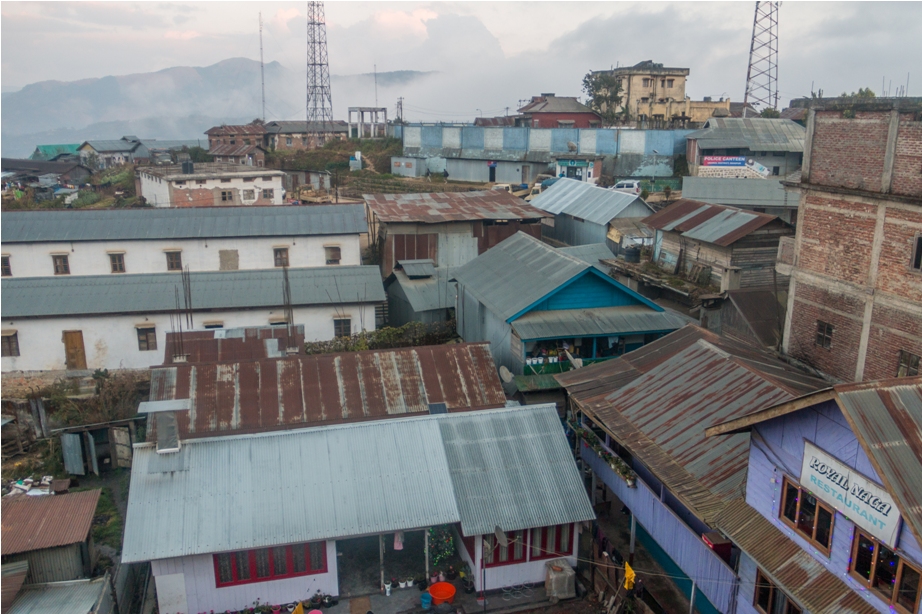 KHAYANG PEAK, UKHRUL, MANIPUR

With an altitude of 3114 meters above sea level, Khayang Peak is the highest peak in the entire Ukhrul district. Thus a trip to Ukhrul without a visit to Khayang Peak is incomplete. You can reach Khayang peak either by a vehicle or better still, via a picturesque trek.
If you are keen, then do not forget to catch sun's first rays from Khayang Peak. Once you reach the Khayang Peak, you will be rewarded with panoramic views of the Ukhrul, undulating valleys, water bodies and other hills. What are you waiting for?
NILLAI TEA ESTATE,UKHRUL, MANIPUR:
If you are into green tea you will love a visit to Nillai Tea Estate. It is a great place for photo opportunities and of course those nasty selfies. The lush green landscape will rejuvenate you. You can even sample some teas here. The tea grown here are different from the usual fare. The tea produced here contains medicinal value. The tea from Nillai Tea Estate should be boiled to time for enhanced flavor. I bet you had zilch idea about that!
LONGPI VILLAGE FOR PRIMORDIAL BLACK POTTERY,UKHRUL, MANIPUR:
The hotel where we were staying showed us very unique cups made at the Longpi Village. Longpi village has made name for itself internationally for producing good quality black pottery. The origin of black pottery can be traced to Longpi Kajui and Longpi Khullen, both villages in the Ukhrul district. This indigenous art has been mastered by the Tangkhul community of Ukhrul. What makes the black pottery of Ukhrul even more special is that the special brown clay used for making black pottery is found only in Longpi village in Ukhrul. It is mixed with ground black serpentine stone, shaped by hands into different products and sun dried. After drying the products under sun, heating them on fire is the next step.
I wish I could buy some pottery, but I was on 2 months long backpacking trip across 8 states of North East India, so did not want to carry fragile objects and extra weight. But if you want to see and buy the black pottery of Ukhrul, then you can pay a visit to the Matthew Sasa Craft in New Delhi.
GO CAVE HOPPING IN UKHRUL, MANIPUR:
A visit to KHANGKHUI CAVE AND MOVA CAVE in Ukrul is a must.
Hundung Mova Cave aka Mova Cave is an exciting destination near Ukhrul. It is located near Lungshang Kong in Hungpung.  A former cement factory is also near Hundung Mova Cave.  Spend some time observing the weather beaten rocks and unusual natural formations.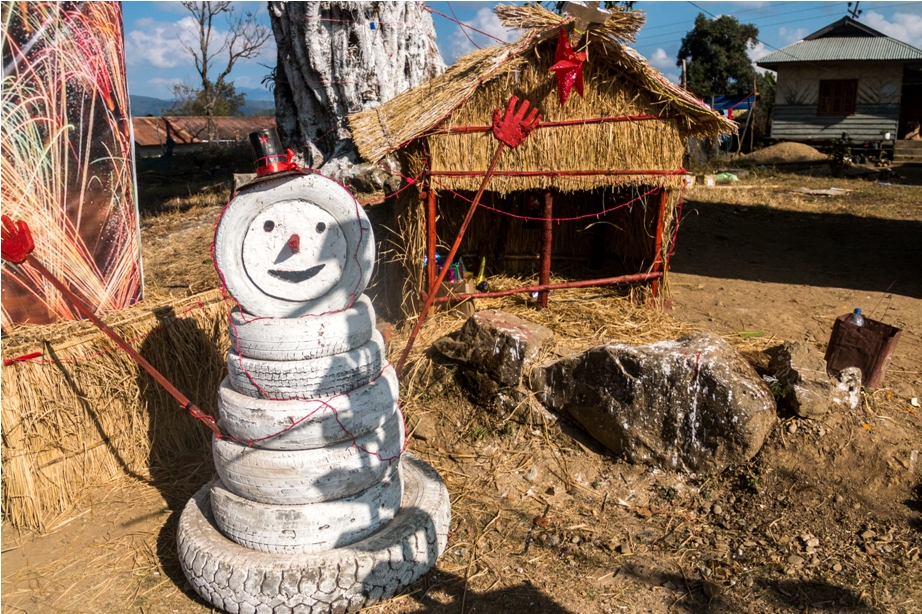 Much like Mova Cave, Khangkhui Cave is also a limestone cave. The local folklore has it that it was the refuge of villagers during the World War II. It is interesting to enter the cave and explore the 2 huge chambers inside. It also has 1 large hall and 2 tunnels. It is said that it was the residence of a King and his 2 wives. In the hall he attended meetings and the chambers served as the bedrooms of his wives! Who would have thought!
KACHOUPHUNG LAKE, UKHRUL, MANIPUR:
Kachouphung Lake is just 7 kilometers away from the Khayang Falls, so you can combine both the destinations. Kachouphung Lake is surrounded by Achuwa Magi Hills.
What makes Kachouphung Lake special is that it is in the shape of Map Of India, of course not to scale, lol. The Kachouphung Lake swells during monsoon. It has an area of 9 acres. Kachouphung Lake is also known as Azoa Jenephiu Magi Lake. Do go on small hikes around the Kachouphung Lake.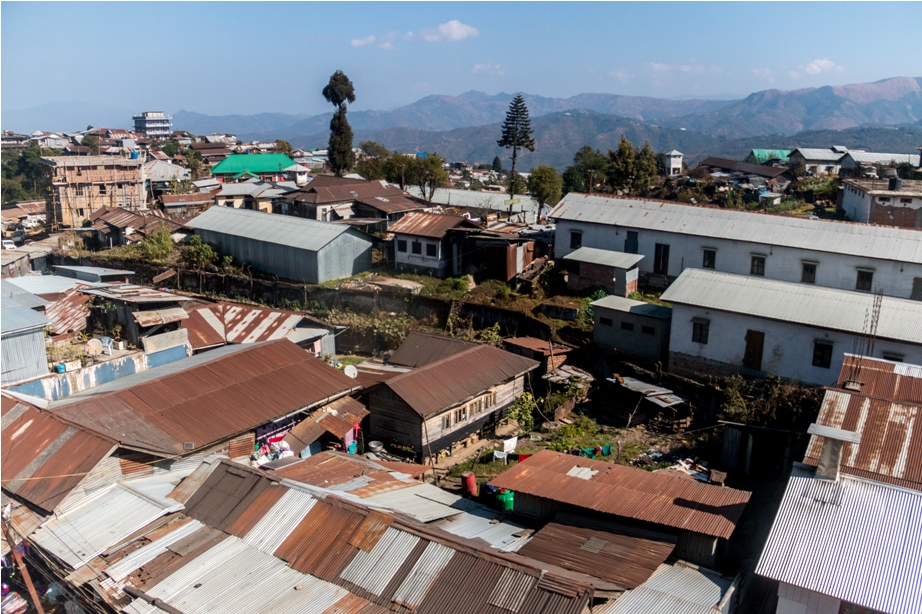 WHERE TO STAY IN UKHRUL– OFFBEAT MANIPUR!
I stayed in a lovely hotel, just 2 minutes walk away from where buses to and from Imphal make a stop. A market is right below the hotel and a large Church adjacent to it. The rooms were airy and offered great views of Ukhrul.
They had a large dining space where good food was served such as Poori Chola, Noodles, amazing Thukpa, soups, sandwiches etc. It was one of my best stays in 2 plus months long North East India trip.
Folks at Holiday Scout are the best ones to not only book this place for you but also plan trips for you in all the states of North East India. Places of interest in Ukhrul are far from each other and are not as accessible as other destinations in popular places. It is advised to spend at least 2-4 days here under the guidance of experts such as Holiday Scout.
It is not very easy to travel in North East India, thus booking with a company is recommended. Makes things easy and hassle free! The pedestrian only community road downstairs was vibrant, what with street food carts, vegetable vendors and makeshift shops jostling for space. Do visit the Viewland Baptist Church nearby.
VEGAN AND VEGETARIAN GUIDE FOR UKHRUL– OFFBEAT MANIPUR!
It is easy to go vegan and vegetarian in Ukhrul. Apart from the great choices we had in our hotel, me an Amit made a wonderful Avocado sandwich and salad from the very cheap avocados Amit had picked up in Myanmar (Rs. 25 a piece).
You can easily find avocados in Ukhrul also. Those are not as cheap as their Burmese counterparts but definitely much cheaper than what you get on Delhi, Mumbai or the internet.
I was wary of things sold by locals at the stalls and shops. I, however found 2 shops which catered to my dietary requirements and taste. One shopkeeper from Bihar sold amazing samosa,kachori and Gulab jamun (Rs. 15 for 2). Another one from Assam sold very nice Samosa Chola and tea. I was sorted!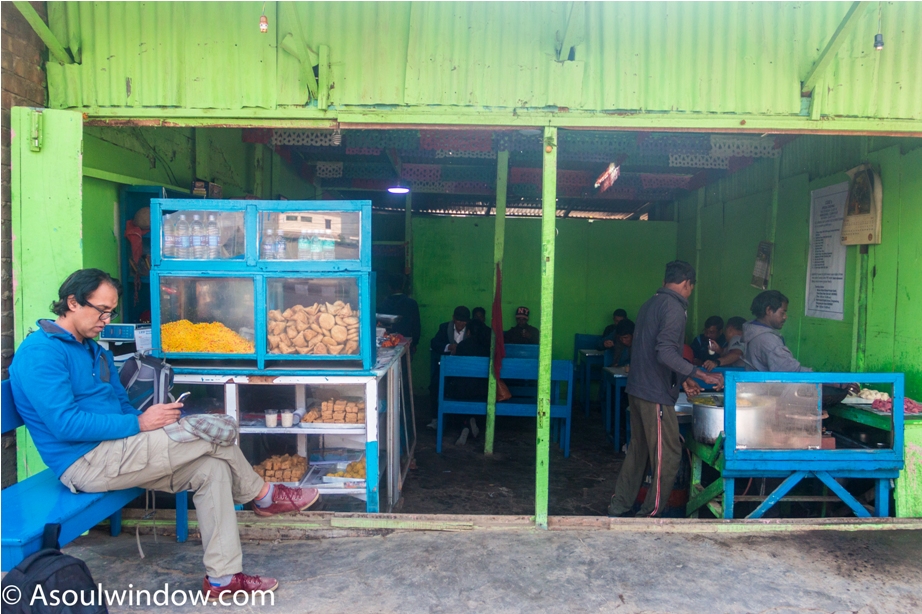 HOW TO REACH UKHRUL FROM IMPHAL– OFFBEAT MANIPUR!
It is very easy to reach Ukhrul from Imphal, the capital of Manipur, India. Me and Amit boarded a bus from (Rs. 150 per person) ISBT at 11.30 a.m. Ask around for the ticket counter.
We stayed at Tampha Hotel near Kangla Fort which was Rs. 10 shared auto ride away from ISBT. You can stay at one of the many hotels at ISBT as well. If you are in a hurry, you can take Winger (Rs. 180 per person on sharing basis). It is less comfortable but quicker from a bus. The buses/winger from Ukhrul will also drop you at ISBT, Imphal. There are ATMs, cafes and samosa shops near ISBT, So don't fret!
THE SCENIC ROUTE FROM IMPHAL TO UKHRUL– OFFBEAT MANIPUR!
The route from Imphal to Ukhrul is very scenic. We passed through serpentine hills. There were many bends and hardly any straight road on the route, Amit observed. We crossed verdant valleys, golden fields (harvest time!) and many small villages en route! The bus makes a pit stop at Litan Sareikhong  from where you can pick pineapples sticks, snacks made out of puffed rice.
Beware of Sinju; it contains fish. You can request Sinju without fish. I bought Wadin due to its attractive shape. It looked like pretzels. It was OKayish in taste. The bus makes a longer stop at Lambui. It even has a clean pay per use toilet. You can pick avocados from the umpteen vegetable shops here. Avocados are available in Ukhrul also.
BEST TIME TO GO TO UKHRUL– OFFBEAT MANIPUR!
I and Amit visited Ukhrul in the month of December. It was cold but enjoyable. It used to get very misty in night and early morning but days were warm and clear. I think Ukhrul can be visited around the year. Avoid monsoon though. Please let me know in the comment section below if I am wrong!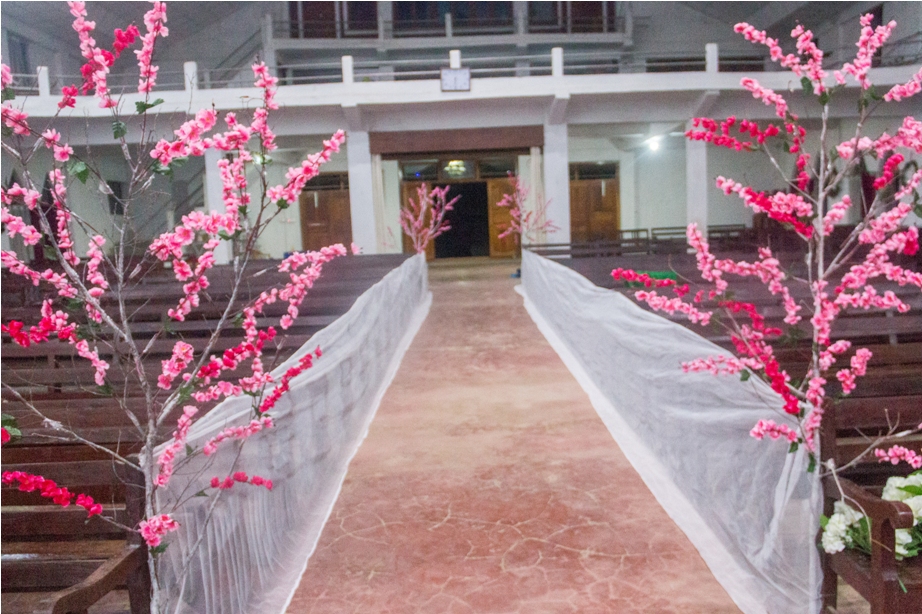 THINGS TO DO IN AND AROUND UKHRUL– OFFBEAT MANIPUR!
There is not much to do in Imphal but it is still worth a day visit. Places like all women Ima Keithel market and Kangla Fort are interesting.
Loktak Lake deserved at least 3 days. Do visit.
Kohima in Nagaland is also close to Ukhrul. You can see the Naga influence in the restaurants' menu and the architectural style of homes and public buildings of Ukhrul.
The views from my #SoulWindow surprised me!
Please follow the hashtag #ASoulWindow on Instagram, Twitter and Facebook for my free tips, pictures, videos and information on all things travel!
Spread the love, share this blog
Got any question/comments, ask in the comment section below so that it can benefit other readers.
Email me for collaboration: 21abhinav21@gmail.com
Be a part of my journey on social media. The travel content I create there is different from this blog.
Pls subscribe/follow/like:
WARNING : COPYRIGHT TO ALL THE CONTENT SHARED HERE REMAINS WITH ME. THE IMAGES AND TEXT IN THIS BLOG ARE BY ME UNLESS MENTIONED OTHERWISE. YOU CAN NOT JUST LIFT THE CONTENT AND USE IT WITHOUT MY PERMISSION. STRICT LEGAL ACTION WILL BE TAKEN IF CONTENT IS STOLEN. YES, I AM SERIOUS.
Top Travel Blogger from India