Last Updated on May 19, 2023 by asoulwindow
The below article is in a chronological order, based upon my personal experience. If you have any questions, please leave them in the comment section below and I will answer them.
TIGER'S NEST OR THE PARO TAKTSANG IS THE FACE OF BHUTAN. Most have nurtured a dream to climb up the monastery, which from a distance looks like it will fall anytime from the high mountains. I have been to Bhutan 2 times (Such is the pull of the country!) I could not visit the Tiger's nest the first time in 2014 because I was traveling with parents for whom it was not possible to trek. The option of taking a mule up to the Tiger's Nest was there but they were not too keen. I looked at it longingly from a distance and promised myself to return to Bhutan one day for realizing my dream of trekking up to Tiger's Nest if nothing else.
15th August, 2016: Perhaps I was destined to trek to Tiger's Nest on the auspicious occasion of Indian Independence Day. As our van stopped at the base of the Tiger's Nest, a touristy market welcomed us. Some of us bought a Rs.50 walking stick. We were 5 bloggers and 2 representatives from Bhutan Bookings.
7:35 a.m. Scores of pine cones lay scattered on the ground as we started the trek to Tiger's Nest. Mules, waiting to be hired, rested nonchalantly. Tiger's Nest looks like a tiny speck from here. A row of prayer wheels housed in small rooms built in traditional Bhutanese architecture was the first man made structure we passed. Powered by flowing water, it added to the tranquil atmosphere.
8:00 a.m. Clusters of tiny mushrooms cushioned the sides of pathways. The view of Tiger's nest was our constant companion. Half an hour later, we were rewarded with sweeping views of the valley below and misty mountains on the other side.
Pictures above (L to R) Way to Tiger's Nest Monastery, Shadow of the quirky prayer wheels, Tiny mushrooms (Please click to enlarge)
8:41 a.m. There are benches built for those who want to rest. I preferred sitting on the stones during the breaks. Nearby is a large compartmentalized tank where the horses stopped for their water breaks.
8:57 a.m. We arrived at a giant prayer wheel surrounded by large boulders and prayer flags of all colors. I loved the quirky prayer wheel somebody fashioned out of bottle waters. It had 'wings' and was dependent on fast winds or a little blow by humans. Few minutes later, we entered a modern gate. 20 minutes later the muddy path had become rocky in patches.
Pics above (L to R) : Our guide Sonam resting on a bench en route Tiger's Nest Monastery; Rocky patches
10:00 a.m. We arrived at a mysterious building. It was built around a cave. It's door was locked but there was a wooden ladder which opened in the window. I climbed the ladder to see a dark room housing idols and prayer paraphernalia. Incense smell seduced my olfactory system as I pushed my nose against the metal net. Just when I thought there were no human inside, a monk looked at me from inside. A board told me that His Holiness JE Khenpo Geshey Guenden Rinchen was born here in a cave in 1926 (Fire Tiger year). People nick named him Dragphugpa (Cave man). He was a Buddhist scholar and for 10 years he served as the abbot of Tango Monastery in Thimphu. Just 3 minutes ahead is a view point where trekkers can safely take pictures of the Tiger's Nest.
10:22 a.m. After a stop of few minutes we resumed trekking, this time on proper steps with metal railings. Few years ago this was a rough trail. The construction helped people navigate the tricky part of the trek. This stretch has the most ups and downs and perhaps due to this reason the steps were built. "It was pretty rough when I visited it solo many years ago! It's quite easy now!" An American told me, who was trekking this time with his grown up son. 20 minutes later, I passed a cemented seating area. Skipping the rest, I moved on, impatient to reach the Tiger's Nest. A Japanese pointed out to me a large formation on the rock below the Tiger's Nest. It looked like a human form. He told me it is said to be a mythological figure.
11:00 a.m. We arrived at the most exciting part of the trek. A large waterfall cascaded from the high mountains. A bridge helped pilgrims cross the gushing stream powered by the waterfall. Prayer flags of all colors were tied in haphazard fashion everywhere as if celebrating something. Perhaps celebrating our arrival at the Tiger's nest which was just an hour away! 10 minutes away was a cave where Khado Yeshi Tsogyal practiced Vajrakilaya. A powerful tradition which is practiced to removes obstacles; overpower evil forces and leads to compassion and spiritual cleaning.
Pics above (L to R): Can you identify the human image; the second cave temple just before Tiger's Nest Monastery aka Paro Taktsang
12:20 a.m. We arrived at the steps leading to Tiger's Nest Monastery. Cameras, Mobile phones, weapons, liquors, tobacco, drugs explosives and any inflammable object are not allowed beyond this point. We submitted our cameras, mobile phones, sticks, extra clothes and day packs in the locker and proceeded ahead after a security check. It is also not allowed to wear sleeveless outfits, shawls or Bermudas and half pants beyond this point.
As I climbed the steep steps to the Tiger's Nest monastery, I arrived at a dark room. The perfume of incense and juniper wafted in the air, lending it a mystical aura. I visited all the temples in the monastery, silenced and awed by its aura. The breathtaking views of the valley made it all the more soothing.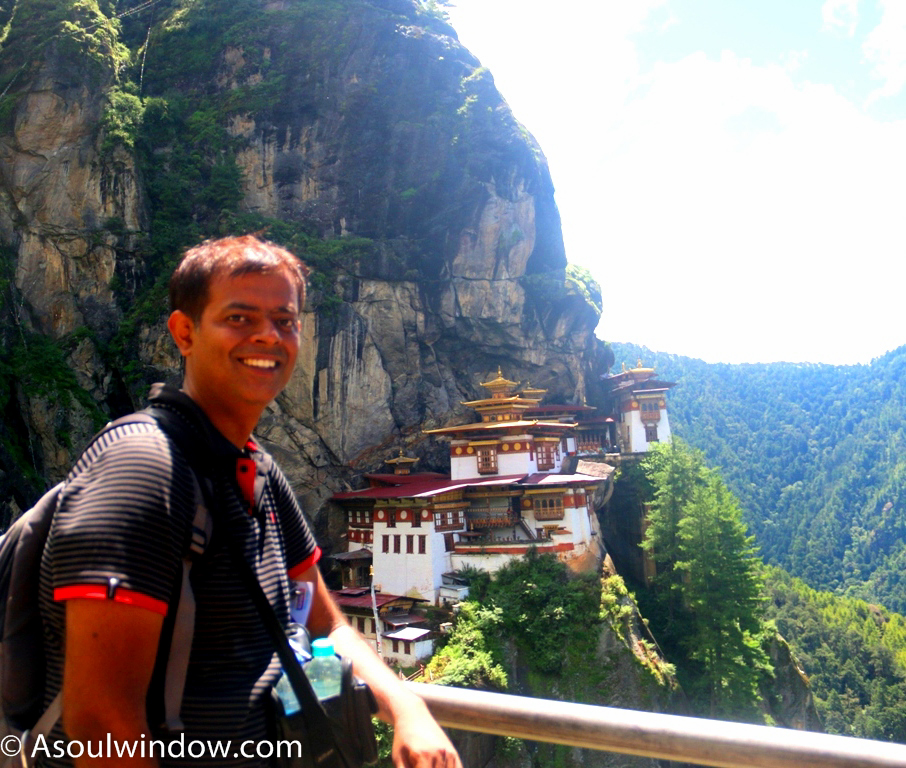 1:24 p.m. We arrive for lunch at Taktsang Cafeteria. A Bhutan Tourism outlet, it is a relaxing place to have lunch post the trek. It has both indoor and al fresco dining option. I suggest you sit at the outdoor benches for a view of misty Tiger's Monastery. Lunch is buffet style. There are clean loos too.
Lunch Nu 390; Tea/Coffee with biscuits – Nu 100
Also Read: Royal Highlander Festival in Bhutan
Soul Window Tips:
Eat a heavy breakfast. You will be burning a lot of calories.
Wear loose cottons and comfortable shoes. Trekking shoes preferred though it is an easy (for me) trek.
Carry light woolens. I did carry but I did not need it. (I trekked on 15th August)
Don't wear sleeveless shirts/tops and half pants. You will not be allowed inside the monastery.
Carry water bottles (at least 2 liters per person)
Carry Small snacks like dry fruits, cookies, health bars.
Carry a light day pack to hold all the things.
Walking stick helps, though it is not much required. In case you buy it from the shops at the base, it would be great if you could return it to them for free. This is what we did.
Always give priority to the horses and let them pass the path before you do.
Carry plastic to protect your electronic in case it rains.
MY MORAL POLICING ON RESPONSIBLE TRAVELING:
If you are fit, there is no reason to hire a mule. It's unpleasant for you as well as the mule. Trekking on foot also helps you observe a lot.
Don't litter. It is a sensitive zone. Though there are huge bins installed every few steps, I suggest you collect all the garbage in your bag and take them down yourself. If all the individuals take initiatives at their end, it makes a big difference at the end.
Don't talk loudly or scream. Let's maintain the sanctity of the place.
YOU MAY ALSO LIKE THESE BLOGS ON BHUTAN:
WHY THEY PAINT PENIS DESIGNS ON THE WALLS OF BHUTAN
DRAYANGS: THE DANCE BARS OF BHUTAN
THE HAA VALLEY: BEST KEPT SECRET OF BHUTAN
ALL YOU WANTED TO KNOW ABOUT PARO
MUST DO THINGS IN THIMPHU: 30 EXCLUSIVE PICTURES
WHITE WATER RAFTING IN PUNAKHA: WHEN I JUMPED IN THE RIVER
Disclaimer: My trip was sponsored and all the logistics were taken care of by Bhutan Bookings. Click here to plan your vacation in Bhutan with them.
Spread the love, share this blog
Got any question/comments, ask in the comment section below so that it can benefit other readers.
Email me for collaboration : [email protected]
Be a part of my journey on social media. The travel content I create there is different from this blog.
Pls subscribe/follow/like:
I was accompanied by travel bloggers – Dipanshu, Manjulika, Swati and Parnashree in the fun company of Sonam Karma and Dipanjan from Bhutan Bookings. Click on their names to read their stories from Bhutan.
WARNING : COPYRIGHT TO ALL THE IMAGES AND TEXT HERE REMAINS WITH ME. YOU CAN NOT JUST LIFT THE CONTENT AND USE IT WITHOUT MY PERMISSION. STRICT LEGAL ACTION WILL BE TAKEN IF CONTENT IS STOLEN. YES, I AM SERIOUS.
Top Travel Blogger from India