Last Updated on September 11, 2019 by
AWANTISWAMIN TEMPLE & AVANTISHWAR TEMPLE, AWANTIPUR – LOST HINDU TEMPLES OF KASHMIR
This blog will answer all the below mentions frequently asked questions about the ancient ruins of Avantiswami Temple in Avantipura aka Avantipora, Kashmir, India –
ABOUT AWANTISWAMI TEMPLE, AWANTIPUR
WHO BUILT AWANTI SWAMI TEMPLE, KASHMIR
WHO DESTROYED AVANTI SWAMI TEMPLE, KASHMIR
HOW TO REACH AVANTI SWAMI MANDIR, KASHMIR
BEST TIME TO VISIT AWANTI SWAMI MANDIR AND SRINAGAR, KASHMIR
MY EXPERIENCE OF VISITING AWANTI SWAMI MANDIR, KASHMIR
I had long wanted to see the ruins of ancient lost Hindu temples of Kashmir. I had read a lot about them and had seen many pictures of those temples. It looked unreal in pictures, as if it was just a myth, a phoenix like character which perhaps never existed or the current myth of Yeti which no one has seen. When I finally visited the ruins of ancient Hindu temples of Kashmir viz. the Martand Sun temple in Mattan, the hill top Shankaracharya Temple in Srinagar and the Awanti Swami temple in Anantnag, Lalitaditya, a Hindu ruler of Kashmir who ruled from 724 CE to 760 CE had also built many temples in this region, the ruins of some of which still stand as the testimony to the glorious Hindu past of the Kashmir valley.
I was not disappointed. Passing through swathes of cheerful yellow mustard fields contrasted with gloomy canopy of trees densely intertwined, we finally arrived (from Srinagar via cab) at the still grand ruins of Martand Sun Temple and the nearby Awanti Swami temple. The ruins of Awanti Swami temple were not as huge or impressive as the Martand Sun temple, but making a comparison is unnecessary. Both the temples speak for themselves. The lack of a guide at Martand Surya Mandir was compensated by an erudite turbaned Punjabi guide at Avantiswami Mandir. He spoke passionately about the glorious Hindu past of the region. He was an oddity in what was a Muslim majority state. He spoke eloquently about the glorious past of the temple. It is a topic which is often shoved under the carpet. As if it never existed. Like a Phoenix. Or worse, a Yeti! But oh, the ostriches who bury their head in sand are real and they do exist.
I narrowed my eyes to find out interesting details and Hindu motifs on the damaged walls of both the temples. I found some disfigured statues, motifs and heard some screams which belonged to another century of a lost world!
WHO BUILT AWANTI SWAMI TEMPLE, KASHMIR?
The ruins of Avantiswami Temple which was a Hindu temple still exist in Awantipora or Awantipur in Jammu and Kashmir, the Union Territory in North India. This aesthetic temple was built by King Awantivarman in the year 855 CE. Originally known as Viswasara, the ancient town which was then a capital as well, was founded by King Avantivarman. King Avantivarman was also the founder of the Utpala Dynasty in the 9th century CE. He had built many grand Hindu temples in this region during his reign, only some of which exist today due to vandalism by Islamic invaders. During the reign of King Avantivarman, the region prospered. It gives a glimpse of the impressive stone temple architecture of Kashmir in that era. I have seen many ancient temples in Kashmir and elsewhere in India. The temples of Kashmir do look very different.
The temple was in bad state and yet looked beautiful. The guide told us that a team of archeologists restored the temple and its premises in the 1990s. Dr. Sahni is credited for leading the same. The temples were earlier buried beneath the ground except for the top part of the tall main entrance. The temple faced apathy and neglect for more than a thousand years. Perhaps that is what saved it for posterity.
The reconstruction of temple gives us a fair idea of how the temple must have looked like in its original form. The maintenance of the temple is now managed by the ASI aka Archaeological Survey of India. Perhaps, if further excavations are made here and elsewhere in Kashmir, more such ruins can be discovered. Many large jars can be still seen in the temple premises. These jars were used for storing grains. One of the jars which is now in museum, bears the name of King Avanti Verman. It is a well protected structure but more needs to be done by ASI. Many precious stone sculptures are carelessly lying in the temple premises.
Shri Pratap Singh Museum in Srinagar
You can also pay a visit to the Shri Pratap Singh Museum in Srinagar if you want to see the ancient idols which were excavated here by the British during the gloomy Colonial era in the 8th century. Some believe that the sculpture of Vaikunta Vishnu was excavated here. Ancient coins issued by different rulers were also unearthed here. I collect coins and the numismatic in me is excited to hear this.
DID YOU KNOW?  – The Jhelum river was known as Vatista river during the original Hindu reign in Kashmir.
ABOUT AVANTISHWAR TEMPLE, AWANTIPUR
There are ruins of 2 Hindu temples located here next to each other. One temple is dedicated to Shiv ji & the other one is dedicated to Vishnu ji, both prominent Hindu deities. The temple dedicated to Shiv ji is known as Avantishwar temple while the temple dedicated top Vishnu ji is known as Avantiswami temple. Built in sandstone, Avantishwar temple is smaller than the Avantiswami temple.
The Avantishwar temple lies before the Avantiswami Temple. It is located in the Jawbrari area. A main entrance gateway is all that remains now. Avantishwar temple has also faced the most damage. Once you cross the gateway of Avantishwar temple, you will find yourself in a court surrounding the main shrine in the center.
I found the design of the temple a bit different from what I have generally seen so far. I noticed 4 platforms on every corner of the court and colonnaded peristyle around the main courtyard. There were small flights of stairs built on all 4 corners of the court as well. I noticed badly ruined relief structures on the main entrance gateway walls. It was so badly disfigured that I could not even make out what it must have been.
The entrance walls of the temple are heavily decorated with sculptured reliefs. Statue of the King himself can also be found, just ask the guide. The Avantishwar Mandir was built even before Avantiverman was crowned the King. Avantiverman during his reign from 855 CE to 883 CE, built many Hindu temples in Avantipur when he made it his capital.
FAST FACTS – The town of Awantipora or Awantipura was named after the King Avantiverman, the Hindu ruler of Kashmir.
ABOUT AWANTISWAMI TEMPLE, AWANTIPUR
The Avantiswami Temple, as mentioned before, is the larger of two temples present on this site.  Dedicated to Hindu Deity Vishnu ji, the Avantiswami Temple is in a similar state of decay. That said, some of its structures such as the walls and carvings are preserved in a better way. Hindu goddesses Ganga ji and Yamuna ji were carved on the walls of the outer chamber. The pilasters and columns reminded me of the Greek and Roman architecture. It is possible as India had trade ties with ancient Greece. I had noticed the carving of a Greek man on one of the pillars of the ancient Sanchi Stupa near Bhopal in Madhya Pradesh.
There were also many cells facing the main shrine. It eerily reminded me of the meditation cells or viharas I saw in the majestic ruins of the Buddhist Nalanda University in Bihar, India or even the Islamic Hauz Khas Complex in the heart of New Delhi, capital of India. Could there be a connection? I am not sure if these cells housed statues of Hindu Gods and Goddesses or whether these were meant for daily prayers or meditations. Avantiswamin temple is located less than a kilometer away from Avantishwar temple.
Interesting facts – Not many know that the name Bihar comes from the word vihara!
RUINS OF AWANTISWAMI TEMPLE, AWANTIPUR
Unlike the uncared for Martand Sun Temple, I found the garden surrounding the Awanti Swami Temple well manicured. As we entered the temple premises, we went down a few stairs, walked few steps on flat land and then climbed again on some stairs on what was once the sanctum sanctorum of the temple.
I could not make out about what much of the temple ruins represented. A stone slab here, a pillar there, a beautiful carving of Hindu deities there was all that remained of the temple. I was impressed with the way restoration of the pillars was done. Some nearby modern construction though built in traditional Kashmiri style, was juxtaposed with the ancient temple ruins as if displaying how far Kashmiriyat has traversed in the past few centuries. The colossal mountains behind all the man-made structures had been a mute spectator to all tamasha (drama).
FEATURES OF THE

AWANTISWAMI TEMPLE, AWANTIPUR –
If you have been to the temples of Kerala and other places in South India, you will notice a structure on the floor of the temple premises which looks like Beli Kallu. These structures can be found in many Keralan temples and are considered sacrosanct.
ARCHITECTURE OF THE AWANTISWAMI TEMPLE, AWANTIPUR
If you are already well versed with different ancient architectural styles, you will notice that the architecture of the Avantiswami temple is influenced by the ancient Buddhist Gandhara school of art. It is a well known fact that the Greek and Hellenistic art and architecture left an indelible mark on the Buddhist Gandhara school of art itself. Archeologists and historians have also argued that the temple architecture of Kashmir also reflects Roman features, which I agree to some extent. But no one knows for sure, at least as of now.
The two tiered gabled roof can still be seen in the architecture of the wooden Hindu temples which I noticed in the central and western Himalayan region of North India. The roof always tops the wall niche which contained a statue or sculpture of a Hindu God or Goddess.
Islam came to Kashmir much longer after Hinduism and Buddhism flourished in this region. It is a well known fact that advent of Islam led to the untimely demise of the Hindu and Buddhist culture throughout Kashmir. However such two tiered sloping roof can still be seen in the Islamic religious structures of Kashmir. The architectural style was perhaps borrowed by the Hindu temples or the similar structures which were prevalent in this region then.
QUICK FACTS – Avantipur was originally known as Viswasara
WHO DESTROYED AVANTI SWAMI TEMPLE, KASHMIR?
As was the norm in those days, Sikandar Shah Miri, the then invader and ruler of Kashmir destroyed these 2 temples along with all the temples of Kashmir, including, alas, the Martand Sun temple. Had the bigoted invader spared these temples, it would have definitely stood strong even to this date, much like the spell binding Hindu temples of South India and Odisha. These ancient temples survived along with their intricate and delicate carvings perhaps because the medieval invaders (mostly Islamic) could not reach or govern these places.
Sikandar Shah Miri who ruled Kashmir from 1389 CE to 1413 CE after wrongfully invading it was also known as Sikandar Butshikan.  This infamous sobriquet meant – 'Sikandar the Iconoclast'. He was famed for forcefully converting Hindus to Islam and for destroying all the Hindu temples mercilessly. He changed much of the demographic of Kashmir. You can read more about him in my mega blog on Martand Surya Mandir, link of which is at the bottom of this blog.
HOW TO REACH AVANTI SWAMI MANDIR, KASHMIR
By Road-
From Srinagar to Avantiswami Temple –
Distance from Srinagar to Avantiswami Temple
It is 34 kilometers and it takes around 45 minutes to reach. Take the Srinagar-Anantnag National Highway. Both the temples are located in Bijbehra in Pulwama. Locals also call it Ladu or Ladhoo.
Awantipur or Awantipora is a small town in the Pulwama district of Indian Union Territory of Jammu Kashmir. Located on the tip of North India, it is located between Srinagar and Anantnag. A trip to the nearby Martand Sun Temple in the Mattan area of Anantnag can also be clubbed. This is a very productive day trip from Srinagar. In the spare time, you can enjoy more of Srinagar.
From Pahalgam to Avantiswami Temple –
A day trip from the stunning Pahalgam can also be planned. Pahalgam is located just 1.5 hours away from Awantiswami Temple. All the 3 temples viz. 1 temple at Martand Sun Temple and 2 temples at Avantiswami temple fall on the Srinagar to Pahalgam route and can be done as a day trip from both Srinagar as well as Pahalgam. You will still be left with some spare time.
By Air –
Srinagar International airport is the nearest airport. It is located 12 kilometers away from the Srinagar city.
OPENING HOURS of Awantiswami Temple, Awantipora, Kashmir –
Sun rise to Sun set. That was what as mentioned on a run down ASI sign board, though try to reach the Awantiswami temple between around 9:30 a.m. to 5:30 p.m. to avoid any surprises or disappointments.
Entrance Fees of Awantiswami Temple, Awantipora, Kashmir
Entrance Fees (Indian and SAAARC Nationals – INR 15 per person
Entrance Fees for foreign nationals except SAARC countries – INR 200
Video Filming Fees per person (Non Commercial Use, exterior only, without stand and cast) – INR 200
Free entry for children up to the age of 15.
Excursions: Places to Visit Near Avantiswami Mandir, Kashmir –
A village located on the banks of Jhelum river. It is just 4 kilometers away from Avantipura
Located in Mattan, it is very close to the Avantiswami Mandir. Pls check my mega blog on Martand Sun Temple for more details. Link is there at bottom of blog.
It is an agriculture dependent village located 11 kilometers away from Tral and 30 kilometers away from Srinagar. Quirkily enough, it is also known as Chota Punjab.
BEST TIME TO VISIT AWANTI SWAMI MANDIR, KASHMIR
The best time to visit Avantiswami temple and Srinagar is from April to October. Winters can get very cold here. Due to heavy snowfall in winters, roads can get blocked for some time. It also looks beautiful during the autumn season when the trees turn into a riot of yellows and oranges. However, it is a year round destination.
LAST THOUGHTS ON AWANTI SWAMI MANDIR, KASHMIR
I feel that the ruins of lost Hindu temples of Kashmir are still an unexplored and offbeat destination from which can be accessed by making Srinagar or Pahalgam a base. It is time we explore Kashmir beyond the gondola rides, crowded smelly lakes and tulip flowers and connect with the ancient Hindu past of the Kashmir Valley.
A mere visit to the Awanti Swami temple, Martand Surya Temple and Shankaracharya Temple, all within close proximity to each other, opened up my mind to a rich past few know about. Sadly even the brochures and Government advertisements do not promote these places. Thank heavens for the travel blogs like this one and other small mercies. Do subscribe to my blog and follow @asoulwindow on social media (links given below) for more such free guides and exclusive pictures of offbeat travels from across the world.
Must read related blogs-
Complete Guide to Martand Surya Mandir, Kashmir
Khyber Himalayan Resort and Spa, Gulmarg
Guide to Tulip Festival in Srinagar, Kashmir
Offbeat Nigeen Lake Near Dal Lake, Srinagar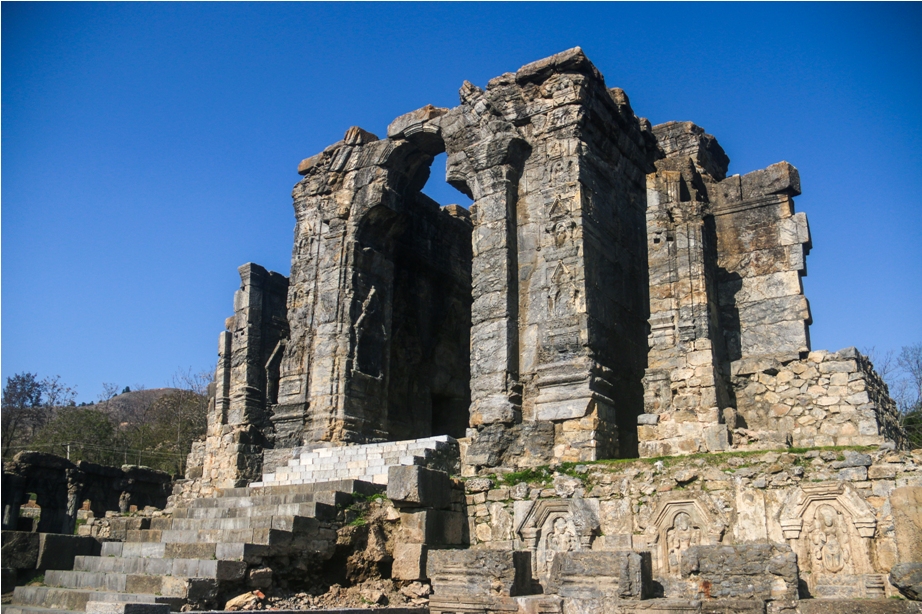 Spread the love, share this blog
Please follow the hashtag #ASoulWindow on Instagram, Twitter and Facebook for my free tips, pictures, videos and information on all things travel!
Got any question/comments, ask in the comment section below so that it can benefit other readers.
Email me for collaboration: [email protected]
Be a part of my journey on social media. The travel content I create there is different from this blog.
Pls subscribe/follow/like:
WARNING : COPYRIGHT TO ALL THE CONTENT SHARED HERE REMAINS WITH ME. THE IMAGES AND TEXT IN THIS BLOG ARE BY ME UNLESS MENTIONED OTHERWISE. YOU CAN NOT JUST LIFT THE CONTENT AND USE IT WITHOUT MY PERMISSION. STRICT LEGAL ACTION WILL BE TAKEN IF CONTENT IS STOLEN. YES, I AM SERIOUS.