Last Updated on June 4, 2021 by asoulwindow
Jagannath Rath Yatra Puri, Odisha Guide – All you wanted to know!
What is Rath Yatra
Rath Yatra or Roth Jatra is an inseparable element of the Jagannath culture which originated in Puri which is located in Odisha, India. Not only is Rath Yatra of Puri one of the biggest festivals in India, but also one of the oldest. The Rath Yatra also finds mention in ancient Hindu scriptures such as Brahma Purana, Kapila Samhita, Padma Purana and Skanda Purana.
This is the most comprehensive Rath Yatra Essay you will ever read. My visit to Odisha opened my eyes to traditions I had heard about since childhood but had no experience of. I enjoyed traveling in Odisha and hope you plan a trip here soon as well. It is a once in a lifetime experience!
Where is Rath Yatra celebrated
Also known as Roth Jatra, now Rath Yatra is celebrated in many cities across the world and India. However, Rath Yatra at Puri in Odisha (India) is the oldest and most grand of them all. Read on for more information about Rath Yatra.
What happens in Rath Yatra
During the Puri Rath Yatra festival, the chariot carrying massive colorful idols of Lord Jagannath along with his sister Subhadra and brother Balabhadra is taken to Gundicha temple from Sri Jagannath temple via Mausi Maa temple (Temple of maternal aunt). During the procession, the air fills with good vibes, enthusiasm filled festive fervor and chanting oh 'Jai Jagannath'.
Why is Jagannath Rath Yatra celebrated?
There are many legends associated with Ratha Yatra of Puri. As per some Hindu beliefs, it is the wish of Lord Jagannath to visit his birth place every once in a year. The Puri Rath yatra is thus organized to fulfil his wish. A massive procession is taken every year carrying Lord Jagannatha, his sister Subhadra and brother Balabhadra to his birth place Gundicha Temple. The chariots are decorated elaborately. Jagannath Ballav Mutt is a connected to Sri Jagannath temple and the festivities often spill over to this place. This is why Puri Rath Yatra is celebrated every year.
Story behind Lord Jagannath Rath Yatra
The Jagannath Rath yatra story is very intriguing. The 9 days long Rath Yatra festival of Puri or Roth Jatra has an interesting story behind it. Devoted to Lord Jagannatha or Shri Krishna, his sister Goddess Subhadra and brother Balram or Balabhadra, the Puri Rath Yatra or the Chariot festival is one of the biggest and most grand Hindu festivals of India. I hope you are enjoying reading this detailed Rath Yatra Essay. There are many other versions of Jagannath Rath Yatra story as well.
Rath Yatra History
This 9-day long festival of trinity has an interesting history! You must know these facts about Rath yatra festival.
Gundhicha Mandir is believed to be the birth place of the reigning deities. People from all parts of India and other nations come in lakhs to attend this annual festival, which is a once in a lifetime experience. The processions done on a massive scale will leave a lasting impression on your mind, making you want to have a rethink on your attitude towards faith, spirituality and religion! Do attend this one of its kind of festival of Chariots also known as the unique car festival.
Ratha Yatra is not the only local festival of Puri. Other festivals celebrated with much fanfare in Puri are Beach festival Chitalagi Amabasya, Netrotsava, Sri Krushna Janma, Beach festival, Dushehra, Sayan Ekadasi and Shreekshetra Utsav.
What is the name of three Rath?
The three colossal richly decorated Chariots which are pulled from Shree Jagannath Mandir to Gundicha temple during the Odia Ratha Yatra are named as below:
Nandighosha: Nandighosha is the chariot of Lord Jagannath. Standing tall at a whooping 44 feet, it towers above all the other Chariots. It also has the greatest number of wheels, which is 16. There are many names of Jagannath Rath. Nandighosha is also known as Kapiladhwaja or Garudadhwaja.
Taladhwaja: This chariot belongs to Balabhadra or Shri Balram, brother of Sri Jagannath. Also known as Langaladhwaja, it rises up to 43 feet in height.
Devadalana: Also called as Padmadhwaja, this chariot belongs to Subhadra, the sister of Lord Jagannath.
As much as 13,000 cubic feet of timber is used to create these chariots.
Puri Rath Yatra rituals
Below are main rituals associated with Rath Yatra of Puri aka Roth Jatra.
What is Chandan yatra
Though you will see festival like atmosphere in Puri throughout the year but the religious fever is at its peak during the annual Puri Rath Yatra. During the onset of the Hindu New Year, which is typically Mid-April or May as per the Gregorian calendar, the roads of Puri come alive with festivities of Chandan Yatra. This is also when different parts of India celebrate Hindu New Year. It is the beginning of new agricultural season when the farmers start ploughing their fields.
Also known as sandalwood festival, Chandan Yatra festivities continue up to 3 weeks. This is when the construction of new Rathas for the 3 deities begin from scratch each year. With King of Puri standing as witness, the construction begins on auspicious Akshaya Tritiya. Fire is worshipped during this ceremony. The event takes place in front of the main office of Shree Jagannath Mandir.
This is also one of the best time to visit Puri for the chariot festival.
Snana Yatra of Puri Jagannath Rath Yatra
Snana means bath and Yatra means journey. During the festivities of Puri Jagannath Rath Yatra, the Chalanti Pratimas (statues) or the proteges of the deities are given a ritualistic bath in the divine smell of sandal wood water and flowers. They are then taken on a special ritual boat ride.
Now comes the interesting part of Snana Yatraalso known as the Bathing festival.Placed on a bathing platform, ceremonial bath is given to the 3 deities. 108 pots of water from Suna Kua or the Golden well is used for the bathing rituals of the deities.
It is now believed that the deities have fallen ill. They are therefore kept away from the public view and recuperate inside the sanctum sanctorum of the Jagannath Mandir.
Needless to say, the pilgrims are not allowed to have a darshan of their favorite Gods during this period. However, during the Rath yatra special depiction of the Gods is done on the cloth painting and Pattachitra, the darshan of which is allowed. These are made especially for the Ratha Yatra festival and have their own significance. I have written a separate detailed blog on Pattachitra, the ancient art form of Odisha.
I am sure you agree that this Rath Yatra Essay contains all you wanted to know about Puri Ratha Yatra.
Senapata Lagi of Puri Rath Yatra
Owing to the heavy weight of the massive wooden idols of Sri Jagannath and Balbhadra, their backs are supported by placing a wooden cross. Also thick silk ropes are fastened around the head and waist of the idols. This practical ceremony is known as Senapati Laga.
Tahiya ritual: Rath Yatra Essay
Tahiya or the massive headgears which is made with natural ingredients such as flowers, bamboo, cane and even thermocol, are presented to Lord Jagannath and Balabhadra by the Raghav Das Math on the 7th stair of Shree Jagannath Temple. The rich decorations on the headgears are awe inspiring. Only families from Balisahi hold the hereditary rights to construct fresh Tahiyas each year during the annual Odia Ratha Yatra.
Pahandi Bije of the deities
Now comes the grandest part of the Puri Rath Yatra. The colossal chariots are pulled by thousands of people with much festive fervor to the revered Gundicha Temple located around 3 kilometers away from Shri Jaganath Mandir.
The first one to appear from the Jagannath Mandir is Lord Sudarshana. It circles other chariots, symbolically ensuring that all the arrangements for the Ratha Yatra festival are up to the mark.
Since it is relatively small and lighter than other idols, the Daitas carry it on their shoulders and place it in Darpadalana- the Ratha of Goddess Subhadra.
It is followed by the Chariots of Balabhadra on Taladhwaja Chariot and Subhadra on Darpadalana chariot.
The chariot of Lord Jagannath appears the last as he temporarily vacates the Ratna Singhasana. Since his idol is the heaviest and largest, it is pushed, pulled and dragged as the air is reverberated with the ecstatic sounds of 'Jai Jagannath!' in the praise of Lord Jagannath made by the devotees and sebayatas.
Now begins the procession of Pahandi Bije where the Chariots are pulled towards Gundicha Temple, just 3 kilometers away from Sri Mandir.
The deities stay at the Gundicha temple for a total of 8 days after which the grand chariots are pulled back to Shreemandir.
Pahindi is derived from Sanskrit word Padamundanam, which means a slow step by step movement in local language.
The returning ceremony is called as 'Bahuda Yatra'.
The entire Puri Rath Yatra festivity is marked with frenzied ecstasy, enthusiasm and organized chaos.
Conch shell is blown along with beating of drums, chanting mantras and ringing bells.
The message of Puri Rath Yatra is that God is egalitarian and belongs to all. And everyone belongs to him. Isn't it a beautiful thought?
The route of idols from the temple to till they are seated on chariots for procession is as below:
Anand Bazaar – Baishi Pahacha – Singhadwara – Aruna Stambha – finally seated on respective Chariot.
Suna Bhesha ritual of Ratha Yatra Festival
Upon the return of 3 holy chariots from the Gundicha Temple, the deities are dressed in golden ornaments and worshiped by the Hindu devotees while they are still on the chariots.
Hera Panchami
Hera Panchami is celebrated with much fanfare on the 5th day of Rath Yatra. This ritual is dedicated to Hindu deity, Goddess Laxmi. The elaborate festivities of Hera Panchmi were started by Maharaja Kapilendra Deb prior to which the festivities were marked with mere recital of the holy mantras. Hera Panchami is celebrated to please Goddess Lakshmi who is angered on seeing Lord Jagannath out on the streets sans his wife Mahalaxmi. Hera Panchmi has also been mentioned in ancient Hindu text called as Skanda Puran.
Chhera Panhara – King Turns Sweeper
Why does the King of Odisha sweep the Chariot?
Chhera Panhara is when the Gajapati of Puri turns to a one day sweeper. Sitting on a palanquin, he is carried to the chariot from his palace in the traditional way. Holding a golden broom, he sweeps the floor near Chariot after the Sevayatas spread flowers on the floor. Further, fragrant sandal
This ceremony signifies that all are equal, whether King or sweeper. Hinduism amazes me with its thought process.
What is Dahuka Boli?
Puri Jagannath Rath Yatra significance
While the Puri Rath Yatra procession is on amidst cymbal beats, the dahukas aka Ratha Bhanda or the charioteer recite poems which at times border at sounding bawdy, because the Rath Yatra Puri is a symbol of fertility and the eternal cycle of life. Despite the bawdy lyrics, the 'boli' or the song is recited publicly by the Dahukas sans any inhibitions. These Odia Jatra songs add to the atmosphere of Rath Yatra.
You will be surprised to know that the roots of these holy poems can be traced to the Vajrayana Buddhism practiced in the state of Odisha and the Dahukas are supposed to be descendants of the world famous 84 Mahasiddhas. No wonder, dahukas hold the authority to control the movement of the wooden chariot while the Puri Jagannath Rath Yatra procession is underway. In fact, unless the Dahuka Boli is not recited by the Dahukas, the Rath or Chariot can-not move. It is also known as Dahuka Gita.
Sevaks or Sebayatas of Puri Rath Yatra
What are the different types of sevaks or Sebayatas who assist during Puri Jagannath Rath Yatra?
Dahuka
Suara
Mahasuara
Puspalaka
Daita Pati
Banati Players: Banati is a visually appealing ancient tradition which is performed to please Lord Jagannath. During this Ratha yatra ritual, the Banati performer spins fire balls in the air. The Banati is attached to a rope and is accompanied by knives.
Interesting Fast facts about 3 Rathas of Puri
Each Chariot for Odia Ratha Yatra is built from scratch each year.
Wood from only specified trees such as Dhausa and Phassi is used for the construction of the Rath or chariots.
The wood is sourced from ex princely state of Dasapalla.
Only the carpenters who have hereditary rights hold the privilege of bringing the wood from Dasapalla to Puri.
As per the tradition the logs are set afloat on the Odia river Mahanadi. Once the logs arrive at Puri via the water route, it is then transported by road to the construction site.
Each Chariot has one Saarthi or Charioteer.
Each Chariot has sculptures of 4 horses.
9 Parshvadevatas are painted on the chariots to represent the deities accompanying the Rath.
The decoration on all the chariots is done as per the age old instructions which have been strictly followed since centuries.
The procession of Odia Ratha Yatra begins at the Lion's Gate or the Singhadwar, located towards the eastern part of the Sri Jagannath Mandir.
The procession of Rath Yatra of Lord Jagannath takes place on the Grand avenue or Badadanda.
Chariot's statistics
Below are some specifications and quick facts regarding the 3 Rathas or Chariots of the 3 deities:
Nandighosha
Rath of: Lord Jagannatha or Shri Krishna
Also Known As: Kapiladhwaja and Garudadhwaja
Number of wheels: 16
Total Height: 44'2"
Total Wooden Pieces used: 832
Gatekeepers or Dwarpalas: Jaya and Vijaya
Name of the flag: Trailokyamohini
Name of the horses: Haridashwa, Balahaka, Shankha and Suweta
Color of Horse: White
Color of canopies: Red and yellow. Yellow represents Vishnu bhagwan.
Accompanying deities: Madanmohan
Guardian: Garuda
Name of Chariot ropes: Sankhachuda Nagini
Nine Parshvadevata aka Subsidiary deities: Narayana (Vishnu ji), Madhusudana (Lord Vishnu), Chatra Bhanga Rabana (Shri Ram), Lord Rama (seated on Lord Hanuman), Panchmukhi Mahabir (Hanuman ji), Harihara, Chitamani Krishna, Pandu Narasingha and Giridhar.
Taladhwaja
Rath of: Lord Balbhadra or Shri Balram, brother of Shri Krishna
Also Known As: Langaladhwaja
Number of wheels: 14
Total Height: 43'3"
Total Wooden Pieces used: 763
Gatekeepers or Dwarpalas: Sunanda and Nanda
Name of the flag: Unnani
Flag Emblem: Palm Tree
Name of the horses: Ghora,Swornanava, Tribra and Dirghasharma.
Color of Horses: Black
Color of canopies: Bluish Green and red
Accompanying deities: Ramakrishna
Guardian: Vasudev
Name of Chariot ropes: Basuki Naga
Nine Parshvadevata aka Subsidiary deities: Shri Ganesha, Lord Kartikeya, Mukteswar (Shiv ji), Mrityunjaya (Shiv ji), Natamvara (Shiv ji), Sarvamangala, Pralambari (Lord Balram), Halayudha (Lord Balram) and Sheshadeva.
Devadalana
Rath of: Godess Subhadra or sister of Sri Krishna
Also Known As: Padmadhwaja orDevadalana
Number of wheels: 12
Total Height: 42'3"
Total Wooden Pieces used: 593
Gatekeepers or Dwarpalas: Ganga and Jamuna
Name of the flag: Nadambika
Name of the horses: Jita, Aparajita, Rochika and Mochika.
Color of canopies: The color black is the color of Goddess Subhadra. Red color is also used.
Color of horses: Red
Accompanying deities: Sudarshana
Guardian: Jayadurga
Name of Chariot ropes: Swarnachuda Nagini
Nine Parshvadevata aka Subsidiary deities: Chandi, Chamunda, Ugratara, Banadurga or Durga, Shulidurga, Varahi, Shyamakali, Mangala and Vimala.
Frequently Asked Questions regarding Rath Yatra
This complete Rath Yatra Essay will answer all your queries regarding Puri Ratha Yatra festival
Rath Yatra festival is celebrated in which state
Puri Rath yatra is celebrated every once in a year in the month of June or July or both in the holy coastal town Puri. Puri is located in Odisha which lies in eastern part of India. Odisha shared its borders with Indian states such as Andhra Pradesh in South India, Chattisgarh, Jharkhand and West Bengal in East. Over the centuries, Rath Yatra of Lord Jagannath has gifted a rich Jagannath Culture to most places in Odisha.
What is the origin of the word Juggernaut
Since the chariots or the Rath is seen as an unstoppable force, thus inspired by the same, people from West coined a new English word called as Juggernaut. The origin of this word can be traced back to mid-19th century C.E. It is an anglicized version of the word 'Jagannath' which means Jagat Nath or the Lord of the world. This is how Shri Krishna, the 8th Avatar of Vishnu ji is addressed in Odisha.
In fact, the earliest mention of Puri Jagannath Rath Yatra in western records can be traced back to 13th century C.E. The word 'Juggernaut' also finds a mention in The Life and Adventures of Martin Chuzzlewit, a book by famous writer Charles Dickens and The Strange Case of Dr. Jekyll and Mr. Hyde by Robert Louis Stevenson. H.G. Wells too has used the word Juggernaut. Yes, the Odia Ratha Yatra was that popular.
When Did Jagannath Rath Yatra Start?
So, how old is Rath Yatra? The history of Jagannath Ratha Yatra dates back to 1558 C.E.
How many Times Rath Yatra was cancelled?

However as per the reputed historian and researcher Shri Bhaskar Mishra, who is also a specialist of the world famous Jagannath culture, the Rath Yatra was cancelled 32 times when the Mughals were invading India between the year 1558 C.E. and 1735 C.E. Despite the adversities, this almost 500 years old tradition is still alive and thriving. This answers your query on when was Rath Yatra cancelled!
How many wheels does Jagannath Rath has?

The Jagannath Rath has a total of 16 massive wheels. Taladwaja has 14 wheels while Darpadalana has 12 wheels. You can easily count when you visit the Jagannath festival.
What happens to Rath After Rath Yatra?

Once the Rath yatra is over, the Raths or Chariots are dismantled and never used again. For next year's Chariot festivals new chariots are built from scratch. However, the wood doesn't go to waste. It is used to cook the 'Kotha Bhoga' meals in the kitchen of Jagannath Mandir.
Also Read: Who destroyed Martand Temple in Kashmir?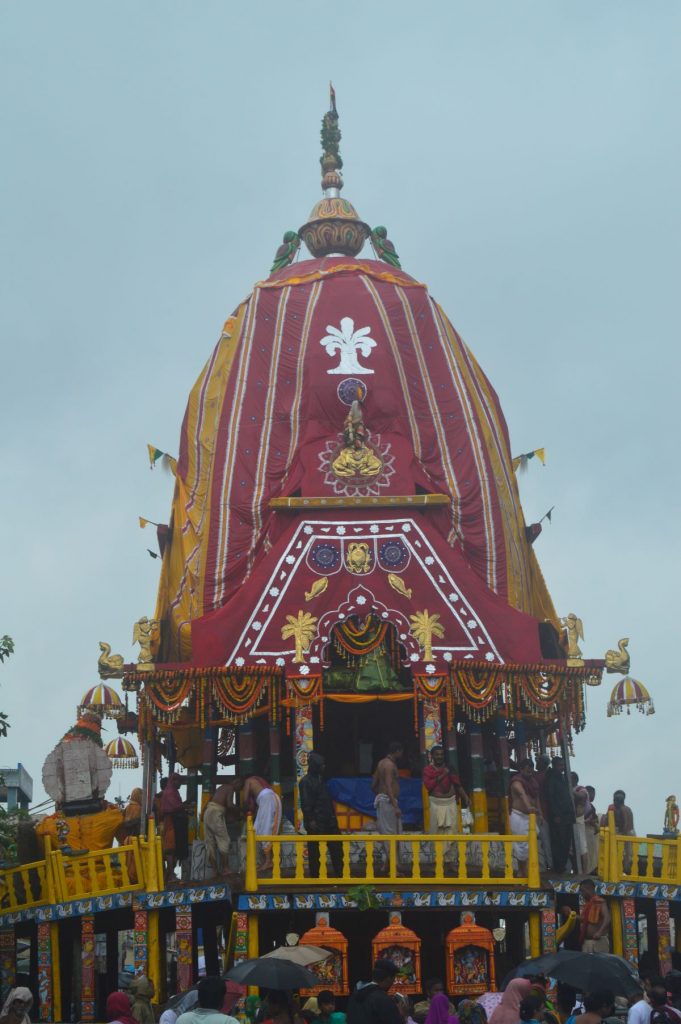 What do we eat on Rath Yatra?
The food cooked during Puri Rath Yatra is special. In fact, it is the best time to sample the most popular dishes of Odisha because as many as 56 dishes are offered to the presiding deity during the Rath Yatra festivities. Popularly known as Chappan Bhog, these are served daily to the deities as an offering. Some of the best vegan and vegetarian food to eat during Puri Jagannath Rath yatra are as below:
Rath Yatra special food
Dalma: It is my top favorite Odia dish made from lentils and vegetables. It is also offered to Lord Jagannath while the Ratha yatra is on.
Santula: Another popular Odia dish Santula is made from vegetables such as papaya, potatoes, aubergines and tomatoes tempered with panch phoran (Spice mix), desi ghee (clarified butter) and green chillies. It goes well with steamed rice and rotis.
Khecedi: Khecedi is very similar to the 'mainstream' Khichdi which is commonly available across India and is the unofficial National Dish Of India. This lentil and rice dish, topped with melting desi ghee is one of the 56 offerings offered to Lord Jagannath during the Rath Yatra festival.
Some of the sweets offered to Lord Jagannath during Rath yatra are as below:
Rasabali: This deep-fried desert made with cottage cheese is popular across Odisha.
Ukhuda: Offered as one of the dishes of bhog offered to Lord Jagannath, Ukhuda is made with puffed rice mixed with sugar.
Poda Pitha: Lord Jagannath is fond of sweets and it is evident from the numbers of sweet dishes offered to him as 56 bhog during the Rath yatra festival. This delicious sweet is made with coconut, cardamom, rice flour, black gram and sweetened with jaggery, the indigenous way.
Khaja: This multi layered crunchy sweet is also very popular in Bihar and my home state Uttar Pradesh. I saw many stalls selling Khaja while I was on my way to the Golden Beach from Sri Jagannath Temple. Do try this deep fried crunchy sweet offered to Lord Jagannath as 56 Bhog.
SOUL WINDOW TRAVEL TIP:
During Puri Rath Yatra, try to book a hotel on the Badadanda or Grand Road. If the hotel has balcony or roof, then you can see dramatic bird's eye view of the Rath Yatra. You will be amazed with the perspective of Odia Ratha Yatra which this vantage point will give you. Also book in advance as most hotels, whether budget or luxury, remain fully booked during Puri Rath Yatra.
Other Rath festivals of the world
The Rath Yatra in Puri reminds me of Rath Yatra of Kumari – the living Goddess of Nepal during the annual Indra Jatra festival in Kathmandu. It was one of my most unique experiences. Though, the Indra Jatra in Nepal is not as grand as the legendary Rath Yatra of Puri, but equally significant and alive with festivities.
In fact, I saw similar yatras also in Nerul in Navi Mumbai in Maharashtra. You can also see different versions of Puri Jagannath Rath Yatra in Indian cities such as Kolkata in West Bengal etc.
International Rath Yatra
Owing to the efforts by ISKCON Hare Krishna movement which began in 1968, the Rath Yatra or chariot festival has crossed international shores. Apaart from the Jagannath temple Rath Yatra, the grand chariot processions are now annually taken to 108 cities around the world such as:
Asia: Dhamrai in Bangladesh, Mytikyina in Burma, Moscow, Karachi, Bangkok, Kuala Lampur, Zhongshan,
Africa: Kampala in Uganda, Nairobi, Kisumu and Mombasa in Kenya.
Europe: Rome, Oslo, Madrid, Wroclaw, London, Florence, Zurich, Berlin, Cologne, Heidelberg, Sofia, Antwerp, Tallinn, Dublin, Belfast, Budapest, Manchester, Birmingham, Alchevsk, Stockholm, Bath, Copenhagen, Amsterdam and Paris.
Oceania: Melbourne, Perth, Sydney, Auckland
South America: Lima in Peru, Buenos Aires in Argentina, Santiago in Chile
North America: Montreal, New York City, Atlanta, Houston, Mexico City, Los Angeles, Toronto, Vancouver.
This Rath Yatra Essay is packed with all the information which you will ever need regarding the Odia Ratha Yatra.
Best Time to visit Puri for Rath Yatra
When Rath Yatra is celebrated? Use the below guide to plan your trip to Rath Yatra of Lord Jagannath.
April May: If you want to see the preparation for the Rath Yatra and construction of the 3 chariots, then this is the best time to visit Puri for Rath Yatra festivities.
June-July: The actual Odia Ratha Yatra aka chariot festival takes place in the month of June and July. The date keeps varying each year. The celebrations are done during Ashadha Shukla Paksha Dwitiya which is the 2nd day of the bright fortnight of Hindu month of Ashadha or the waxing cycle of moon. I am amazed at the ancient Hindu knowledge of astronomy and constellations. Hindu culture was indeed far ahead of its times.
I am sure this Rath Yatra Essay is helping you! The below table will help you plan your visit to Ratha Yatra Festival in Puri much in advance.
Upcoming Ratha Yatra Festival dates
2021
Start date: 12 July
End date: 19 July
2022
Start date: 1 July
End date: 9 July
2023
Start date: 20 June
End date: 28 June
2024
Start date: 7 July
End date: 16 July
2025
Start date: 27 June
End date: 5 July
2026
Start date: 16 July
End date: 24 July
2027
Start date: 5 July
End date: 13 July
2028
Start date: 23 June
End date: 1 July
2029
Start date: 13 July
End date: 20 July
2030
Start date: 2 July
End date: 10 July
2031
Start date: 22 June
End date: 30 June
2032
Start date: 9 July
End date: 18 July
2033
Start date: 28 June
End date: 7 July
2034 (Nabakalebara)
Start date: 17 July
End date: 25 July
2035
Start date: July
End date: July
2036
Start date: July
End date: July
2037
Start date: July
End date: July
2038
Start date: July
End date: July
How to reach Puri for Rath Yatra of Lord Jagannath
Arriving in Puri to attend the Odia Ratha Yatra is very easy.
By air: The nearest airport from Puri is at Bhubaneshwar, the capital of Odisha. It is located just 1 hour 15 minutes away from Puri via NH316.
By rail: Puri has its own terminal Train Station which is connected to all major cities and small town of India.
By bus: You can easily arrive at Puri like I did. Puri has a robust bus network connecting it with nearby places such as Konark Temple, Cuttack, Bhubaneshwar etc.
By road: The roads in Odisha are good, so you can consider a road trip to Puri as well.
So when are you planning to go to Rath Yatra of Lord Jagannath?
Where to stay in Puri for Chariot festival
I stayed at the Yellow hotels located on Grand Road. It is at walking distance from Shri Jagannath Temple and Golden Beach. Its open roof offers great vantage point for bird's eye view of the Jagannath Ratha Yatra festival.
The Grand road and Marine Drive near Golden Beach are home to hotels, lodges and Dharamshalas for all budget types.
Conclusion of Jagannath Rath Yatra Puri
Odisha has always left me with experiences unique to this place. No where else in India or abroad, have I experienced the things I did in Odisha. Rath yatra tops that list. Being the oldest Rath yatra of the world, finding its mention in ancient Hindu scriptures, the chariot festival is a must attend annual event. History of Rath Yatra Puri can be traced back to ancient times experiencing which is only possible by attending the Ratha Yatra festival.
You can also use the opportunity to visit the sacred Shree Jagannath temple, Golden beach and sample the famous Mahaprasadm of Puri, Odisha. Hope you will use this Rath Yatra Essay and plan the trip to Puri soon. The devotion of devotees towards the much revered three deities is to be seen to be believed. Do visit Jagannath Puri soon for Ratha Yatra!
The view from my Soul Window is fragrant with Chandan!
Top Travel Blogger from India