Last Updated on July 4, 2023 by asoulwindow
UGANDA – THE 8 DAYS ITINERARY OF BEST PLACES TO VISIT IN PEARL OF AFRICA
This blog is about 8 days detailed itinerary for the wonderful country Uganda in Africa. The travel blog includes details on game drives aka safari in Uganda. I saw a lot of wildlife within few days of my game drives in various National Parks of Uganda. The Gorilla Trek at the Bwindi Impenetrable National Park was the best thing about Uganda. The blog also lists best things to do, see in Uganda along-with best time to go to Uganda and the luxury properties where you can stay when in Uganda.
UGANDA – THIS TIME FOR AFRICA!!!
It was my first time in Africa. And what a debut it was! I am glad it happened with Uganda, the pearl of Africa. One of the most stable nations of Africa, Uganda won my heart with its immense diversity, easy availability of Indian vegetarian and vegan food, super friendly people and of course, the stunning wildlife. I can keep coming back to Uganda again and again. It feels like home!
I ALMOST DIDN'T MAKE IT TO UGANDA!
So, when I was invited on a media trip by Consulate of Uganda in Mumbai, I took it up after initially expressing concern over my recently burnt fingers.
"No, you can't go to Africa with these fingers. Isn't your life more important?", said the doctor after looking at my fingers.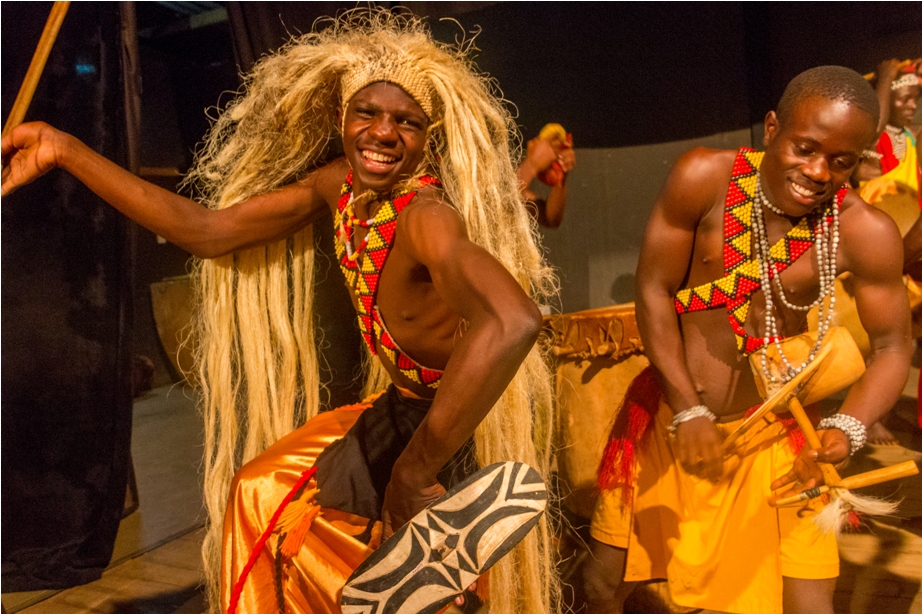 I was shattered as Africa had been my dream destination since eternity. I could see my dream going away from me, especially the gorillas. I politely said no to Uganda, much against my wish but Vishal, Vice Counselor of Uganda convinced me to come. I took a chance, got my fill of medicines and joined the trip. It was a wise decision.
I took chance and agreed to be part of the trip and got my yellow fever vaccination done in Lucknow. I am glad I made it to Uganda. It will always be special to me.
It has been 2 months since I burnt my fingers (because I am a perennial disaster in kitchen!) and I am still eating food after sticking a spoon between my middle finger and index finger. Try it, it feels weird!
INDIANS LOVE UGANDA – I MEAN INDIANS LOVE STAYING IN UGANDA
Also, the Indian and Ugandan connection is very strong. There are many Indians living in Uganda. 25,000 someone told me. One of my childhood friends Preeti Singh who was a former Mrs. India is one of them. She lives near the Source of Nile in Jinja before living in Kampala. She told me, "I have lived in other African countries but I prefer living in Uganda. There is peace, less traffic and pollution here. I like the slow pace and friendly people here." We tried to meet but failed due to unmatched personal schedules.
I and the Indian Film Industry Delegation had arrived at the Entebbe airport in Uganda by afternoon. Indian Film Industry Delegation had come for a recce to scout for ideal locations so that they could feature Uganda in Indian films or advertisements. I and Sumit represented media and covered the event and beautiful locations of Uganda on our respective platforms. The members from Indian Film Industry were as below:
The multi faceted veteran actor, director, theatre personality, ad man Mr. Bharat Radhakant Dabholkar – I have grown up watching him, so traveling with him was like a blessing!
The producers of the blockbuster Bahubali film Mr. Srinivas Saiprasad Devineni, Mr. Naga Sobhanadri Yarlagadda and Mrs. Latha Kovelamudi.
The TAFI or Travel Agents Federation of India team – Mrs. Aditi Ramakant Bhende (Secretary general of TAFI), Mr. Bharat Kirankumar Shah (Chairman of the convention committee for TAFI and a managing committee member) and Mr. Jayesh Manharlal Tharani (The very cheerful and the keeper of good Indian food)
Ramakrishnan Natarajan – He's line producer in Bollywood and has scouted locations for big films such as Shivay.
Jeetu Verma – We remember him as the notorious but superfun Jojo of Bollywood film Soldier (Preity Zinta and Bobby Deol). He has acted in many films including Bodyguard and a Hollywood film. He is also a horse trainer. His last work was in the magnum opus Manikarnika where he trained Bollywood superstar Ms. Kangna Ranaut for horse-riding.
Vishal Saria – Vice Consul Of Uganda in Mumbai, India.
Sumit Chaturvedi – Host of Wings at WION- ZEE Global, the first TV aviation show.
We travelled with a very amazing team from Uganda. Not only did Her Excellency Mrs. Grace Akello greeted us very warmly at the airport lounge, she personally showed us around all the places in Uganda. We were very fond of her throughout the trip. Her mere presence made the atmosphere pleasant, thanks to her vivacious personality. She took such good care of us that we didn't miss home. Find her on wikipedia here. She was accompanied by talents from Uganda, namely Robert, Gadafi, Pat and others.
ARRIVAL AT ENTEBBE AIRPORT NEAR KAMPALA: ITINERARY OF TOP PLACES TO SEE IN UGANDA.
Day 1- 27th February, 2019
Kampala, the capital of Uganda has no airport. But who's complaining? The picturesque road from Entebbe to Kampala was worth the hour long drive during my return. As soon as we started to descend from the aircraft, the enormity of Kidepo National Park had me agape mouthed. The setting sun added to its allure. We had reached the Kidepo National Park by evening.
Our fancy ride ended and my Africa dream began!
As we moved from the Kidepo airport (the smallest airport I have seen!) to the safari lodge, we passed through the real National Park as unlike India most of the hotels, luxury lodges and tents are pitched right in the middle of the National Park. Jackals, different types of antelopes and deers vied for my attention. It was almost dark. I tried hard to be patient till next morning!
We had an Indian dinner at the Apoka Safari Lodge. Dinner was followed by a livewire cultural performance by the local people in the night! Some of us also stayed there while I along-with 2 more co travelers moved to a tent in the middle of the jungle.
I imagined that the lion was knocking at the tent. I slept tight that night!
GAME DRIVE AT KIDEPO NATIONAL PARK – ITINERARY OF TOP PLACES TO SEE IN UGANDA.
Day 2 – 28th February, 2019
A bewitching sunrise welcomed us the next morning. My jeep included the Bahubali producers team, Sumit and Robert. The morning Game drive had us in splits. Zebras, elephants, giraffes, wild buffaloes, antelopes, huge hornbills, huge monitor lizards etc made appearance one after the another. And when we lost all hope, we saw an adult male lion, chilling in the bushes. Wow!
The game drive was followed by a sumptuous breakfast breakfast with lot of vegan options for me.
We left Kidepo National Park in the MIL MI 17 chopper with packed Lunch box
We arrived at the Moroto village and saw local dance and music. It was very exciting and thrilling to be in the middle of a real African village. The customs, costumes, music and the lifestyle was as authentic as you can get.
We stayed at the Mbale Resort Hotel overnight.
Please click below image on Instagram for the picture of Silverback Mountain Gorilla I clicked
GORILLA TREK AT BWINDI IMPENETRABLE NATIONAL PARK – ITINERARY OF TOP PLACES TO SEE IN UGANDA.
Day 3 – 1st March, 2019
The next morning we flew from Mbale to Mbarara
We arrived at Bwindi Impenetrable National Park around afternoon. We did the 4 hour long Gorilla Trek in the Bwindi Impenetrable National Park. It was thrilling to say the least. You can see Gorilla in wild in only three nations. Uganda offers the most pocket friendly Gorilla treks. Uganda is also a very stable nation, therefore all the conservation efforts by Uganda have shown positive results. A trip to Uganda without Gorilla trek is incomplete. It was indeed the best part of my 8 days long itinerary for Uganda.
We flew to Queen Elizabeth National Park and arrived late evening.
We had a relaxed evening and stayed at a sprawling resort overlooking the lake and the vast expanse of the Queen Elizabeth National Park.
QUEEN ELIZABETH NATIONAL PARK, UGANDA – OF 100 HIPPOS AND 5 LIONS!
Day 4- 2nd March, 2019
We again went on a game drive in Queen Elizabeth National Park.
However, we were rewarded with a large group of wild elephants and a lion family relaxing in the middle of nowhere. Queen Elizabeth National Park is also famed for the popular 'Lions living on a tree'.
It was followed by breakfast and a cruise in the lake. We saw many schools of Hippopotamuses
We also visited the very interesting Igongo Cultural Centre in Mbarara and the equator. Being a science buff, the equator was very exciting for me.
We then flew to Kampala and had a relaxed evening. We then attended a cultural program hosted by Indian association of Uganda. The Indian Film Industry bigwigs spoke on the Uganda and India ties and how Uganda can be promoted in India via various mediums such as films, advertisements, videos and blogs. We also enjoyed a superb dance and song performance by African artists. It was a much needed break after roughing it out in the wilderness of Uganda for days. It surely was one of the highlights of my 8 days long itinerary for Uganda.
MEETING THE PRESIDENT OF UGANDA – HIS EXCELLENCY YOWERI KAGUTA MUSEVENI
Day 5 – 3rd March, 2019
Meeting with the President of Uganda followed by sightseeing of Kampala and Entebbe. You can also see Kampala on a budget, by the way. Anyways, it was my first meeting with the head of any state. We had a long meaningful discussion with the Ugandan President His Excellency Mr. Yoweri Kaguta Museveni. He has served as the President of Uganda since 1986.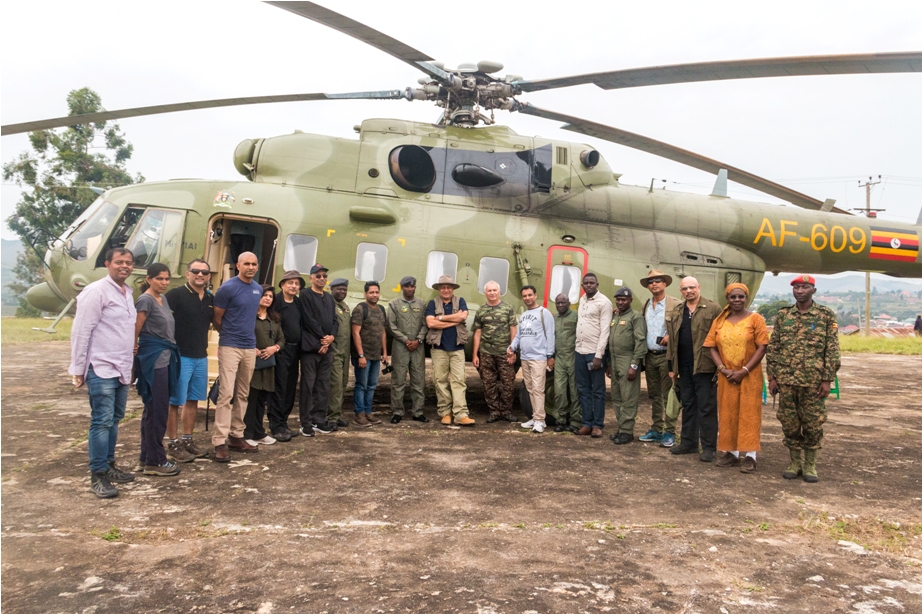 He had replaced the previous presidents of Uganda such as the notorious Idi Amin and Milton Obote. It is a commonly known fact that Uganda was an unstable nation during the tumultuous times when Idi Amin was the president. Peace and normalcy was restored in Uganda after Mr. Museveni took charge. To be able to interact with such a luminary of historical importance was a privilege for all of us.
ELEPHANTS, HIPPOS, FALLS AT MURCHINSON NATIONAL PARK – ITINERARY OF TOP PLACES TO SEE IN UGANDA.
Day 6- 4th March, 2019
The next day, we headed to the Murchinson National Park. I was excited to see large groups of Hippopotamuses and Elephants from the Mil MI-17 helicopter. We ditched the game drive / safari and opted for the cruise till the breathtaking Murchinson Falls. En route we saw scores of hippopotamuses, hippopotamuses with kids, elephants, huge Crocodiles, migratory birds etc, baboons.
It was followed by a wonderful Indian lunch. I was delighted to see so many vegan and vegetarian options at the buffet. The delicious passion fruit juice, Rajma – Chawal, Lentil soup, Penne all'Arrabbiata had me running for repeat serves. I overate!
We started for Kampala by 4 p.m. Our dinner hosted by Embassy of India in Kampala. It was an honour to meet the High Commissioner of India in Uganda at his residence, followed by speeches and delicious Indian dinner.
SOURCE OF NILE AT JINJA, UGANDA? – ITINERARY OF TOP PLACES TO SEE IN UGANDA.
Day 7- 5th March, 2019
We visited the Jinja Regional Referral Hospital for Breast Cancer Detection bus inspection in the morning. It was an impressive bus with seating facilities in the front and space for health check-ups. Many women in Uganda have benefitted from this mobile mammography van which helps detect breast cancer. It was also appreciated by Bollywood star Mr. Sunil Shetty. The impressive bus has a mammography machine.
The bus known as 'Hope Express' was gifted to Uganda by Mr. Madhusudan Agrawal – Honorary consul of Uganda in Mumbai for Western India. He is also the co-founder of the Samta Foundation and vice chairman and co founder of Ajanta Pharma Limited –Indian multinational speciality pharmaceutical company.
Breast and Cervical cancer is very common amongst Ugandan women. To put things in perspective, 4 out of 100 Ugandan women suffer from breast cancer. Hence the Hope Express has really helped combat the situation and true to the slogan of Hope Express, they 'Detect Early Save Life'.
We later had a sumptuous local and Indian lunch at the Jinja Sailing Club, owned by Mr. Mayur Madhwani, husband of yesteryears' superstar Mrs. Mumtaz Madhwani, fondly called just Mumtaz by fans!
We then drove to the source of Nile and were back to Kampala by evening. I was surprised to see the statue of Mahatma Gandhi at the entrance of the 'Source of Nile' Befuddled at the Gandhi connection, I was told that a part of his mortal remains (ashes) were immersed at the source of Nile in 1948. Neither did I have any idea that Nile, one of the most well known rivers in the world, has its source in Uganda. It was a day of surprises. Who would have thought! In the evening, we had meeting with the Tourism minister of Uganda.
DEPARTURE FROM UGANDA – ITINERARY OF TOP PLACES TO SEE IN UGANDA.
Day 8 – 6th March, 2019

The first half of the day was reserved for meetings by TAFI and Indian Film Industry at the hotel in Kampala followed by the meeting With Prime Minister of Uganda.
Drive from Kampala to Entebbe and departure from Entebbe followed next! My African dream ends, but not the memories!
Final Thoughts – My 8 days long itinerary for Uganda
I think even 8 days are less when planning an itinerary for Uganda. That said, you can still see the best of Uganda in an 8 days long itinerary. Whether it's the abundant wildlife, or the vibrant culture and history, or food and the impressive landscapes, Uganda will make it difficult for you to find flaws in the country. It is a great destination when you travel with friends, family or even solo. Just pick the best from my 8 days long itinerary for Uganda.
The view from my Soul Window has amazing variety!
Please Click Below Links For More Free Guides On UGANDA
Gorilla Trek in Bwindi Impenetrable National Park, Uganda
Spread the love, share this blog
Please follow the hashtag #ASoulWindow on Instagram, Twitter and Facebook for my free tips, pictures, videos and information on all things travel!
Got any question/comments, ask in the comment section below so that it can benefit other readers.
Email me for collaboration: [email protected]
Be a part of my journey on social media. The travel content I create there is different from this blog.
Pls subscribe/follow/like:
WARNING : COPYRIGHT TO ALL THE CONTENT SHARED HERE REMAINS WITH ME. THE IMAGES AND TEXT IN THIS BLOG ARE BY ME UNLESS MENTIONED OTHERWISE. YOU CAN NOT JUST LIFT THE CONTENT AND USE IT WITHOUT MY PERMISSION. STRICT LEGAL ACTION WILL BE TAKEN IF CONTENT IS STOLEN. YES, I AM SERIOUS.
MORE PICTURES FROM MY MEMORABLE UGANDA TRIP
Top Travel Blogger from India