Last Updated on October 27, 2022 by asoulwindow
Why is Mount Kailash unclimbable
Is Kailash Mountain unclimbable? Why no one able to climb Mount Kailash? This remains one of the greatest mysteries of the famous Kailash Parbat. It is not that no one ever tried to climb Mount Kailash. Several experienced and trained mountaineers from different nations have tried to summit Mount Kailash but they have all failed miserably. Mount Kailash is not like any other regular mountain which can be climbed by humans.
There are many reasons why Mount Kailash is inaccessible for human beings despite the fact that Mount Everest in Nepal and Tibet is taller. Did you know that Kailash Mountain is located a whooping 21, 837 feet 6656 meters above the vast Tibetan Plateau?
This information packed blog is the most comprehensive travel guide on this topic. I have shared all that you wanted to know about this much talked about mystery of Kailash Parbat.
Soul Window Observations
Every year, thousands of devotees from Hindu, Buddhism, Sikh, Bon and Jain faith register to perform the popular Kailash Mansarovar Yatra. However, not everyone is able to make it here. And even if a devotee is able to enter the Tibet region from India, many do return immediately due to sudden illnesses caused due to old age and AMS or Acute Mountain Sickness. Very few people, whether young or old, male or female are able to complete the parikrama around the hallowed peak.
But has anyone tried to climb the sacred Mount Kailash? In the past, some egoistical mountaineers have tried to climb the Mount Everest but they didn't succeed. There are several reasons why Mount Kailash is unclimbable.
Why Mount Kailash is unclimbed scientific reason?
No one has been able to explain why Mount Kailash is unclimbed by giving scientific reasons? It is beyond the understand of the limited human mind to understand what exactly is going on in Kailash Parbat. The perennial question of why is Mount Kailash unclimbable is unanswered by the most accomplished scientist as well.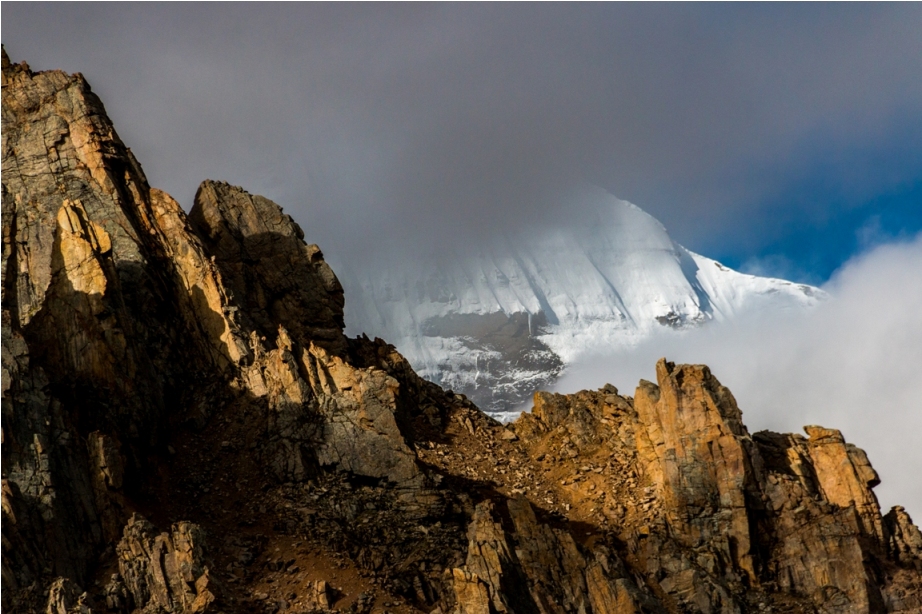 Why is climbing Kailash Parvat banned by Hindus
It is forbidden in Hinduism, Buddhism, Bon faith and other religions to climb Mount Kailash. It is considered as a sacrilege. Hindus feel that climbing the holy mountain is trespassing the piousness of Kailash Mountain. Shiv Bhagwan, after all, lives on Mount Kailash amidst the clouds.
This is why in order to maintain the sanctity of the place and not disturb the divine energies which reside on the mountain, climbing is highly discouraged here.
Religious Sentiments
The mere idea of climbing Mount Kailash hurt the religious sentiments of people from several Indic religions such as Hinduism, Jainism, Sikhism, Buddhism and a pre–Buddhist Bon Religion. Attempting to trespass the sanctity of the holy mountain disturbs the divine energizes which are not to be seen by humans.
Soul Window Thoughts
It is basic courtesy and manners that we should leave the divine energies alone and not interfere. There are many more other mountains which can be climbed. Stubbornness to climb Kailash Parbat is driven by nothing else by ego.
What will happen if someone climbs Mount Kailash?
Mortal beings should avoid climbing Mount Kailash as it can have severe consequences. If someone tried to walk up the sacred mountain, then he or she can even face death as it has happened in the past many times.
Several times, it has also been noticed that because Mount Kailash keeps changing its position, this results in disorientating and misleading the trekkers. Some trekkers have also experienced that suddenly the track in front of them gets blocked mysteriously. Also, for no reason, trekkers have also been found to be moving in opposite direction and progressing towards the peak of Mt. Kailash. Now you know the reason why is Mount Kailash unclimbable?
Many trekkers have started descending desperately after experiencing sudden poor weather conditions on the trek. Predictably, many trekkers have also perished in this egoistical exercise and never returned back to share their experience.
Don't miss: Secrets of Kailash Parvat!
Did Milrepa Climb Mount Kailash?
According to the Tibetan folklore, there used to be a Buddhist monk known as Milarepa in 11th century C.E., who had succeeded in reaching the top of Kailash Parbat. In fact, Milarepa is the only sage or person who has been able to climb Mount Kailash successfully. This is why the name of Milarepa has been forever etched in the very long history of Kailash Parvat.
However, when he came back alive, he sternly warned other people to not climb the sacred mountain as it disturbs the God resting on the top of the peak.
Who Was Milarepa?
Who climbed Kailash Parvat first? This is a commonly asked question. Mysterious unfavorable circumstances are also the reason why till now not a single trek to the summit of Kailash Parvat except that of the mystic Tibetan seer and poet Milarepa has been successful till date. Milarepa was no ordinary man.
Not many know that apart from being a sage, Milarepa was also instrumental in spreading Buddhist teachings across the Tibetan plateau through his teachings, songs and poems. This 11th century Tibetan Buddhist yogi is a major figure in Tibetan history.
It is a little-known fact that Milarepa used to be a murderer before he gravitated towards Buddhism and finally converted as one. Milarepa went on to become a prominent personality in the history of the Kagyu school of Tibetan Buddhism. The Life of Milarepa, written by Tsangnyön Heruka (1452–1507) is his best-known biography till date.
Also Read: Mystery of Mansarovar Lake
Did anyone ever climb Mount Kailash?
The answer is no. Except the Buddhist monk Milarepa, no one else has been able to climb to the summit of the sacrosanct Kailash Parbat.
Despite several attempts by ego driven trekking expeditions to Kailash Parbat not one has ever been successful as yet.
This is why, Kailash has had a long record of unsuccessful attempts at climbing till its summit. No wonder that the top of Mount Kailash has always been unexplored.
Some of the reasons given for the failure of trekking expeditions to Kailash Parbat is mysterious trails that mislead, AMS or altitude mountain sickness, sudden volatile weather conditions and trekkers unknowingly diverging in the wrong direction.
Several Russian climbers in the 19th and early 20th centuries have attempted to climb to the summit of Mount Kailash. Unfortunately, when they tried to scale the mountain, they mysteriously disappeared. NO one knows what happened to them.
Now we know why even the most experienced trekker who has even summitted all the 7 tallest peaks of the world find it challenging and rather impossible to climb Mount Kailash. Many trekkers have also lost their lives while they were attempting to summit Mt Kailash.
Must Read: Mystery of Yam Dwar
Deaths on Mount Kailash
As is commonly known that trying to climb Mount Kailash can attract God's wrath. This is why, in order to not offend the gods, people avoid climbing Mount Kailash. There is an interesting real-life tale associated with this.
Few years ago, the mysterious death of some people who tried to climb Mount Kailash took the world by storm. What happened was that a team of scientists were determined to climb on the summit of Mount Kailash. However, a Tibetan Lama suggested them not to climb this sacred mountain.
They had finally abandoned the plan to climb the holy mountain. But what took people by surprise was that four of the climbers died mysteriously within one or two years of the climb attempt. Now you know why is Mount Kailash unclimbable?
The curious case of Siberian mountaineer
There is a very interesting and scary story of what happened to some Siberian mountaineers. When they tried to summit Kailash Parbat, after reaching a certain place, they had suddenly aged by few decades. They had to return home. Strangely, just a year later, the mountaineers who were younger just a year ago, died of old age. It is said that the air around Kailash Parbat accelerates ageing.
Attempts by Western Mountaineers to climb Mt Kailash
Several experienced western climbers had attempted to climb Kailash Parvat also, but not one of them had succeeded. Other or other obstacle always ruined their plans to do the impossible.
Must Read: How are Rakshas Tal and Mansarovar Jheel different?
1926: Attempt by Hugh Ruttledge and Colonel R. C. Wilson
Hugh Ruttledge, who was an English mountaineer, spent a long time studying the beautiful North face of Kailash Parbat. However, he concluded that it was not possible to climb Mt Kailash. As per his estimates, Kailash Parvat was approximately 1,800 meters or 6,000 feet tall.
After much research, Hugh Ruttledge zeroed in on the north east ridge of Kailash Parbat for an ascend. However, due to lack of time, this plan had to be cancelled. He was never able to climb Kailash Parvat. However, Hugh Ruttledge went on to lead 2 expeditions to Mount Everest in the years 1933 and 1936.
Colonel R. C. Wilson had also accompanied Hugh Ruttledge on this expedition. Wilson was exploring the possibilities to climb Kailash Mountain from another side on the south east ridge. He was accompanied by a sherpa known as Tseten. In fact, Tseten was also hopeful that they would be able to climb Kailash Parbat from this side.
However, as predicted, unexpected events unfolded one after another and this expedition, much like its previous ones, failed as well. Wilson was quite determined to climb the sacred mountain; therefore, he was crestfallen when the attempt was failed. In his own words, just when he discovered an easy trail towards the summit of Kailash Parbat, heavy snowfall ruined his plans to the point where it was impossible to make the ascent.
Read it now: Mystery of Rakshas Tal
1936: Attempt by Herbert Tichy
Herbert Tichy was an Austrian climber, geologists, journalist and writer. Herbert Tichy visited West Tibet in 1936. However, the aim of Herbert Tichy was to climb Gurla Mandhata, which is the tallest mountain in this region.
He had discussed the idea of climbing Kailash Mountain with the garpön of Ngari prefecture in West Tibet. The local leader in Tibet, who has similar informal powers as that of a Governor is known as a Garpön. He governs a certain region and is highly respected by the local people.
Garpon gave a cryptic response to Herbert Tichy, when the latter asked him if it was even possible to climb atop Kailash Parbat. This is what he had said,
"Only a man entirely free of sin is able to climb Kailash. And he wouldn't have to actually scale the sheer walls of ice to do it – instead he would just turn himself into a bird and fly to the summit."
I think he was quite clear in his communication!
Mid 1980: Offer to Reinhold Messner
Reinhold Messner is a famous mountaineer from Italy in Europe. Reinhold Messner is no ordinary mountaineer. Not only was he the first Non-Sherpa person to make solo ascent of Mount Everest but he also made first ascent to the tall Mount Everest sans any supplemental oxygen cylinders.
He had many firsts to his name which also included the fame he earned by becoming the first person to climb all 14 tallest peaks above 26,000 feet or 8,000 meters above sea level. He was also, in fact, known for crossing the Gobi Desert all alone. He was also the first person who had crossed Antarctica and Greenland with neither snowmobiles nor dog sleds
There is a reason why I shared such a long introduction of Reinhold Messner. The man who had climbed all that there is to climb, surrendered when it came to Kailash Parbat. Isn't it strange that even one of the most famous climbers of the world chickened out when it came to climbing the sacred Kailash Parbat. Not many know that the Chinese Government, before banning mountaineering here, had offered him to climb Kailash Parbat. However, Reinhold Messner declined this opportunity.
2001: Attempt by the Spanish people
As late as the year 2001, a Spanish mountaineer team had sought permission from the Chinese Government to do the sacrilege act of climbing the holy mountain. People were devastated to know that the China Government had actually given them the permission to climb. What followed was an outcry and international backlash from all corners of the world.
However, later the Chinese authorities denied that they had given any permission. They added that no climbing activity is allowed on Mt Kailash. This episode was also criticised by Reinhold Messner.
Click to read: Story of Gauri Kund
Is Climbing Mount Kailash banned?
This is a frequently asked question. Chinese government has strictly banned any attempt to climb Kailash Parbat. I am not sure if this was done due to respect for the local sentiments or due to growing pressure from international community. Whatever may be the reason, it is a good gesture by the Chinese Government to impose a ban on climbing activity on Kailash Parbat.
Can I get permission to climb Mount Kailash?
No, it is impossible to get permission to climb Mount Kailash, even if you have deep pocket or connections with the big wigs. Any sort of climbing activity on Kailash Parvat is strictly prohibited.
Conclusion: can anyone climb Mount Kailash?
Why is Mount Kailash unclimbable? There may be several reasons for it. Whether it is scientific or religious reason why Kailash Parbat is still not climbed upon, I feel people should revere the holy mountain from a distance. It is not an ego game where conquer we must. The only person who climbed Kailash Parbat was Milarepa, who was already a highly spiritual and accomplished man.
This is why, despite so many attempts by many mountaineers from Russia, Siberia and even Europe, not one succeeded in climbing Kailash Parbat. Do read all my blogs on Kailash Mansarovar Yatra. I have been mentioned as the leading Travel influencers in India by many magazines and newspapers.
The view from my Soul Window is to be admired from a distance!
Pin this blog for a later read!
Related Blogs
Key differences between Mansarovar and Rakshas Tal
Veg Food in Kailash Mansarovar Yatra
General Zorawar Singh of Taklakot
Mount Kailash and Lake Manasarovar Tour in Tibet
Packing checklist for Kailash Mansarovar Yatra
Kailash Mansarovar Yatra Via Nepal Road Trip
Top Travel Blogger from India