Last Updated on October 7, 2022 by asoulwindow
Information about Dolma La Pass
Dolma La Pass in Tibet in an important stop during Kailash Mansarovar Yatra, the biggest Hindu pilgrimage of the world. Every true devotee of Shiva Bhagwan wants to walk on the tough paths of this pilgrimage. Dolma la Pass is the toughest part of the yatra.
This detailed travel guide to Dolma La pass is based upon my experience of traveling to Tibet to perform the greatest of Hindu pilgrimage known as Kailash Mansarovar Yatra. It is also the hardest climb of the kora around Kailash Parbat.
This is the most comprehensive travel guide to Dolma La Pass. Everything you wanted to know about Dolma La pass has been explained in detail in this information packed travel blog . A Soul Window is mentioned as biggest travel blogger in India. So, expect some deep insights about Drolma La Pass in this travelogue. I have shared some rare information which is unavailable in traditional guide books and mainstream media.
Why is Dolma La Pass Famous?
What is special about Dolma La Pass? Here is all you wanted to know! What makes Dolma La Pass famous is that it is located at the highest altitude during the entire Kailash Mansarovar Yatra. Thousands of Hindu, Buddhist and Bon pilgrims along with western tourists come to trek around the base of Kailash Parbat every season.
The discerning western traveller, who likes to go off the beaten track, visit places like Mount Kailash and Mansarovar Lake. Despite large numbers of Hindus visiting this region, it is still off the touristy trail.
The devotees perform circumambulation around the pious Kailash Parvat. The Hindus call it parikrama while the Buddhists and Bon people call it as a kora. Dolma La makes a very important stop of the route of parikrama. This is why it is very famous.
My Experience of Dolma Pass
I feel I am lucky that I was able to travel all the way to the holy land of Mt. Kailash and Manasarovar Lake in Tibet. On the second day of Kailash Mansarovar Yatra, as I crossed the small bridge onto the trail which led me to Shiwachal, I came across a rocky land which was strewn with small cairns draped with multi­-hued clothing.
The Hindus believe that only those pilgrims are able to cross Dolma Pass who Goddess Dolma allows to. I feel that I am lucky and blessed that I was able to cross Dolma La Pass without any challenges. Maa Parvati, the kind deity that she is bestowed her blessings and I was able to easily cross the Dolma La Pass without any sort of obstacle. I feel if God is with me, any task is possible.
As I ascended towards the Dolma La Pass, I was still able to have a darshan of the north-eastern face of the sacred Kailash Parvat in the background.
Difficulty Level of climbing to Dolma La Pass
Is crossing Dolma La Pass difficult? Though it was difficult for me to navigate through Dolma La pass but it was not impossible. I have already done some high-altitude treks in India and Nepal such as
Roopkund Trek in Uttarakhand
Dodital Darwa Pass Trek in Uttarakhand
Poonhill trek in Nepal
Everest Base Camp Trek in Nepal
Therefore, I knew what to expect while passing through the treacherous Dolma La Pass. I was mentally and physically prepared.
Most of the Kailash Mansarovar Yatra is a walk on plain land. The only steep incline appears while one attempts to reach Dolma La Pass from Deraphuk. It is an easy descend when one starts going down after crossing Dolma La Pass. It is again a walk back to Darchen on plain path when one arrives at Zuthulphuk.
Traversing through the steep climb to Dolma La is not child's play. Even the seasoned trekkers find this climb to be difficult. The trick that works in climbing the Dolma La pass is to take small baby steps. Trekking down is also very steep but not very difficult. It is an easy to moderate descend.
Soul Window thoughts
You need to be mentally prepared to face several hardships while crossing Dolma Pass. From lack of toilets to lack of food and water, there are many challenges here. The thin air and steep climb makes things even more difficult. But if you have faith, the toughest of job can be easily done.
Altitude of Dolma La Pass
What is the height of Dolma La Pass? It is a commonly asked question. Dolma La Pass is located at an elevation of 18,471 feet or 5630 meters above sea level. Altitude of Drirapuk Monastery is 5,210 meters or 17093.18 feet.
Below is an altitude chart of places in and around Drolma La aka Dolma La pass, Deraphuk and Darchen:
Darchen: 4,560 meters or 14,960 feet
Choku Monastery: 4,875 meters or 15,994 feet
Dirapuk Monastery: 5,210 meters or 17,093 feet
Drolma La: 5,630 meters or 18,471 feet
Gauri Kund: 5,608 meters or 18,398 feet
Zuthulphuk monastery: 4,790 meters or 15,715 feet
Darchen: 4,560 meters or 14,960 feet
Note: The above chart is also the order in which these sacred places in Tibet appear during Kailash Mansarovar Yatra. This chart will help you ascertain the altitude you can expect while performing the parikrama around Mount Kailash.
Soul Window Facts
Choku Gompa is located just 2 kilometres away from Tarpoche. It is also called as Nyari monastery.
AMS in Dolma La Pass
Mount Kailash is not the highest mountain of the world. The highest mountain of earth is the nearby Mount Everest. It is still easy to get sick during Kailash Mansarovar Yatra.
Crossing Dolma La Pass is very treacherous in case the weather conditions are unfavourable. Luckily, it was a bright sunny day when I crossed Dolma La Pass and I had not faced any adverse weather conditions.
Since the air is very thin at Dolma La Pass, I was instructed not to stay here for too long as it could result in AMS or Altitude Mountain Sickness. I observed no other pilgrim had lingered around here for long.
This is why, I and my co travellers, spent just a few moments at the top of the Dolma La Pass.
We quickly hurried down towards Gauri Kund, which was located just below the Dolma La Pass.
The weather conditions at Dolma La Pass tends to change quite frequently. At any moment the bright sunny day can transform to cloudy weather. It is this unpredictability of climate conditions which makes the trek around Dolma La Pass treacherous. Do consume Diamox (if you are not allergic to sulphur in medicines), garlic and lot of water to avoid AMS. I always do that when in high altitude places.
First Darshan of Gauri Kund
Gauri Kund or Gowri Kund is located right below the place where Dolma La Ends. I had breath-taking darshan of this holy Sarovar or naturally formed lake. This highly sacred kund is located near the top of Dolma La Pass. Gaurikund Lake is also called as Tuje Chempo Dzingbu in local language.
Nomenclature/Etymology of Dolma La Pass
Dolma La Pass is also known as Dola Mala Pass. Not many pilgrims know that Dolma La is the Tibetan name of Goddess Parvati Maa. She is the wife of Shiva Bhagwan. The holy Kailash Parbat in Tibet is known as their abode.
Drolma La Pass is another name of Dolma La Pass. La anyways is the Tibetan word of pass, so it is also known as just Dolma La. It is also known as Zhuomala Pass and Zhuomala mountain pass. These are some lesser-known facts about the lesser-visited Dolma La. Dolma La is also known as Tara Pass.
Where is Dolma La Pass located?
This is a frequently asked question. Dolma La Pass is a high-altitude pass, which is located between Deraphuk or Dirapuk and Zuthulphuk. Gauri Kund is located just ahead of where Dolma La Pass ends. Dolma La is situated in the far west area of the Tibet Autonomous Region, in Ngari Prefecture.
Buddhist and Bon relation with Dolma La
Dolma La is used by the local Buddhist and Bon people as a place of worship. This is where they remember the departed souls of their near and dear ones. I observed many Buddhist families in groups of 5-10 people performing kora around Mount Kailash. This is the main thing to do here with family.
Buddhist flags on Dolma La
I noticed that the entire path from Darchen to Dolma La is decorated with dense Buddhist flags in all colours possible. I had never seen so many Buddhist flags before. In every direction, the flags fluttered wildly in the air. In a way, the flags also guided the way to Dolma La pass.
The Buddhist flags disappeared when I arrived at Gowri Kund, which is located just a quick descend from Dolma La. Gauri Kund is a predominantly Hindu site.
History of Drolma La Pass
Historical significance of Dolma La is immense. The history of Dolma La pass dates back to many centuries. This place is considered very sacred by Hindus, Jains, Buddhists and Bön people. This associated history of so many diverse faiths, make the journey to Kailash Parvat so significant.
We all know that important religions like Jainism, Buddhism, Sikhism etc are all an offshoot of Hinduism or Sanatan Dharm. Since Hinduism is the oldest religion of the world, so you can imagine all the history that unfolded in Dolma La. There are many secrets and mysteries that surround Dolma La Pass.
Who built Dolma La Pass?
Dolma La is a naturally made high mountain pass. It is not built by anyone. Humans have just made a navigable path on this patch.
Top things to do in Dolma La Pass
There are many unique and unusual things to do in Dolma La Pass. Below are some of the best things to do in Dolma La:
Observe the cairns
As I moved ahead on the path to Dolma La, I noticed that the entire route was strewn with mound of rough stones. These cairns were maintained by the local Tibetan people. There are many such interesting places to see in Dolma La Pass. It is a major point of attraction here.
The cairns served as a memorial or landmark. During my treks in the Buddhist regions of India and Nepal, I have noticed several such cairns. These can generally be seen on a hilltop or skyline.
Leave behind a Longda
Even today, several pilgrims, mostly Tibetan Buddhists leave behind tokens of coins or longda here. In Tibetan language Long stands for wind and Da stands for horse. It can be roughly translated to Horse flag in wind.
A longda is a small scrap of paper which is seen as a blessing. Similar to Buddhist prayer flags, longda is supposed to seek blessings from Gautama Buddha Bhagwan. It is made on paper or cloth.
Devotees also keep adding new Buddhist prayer flags across the route. The multi colored prayer flags add a vibrant touch to the largely monochromatic landscape of region around the much-revered Kailash Mountain. These are the hidden gem of Dolma La. Ask your guide to show you some Longdas.
You will also see Tibetan Buddhists sit down on snow and touch rocks here with their head in reverence. Everything is considered highly sacred on Dolma La.
Observe the writing on rock
Much like the other Buddhist places which I have visited across the world, I also noticed several writings on rock near Dolma La pass. It is not to be missed.
The rocks are engraved or painted beautifully in the Tibetan script. You must not touch or try to move it. It is best to just see it from a distance. It is a major sightseeing attraction here.
Soul Window Observations
I saw something similar while traveling in Uttarakhand in North India. There is a custom in the Golu Devta Mandir where devotees pen down their wishes or manokamna on paper and tie them to a place in this unique Hindu Temple. Once their wishes are granted by Golu Devta, the devotees tie bells here.
Buddhism which was an offshoot of Hinduism has been known to adapt several Hindu practices in their faith.
People Watching
Dolma La is the place where suddenly you will see many Buddhists and Bon people. The sight of Tibetan Buddhism pilgrims resting while ascending to the Dolma La Pass pilgrimage route is very common. Do observe their traditional costumes.
Communication with Tibetans is a barrier though as they speak and understand only Tibetan. The fact that the unexplored Dolma La pass is located away from the crowds, makes human interaction with limited people all the more meaningful.
Excursions from Dolma La Pass
Below are the places to visit near Dolma Pass
Darchen
Sarshung
Shiwachal
Yam Dwar
Zongzerbu
Zuthulphuk
Gauri Kund
Chiu Gompa
Rakshas Taal
Mansarovar lake
Choku Monastery
Dzultripuk Monastery
Yarlung Tsangpo River
Deraphuk aka Drirapuk
Kuber Kund (Inner Kora)
Taklakot or Purang aka Burang
Do read my detailed travel guide on all of these places. Links are shared at the bottom of this blog. Places like Lhasa, Lake Yamdrok, Gampala Pass, Gyantse, Shigatse, Lhatse, Ngamring, Saga and Kyirong are located a bit far. These are some unusual places to see near Dolma La Pass.
Treks near Dolma La Pass
There are many dangerous and difficult high-altitude treks which people do near Dolma La Pass.
Diraphuk to Zongzerbu trek
The trek from Diraphuk to Zongzebru is one of the toughest treks of this region. Only highly experienced trekkers attempt such treks.
You can participate in a portion of this trek on the very second day of Parikrama around holy mount Kailash. This trek passes through Dolma La Pass. The trekkers need to navigate a whooping 26 kilometres on foot from Diraphuk to Zongzerbu via the Dolma La Pass.
Festival around Dolma La
Saga Dawa is the grandest of all Buddhist festivals which is celebrated on a grand scale around Dolma La Pass. Saga Dawa is also the biggest festival celebrated in Indian state Sikkim, which is predominantly Buddhist.
The unique annual festival of Saga Dawa marks the enlightenment of Sakyamuni. You can time your yatra with this festival which takes place on the full moon day of the fourth month of Tibetan calendar.
Vegan and Vegetarian Food in Dolma La
There is not a single food stall between Deraphuk and Dolma La Pass. Some places do serve small refreshments and tea en route but it is very basic. This is also the place where most people stop their pony and take rest. Do pack a hearty meal and snacks before you leave Deraphuk. I had packed in freshly made methi thepla and aalu jira.
Soul Window Travel Tips
The next stop where you can have some vegetarian Indian food is at Zuthulphuk. Darchen comes next but that is far when you are covering long distances on foot.
Is it safe to visit Dolma La Pass?
Dolma La is very safe to visit. AMS is the only problem which you can face in Dolma La. To be on a safer side, carry Diamox with you. You must also keep an eye on the passing ponies who can push you by mistake. The path is narrow and you have to walk with constant movement of ponies.
Souvenirs Shopping Guide to Dolma La Pass
There is not a single souvenir shops at Dolma La or Deraphuk. I had picked some souvenirs from Darchen, right outside my hotel.
What currency is used in Dolma La?
Only Chinese Yuan is accepted in Dolma La Pass. You will need Yuan to pay the porters, pony owners, tea shops etc.
ATM in Dolma La Pass
There are no ATMs in either Dolma La Pass or Deraphuk. Always carry lots of cash because digital currency is also not accepted here due to its remoteness.
Photography Tips for Dolma La Pass
Dolma La pass and the route around it is picturesque. Do not forget to take lots of pictures and videos en route. I clicked some very unusual pictures of Kailash Parvat from various places as I approached Dolma La pass. This is also a great opportunity to take pictures of local Buddhist and Bon people of Tibet.
Hire local tourist guide in Dolma La Pass
Since language is a major barrier here, it is advised to hire a local tourist guide. I was traveling in a group which largely consisted on Indians and Nepali staff, so I didn't have much of a problem.
Languages spoken in Dolma La Pass
Tibetan and mandarin are the major languages spoken and understood here. Due to the presence of Sherpas of Nepal and a huge Hindu footfall from India, Nepali language and Hindi language can also be heard. I could also hear people speaking regional languages of India such as Gujarati, Marathi, Kannada, Telugu, Tamil etc.
I travelled with Indian team, therefore language was not much of an issue, even though I didn't understand a single word of Tibetan or Mandarin language.
Books recommendation on Dolma La Pass
I advise you to read a book on Kailash Mansaovar Yatra before you start the journey.
Entry fee in Dolma La Pass
There is no entry fee to trek in Dolma La pass. Most devotees visit Tibet on a set package. It is included in the tour package. Trekking in Dolma La is a free thing to do.
Toilet facility in Dolma La Pass
There are no toilets in Dolma la Pass. Most devotees answer nature's call, in the open fields.
Backpacking Budget Travel Tips for Dolma La Pass
Dolma La is an expensive place to travel to. It is not possible to do Kailash Mansarovar Yatra on a small budget. Since all the devotees have to buy a package tour, it is not possible to do a low-cost backpacking tour in much of Tibet.
However, there are no additional expenses to be done once you start trekking. In case you want to hire a pony, that comes for a hefty fee. Other than that, you do not need to spend on anything extra, except for maybe a tea break.
Solo Trip Tips for Dolma La Pass
You can participate as a solo traveller in Kailash Mansarovar Yatra. But you will still end up with a bus full of other devotees. I personally feel that this epic journey must be made with your friends and family members. Not only can you share your experiences, but you can also take care of each other in case things go wrong.
Luxury travel Tips for Dolma La Pass
Though Kailash Mansarovar Yatra is an expensive journey to make, do not expect luxurious facilities, especially near Deaphuk. Darchen has some so-called luxury properties but their quality was very low. Even 3-star hotels in India are far better. The infrastructure in Tibet is very poor, so be prepared to get less even after spending a bomb.
Where to stay in Dolma La Pass?
No one stays in Dolma La pass. I and everyone else stayed right opposite the North face of Kailash Parvat in the nearby Deraphuk.
What to wear in Dolma La Pass?
I wore a very thick down jacket, along with inner full body warmers, thick knee length socks, thick gloves and sturdy shoes. The weather here is very volatile and things change in one minute. You must read my detailed blog on packing list for Kailash Mansarovar Yatra.
What to carry to Dolma La Pass?
I had stored my luggage in the hotel in Darchen. I had carried a very small backpack which contained water, small snacks, lunch and spare camera equipment such as SD cards, extra batteries (a must!) etc.
Timings of Dolma La Pass
There is no fixed timing to start trekking to Dolma La Pass. However, all of the pilgrims start as early as possible. If you start at 7.40 a.m. in the morning even at a slow pace, expect to reach the Dolma La peak as early as 11.50 a.m.
Best Time to visit Dolma La Pass?
The months of May, June, July, August and September are the best months to visit Dolma La. I visited Dolma La in the second week of August.
Winter: Kailash Mansarovar Yatra is closed during the winter months. The temperature goes down in winter months due to which it needs to be closed.
Summer: Summer is the only time when pilgrims of all faiths are allowed to make this journey.
Monsoon: Expect rains in this part of Tibet from late-June to early September. That said, the major months for the peak rainfall are in the month of July and August. I did the parikrama in second week of August and it did drizzle lightly as I walked from Yam Dwar to Deraphuk. Luckily, it was a bright, sunny and dry day when I crossed Dolma La.
Duration of Visit in Dolma La Pass
How many days to spend in Dolma La Pass? You should spend just few minutes at Dolma Pass.
Kailash Mansarovar Yatra which covers around 52 kilometers around the Kailash Parvat Mountain, takes approximately 3 days for pilgrims. We took much longer as we wanted to stay at each place for a long time. Tibetans, who are accustomed to high altitude terrain are known to complete one circuit in merely 14 hours.
Itinerary for Dolma La Pass
7:40 a.m.
Leave Deraphuk and start the climb to Dolma La pass.
11:50 a.m.
Arrive at Dolma La Pass at 11:50 a.m.
1:15 p.m.
Have vegetarian and vegan lunch. (I had my packed lunch of Methi Thepla and Alu Jeera at a rock facing Gauri Kund).
4:00 p.m.
Reach Zuthulphuk and take a break. Zuthulphuk is located around 2 hours and 30 minutes away from Gauri Kund and Dolma La.
4:30 p.m.
Leave Zuthulphuk and start walking towards your hotel in Darchen, which is also the start point of Kailash Mansarovar Yatra.
Local Transport for sightseeing in Dolma La Pass
Vehicles do not ply on Dolma La pass. The trek can either be done on foot or on pony.
Hire a Pony
Pony ride ends at Dolma La Pass. The pony owners take pilgrims only till Dolma La Pass. After arriving at the snow enveloped pass, the pony owners will ask you to get down and he will return to Deraphuk. From here, all the pilgrims have to walk on their own feet.
The descend from Dolma La Pass is slippery and steep at times, which is why pilgrims should be careful. It is a good idea to do daily walking, running and stretching at least a few months before starting Kailash Mansarovar Yatra. This is a tried and tested way to successfully complete Kailash Mansarovar Yatra.
It takes around 2:00- 2:30 hours from Dolma La Pass to get back to a plain surface.
How to reach Dolma La Pass
Dolma La pass can only be reached in non-motorable ways. The only possible ways to reach Dolma La Pass is by trekking or hiring a pony.
The trek to Dolma La Pass is not easy because the path is very steep and the altitude very high. That said, a majority of pilgrims prefer to navigate this path on foot only. Some old people or people with health condition prefer to hire ponies from the local Tibetan people. The route for both, the trekkers as well as the ponies is the same.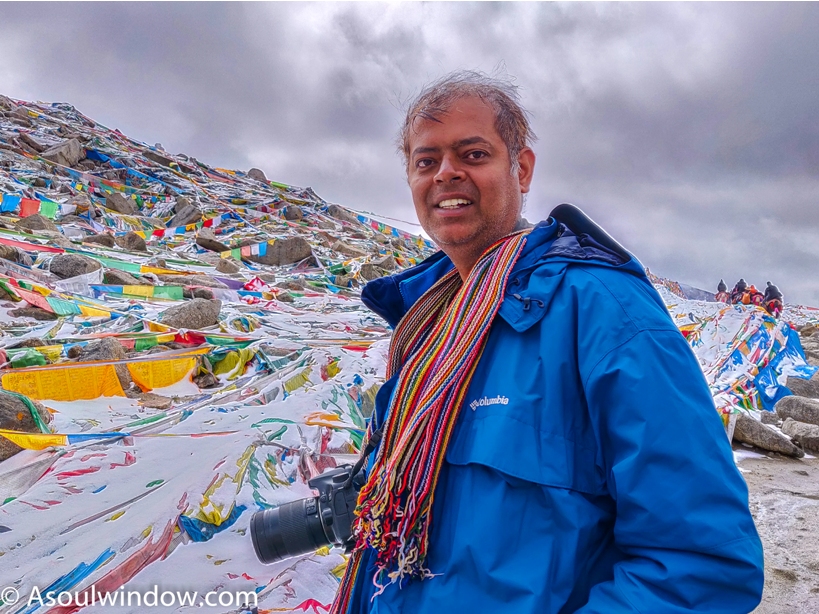 Conclusion: Is Dolma La Pass worth visiting?
Why people visit Dolma La Pass? This is a once in a lifetime experience! Here are my final thoughts. The parikrama, which is also known as kora or circumambulation, around the holy Kailash Parbat can not be done without crossing Dolma La Pass. It is one of the most popular and sacred places to visit during the Hindu pilgrimage Kailash Mansarovar Yatra.
In a nutshell, Drolma La Pass, which falls midway during the Kailash Mansarovar Yatra is a memorable experience! To summarize, not only is Dolma La the highest point during this pilgrimage, but is also the most difficult part of the yatra.
The view from my Soul Window is covered in snow!
Pin this blog to save the blog and plan a trip later!
Related Blogs
I have written many detailed travel blogs on high altitude passes of India, Bhutan and Nepal. You can read them here.
Se La Pass of Arunachal Pradesh
Top Travel Blogger from India